SAFEHAVEN MARINE. Builders of the Interceptor & Wildcat range of offshore craft
PROFESSIONAL PILOT BOATS, PATROL BOATS AND WINDFARM SUPPORT VESSELS Click here to visit this site
CONTENTS New Gen
INTERCEPTOR 55 Passenger / Crew transfer vessel
INTERCEPTOR 38 Commercial Workboat version
Sea Angling / Dive charter version
GENESIS 37 NEW INTERCEPTOR 37 Click here to read about the voyage
INTERCEPTOR 42 Commercial workboat version
Sea Angling / Dive charter version
WILDCAT 107 Sea Angling / Dive Catamaran
SEE OUR ROUGH WEATHER SEAKEEPING VIDEOS ON YOU TUBE - CLICK HERE
Article in MBY magazine on boat test
in a Violent Storm Force 11
BOAT GALLERY
Below are a small selection of vessels built.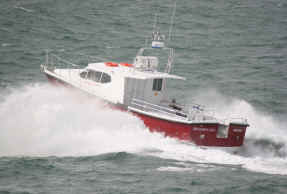 Interceptor 42, class 6 passenger vessel operating off
the Irish West coast. Sports flybridge version, twin 300HP.
Big 600hp single engines Interceptor 42, Charter Angling
/ Workboat version operating from the South coast
Fabulous twin 420hp Motor Yacht version of our Interceptor
42, based in Beirut, The Lebanon
Survey vessel built for Ocean Marine. Based on the Interceptor
42 using a full length superstructure, based in Rhyl, Wales
Interceptor 42 'Motor Yacht Version, single 450hp Caterpillar
Motor cruiser version of the Interceptor 42. Twin 420hp cats
very high specification vessel.
Offshore Catamaran, Sea Angling version. Twin 300hp Cats
27kts, fantastic sea keeping and performance!

New INTERCEPTOR 38 MKII. Zeus, launched Sept 2003.
The first new wide beam 38, operating the UK East Coast

Based in Poole, UK South Coast.
WILDCAT catamaran based in Portsmouth in the UK.
Owner- Phil Hunt.
INTERCEPTOR 38MKII extended cabin version based on
the Shetland Islands
INTERCEPTOR 42 commercial workboat powered by
a 700hp CAT operating in Guernsey
Interceptor 42 extended cabin passenger boat to loch Swilly

Fabulous Motor Yacht version of the Wildcat catamaran. The
ultimate offshore tool
WILDCAT catamaran owned by Joe Lynch and operating from
Crosshaven, Cork, Ireland
Interceptor 42 passenger vessel using a motor yacht
superstructure operating in the Isles of Harris, Scotland
PD Teesports new survey vessel

Charlie Bartlets new Charter Angling vessel
Johnny Flahertys new Interceptor 28
Wildcat catamaran for Mike Keane
Class 6 passenger vessel for Tory Island



Part build 42 moulding kit to Guernsey

Jason Parkers new Interceptor 42

Michael Nolans new 42 based in Co Wexford, Ireland
Bob Morris's new Genesis 37 based in Portsmouth
Wave Crokes Interceptor 42 'Sports Flybridge version'
Genesis 37, twin 380hp Yanmars, motor yacht spec.
Interceptor 42 sports flybridge dive boat based in Cork
Ireland owned by Gavin Tivey
Gerry Dowds Wildcat 36 MY, 440hp Yanmars

Pat O'Donnell's new GENESIS 37, Short cabin commercial.
The Port of Liverpools new Wildcat 40 survey boat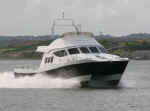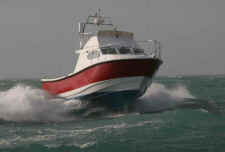 Evening Star
Colin Bardens new Interceptor 42
Wildcat 40 for the Shetland Isles
Mark Dixons Wildcat 40
Wildcat 40, twin 480hp Yanmar's
Mike Walsh's Wildcat 40, twin 575hp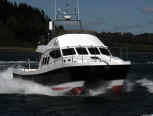 Marc Gatto's Interceptor 42 Work boat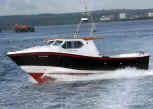 SEAFLOWER
Kenny Livingstones Wildcat 40
Mike Walshe's Wildcat 40.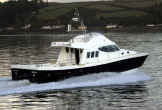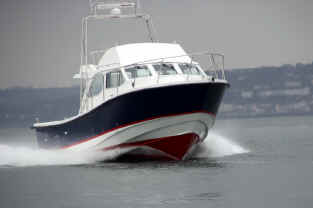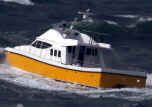 Sample Build Specifications
Some sample specifications so that youi can see what you are actually
getting in our fully completed craft.
Interceptor 42 angling version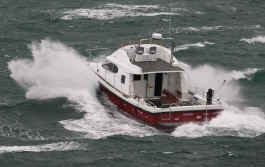 MAP How to find us COBH Factory
How to find our LITTLE ISLAND FACTORY
INTERESTING READING - Various newslwtters and press releases.
NEWSLETTER JAN 2005 read about a force 9 65mph wind delivery trip in High Velocity
CUSTOMER FEED BACK REPORTS. Read what owners think about their boats sea keeping
JO DAN IV's Delivery trip where she encountered force 8 conditions
Questions about the Interceptor 's Deep V hull design.
A Stormy tale, read about a delivery trip aboard an Interceptor
in a force 9 gale
A days fishing aboard Tiger Lilly, a south coast charter boat.
Press release - First Interceptor to the Middle East
High Quality Interior fit outs
Independent boat test of an Interceptor 55
published in European motor boat
magazines