HOME MODEL RANGE CONTACT US GALLERY VIDEO DOWNLOAD PRICE LIST
SAFEHAVEN MARINE. Builders of the Interceptor & Wildcat range of offshore craft
Latest Interceptor 42 launch-
'TORAIGH NA DTONN' (The waves of Tory)
We have just launched our latest vessel the 'Toragh Na Dtonn' for her new owner Pat Dohan of Tory Island, Co Donegal. The vessel is a Class 6 passenger vessel and was built for multiple roles. She will act as a passenger vessel between the mainland and Tory Island serving visitors to Pats own Hotel on the Island . It will also be used for sightseeing, sea angling and diving of and around the island.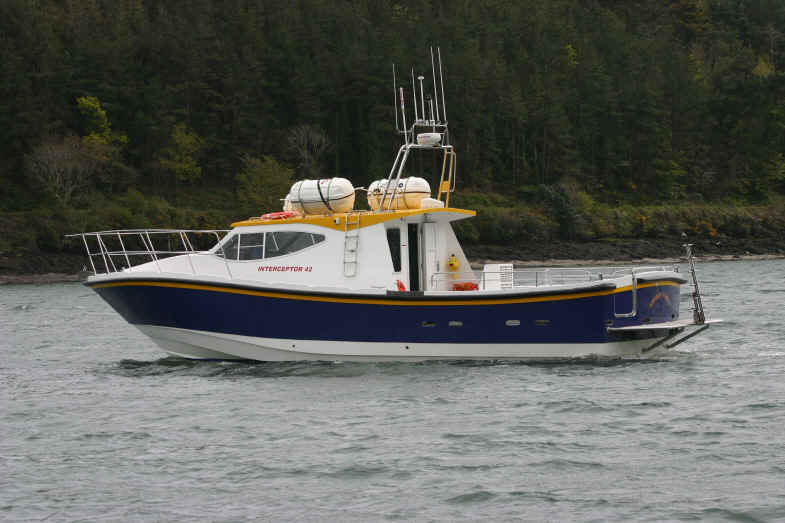 See the most amazing action shots of her offshore in force 9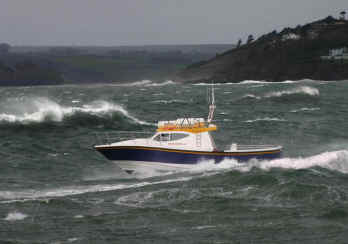 She is the first 'smaller' class 6 passenger vessel built since the implementation by the Department of the Marine of new safety regulations and requirements. She fully conforms to all the stringent constructional requirements of this class, including 6 watertight compartments, strong scantlings and a high level of stability. Her safety equipment comprises 3 liferafts with 100 percent redundancy on launching cradles, A.I.S. Radar transponder, Sailor DSSC Radio, Navtex Reciever, 3 hand held VHF radios, Float free ERIPB, See Me Active radar unit as well as the usual Radar, GPS plotter and fishfinder.
'Toraigh Na Dtonn' is powered by twin Caterpillar 3126 engines rated at 385hp and supplied by Mc Cormack Mc Naughton of Cork . Her performance is excellent achieving a maximum speed of 28.5kts on a 11,000kg displacement. The vessel displays the expected excellent sea keeping of the Interceptor 42 providing a soft ride into head seas and excellent handing down wind in following seas. One of her roles will be as a dive craft and to this end is fitted with a large stainless steel dive platform and deep dive ladder. The Interceptor 42's wide 14ft beam makes her a very stable for diving as well as sea angling. The vessel features an extended cabin which provides comfortable seating and shelter and is finished to a very high standard featuring classy teak joinery and fully lined and carpeted surfaces. A transom door allows easy boarding and an aft cockpit accessed toilet adds to her accessibility.