The Port of Liverpool's new Wildcat 40 'ROYAL CHARTER'
The Port of Liverpool's new Wildcat 40 'ROYAL CHARTER' is now launched. She is to be a survey vessel for the port. On initial sea trials she performed very well, she is the first of the new 40ft versions of our Wildcat which features a lengthened hull by 1m, this has improved the Wildcats already excellent performance with a lower running trim, smother ride and improved sound levels as a result of the further aft position of the engines. On a quite substantial lightship displacement of 12,300kg she achieved a very impressive 27kts, exceeding her contract speed by a large margin and with very low noise levels of 79.8db at 18-19kts.
The Port of Liverpool awarded the contract to supply their new Survey vessel to us after an International tender process. Our Wildcat Catamaran was chosen. Ian Holden, the Ports Hydrographic Manager opted for a twin hull design as a result of the ports intention to use sophisticated multi beam sonar equipment. The deployment of the valuable sonar head and its subsequent protection made the choice of catamaran a logical step, as by deploying the sonar head through a moon pool in the bridge deck, at the vessels LGG means it is fully protected between the twin hulls, and being at the center of the craft, pitch and heel motions are minimized, maximizing the accuracy of colleted data. The sonar head can be raised through the moon pool hatch for fast transit speeds of 20kts.
Ian Holden visited the port of Teesport , Middlesborough to trial their own recently supplied Wildcat catamaran the 'Tees Navigator'. After a demonstration, and subsequent discussions with Teesport, it was clear that they were very happy with the Wildcats performance, especially her sea keeping and course keeping abilities in rough conditions, together with our abilities as builders to adapt and find solutions. She is powered by twin Caterpillar 3126 engines rated at 385hp. She is also fitted with a HIAB crane on the aft deck.
She has a 10kva generator supplying 240v onboard through a full ring circuit, a large survey bench and a dedicated survey position forward will allow her crew to operate in an efficient and comfortable environment, enhanced by onboard air-conditioning. She has a new window arrangement for improved visibility featuring a new front and side window design.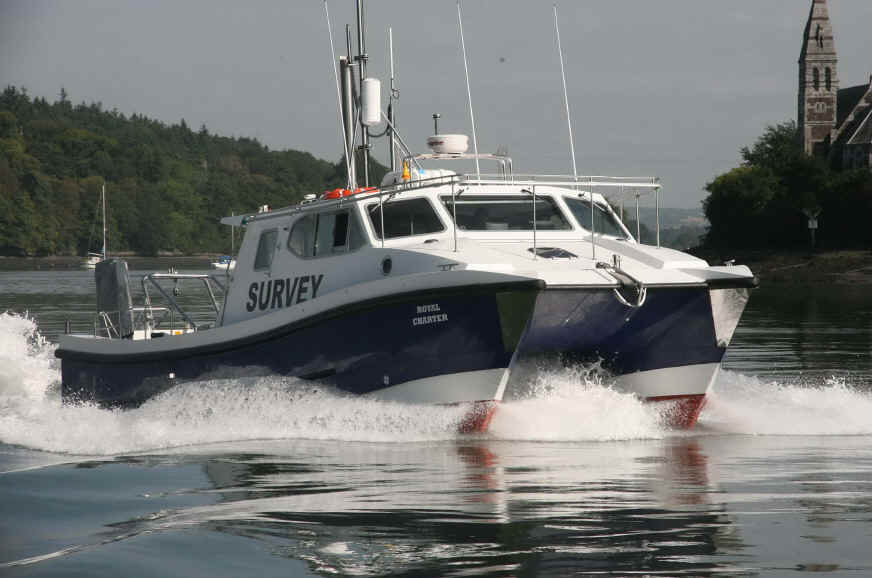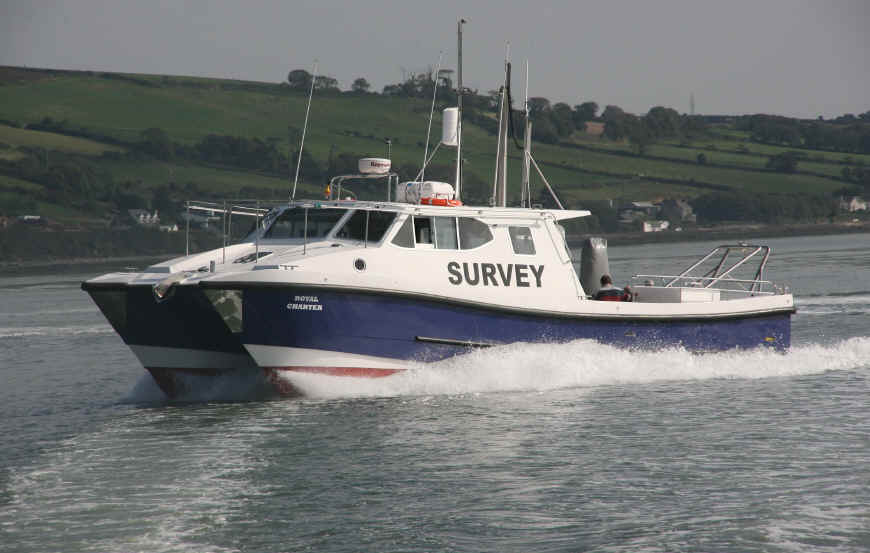 After completing her delivery voyage from Cork to Liverpool, John Davis the ports representative aboard during some very rough conditions, the Irish sea weather buoy recorded winds of 31kts up to Force 8. They experienced heavy breaking seas beam on, which were continuously breaking over the gunwale had this to say-
Frank,
Ireland has produced many a thoroughbred and now we have the thoroughbred of the sea.
From the moment I stepped on board I felt completely safe and comfortable with the vessel,
She is a workboat with five star credentials, plenty of deck storage space loads of room in
The wheelhouse so people are not falling over each other and none of those annoying rattles
At certain engine revs.
The trip from Cork Harbour to Tusker was in flat calm and there is no feeling of careering
Along at twenty knots plus until you poke your head round the cabin sole and the wind hits
you in the face, awesome.
From Tusker to Dublin was a following sea in which she surfed along nice and comfortable.
The trip from Dublin to Liverpool was in a seven to eight gale which was an excellent proving
Ground for her and she came through with flying colours.
Of course we were rocking and rolling but at no time was I concerned and she rolled along
like a good un.
I would be most grateful if you would pass on my heartiest greetings to Gabriel, Kieran and Rob
And thank them for a trip that I will remember and savor happily for the rest of my life.
Many thanks,
John.
ROBERT JOHN DAVIES.
HYDROGRAPHIC SURVEYOR.
PORT OF MANCHESTER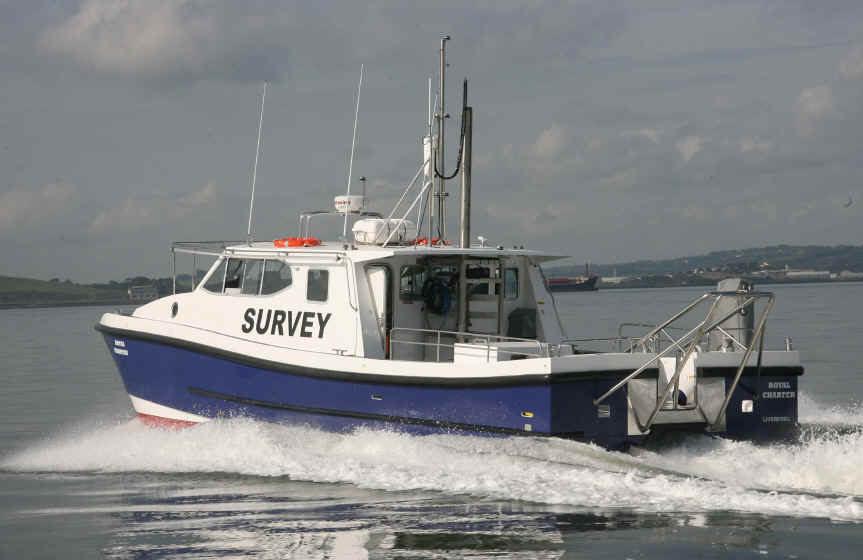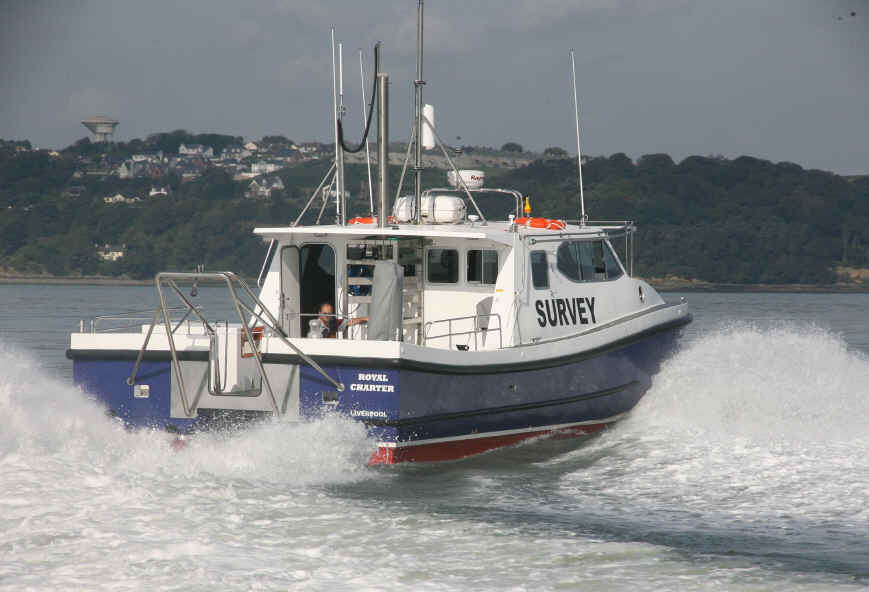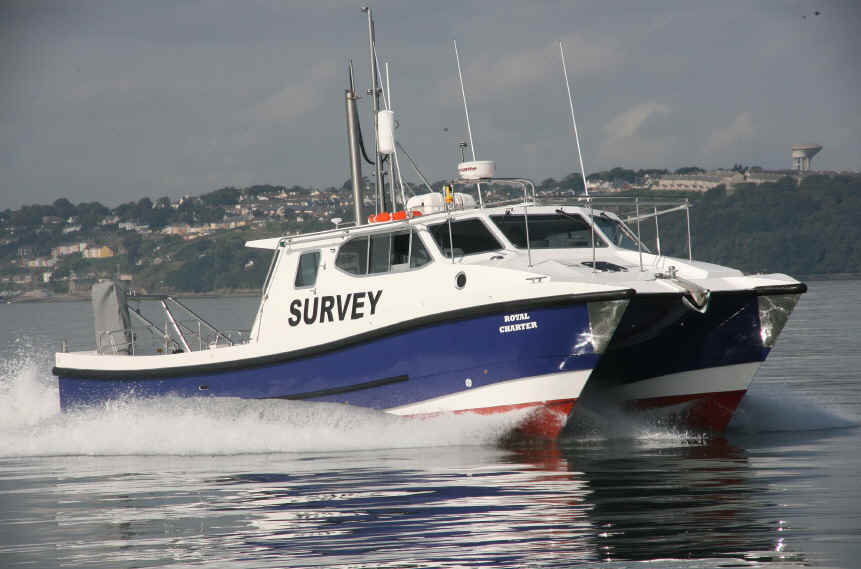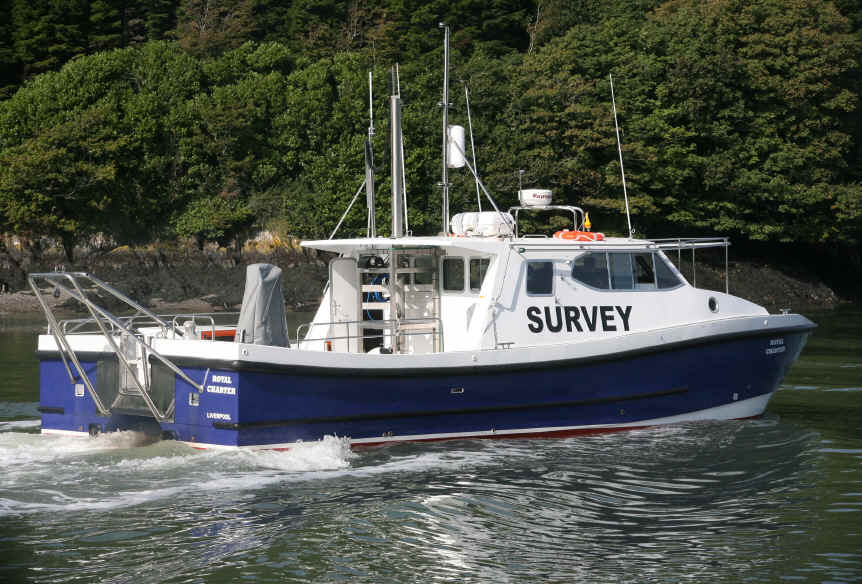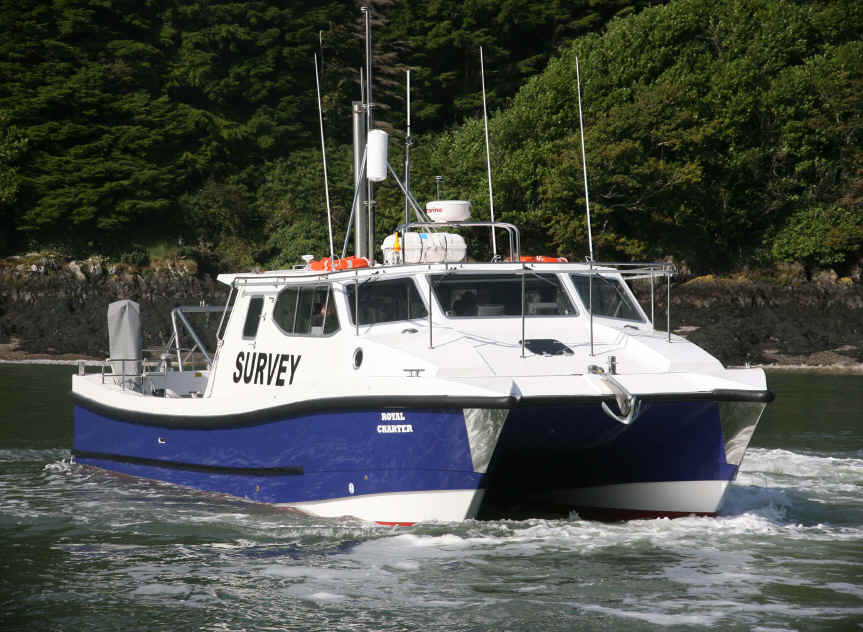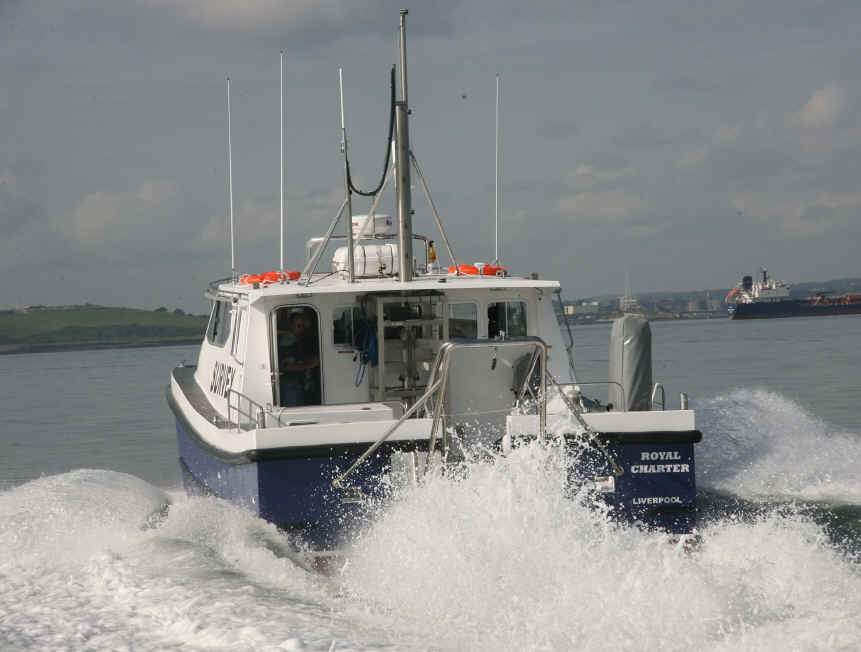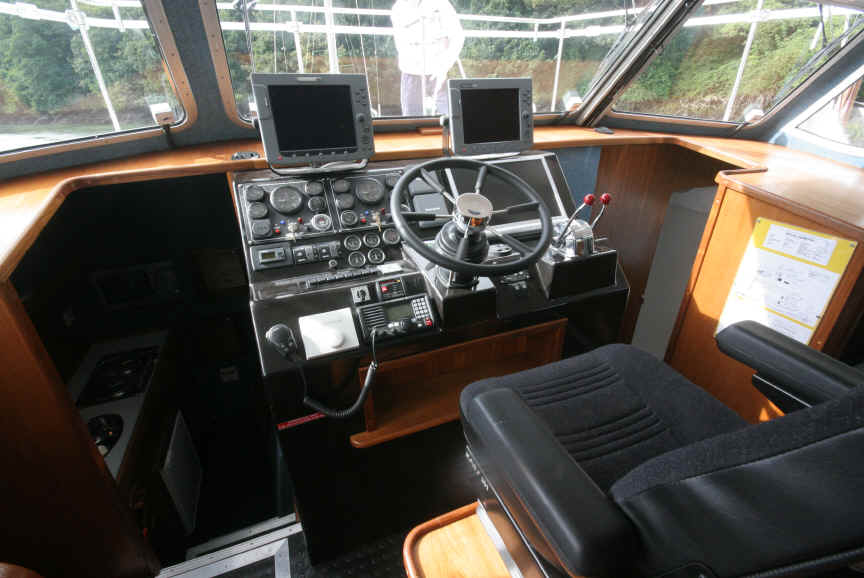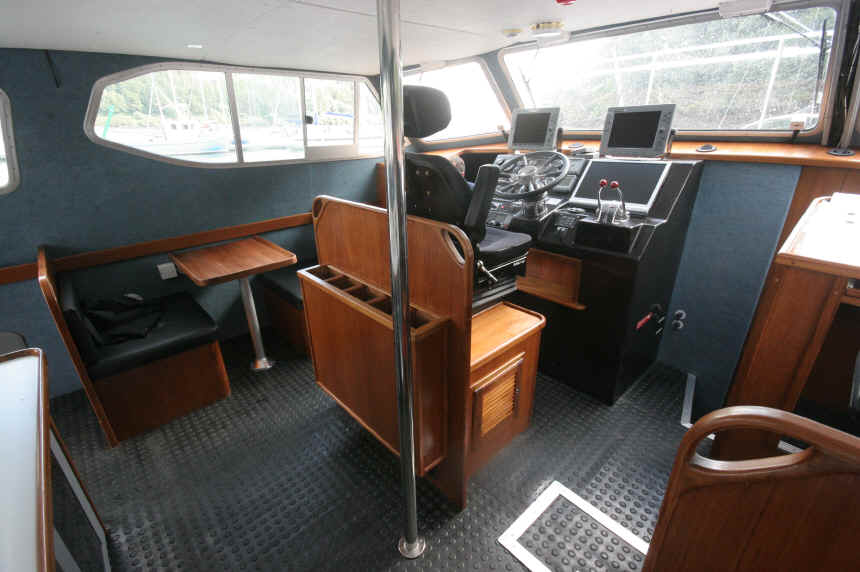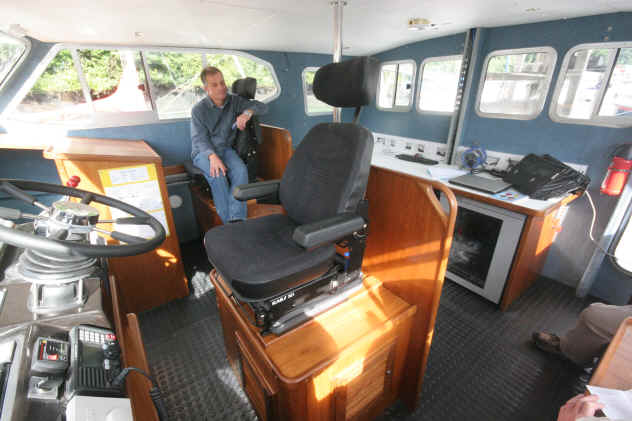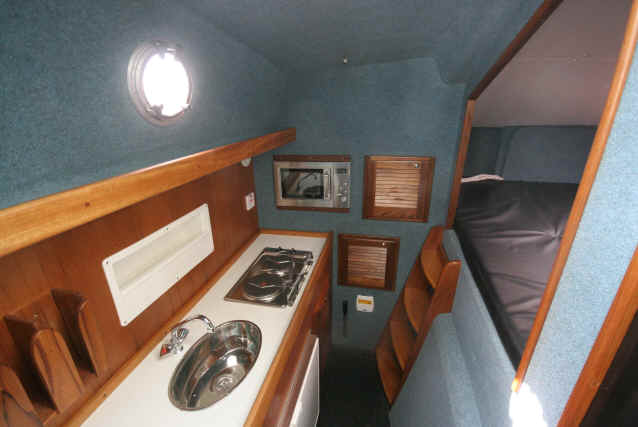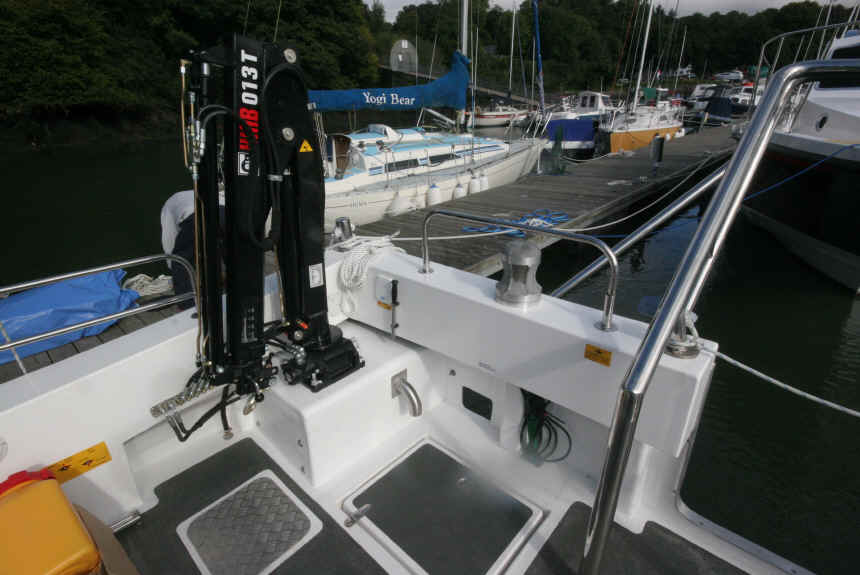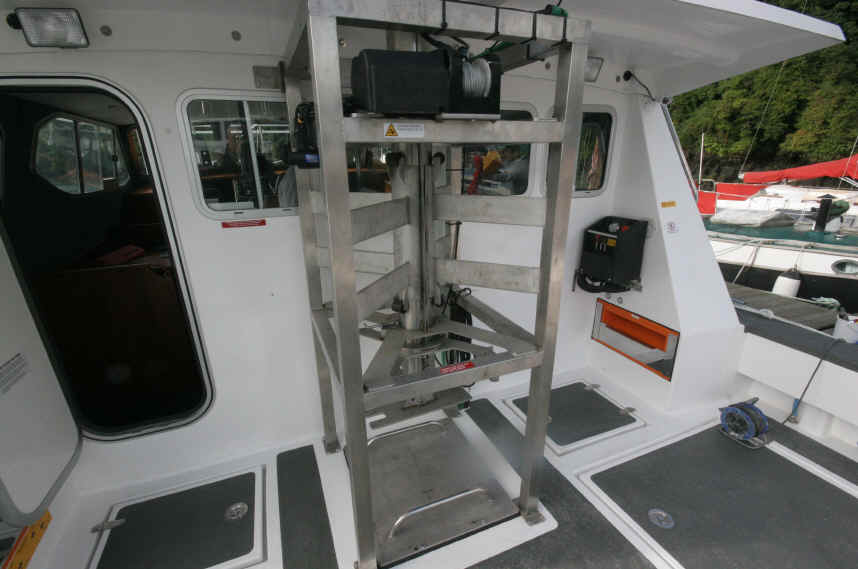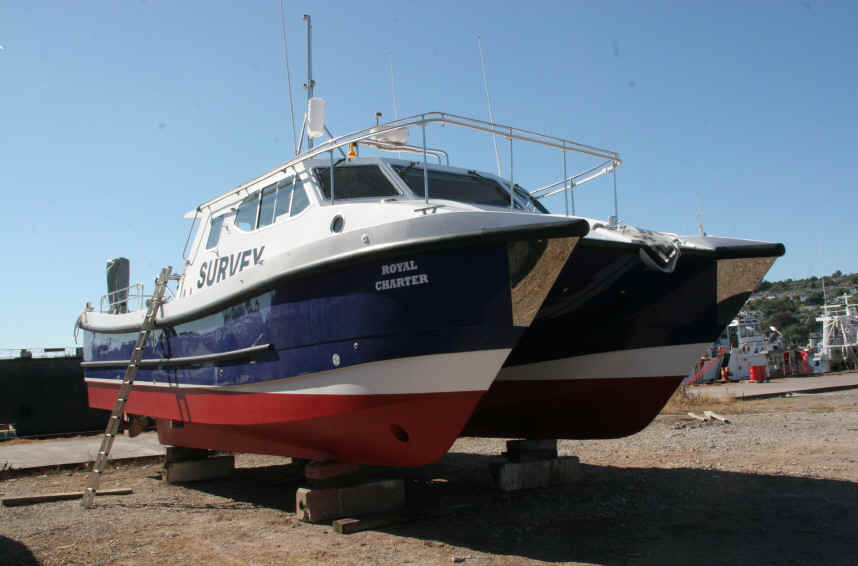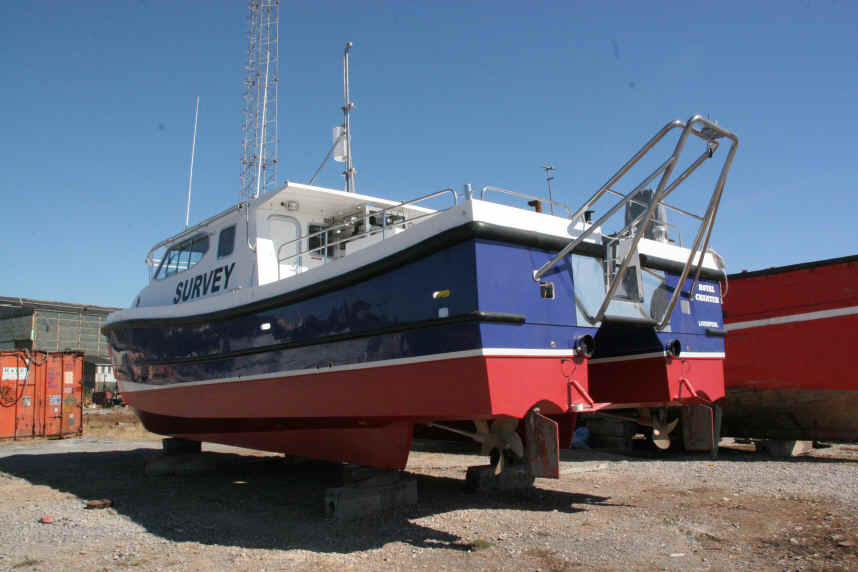 The multi- beam sonar unit and moon pool in operation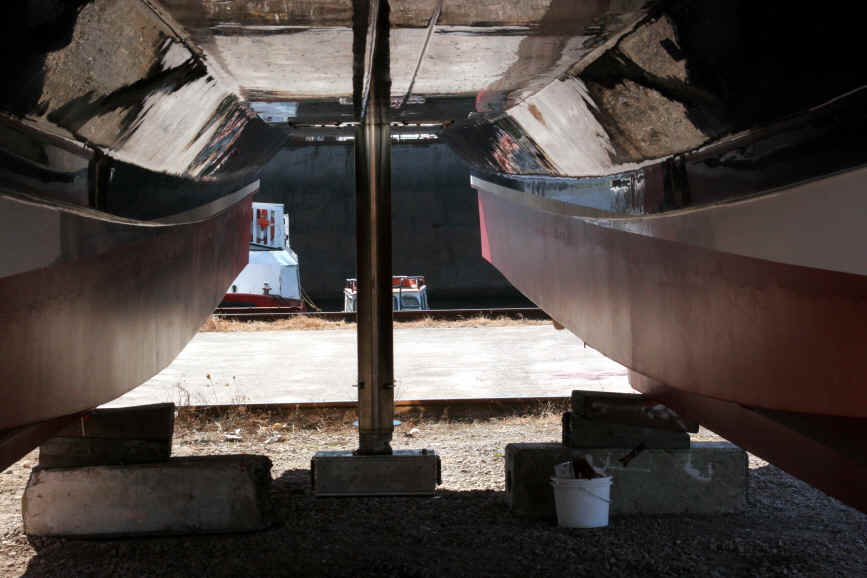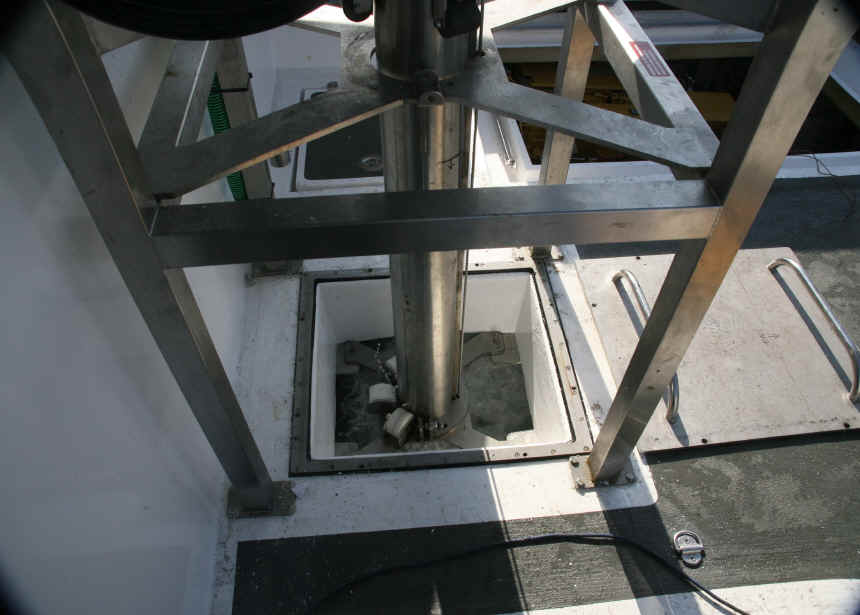 The multi beam sonar system by Reason worked very well after full installation in Liverpool, with the deployment system working very well, and recorded these excellent images of a sunken tug.