HOME MODEL RANGE CONTACT US GALLERY VIDEO DOWNLOAD PRICE LIST
SAFEHAVEN MARINE. Builders of the Interceptor & Wildcat range of offshore craft
'ORCA' Latest INTERCEPTOR 42 launched January 2005.
'ORCA' is the 10th Interceptor 42 and the 37th craft launched by Safehaven Marine. She has been built for Angus Cambell of the Isles of Harris, Scotland. She is to be used as a passenger transporting passengers up to 12 passengers from his Home The Isles of Harris out to St Kilda, this is a 45nm journey out into the North Atlantic from The Isles of Harris which is itself 50nm offshore from the Scottish mainland. When undertaking this journey the vessels sea keeping is paramount and is one of the reasons Angus chose an Interceptor. Her general arrangement has been designed to allow for the maximum seating in the main cabin with passenger seating arranged in 4 person seating modules with a table between and vertical hand holds, maximising available space and comfort and providing security in rough weather. She has 6 berths in 2 cabins, a full galley and a heads compartment accessed from the aft cockpit. She still retains a large aft cockpit with a flush deck. A wide access door on the port side of her aft cockpit allows wheelchair access to the craft.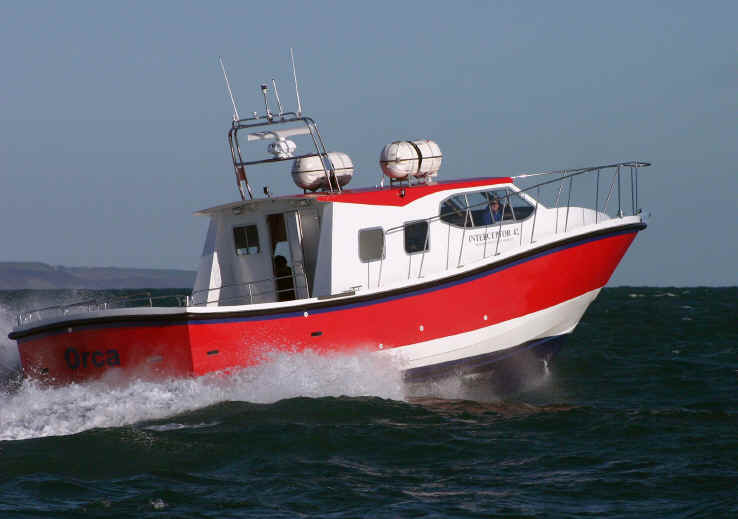 Angus arranged to take delivery of Orca at the beginning of February, and typically the weather had other ideas. He left Cork in a south westerly force 5-6 at , rounded the eastern tip of Ireland and continued up to Kilkeel in Northern Ireland , entering harbor at with the weather having deteriorated to force 7 conditions. The next day they set of for Scotland across the North Channel and endured 40kts winds, gale force 9. I received a text message from Angus saying '40kts wind, 4-5m seas, doing 17kts, boat is excellent' On entering port Angus phoned me to say how impressed he was with the Interceptors sea keeping, they had big seas on the transom quarter, often the worst direction on a fast boat, but he said "on the big, creaming waves I just left her run off and she took care of herself, we're used to big seas, but weren't sure how the boat would behave, but she was excellent and gave us great confidence in her sea keeping" The fact that they completed the journey in such short time, and were able to maintain a remarkable 17kts in such bad conditions speaks volumes for the Interceptor 42's abilities.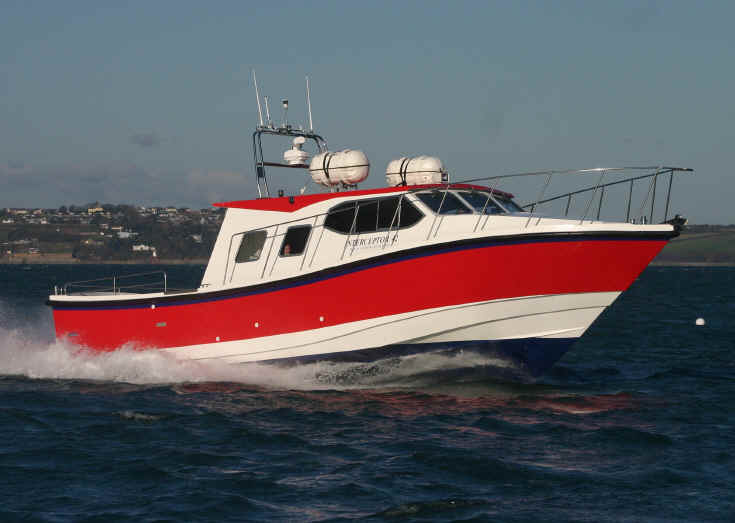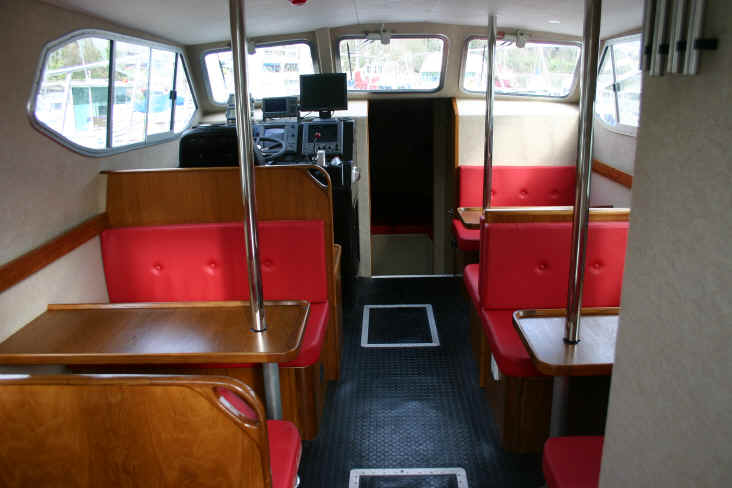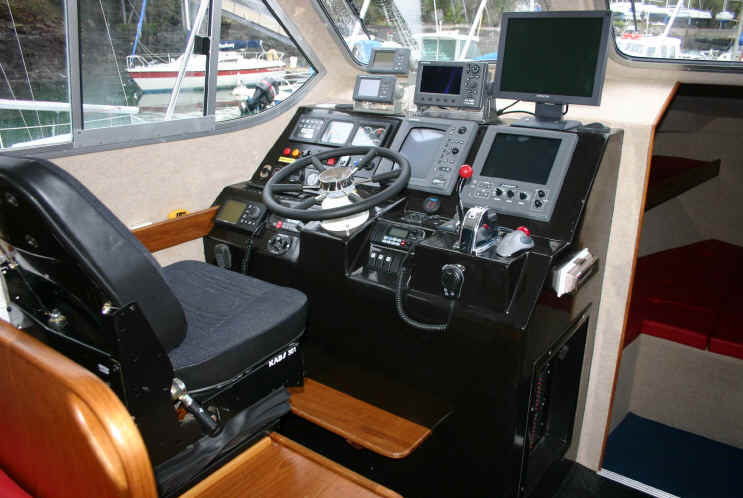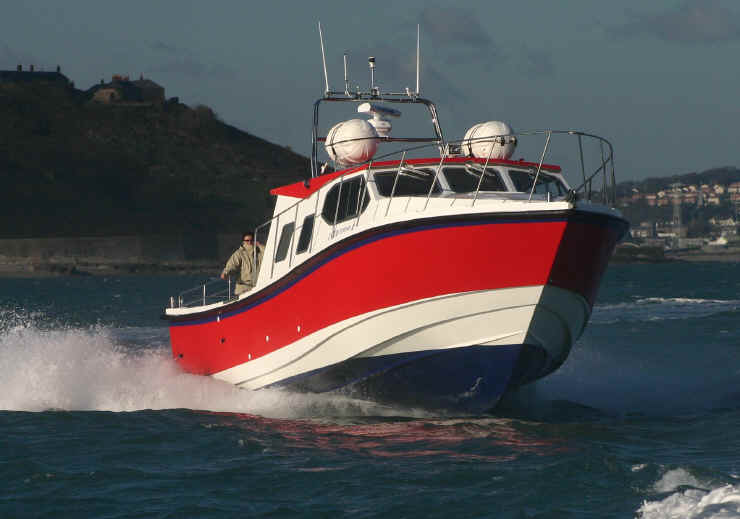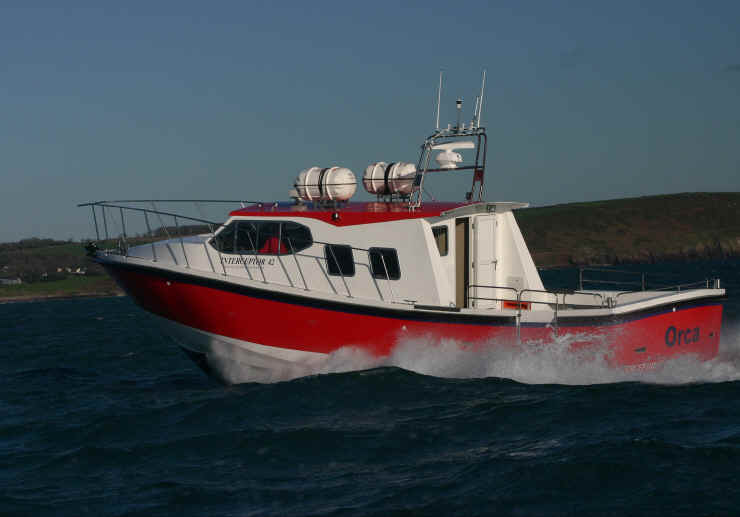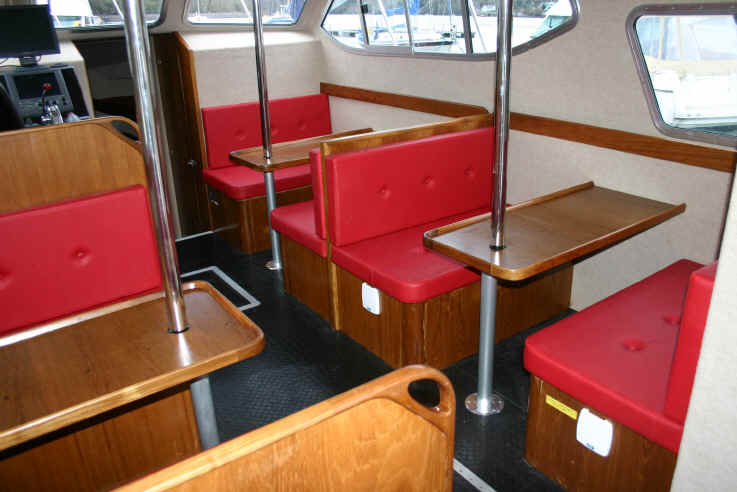 The craft has been fitted with a single Caterpillar C12 engine supplied by Mc Cormack Mc Naughton, rated at 700hp and turning a 26" dia 4 blade propeller, running in a tunnel which allows a very low shaft angle, (9°) for maximum thrust, and provides a top speed of 29kts on a 10,000kg displacement. But more importantly the craft has a very economical low cruise speed of 17kts @ only 1600rpm and a fast cruise of 25kts at 2000rpm. This gives low fuel consumption and great engine longevity.
Her hull colour of bright red really stands out on the water and the matching colour roof moulding adds to her sleek lines.
She's also set to be come a bit of a TV star as her launched and sea trials were covered by RTE for a forthcoming documentary on Safehaven Marine.