HOME MODEL RANGE CONTACT US GALLERY VIDEO DOWNLOAD PRICE LIST
SAFEHAVEN MARINE. Builders of the Interceptor & Wildcat range of offshore craft
'TRUE LIGHT of the Claddagh' The first INTERCEPTOR 42 IS LAUNCHED
Safehaven Marine have this month launched their first new Interceptor 42 design. Built for her owner Martin Oliver and named 'True Light of the Claddagh' after his Grandfathers famous boat of the region.
Martin Olivers grandfather and grand uncle owned the original 'True Light' the last fishing boat to fish commercially under sail in Galway and possibly the last in Ireland . He was at sea in her on the night of the Cleggan disaster when in a severe north westerly gale, 44 fishermen lost their life's. She was one of the few fishing vessels to survive this terrible storm and was regarded by all as a very seaworthy boat and much admired for her grace. Martin likes to think that by a twist of fate some of the old boats grace has been inherited by his new Interceptor 42, as he feels she possesses a similar gracefulness and beauty to her lines that is missing in many modern boats today.
True Light is to be licensed as a Class 6 passenger boat to operate out of Galway . She has been designed to conform to the stringent stability and safety requirements of this class of vessel, and will be capable of carrying 30 passengers. As well as this she will operate alternately as a sea angling charter vessel and survey craft, her design being such that she can operate successfully in a number of different roles.
See photos of her offshore in force 9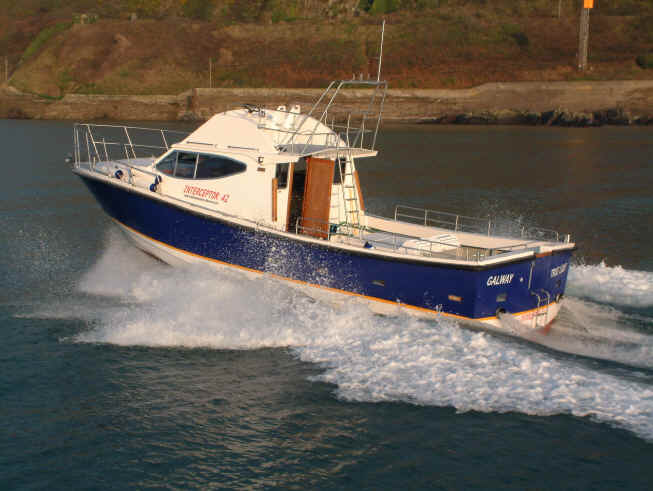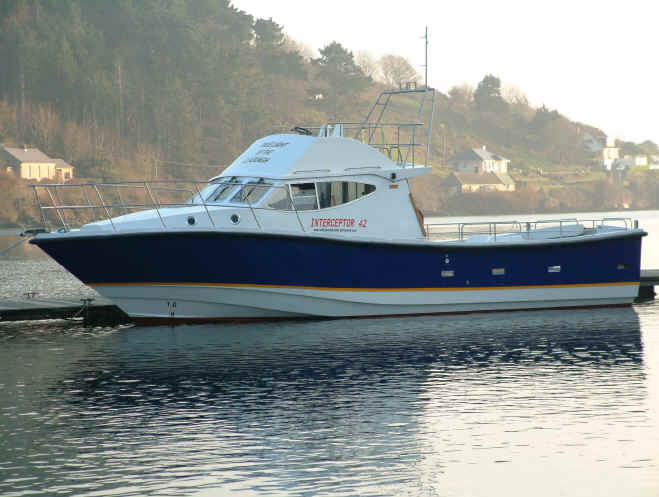 Her hull is based on the successful Deep V hull design of the rest of the Interceptor range but has been developed into a unique twin reverse chine design, offering significant seakeeping and performance advantages over conventional craft. Her wide 13ft 10" beam makes her exceptionally stable with a high GM and impressive GZ curve. Her deep, full length keel provides directional stability as well as good attitude to the wind in drift. It also provides protection to the stern gear and allows for a large diameter propeller to be turned in big single engine installations for maximum economy, very important with today's rising fuel costs. Her deep V sections forward ensure that she can maintain speed into steep head seas without slamming and her large freeboard means her decks always stay dry. She has been fitted out to a very high standard for a commercial vessel, with a large luxurious main cabin with seating for 10 persons as well as a comprehensive galley and cooking facilities. Her fore cabin has a large double berth as well as a large shower / heads compartment.
So as to take advantage of the newly developing Deep sea Big game fishing charter market that is developing in the area, she has a fly bridge, giving the panoramic visibility that this type of fishing requires.
She is powered by a pair of Caterpillar 3126 engines rated at 300hp each and allow for her to achieve a maximum speed of 24kts and a fast cruising speed of 18-19kts on a lightship displacment of 10,000kg.
At present she is undergoing sea trials in
Cork
and is proving to posses very impressive seakeeping abilities which were amply demonstrated to a large crowd of people during a promotional Video shoot in a force 9 storm off Roches Point.

Managing director of Safehaven Marine and designer of the Interceptor range 'Frank Kowalski' said 'our new 42 is generating tremendous interest throughout the commercial sector, her wide beam and stability is appealing to commercial fishermen whilst her sleek, graceful lines seems to appeal to everyone'. Currently Safehaven Marine have orders for three more 38's and two 42's with the eighth 38 'Theseus' being recently launched for her owner Dave Nuth. Fitted with a single large Scania DI12 engine, she will be operating as an Angling charter boat during the summer months and commercial fishing in the winter from her home
port
of
Jersey
in the Channel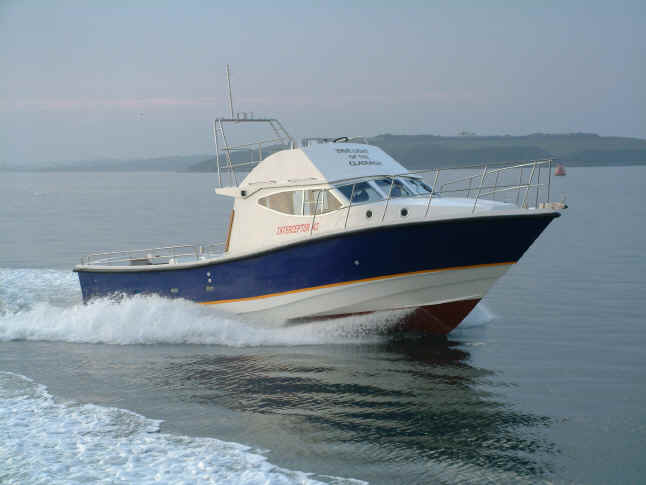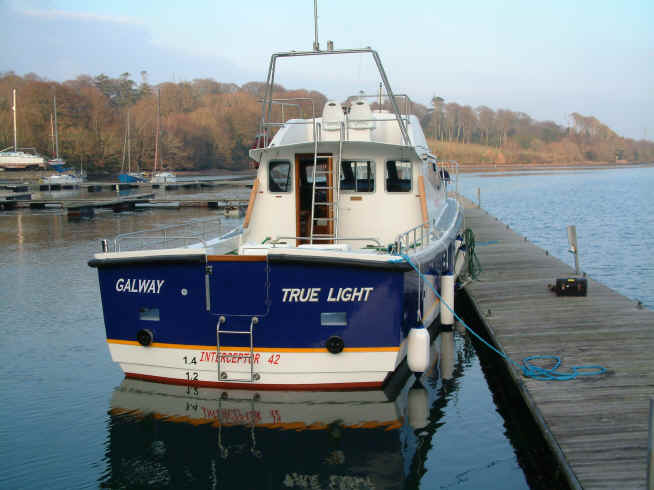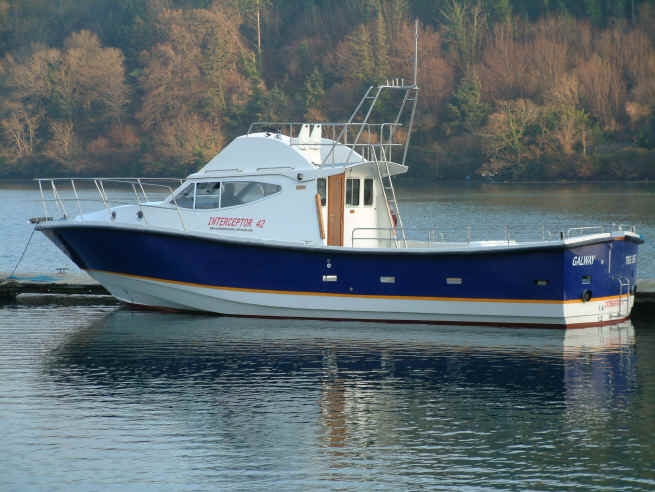 SPECIFICATION.
Displacement at launch, lightship 1/4 fuel 9,750kg
Fully loaded, full fuel- 11,150kg
Engines Twin Caterpillar 3126 @ 300hp each.
Max mean two way speed 23.65 kts @ 2800rpm. Conditions 1/4 fuel, 4 persons, sea state calm.
Cruise @ 2400 rpm 19kts
For technical information click on this link