HOME MODEL RANGE CONTACT US GALLERY VIDEO DOWNLOAD PRICE LIST
SAFEHAVEN MARINE. Builders of the Interceptor & Wildcat range of offshore craft
'ZEUS' the first new Interceptor 38 MKII for 2003.
'ZEUS' launched in Sept 2003 is the first new Interceptor MKII version. Custom built for her owner Richard Beaumont, director of the recreational diving company 'Adventures in Diving'. She represents a development of the successful Interceptor 38. In order to increase performance and stability as well as the working area of the original design, the hull mould was widened at the transom by 18"/ .4M. This has dramatically increased stability as well as now giving a large and spacious aft cockpit with considerably more room than before. Also improved is speed and economy, the new hull giving a 1.5kt increase in performance with corresponding benefits in economy.
Also styling changes were incorporated, a new side window design closely following the Interceptor 42 giving the superstructure a sleeker and more curvaceous look. On this an extended cabin version we used a new design of sliding aft cabin door which does not interfere with the engine box and makes access much easier, also there is less chance of the door being damaged.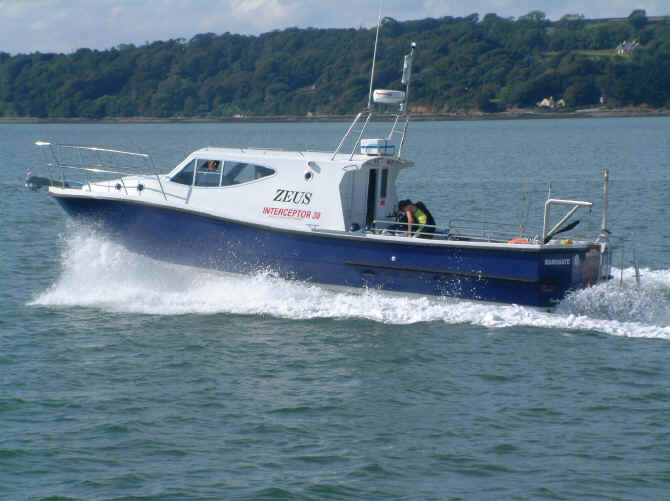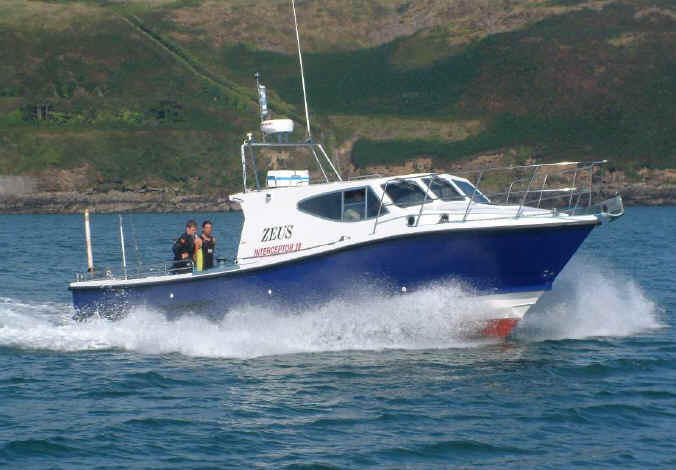 Zeus was built to a very high specification, specifically to suit her intended role as a long distance dive boat. She has a 3.5kva generator running full 240v mains for a cooker, kettle and microwave. She is also fitted with shore power and a battery charger. She has comfortable seating for 6 in the main cabin and with unique fold-away hammocks in the fore cabin she has sleeping for 5-6 persons. She has had a large amount of specialised stainless steel fabrication including dive bottle racks along the gunwale, a large dive platform with fold away dive ladder, a lifting gantry capable of lifting objects up to 500kg from the sea bed. This is operated from an engine run hydraulic system powering an anchor capstan, and via a pulley arrangement to the gantry.

On sea trials she achieved 24.3kts max with a 19kts cruise. As can be seen from the photos she undertook a couple of dives with her owner and friends whilst here in Ireland , prior to her delivery voyage back to the UK . Her owner Richard Beaumont was exceedingly happy with her performance, and especially so with the arrangement for recovering divers, the system working as planned during these dives. He was very pleased with her stability in a seaway commenting that the wider hull has made her even more stable than she was before.