NEWSLETTER JUNE 2010
PATHFINDER & SPITFIRE WORKING TOGETHER
Ken Warren, the Assistant Harbormaster at the port of Southampton sent me this nice photo taken of Spitfire and Pathfinder running alongside each other on patrol in Southampton's waters.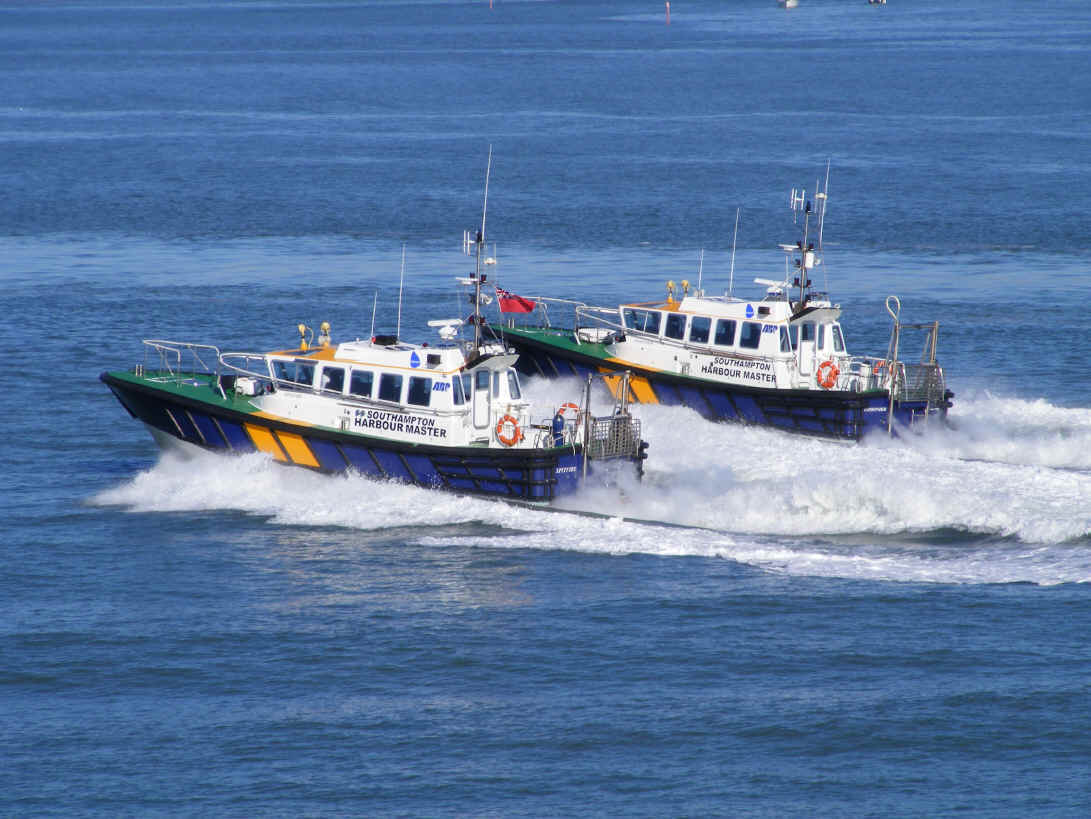 Spitfire and Pathfinder at their naming ceremony in Southampton.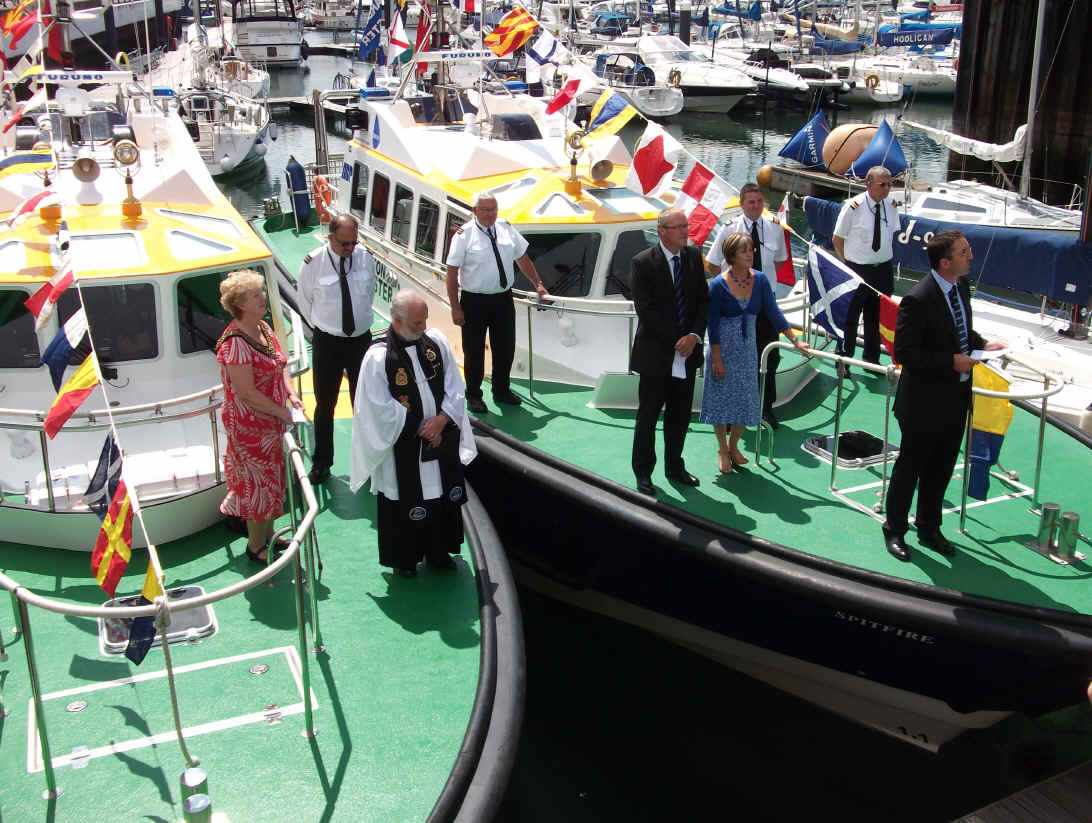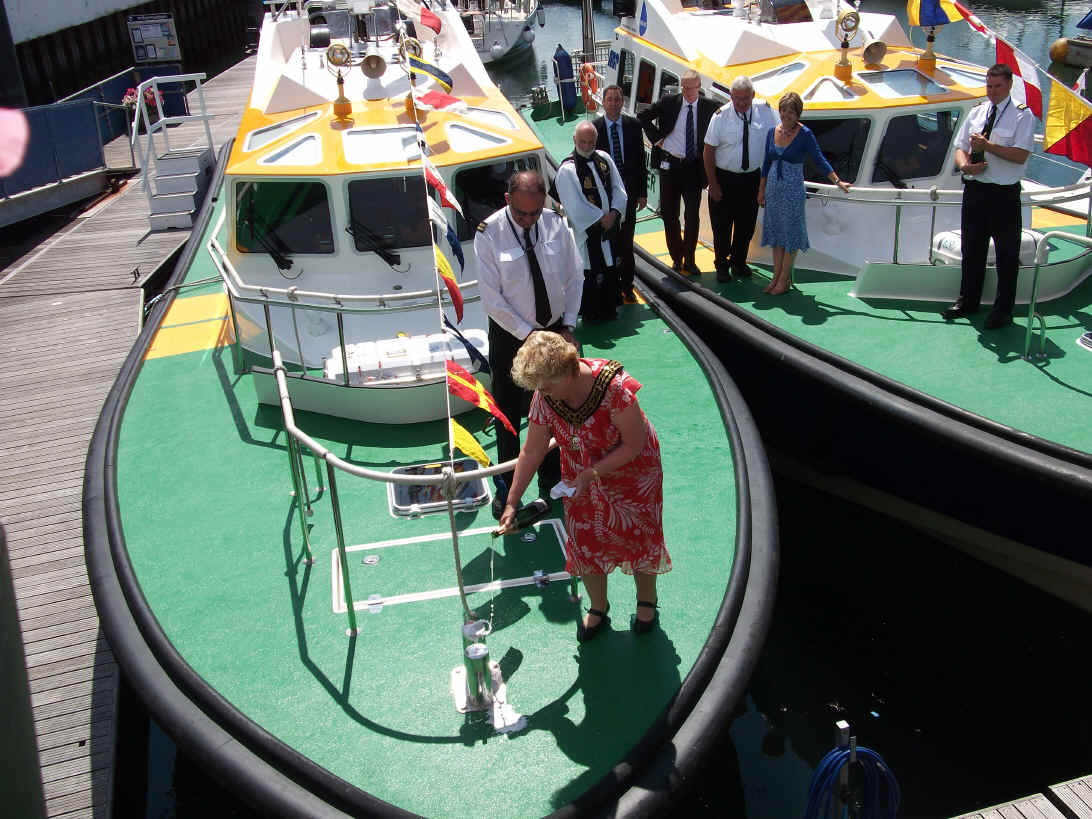 BAYONNE PILOTS HOLD NAMING CEREMONY FOR IZURDIA
In service for nearly 12mths, the pilots at Bayonne held the naming ceremony for Izurdia, below she is receiving the blessing.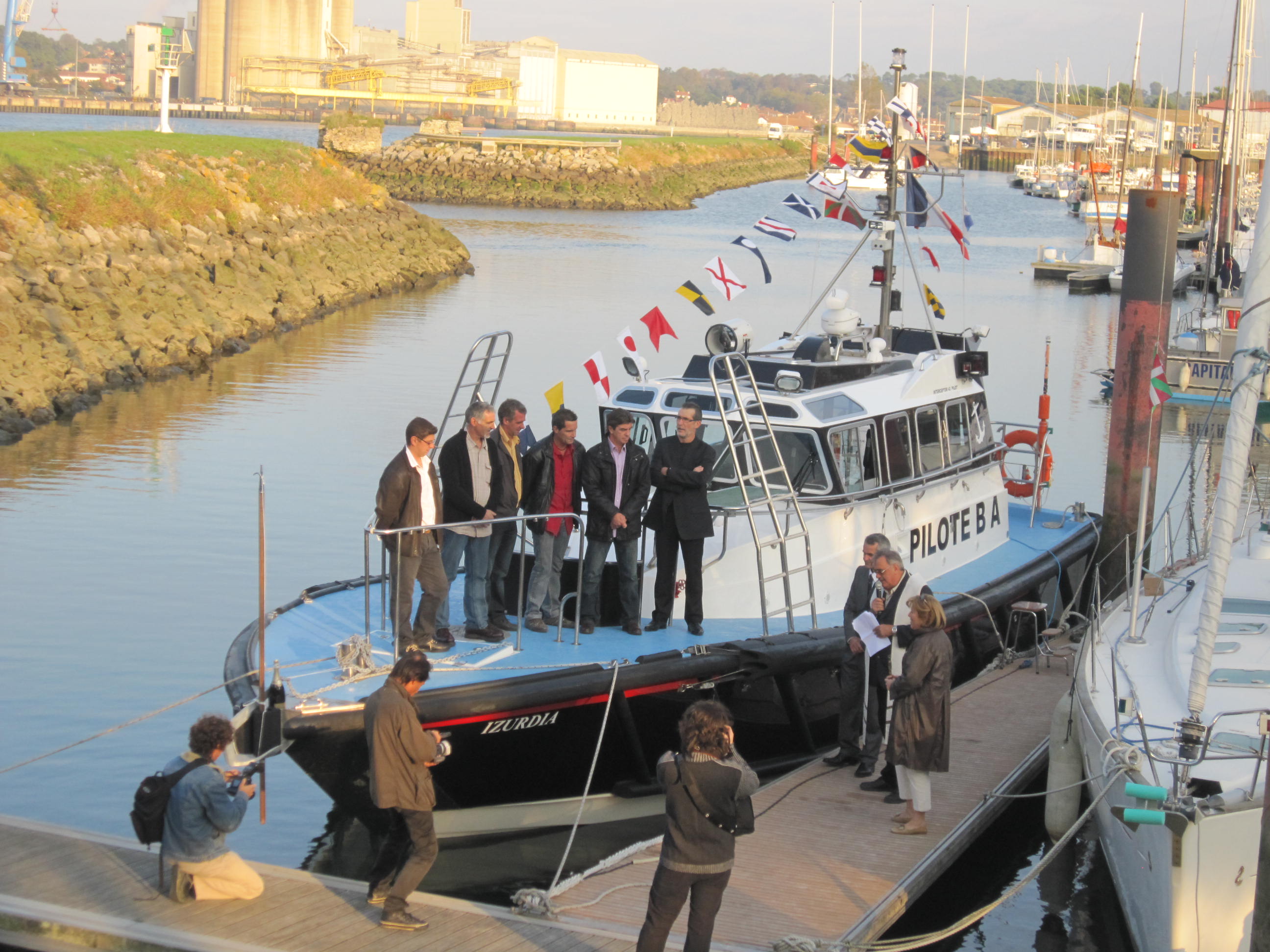 We received this nice letter of recommendation from Bertrand Moutard of the Bayonne Pilots.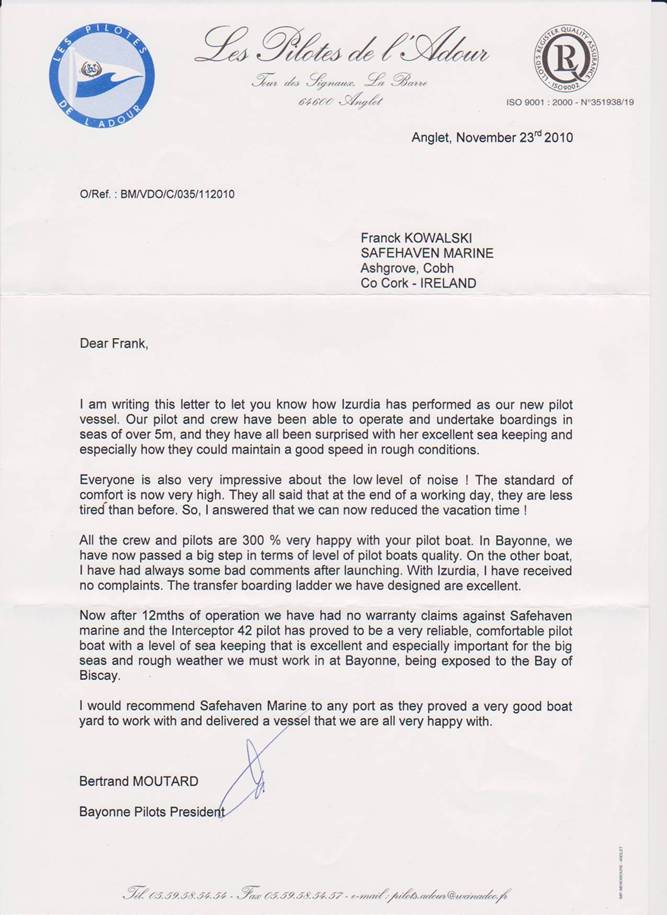 PORT OF BORDEAUX'S NEW INTERCEPTOR 48 PILOT BOAT
'QUINOA' IS DELIVERED!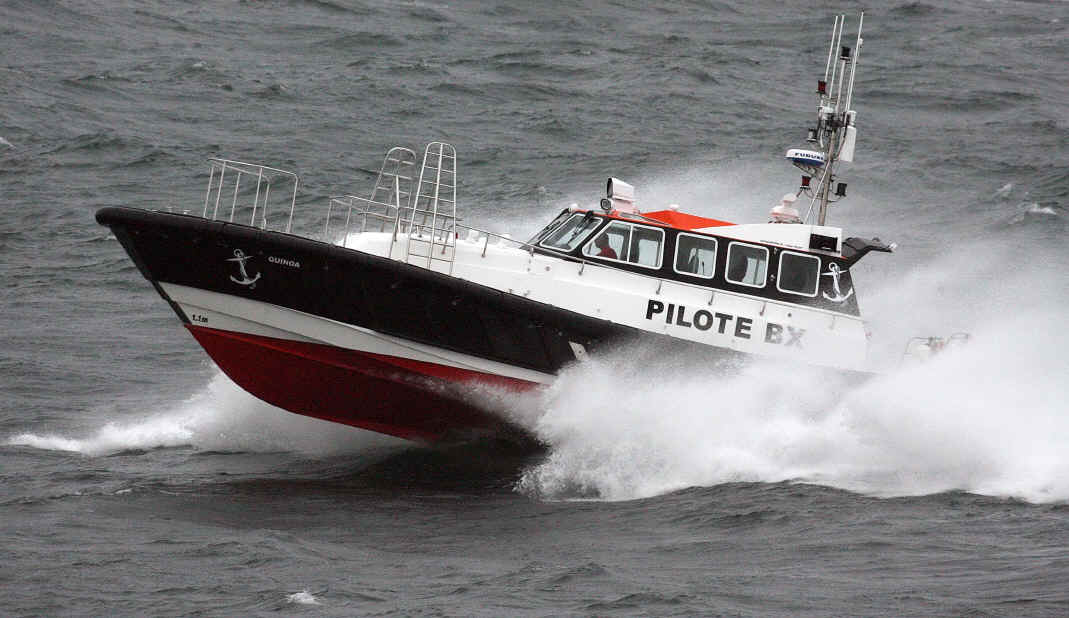 Quinoa, our first Interceptor 48 / 14.5m pilot vessel has been delivered by sea to Bordeaux, here is an account of the voyage by Olivier Barreau, the pilot chiefly involved in overseeing her construction and who undertook the delivery voyage.
THE VOYAGE OF 'QUINOA' FROM IRELAND TO BORDEAUX , FRANCE , DOWN THROUGH THE BAY OF BISCAY by Olivier Barreau
Quinoa left Ireland at 11am on Saturday, conditions were NW force 5 with a 2m swell offshore, conditions being worst off Ireland where there was a cross sea of the main Westerly swell, and wind waves at 90 degrees to this, but she handled conditions perfectly and was able to average 22kts comfortably in a following sea. We made the140nm run to Lands End in 6 hrs. After refueling at Newlyn and a short break, we cast off at heading to France at night. The wind intensified overnight to a good Force 6, again from the NW and on this course we ran with the seas beam on, or off the stern quarter. Approaching Brest, North West France the wind was blowing quite hard and we had pretty large waves under the influence of current reaching 4m in height, and very steep. At one point I switched the searchlight on to gauge the conditions just in time to see a wall of water over 4m in height bearing down on us, allowing me just enough time to slow down before falling into the hole, but even in these conditions the vessel was very stable and we were not worried as by now we had a lot of confidence in her abilities, and were still able to manage over 20kts. We encountered another area of particularly bad weather off Ouessant Island with quite confused seas of 3 mtrs high necessitating concentration to maintain control. Her handling was very predictable and I was able to sense the waves passing under her and react on the helm to hold course by feel, and compass bearing. To do so in these conditions, during nighttime, said a lot about Quinoa's sea keeping abilities.
We continued down through Biscay stopping off at Concarneau in the morning where we refueled and drank a toast of Champagne with the Local Pilots who greatly admired Quinoa. We then departed Concarneau heading down the Bay of Biscay . On this run we had a following sea of 3-3.5m in height, Quinoa was very comfortable in these conditions, we were able to run at 22kts, surfing at speeds of up to 26kts during which she was very good, being easily controllable when surfing and not burying her bow in the troughs, one thing I noticed was that the engines would lose rpm and speed would drop to 18-19kts on the back of bigger waves, but I guess this is the electronic engines sensing overload and cutting power preventing excessive emissions and smoke, as she tried to run, in effect uphill, I suppose it also protects the engines from overloading, but she would accelerate nicely as the waves passed under us. We stopped off at La Rochelle to allow the pilots there the chance to view and sea trial Quinoa, and again they were very impressed with her, especially by the quality of her finish and engineering, they will be looking for a new pilot vessel in 2-3yrs time and I am certain they will visit you soon after seeing our pilot boat.
We departed quite late and headed to Bordeaux at night time. Conditions continued to be very rough especially off the Island of Oleron where we had wind against tide with very steep 3-4m head seas off the bow, we had to reduce speed here to 12kts and I negotiated the seas comfortably by swinging the bow off the crests so she didn't fall heavily into the troughs. My engineer was not so used to the rough conditions and quite worried at times I think, so he busied himself with keeping an eye on the engines and maintenance, we had only a few small problems and he highlighted the tightening of one search light mounting and leaking from 3 delta fenders, the engines used no oil but on one occasion the cooling water alarm in an engine sounded when we fell heavily into the trough of a wave, other than these small things we had no problems.
We continued on towards Bordeaux , and when some 5nm offshore we slowed down to take bearing and to line up at the entrance to the harbour mouth and run NE to the river entrance. This course put us beam on to the seas at the entrance to Bordeaux which was quite stressful, as it was night time, the wind strength was Force 6 and the 3.5m offshore swell in Biscay was running straight into the entrance of the Gironde river meeting a 4kt ebb tide, and to make maters worse it was near low tide causing the waves to break strongly over the bar where they were reaching over 5m in height. But beam on to the waves Quinoa was very stable so we had no concerns as at this point we had a lot of confidence in the vessel. At the outside of the Bar we turned to the SE to give us a straight run with the seas dead astern to cross the bar. We ran in at 1700rpm, this gave us a speed of 14-15kts with Quinoa accelerating to over 28kts when surfing on the face of the larger waves. Quinoa handled very well as she crossed the bar with waves breaking around us in what were quite dangerous conditions, especially as it was during the night, yet at all times we felt safe. Certainly some corrective helm was required to stay on course when she swung away to port or st/bd a couple of times, but we always maintained control and what impressed us most was how stable she was, staying almost level with very little heeling, my co helmsman who operates our pilot vessels commented on the fact that she was more stable (how much she heeled over or rolled) than our much larger 17m pilot vessel in these conditions. We came alongside at after traveling over 500nm from Ireland almost non stop in 24hrs averaging over 20kts. Quinoa has proved to be a fantastic vessel and I am very happy with her, My conclusion is of a pilot boat with excellent sea keeping, and I must say Frank that at all times throughout the voyage we felt completely safe in her"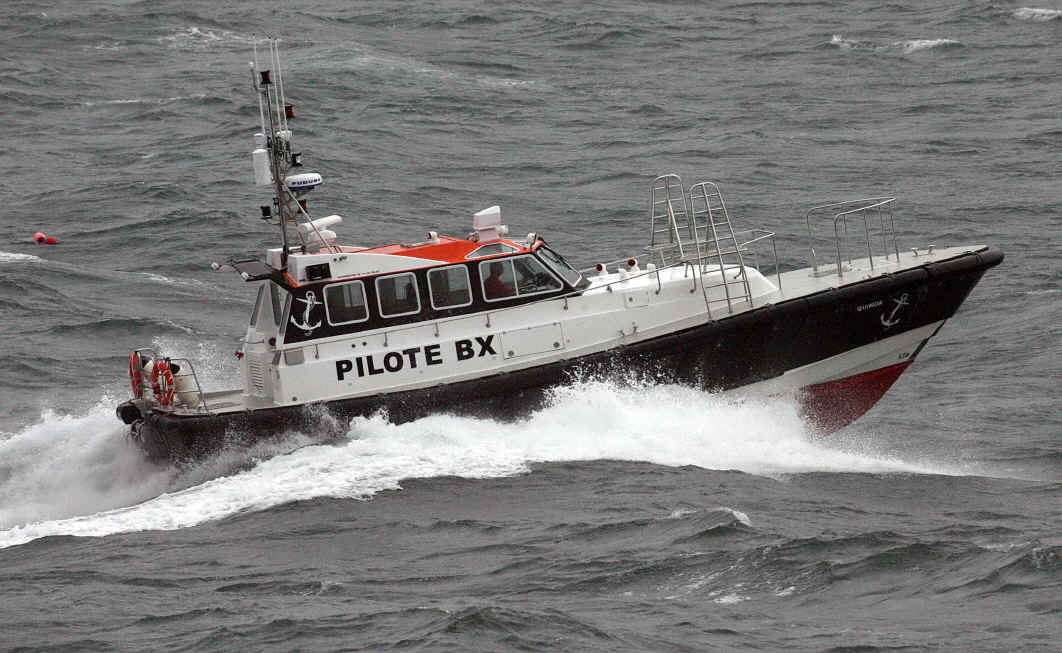 The pilots at Bordeaux have to deal with very challenging and at times dangerous seas at the entrance to the Harbour where big Atlantic swells from the Bay of Biscay meet the strong 3-4kt ebb tide from the Gironde River and rage with special violence causing breaking seas at the Bar that reach over 10m in height during winter months, the Pilot vessel is expected to be able to navigate the Bar safely in up to 5m wave heights. As a consequence a fundamental requirement by the Port was for a pilot vessel with very high levels of sea keeping and Safehaven Marines reputation in this respect was unsurpassed by any other builder. An important part of the design brief was for the Interceptor 48 to be fully self righting in the event of capsize by virtue of her high buoyancy superstructure and consequently the vessel has been built with numerous features such as automatically closing air vents, 15mm thick windows and watertight cockpit doors. In addition the superstructures forward windows are aft sloping to minimise pressure loadings when taking green seas over the bow, (a fairly regular occurrence due to the extreme conditions she operates in) Another advantage of the Interceptor 48 is the inclusion of a large and spacious forward cabin, this is achieved by virtue of having her engines installed further aft under the main cabin, where they are subject to less loadings and accelerations in rough seas, and are quickly removed in the unlikely event of failure through hatches incorporated in the main cabin sole and cabin roof. The forward cabin on Quinoa features bunk berths allowing the pilots to rest and relax comfortably during transits at night time, and provides increased seating capacity that can be utilised in an emergency, or when additional passenger seating is required.. Quinoa is fitted with Safehaven's unique pilot boarding ladder design improving safety for pilots when boarding but causing minimum obstruction to visibility. Quinoa was built under Bureau Veritas survey to the strict French Maritime authority requirements.
The vessel was delivered at the end of September by Olivier Barreau, the pilot specifically involved in overseeing her design and construction whom became good friends with Safehaven's owner and designer Frank Kowalski during the 12mths of her construction. The 500nm voyage from Ireland to Bordeaux was completed in challenging conditions.
For full information click here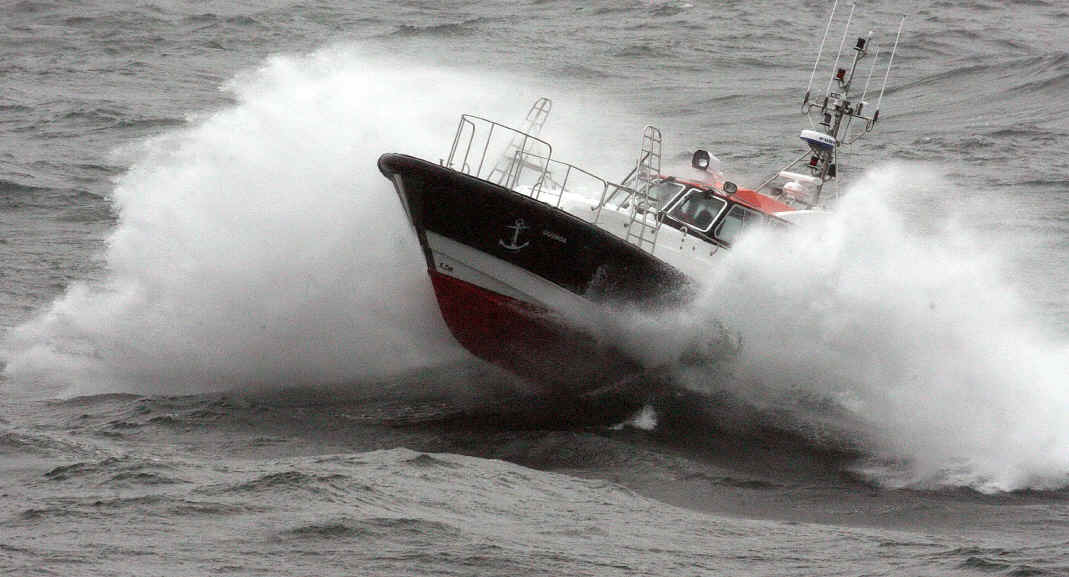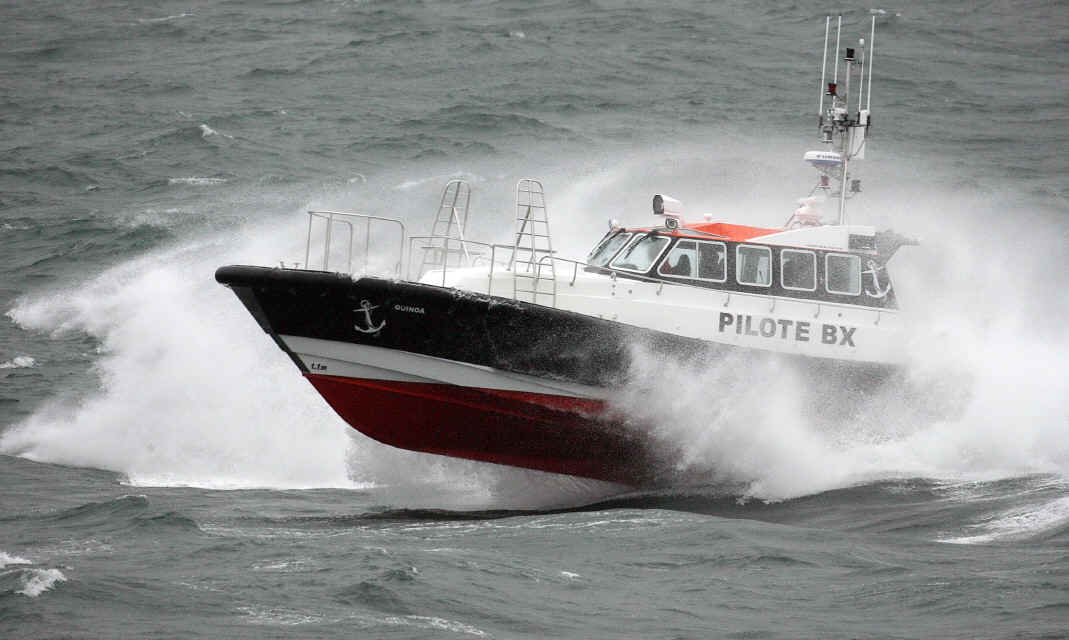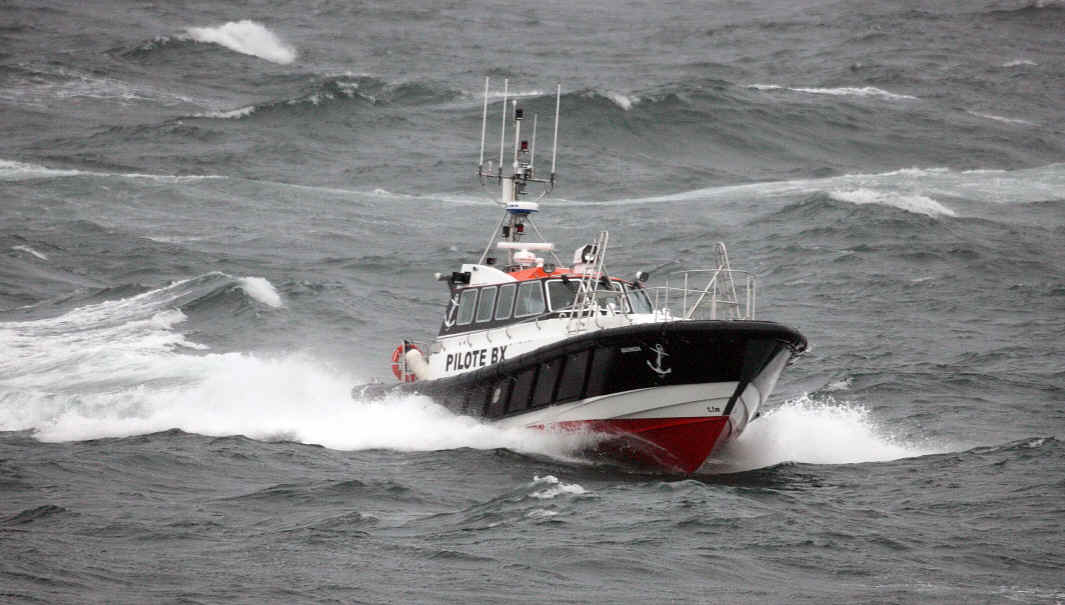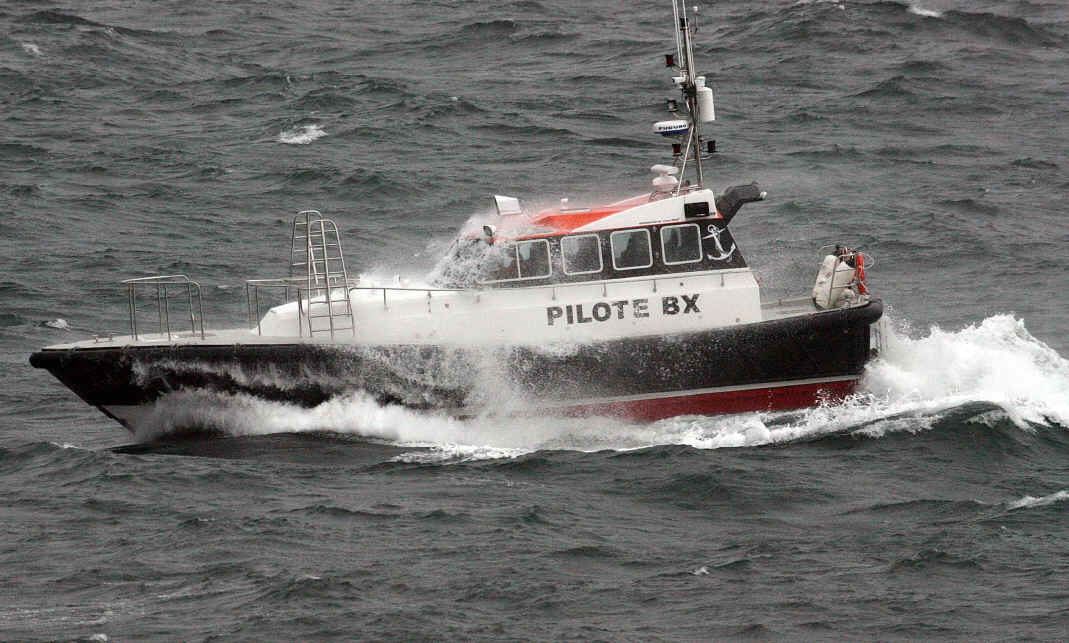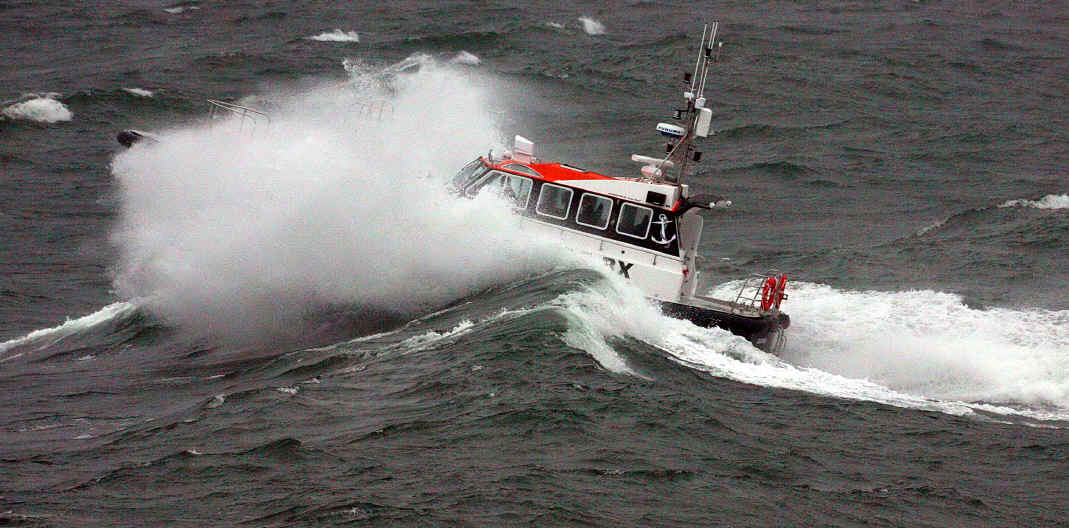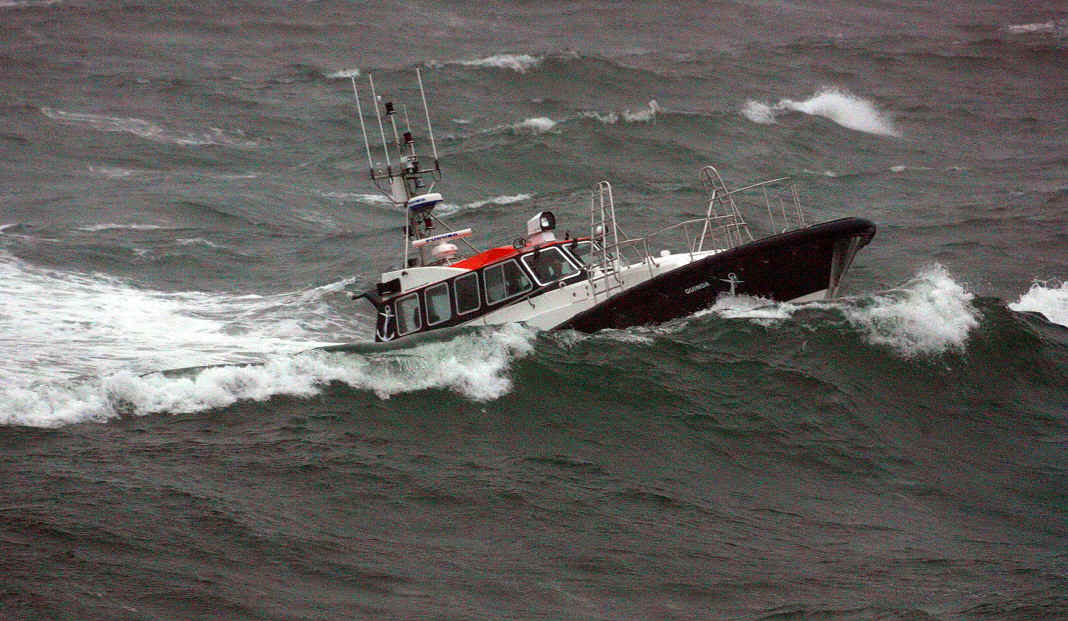 Above, some photos of Quinoa undergoing rough weather seekeeping trials during which she provd excellent with a soft ride running into head seas and being very stable running down wind with a following sea (above) you can see a video of the trials from this link- SEE THE VIDEO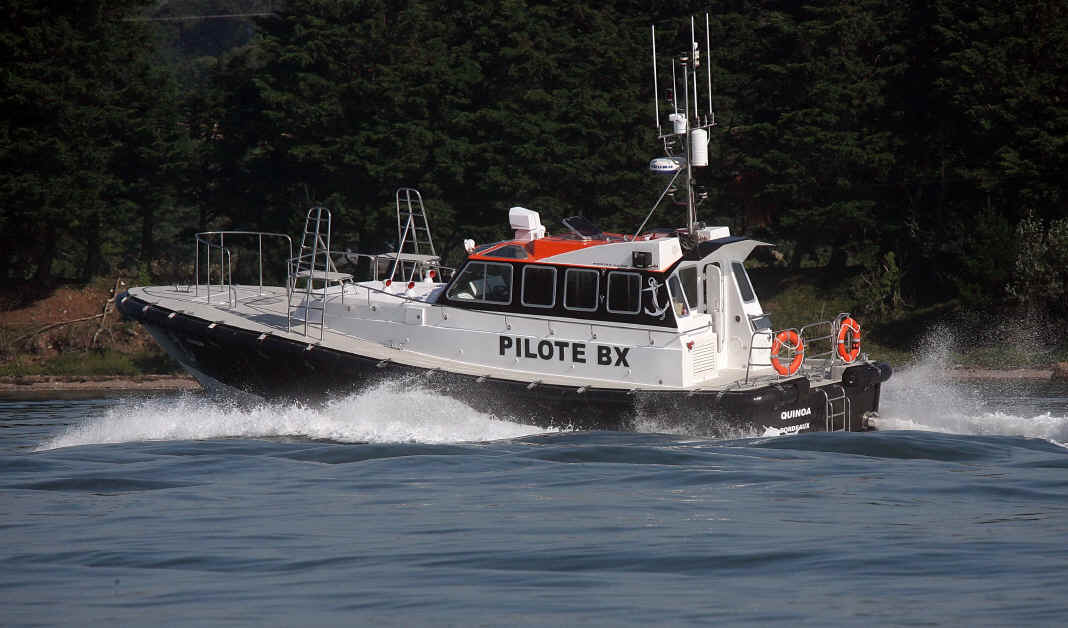 The Interceptor 48 has proved to be a very fast and efficient hull design. Fitted with Iveco C13 engines at a continuous rating of 520hp Quinoa achieved a maximum speed with 1/4 fuel load of 26kts, and 25kts fully loaded with 1850 litres fuel and three crew at a displacement of 19,200kg.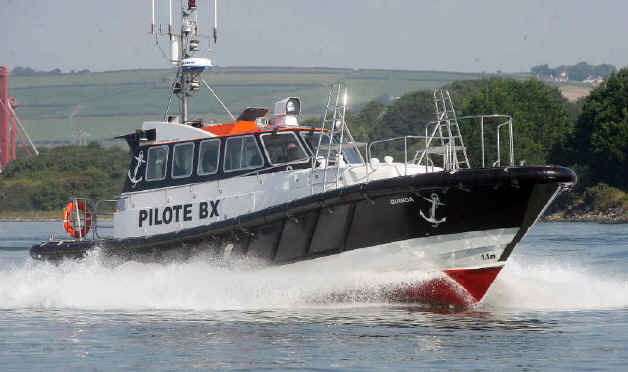 The 'Syndicat Professional des pilotes de la Gironde will be taking delivery of 'Quinoa' our Interceptor 48 'OCEAN 3'. This vessel is built to an exceptional standard with a very high specification, very similar to the Port of St Malo's and Bayonne's pilot vessels supplied before. She is powered by a pair of Iveco 13litre engines at 520hp. She incorporates the French industry standard OCEAN 3 fendering, which features a 300mm lightweight rubberized skin foam fender, retained in a recess in the hull and secured by multiple straps. She is fitted with our pilot boarding ladders that facilitating safe pilot transfer and a Jason cradle MOB recovery system stored in a recess in the superstructure side. Below 'Quino' has turned out a very fine looking vessel, with very graceful lines, her long sleek design is enhanced with rearward sloping windows giving her a modern, handsome look and will lessen the impact of big breaking seas that she will be facing crossing the bar at the entrance to Bordeaux, where big swells from the Bay of Biscay reach 10m during the winter months and she will have to operate in up to 5m seas.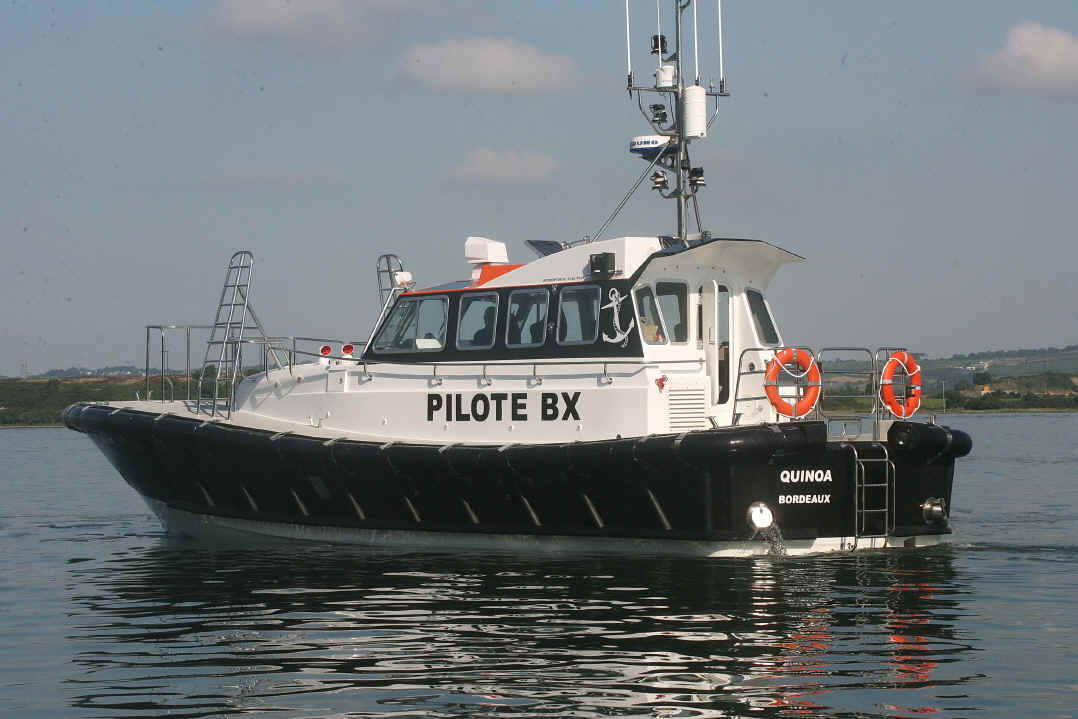 Possibly the prettiest Pilot vessel we have built, the Interceptor 48 has sleek and graceful lines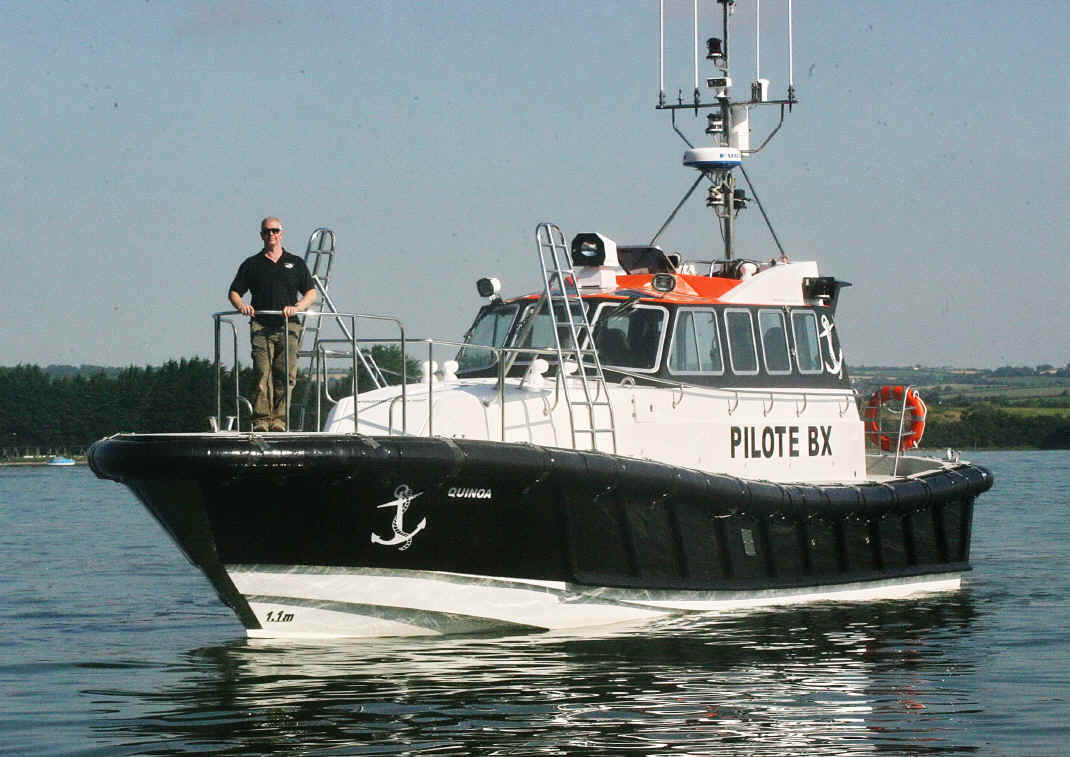 Her interior is finished to a very high standard, fully lined throughout in vinyl with black gloss laminates, teak and holy cabin sole sandwiched with 40mm of soundproofing and wood trimming produce an exceptionally luxurious environment for her pilots and crew. Four reclining Recardo air suspension pilot seats with side bolsters will give a comfortable ride in rough weather.
The helm position has been especially designed to provide the ultimate comfort and control for the helmsman, the design wraps around with all instrumentation clearly visible and all the vessel controls have been ergonomically designed for comfort and visibility. 'Quinoa' is fitted with a sophisticated navigation package centered around the Furuno Nav Net 3D electronic system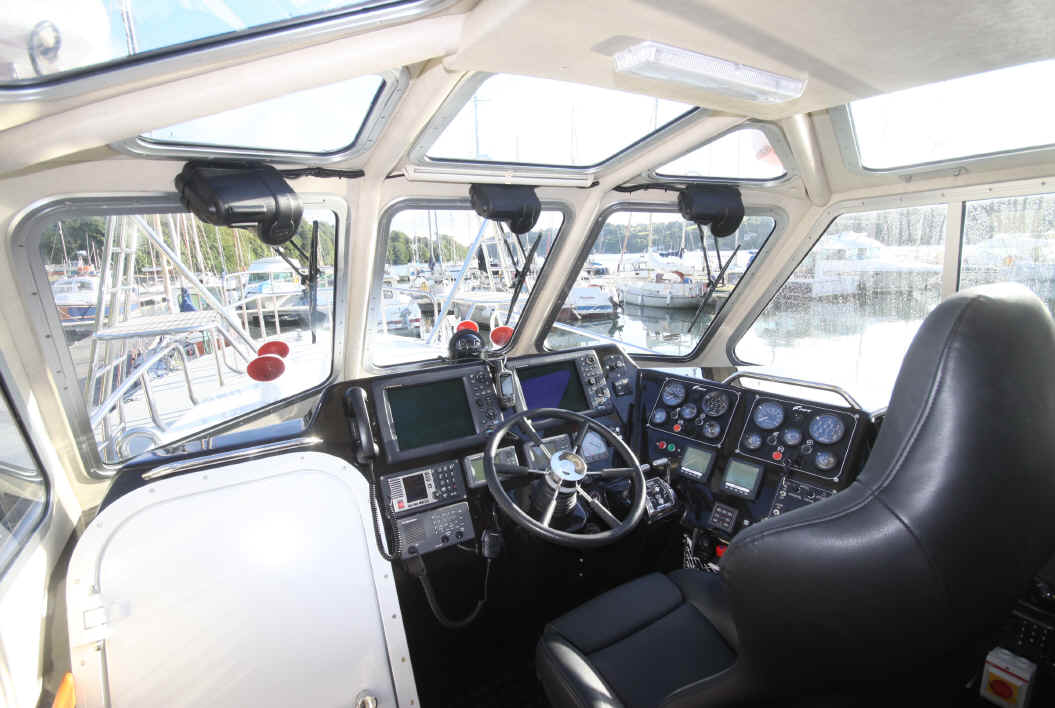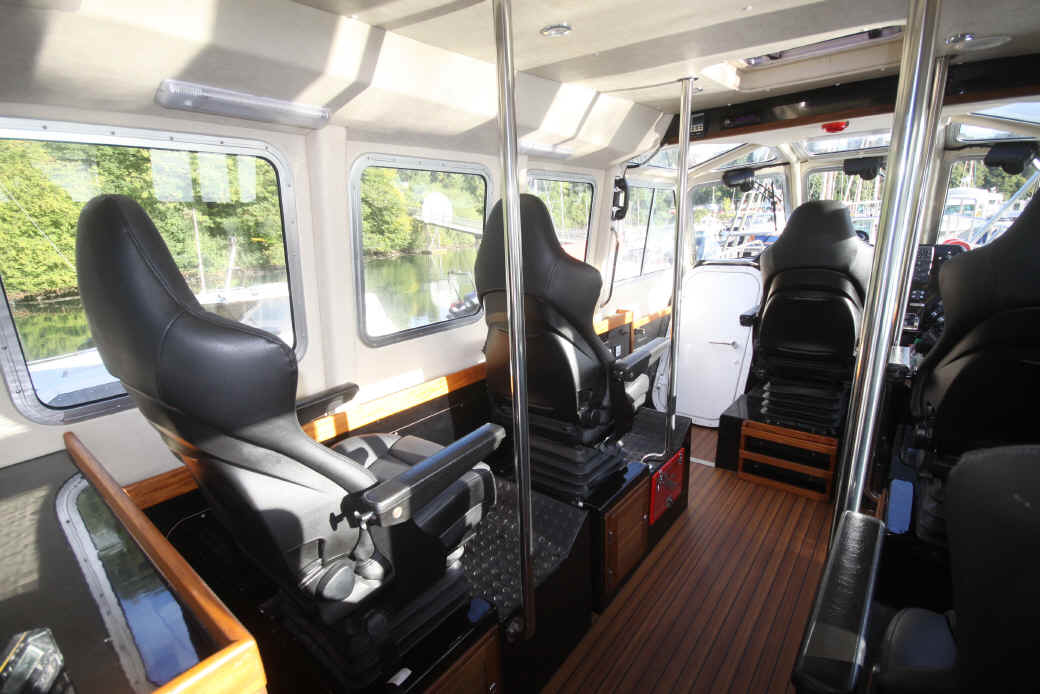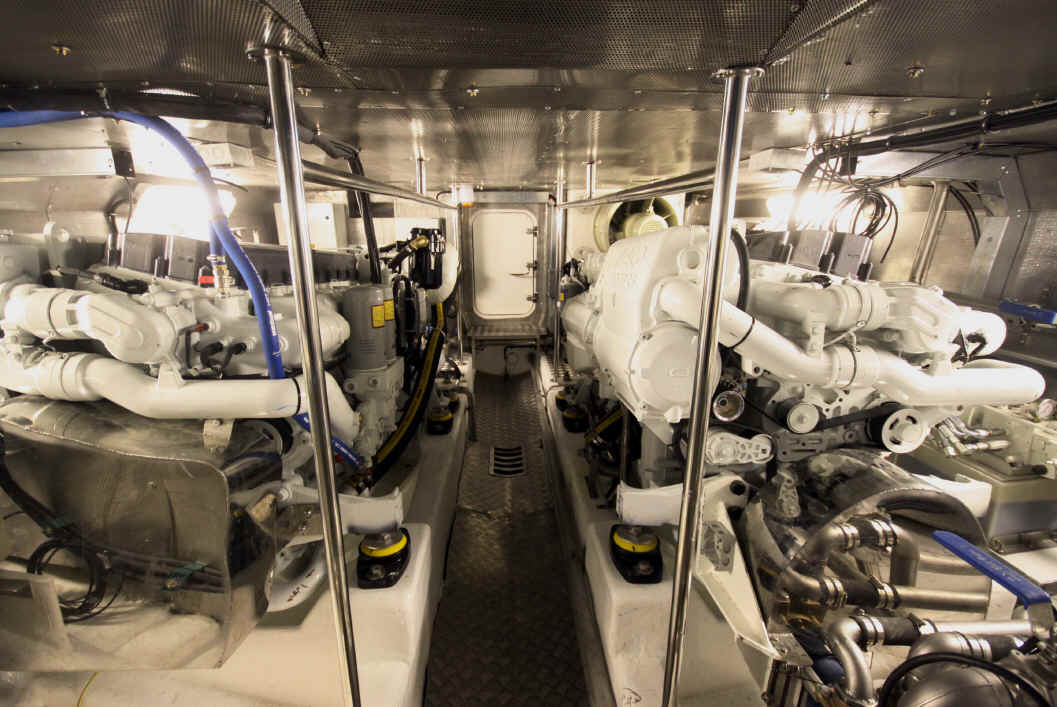 Twin Iveco C13 520hp engines and Twin Disc 5114 Quick Shift gearboxes. Engineering and electrical installations are the the highest international standards.
Above, Photos of Island Tiger working on windfarms off UK East Coats July 2010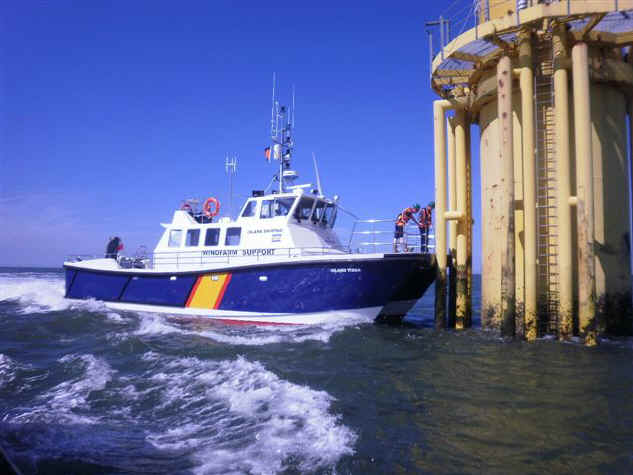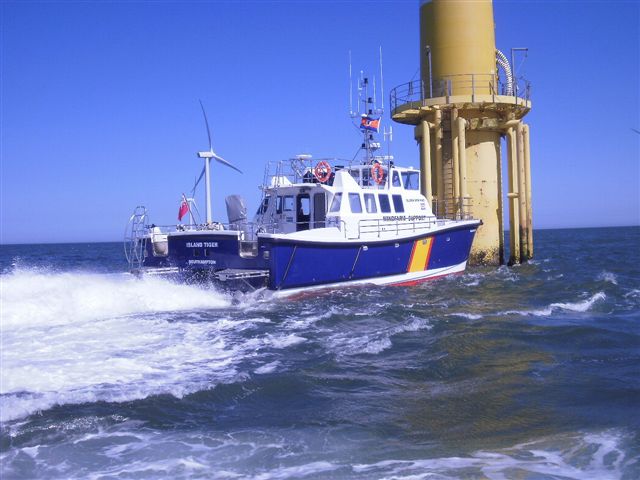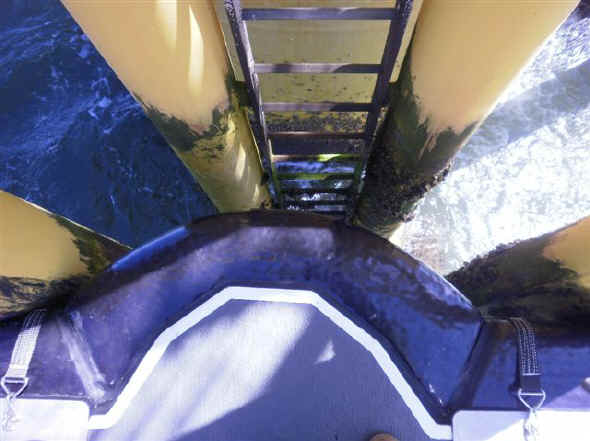 Three Interceptors at St Kilda to the West of the Island of Harris, 100nm into the North Atlantic from the Scottish Mainland.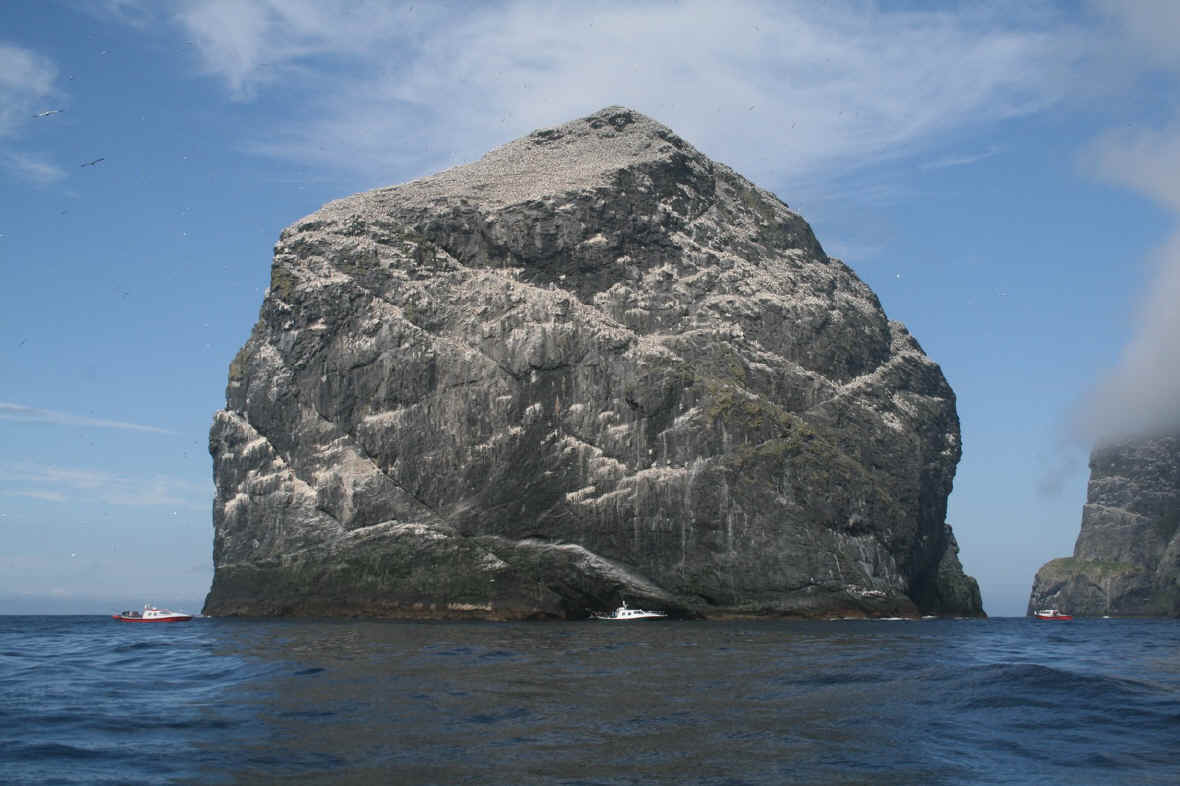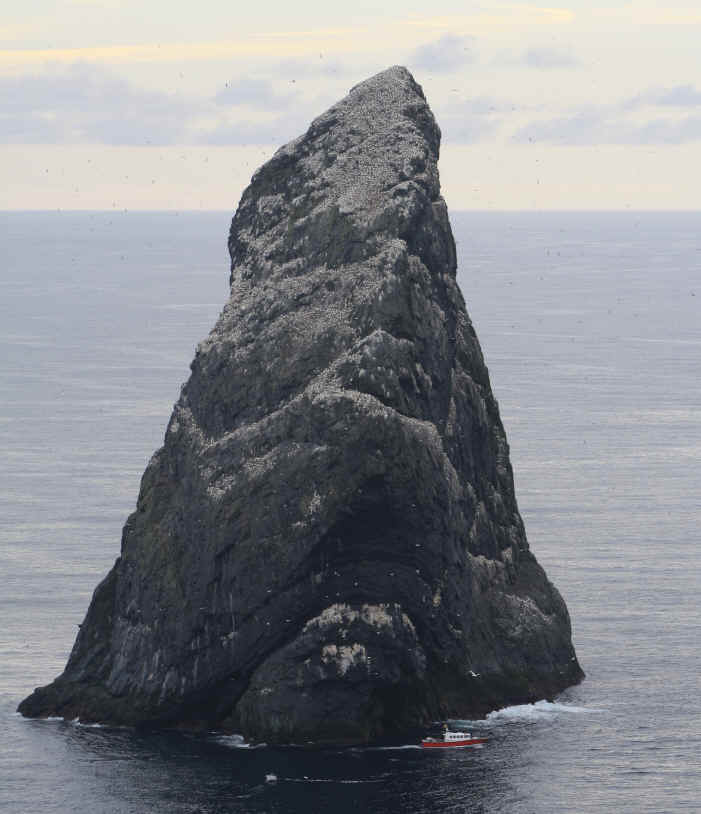 Safehaven Marine at Seawork 2010.
We were strongly represented at this years Seawork show in Southampton. Island Tiger our Wildcat 53 windfarm support vessel traveled from Dublin after her naming ceremony down the Irish Sea and along the English Channel to Southampton where she was displayed alongside both Interceptor 55's SPITFIRE and PATHFINDER supplied previously 12mths and 6mths ago to the Port of Southampton. We had a big presence with three large vessels and the only pilot vessels on display at the show. Island Tiger was very well received at the show everyone commenting on what a fine looking and well finished vessel she was. It was nice to see both of Southampton's sister ships moored along side.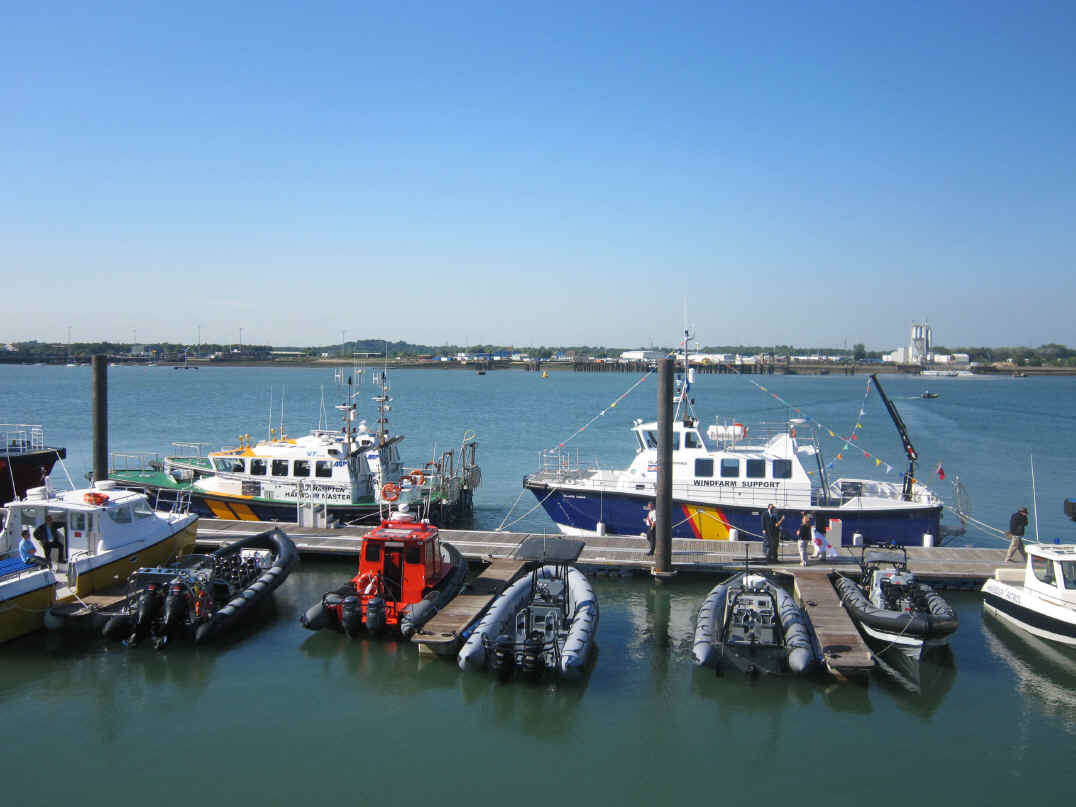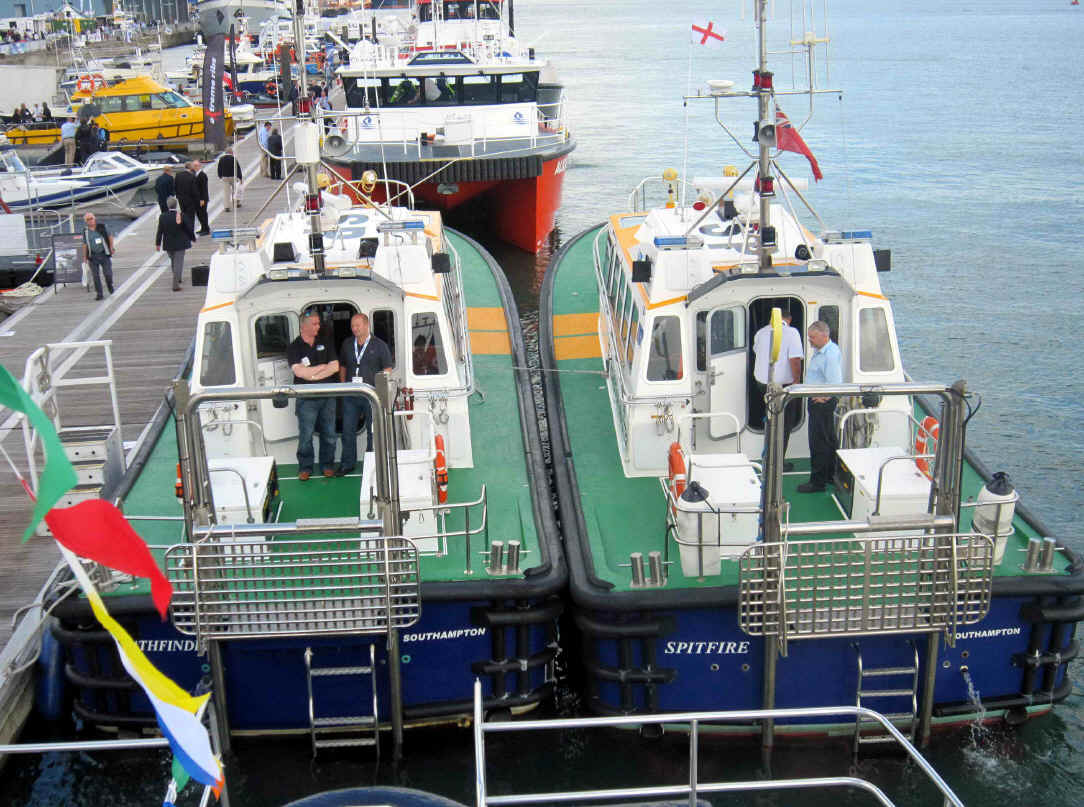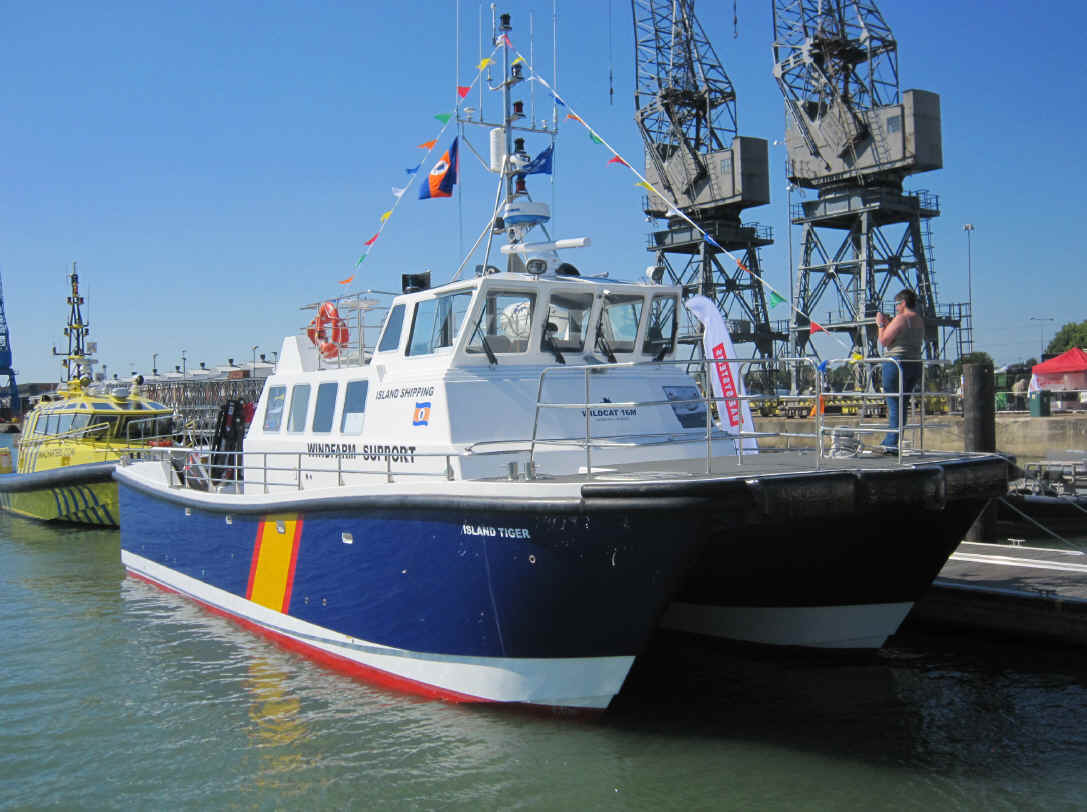 'ESPINHEIRO' Interceptor 42 pilot launched for the port of Aveiro, Portugal.
Espinheiro has now been launched. The second of two pilot boats being built for the Portuguese ports of Figueira and Averio. Both vessels were ordered after an International tender in 2008. Certainly our Interceptor 55 Atlantida Azul supplied to the Portuguese port of Sines in 2008, and in operation very successfully since no doubt played a part in Safehaven being chosen to supply the two pilot vessels. Both Ports are open to the Bay of Biscay and as such subject to the large swell heights prevalent in the Bay of Biscay during winter months, The Ports needed a vessel with fine seakeeping to deal with the treacherous conditions that exist at the harbour entrance in poor weather, the vessels routinely having to operate in 6-7m swells which can break heavily over the Bar.
Espinheiro is powered by the smaller engine option of Volvo D9 engines rated at 425hp, providing a 23kts maximum speed and an 18-19kts operational speed.
During performance trials she performed very well achieving a higher than expected speed. She proved very quiet with very low noise levels of just 74.5db at 20kts.
Espinheiro is fitted with pilot boarding ladders to facilitate pilot transfer safely.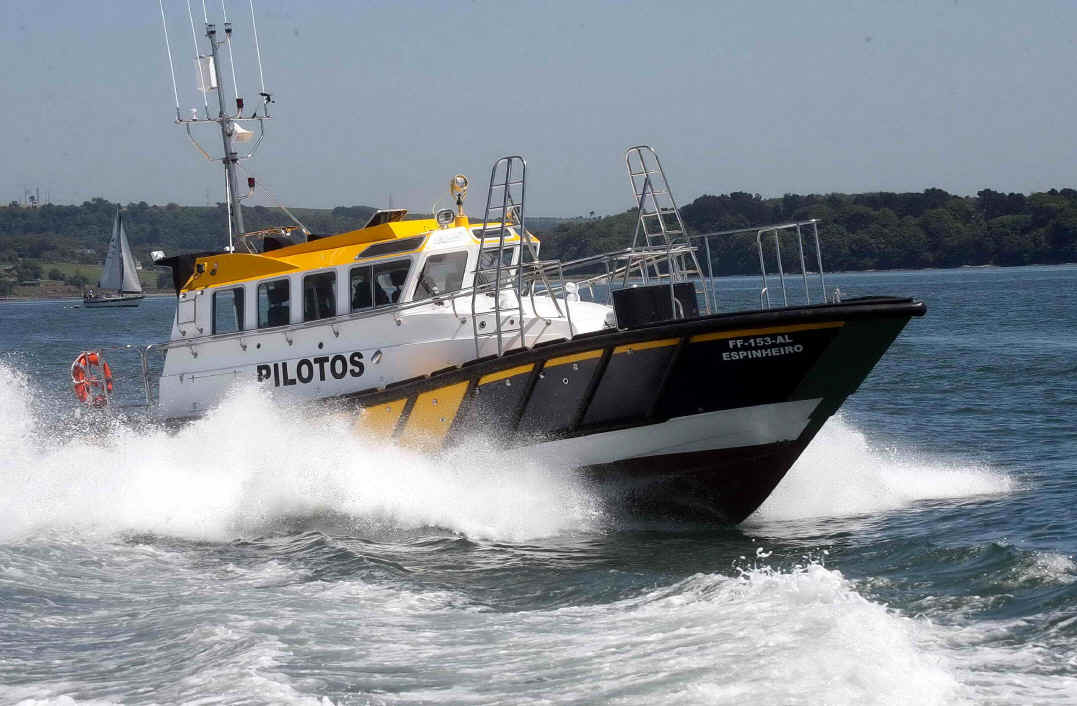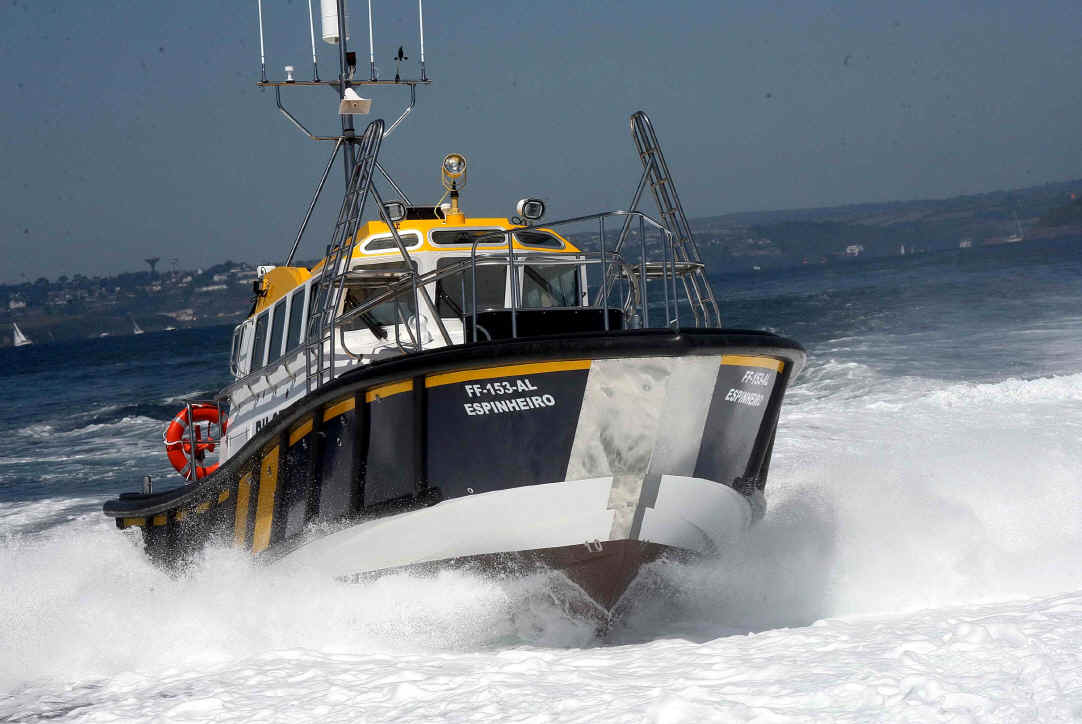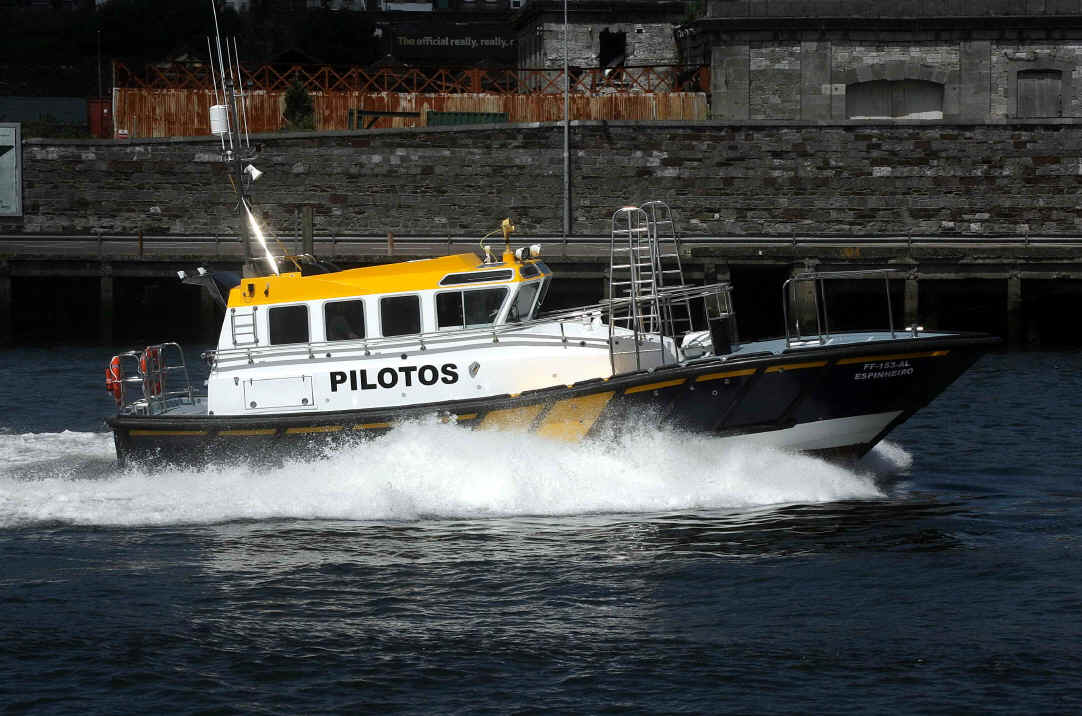 'Espinheiro' will be fitted with Safehaven's proven sacrificial fender system combined with multiple diagonals and lower fender runs fully protecting the vessels hull and deck, the sacrificial fender system utilizes a large 280mm diameter rubber outer fender which fits, like a glove over the crafts 150mm main deck fender at the pilot boats shoulders, and is secured in place with a strap and ratchet system, the fender is very cheap to replace and is proving to have an 18mth to 2 yr lifespan in hard pilot usage, it significantly reduces impact loadings and provided a high level of protection to the pilot boats main fendering and structure. 'Espinheiro' is fitted with a Jasons Cradle MOB recovery system which is stored in a recessed locker in the superstructure side, allowing for quick deployment, its positioning is such that then the vessel is positioned up wind of the casualty the vessel will adopt the natural beam on drift attitude that most craft adopt and thereby be allowed to drift down whereby the casualty can be recovered safely with out need for excessive maneuvering risking injury from propellers as is the case with stern mounted recovery platforms.
Fitted with the smaller engine option of Volvo D9's rated at 425hp on rating 2 for 2000hrs per year, with a 2000 continuous rpm giving a 18-19kts operational speed and a maximum speed of 23kts for 1 in 6hrs, and prove an economical choice for ports with short transit times where a lower speed is acceptable.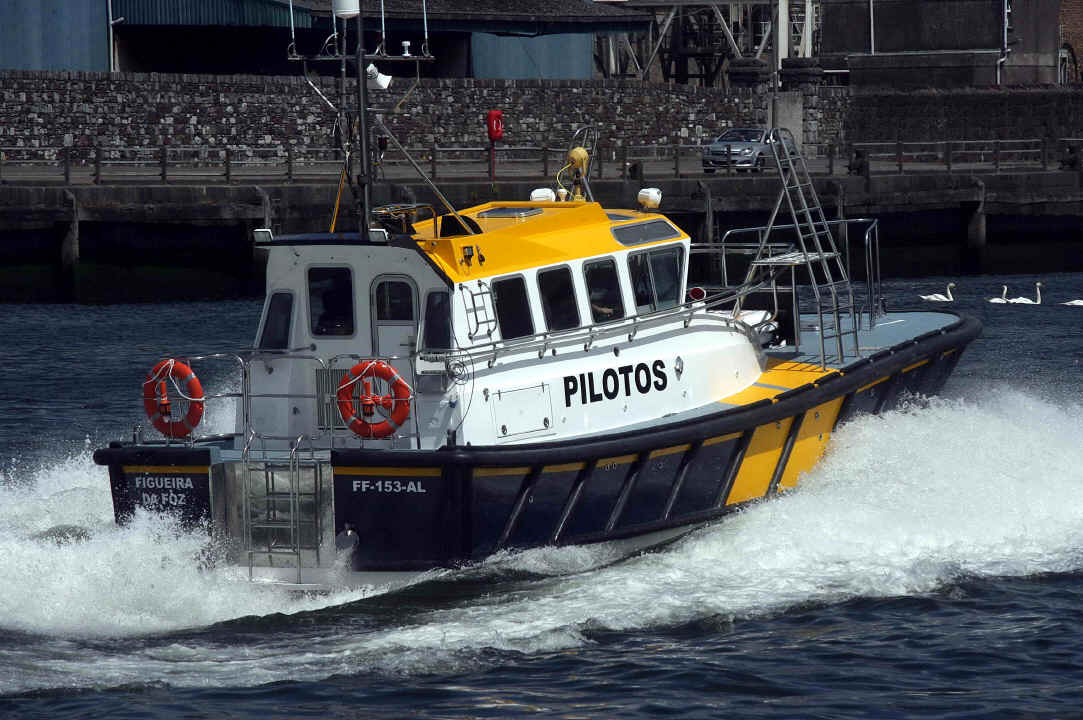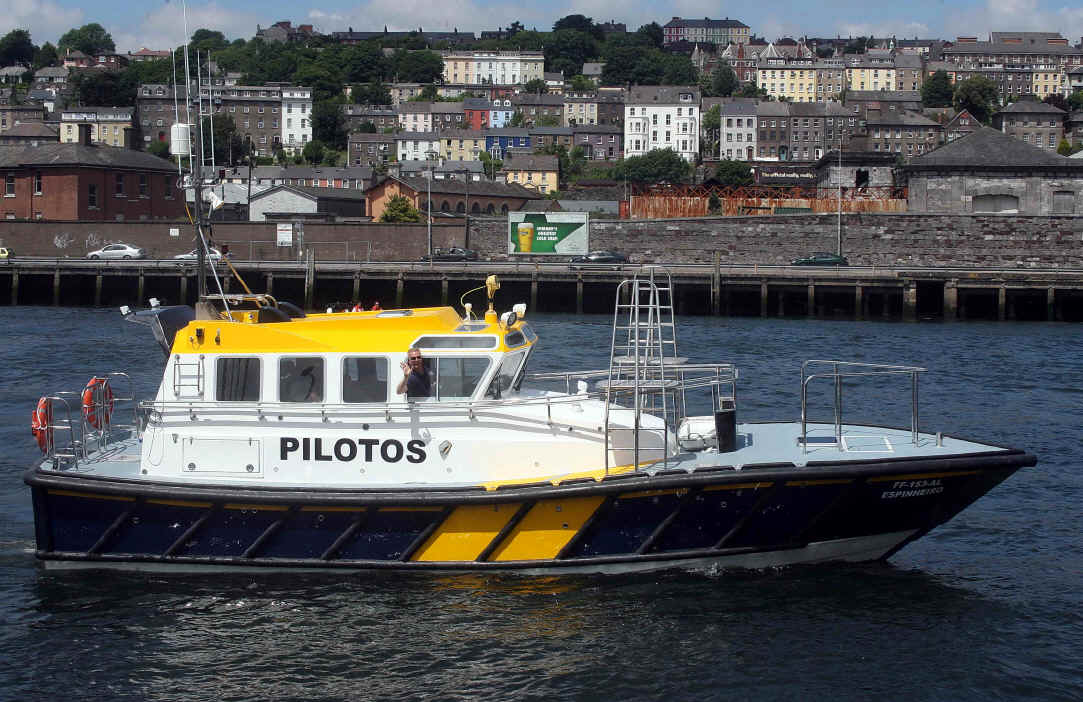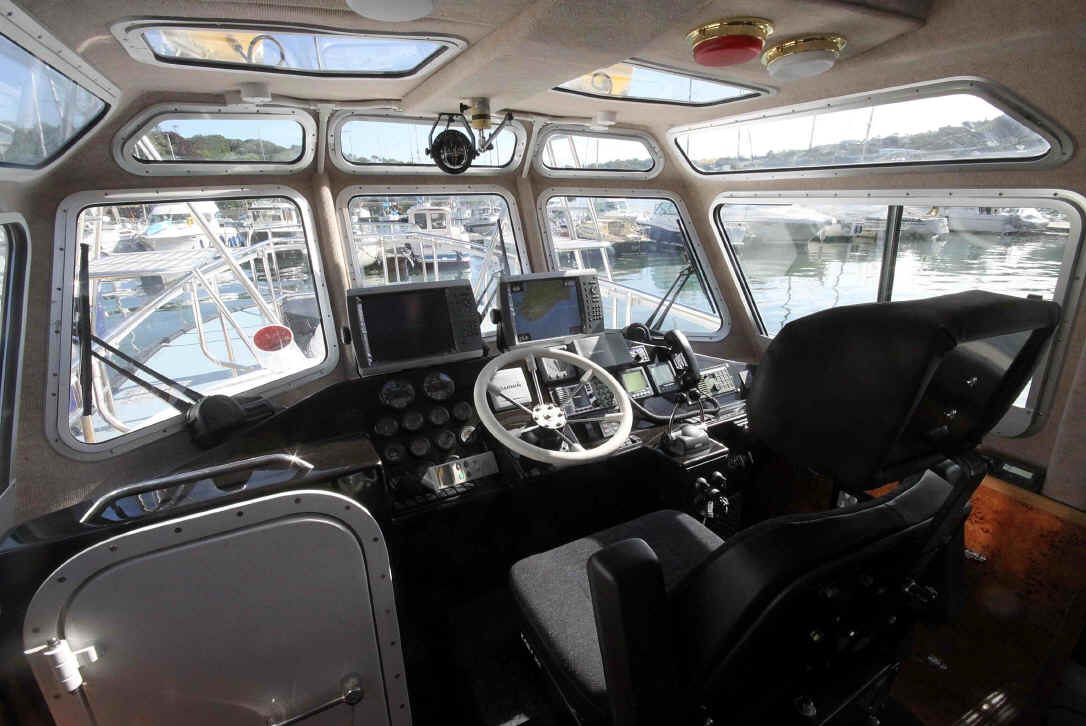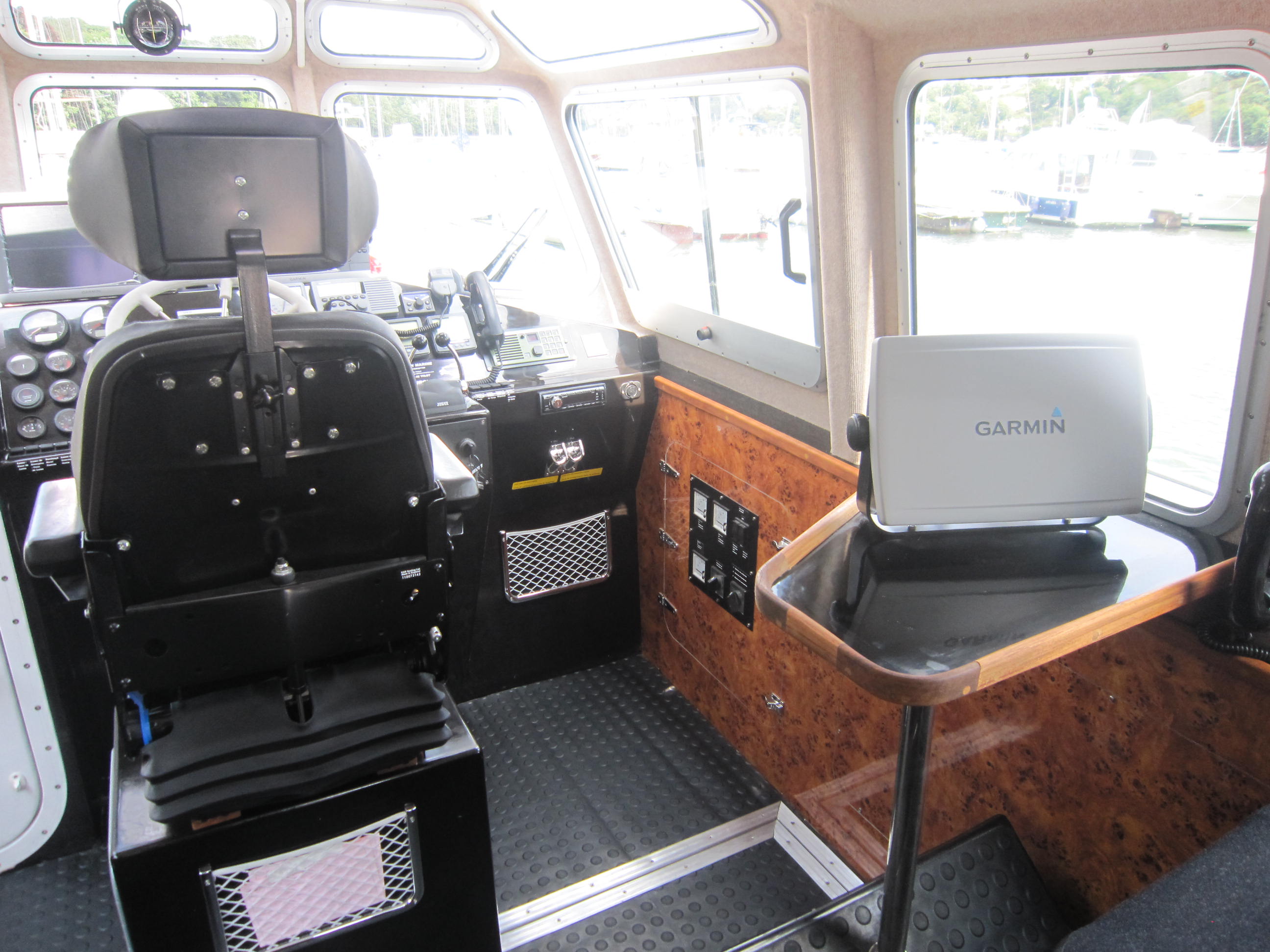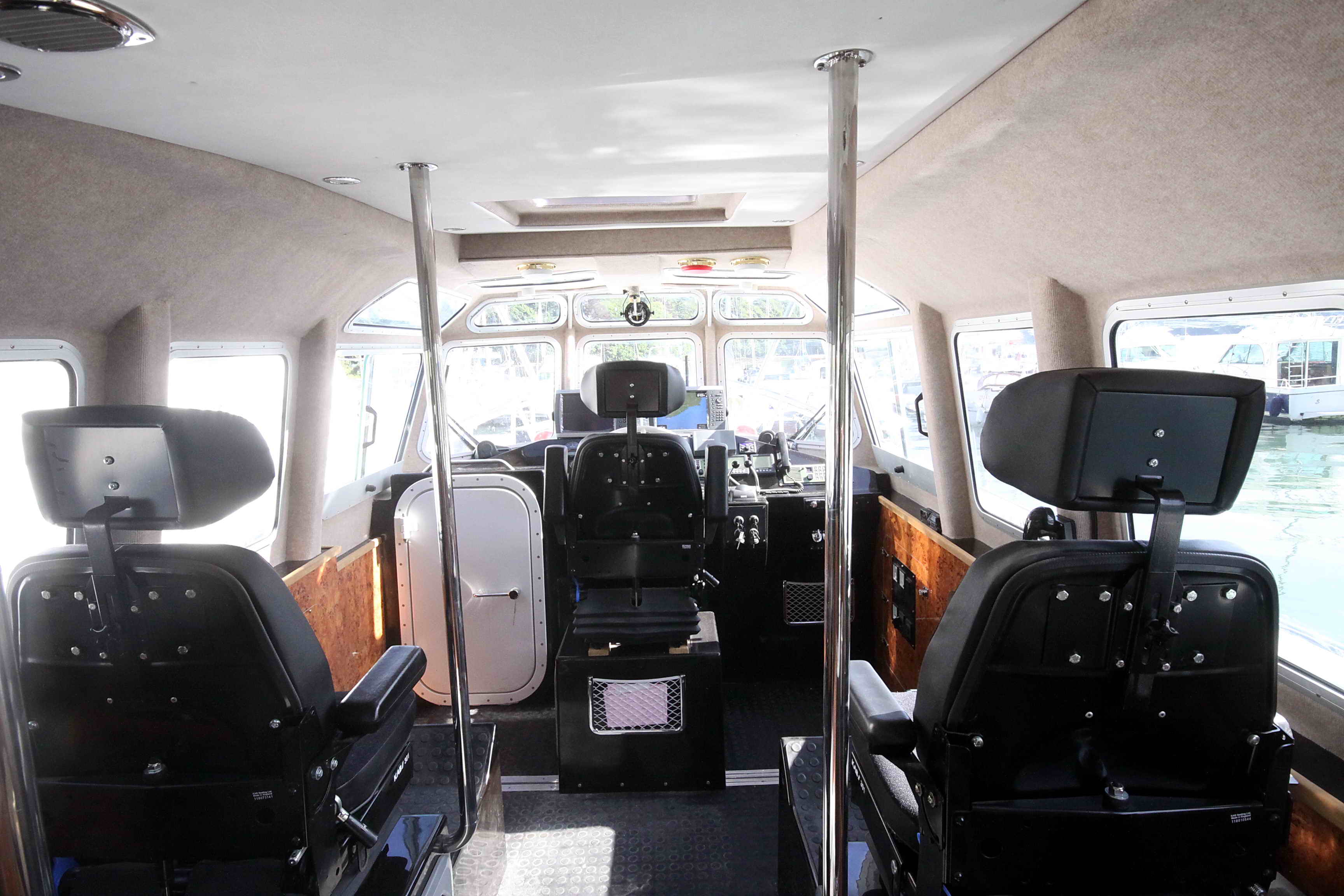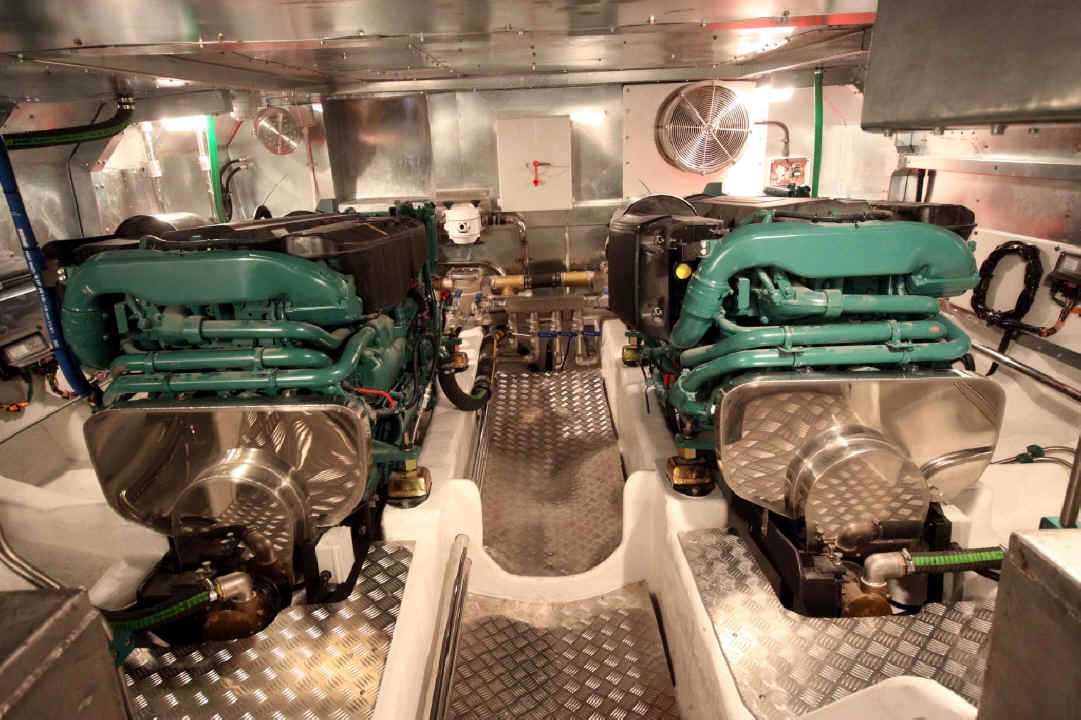 'ISLAND TIGER' A WILDCAT 53 / 16m 'WIND FARM SERVICE VESSEL'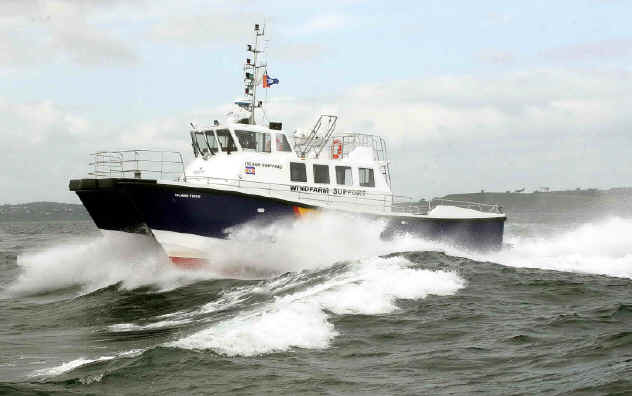 Safehaven Marine have launched 'ISLAND TIGER' the first of our new GRP Windfarm Catamarans, the Wildcat 53 / 16m. This is a completely new design based on our highly respected Wildcat 36/40 design, incorporating the same high buoyancy bow, twin chine catamaran hull form that has proved so successful in providing exceptional levels of sea keeping and performance from Safehaven's Wildcats over the past 5 years. 'ISLAND TIGER' is 16m long (17m inc dive platforms) with a 6m / 20ft beam and will provide a very stable platform that will suit a multitude of roles from passenger, crew transfer and commercial workboat, but she is specifically designed as a wind farm support vessel. To this end the bow area has been designed to accommodate a specially developed fender system from Ocean 3. The fender design is of high density foam core 300m x 400mm with a heavy 50mm thick rubber wall to cushion impacts and stresses when the bow is held against windfarm platforms in heavy weather. No stranger to building exceptionally strong GRP hulls, the Wildcat 50 will have the same heavy duty scantlings as tour renowned pilot boats, to provide a vessel that can withstand tough use in the harsh windfarm support vessel environment.
'ISLAND TIGER' is powered by twin Scania D12 650hp engines driving Ultra Dynamics waterjets and on sea trials achieved a 25kts maximum speed which gives an operational speed of 23kts at 80% of max power on a 25,000kg lightship displacment. Larger engines such as the Scania or Volvo D16 engines can alternately be fitted for higher speeds.
The superstructure is a raised bridge deck design with the helm and navigators position elevated to provide excellent visibility. The cabin is centrally positioned in an 'island configuration' with a clear 750mm walkway each side with and around the bow where there is a cargo lifting space. This provides a safe passageway and spacious work and boarding area at the bow.
Aft twin dive platforms at the transom of each hull give waterline access through transom gates, and the well decked aft cockpit features a HIAB crane and a large clear cargo area.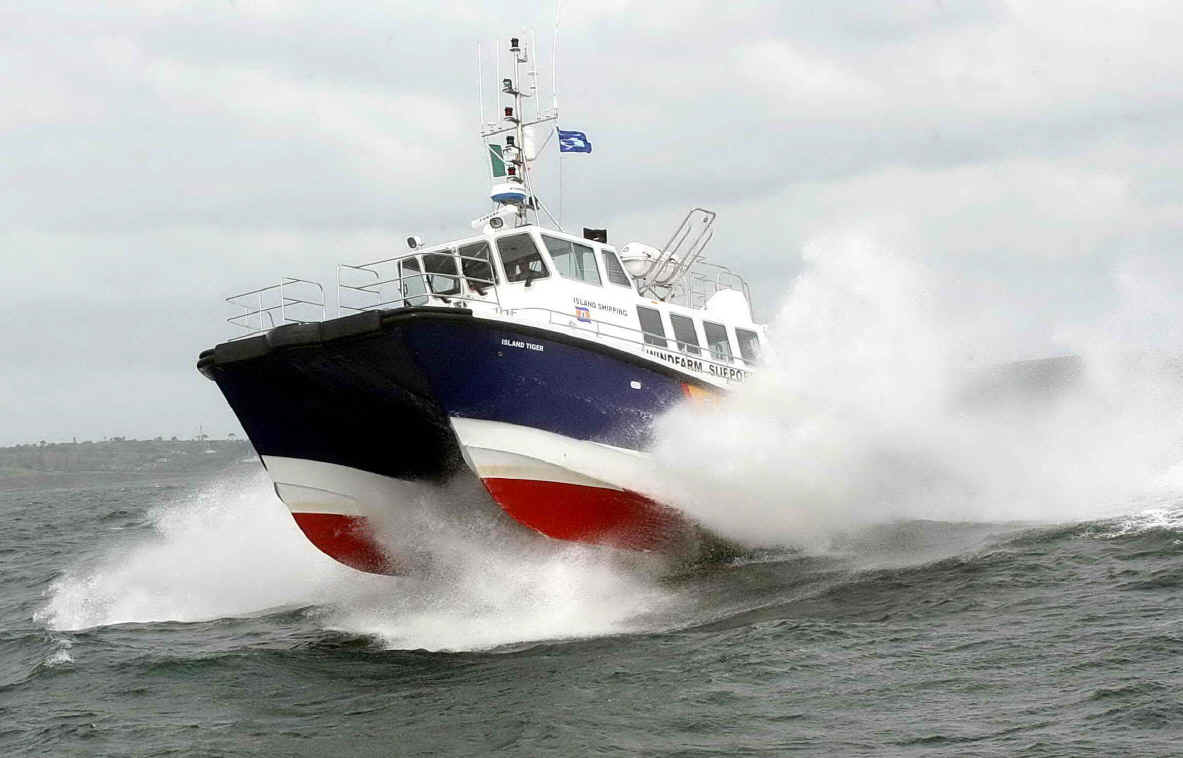 Above and below, photos taken from her rough weather sea trials, you can see a video of the trials from this link- SEE THE VIDEO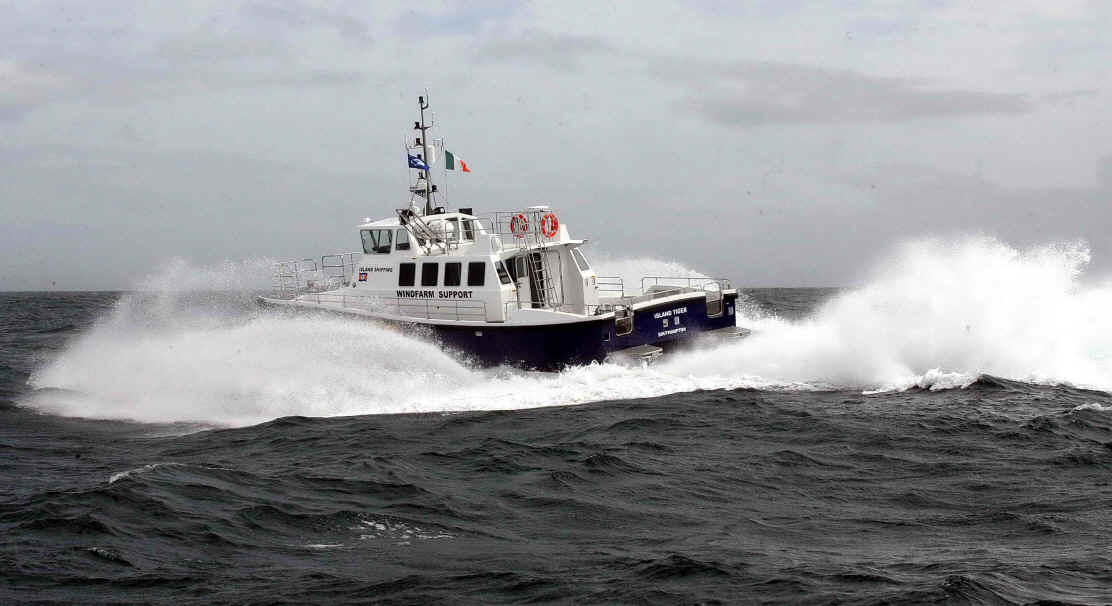 Below, undertaking trials with the Irish coastguard helicopter and took some nice pics, we also had a video made, - SEE THE VIDEO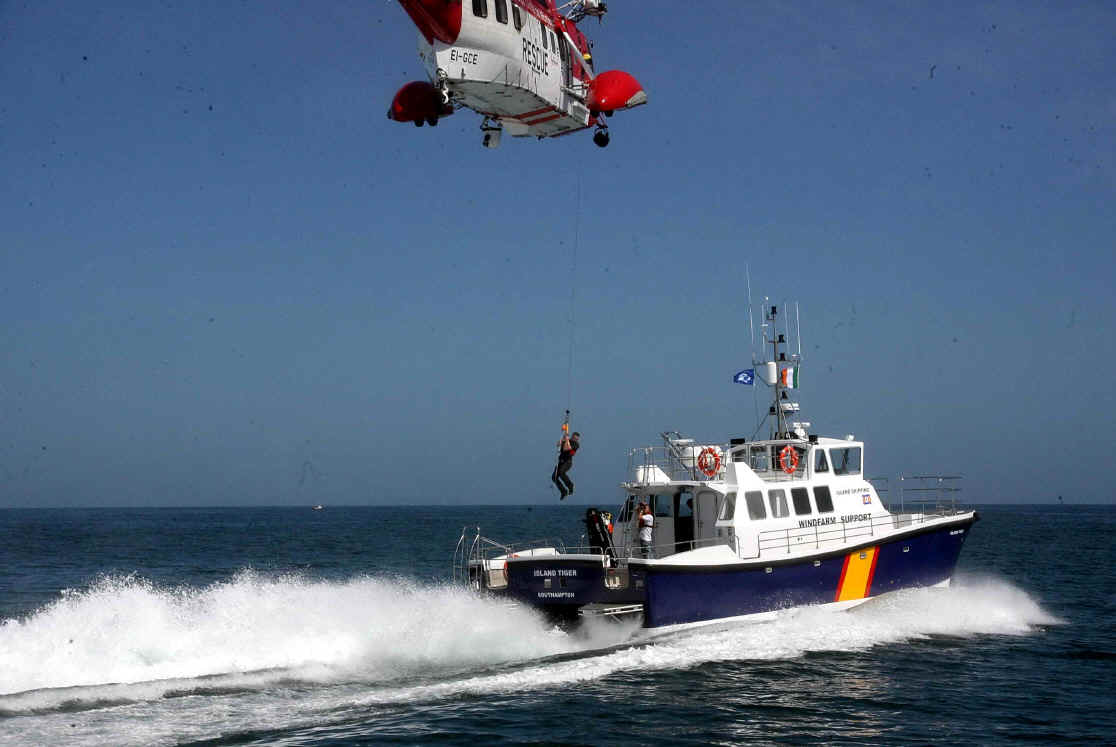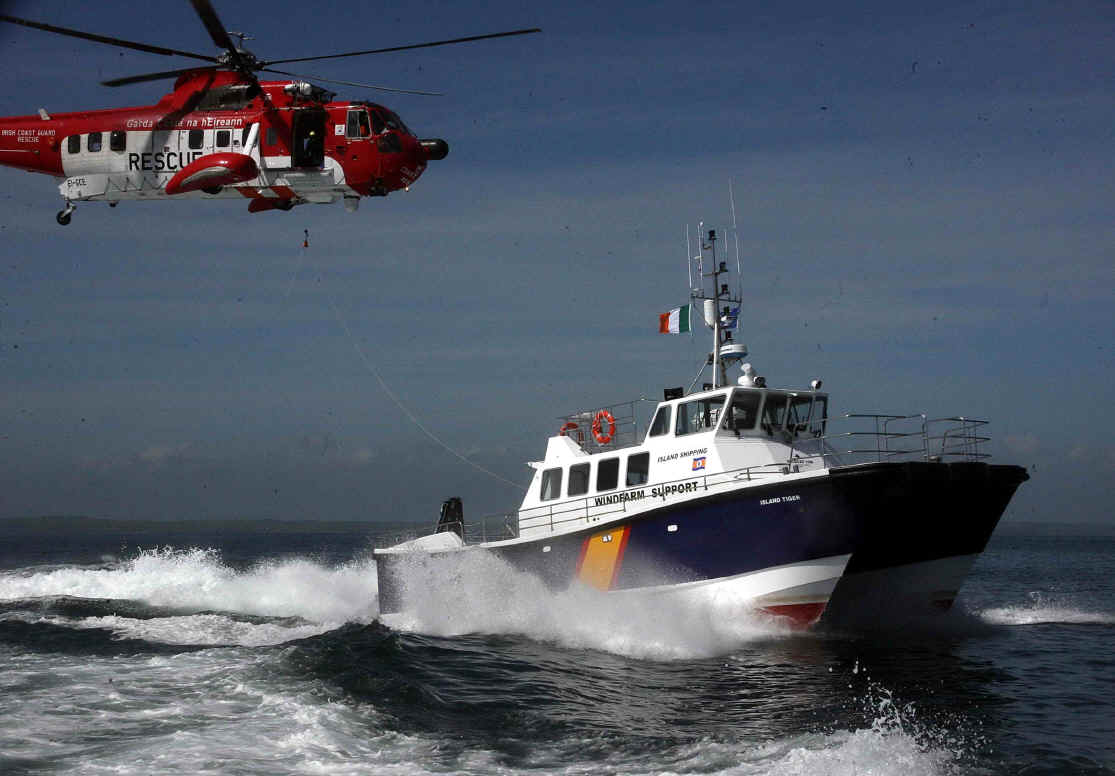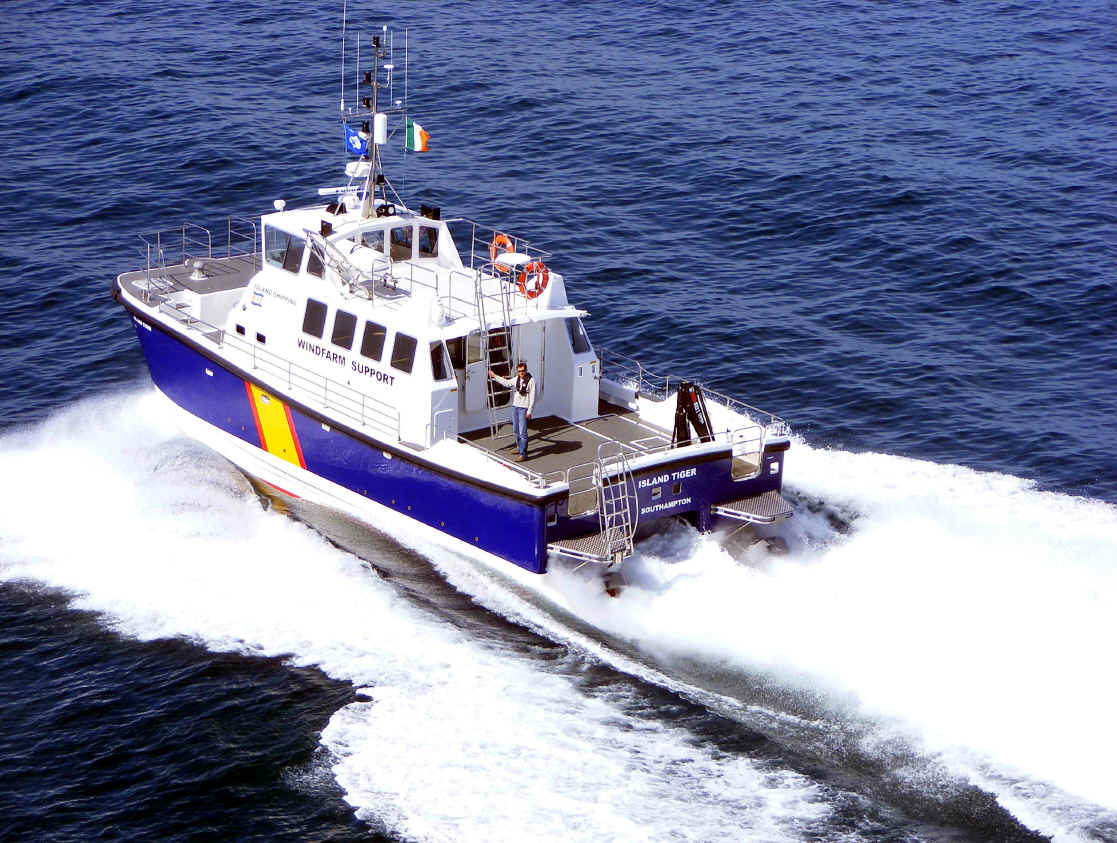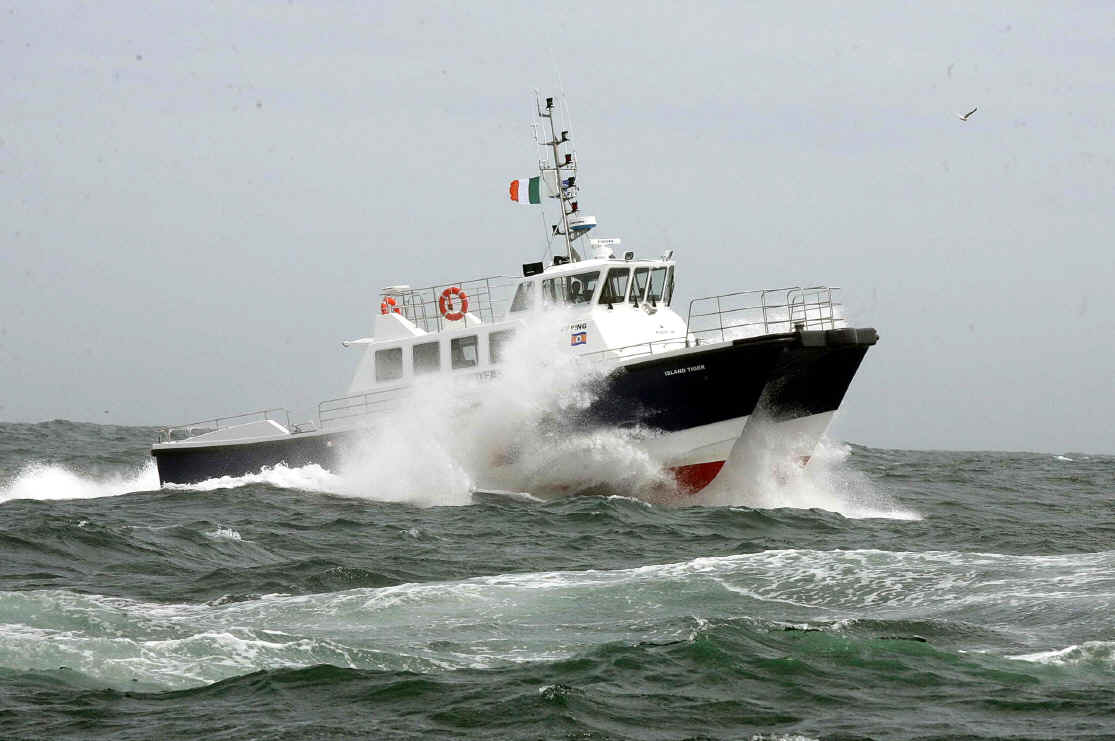 Above and below, photos taken from her rough weather sea trials, you can see a video of the trials from this link- SEE THE VIDEO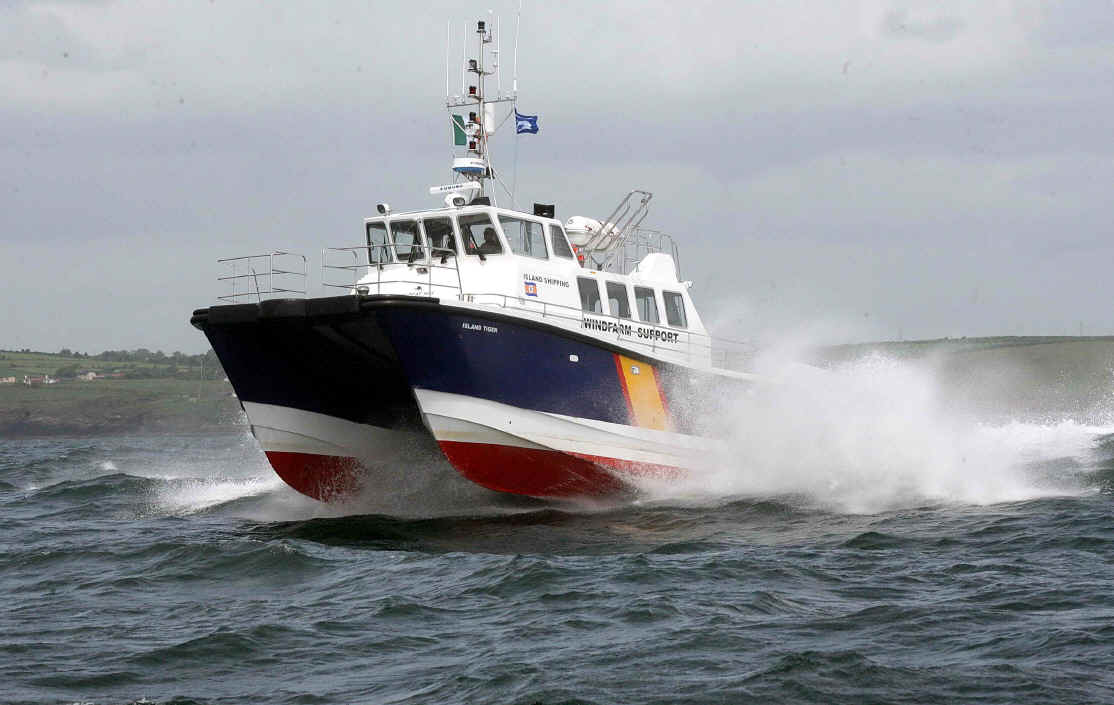 The Wildcat 53 hull design is a larger version of our very successful and thoroughly proven 36 / 40 design, featuring the same high buoyancy bow, symmetrical twin chine hull design that provides excellent sea keeping and performance, providing a soft ride into steep head seas with enough buoyancy in the f/wd sections to always lift the bow over waves, preventing slamming on the bridge deck. The hulls twin chine arrangement creates a spray air medium that allows the hull to almost ride on a cushion of air which gives the cat such a soft ride, and also makes for an exceptionally dry vessel. Down wind again the hulls provide adequate buoyancy to keep the bows up and the Wildcat hull is almost non broaching, allowing big quartering seas to be run down with little steering effort in total safety. Safehaven's hulls have gained an enviable reputation for strength and sea keeping over the years, their all weather pilot boats highly respected and it is this same design ethos that is bought into our new Wind farm Wildcat 53 / 16M.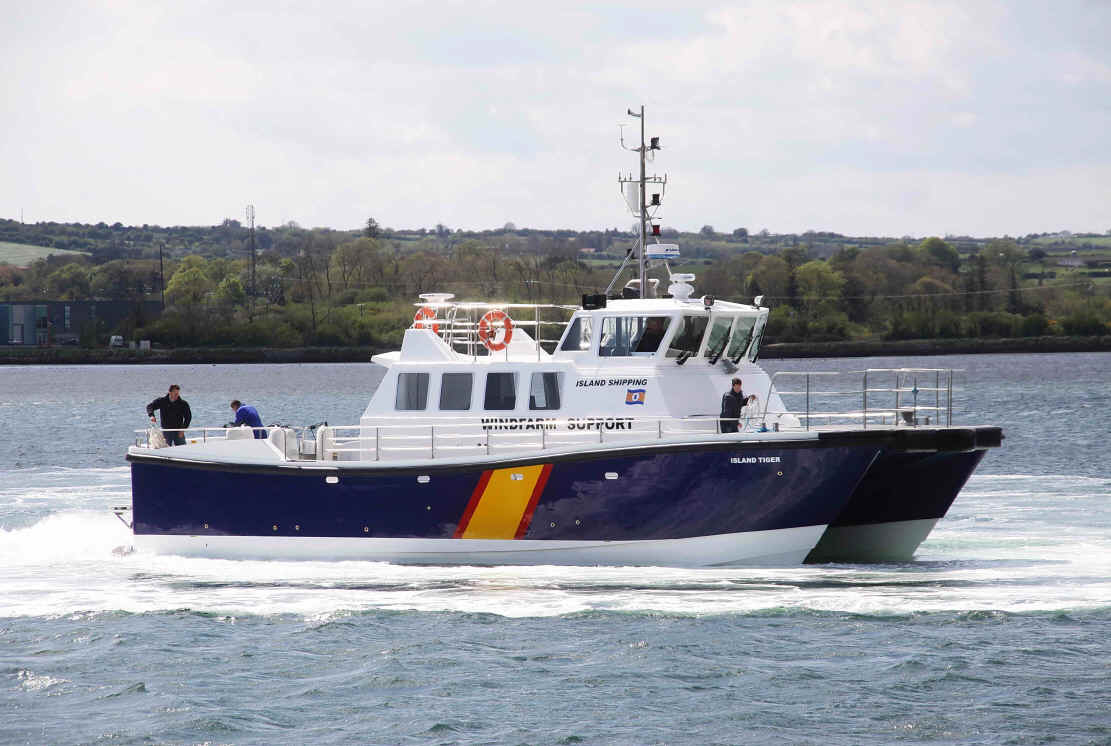 ISLAND TIGER has very clean and graceful lines incorporating Safehaven's trademark 'gull wing' sheer line. Being of GRP construction means her finish is superb, with a high gloss, low maintenance finish and she has turned out a superb looking vessel.
Accommodation fit out is to a very high standard, the area is very spacious and designed to provide a comfortable and luxurious environment with a combination of aircraft style transit seating and dinette and table designs for standby. The cabin design is open plan with a full galley in the port hull and bunk berths in the st/bd hull. A useful feature is the incorporation of a wet room, featuring aft cockpit access, hanging space, toilet and shower facilities with access from their direct to the main accommodation, this allows personnel the ability to disrobe from work gear and enter the living area clean and dry. 'ISLAND TIGER' is the first vessel of two ordered by Island Shipping and is due to be exhibited at Seawork 2010 in Southampton alongside 'Pathfinder', the second of their pilot / patrol boats delivered to the Port of Southampton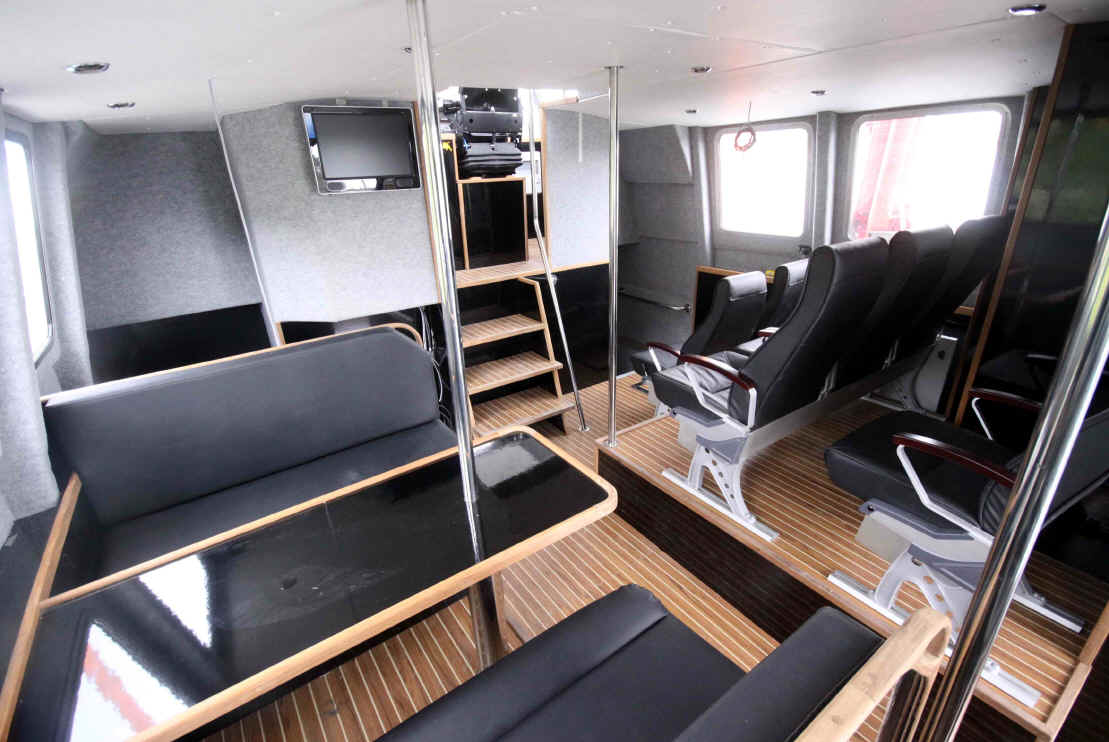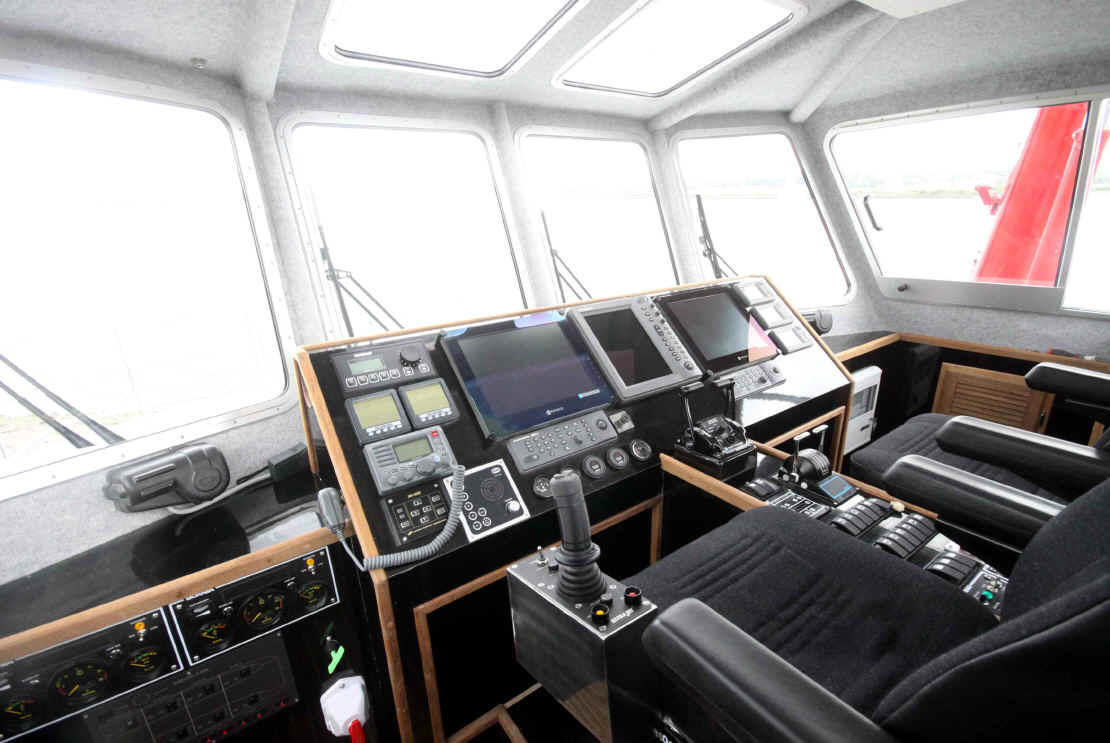 OCEAN 3 provided the bow fendering. This is a heavy duty system comprising a polyethylene high density foam core with a 50mm thick rubber skin the will prove durable in service.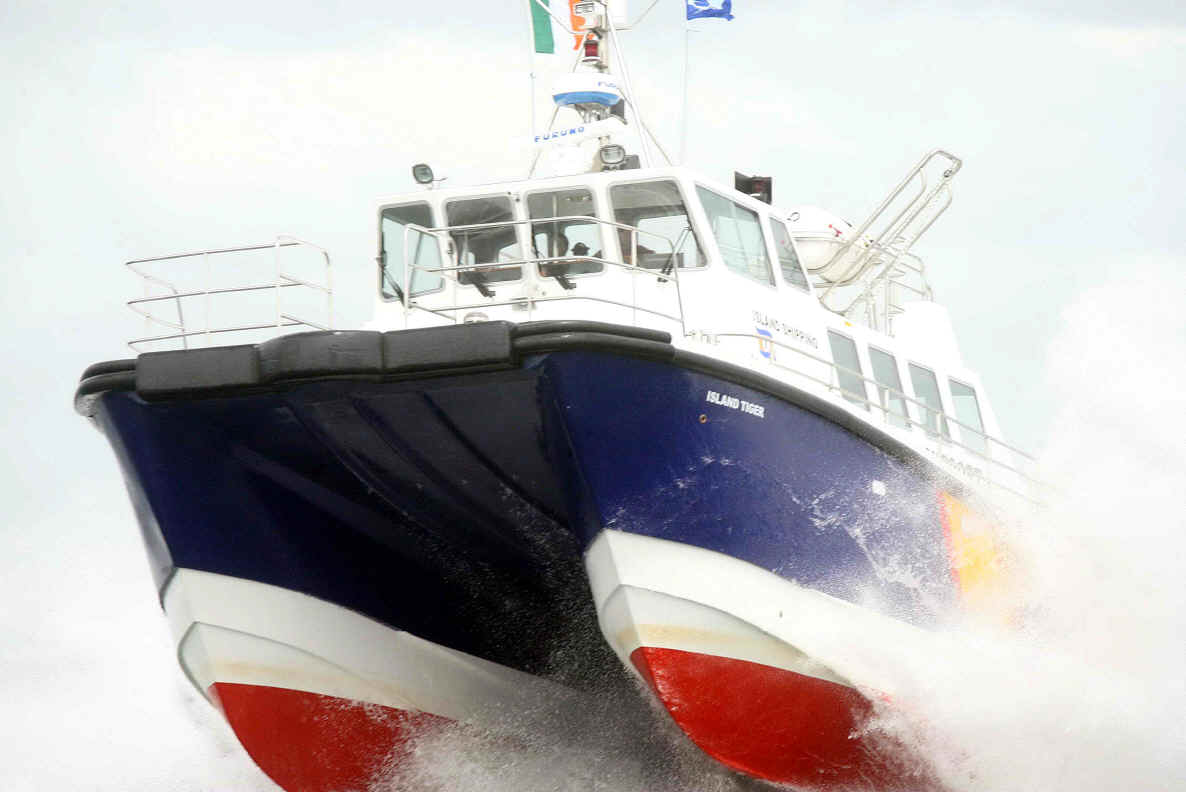 Both vessels will be powered by Ultra Dynamic 451 jet units powered by Scania D12 engines. Water jets were chosen for their ability to provide high thrust with lower mechanical stresses against the windfarm structure, combined with good maneuverability, speed and safety. The vessel will be fully equipped for windfarm operations, equipped with a HIAB crane with a 6m reach, She will be equipped for dive operations with twin dive platforms transom doors and is fitted with a 10kw generator providing 24v throughout the vessel. To offer the most proficient level of versatility to the offshore industry and is fitted out and equipped for survey and hydrographic duties. She is built under dual certification for both the UK and Ireland.

General information

Light ship displacement 25,000kg

LOA 17m

Moulded 16m

Beam 6.1m

Draft- Fully loaded - 1.0m

Fuel capacity 3600L

Water capacity 160 L

Engines Scania D12 @ 650hp / 2200rpm

Maximum speed 25 kts

Operational speed 23kts

'IZURDIA' operating successfully in her home Port of Bayonne, France.

Izurdia has been in service for the past two months. Her pilots and crew are very happy with her, testimony to this is a complimentary e mail from the Ports chief pilot Bertrand Moutard:

Hi Frank.

The boys went outside at the beginning of the bad weather, with about 5 meters, and they have all been surprised with her excellent sea keeping and specially how they could maintained a good speed in this condition.

On Saturday morning, we catch a peak of 10 m and the boys have asked to go outside for playing with the boat. As we have no ships to do, I haven't give them the permission and told them that we will have time to play in big seas in future.

Every body is also very impressive about the low level of noise ! The standard of comfort is now very high. They all said that at the end of a working day, they are less tired than before. So, I answered that we can now reduced the vacation time !

Also from outside, ie when you embark from a pontoon, you don't ear any noise. It 's a kind of furtive boat and you should investigate the pirat boat market !

All the crew and pilots are 300 % very happy with your building. In Bayonne, we have now passed a big step in terms of level of quality of pilot boats. On the other boat, I have had always some bad comments after launching. With Izurdia, I received nothing ! and after 2 week of operation, I still have nothing. The transfer boarding ladder we have designed are excellent !

Thanks again for this excellent boat.

Bertrand

Below are some photos showing her in operation and her 'pilot boarding ladder' in good use.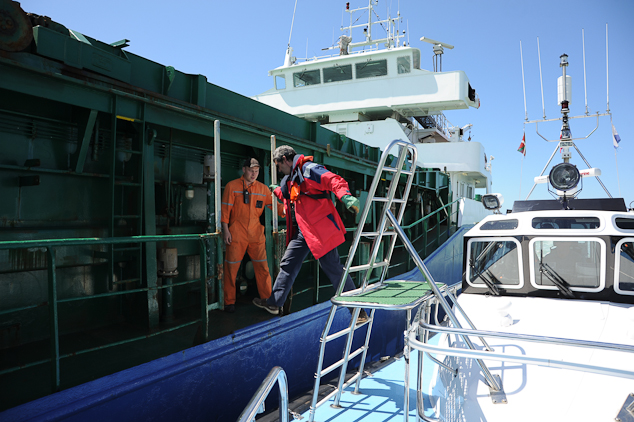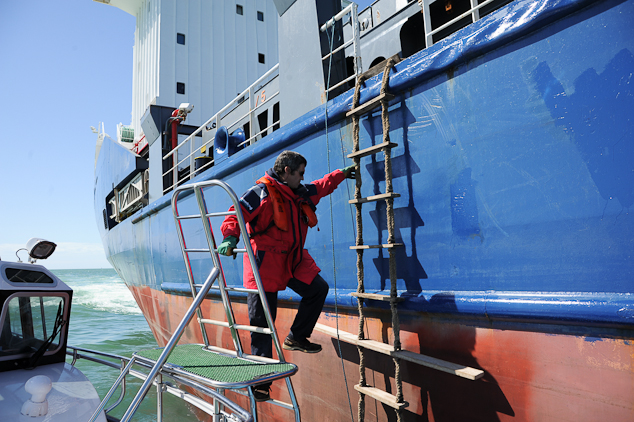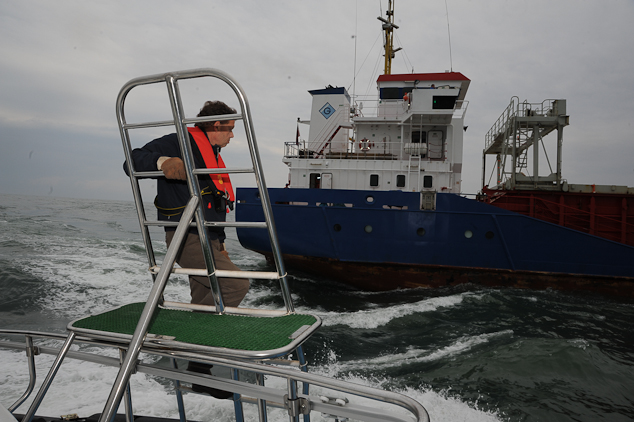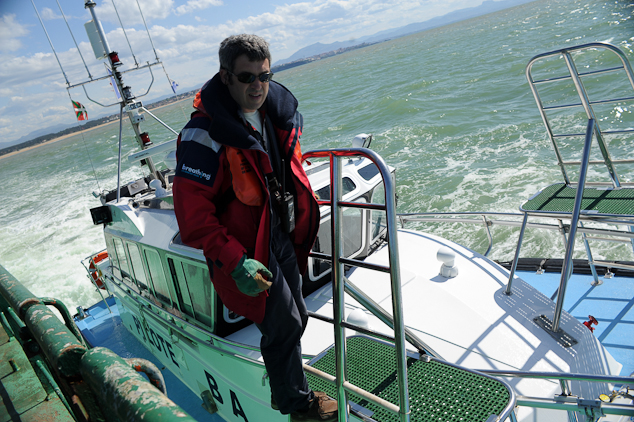 Interceptor 42 pilot for the Portuguese Port of Figueira Da Foz, 'CABO MONDEGO'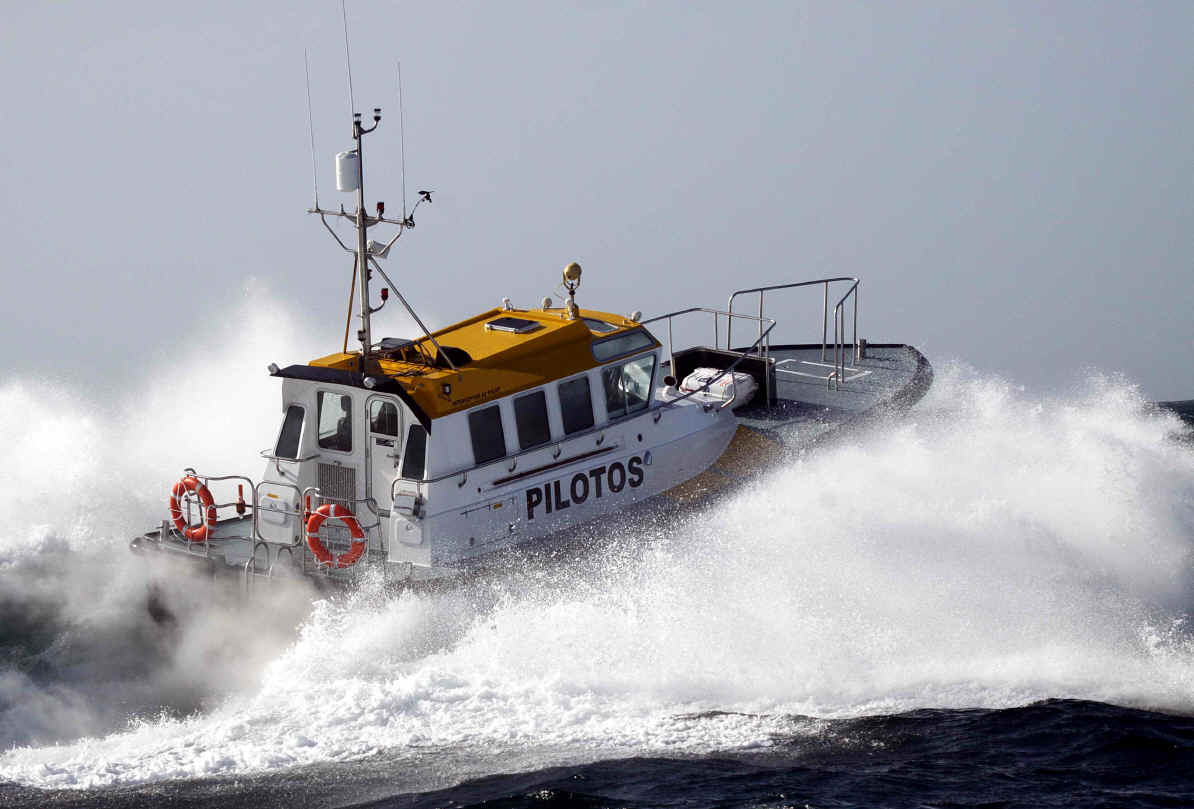 See a video of her being sea trialed offshore- SEE THE VIDEO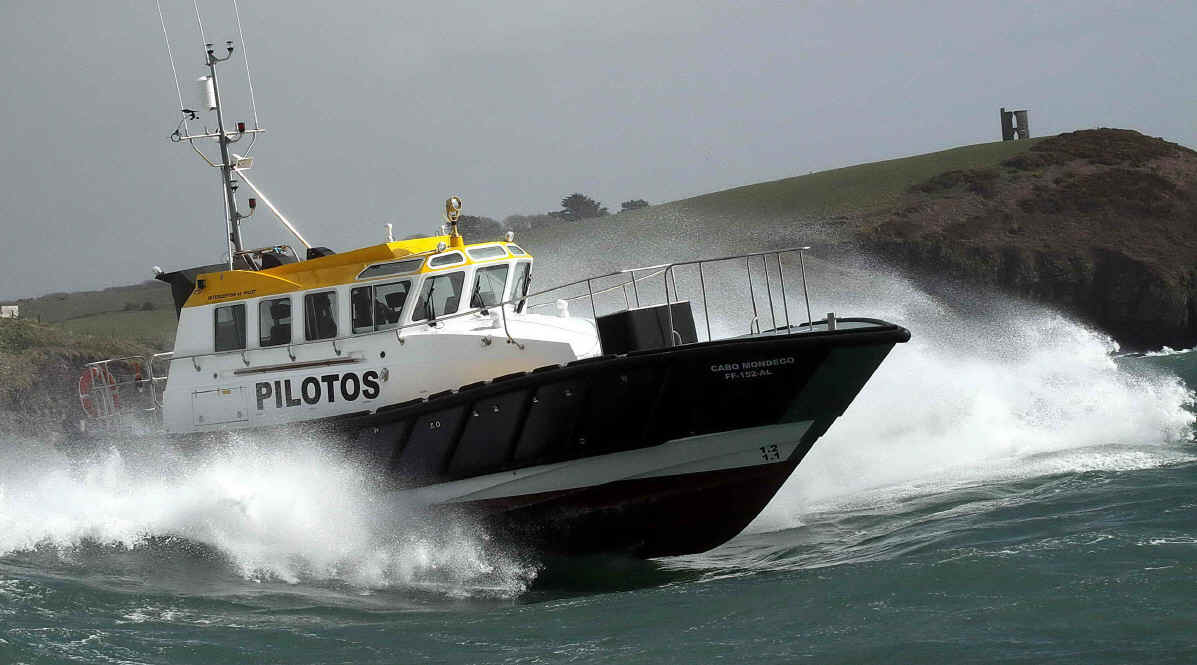 ATLANTIDA AZUL continues to operate successfully in the Portuguese Port of Sines, the Port authorities recently sent me some nice photographs of her offshore in gale force conditions, the Port and her crew report that they are very happy with her, especially her comfort and sea keeping.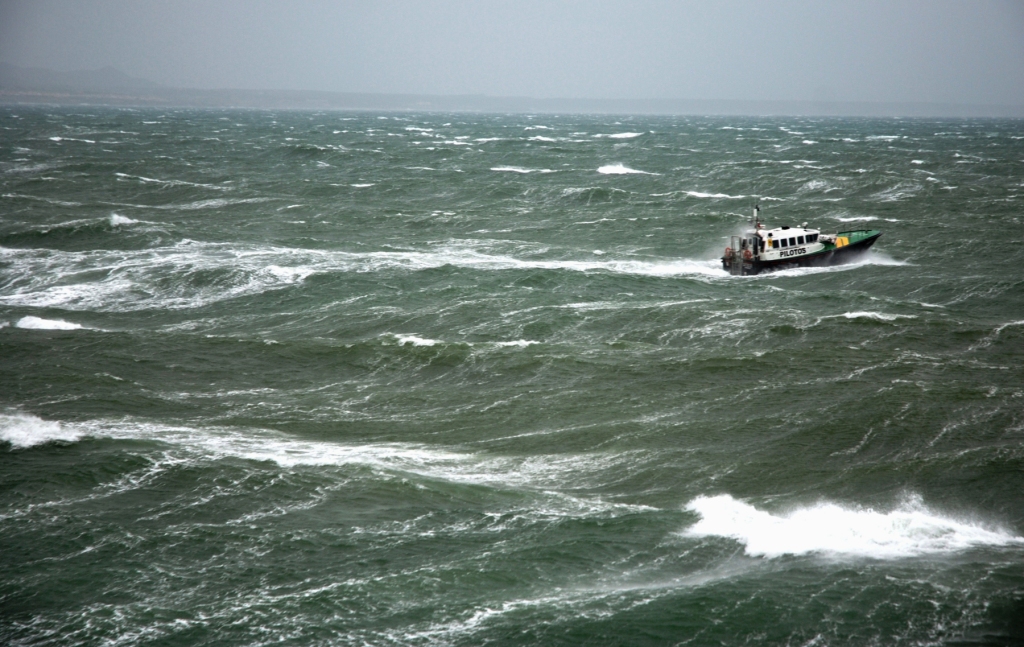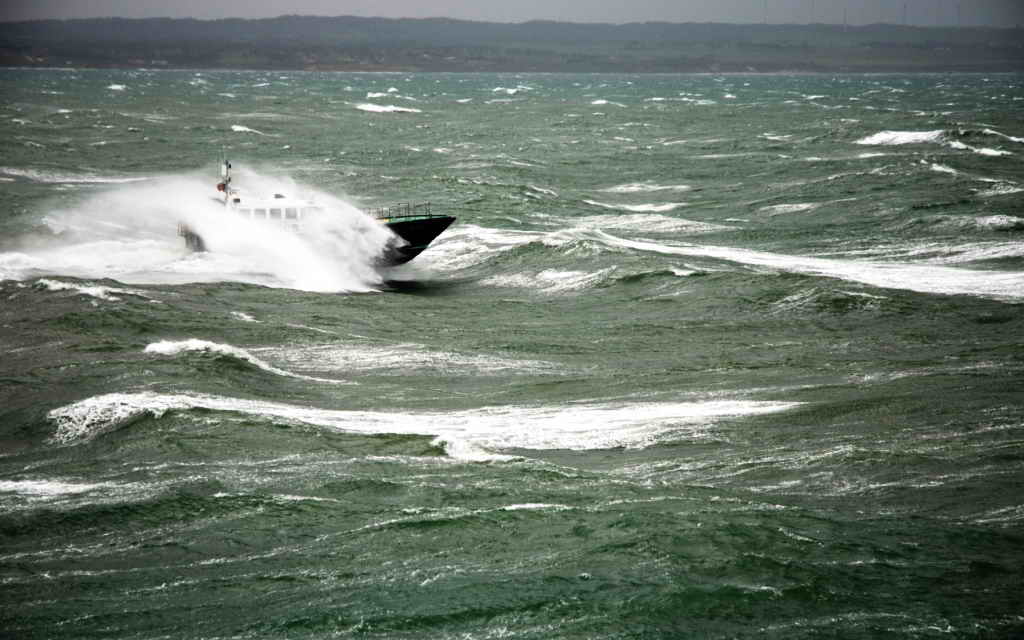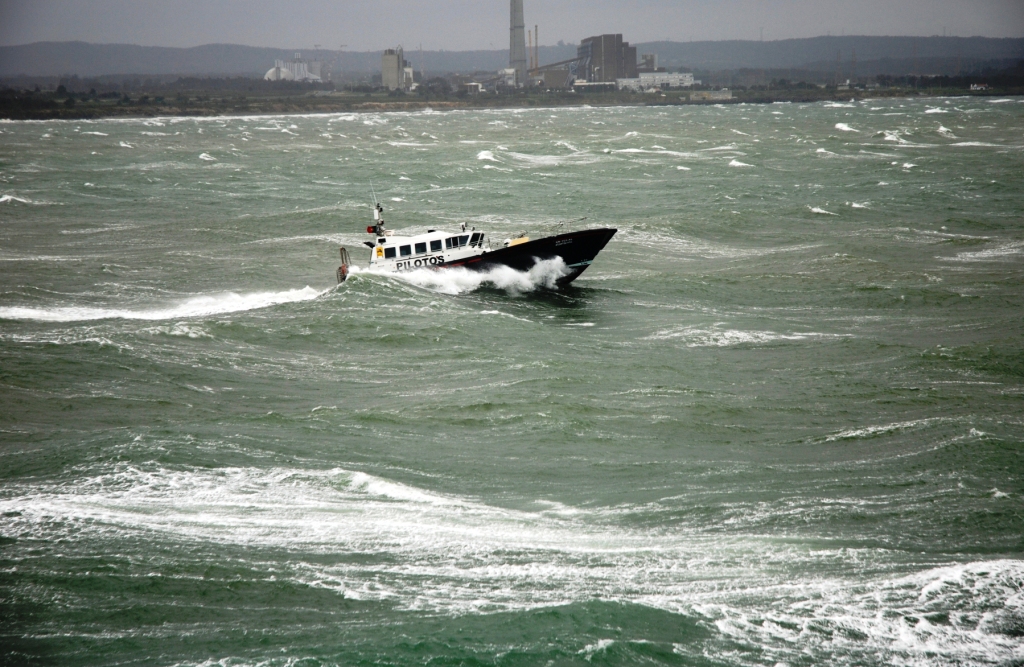 'PATHFINDER' Enters service alongside 'Spitfire' in the Port of Southampton.

Pathfinder is now in service alongside her sister ship Spitfire operating as pilot / patrol duties in Southampton's waters. Her crew are very happy with her and we have received a couple of nice e mails from her crew;

Hi Frank

I have used Pathfinder now for 8 watches and she is a fantastic boat all round, the changes you have made are spot on and she is a very well balance boat, a credit to you and your team. I am gutted that I am on leave now for 2 weeks as I miss driving the launch so much !!

Thank you Frank and we will all do our best to promote our boat which we are all so proud off !! Hope to see you at the work boat Show and have a chat ! If you don't mind keeping us updated with the 48 !

Regards

Gary

Frank

Thought You'd appreciate some constructive Feedback on Pathfinder!

These are my views/opinions but I believe the other 9 users are of the same mind.

We are operating in 'sheltered waters'( none of your 8m seas here thank goodness!)

Though conditions in the Western Solent can produce very short and steep waves. We also patrol port areas in movement restricted areas.

The alteration of weight distribution has made a big difference to trim .We hardly use the Trim tabs except in messy head sea stuff, when it makes movement 'less lively', compared to the FRCV's its sooo much more benign.

We are all very appreciative of the fact that you listened to how we would like the Pathfiders helm position/instruments/switches and to my mind it really is spot on. Thanks. An inch plinth under the throttle control would prevent the helm operator having to lean forward to adjust controls but it is a minor niggle.

'Quick shift' is the only way to go! I really hadn't realized how darn useful it would be when operating in port confines. Just trickling ahead to Synching the engines when patrolling ships to great instant sprint response when needed. I agree that the noise levels ARE even lower than Spitfire which makes 12 hour watches so much less wearing.

The improved Galley area is a big improvement on Spitfire too, as is the improved internal lighting.

A couple of months back I took Spitfire out to the Nab pilot boarding area in 3m seas alongside a large tanker. She behaved very well and I think even the Nelson 48 crews were impressed.

So Pathfinder is a great boat that I actually enjoy maneuvering/operating. Well done!

Regards

John Hyland

Ps.. yeah and thanks for puttin' that music system in! It really does make a big difference.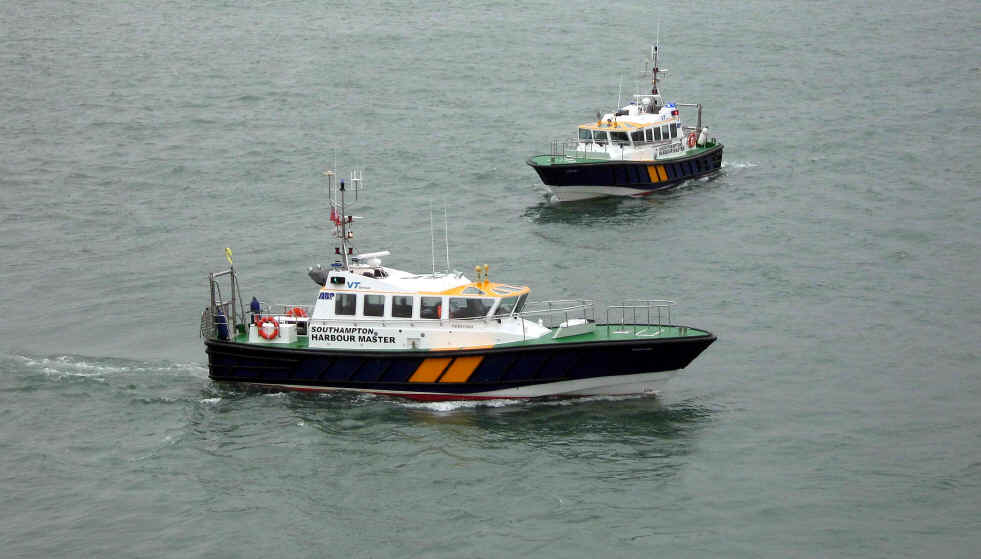 Anyone who missed the last newsletter might enjoy this video of her in Storm force 10 and 8m seas- See pics and video, click here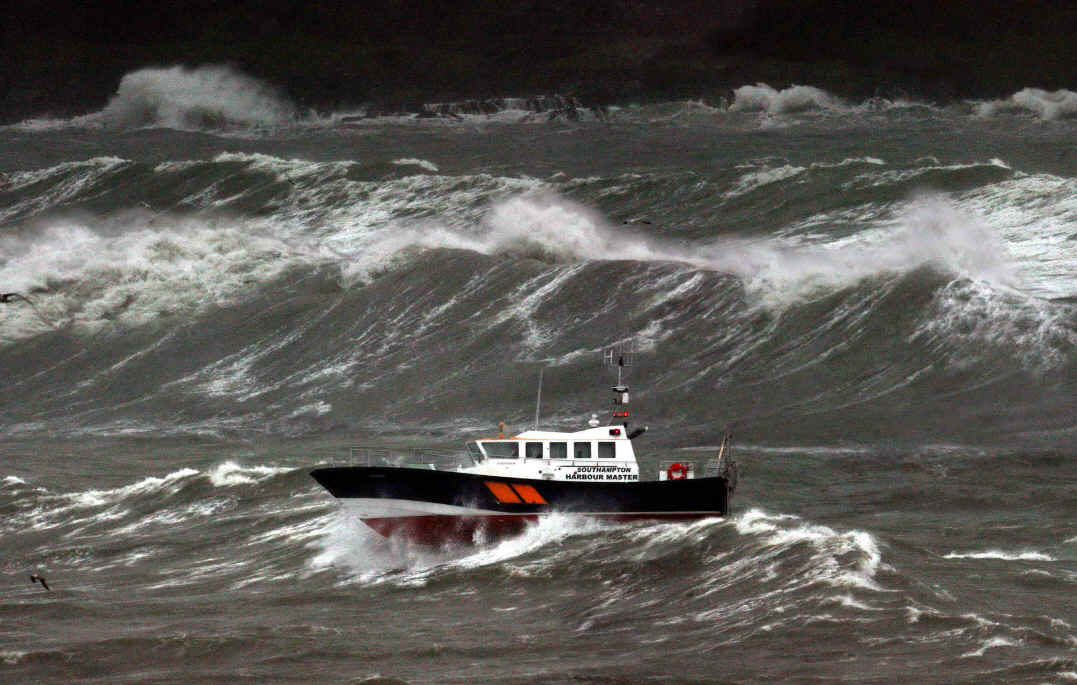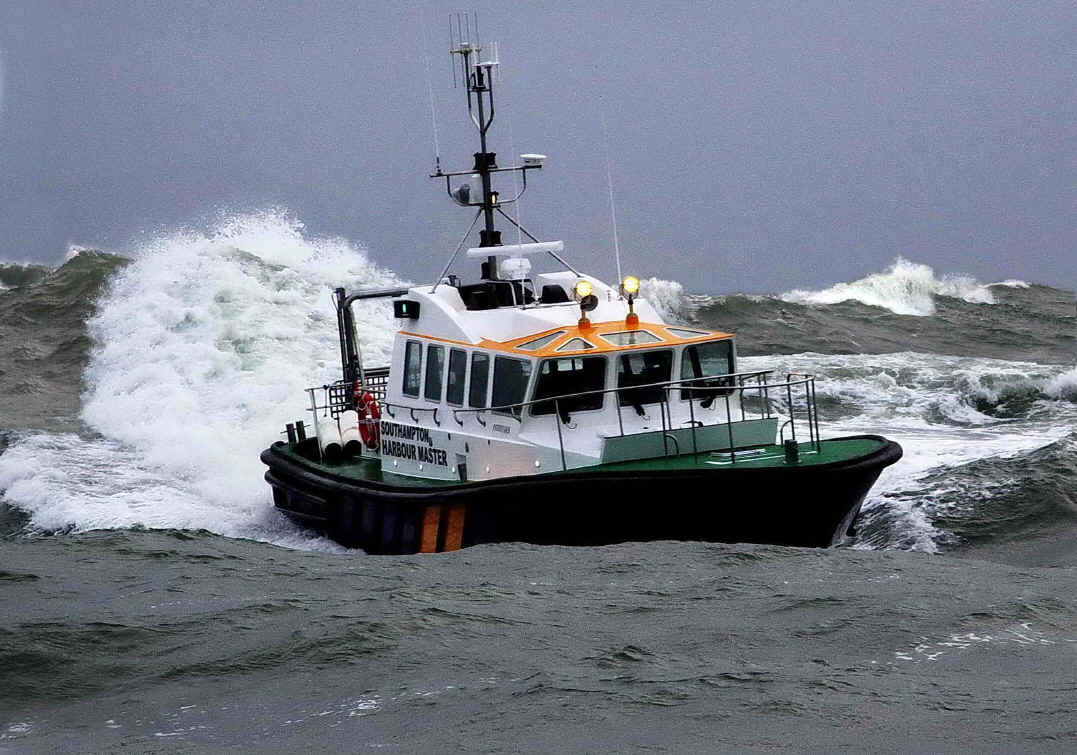 WILDCAT 40 'SEAFLOWER'
'SEAFLOWER' Kenny Livingstone's new Wildcat 40 has been launched. Kenny will be operating her commercially off the West Coast of Scotland.
Below are some nice photos the Wildcat 40 'SEAFLOWER' being sea trialed in a force 7 southerly gale in 3.5m seas. You can see a video of the trails on you tube, CLICK HERE TO SEE THE VIDEO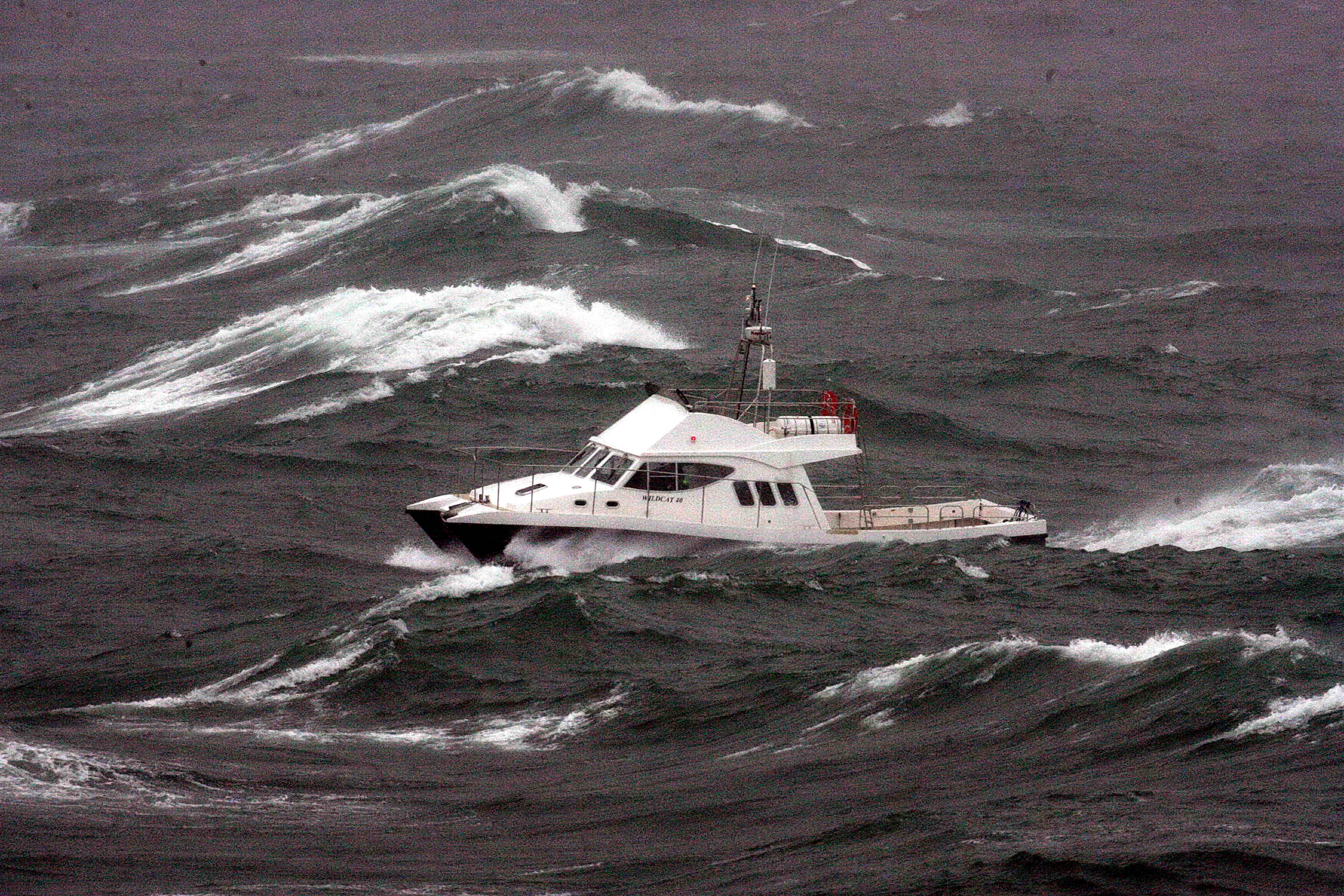 Running beam on in a Wildcat is no problem.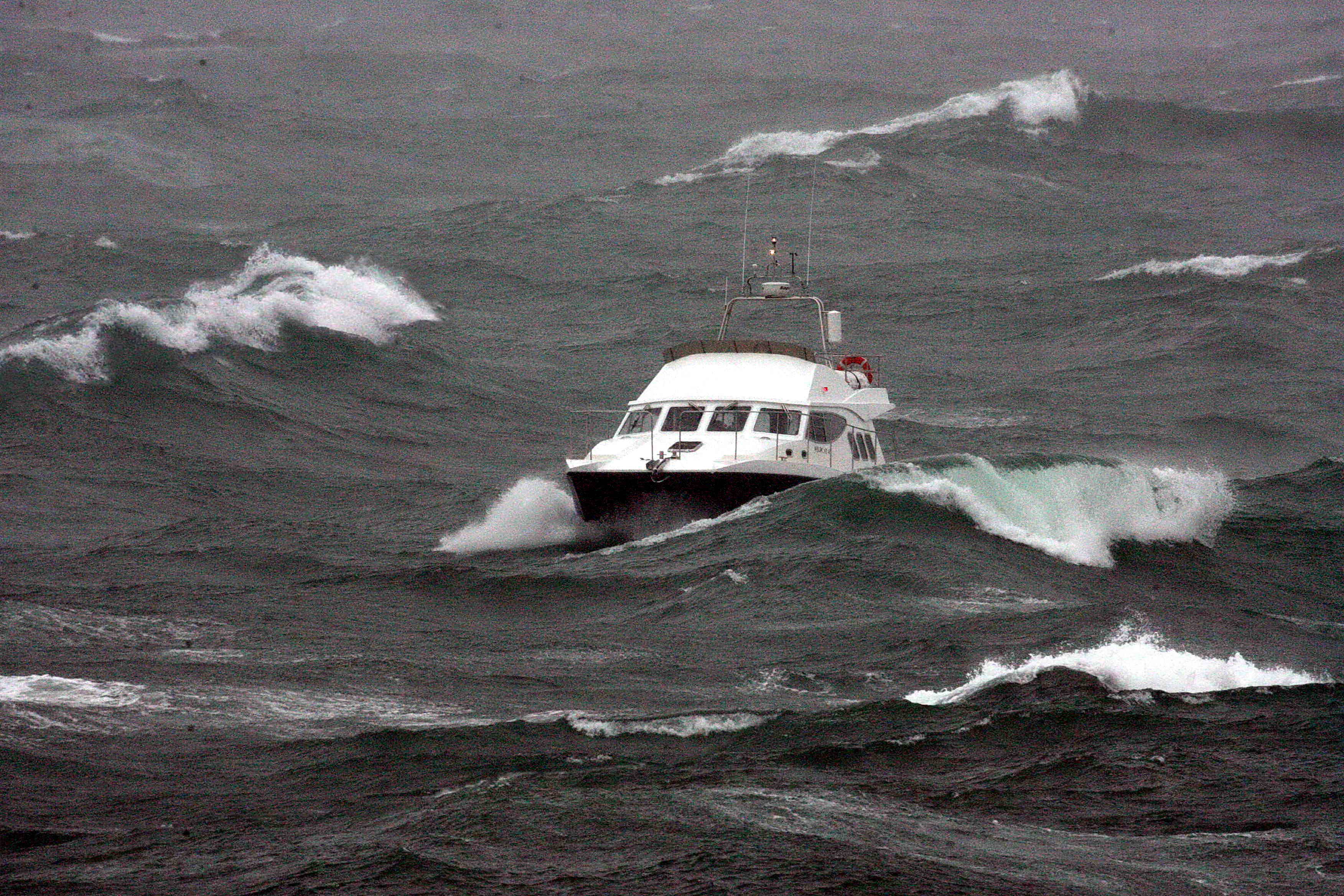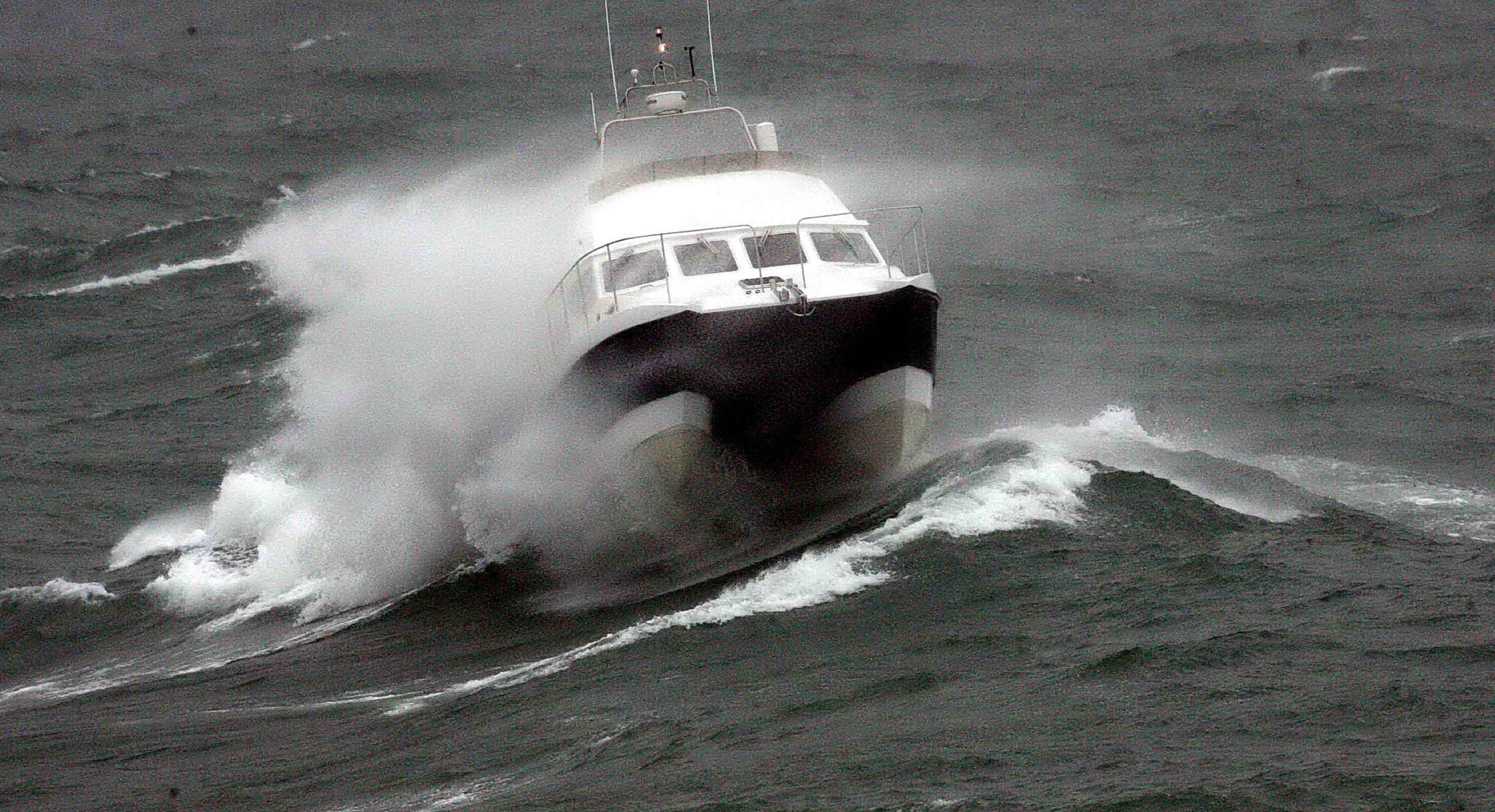 A few nice waves around on this day.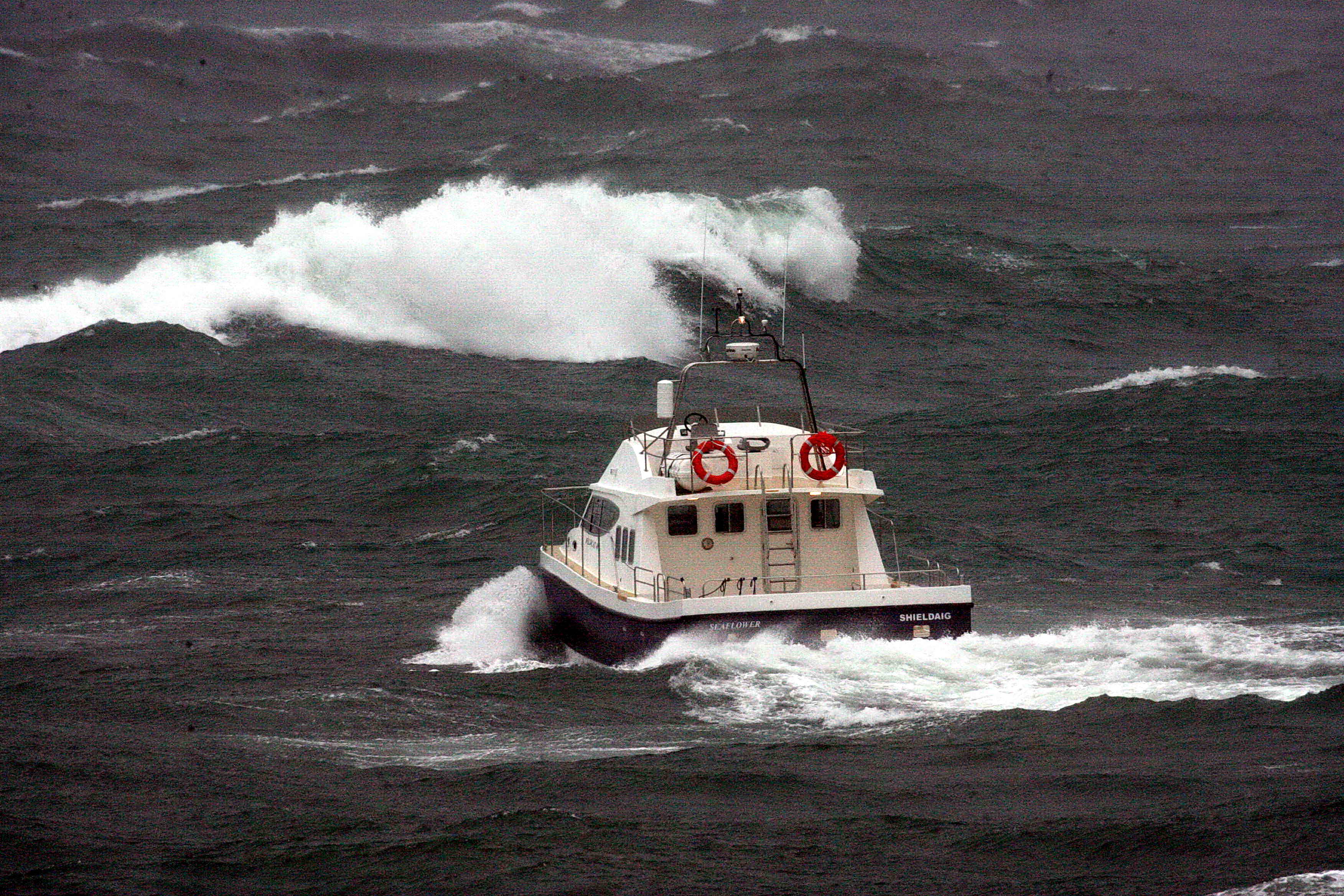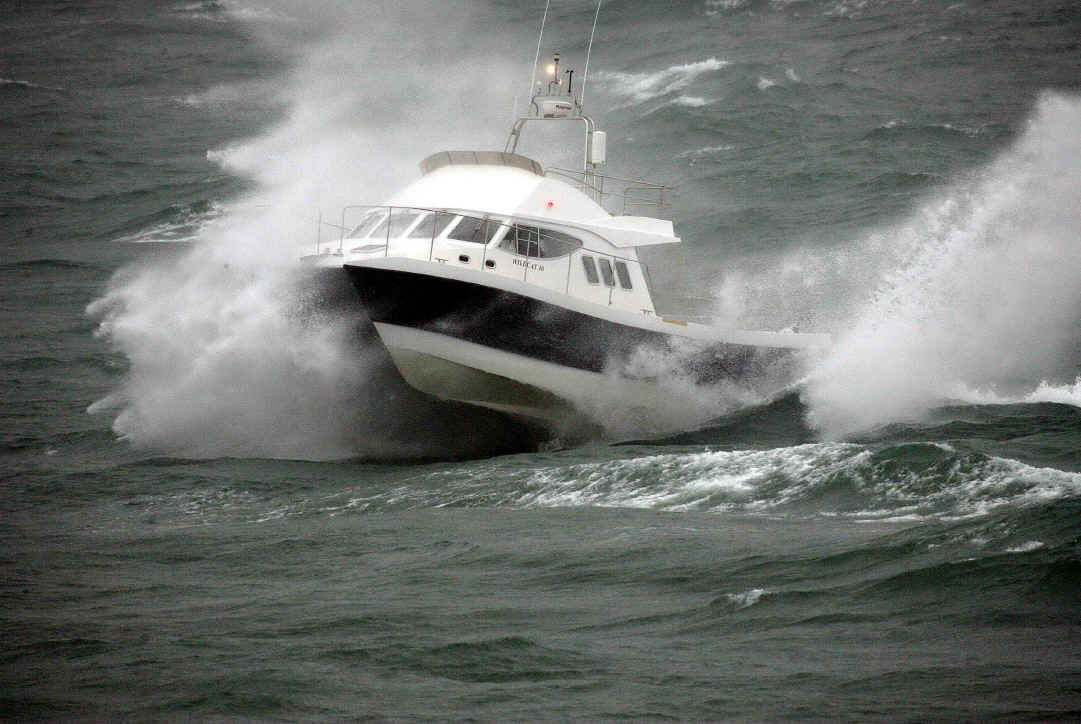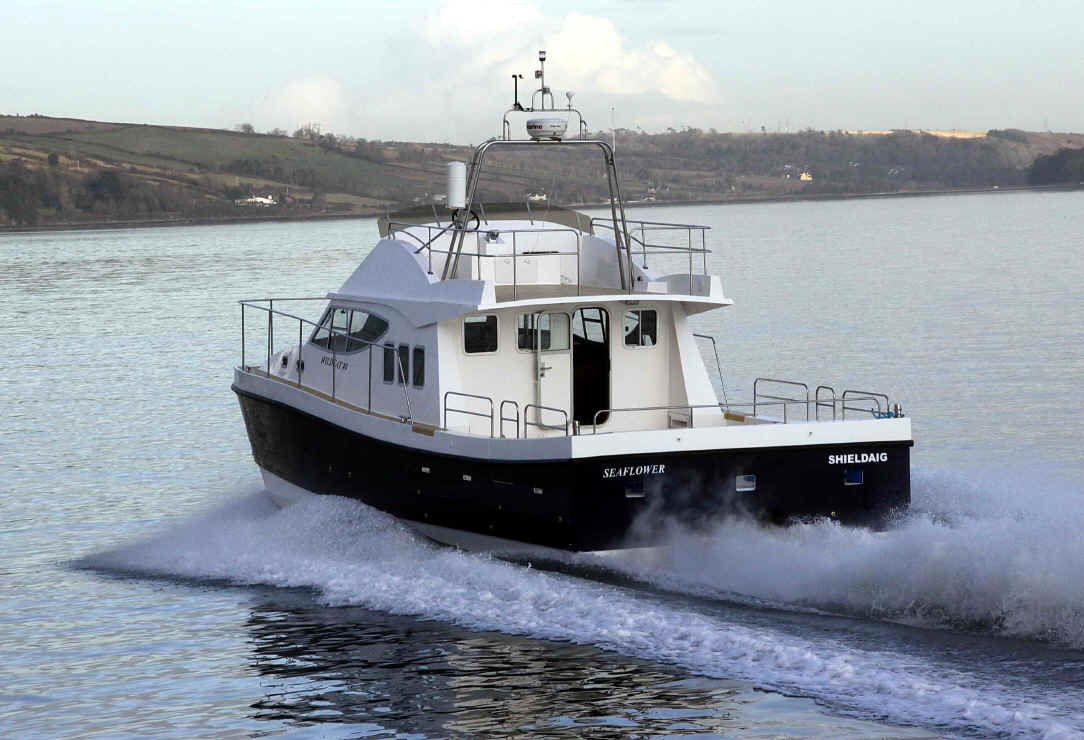 Below, the completed hull for the first of Island Shipping's wind farm catamarans 'ISLAND TIGER'
La Reunions Wildcat 40 Hydrographic survey vessel.
The Port of La Reunion have placed an order for our Wildcat 40 survey catamaran. The vessel will feature a moon pool deploying Cadden multi beam sonar equipment, it will be built under Bureau Veritas survey to French Maritime authority rules for commercial vessels and be powered by two Volvo D7 260hp engines. Below the chosen design below.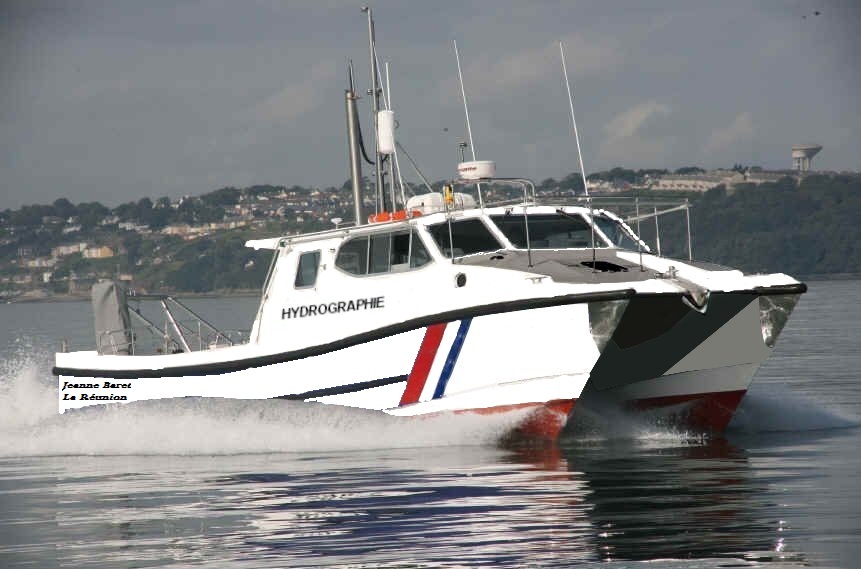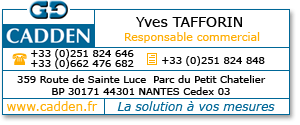 Below, her hull being laid up.