HOME MODEL RANGE CONTACT US GALLERY VIDEO DOWNLOAD PRICE LIST
SAFEHAVEN MARINE. Builders of the Interceptor & Wildcat range of offshore craft
INTERCEPTOR 42 'WORKBOAT' FOR PETER MUNRO, GUERNSEY .
For technical information click on this link
Launched in March 2004, 'NEMO' is the 30th Interceptor to be delivered and the first 'short cabin' commercial 42 version. Built for owner Peter Munro of Munro Fisheries, Guernsey in the Channel Islands . Peter ordered the boat in spring 2003 after seeing the Interceptor 38 'Out the Blue', operate successfully since 2000 for Richard Seager out of his home port, and Richards praise for his boats sea keeping.
Nemo's hull is finished in a very striking orange colour to match Peter's other commercial vessel. Peter and his father are quite experienced boat builders themselves and it shows in the very thought full and comprehensive specification of the vessel. She will be used as a crab potting vessel operating far offshore from his home waters. Peters other craft is a slow displacement craft and he hopes to be able to operate the same ground daily, but reduce his travelling time from 7hrs to 3hrs giving a shorter working day. The boat is capable of handling 40 pots at a time and has a large aft cockpit of over 300sq ft, with a completely flush deck. The st/bd side has been clad from the outside in multiple sacrificial layers of GRP to protect the hull from the inevitable wear suffered in hauling pots. F/wd of the engine is a large 8 cubic metre fish hold accessed from a large 2.1 x 1m hatch.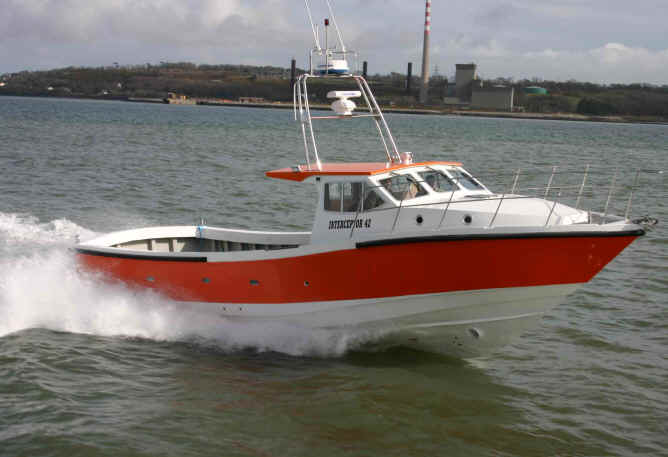 She is fitted with a big capacity Caterpillar C12 engine displacing 12 litres and a Twin Disc5114A Quick Shift gearbox, rated for heavy duty commercial use and allowing full throttle gear changes from forward to reverse, smoothly with out stressing the installation. Controlled by Twin Discs own electronic shifter incorporating an adjustable trolling valve. The C12 being fully electronic is very economical. On sea trials Nemo achieved over 27kts on a 10,100 kg displacement. To allow ease of maintenance a special large engine hatch was designed, lifted by electric hatch lifters and kept water tight by large 5" drainage channels and several 2" drains, access to all parts of the engine for maintenance is easy. Additional fuel tankage was provided by twin 100 gallon auxiliary tanks augmenting the 300 gallon main tank giving Nemo a 1000 mile range at displacement speeds and over 600 miles at 16 kts. Needless to say a very comprehensive electronic package was fitted by Gabriel Whitston of M.E.S. and comprised twin Furuno radars, twin GPS plotters and sounders, VHF's and Peters own 15" computer monitors and mapping software.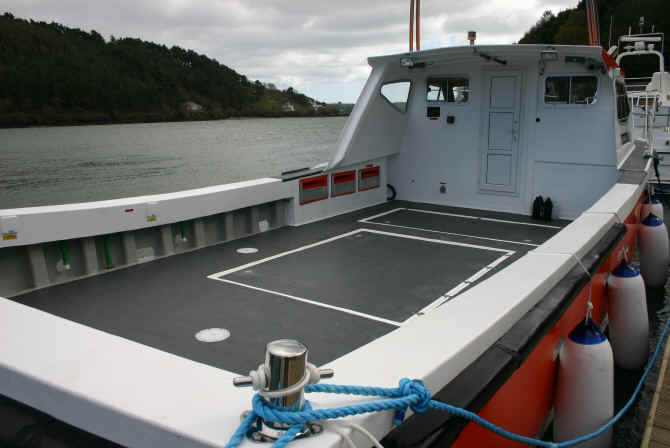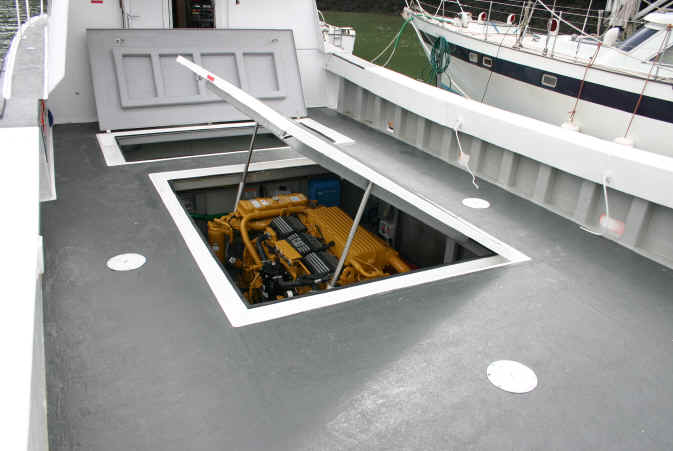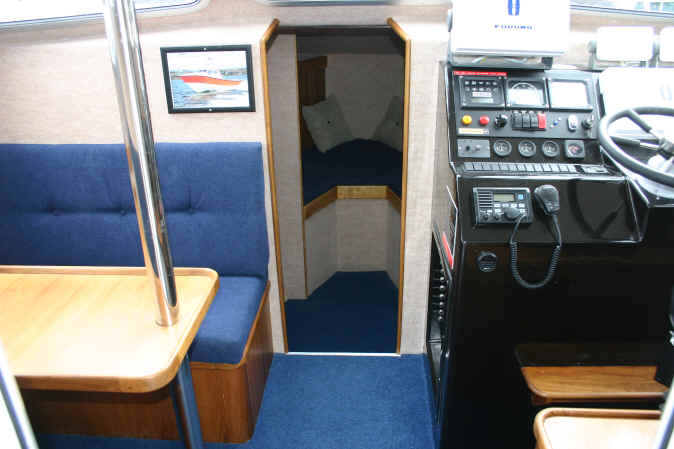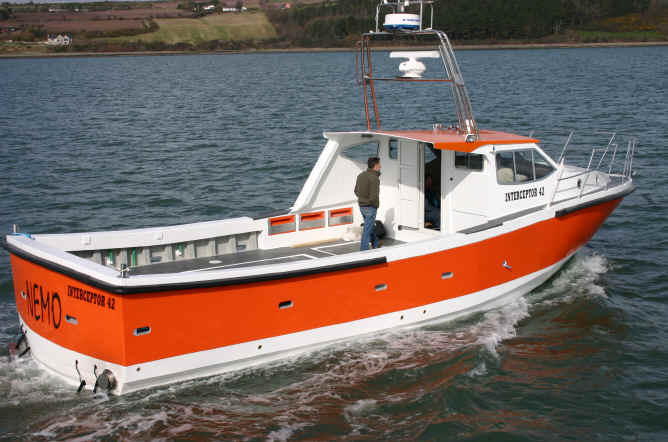 Peter was lucky with the weather in so much as there were several days of gales in which to test the boat. A video shoot was completed offshore in a force 8 gale with over 10ft waves, during which she was able to maintain 15kts into the seas and over 20kts on all angles running with the seas. Peter commented " I was very impressed with the speed we could maintain in the confused sea conditions with out the slamming and discomfort normally associated with fast vessels. Her directional stability in steep following and quartering seas was excellent. When drifting beam on, what a stable platform she proved to be, a must when working static gear"
We took Nemo out in a force 8 gale and managed to get some excellent photographs. She performed fantastically and these photos go some way to indicate the sea state and her abilities to handle it effortlessly.