HOME MODEL RANGE CONTACT US GALLERY VIDEO DOWNLOAD PRICE LIST
SAFEHAVEN MARINE. Builders of the Interceptor & Wildcat range of offshore craft
Interceptor 42. 'Sports Flybridge version'
Mikatcha is our latest Interceptor 42 built for Charlie Bartlett who operates a long established sea angling charter business from Aberdovey on the Welsh coast. Charlie is a retired RNLI lifeboat coxswain with many years experience operating boats in extreme conditions. Operating from Aberdovey, Charlie has to contend with some of the most dangerous and challenging water at the entrance to the estuary over the notorious Aberdovey river bar, where standing seas and surf conditions means a boat has to be exceptionally seaworthy, and whilst heading out to sea can be challenging, its nothing like as dangerous as trying to enter the harbour through the surf. To do this safely Charlie needed a hull that was exceptionally capable in following sea conditions, and be able to run through the surf at 25kts by staying on the back of a wave. After trying many different designs and using his RNLI experience to judge a boat's capabilities, he chose an Interceptor saying none of the other boats he tried had the Interceptors Sea keeping abilities.
After launch to test her sea keeping and handling we took her out in gale force 8 and took some great footage which aptly demonstrated the Interceptors capabilities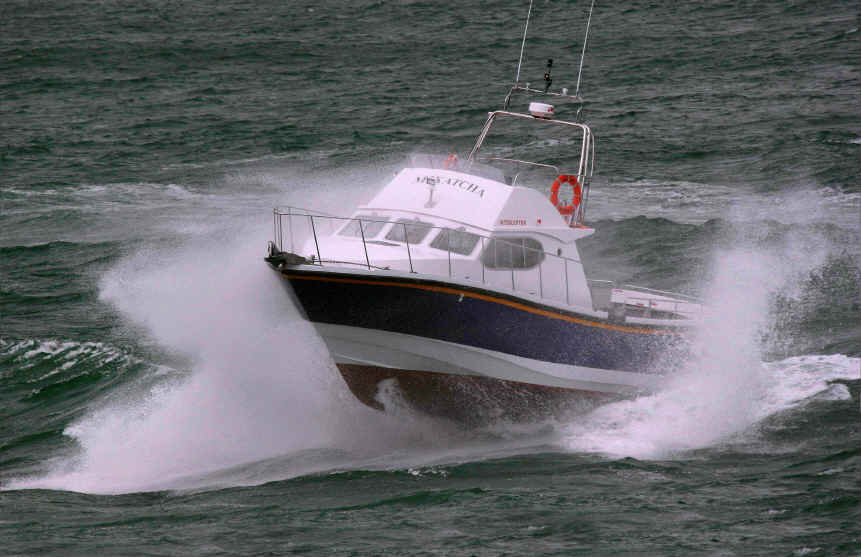 Below- This picture nearly captures that 'o me god' moment as a large breaking sea breaks over her!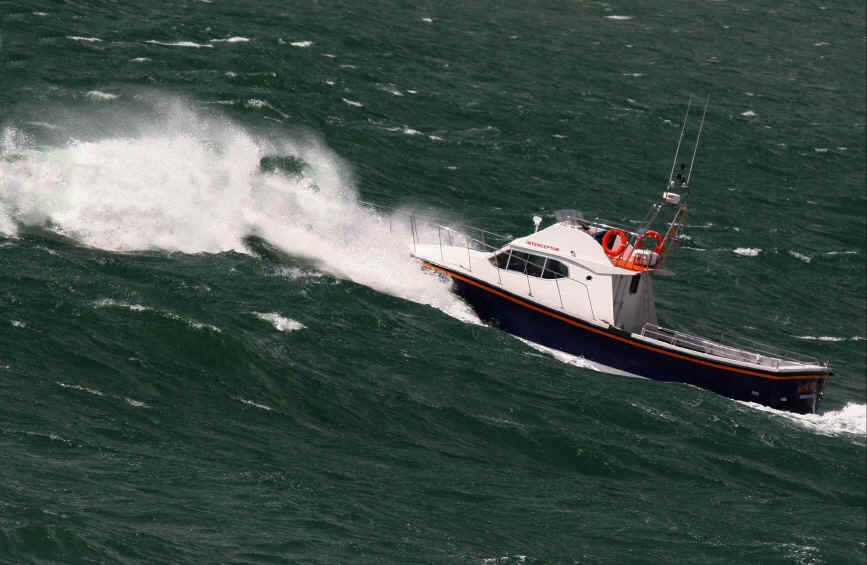 'Mikatcha' is fitted with a Volvo D12, commercially rated at 650hp and giving the vessel a 27kts top speed with a fast cruise speed of 23kts. Coming as standard with electronic engine controls the engine proved very smooth and powerful as well as economical. Being good value too it is likely to become the standard fit large capacity engine for Interceptors in the future. 'Mikatch' is the Sports Flybridge version of the Interceptor 42, which is also available in a short cabin fishing boat version, which offers a huge aft cockpit. Charlies boat, whilst still featuring a large aft cockpit also has a spacious cabin with seating for 10 anglers, providing a greater level of comfort during the long distances, up to 40 miles that Charlie travels to offshore wrecks.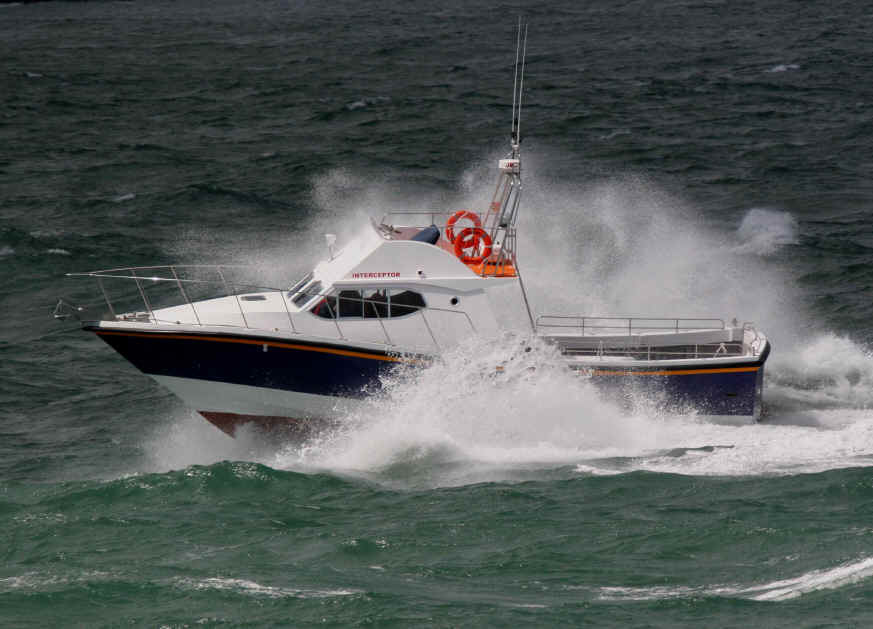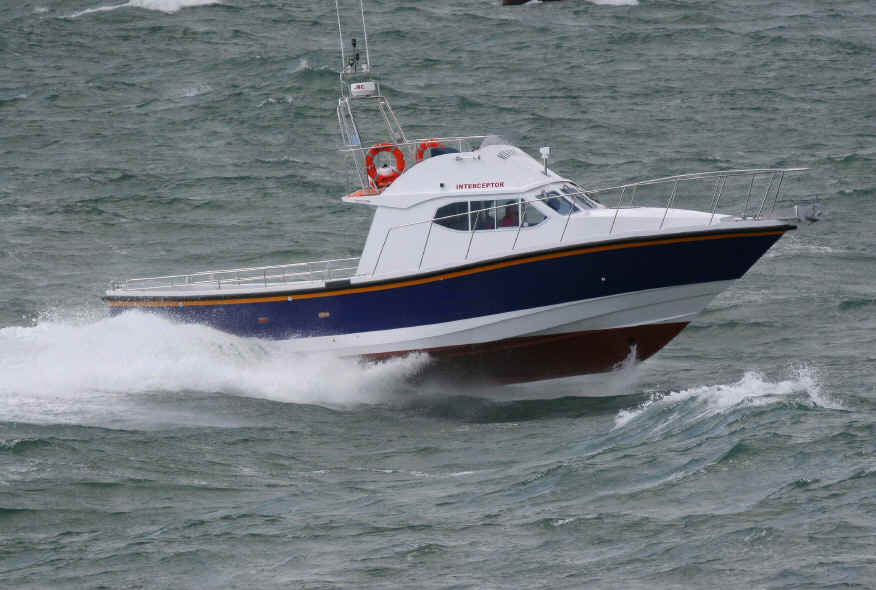 Fitted with a single Volvo D12 650hp engine she has a top speed over 26kts and can cruise at 23kts. We were seriously impresed by this engine. It has excellent build quality, power and is competitivly priced.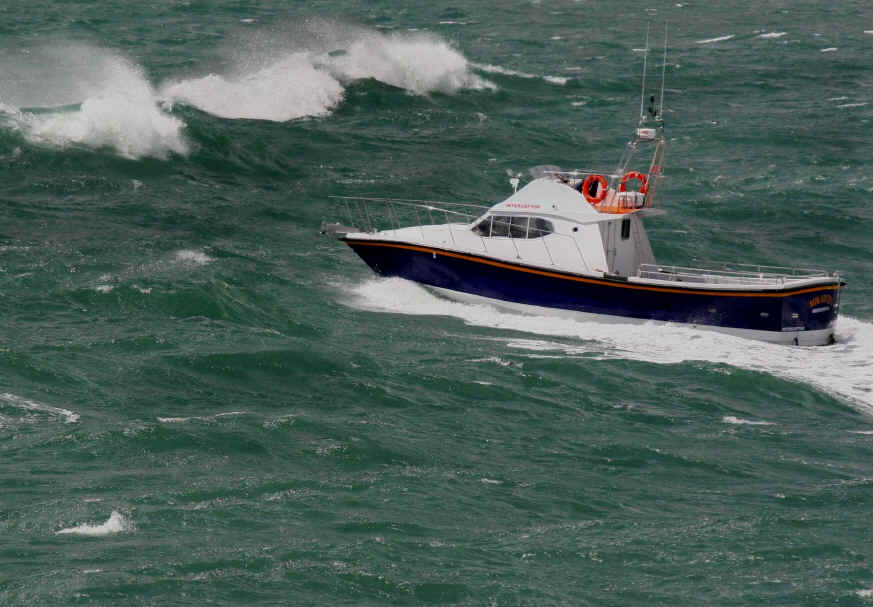 Below, on a calmer day, the day she was launched.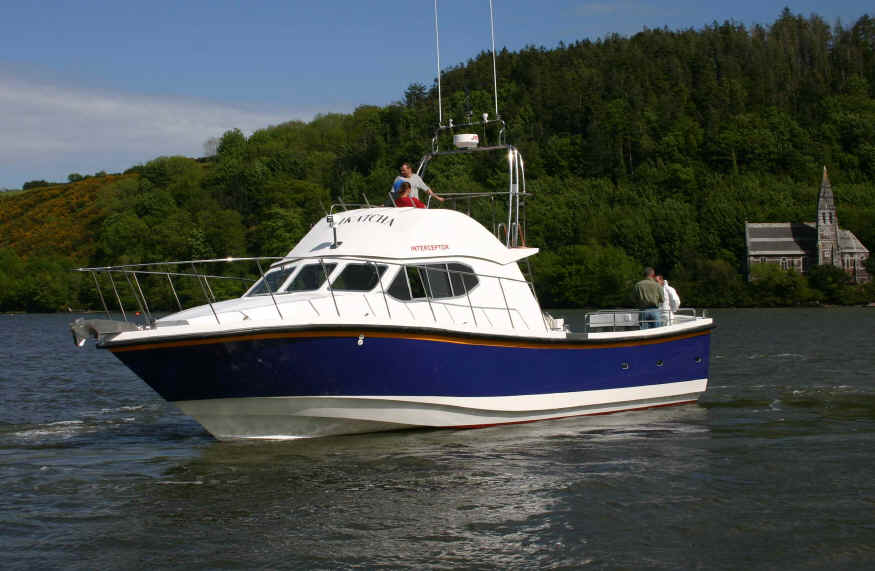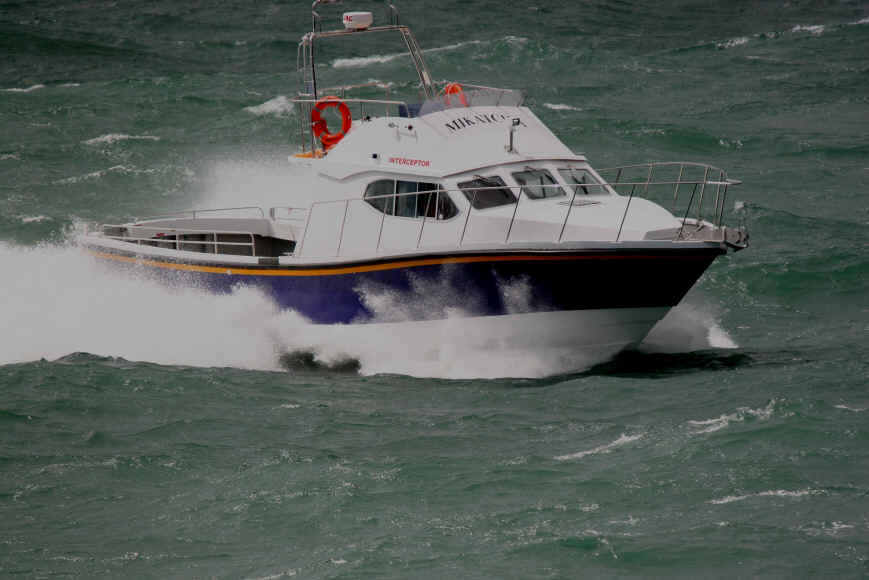 Charlie's been using her for a month now and sent me this e mail saying how happy he was with her.
"Dear Frank.
After operating my new vessel "Mikatcha" for 3 weeks taking angling parties out on a daily basis from Aberdyfi into Cardigan Bay I feel that I must write to let you know how impressed I am with your "Interceptor 42". This vessel performs so brilliantly in all sea conditions it stays dry when punching into heavy seas and does not broach when in big following seas, indeed I have had to bring her home in a near gale over Aberdoveys bar through 5 meter breaking seas and being amazed how safe and in control she was in these dangerous conditions. When at anchor it is a very stable working platform. What more does a charter boat skipper need than this awesome looking beast that has the ability to push hard into head seas at 20 knots. The standard of workmanship is well above expectations on Mikatcha so it now leaves me to say a big thank you to all your team for doing such an excellent job on such a beautiful boat. Last but not least my customers are extremely impressed with all facilities onboard. I am so glad I chose an Interceptor 42, what an awesome vessel.
Thanks again
Charlie Bartlett