'ORCA II', the first of class INTERCEPTOR 55 is launched.
The first Interceptor 55 has now been launched and sea trailed. See has exceeded all expectations. On a performance front, at a 17,500kg displacement she achieved 28.2kts, faster than expected. At the Scania D12's continuous rating of 1800-2000rpm she has an operational speed of 22-25kts
Angus Cambell, is the owner of the first Interceptor 55 'ORCA II' , replacing his previous Interceptor 42 'Orca' built in 2004. See Orca his Interceptor 42 .. ORCA II is to be used as a passenger and patrol vessel transporting up to 12 passengers and light cargo from her home port on The Isles of Harris, out to St Kilda. St Kilda is recognized as a wildlife and marine life habitat of world importance. There are a number of species unique to the islands, which are carefully monitored by conservation bodies. The awe-inspiring landscape, human history, and the sheer remoteness of St Kilda intrigue many. The islands are a UNESCO Reserve, National Nature Reserve, Ancient Monument and a World Heritage Site. The journey out to the islands is 45 nautical miles, straight out into the North Atlantic from The Isles of Harris, which is itself 50nm offshore from the Scottish mainland. When undertaking this journey the vessels sea keeping is paramount and is one of the reasons Angus chose an Interceptor . Over the past three years Angus has come to totally trust and depend on his Interceptor 42's seakeeping abilities, which has been tested many times when caught out 30-40 miles offshore as the wind blew up and left them battling the big North Atlantic seas.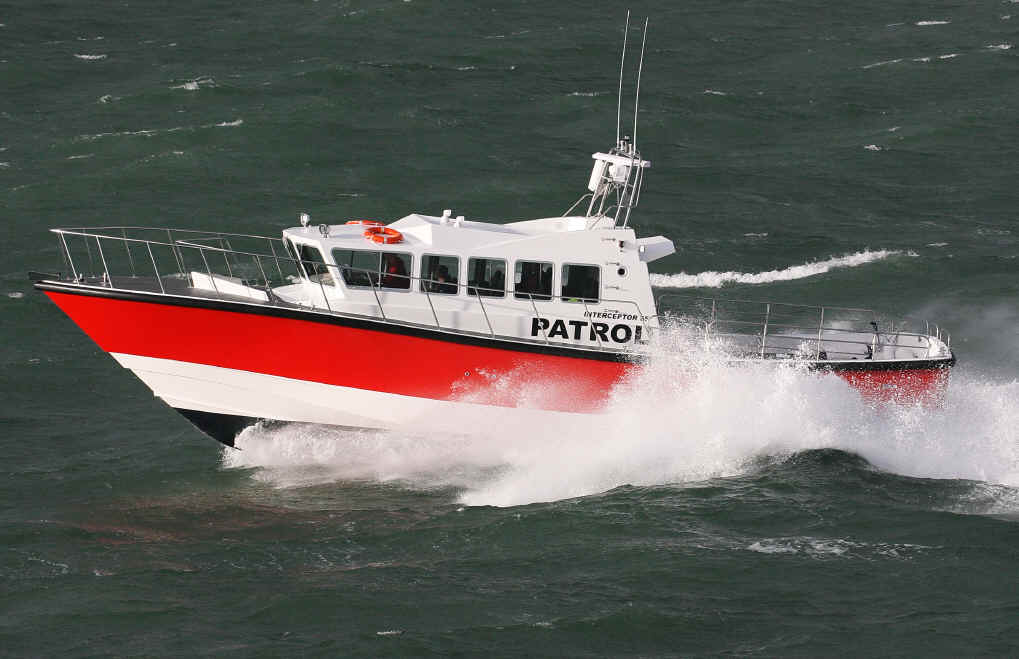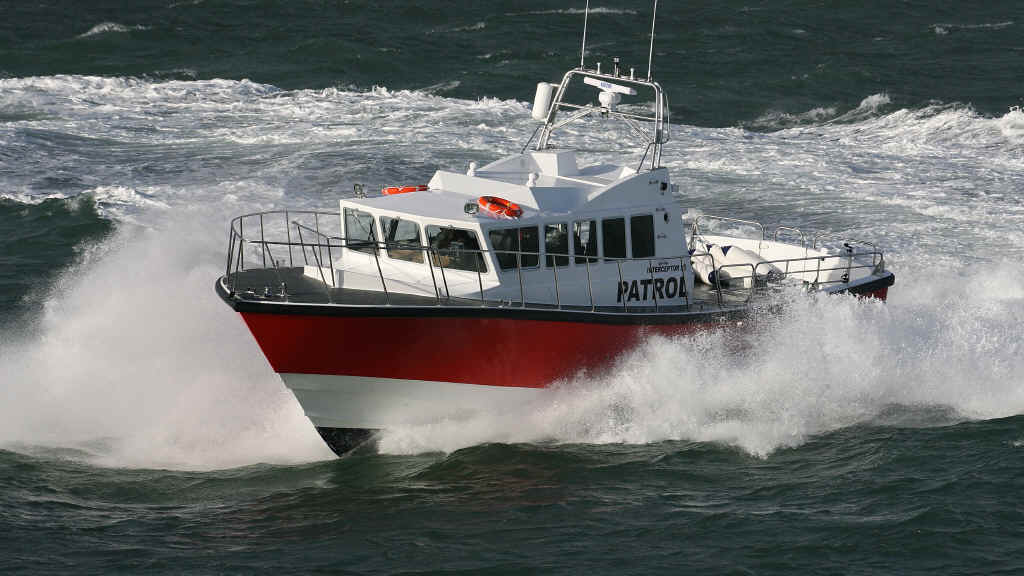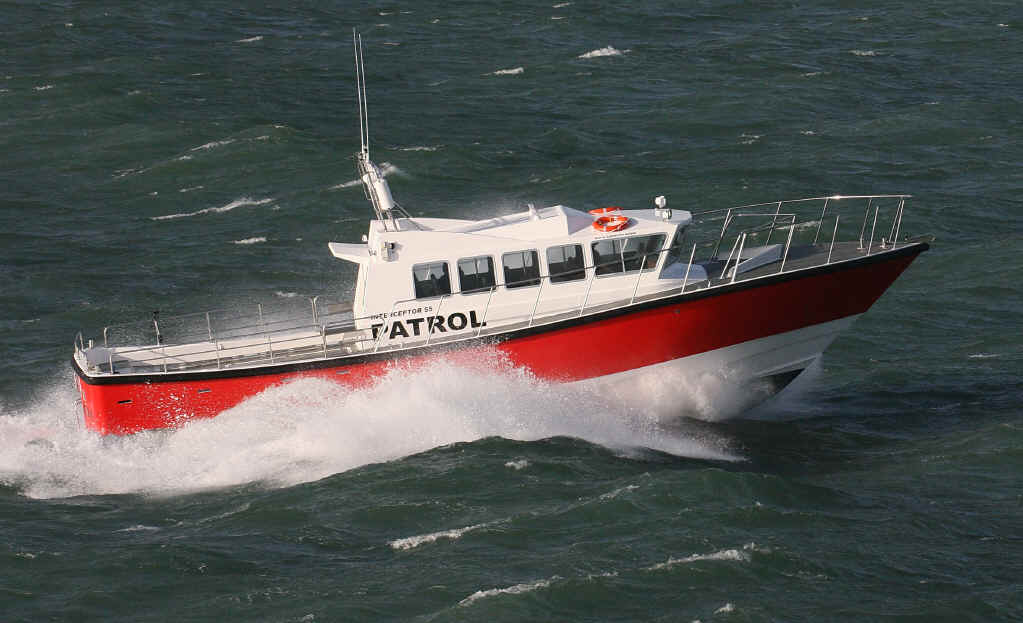 INTERIOR FIT OUT
Below, the volume of her interior can be seen, with a large glass area, visibility is excellent. The cabin is large and spacious, in this configuration she has seating for 12 passengers, but the general arrangement is fully customizable. Her fit out is to a very high standard throughout, high quality teak paneling and trimmings have been used in her woodwork and she is fully lined and carpeted throughout her accommodation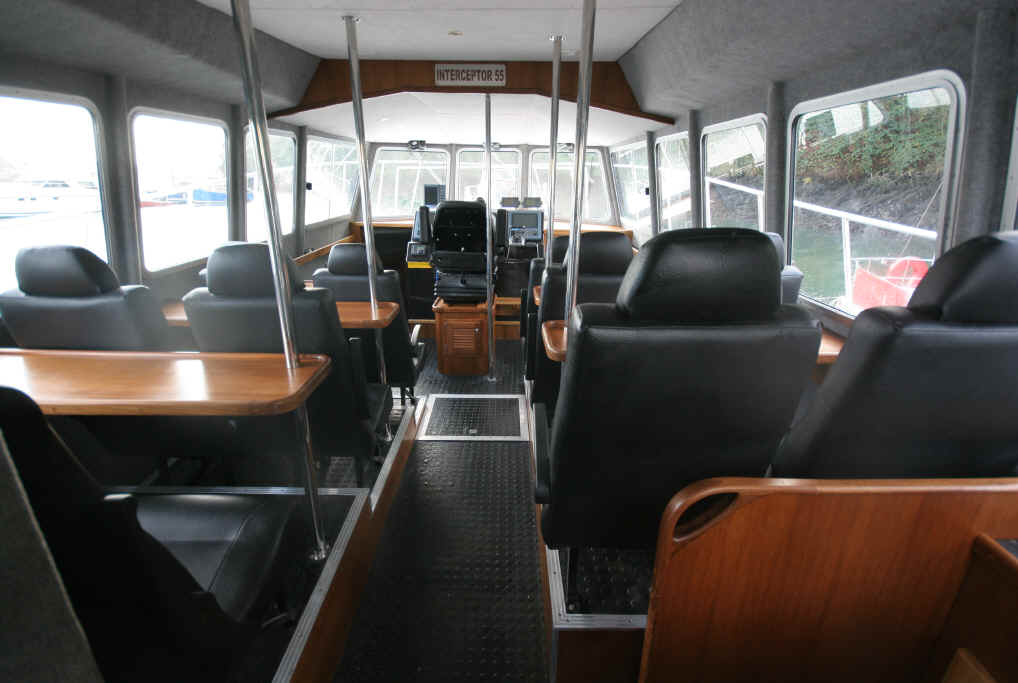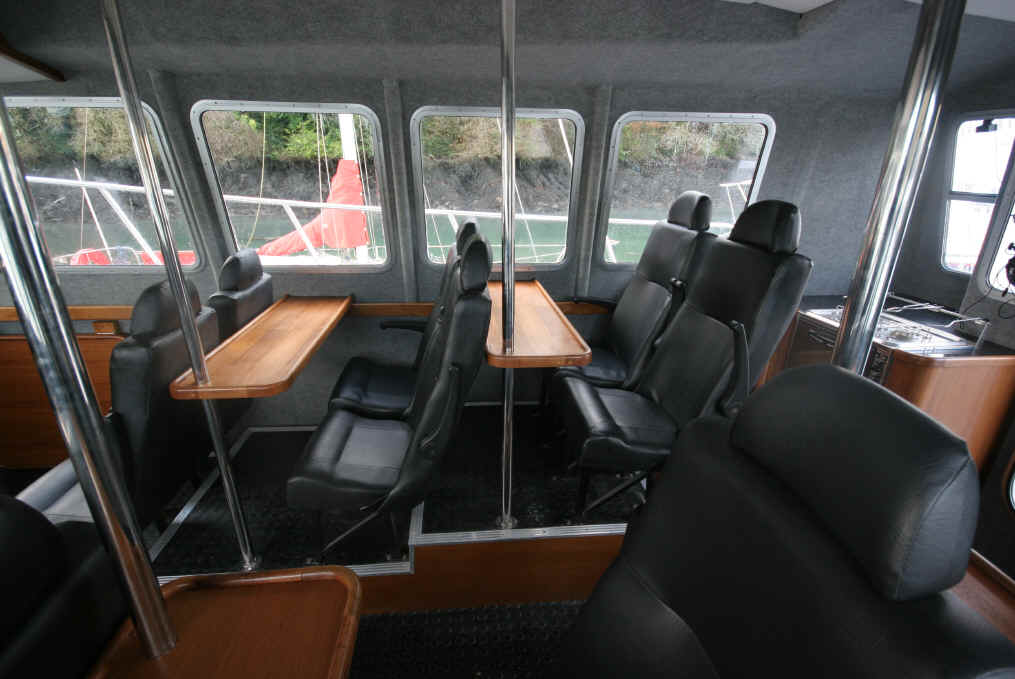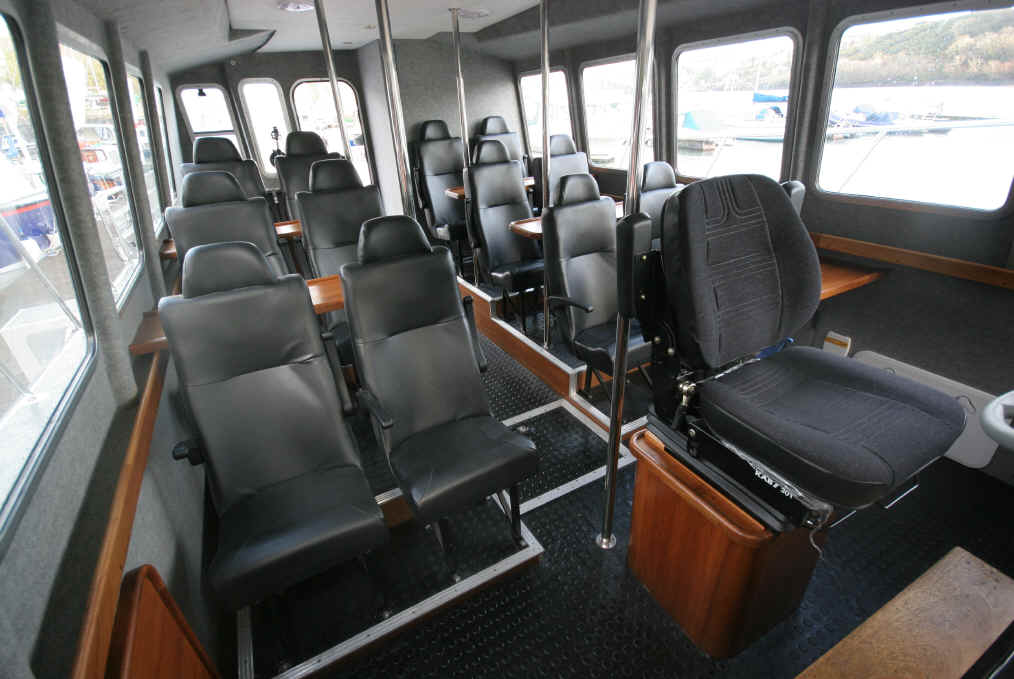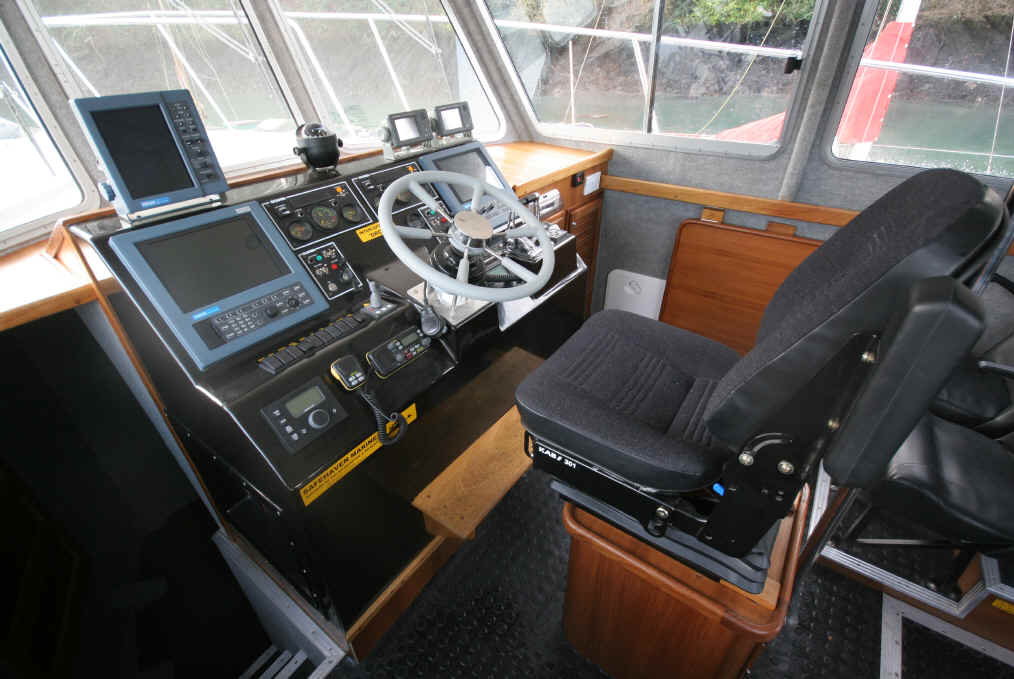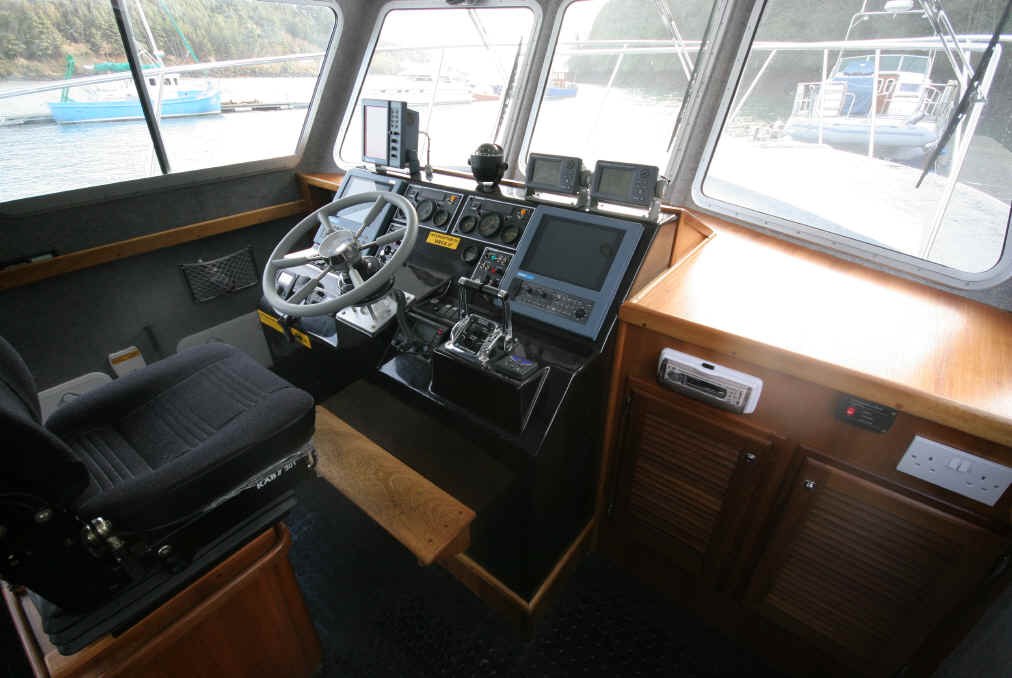 Below in her fore cabin is situated a large storage locker, shelf's dedicated electrical compartment and in the bow cabin are V berths.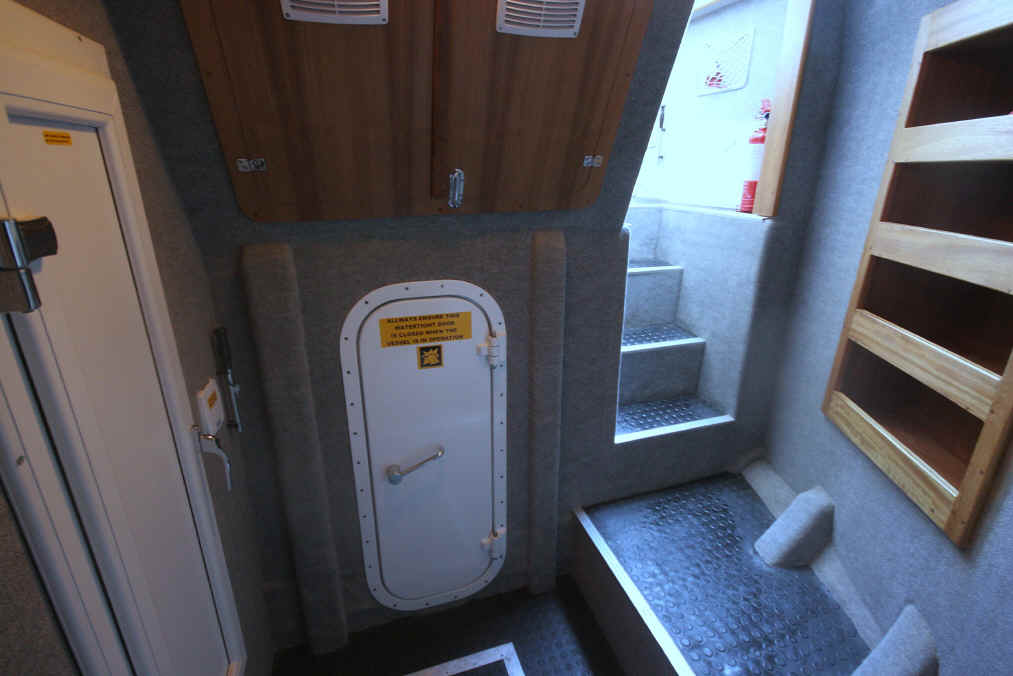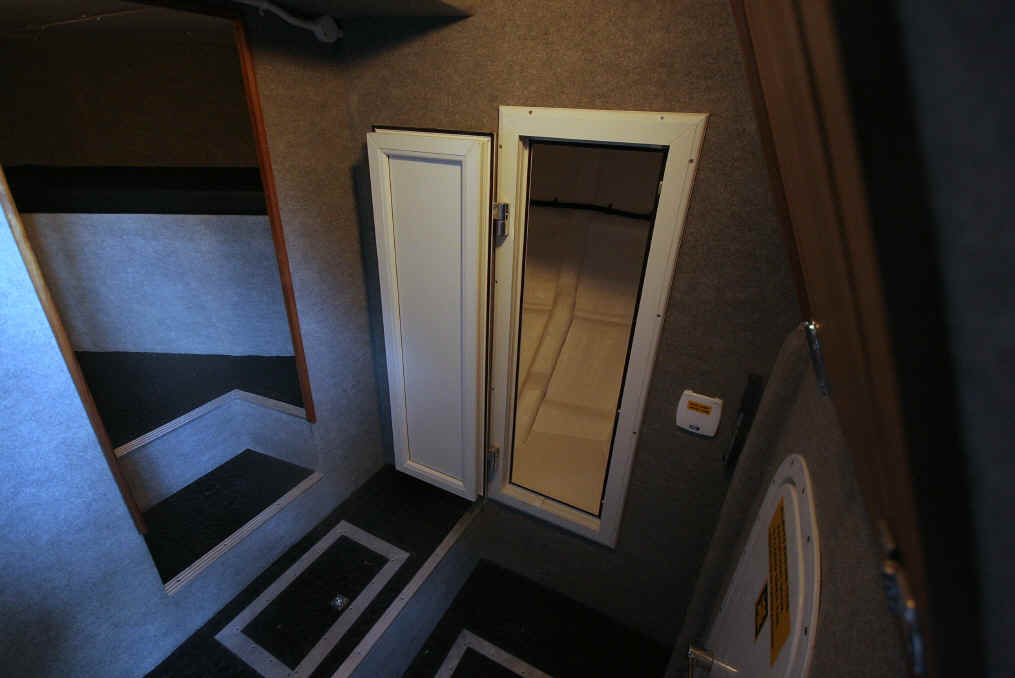 Underneath the main cabin is a lower sleeping cabin with full standing headroom and four berths.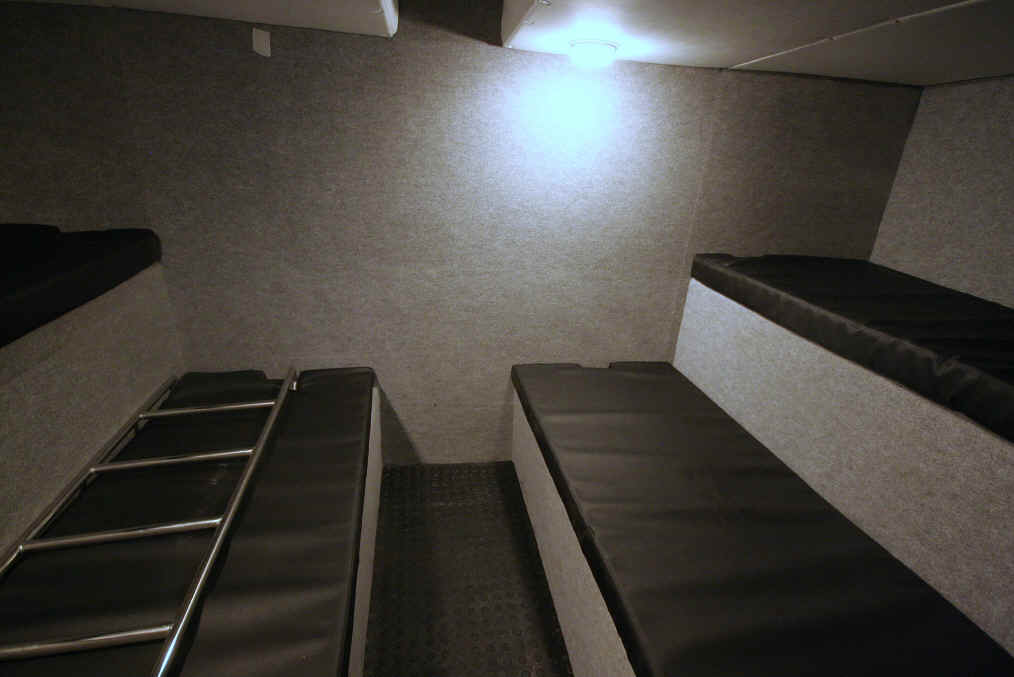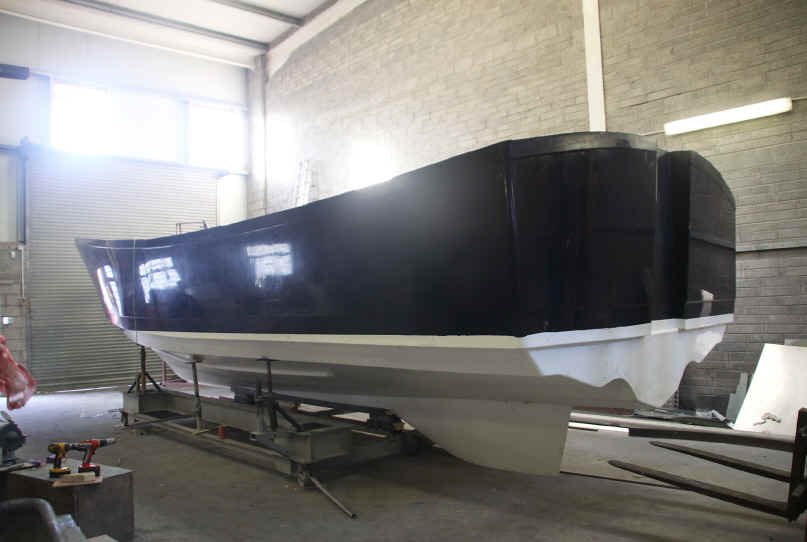 Twin Scania D12 engines rated at 650hp give her a maximum speed of 28kts at a fully loaded displacement of 20,000kg with 4,000 litres of fuel of 28kts. The engine room is large and spacious with full standing headroom. All service components are easily accessible for maintenance.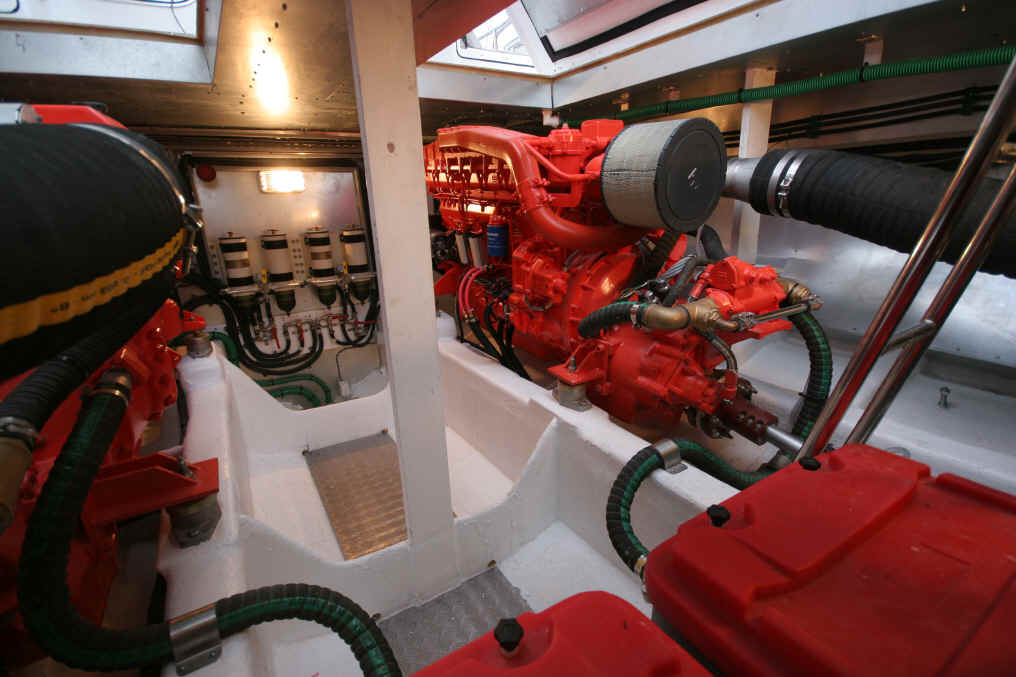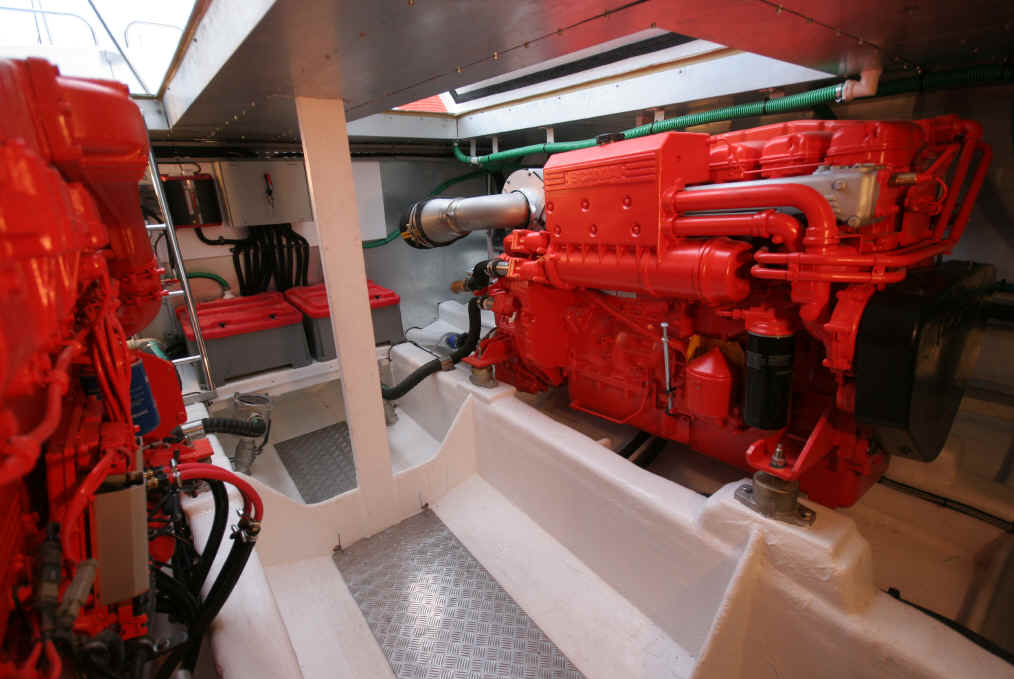 The engines are easily accessed from the aft cockpit.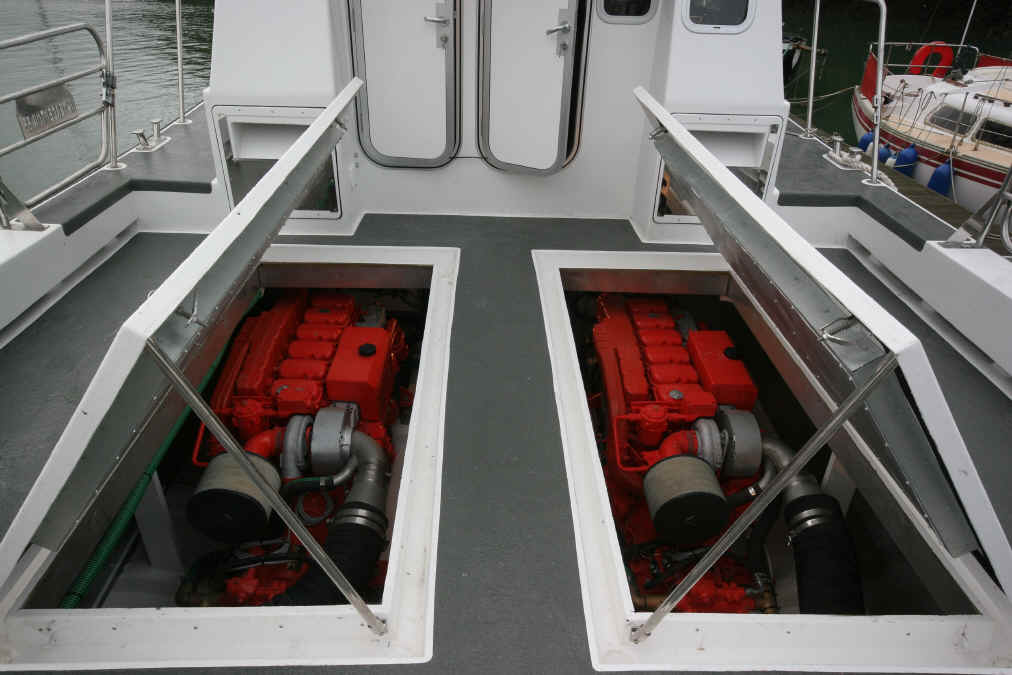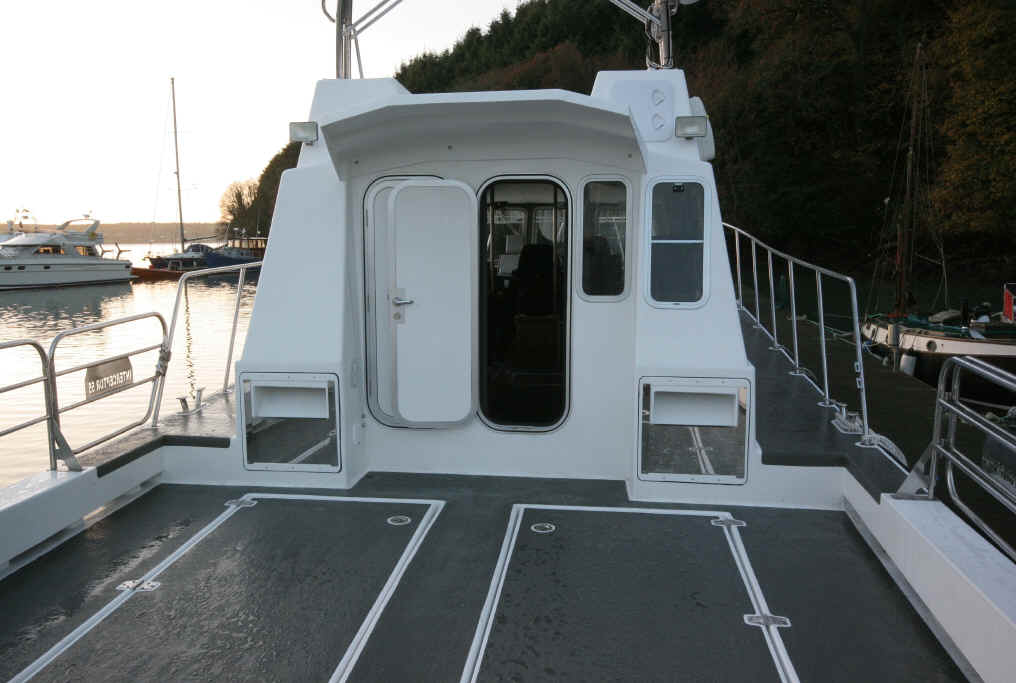 SEA KEEPING REPORT. Trial 1
During the first set of sea trials undertaken in Southwesterly gale force 8 conditions with 8ft seas in wind against tide in the tidal race at the entrance to Cork harbour her sea keeping was superb. She was capable of maintaining 20kts into the seas in comfort with zero slamming and a gentle motion. Downwind in following seas she was amazing, capable of running at maximum speed in complete control recording over 32kts when surfing down larger waves, During the trails in the poor conditions the wipers were virtually redundant so effective were her spray rails that almost no spray hit the screens. She has very low noise levels, 78db at 20kts and is very smooth with no vibration or cavitation and her steering is very responsive. Her running trim is an efficient 3.6 degrees no doubt due to her large planning area. You can see a compilation video of the best clips of her from this link- SEE THE VIDEO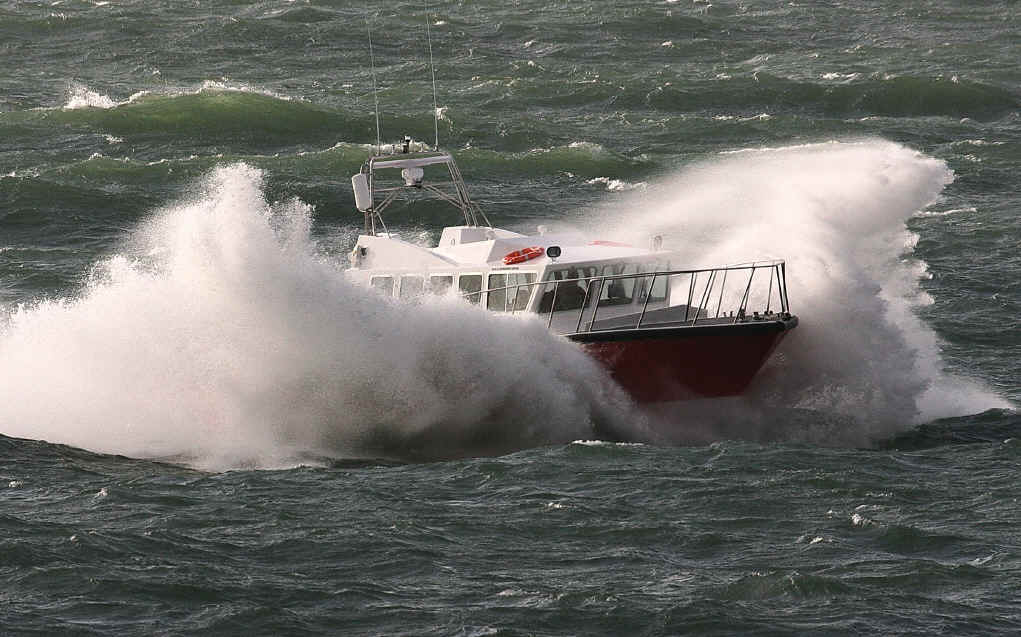 SEA KEEPING REPORT, Trial 2
On the 13 December 07, 3 days of southerly's had put up a big 13ft sea at the entrance to Cork Harbour, during the height of the ebb it was a cauldron, we undertook sea trials on 'ORCA II' in nasty conditions with heavily breaking seas. During an hour and a half of sea trials taking her through the worst of the seas she was thoroughly tested in some of the nastiest conditions we have seen, although not huge waves they were exceptionally steep on this day and very closely spaced , taking the seas head on we were down to 10kts, and on tickover through the worst, care was needed not to be hit beam on by breakers and down wind it was necessary to steer clear of the bigger seas, she was very dry and only took seas over the bow when hit by breakers, and tested the wave deflector on deck which effectively broke the solid water before it hit the screens, you can see the onboard footage as well as a helmet cam on the mast which usefully recorded the rough sea state and breaking seas. below are some nice pics, and you can see a video from this link-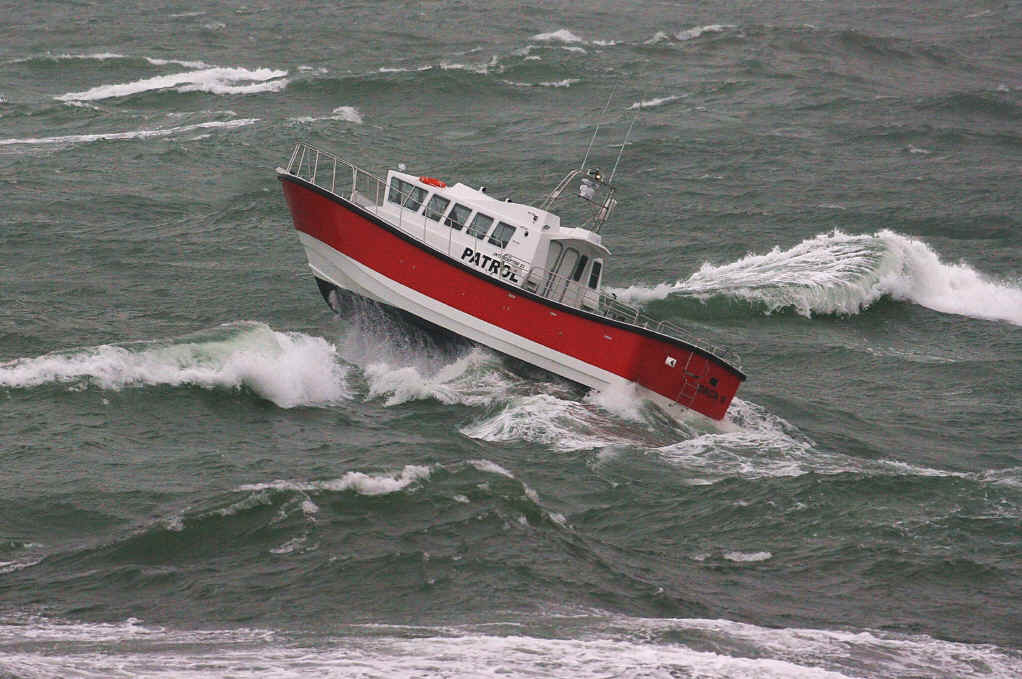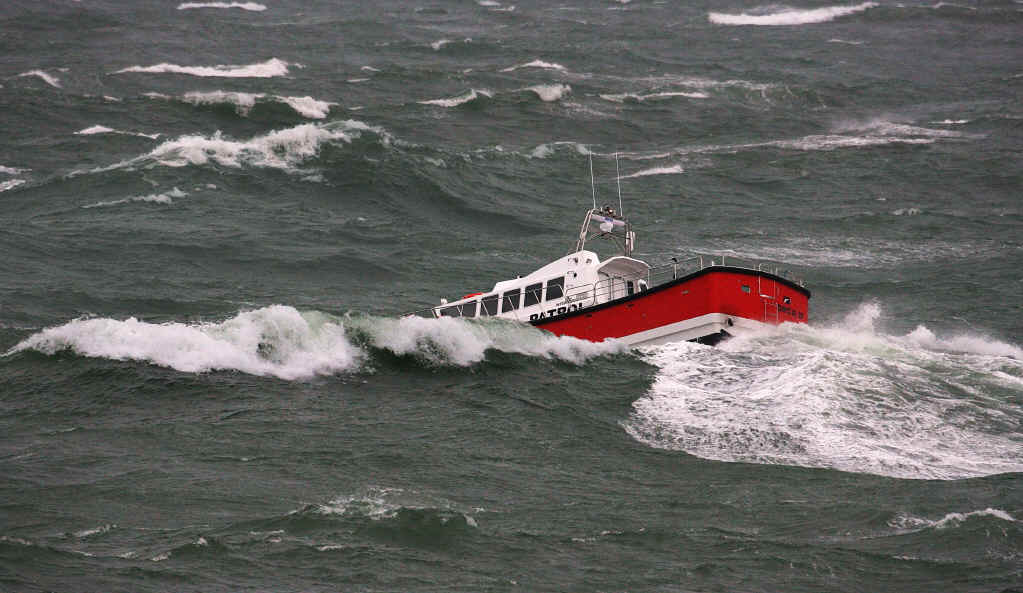 See all the pictures on the BEST OF THE BEST GALLERY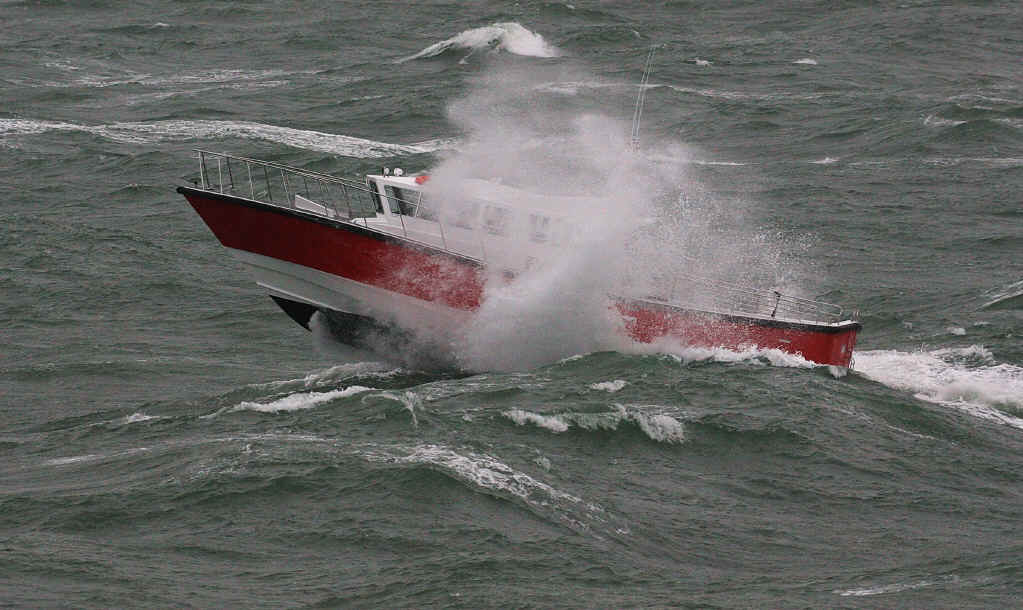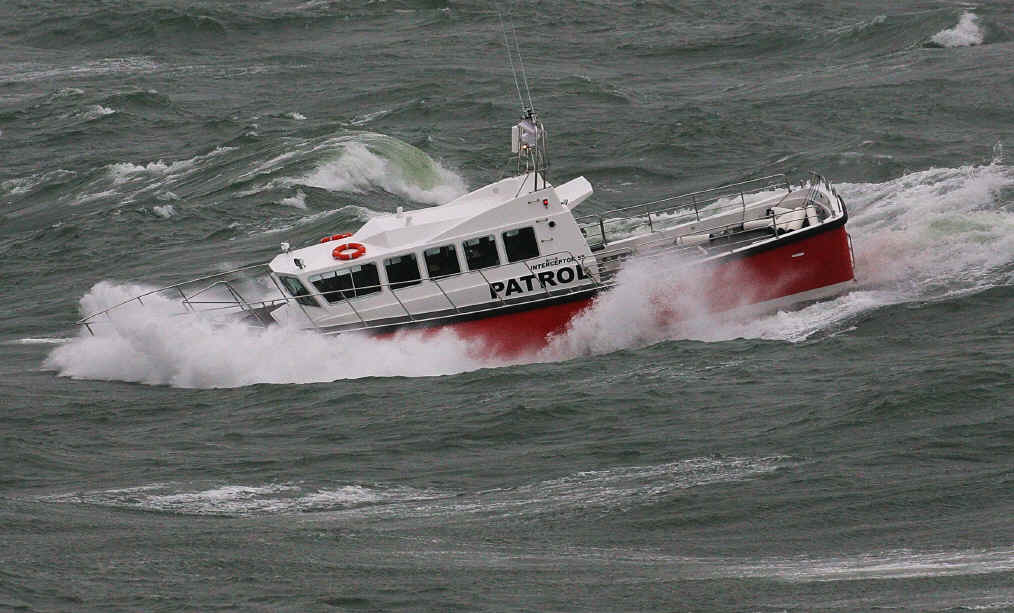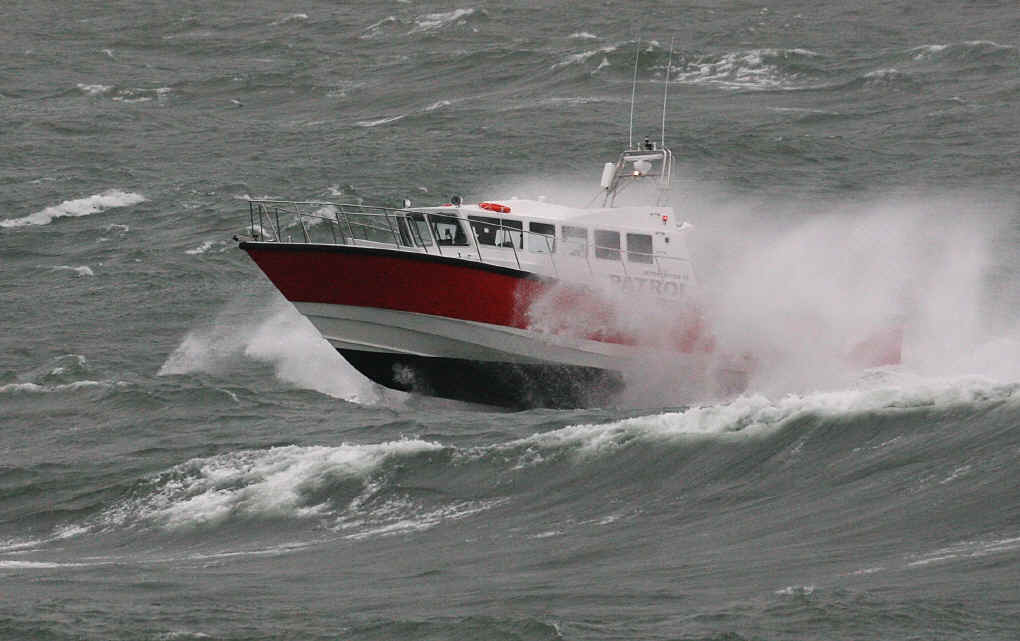 ALONGSIDE SHIP BOARDING TRIALS
We undertook the first set of along ship handling trials today. The Interceptor 55 was put alongside a 170m tanker by the Cork Pilots to see how she will handle in pilot duties. The two experienced coxswains found she was a joy to handle alongside, capable of maintaining station easily just inches from the ship with no tendency to be sucked in alongside. Once against the ship a small amount of positive helm was required to hold her pushed against the ships side with her shoulder up against the ship. When neutral helm was applied she naturally pulled away from the ship. We made a short video to demonstrate this, which can be seen from this link. SEE THE VIDEO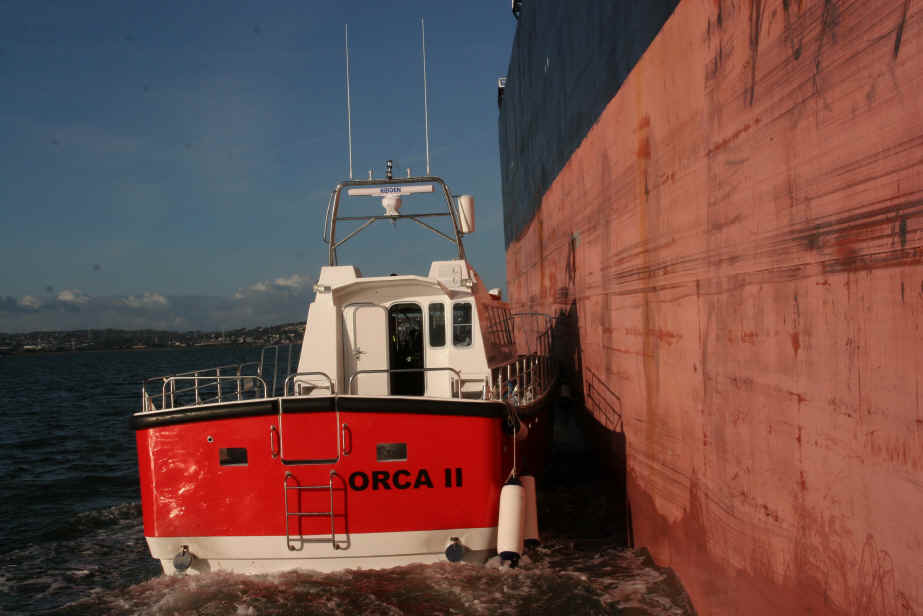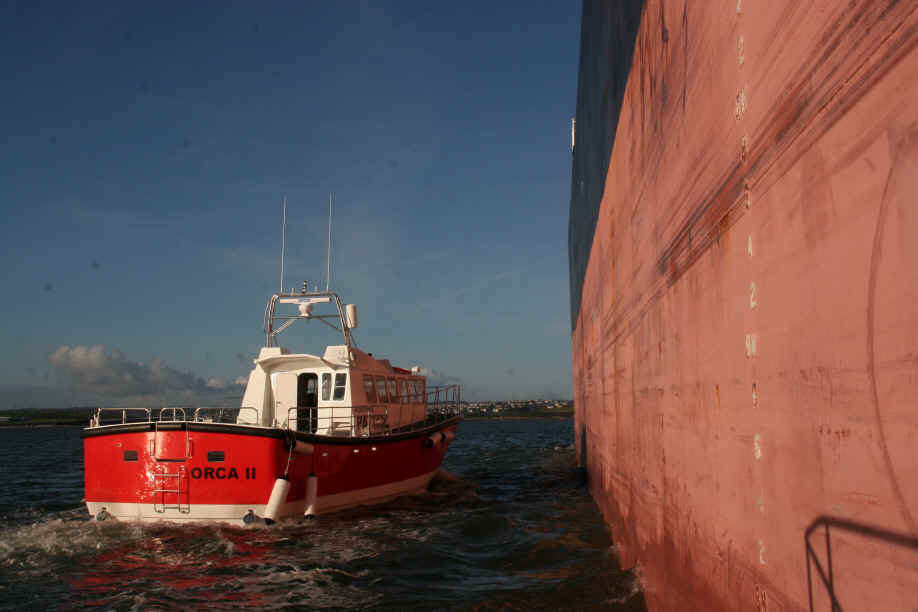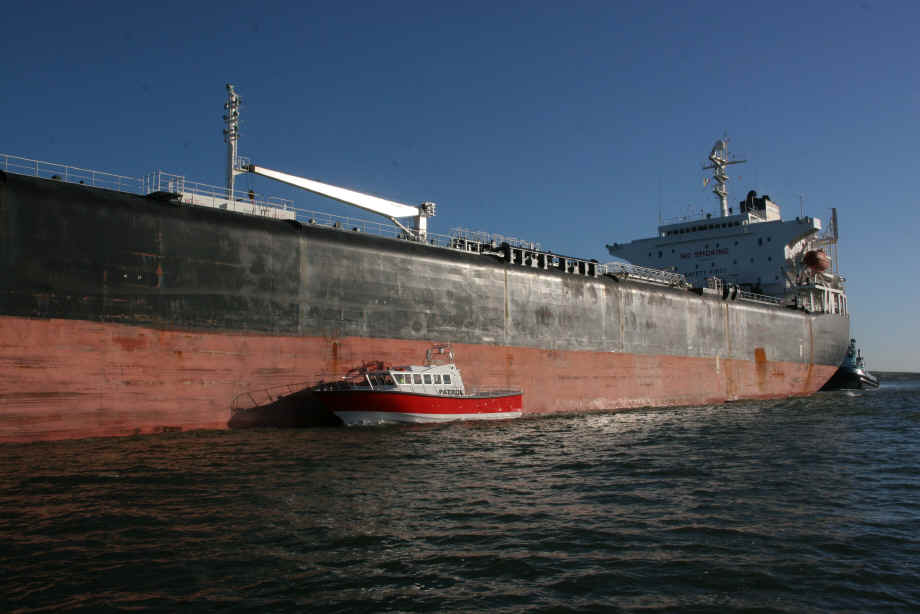 Afloat her striking design can be now be seen, the superstructure on this vessel, a patrol / passenger craft is lower and much further forward than on a pilot craft, but it gives a good indication of her graceful lines and sheer size. Her longditudal trim is perfect, she sits completely level on the water, on the Pilot version the altered weight distribution of the cabin aft is compensated by moving the engines f/wd 400mm and positioning the fuel tanks f/wd of the engine.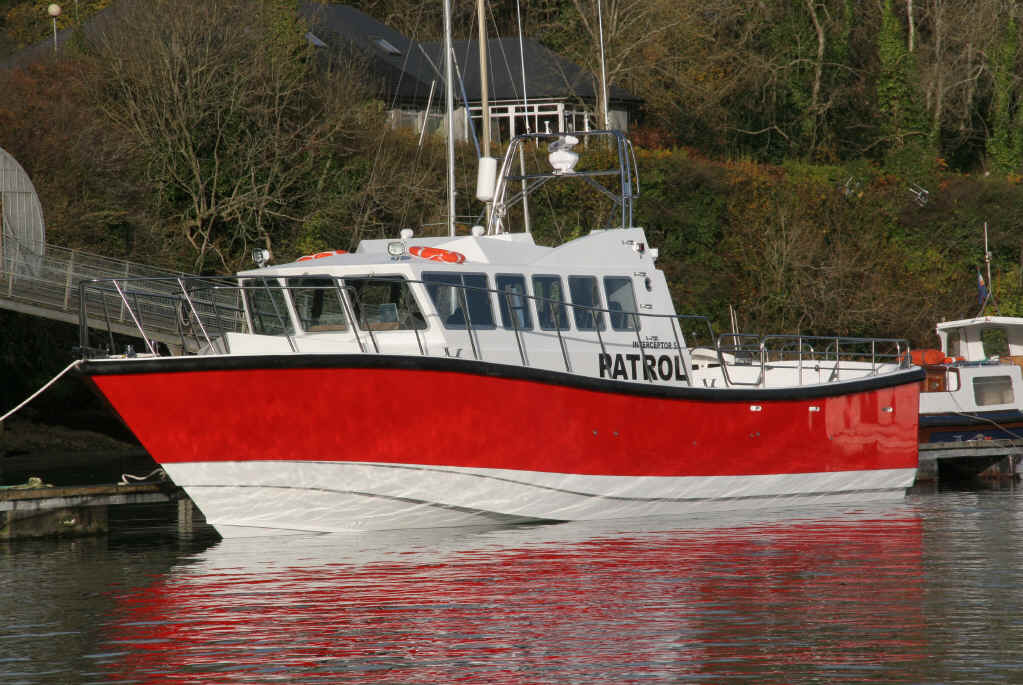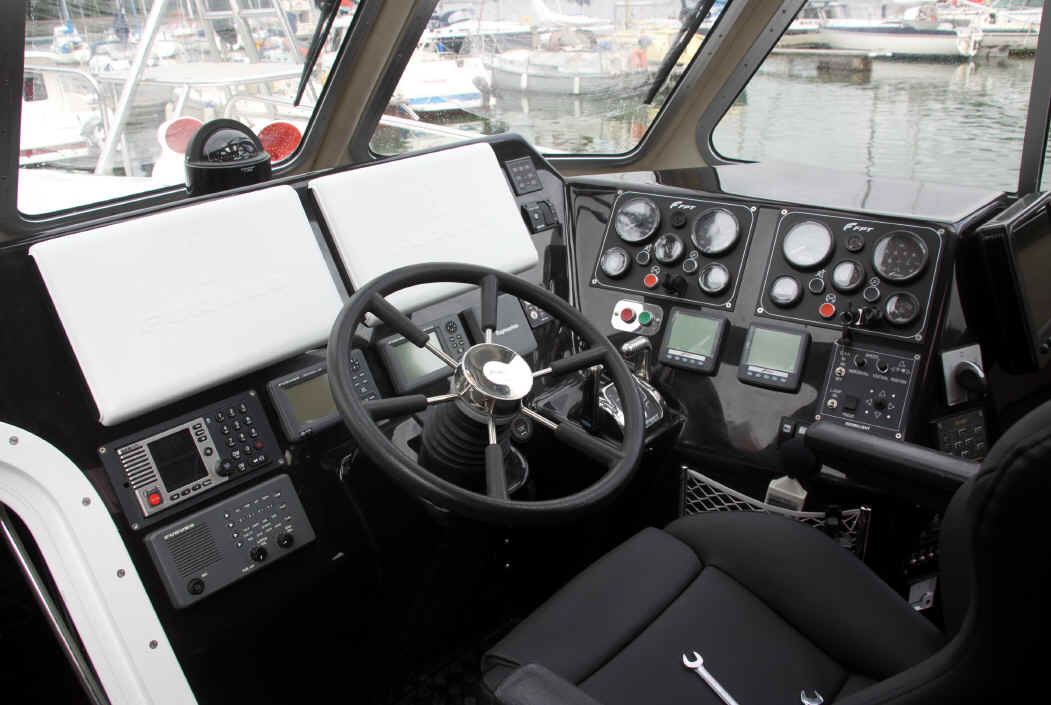 For posterity we recorded a short video of her launch for her owner Angus, see it here- LAUNCH VIDEO
Here are some pic's of her on launch day.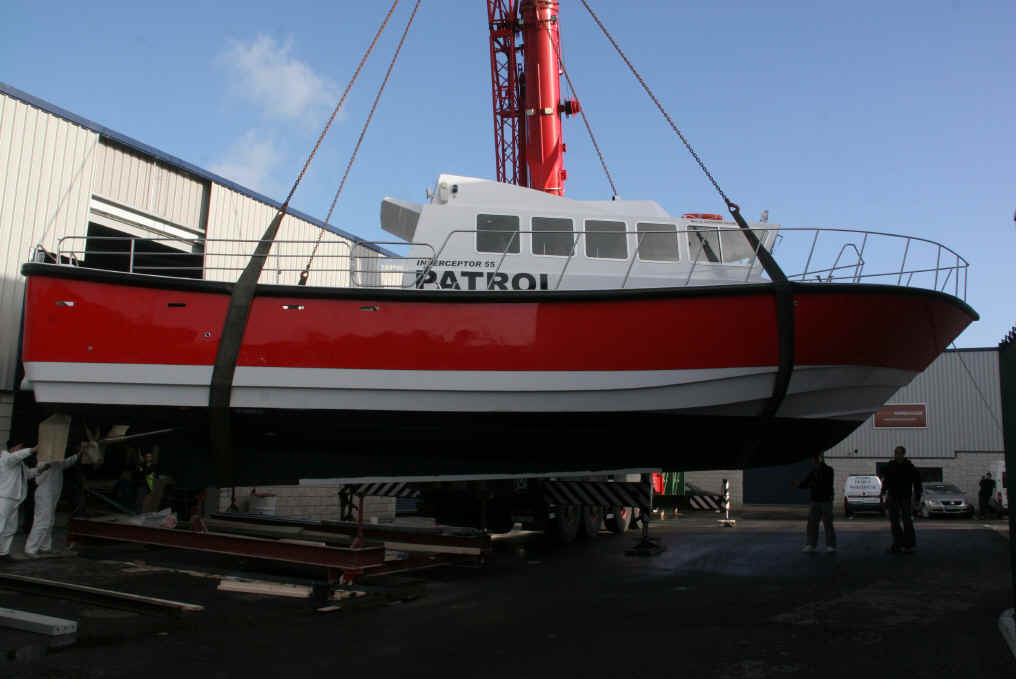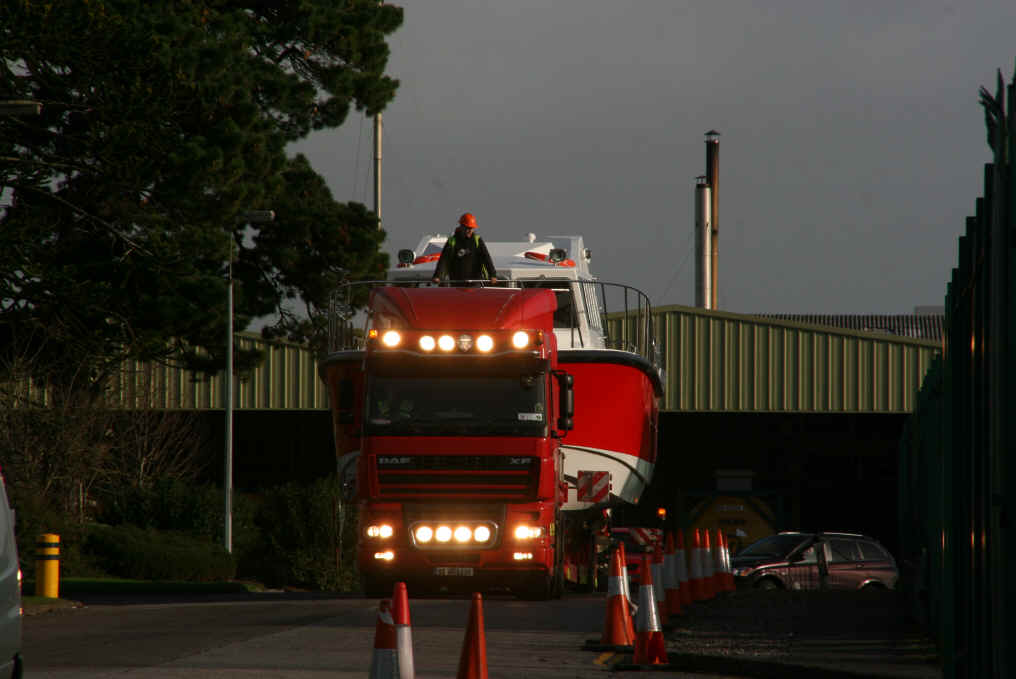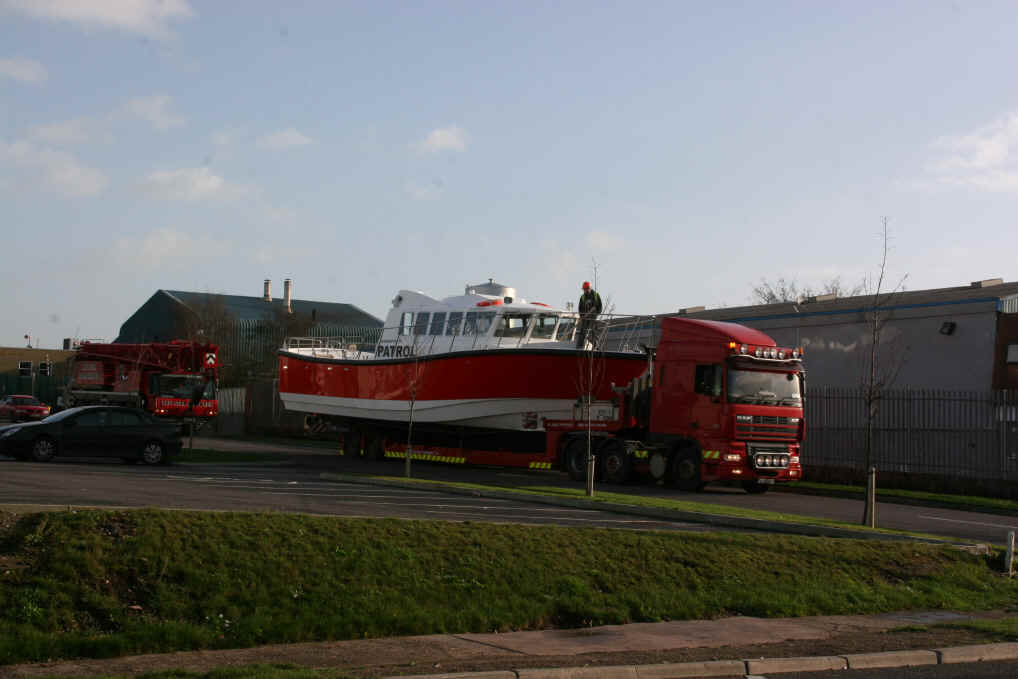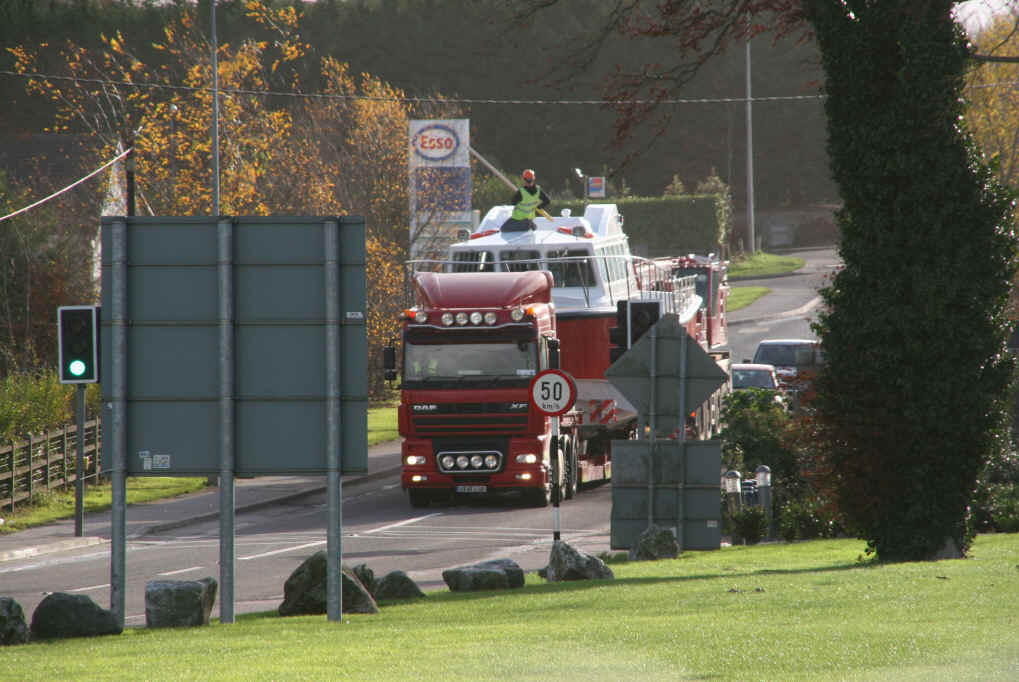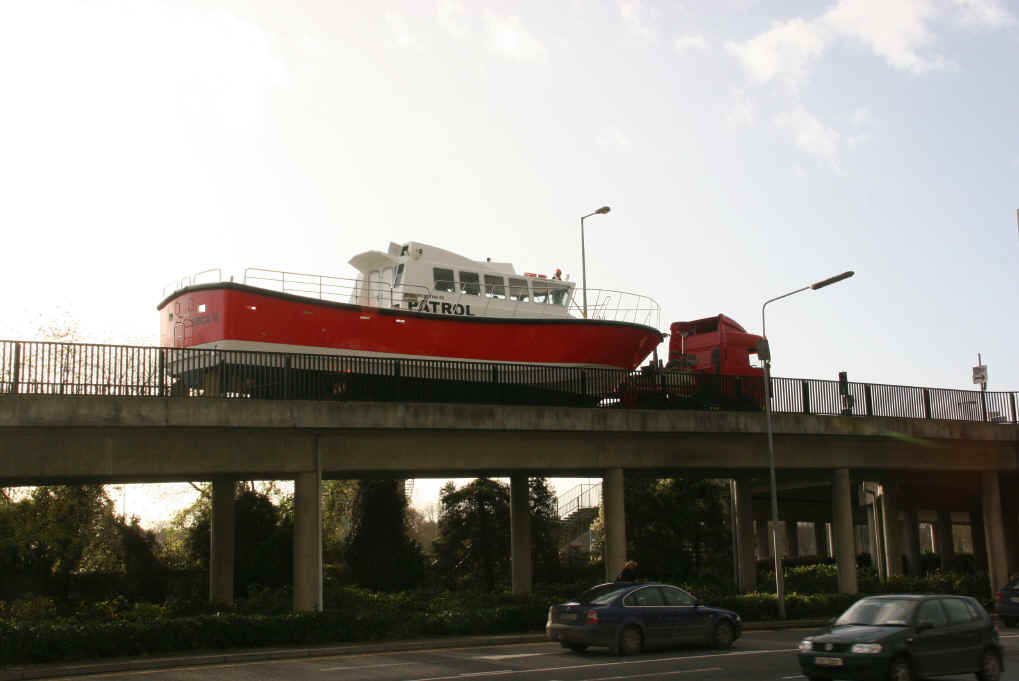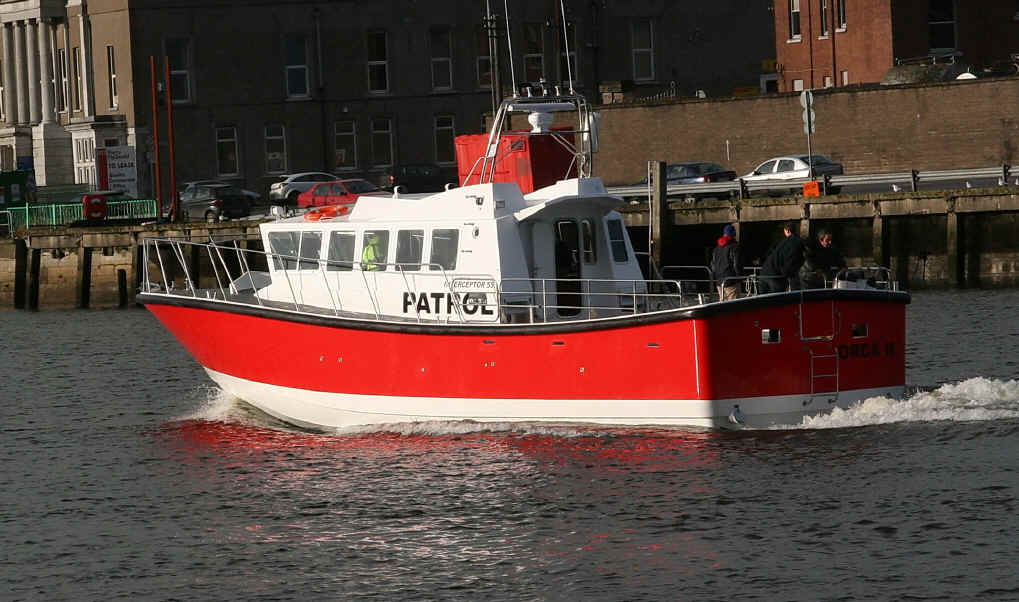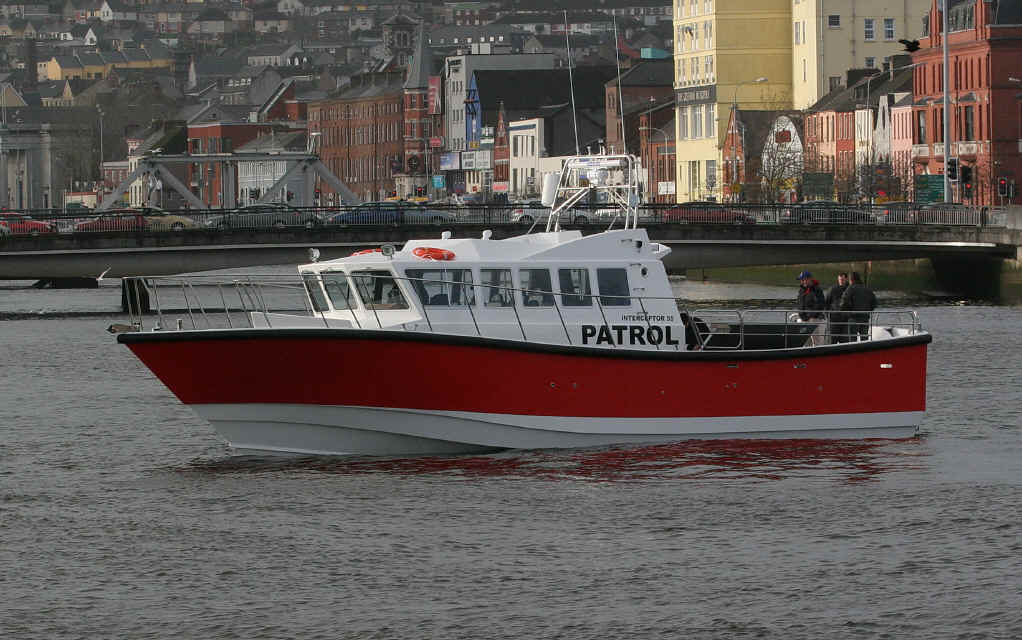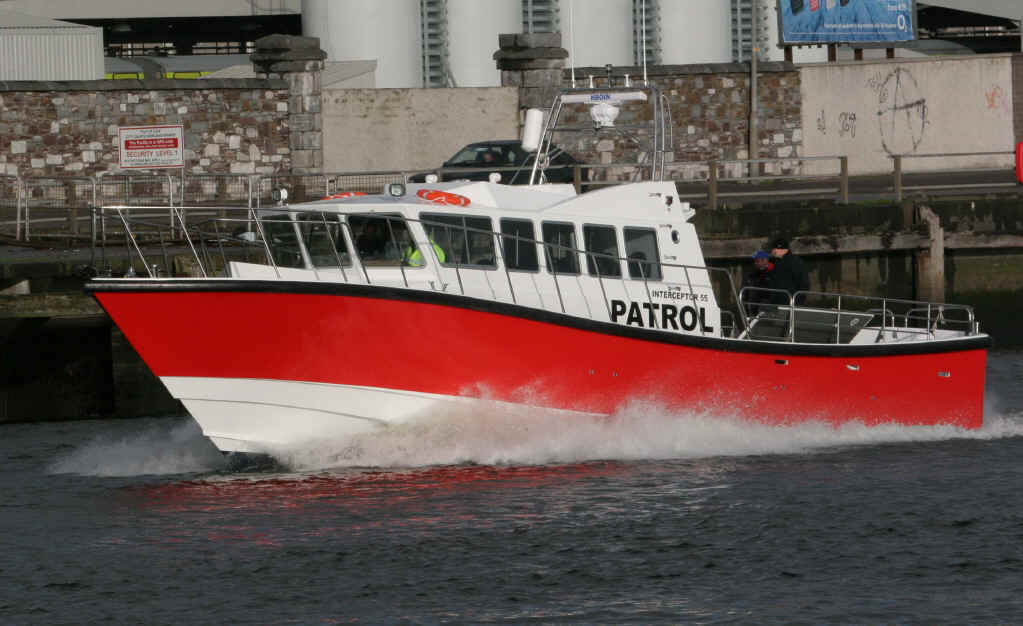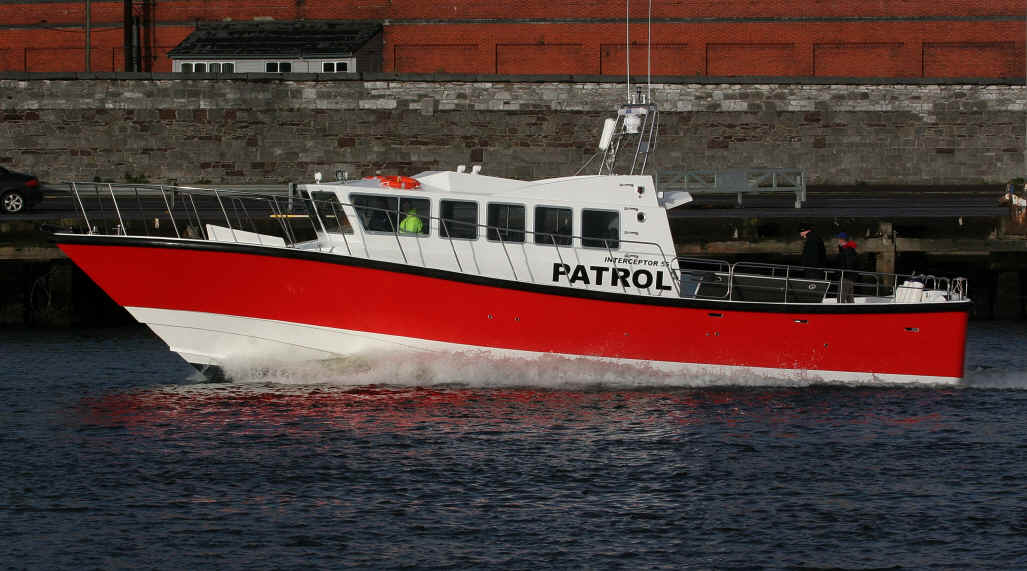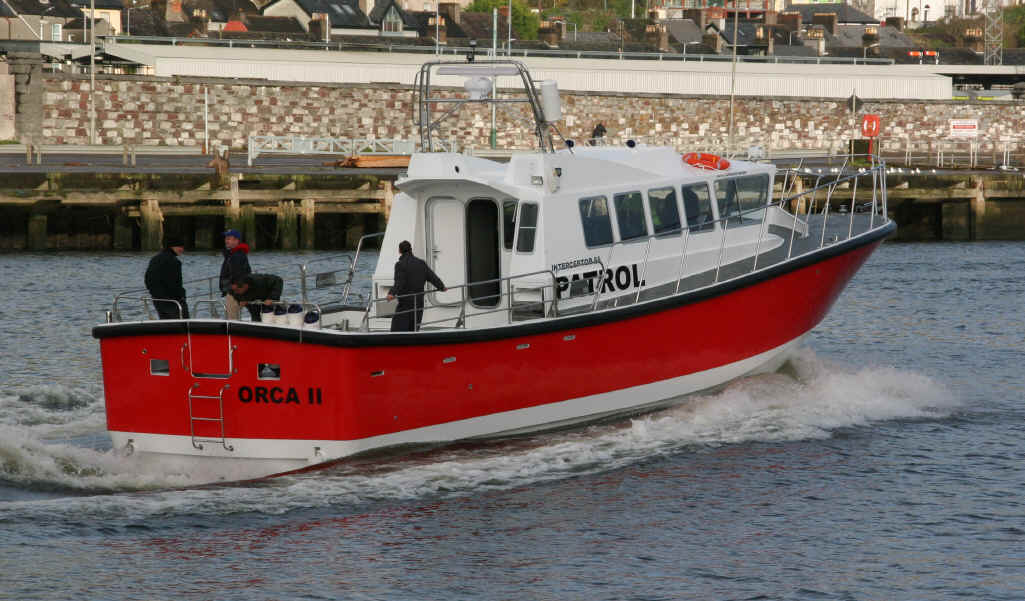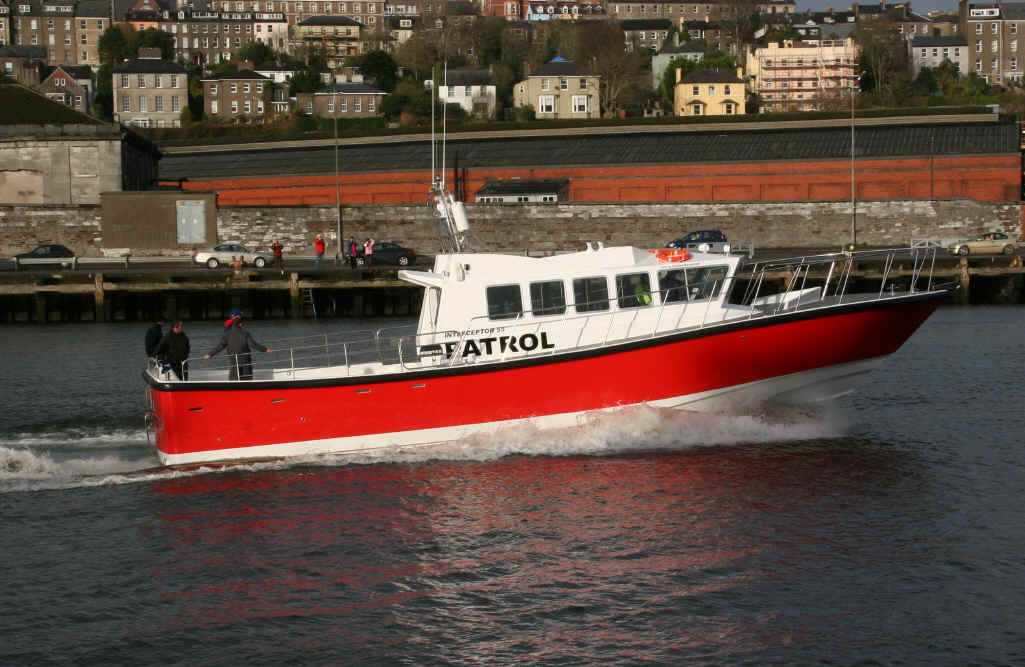 Her aft cockpit is clear and spacious, a HIAB crane is yet to be fitted as well as removable stainless steel seating modules.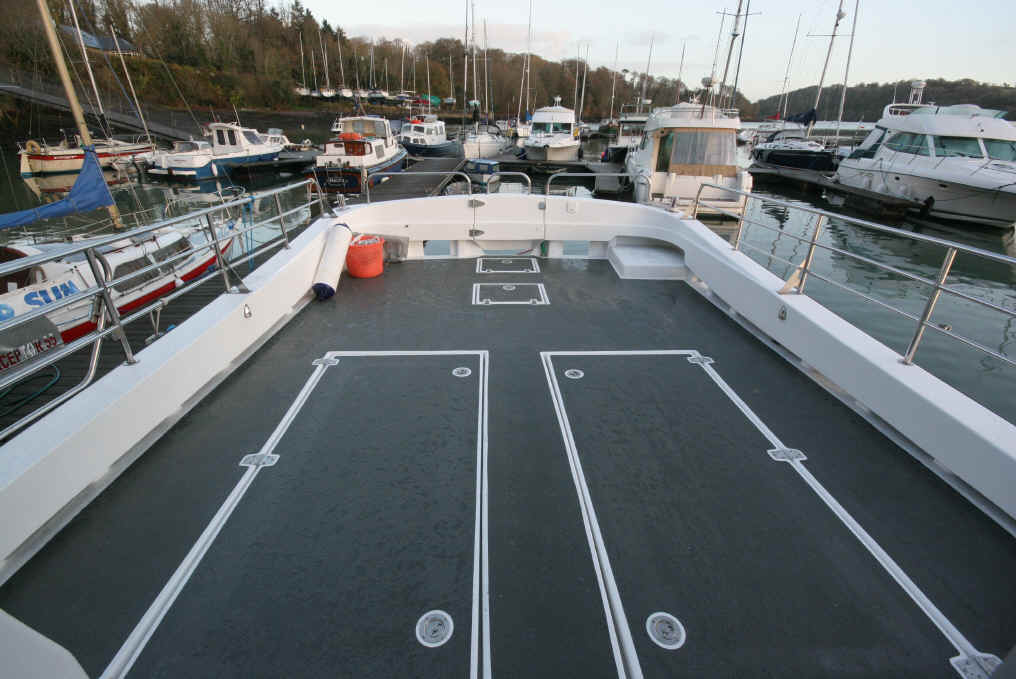 BELOW, THE CREW WHO BUILT HER