WILDCAT 40
The Port of Liverpool's new Wildcat 40 'ROYAL CHARTER'
The Port of Liverpool's new Wildcat 40 'ROYAL CHARTER' is now launched. She is to be a survey vessel for the port. On initial sea trials she performed very well, she is the first of the new 40ft versions of our Wildcat which features a lengthened hull by 1m, this has improved the Wildcats already excellent performance with a lower running trim, smother ride and improved sound levels as a result of the further aft position of the engines. On a quite substantial lightship displacement of 12,300kg she achieved a very impressive 27kts, exceeding her contract speed by a large margin and with very low noise levels of 79.8db at 18-19kts. Ian Holden visited the port of Teesport , Middlesborough to trial their own recently supplied Wildcat catamaran the 'Tees Navigator'. After a demonstration, and subsequent discussions with Teesport, it was clear that they were very happy with the Wildcats performance, especially her sea keeping and course keeping abilities in rough conditions, together with our abilities as builders to adapt and find solutions. She is powered by twin Caterpillar 3126 engines rated at 385hp. She is also fitted with a HIAB crane on the aft deck.
She has a 10kva generator supplying 240v onboard through a full ring circuit, a large survey bench and a dedicated survey position forward will allow her crew to operate in an efficient and comfortable environment, enhanced by onboard air-conditioning. She has a new window arrangement for improved visibility featuring a new front and side window design.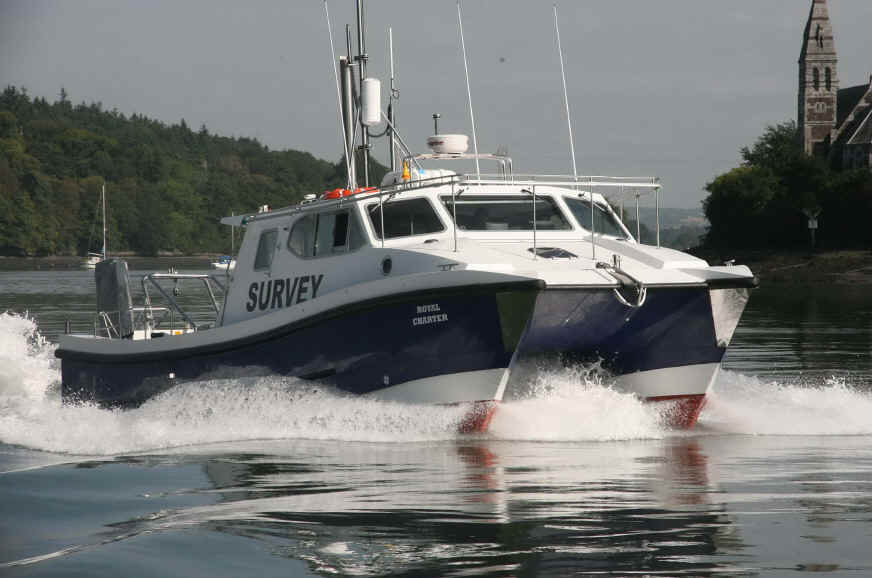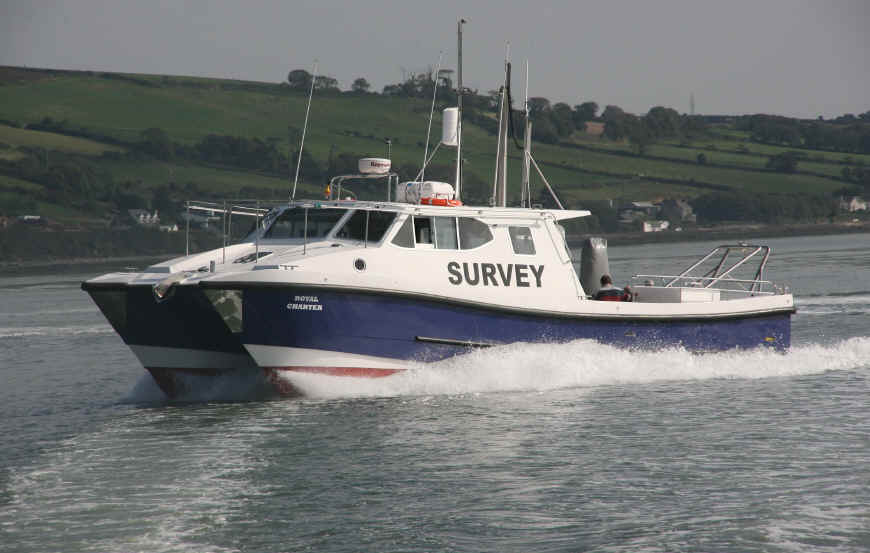 LA REUNION WILDCAT 40 HYDROGRAPHIC VESSEL 'JEANNE BARET'
The Wildcat 40 Hydrographic vessel 'Jeanne Baret' for the port of La Reunion, off the South East coast of Africa has now been launched. On initial sea trials she performed exceptionally well proving very quiet with only 70db being recorded in the cabin at 15kts, reducing to just 65db at 7kts survey speeds and achieving a 21kts maximum speed, at which speed the noise level was still below 75db, all at a 14,200kg displacment. By virtue of the heavy duty continuous rating on the Volvo D7 260hp mechanical engines, her operational speed is between 15 and 20kts. The vessel was built under Bureau Veritas to the French Maritime authorities regulations. The vessel is fitted with multi beam sonar equipment supplied by Cadden the multi beams transducer being deployed through a moon pool in the aft deck by a hydraulically operated deployment frame that was specially designed and developed by Safehaven Marine. The underwater section of the sonar head mounting is hydro dynamically efficient being of aero form shape to minimize turbulence and pressure loadings on the mountings, the sonar head can be lifted up to above deck and the moon pool closed allowing safe storage of the transducer during high speed transits. A second dual beam transducer is fitted in the St/bd hull in a removable module allowing transducer interchange afloat, this is fully faired into the hull minimizing turbulence. A central helm position with alongside seating for the hydrographic operator / navigator gives panoramic vision with all electronic navigation and hydrographic displays situated in a large console. A work bench is fitted to the port side of the cabin stretching its full length and to port is a large dinette seating area with table between. In the st/bd hull is a large heads compartment which is fully lined in white Formica fitted with an electric toilet and sink. In the port hull f/wd is a full galley with 240v hob, sink and storage lockers. Onboard electrical power is from a 10kw 240v generator supplying multiple sockets throughout. Other equipment includes a 1500W electric capstan, 95kgf bow thruster, Electro hydraulic 013T HIAB crane, security alarm system. The vessel is also fitted with a 24,000btu air conditioning unit with high level outlets in the cabin roof for efficient cooling, the cabin roof has been insulated with 50m insulation to minimize heat transmission in the hot climates the vessel will operate in. Engine room cooling and ventilation is from twin 450mm 24 fans supplying 4800m3/hr of air to the engine room which exhausts heat through separate outlets. Solar Solve blinds are fitted to all windows all of which will ensure a comfortable working environment for her crew. A full report will follow soon.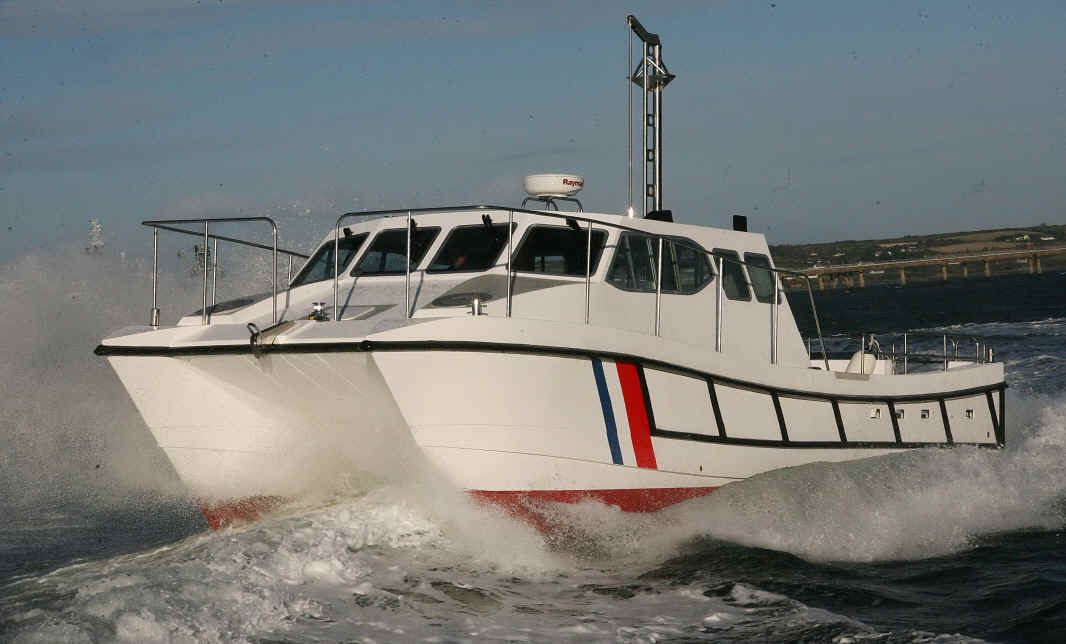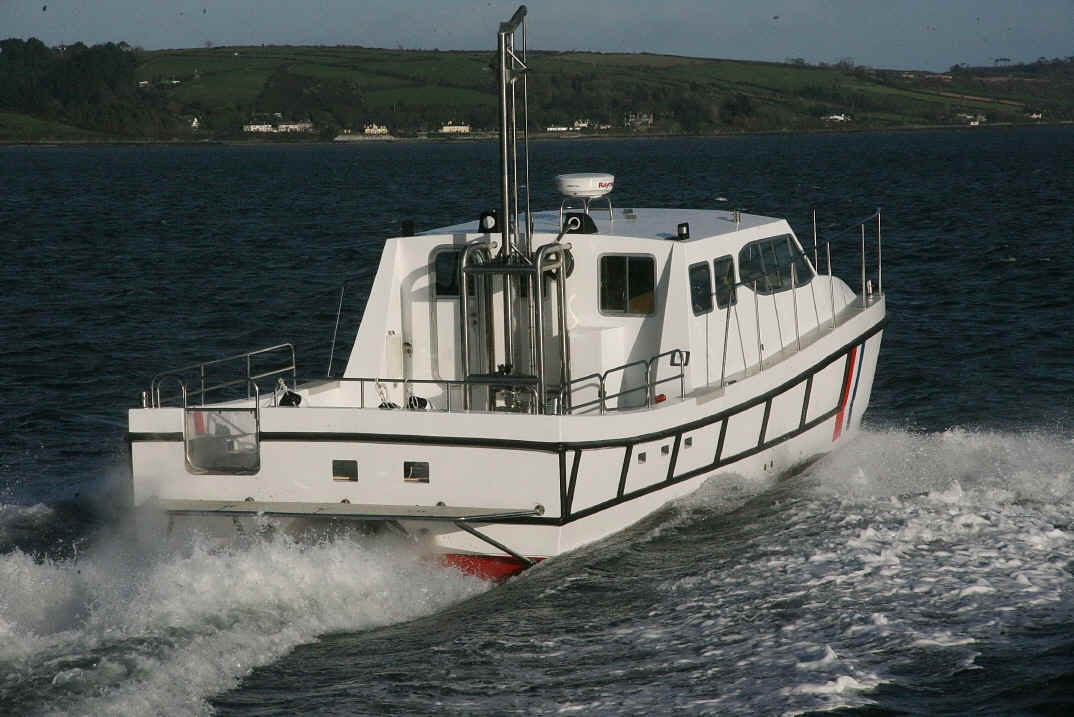 RUBY MAY, Latest WILDCAT 40
'RUBYMAY' is the first Wildcat 40 full 'motor yacht' version fitted with a flybridge and the 9th Wildcat. Built for Frank Miller and Stuart Isbister of the Shetland Islands, she is to be used as a multi-purpose vessel combining roles of sea angling charters, passenger vessel, sightseeing and light cargo delivery and general work boat. Powered by Caterpillar 3126 engines @ 385hp she has a 27kts max speed on a 11,300kg displacement. She has additional heavy duty fendering with a lower belt and diagonals to protect her hull when coming alongside in the often exposed quays of the Shetland Islands. A removable stainless and teak bench seat provides passenger seating in the aft cockpit and can be removed for cargo carrying, which is facilitated by a HIAB crane with a 500kg lift. In addition a hauler / capstain is fitted at the transom. A stainless steel dive platform and dive ladder allows her to work with divers and features further fendering to protect the platform. Twin 75kgf bow thrusters, one in each hull gives her excellent maneuverability.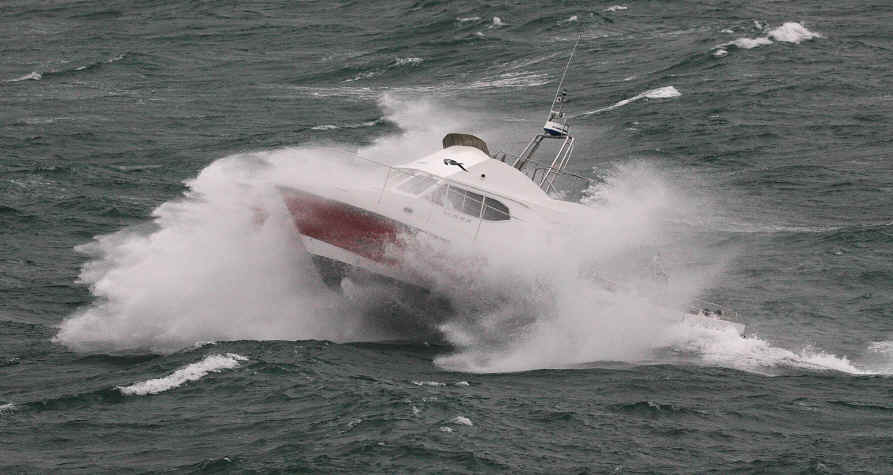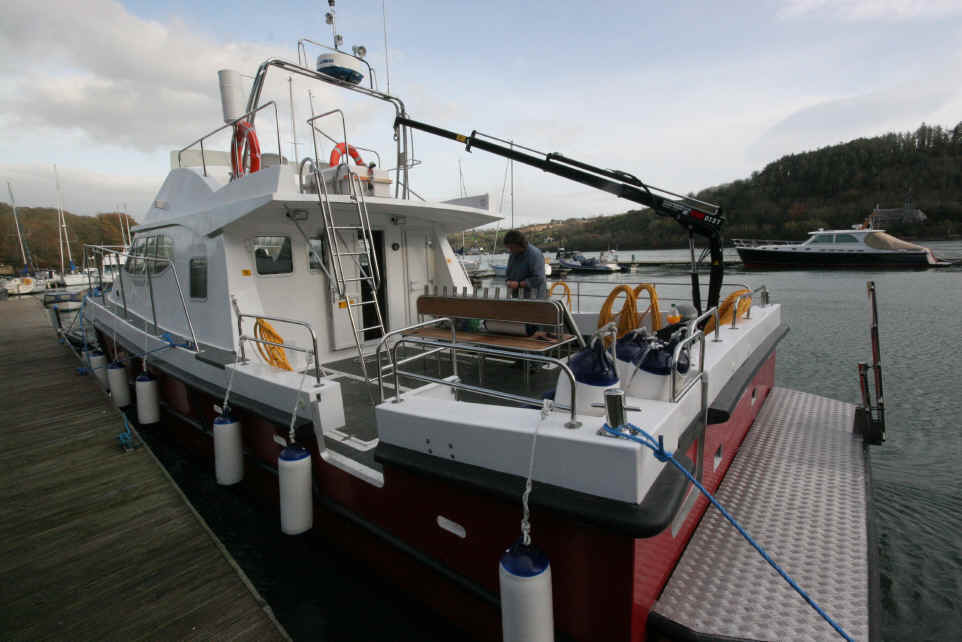 DARK STAR After extensively cruising the coast of Ireland and completing her delivery voyage Mark sent me this e mail:
Frank
Just a quick note to thank you for all of your hard work on Darkstar.
I have spent a lot of time on her over the last few weeks and she has totally exceeded my expectations – which weren't low in the first place.
Compared to many of your other owner's delivery experiences – ours was thankfully tame. In fact the roughest part of the delivery was wind over tide as we passed Roches Point!. The crossing to Scilly had a SW 5/6 on the beam with a 2.5m swell. She cut through this easily at a steady 20 knots. The first night saw us in Falmouth from where we headed to Weymouth in benign conditions. We then headed to Brighton via the Solent which was interesting as she dismissed the notorious Solent with ease. Two longer legs followed to Lowestoft and then home to North Shields for a total journey of 785 miles – we cruised at 20-22 knots for the whole passage.
Two particular things to note – firstly, she handles beautifully. Neither of my crew on the delivery had any experience on boats but could both could bring her alongside easily after a couple of training runs. The bow thrusters are great but you really don't need them.
Secondly, I can't understate the value of the flybridge - it is a brilliant helming position in fair weather and invaluable for tricky mooring situations and diver retrieval.
Simply fantastic
Cheers
Mark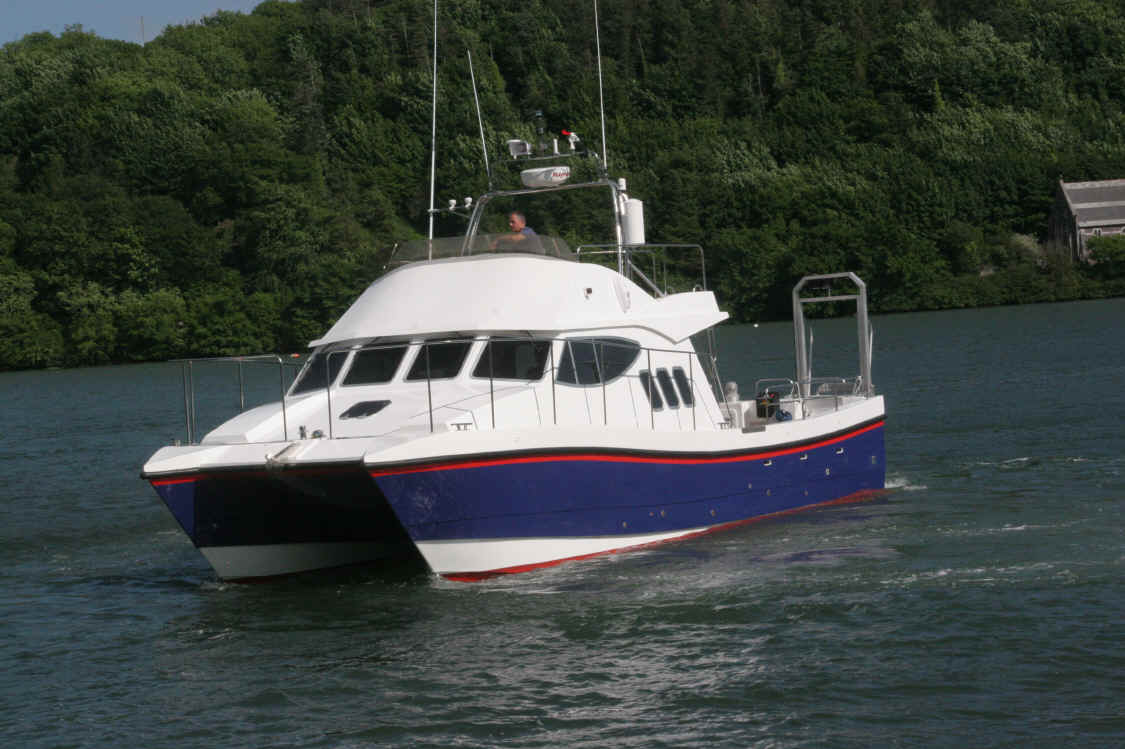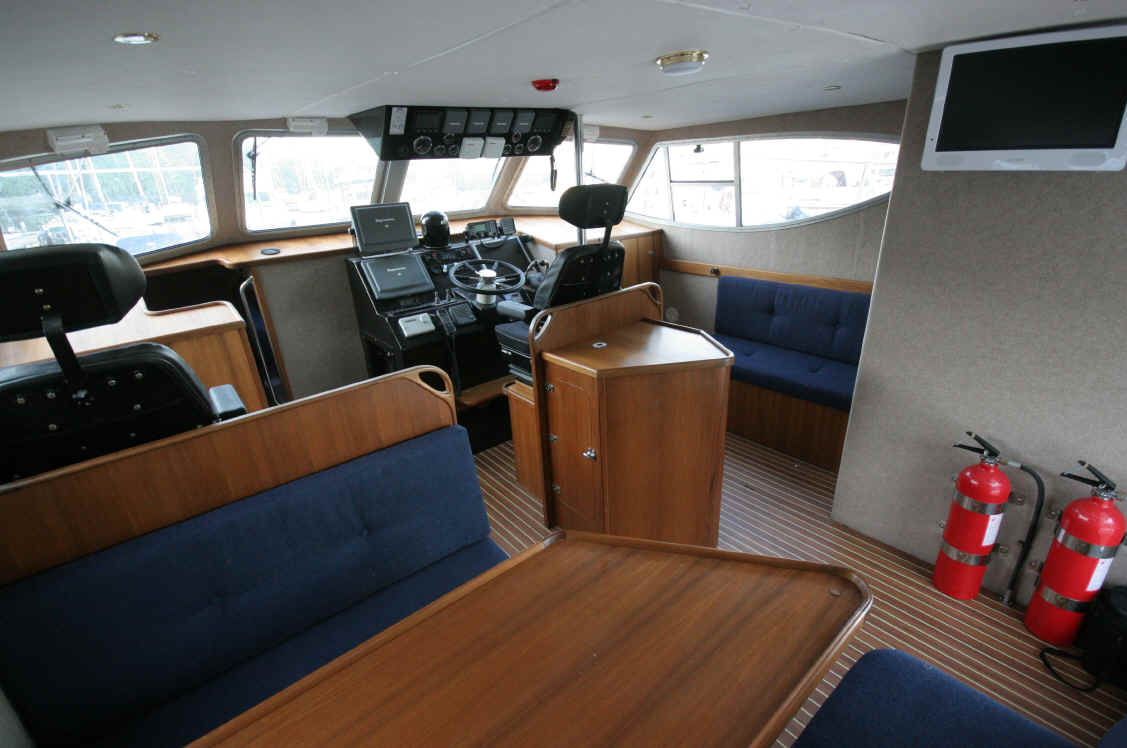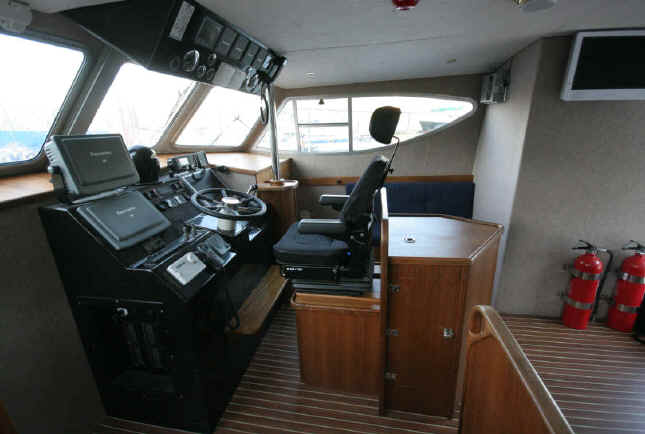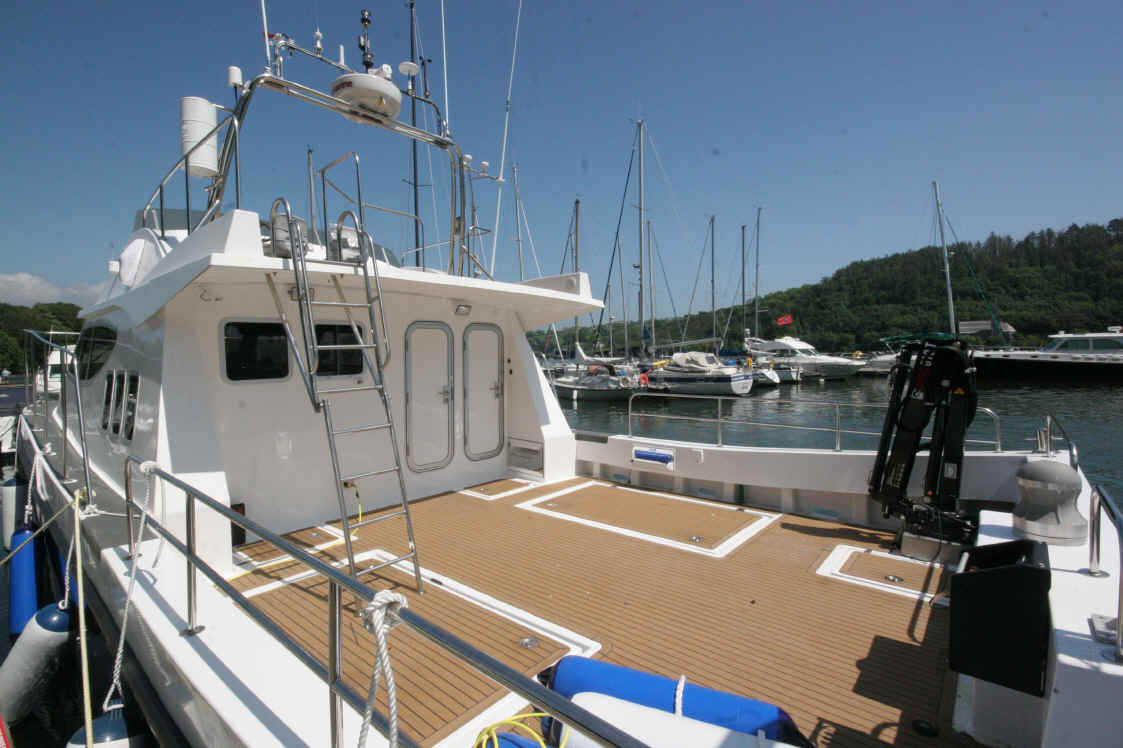 Below, Mark Dixon's new WILDCAT 40 'DARK STAR' being tested offshore in gale force 7.
We made a video of the trials which you can see from this link- - SEE THE VIDEO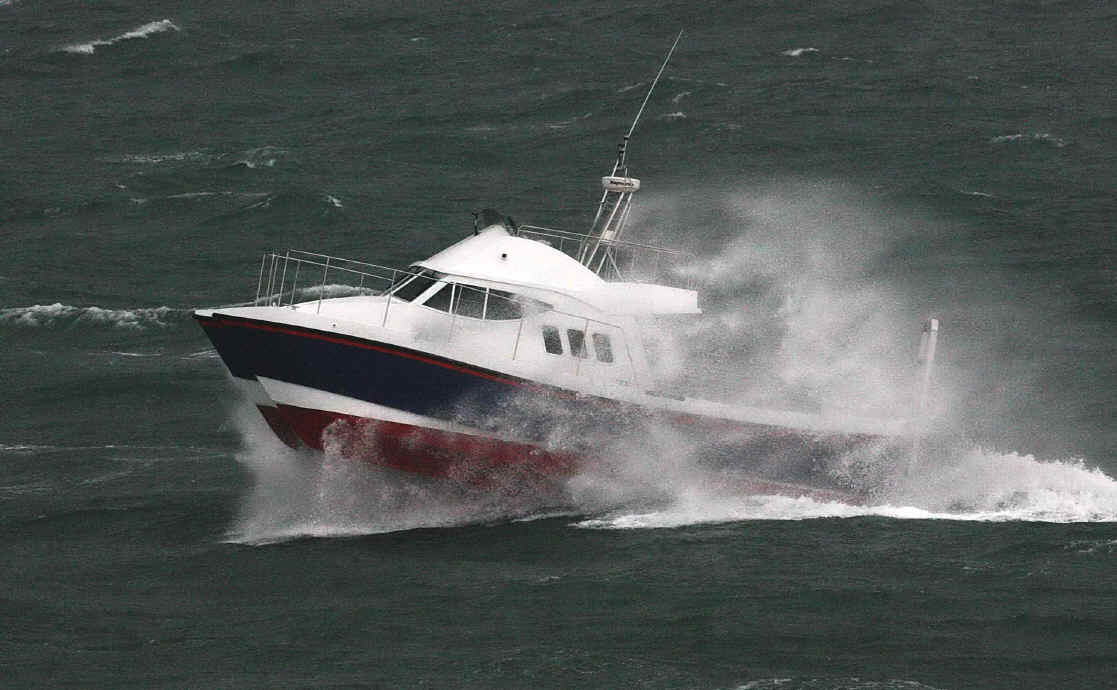 'MISS BEHAVIN', Garry Laver's Wildcat 40
Note specific detailed information on all boats is available on the contents page- click here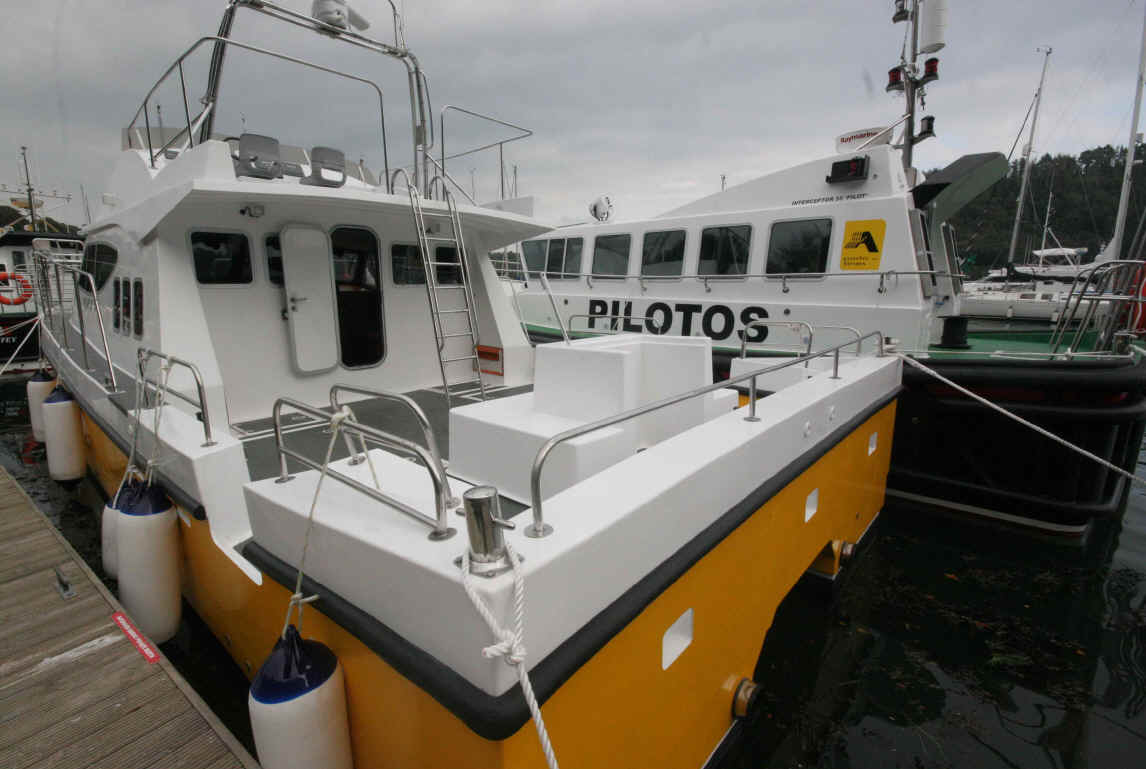 A good sea trial and video opportunity presented itself having two boats afloat at one time, a S/W gale blowing combined with a spring ebb tide, conspired to create some really dirty seas at the Harbour mouth, the seas up to 3m were exceptionally steep, making for some really spectacular photos and videos captured by Paul & Kazek, as well as onboard footage.
See the video footage from this Link- CLICK HERE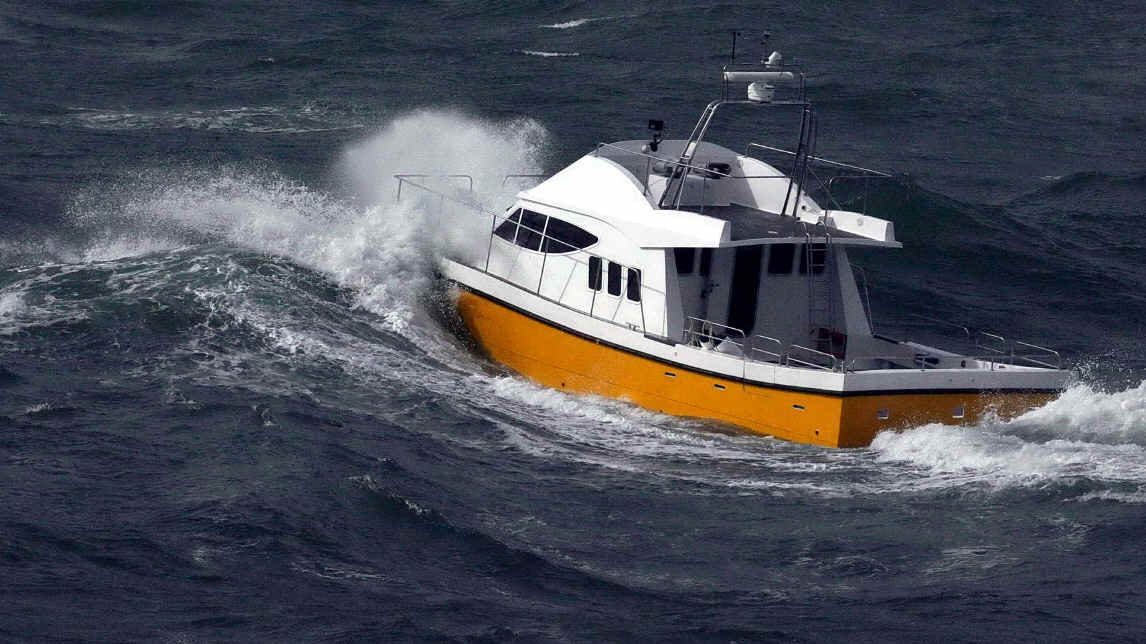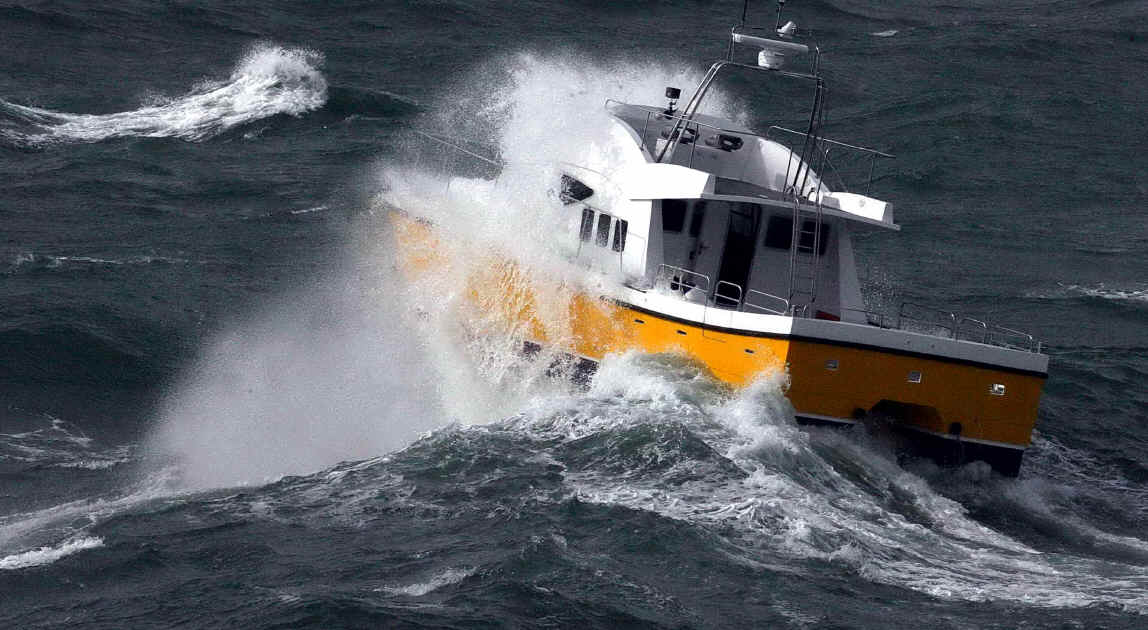 The Wildcat has been designed from the beginning to combine safe dependable sea keeping and stability with performance and economy. The Wildcat hull design utilizes symmetrical planning hulls. The hulls are multi chine in form. The main chine deflects water out and away form the hulls having a two-fold effect. On the outboard chine this improves ride dryness and reduces wetted area. On the inboard chine the spray is turned so that in waves it provides a cushion effect. The spray is mixed with air coming down the tunnel and creates a high-density medium, which dampens motions through waves. The likelihood of slamming on the bridge deck is virtually eliminated as a result of the hull riding on this high-density spray cushion. A second chine situated 200mm higher than the main chine and further aids in boat dryness, especially at lower speeds when the main chine is mainly immersed.
Full-length keels are incorporated, and provide protection to the propellers, as well as giving directional stability at slow survey speeds, and additionally allows the vessel to be beached safely.
The vessels beam has been constrained to a wide 4.5m, providing a good compromise between work area, stability, and minimal slamming that tends occurs on catamarans that have an excessively wide bridge deck. Also marina space and berthing facilities are considered, where excessive beam can be hard to facilitate.
Due to the slender nature of the Wildcat's hulls, in choppy conditions vertical accelerations are much reduced in comparison with a mono hull's, giving a gentle ride and motion. However previously the biggest disadvantage of the older type of catamaran hull, which featured very fine sections fwd with little reserve buoyancy, giving a very smooth ride in short sea states but suffering badly in ocean swell conditions due to slamming on the bridge deck. This shortcoming has been solved with much fuller fwd sections, offering greater buoyancy and giving the hull the necessary lift to prevent slamming on the bridge deck, allowing higher speeds to be maintained into larger ocean swells. In following seas the Catamaran has a distinct advantage, the twin hulls form a 'grove' in the water allowing the hull to track as if on rails whilst the tremendous transverse stability means the hull suffers little yaw and surge, especially in quartering seas allowing virtually 'hands off steering' and zero broaching tendencies, even in extreme conditions. The vessel lends itself to surveying roles, under normal survey operations the catamaran has much better directional stability than a monohull resulting in less effort and fatigue for the helmsman, which ultimately improves survey data. The reduced vessel motions in heel and yaw result in accurate data recording as does the ability to site the multi beam surveying sonar equipment almost exactly on the vessels transverse and longditudal centre of gravity.
The WILDCAT 40 has been operated in up to force 8-9 sea conditions with numerous documented testimonial's from owner that can be supplied, and it would be considered capable of operation easily in conditions up to force 6.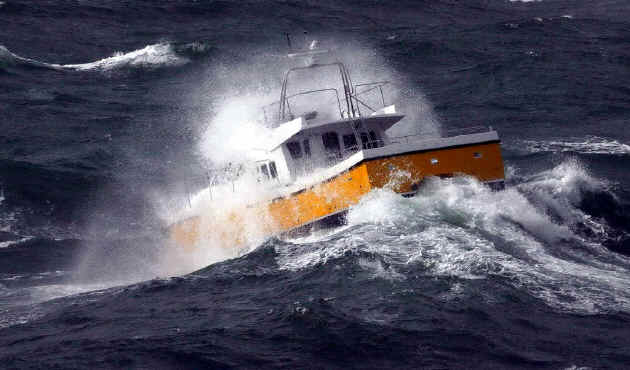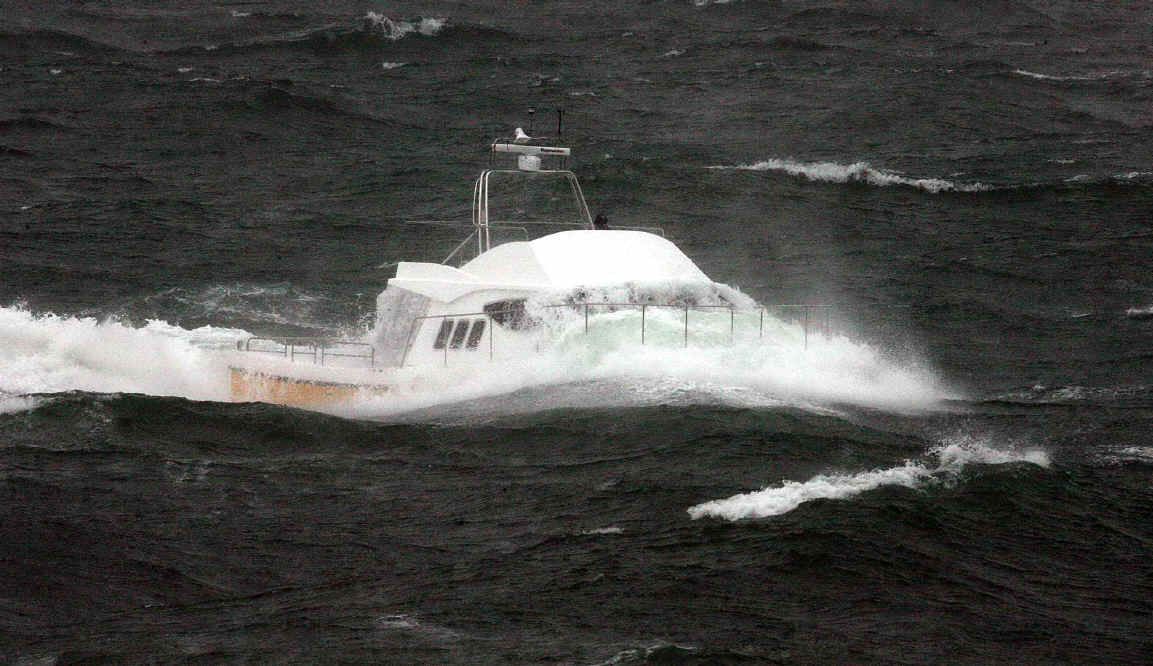 Thoroughly tested on this day, she will soon be ready for Garry to take delivery, he will have confidence in knowing what his Wildcat can take when caught offshore in a storm one day, which is why he chose a Wildcat. Below, some action pics of the Dublin pilot boat 'Liffey', she was just fabulous, shrugged it all off, we had a comfortable ride, even in these conditions.
'OCEAN RANGER' Atlantic Charters Wildcat 40
Michael Walsh's new Wildcat 40 'OCEAN RANGER' has been launched. Mike previously owned an Interceptor 42 Motor Yacht which he sold last year and ordered a Wildcat from us. She is easily our highest spec Wildcat to date, she features numerous refinements such as full white vinyl paneling throughout in the main cabin replacing the standard sidelining carpet, teak and holy cabin sole, unique, stylish and very comfortable cushions specked by Mike and supplied by Marshal Marine fabrics, a full teak fit out throughout the vessel combined with high quality materials raises her fit out levels to a real high class standard. Designed for coastal cruising and long range offshore wreck fishing , Mike routinely travels up to 50nm out into the Atlantic, indeed I know of no one traveling further offshore, his mission, to fish the furthest and most remote wrecks where the fishing is best. She is fitted with a 4kw generator, full AC systems throughout with a 240v cooker, microwave and ring circuit. She has Ebspachier oil fired heating to keep her warm during winter trips. Her central helm position is fully equipped with electronics, this position has twin hydraulic sprung CAB 300 series seats for helmsman and navigator along side. It provides a comfortable and focused helming position. Below in the port cabin is a separate heads compartment, lined in corian and featuring an electric toilet, sink and shower as well as storage lockers. This cabin gives access to her main cabin which is positioned centrally over the bridge deck and provides a wide double berth. The st/bd cabin features twin bunk berths.
She is fitted with a flybridge providing a very comfortable second helm position which has full repeat instrumentation and gives a panoramic view all round. Her aft cockpit is spacious providing enough room for a full compliment of anglers to fish comfortably. she has a live bait well, fish hold on the aft deck by the transom doubling as seating. Twin side access doors provide easy access from alongside marinas, inward opening the are a real benefit yet maintain safety.
Ocean Ranger is powered by twin Volvo D9 engines rated at 575hp and is the fastest Wildcat built to date, with a 32kts max speed and a 27kts cruise speed on a tough 13,000kg displacment , and well able to deal with heavy weather.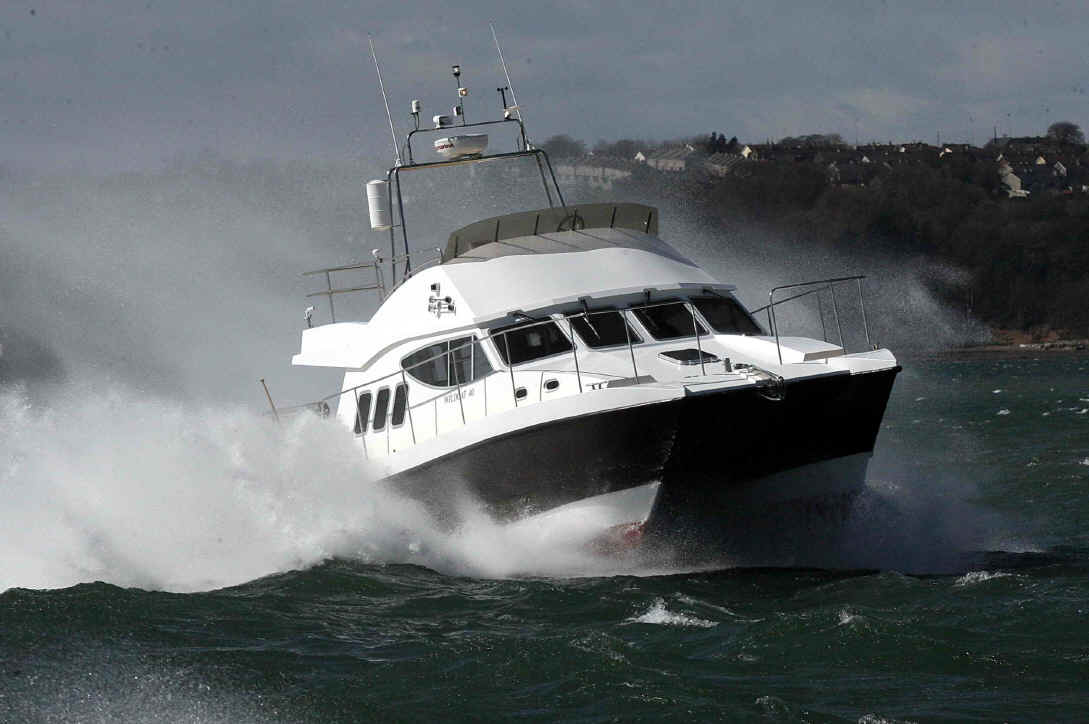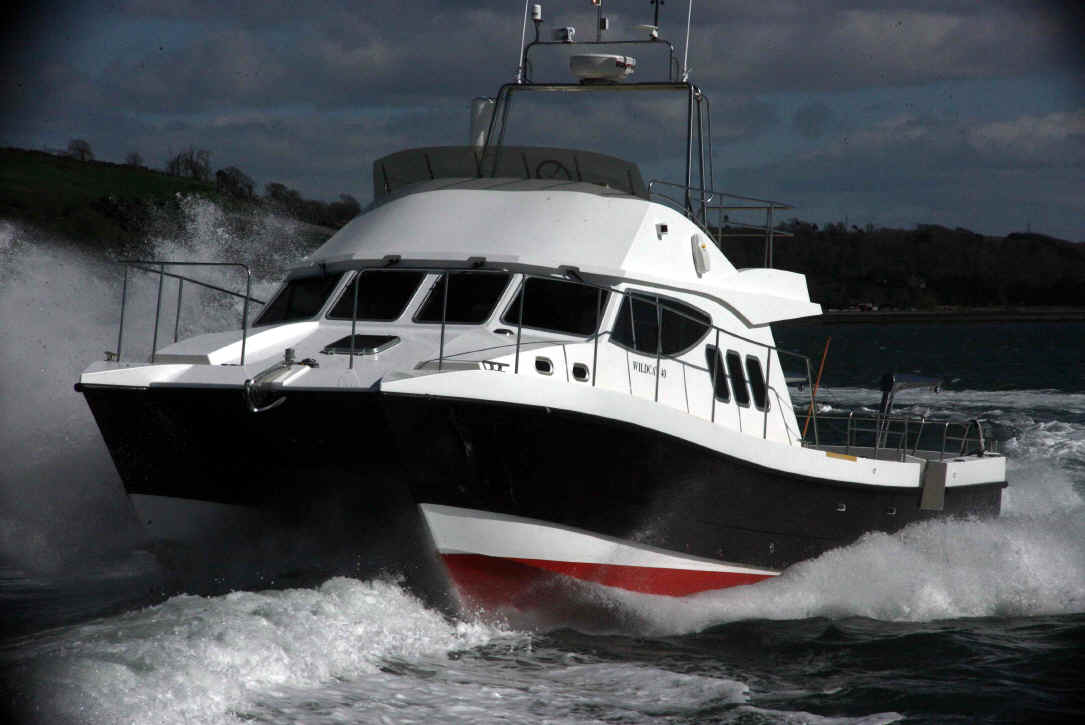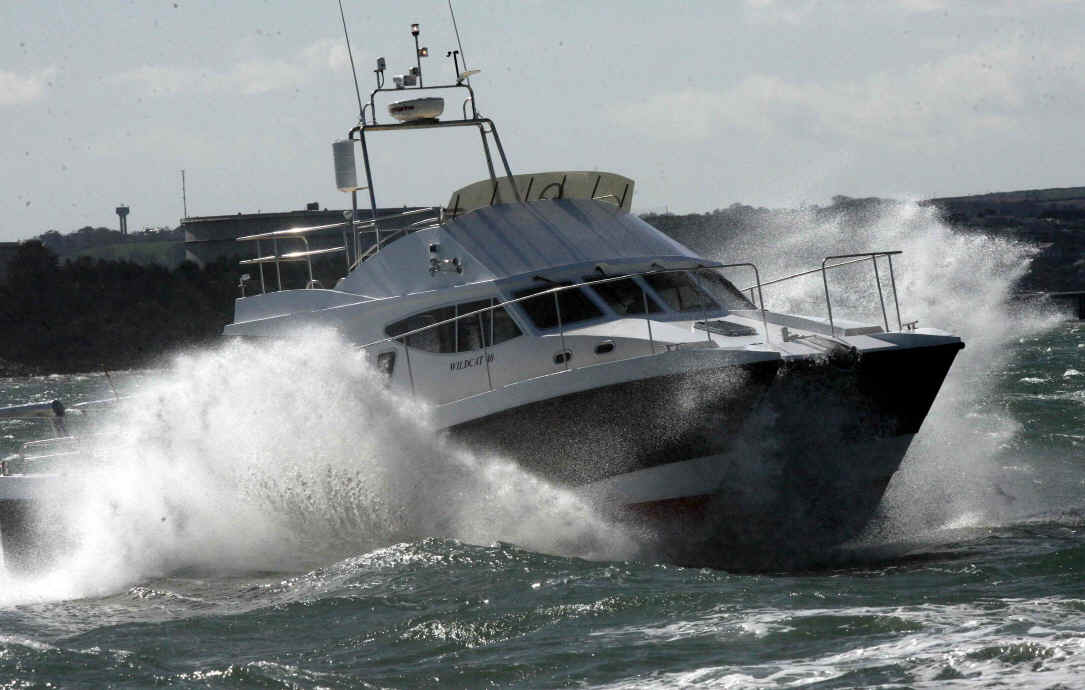 She looks stunning with her black hull highlighting her graceful lines, certainly one of the best looking catamaran designs around.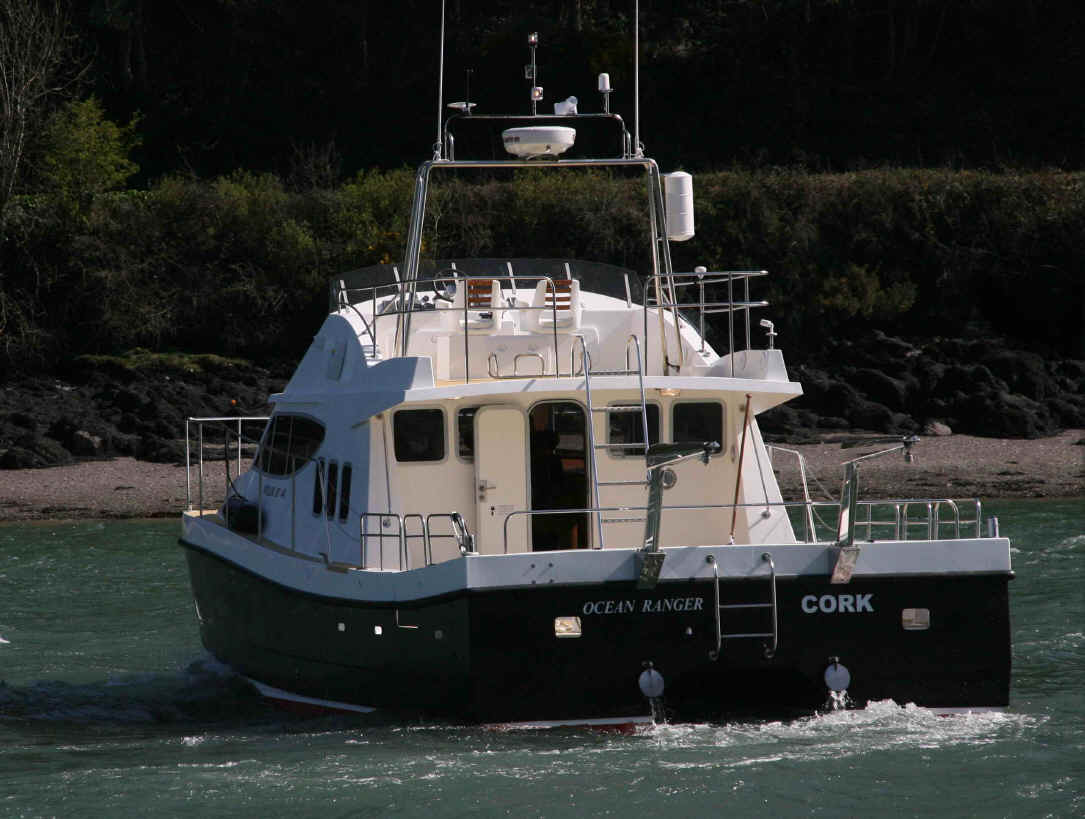 Without doubt one of the finest, most luxurious interiors we have built.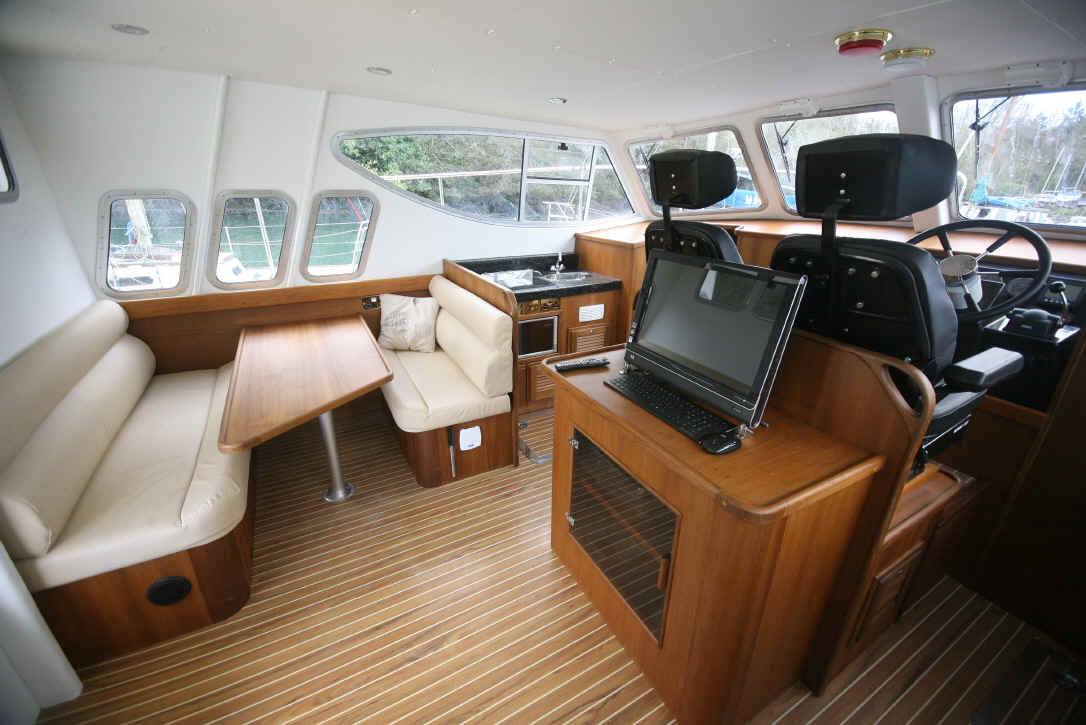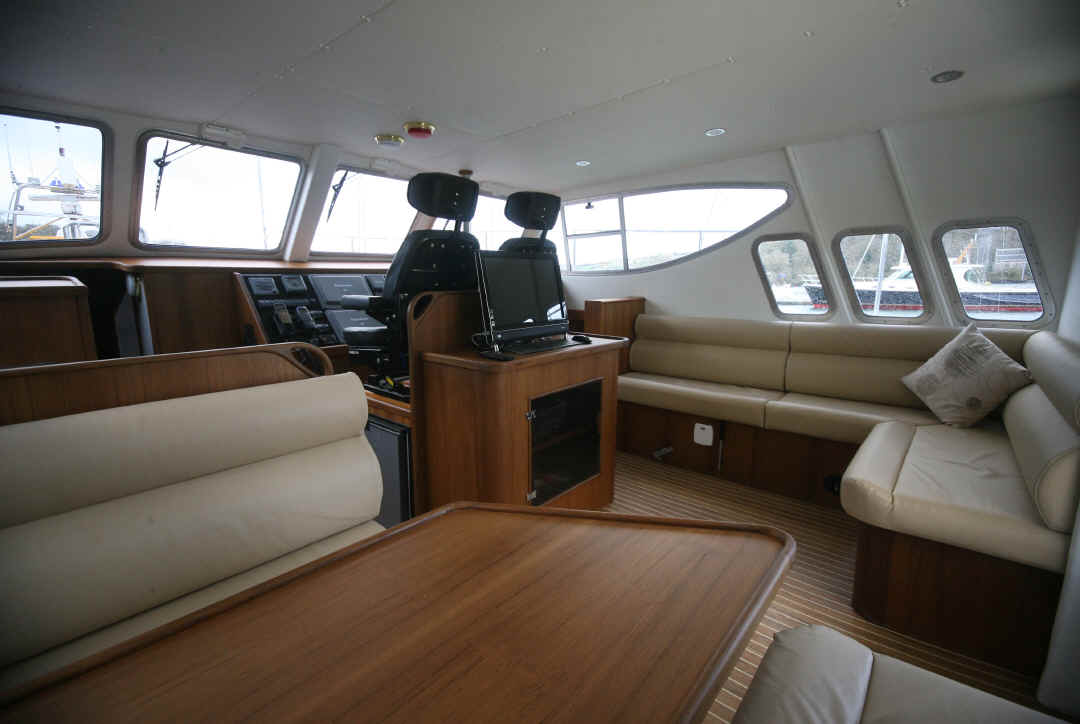 Mike taking delivery of Ocean Ranger, a proud day for both of us, for Mike in realizing a dream of owning one of the finest offshore wrecking vessels, and for me in the satisfaction of building such a fine boat.