INTERCEPTOR 55 'PILOT'
Portugal's Port of Sines new Interceptor 16m pilot boat.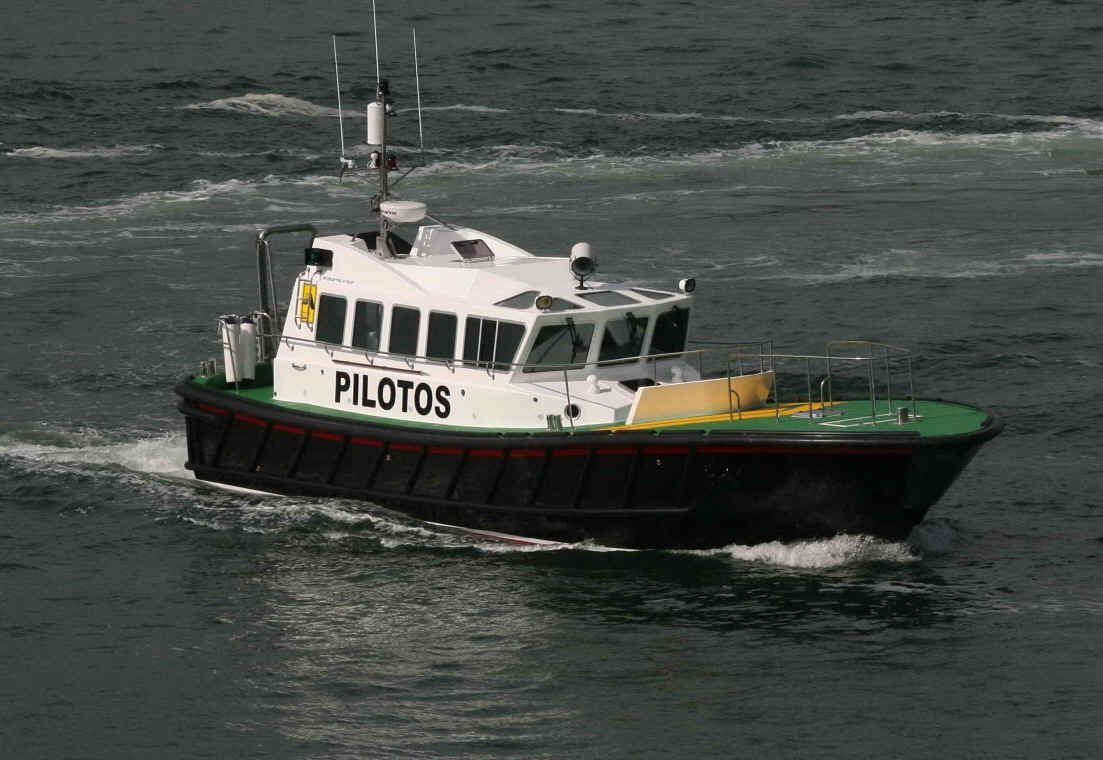 Following an International tender in 2007 Safehaven Marine, builders of the Interceptor range of Pilot Boats were awarded the contract to supply an all weather pilot boat to the port of Sines in Portugal . Safehavens new Interceptor 55 was chosen, a 16m pilot boat based on their very successful Interceptor 42 pilot boat, featuring the same deep V twin chine hull that provides excellent performance and seakeeping. The Interceptor 55 was decided upon following the success of the first of class 55, a patrol / passenger vessel Orca II, featured in Maritime Journal earlier in the year, and now operating successfully off the wild west coast of Scotland for her owner Angus Cambell, commenting 'We are very happy with the new vessels performance and her seakeeping, having been out in up to 35kts of wind in her I can find no fault in her abilities and look forward to continuing the St Kilda run in her over the coming year'
The Port of Sines vessel differs in being of heavier build and displacement, and having an aft configuration of wheelhouse, Safehaven's modular mould design allows the vessel to have several different configurations to suit the vessels intended operational requirement, with the design being fully customisable. The vessel is powered by Scanias D16 V8 engines rated at 650hp running through twin disc 5114 quick shift gearboxes, with sterngear comprising 58mm F51 Duplex shafts turning 28" 4 blade props supplied by Clements Engineering. She has an operational speed of 25kts on a 24,500kg displacement. The vessel has exceptionally low noise levels, with readings recorded in the wheelhouse of only 76db at 25kts, such noise levels were previously the realm of expensive and complicated isolated wheelhouse, but Safehaven paid special attention to the engine rooms soundproofing, the result being the crew and pilots have a relaxed, quiet and vibration free working environment.
Heavy duty rubber fendering supplied by Avon Rubber protects the hull with substantial 150x200mm fendering along her gunwale with numerous diagonals and a lower run along her 2nd chine just above the waterline, her bow is rounded allowing the fender to wrap around the bow in a continuous run.
Her pilot boarding area as wide, spacious and uncluttered providing a safe working area for pilot and crew who benefit from her raised sheerline and flared bow, keeping decks dry and safe.
She has a very high level of fit out throughout the craft with the large wheelhouse providing enough space to allow combining the standard 6 pilot seating arrangement on CAB hydraulic sprung seats, with a VIP area in the aft section of the cabin, comprising a very comfortable 6 person seating dinette with a table and a 6ft worktop opposite with substantial locker space incorporated. All internal furnishings are from walnut effect laminate, white headlining and grey sidelining providing a warm, high quality yet practical environment. However one of the main advantages of Safehaven's design is the huge forward accommodation area allowed by placing the engines centrally under the wheelhouse. Forward there is sleeping accommodation afforded by traditional V berths combined with large bunk berths. A comfortable seating area along side the large galley area, a full size heads compartment with sink, grey waste management with holding tanks. Large wet lockers and under deck storage enhance her functionality and provides a very comfortable crew environment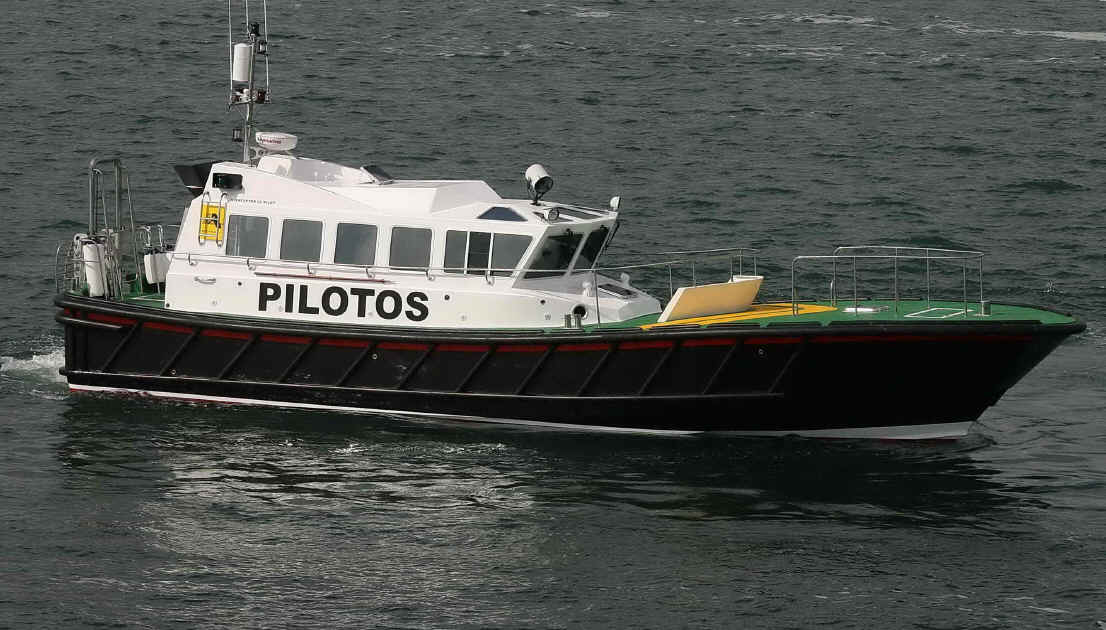 ROUGH WEATHER SEA TRIALS REPORT
On Saturday 17th January Ireland was hit by Violent storm force 11. Hurricane wind speeds of 140kmph, 93kts were recorded. To fully test her capabilities in some of the the roughest conditions possible we took her out and put her through her paces. The waves over the Harbour rock were phenomenal, and breaking very heavily as the spring ebb tide ran out into the face of the Southerly swell. Wave heights recorded were 6m / 20ft. We took our Interceptor 55 Pilot out through this maelstrom to demonstrate her sea keeping and capture some exceptional video footage. For sure I had to nurse her carefully trying to avoid the worst seas, although occasionally, unavoidable we would get slammed by a set big breakers , but she looked after us and took us through it safely. Running back in with the seas behind us was 'interesting' to say the least. Here is a link to the video. SEE THE VIDEO
Below are some photos. These were taken at the start with 85kts winds, the sea is white with spray, the wind was so strong that the sea appeared to smoke 'as if on fire' as the surface of the sea was stripped off and blown along.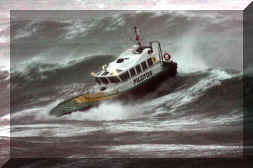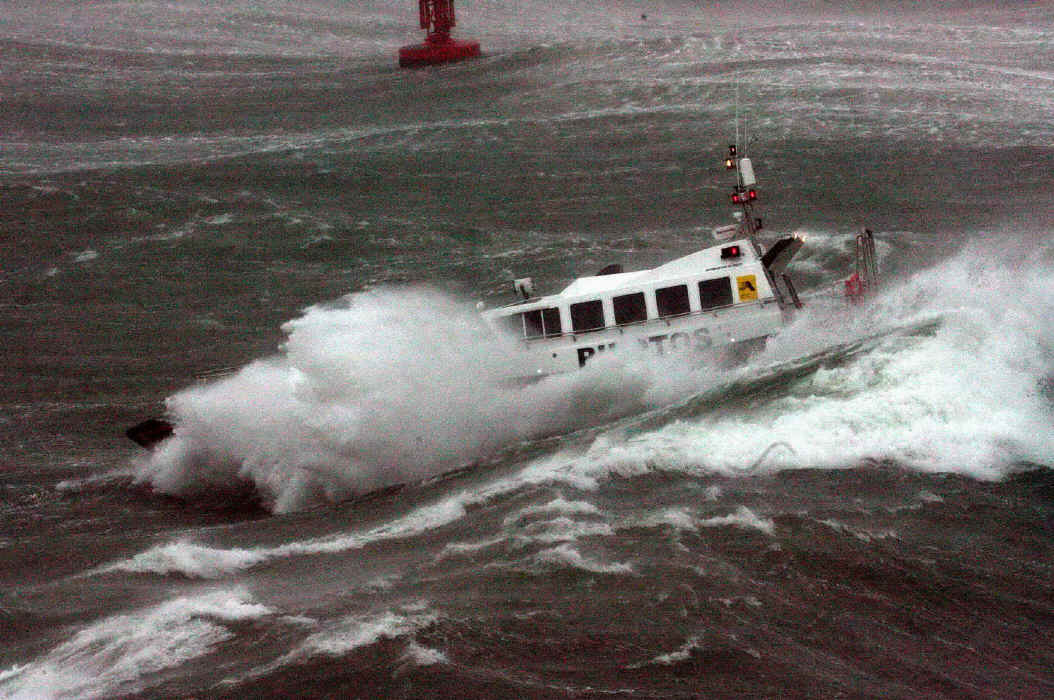 Below as the front moved through a brief spell of sun came out with winds lessening to 'only' 50kts.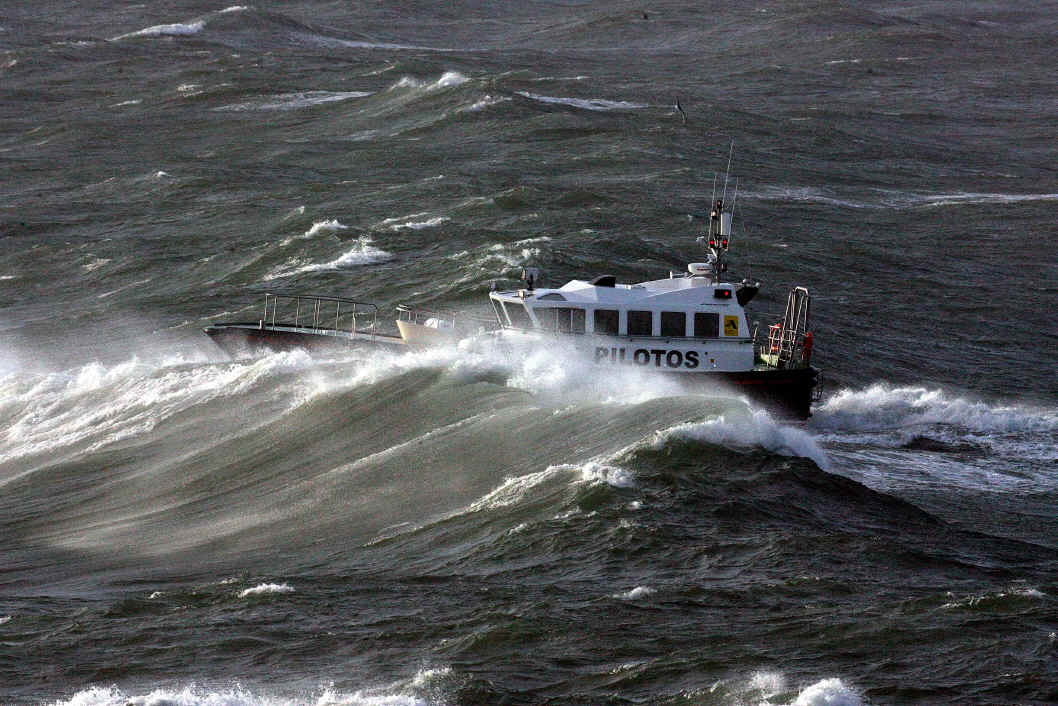 Below, nice photo sequence of the Alantida Azul bursting through a 20ft breaking sea. I was driving and it was a pretty big moment, the first wave that hit us was fine, lined up head on nicely we chopped the top 4ft of the wave off, putting a wall of green water over the deck, the wave deflector worked well, but with plenty of water still hitting the screens you couldn't see the next wave coming, I only got a glimpse of it, enough to know that it was big and breaking heavily as well, all you can do in this situation is depend on the boat to look after you, which she did, good girl! Below, taking another huge wave. The important thing about doing these sea trials is that I know that, driven correctly, the 55 and 42 can deal well with these extreme conditions and give the crew and pilots confidence, and importantly a sense of safety. It is only by actually doing this that the designer can truly understand what good sea keeping means.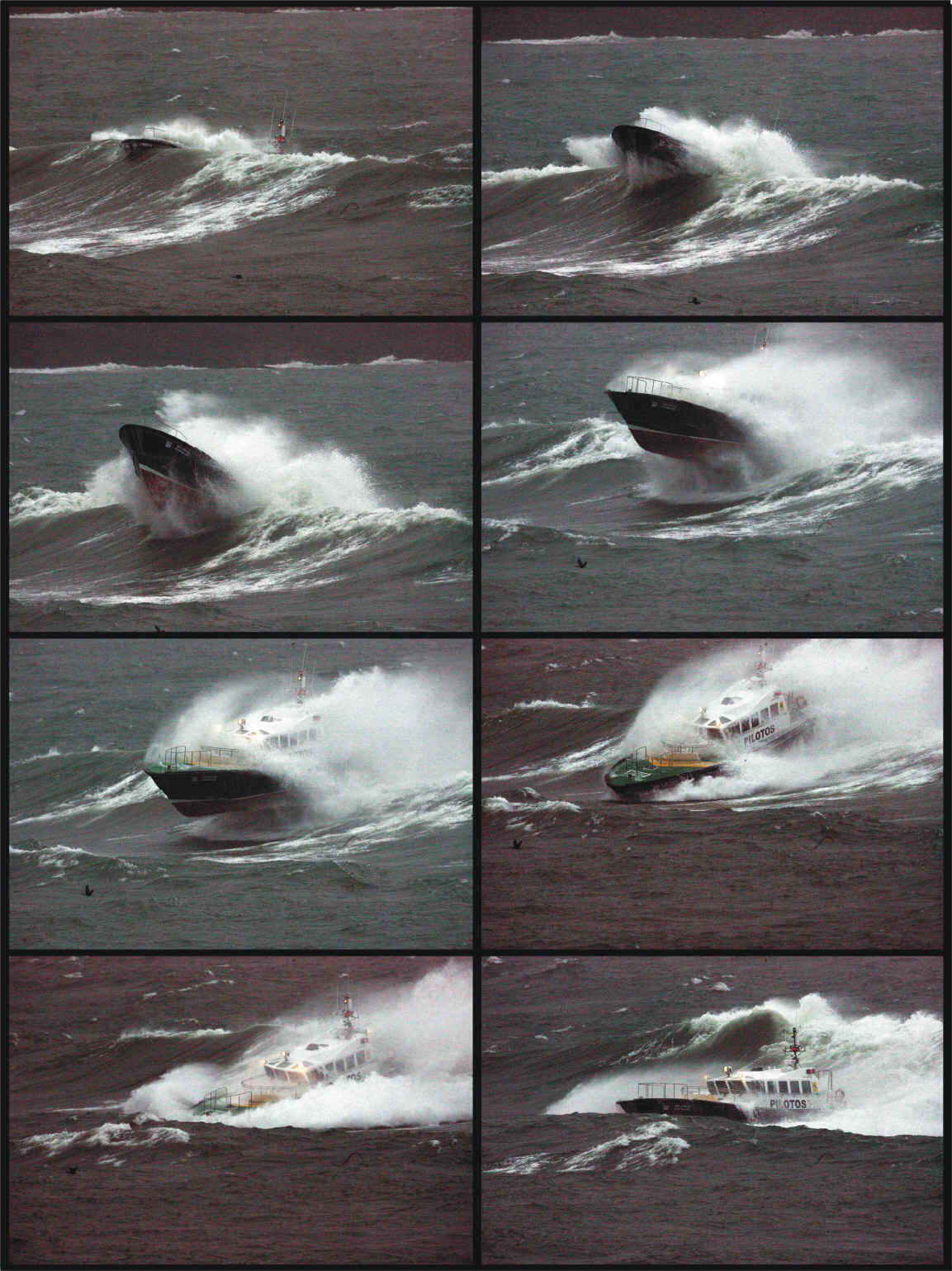 Further sea keeping trails carried out along side an Interceptor 42 for comparison in a Force 8-9 southerly gale with up to 45kts of wind and 5.5m seas offshore, revealed her tremendous sea keeping abilities, fabulously stable down wind. Into the seas her heavy displacement shoulders the seas aside. She is very dry with no excessive amounts of spray coming aboard and the screens staying clear.
See video 2 here- CLICK HERE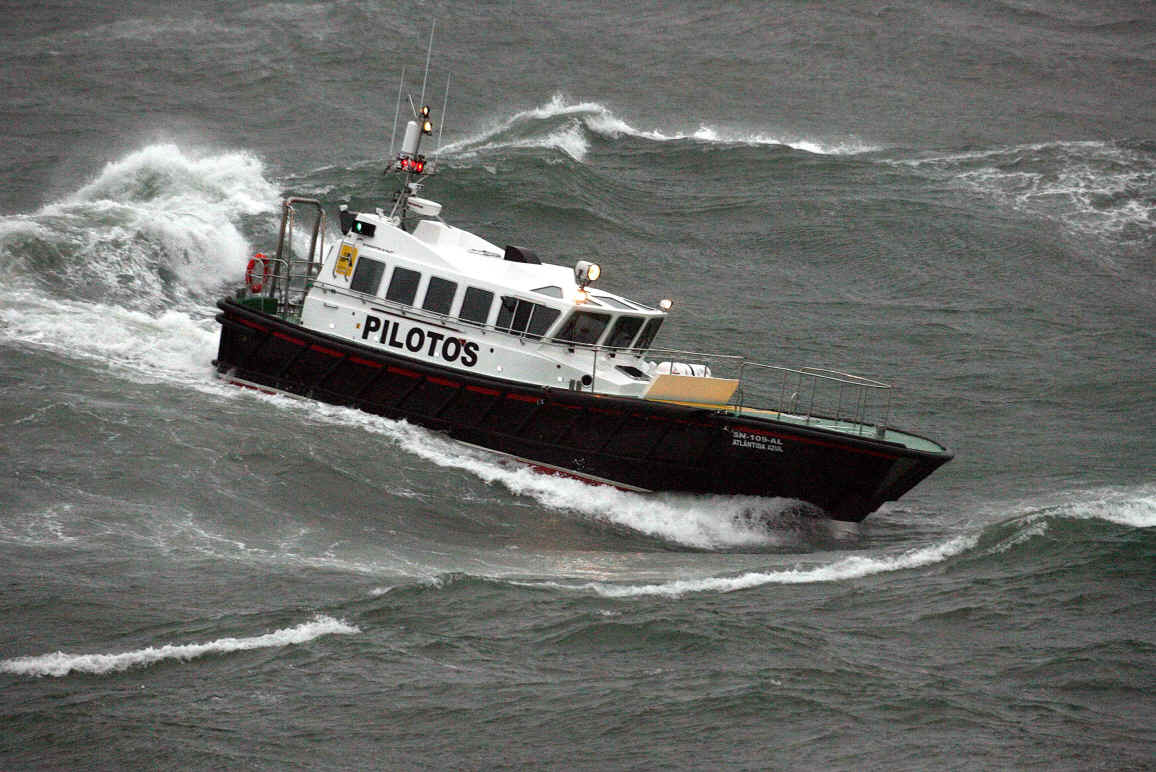 Above a big sea from behind.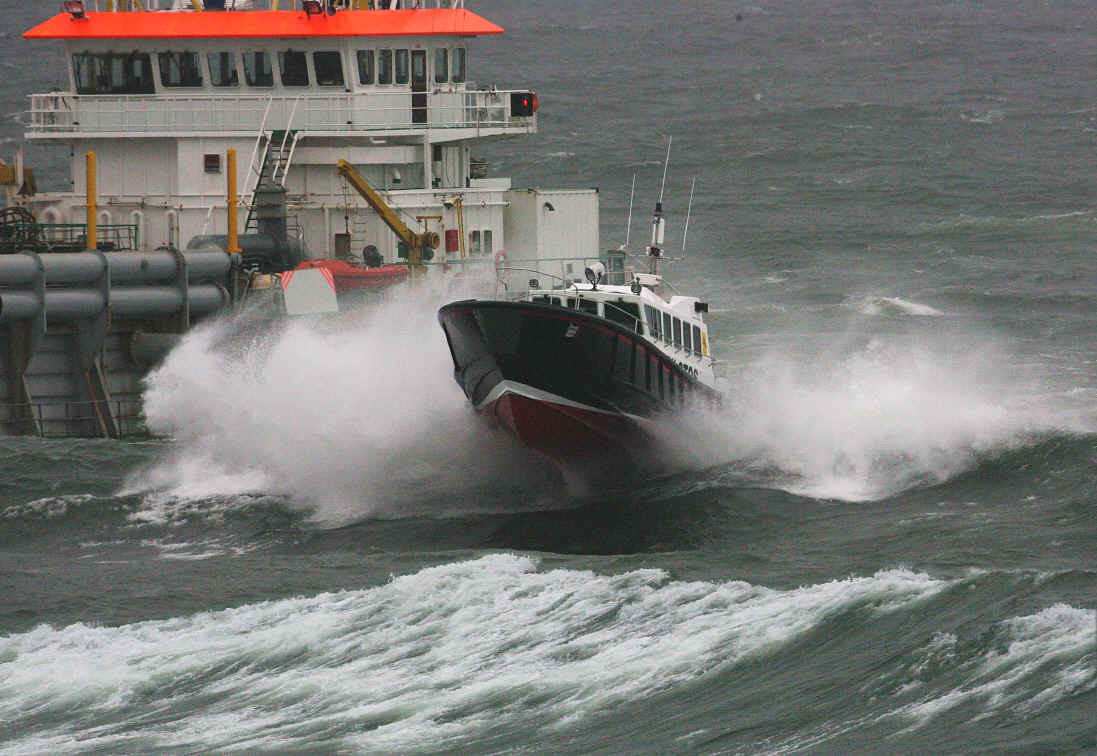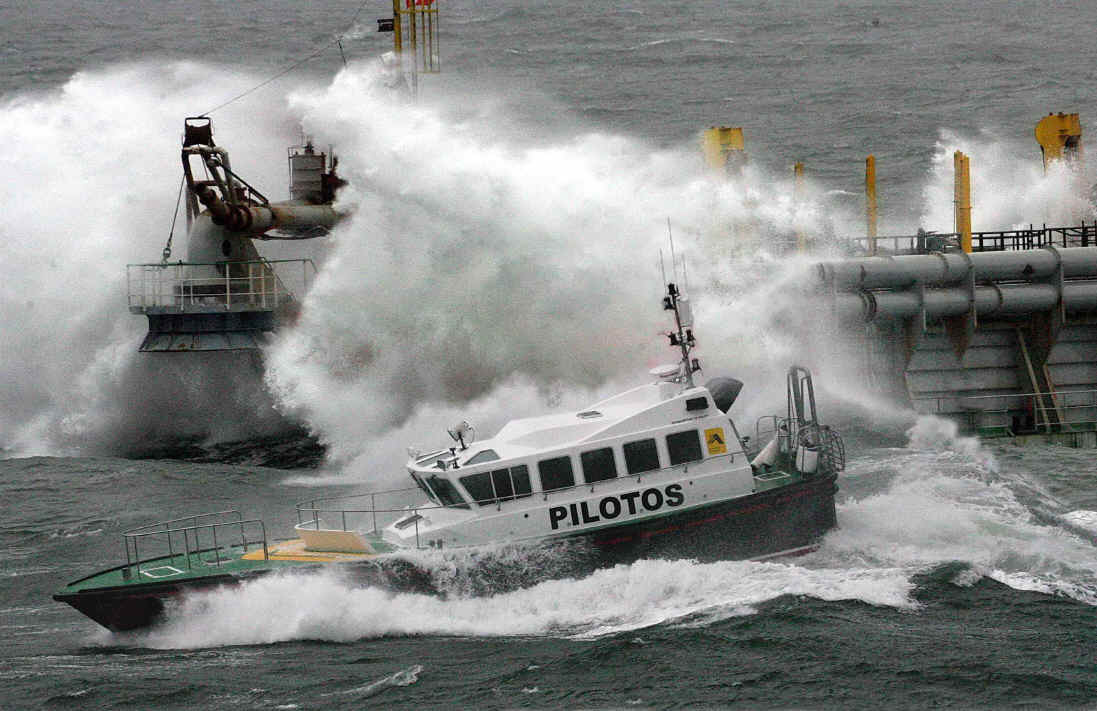 She looks very sleek and graceful on the water with a powerful, aggressive bow, capable of dealing with heavy Atlantic seas. Her pilot boarding area is very wide and spacious and should prove a dry safe platform for her pilots and crew.
Her statistics are-
Displacement, lightship 22,500kg
Fully loaded 24,500kg
Max speed at 2100rpm (650hp) 25.3kts
Operational speed 23kts
PERFORMANCE DATA
RPM Power Fuel (total both engines) Speed kts Trim MPG Noise
output HP G/PH L/PH G/PH L/PH Db
1600 14.2 65 28 130 16.7 3.7 .59 74db
1800 19.7 90 39 180 20.5 .52 75db
2100 650 25 116 51 232 25.25 3.5 .49 76db
Total fuel tank capacity 1072 L per tank (235 imperial gallons) 2144 L ( 470 gal ) Total capacity
Range with 10% reserve at 1800rpm 222nm
Range with 10% reserve at 2100rpm 209nm
Upper, high level windows are positioned to provide the helmsman with a clear overhead view of the ships side, and pilot boarding ladder. Below, a wave deflector on the fore deck protects the windows from boarding seas in heavy weather.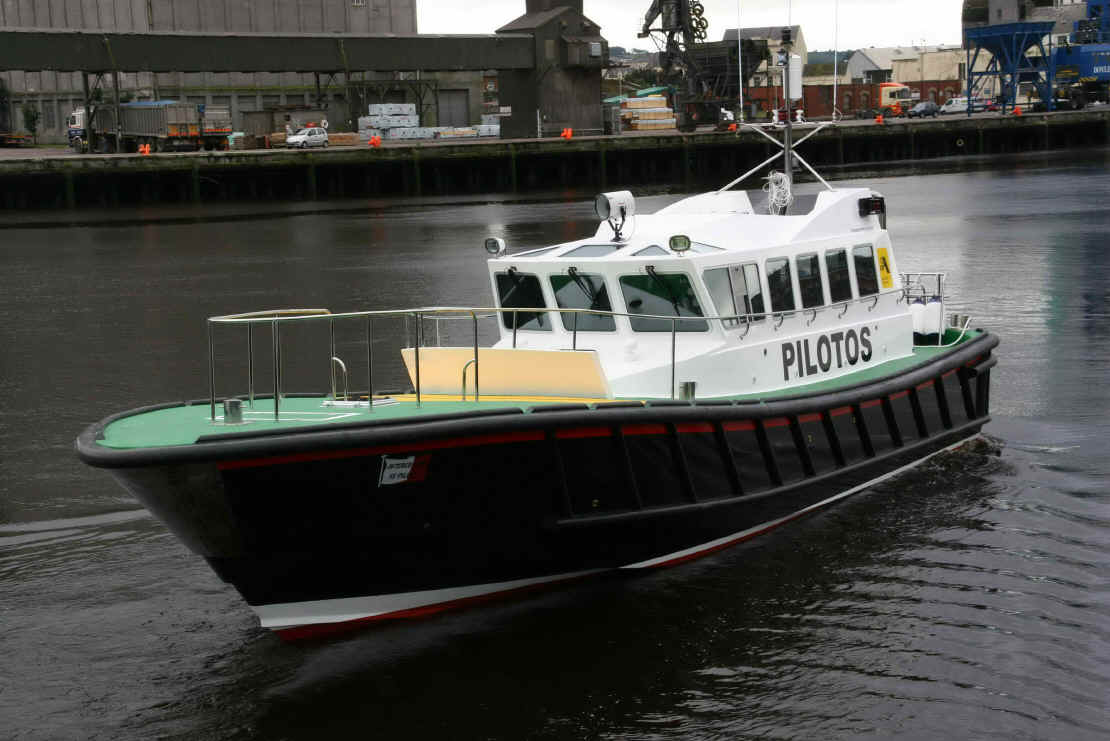 Below is seen the First dedicated Pilot vessel based on the Interceptor 55 Hull, differing from Orca II, the patrol version of the Interceptor 55 in so much as she has an aft positioned wheelhouse as opposed to Orca II's forward positioned wheelhouse. The obvious benefits being lower motions in rough conditions for pilots and crew, as well as better visibility and view of the 'boarding area' As can be seen the 'boarding area' is wide and spacious which will make boarding operations safe and efficient. Her graceful lines are even more apparent in the pilot version.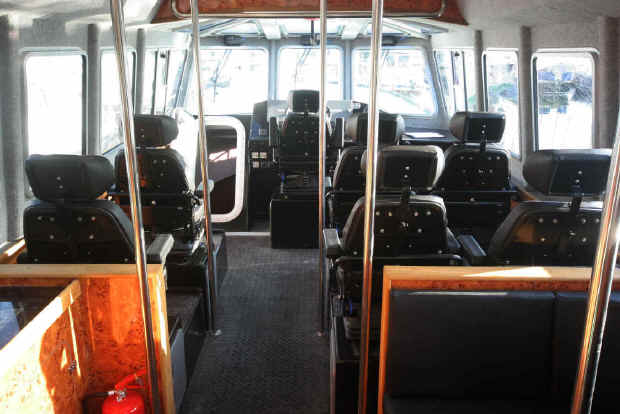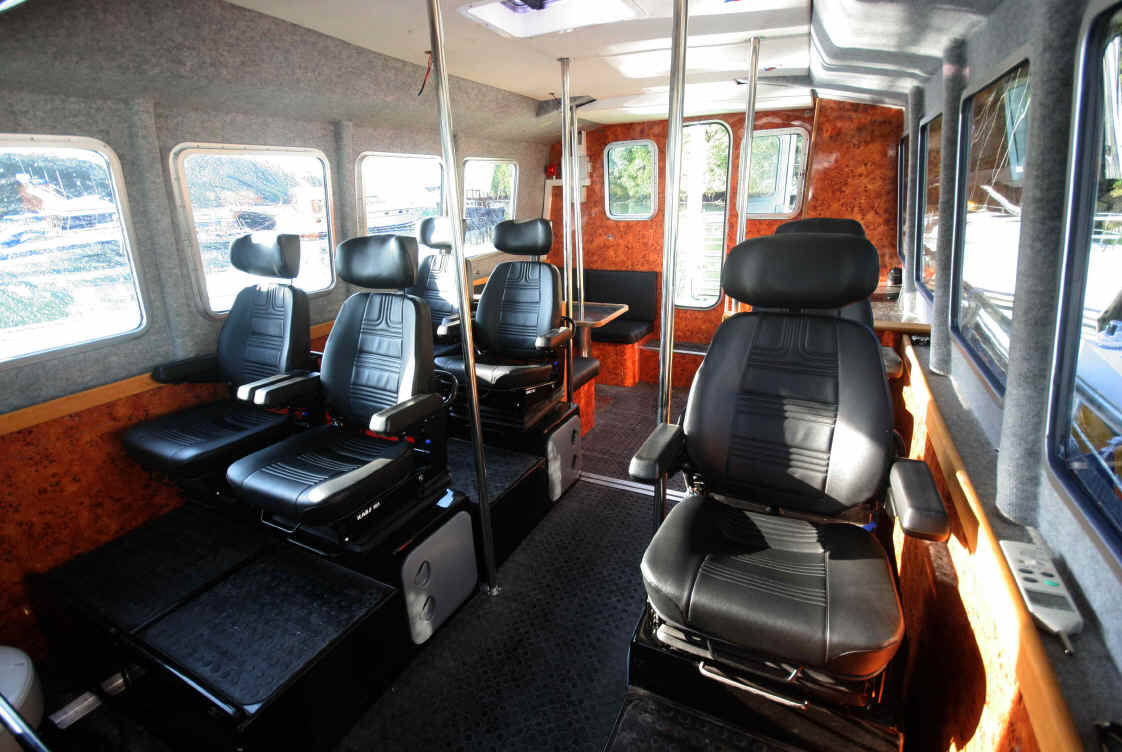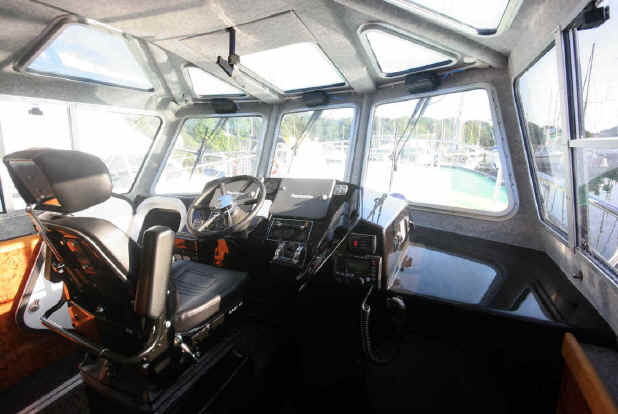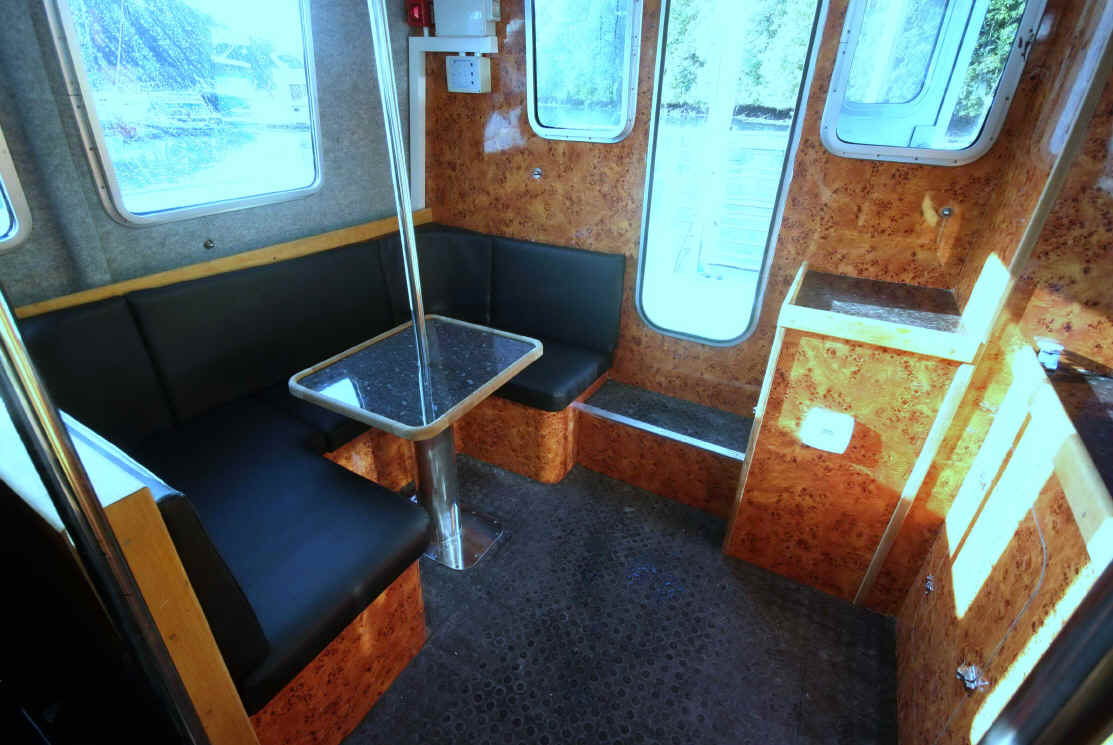 We have taken great care to design a very ergonomic helm position that is very user friendly for the helmsman. All the controls are easily to hand, there is a large area for flush mounting electronics and we have wrapped the console around the driver creating additional space for instrumentation.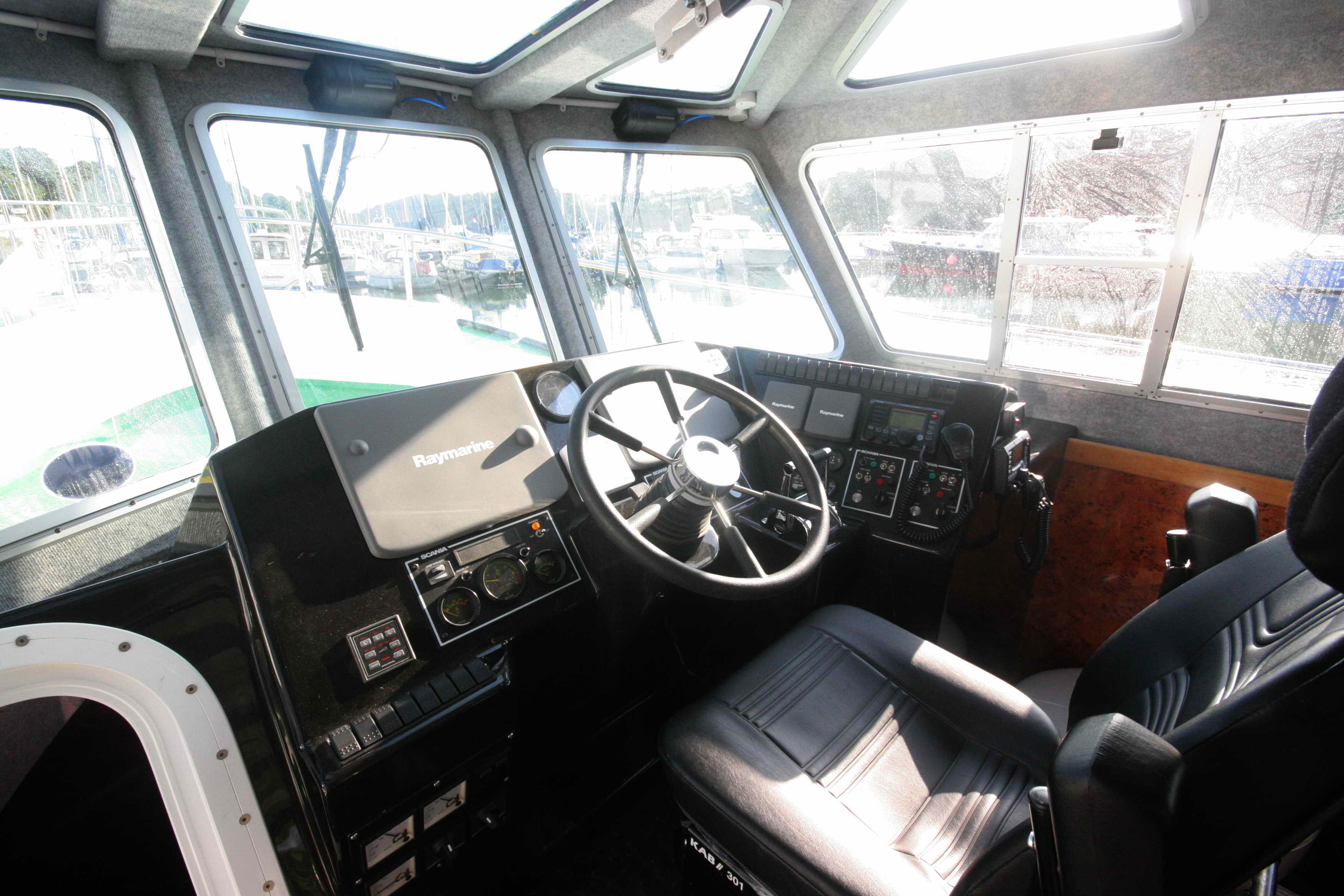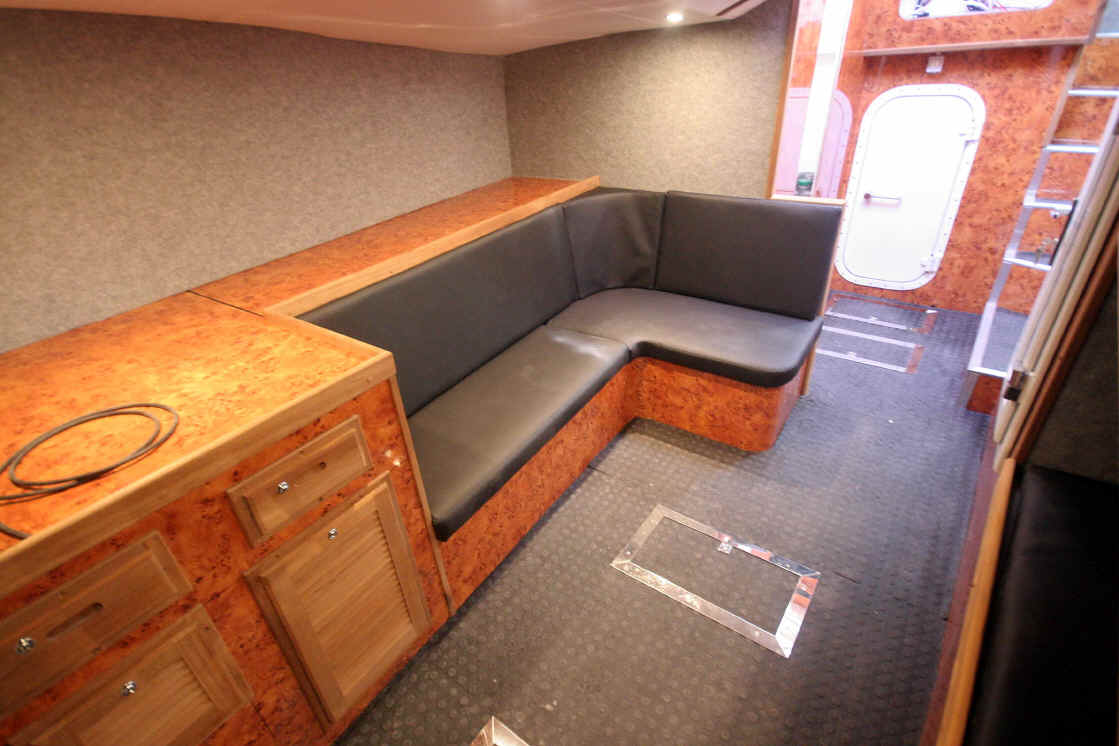 Her lower fore cabin is very large and spacious, and is fitted out to a high standard in order to provide the crew with a comfortable living accommodation area. Paneled in Walnut wood effect laminate, white vinyl headlining and sidelining, it creates a warm environment for her crew.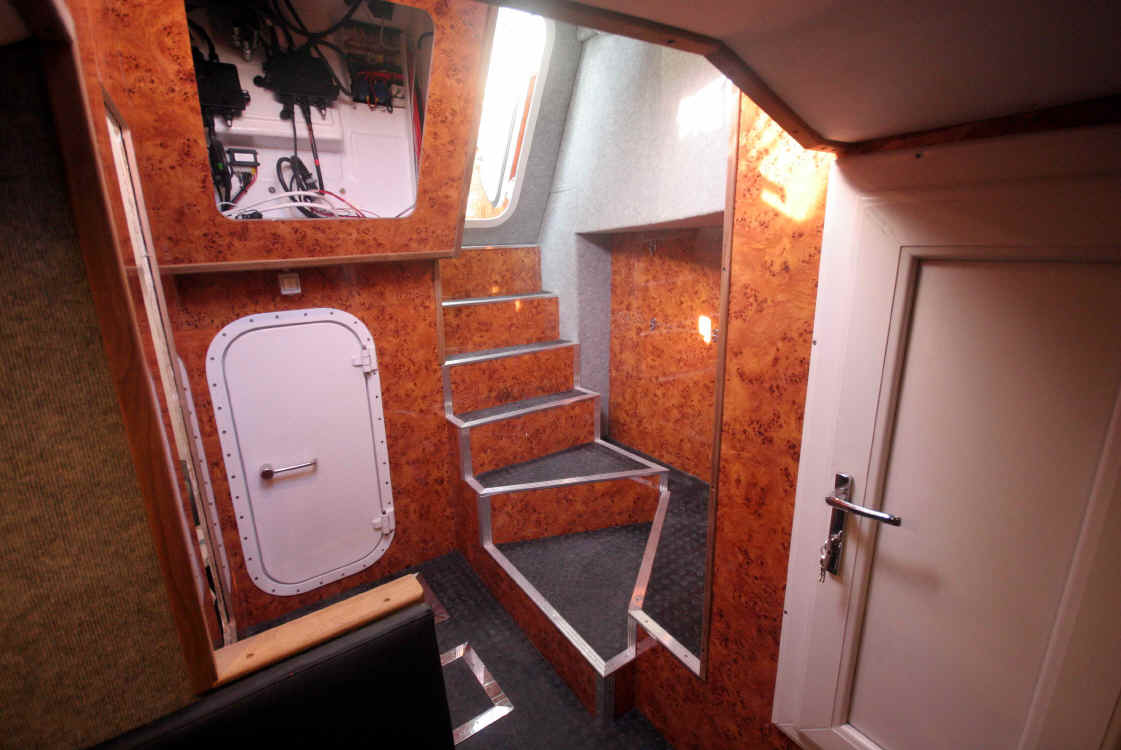 She is powered by twin Scania D16 engines at 600hp and Twin Disc MG5114A Gearboxes. Engine removal is easily carried out through a removable hatch in the cabin sole and roof top.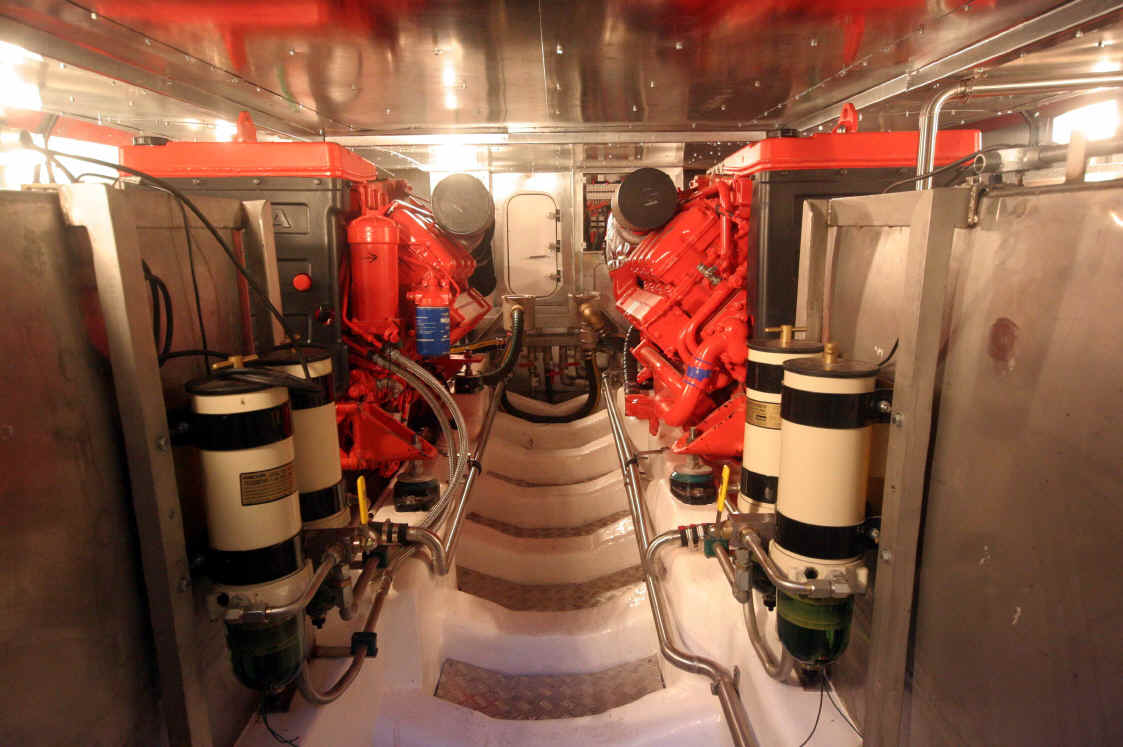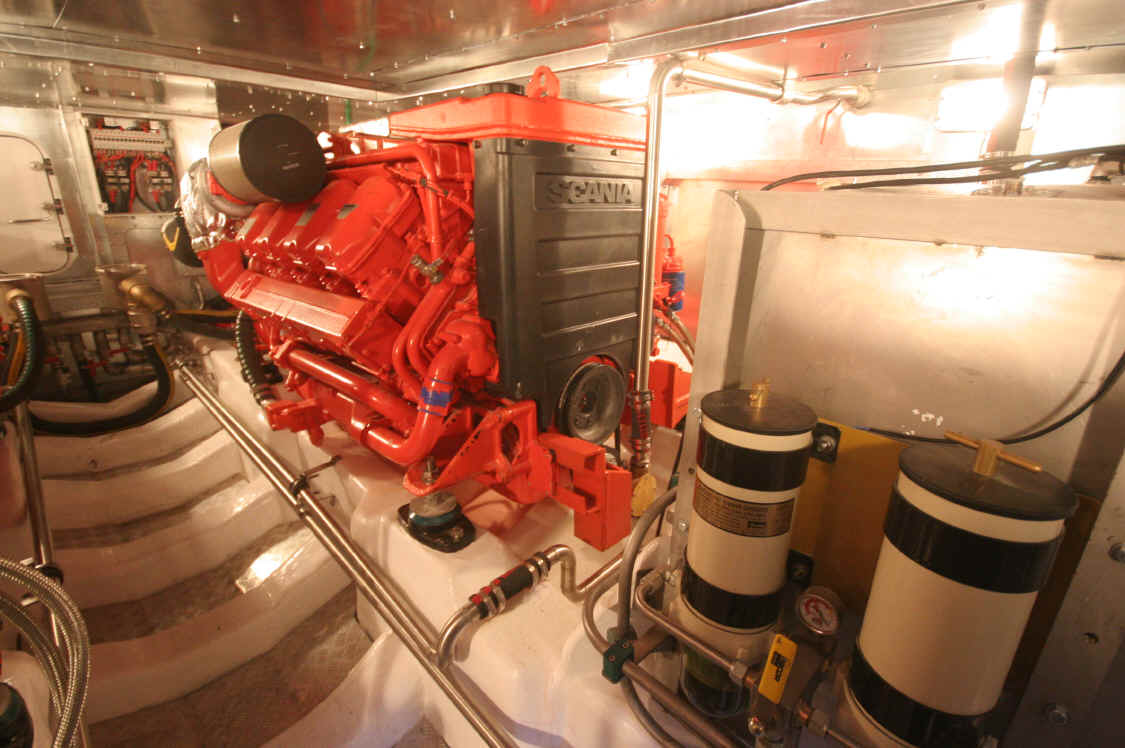 For those familiar with our 42 pilot, here she is alongside the Dublin pilot where her size can be appreciated.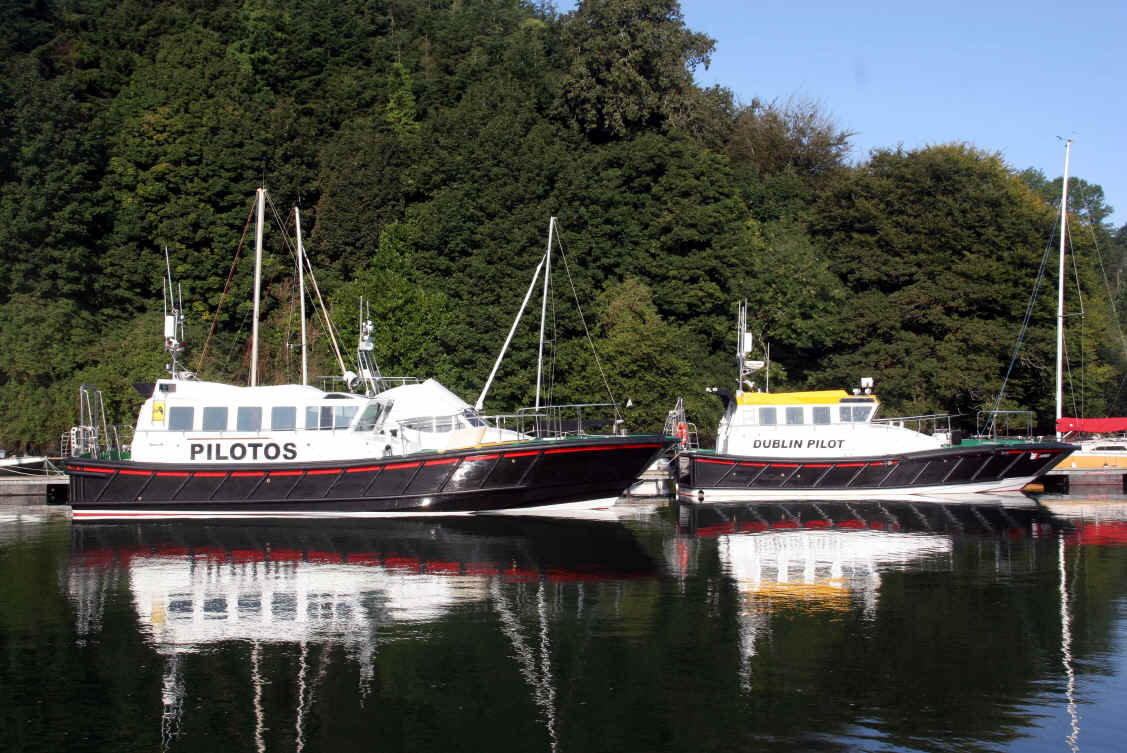 Her MOB recovery system is hydraulically operated, and can be used in addition to MOB recovery, lifting floating objects from the water. The platform extends down 400mm below the waterline.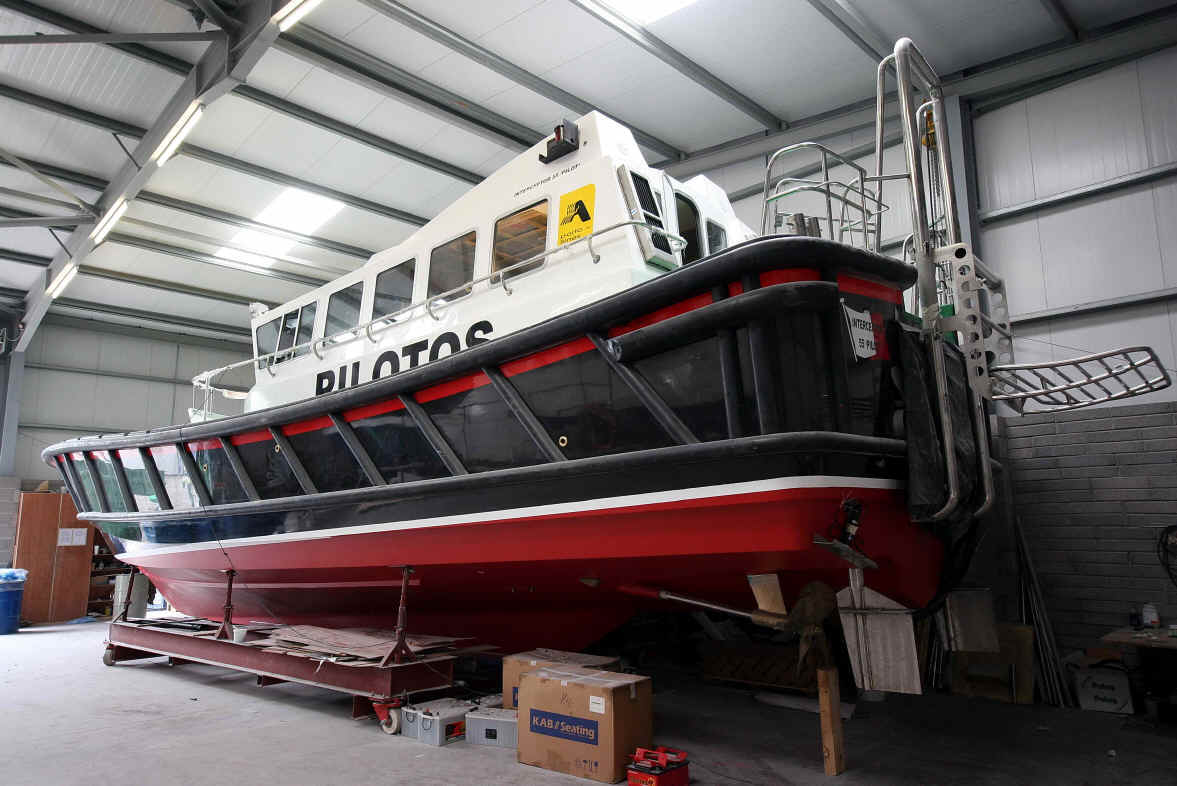 We recorded her launch and a video of her ,Click here to see the video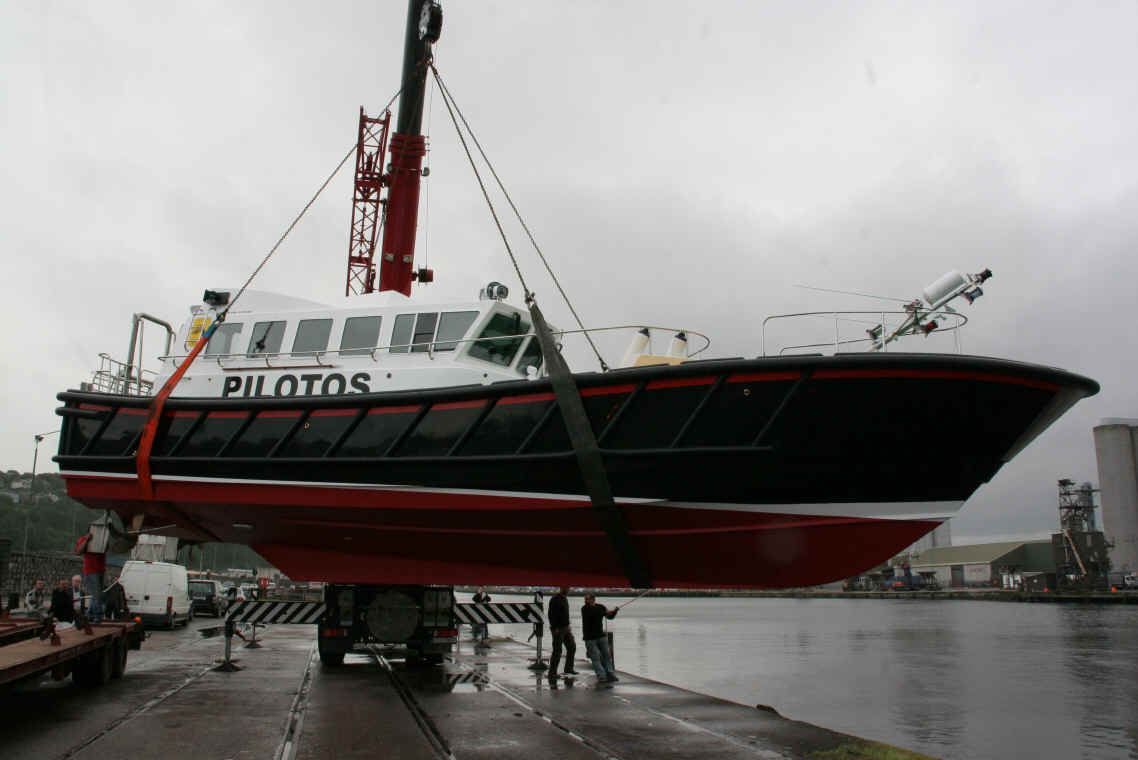 Engine removal is easily facilitated through large hatches in the cabin sole and the roof. All internal furniture over this section is of GRP modules, quickly and easily removed.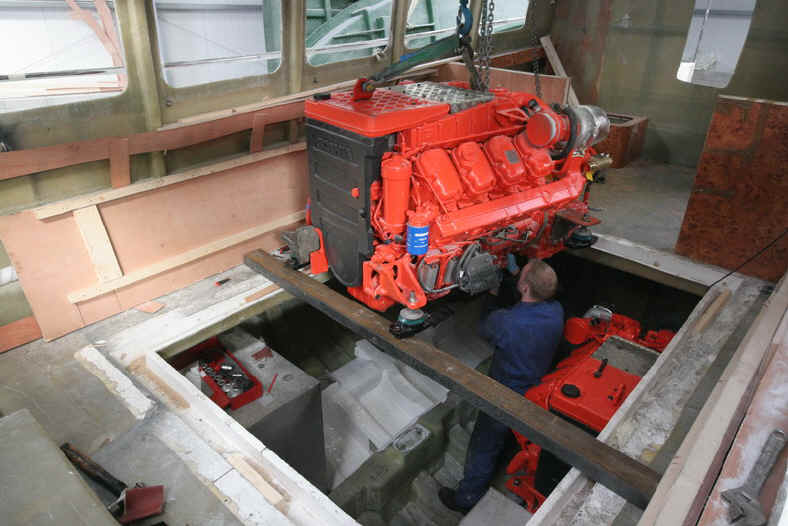 Big 150x150mm transverse frames at 500mm spacing's combined with a 10,000gm2 bottom laminate and a 8,000gm2 side laminate at the boarding area gives her tremendous strength. The hull has been built under survey and to full Lloyds plan approval for her hull construction.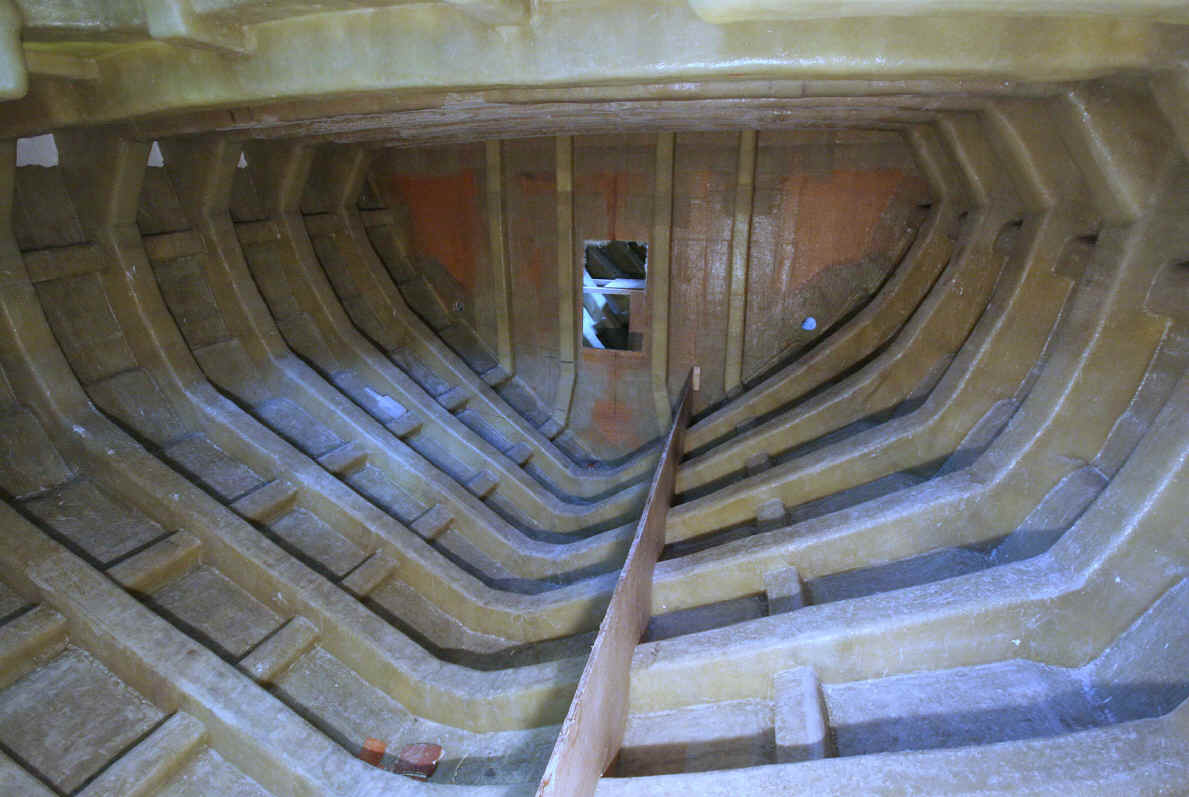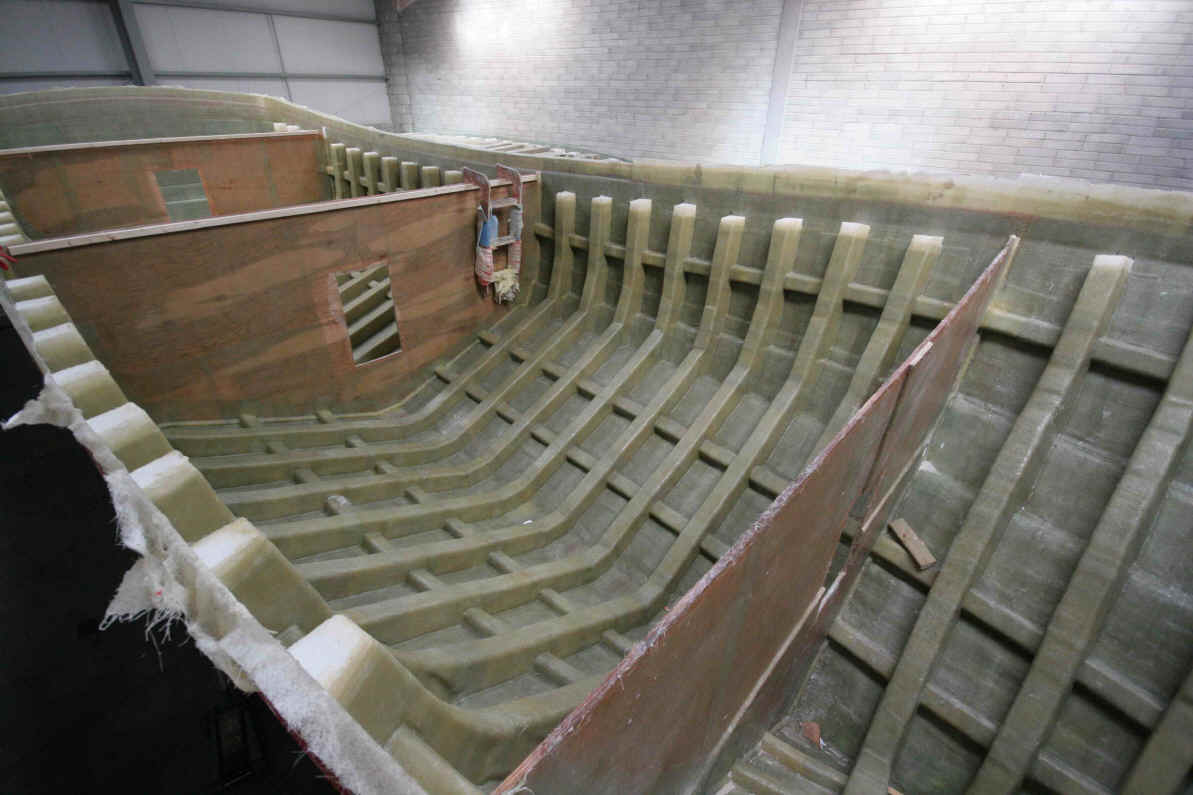 Below, her massive 150x150mm framing a 500mm centres.