HOME MODEL RANGE CONTACT US GALLERY VIDEO DOWNLOAD PRICE LIST
SAFEHAVEN MARINE. Builders of the Interceptor & Wildcat range of offshore craft
'BARINTHUS' Interceptor 42 Research Vessel for Ocean Marine.
Launched this June 'Barinthus' is a Research and Survey vessel built for Ocean Marine, Rhyl, North Wales . The 5th Interceptor 42 built since 'True Light' the first of class was launched in Jan 2002. Barinthus utilises the 'Motor Cruiser' superstructure minus the flybridge providing a large spacious cabin for survey personel to operate computers from but also providing a large flush aft cockpit for working out side and storing survey / diving equipment. The vessel has a very comprehensive inventory and specification including Generator, LPG compressor, 2000W invertor, 3 sonars, 2 computers interfaced with the various navigational and sonar equipment. Fitted with 2 Yanmar 440hp engines through conventional stern gear protected by a full length keel she achieved 29kts on sea trials with a 24-25kts cruise on a 11,500kg displacment. Part of her duties will be research into the environmental impact of the offshore windfarms currently being erected off the North Wales coast on the local wildlife, specifically effects on the local bird populations migratory habits. A lightweight aluminium observation tower was built giving ornithological personel a line of sight 6m above the WL, allowing observation of costal bird populations offshore.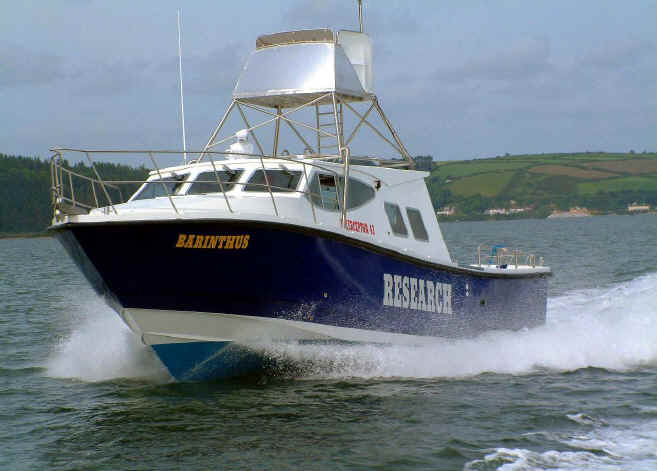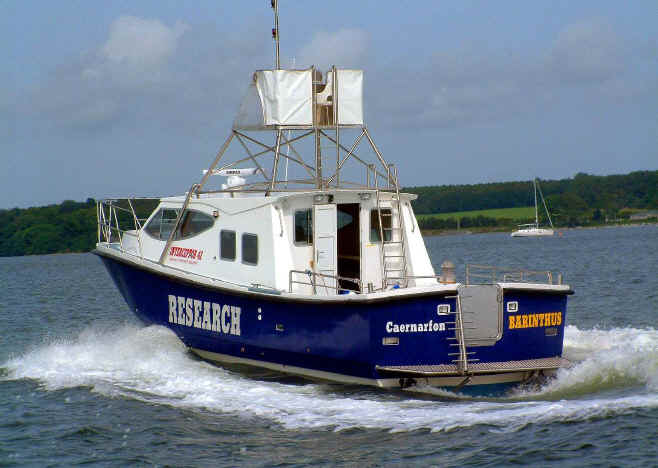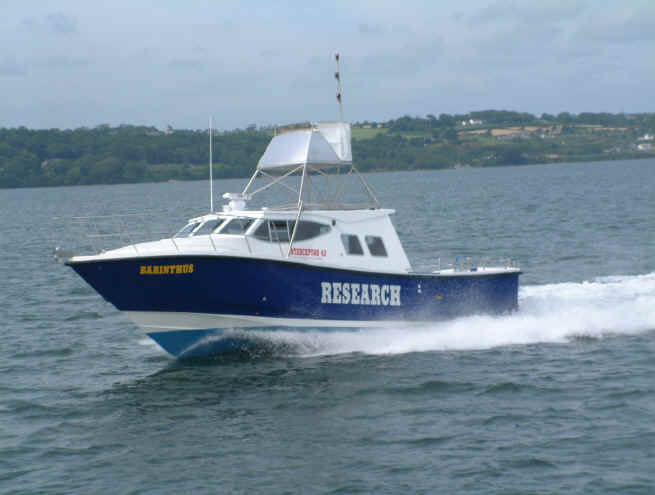 Another of her duties will be as a dive support vessel and for this a dive platform and divers ladder was fitted, accessed through a stainless steel framed transom door.
Inside survey personel were provided with a long workbench allowing two operators to work comfortably, computer racks being situated below. Oposite, comfortable seating was provided by a circular setee with a table allowing two more personel to operate lap top computers. Gaaley and heads compartments are situated in the fore cabin. A very comprehensive electronic pakage was fitted by Marine Electrical Services of Cobh, Co Cork including Simrad autopilot, 10" plotter, 24nm radar, side scan and f/wd looking sonars.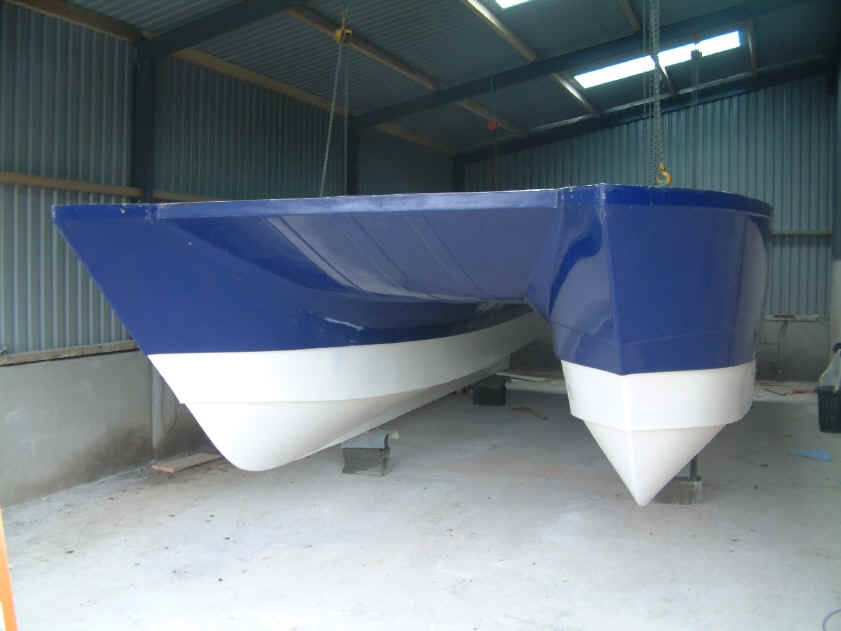 On sea trials the vessel performed as expected providing a 2kkts operational cruise. One of the reasons Ocean Marine chose the Interceptor 42 was the inherent stability of the vessel, anticipating that it should still provide a stable platform even with the additional top hamper of the observation tower. This proved the case with sea trials in rough conditions showing no adverse effects on stability, the vessel still handling excellently, even in following sea conditions at 28kts+. Trim tabs, fitted for the first time improved the already good head sea ability, allowing the bow to be held down, keeping the deeper f/wd V sections in the water and allowing speed to be maintained.
Nick Longfield, director of Ocean Marine undertook the delivery journey from Cork Harbour to Conway, North Wales, a journey of 210nm in 12hrs running at an average speed of 20kts. The vessel used 800ltrs of fuel and ran faultlessly with both engines consuming approx 14gph in total. This was the first pair of Yanmars fitted by Safehaven Marine and impressed with their compact size, high power to weight ratio and overall quietness. Three further engines are currently due to be fitted in new vessels under construction as a result.