HOME MODEL RANGE CONTACT US GALLERY VIDEO DOWNLOAD PRICE LIST
SAFEHAVEN MARINE. Builders of the Interceptor & Wildcat range of offshore craft
INTERIORS / ACCOMMODATION
Due to the flexible nature of our Superstructure Mouldings the accommodation layout can be of a size to suit the intended usage of the craft. An example being a commercial workboat whereby the main consideration is maximum aft cockpit / work area, whereas a craft for recreational use will require the maximum accommodation with a good size aft cock pit. Therefore we have various internal layout designs.
The overall standard of fit out to the finished vessel can also be to various levels. A pure work boat will obviously require a lesser standard of luxury than a recreational boat, therefore we offer two standards of finish - Luxury and Basic. Within which we will customize carpets, upholstery, flooring etc to whatever standards are required.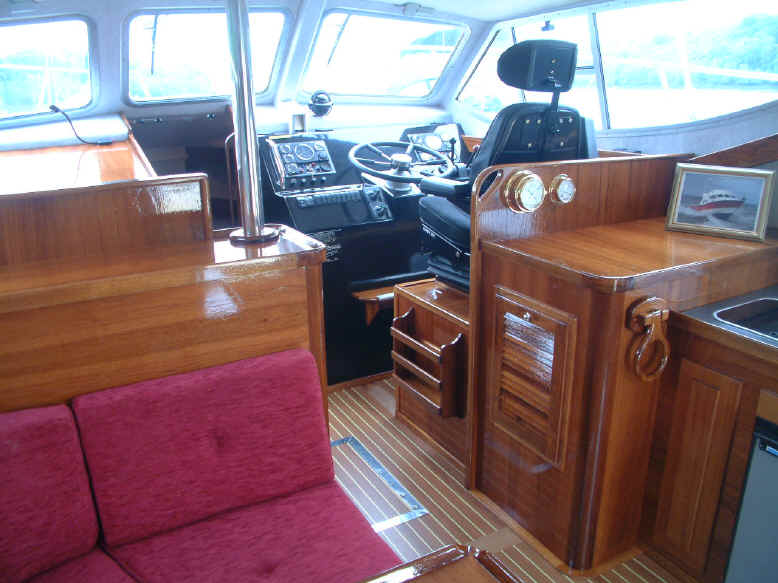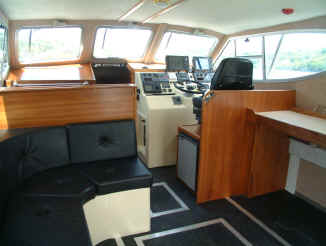 Part Builds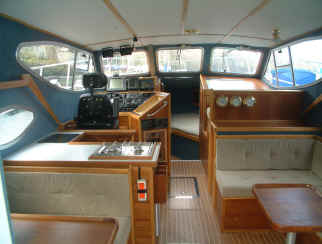 Should the owner prefer to undertake the fitting out of the boat himself then we can supply part builds to any level of completion from bare hull mouldings to sail away / navigable stages of build, right through to fully completed boats.
Stage 1
Hull moulding to standard H/D lay up. Full scantlings, engine bearers & b/heads etc. Superstructure moulding (inc b/head and reinforcement)
Stage 5 (to basic sail away spec)
Aluminum framed toughened glass window set fitted
GRP cabin door fitted
Mooring bollards & cleats
Stage 6
Fabricating stainless steel railings all round, A frame & pulpit rail
All interior woodwork completed, fittings, carpeting, cushions, finishing & varnishing.
Toilet fitted inc all sea cocks & plumbing
Galley, sink and water system, gas supply lines
Helm seat & pedestal, Interior lights, navigation lights, electrical panel & all electrical wiring
4 x manual bilge pumps. Electrical bilge pump & alarm in engine comp.
All through hull fittings & pipework completed
Finishing off boat to fully completed standard & specification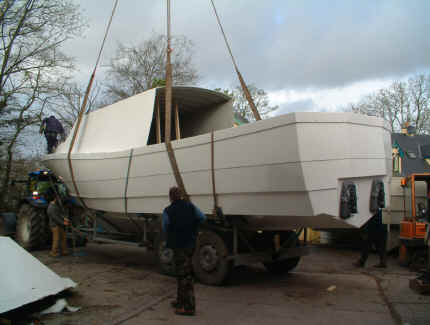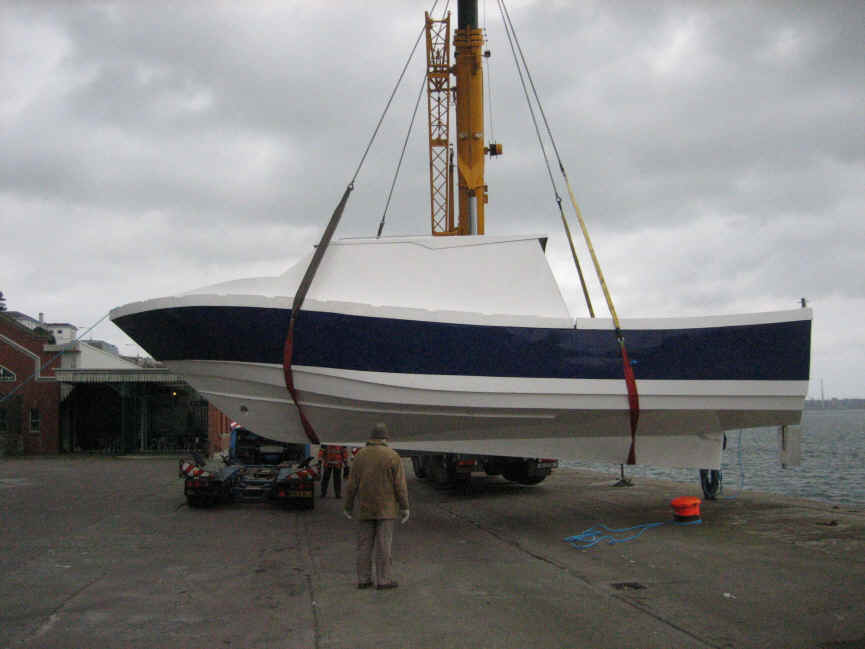 Above, Interceptor 42 mouldings being delivered to owner.
Additional work available
Hull lay up & scantling to full IRL dept of marine / MCA approved commercial spec. (to Lloyds special service craft rules) Area G2 , passenger / workboat
Additional work for license - emergency fire flap, fire fighting system in engine bay, Fire proofing engine bay. Closing all railings to requirements. Cutting out additional scuppers.
Fitting flybridge, railings, dual controls and access ladder.
Delivery of boats can be arranged by road or sea.