HOME MODEL RANGE CONTACT US GALLERY VIDEO DOWNLOAD PRICE LIST
SAFEHAVEN MARINE. Builders of the Interceptor & Wildcat range of offshore craft
INTERCEPTOR 42 'Angling / Dive version'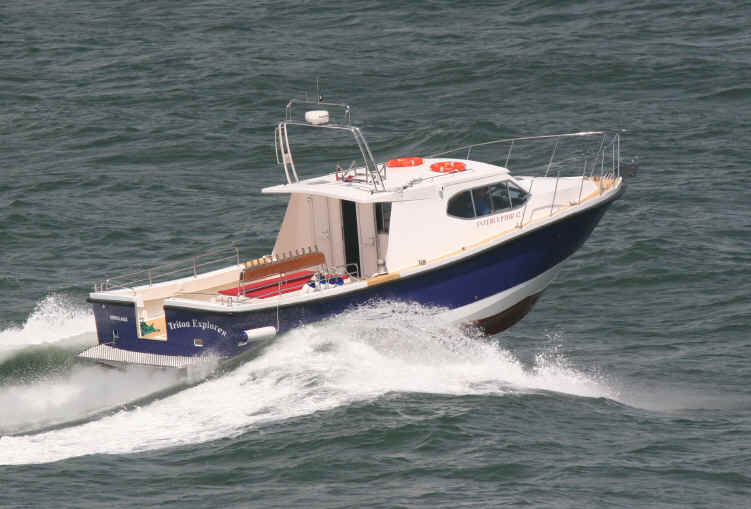 DESIGN - The Interceptor 42 was designed by Frank Kowalski, who early in his career spent several years at sea skippering his own sea angling charter boat off the South Irish Coast. The result of this experience is the Interceptor range and most relevantly this, the INTERCEPTOR 42 'Angling Charter boat version' Designed to fulfill many roles from high performance offshore cruiser to, big game fishing, and in this guise become possibly the definitive charter angling boat.To achieve this, a range of parameters were set, these being-

SEA KEEPING.- The endurance to maintain an operational speed of 16kts into a head sea generated by a sustained force 5 ,and run at
potentially higher speeds safely in beam & following seas. Her deep V hull with 22 degrees deadrise amidships, a fine 48 at the bow and 16 at the transom allows this, giving a soft ride with no slamming and exceptional directional stability with "hands off" steering in following and quartering seas.

STABILITY- To provide a stable work platform.- A 13ft 10" beam makes her exceptionally stable, and hard chines & keel damp her motion, extending her operational envelope and increasing earning potential.

DRIFT SPEED- To give slow drift speeds and near beam on drift attitude, a very important feature when drift fishing allowing the anglers to stay in contact with the bottom and keep their lines separated. A deep full length keel provides this, giving good grip in the water as well as offering full protection to the stern gear.

ECONOMY- To provide higher than previously obtainable maximum speeds and allow for an economical cruising speed. Capable of turning a big 28" dia propeller in large (up to 700hp) single engine configurations providing, the maximum economy and engine longevity.

BOAT DRYNESS- Provide the operator with a dry ride. The unique twin chine hull gives with out question the driest ride available, increasing visibility in poor conditions and reducing stress at the helm.

STYLE- To make the craft as beautiful and graceful as possible in order to lift the owner from the crowd and make him stand out in any port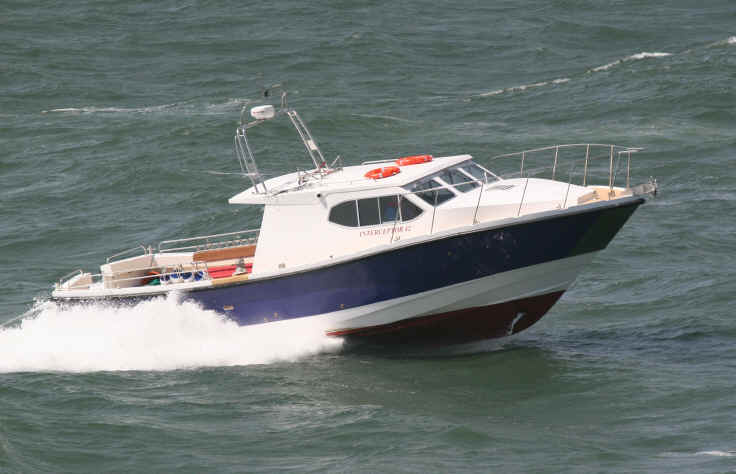 Her interior fit out is to a very high standard, fully lined and carpeted with high quality teak woodwork.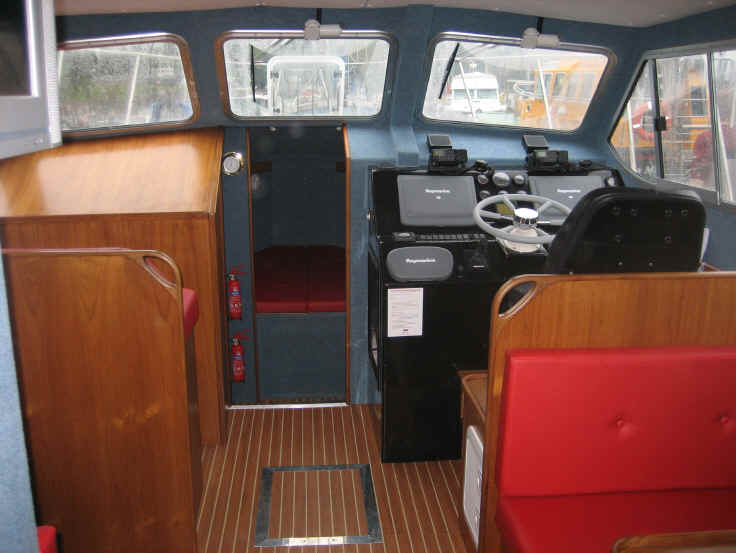 Our custom fabrication shop can build most things, here a stainless steel seating module combined with rod holders.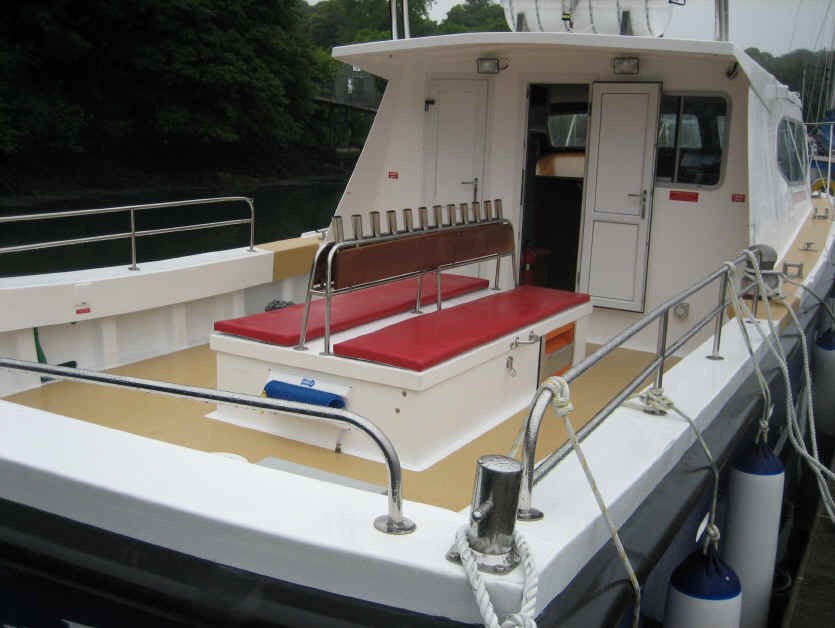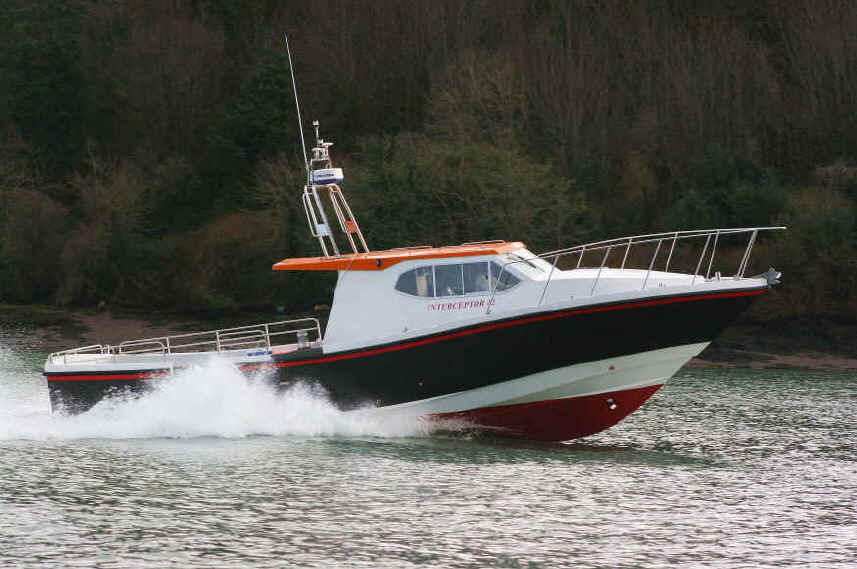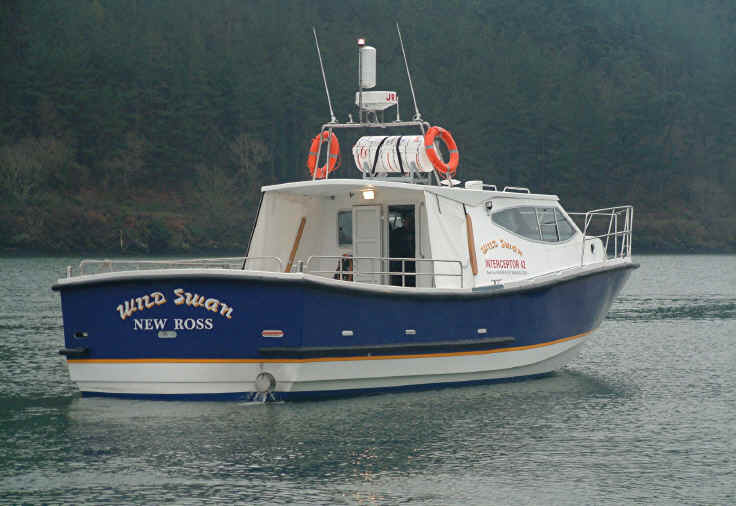 Below- The Interceptor has exceptional sea keeping abilities.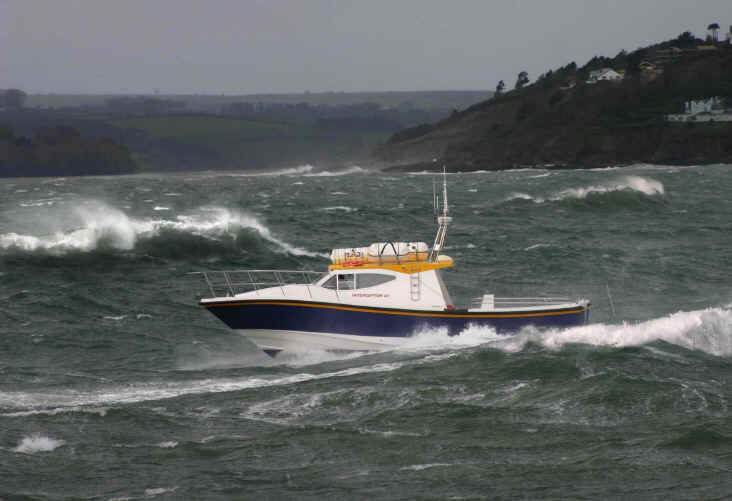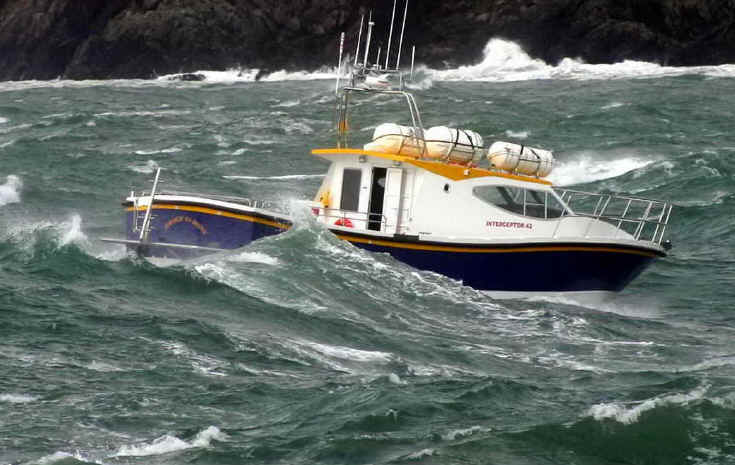 Below- the Volvo D12 650HP Engine, a very popular choice with customers.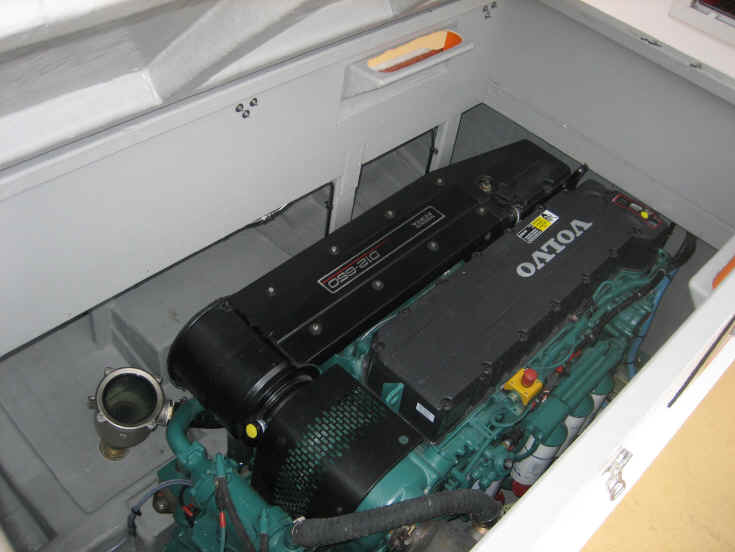 Below- Class 6 passenger vessel Toraigh na Dtonn, licenced for 40 passengers.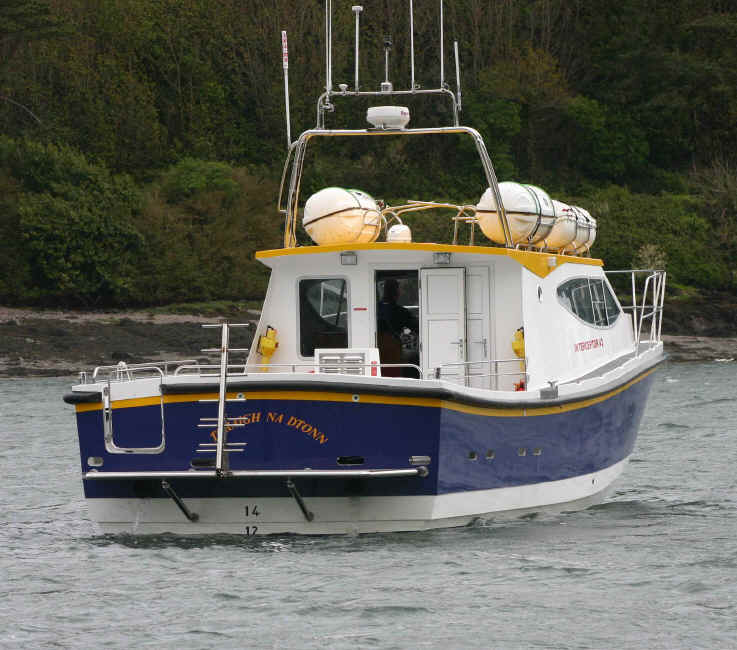 COMPLETED VESSEL SAMPLE SPECIFICATION
OVERVIEW
General Description. 3
Classification 4
Principle dimension 4
Speed 4
Hull Construction 4
Deck Construction 5
Wheelhouse & superstructure construction 5
Bulkheads 6
Trails & Delivery 6
GENERAL ARRANGMENT
Fore peak 6
Forward Accommodation 6
Engine Compartment 7
Wheelhouse 7
Aft Peak 7
MACHINERY
Main engines 8
Stern Gear 8
Exhaust system 8
Steering System 8
Engine controls and instrumentation 8
Skin fittings 9
SYSTEMS
Bilge systems 9
Fuel tanks 9
Fuel Gauges 9
Fuel system 9
Engine cooling system 10
Fire extinguishing system 10
Fire proofing / protection 10
Alarms 11
Fresh water installation 11
Heating 11
ELECTRICAL INSTALATION
Battery Installation 11
Lighting 11
Navigation and Communication equipment 12
Electrical Equipment 12
Cathodic Protection 12
FIT-OUT
Hull fendering 12
Windows, hatches and doors 13
Deck fittings 13
Mast` 13
Handrails 14
MOB Recovery system 14
Life Saving equipment 14
PAINTING
External colours 14
Internal finishes 15
Logos / Lettering 15
ADDITIONAL INVENTORY
Spares / Documentation
DRAWINGS & DETAIL SCHEMATICS
LLOYDS SPECIAL SERVICE CRAFT REPORT
1. Overview
1.1 GENERAL DESCRIPTION
Vessel Description.
The Interceptor 42 is a GRP craft utilising a double chine Deep V Hull design. The hull has a wide 13ft 6" beam providing high levels of transverse stability. The deep V hull design with 22 degrees dead rise amidships, 47 at the bow and 18 at the transom gives excellent head sea performance with minimal pounding and also provides safe and dependable down wind handling due to its cutaway fore foot, and raked stem. The vessel is also very dry due to its double chine arrangement and bow flare.
Service history.
The original craft launched in 2001 was a class 6 passenger vessel built for Martin Oliver, Galway which was granted a licence by the Dept of Marine for 40 passengers. The vessel has been in service ever since and has proved an excellent craft with her owners being very happy with her. Since then a further 18 craft have been built, the design has been very successful and is regarded as having excellent sea keeping abilities by all owners. Built as a Pilot boat, passenger vessel. Research and survey craft and commercial work boat.
1. 2 CLASIFICATION
The hull and superstructure are to be moulded in general accordance with Lloyds Register of Shipping (LRS) SSC Rules as applied to Vessels operating in area G3. The Laminate weights and scantlings were determined using Lloyds Special Service craft software, a print out is included in the appendix.
The vessel can be built to MCA Catagory 2 for 60nm ofshore and the Irish Department of Marine p5 & p6
1. 3 PRINCIBLE DIMENSIONS
Length overall 44ft / 13.47m
Length moulded 42ft 6" / 13m
Beam moulded 13ft 4" / 4m
Beam overall 14ft / 4.25m
Draught 4ft 2" / 1.28m
Displacement (approx) 11,000kg (lightship)
1. 4 SPEED The vessel shall provide for an operational speed of 25kts fully loaded. (depending on engine choice)
1.5 HULL CONSTRUCTION
Hull laminate schedule / lay up wts -
Hull bottom Isophthalic gell coat to minimum 10mm (300 & 2 x 900gm2 layers) ( white pigment used below water line to prevent osmosis )
300gm2 using isophthalic resin. Composite as follows-
900gm2 CSM. isophthalic resin
900gm2 CSM. isophthalic resin
300gm2 CSM stitched in combination too
600gm2 Woven Roving
900gm2 CSM
300gm2 CSM stitched in combination too
600gm2 Woven Roving
900gm2 CSM
300gm2 CSM stitched in combination too
600gm2 Woven Roving
Total shell laminate Bottom - 6600gm2
Hull sides
300gm2 using isophthalic resin. Composite as follows-
900gm2 CSM. isophthalic resin
900gm2 CSM. isophthalic resin
300gm2 CSM stitched in combination too
600gm2 Woven Roving
900gm2 CSM
Sides - 3900gm2
Reinforcement - Keel. Additional 2 x 900gm2 CSM layers extending min 300mm from keel across bottom. Each layer stepped back 25mm. Keel - 8400gm2
Reinforcement - Chines. Additional 2 x 900gm2 CSM layers extending min 10" up sides & across bottom. Each layer staggered min 25mm Chines - 8400gm2
No coloring agent used in lay up.
No longer than 24 hrs between layers to ensure chemical bond.
Immediately after cure of main laminate & whilst still in mould the following stiffening is bonded –
SCANTLINGS.
The vessel is TRANSVERSLY FRAMED at 500mm centres giving 400mm panel widths.
Transverse frames- 100mm x100mm @ 500mm centers. Max unsupported panel width, bottom – 450mm . side – 450mm. (measured between stiffeners)
Max span, bottom - 0.90m - 1.5m. side – 1.2m.
Lay up over frames
900gm2 CSM
900gm2 CSM
600 Unidirectional fibre on web face
Min overlap100-125mm
Longditudal Panel breakers- Foam cored 50mm deep x 100mm wide in section, lay up-
900gm2 CSM
900gm2 CSM
1800gm2 total laminate, staggered, min overlap 150mm. Max span .45m
Main Longditudals- Foam cored 200mm deep x 100mm wide in section, lay up-
900gm2 CSM
900gm2 CSM
1800gm2 total laminate, staggered, min overlap 150mm. Max span 2.5m
Engine girders - Wood cored (multiple layers plywood laminated together) 4" wide x 5-12" high.
lay up-
900gm2 CSM
900gm2 CSM
900gm2 CSM
2700gm2 total laminate, staggered, min overlap 150mm. Max span 2.5m
1.6 DECK STRUCTURE
˝" plywood, gell coated bottom, encapsulated 900gm2 top. Supported on 4"x2" longditudal deck beams @ 16"/400mm centres. Bulkheads notched to receive and bonded. Multiple vertical support beams & webs as per drawing. Deck shelf foam cored as per drawing and bonded to hull 1800 gm2. Hull to deck join - 1800 gm2, min overlap 125mm.
1.7 SUPERSTRUCTURE / WHEELHOUSE CONSTRUCTION
The superstructure consists of a GRP moulding, attached to the deck stainless bolts @ 8" centres and GRP internal angles (1800gm2 min 150mm overlap)
Laminate weights on superstructure are 2100gm2 - 3600gm2 laminate. Additional wood cored stiffening overlaid 1800gm2.
Main roof scantlings are provided by 30 x 75mm transverse frames @ 600mm centres across roof structure. All glassed into superstructure using 1800gm2 laminate with min 50-75mm angles.
Internal partition bulkheads & wood work (seating, lockers etc ) forming additional stiffening to structure which is al glassed into the side laminate.
Engine vents are inboard along the inside of the gunwale.
Non slip deck coating applied to top side walkway.
The aft cockpit gunwale is a GRP Moulding of 2100gmw through bolted to the hull sides @ 150mm centres with GRP stiffening plates additionally glassed in approx 1,2m spacings.
1.8 BULKHEADS
Five Transverse bulkheads as per drawings constructed from ˝ "/ 12mm plywood overlaid 600gm2 per side with 50 x 50mm vertical webs to provide extra stiffening. The b/heads are set on to the hull by being positioned on top of 50 x 50mm foam cored framing as per drawing to prevent formation of hard spots. And are laminated to the hull using 1800gm2 laminate with a min 6" overlap.
Additional collision b/head is fitted in the bow.
Materials -
All Lloyds approved GRP materials (resin & glass) used in the construction of hull. Details provided.
1.9 TRAILS & DELIVERY
On completion and launch builders trails are to be carried out with an engine manufactures representative aboard and the engine installation to be approved.
Customer trails: Prior to hand over a full set of trails will be completed in Cork Harbour and will include a two way run between the green and red buoys marking the channel between the Oil Refinery and East Ferry in order to verify the crafts maximum speed. Manoeuvring & handling trials
Will be completed to determine the crafts handling, and rough weather trails off Roches Point will be carried out to determine the crafts sea keeping abilities.
A full check on the operation of all the crafts systems and electronics will be carried out.
All trials to be carried out with 100% fuel, & 2 crew.
On completion and acceptance of the vessel the craft to be handed over at East Ferry Marina in Cork .
WARRANTY
Safehaven Marine shall provide a 12 mth warranty against any defective workmanship or component fitted to the craft. Equipment shall carry a 12mth warranty. The Engine shall be covered by the engine manufacturers own 12 mth, or where extended warranty.
2.1 FORE PEAK
The fore peak extends forward of the collision b/head and is a void space provided, capable of being used as a storage area. There is full access to all fittings.
2.2 FORWARD ACCOMODATION
Depending on the chosen GA arrangement, but in general comprises a V Berth with 2" cushions, The heads compartment positioned under the helm, there is a removable hatch allowing access to all electrical components and fuses. The area is flow coated white. A manual sea toilet is fitter with sea cocks exiting in the compartment aft and being capable of easily reached for shut off.
The galley can be positioned in this compartment, comprising 2 slide out teak lockers, a 2 burner gas hob.
GAS INSTALATION
This cooker is served from a dedicated gas supply with the gas bottle stored in the aft cockpit in its own dedicated locker which is vented overboard. The Gas run is in 10mm copper and uses correct compression fittings throughout the installation.
Where required a gas alarm is fitted with the sensor mounted low down in the bilge.
2.3 ENGINE COMPARTMENT
The engine compartment is accessed from the aft cockpit by either a W/Tight large GRP engine hatch that is flush to the deck, or by an engine box with a raised side coaming 320mm above the deck level, Hatches are securely closed when at sea by an appropriate amount of locking mechanisms.
The engine compartment is flow coated grey providing a smooth surface.
2.4 WHEELHOUSE
The Wheelhouse has The helm position to port or st/bd, is fitted with a CAB 300 Series hydraulic damped and sprung helm set on a pedestal. Adjustable for height and fore and aft adjustment.
The cabin is fitted a 4 person dinette with table between. A L shaped bench seat is opposite ists size being dependent on whether the heads is in the fore cabin or the main cabin accessed from the aft cockpit. The layour will depend on the chosen GA but will be similar to the above description.
The floor surface is lined with studded rubber. An access hatch frovides acces to the void space below.
2.5 AFT COMPARTMENT
Access to this area is from a GRP hatch situated deck aft of the cabin entrance.. This area contains the fuel tanks. Rudder and steering gear and exhaust outlets.
MACHINERY
3.1 MAIN ENGINES
The vessel is fitted with a single Caterpillar 420hp engine and TWIN DISC MG5065A gear box 2:1 ratio. Each engine is fitted with adjustable flexible mountings. The engines are mounted on 125 mm thick wood cored engine beds bolted through taped glassed in 12mm steel with 14mm bolts.
The machinery is installed in accordance with the manufacturers recommendations and installation instructions and commissioned by the appointed agent / engineer and tested to provide conformity with the manufacturers recommendations.
Care and attention is paid to providing durable machinery installation with adequate support and neatness on all piping and cable runs. Special attention is paid to provide ease of ongoing maintenance and ensuring all service items are readily accessible. All piping and connections to the engine and throughout the overall installation are to be of an approved type.
3.2 STERN GEAR
Stern gear is provided by Clements engineering in the UK, consisting of:
45mm" stainless steel Aqualloy 30 or equivalent.
Glass in P bracket with cutlass bearing
GRP Glass in type stern tube assemblies with cutlass bearing
Drip free PPS or equivalent water lubricated stern tube seal
Rudder assemblies fitted with bronze blades, steering quadrants, O ring seals and PTFE type bearing also packed with grease through nipple. GRP rudder tubes, glassed in to hull bottom and reinforced as appropriate. 38mm solid steel tie bar, 20mm ball joints with 20mm bolts through tiller arm.
Square rudder stock allows fitting of an emergency tiller arm through a deck opening.
R&D coupling between the shaft half coupling and gearbox flange.
4 Blade 25" propeller.
3.3 EXHAUST SYSTEM
The exhaust system is a wet type run from each engines exhaust and exciting the transom via a Vetus exhaust outlet fitted with a non return flap. Vetus 6" exhaust hosing with double stainless claps on each connection. The exhaust system is designed to prevent back flooding of water to the engines and shall meet all engine manufacturers requirements regarding fall and back pressure. 6
3.4 STEERING SYSTEM
The vessel is fitted with a hydraulic steering system consisting of a Vetus MTP53R Hydraulic steering helm pump. MTP 175 steering ram providing the craft with a hard over to hard over of 6 wheel turns without being overly heavy in steering effort. Fitted with a bypass valve to allow peration via the emergency steering tiller arm. The system uses 10mm copper piping and compression fittings throughout, with a section of flexible hose at the steering ram to absorb steering ram movment.
An emergency steering tiller can be supplied and stowed in the aft compartment.
3.5 ENGINE CONTROLS & INSTRUMENTATON
Single lever Morse controls with cables fitted at the main helm positioned, ergonomically positioned for ease of operation.
The engine panel is fitted with the standard manufactures instrumentation comprising-
Tachometer
Oil Pressure gauge
Water temperature gauge
Battery voltmeter
(may differ according to manufacturers spec)
3.6 SKIN FITTINGS
All skin fittings used throughout the vessel are of a suitable marine grade material and are fitted with ball type, lever operated shut off valve in the engine compartment. All underwater valves are fitted with twin stainless steel jubilee clips.
4.1 BILGE PUMPING SYSTEMS
The craft is sub divided into four compartments..
Each water tight compartment is fitted with one diapram type pump of 90 ltre p/m capacity of 1 ˝" dia piping.. Where a bilge run passes through a b/head it does so through a s/steel b/head fitting as high as practicable in the b/head. The bilge system exits the hull above the W/L via a shut off valve. Each pump is clearly labelled for its operation.
4.1 FUEL TANK
Fuel tank position is in the aft compartment outside the engine compartment. The craft is fitted a Plastic fuel tank of approx 200 gallons capacity, to be constructed from 12mm plastic welded, (or where required by rules as an option of 2.5mm 304 grade stainless steel.) It is fitted on prepared beds in the aft compartment and bolted to the aft engine room b/head and bonded attachment lugs to the support beds (aft section of engine bearers, level and continued aft to transom)
The tanks are fitted with a suitable no of baffles, in general giving a maximum unbaffled volume of 25 gallons
Each tank is fitted with fuel take off and returns as well as venting. The fuel runs use hydraulic hose from the tank to a through b/head hose fitting in the aft engine room b/head, and from the other side to the fuel filters and on to the engine with chrome plated copper piping. A short section of hydraulic hose runs from the end of the steel pipe via a suitable fitting to the engine.
Fuel fillers are positioned on top of the tanks and accessed via round inspection hatches (150mm dia) on the aft deck. Fuel shut of valves are fitted here (outside the engine compartment)
4.2 FUEL GAUGES
As an optional extra each tank can be fitted with a sender unit and a fuel level gauge at the helm console.
4.3 FUEL SUPPLY SYSTEM
Fuel piping is of 15mm chrome plated copper or 20mm galvanised steel depending on regulations applicable. Each tank is fitted with a VETUS WS720 series fuel filter with a flow rate of greater than 180lt/hr and fitted with a glass bowl. The system is arranged so that each engine feeds from and returns to its own dedicated tank. A shut of valve is fitted in the aft compartment at the tanks.
4.4 ENGINE COOLING SYSTEM
Each engine is cooled by a heat exchanger. The raw water is fed to each engine from its own 2 ˝" dia sea cock, fitted with an external grill and filtered by a H/D Aquafax type (clear glass top) water strainer. The position of the raw water intakes is carefully considered to provide a continuous supply of water to the engines in rough conditions. Hose connections to the engine are double clipped and the hose is of an approved fire proof type.
The waste water from the engine is piped to the exhaust outlet elbow. A feed of waste raw water is taken to the water lubricated stern glands. The feed from the gland is in copper pipe and extends 400mm above the w/l, from which point it is in suitable flexible hose to the engine.
4.5 ENGINE ROOM VENTILATION
Intake air is supplied through a ventilation stack on the inside of the gunwale where there is least spray. The vents are inboard facing, a dorade system is built into the stack to prevent any water from entering the engine compartment. Air is bought to the engine room down through a deck opening. A manually operated fire flap is fitted allowing the engine room to be isolated in the event of fire. The size of the ventilation is commensurate with the engine manufacturers recommendations.
4.6 FIRE EXTINGUSHING SYSTEM
Fire-fighting equipment.
Optional extra, fitment at owners request.
· A Co2gas flooding system is used to extinguish fire in the engine compartment. Two 5 kg extinguishers (calculated by the recommended formula to be suitable for the volume of the compartment) is situated outside the engine compartment and are manually operated from the main cabin, outside the engine compartment by means of a cable. The co2 gas is piped to the engine compartment using 10mm copper pipe and compression fittings.
The quantity of Co2 provided has been calculated to be sufficient to occupy at least 60% of the volume of the engine room compartment based on 0.56 cubic meters per kg of liquid.
The main engine room ventilation is positioned as per drawing. Of a size specified by engine manufacturer. Situated on or about the vessels centre line with its opening positioned .6m above deck level. Fitted with a closable flap manually operated from the front of the ventilation box whereby the flap will close off the engine room and allow the injected gas to extinguish the fire.
The main raw water intake in the engine compartment uses fire proof exhaust hose to connect the engine to the sea cock via the strainer.
All outlets in the engine compartment use lever type shut off valves.
4.8 ALARM SYSTEMS
A high level bilge alarm is fitted inside the engine compartment. An audible alarm id fitted at the helm station. Automatic float level switches automatically operate the bilge pumps in the event of flooding.
A GAS ALARM is fitted where required by regulations. (optional extra)
4.9 FRESH WATER SYSTEM
The craft is fitted with a 170 litre plastic fresh water tank. The system is pressurised and distribution is by whale O'Ring type fittings and plastic pipe. The tank is filled from a deck filler. The water tank also feeds a windscreen washer system. (optional)
4.10 HEATING SYSTEM
A hot air heating system is optionally fitted, a type whereby hot water from the engine is used to heat a radiator and provide hot air trucked to the helm station from where three adjustable outlets provide hot air to demist the screens. A fourth outlet can be provided to the forward accommodation area.
ELECTRICAL INSTALATION
5.1 BATTERY INSTALATION
The electrical system is 12V. (24v optional) Two h/d batteries per engine fitted in dedicated vented boxes inside the engine compartment, each fitted with a remote operated solenoid isolator switch (operated from the helm) A parallel circuit & isolator S/W fitted in the engine comp allows switching between battery banks in an emergency should one bank fail.
A second bank of two batteries fitted in a dedicated vented box under the f/wd accommodation sole and is dedicated to service & equipment supply.
A DC distribution board fitted with 16 circuit breakers / switches, one for each of the main circuits.
All cables are conduit run as required and all cables are securely clipped supported and protected for operation in rough weather. All connections and junction boxes mounted as high in the vessel as practicable and are of an approved marine quality.
5.2 LIGHTING.
One light in the forward accommodation area.
Toilet light
Two overhead quartz halogen lights in the main cabin
Single Vetus round in the main cabin by door
Navigation lights
Anchor light
5.3 NAVIGATION & COMUNICATION EQUIPMENT
The vessel can be fitted with an electronics package of the owners specification and supply.
The Radio equipment fitted will be to the licensing authority's requirements, an example is shown for approval purposes only
Raymarine C120 plotter / 24N/M Radar combined
Simrad DSSC VHF Radio
Hand held radio
Depth sounder / fishfinder
ERIPB
5.4 ELECTRICAL EQUIPMENT
One pantograph windscreen wiper.
Vetus water system pump
Bilge alarm panel
5.5 CATHODIC PROTECTION
Anodes of a suitable size are to be fitted, one per engine to provide a one year service life. All sterngear is wired to the system and tested for effectiveness.
FIT OUT
6.3 HULL FENDERING
As standard 75x75mm H/D rubber fendering is fitted around the gunwale top. Bolted with 6mm s/s bolts @ 150mm centres with a 5x50mm aluminium insert. Silkaflex bonding adhesive is used in fitting the rubber to the hull. Optional heavier fendering is available.
6.4 WINDOWS & HATCHES.
The windows used throughout the craft are supplied by M.W.F. are of high quality clamp in type utilising 6mm toughened glass and secured in place with silkaflex and are fitted as shown on the GA drawings. Comprising:
3 front
2 side opening
2 aft cabin b/head
Single escape hatch, Vetus type fitted overhead in the forward accommodation area.
The main wheelhouse external door is of a H/D plastic design with corrosion proof fittings.
6.5 DECK FITTINGS
All deck fittings are fitted with backing plates. The following mooring arrangements are provided.
One large mooring bolard f/wd at the bow.
Two large mooring bolards at the transom quarters.
Two large midship spring cleats
A bow roller is fitted at the bow
6.6 MAST
A Stainless steel A frame type mast is constructed from 50mm s/s mirror polished as per the GA drawing with mounting point for a GPS, Ariel and Radar.
6.7 HANDRAILS
All external handrails are fabricated from 25mm dia 316 polished stainless steel pipe and bolted to the superstructure with round backing plates with internal concealed fixing (12mm bolts)
A bow railing extended back as far as the end of the fore cabin. A single horizontal rail is used.
A railing extends around the aft cockpit to a minimum height of 1m above the deck. A second horizontal rail closes the gap to a minimum width of 9"
Chain closures are used by way of access breaks in the railings.
In addition throughout the craft where necessary there are fitted a number of vertical 25mm grab rails where necessary to allow for safe thoroughfare.
6.8 SCUPPERS / COAMINGS
The aft cockpit contains a number of large scupper to clear any water on the aft deck. A minimum of two 250cm2 scuppers are fitted in the transom four additional scuppers are positioned evenly along the vessels side. Where fitted the vessels engine boxes coaming is 320mm above the deck.
6.9 MOB RECOVERY
A ladder can be fitted at the transom to allow access to the waterline.
6.10 SAFETY EQUIPMENT
Owner supplied
Liferaft of a type approved by the Licensing authority, capable of containing all crew members fitted to superstructure roof and fitted with a hydrostatic release system.
Owner supplied
2 30" dia orange life buoys fitted with lights and one fitted with 100m line.
6 no Self inflating Dept of Marine approved life jackets
2 no Safety Harnesses
Boat hook man overboard recovery pole
1 no Category C first aid kit
Offshore flares in poly bottle.
PAINT & FINISHES
7.1 EXTERNAL FINISHES
Hull above the WL White gel coat forming a boot line extending approx 100-200mm above the WL. coloured gel coat extending to below the fendering. Hull below the WL. White gel coat for osmosis protection.
Antifouling
Deck Owners choice of non slip colour
Superstructure
Wood 2 coats mat varnish on woodwork
7.2 NAME & LOGO
Owner supplied
7.3 INTERNAL FINISHES
In general all surfaces in the main cabin are carpeted where practical in blue or beige carpet.
Otherwise surfaces are painted in grey flow coat.
Headlining is White foam backed vinyl on removable 4mm plywood panels.
The forward accommodation is where practical carpeted otherwise surfaces are flow coated grey.
The for peak is flow coated Grey
The heads compartment is flow coated white.
Woodwork in general uses teak faced plywood with teak trimming throughout