HOME MODEL RANGE CONTACT US GALLERY VIDEO DOWNLOAD PRICE LIST
SAFEHAVEN MARINE. Builders of the Interceptor & Wildcat range of offshore craft
TRITON EXPLORER
Jason Parkers new vessel 'TRITON EXPLORER' an Interceptor 42 charter angling / dive vessel built by Safehaven Marine, Cork , Ireland has recently being launched.
Jason has been a commercial fisherman for the past 12 years fishing for prawns from Ardglass in Co. Down Northern Ireland. Having owned and skippered several trawlers, the last of which, Southern Sun V, was sold in May 05 to help fund Jasons new charter angling boat 'Triton Explorer'
Working from both Ardglass and Bangor on the Co. Down coast Jason intends to run many types of leisure and commercial charters which will include Angling, Diving, Bird watching and eco-tours. The vessel has being specifically designed to suit this multi-purpose role. Her cabin has sufficient space to allow passengers to be seated comfortably and sheltered from the weather in poor conditions, and still retain ample aft cockpit area for angling diving, when a large clear aft cockpit is essential. For diving she is equipped with a stainless steel dive platform and divers ladder, accessed from a large transom gate. Comfort is provided by a stainless seating module fitted on the engine box, providing comfortable seating and incorporating rod holders, useful during transit to offshore wrecks. A heads compartment is easily accessed from the aft cockpit and provides additional storage. She is very luxuriously equipped and features a large Plasma screen fitted inside the cabin to provide entertainment during long transit times to far off deepwater wrecks. Fitted with Raymarines new C120 Radar, sounder and chart plotter, together with Raymarines autopilot and steering jog. This provides a very comprehensive electronics package.
'TRITON EXPLORER' is fitted with a VOLVO D12 650hp engine, giving a maximum speed of 27kts and a very economical and unstressed cruise of 18-20kts. The Volvo was chosen for its durability, power to weight ratio and competitive price. The engine comes as standard with electronic engine controls giving very precise control, and performs perfectly in the Interceptors Deep V Hull design. The large engine positioned deep in her hull gives her a very low centre of gravity, making her exceptionally stable and almost unstoppable in rough conditions. Seen in the accompanying pictures running alongside Cork Harbours new Pilot Boat, the 'Glean Mor', itself using an Interceptor 42 hull, proving about the best recommendation that can be given for any hull design, as a pilot boat has to operate safely in all weather conditions.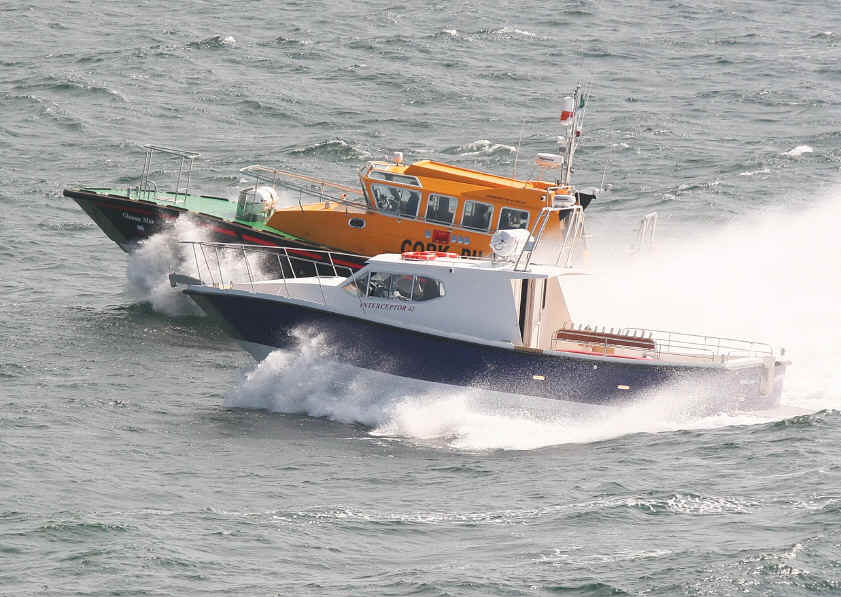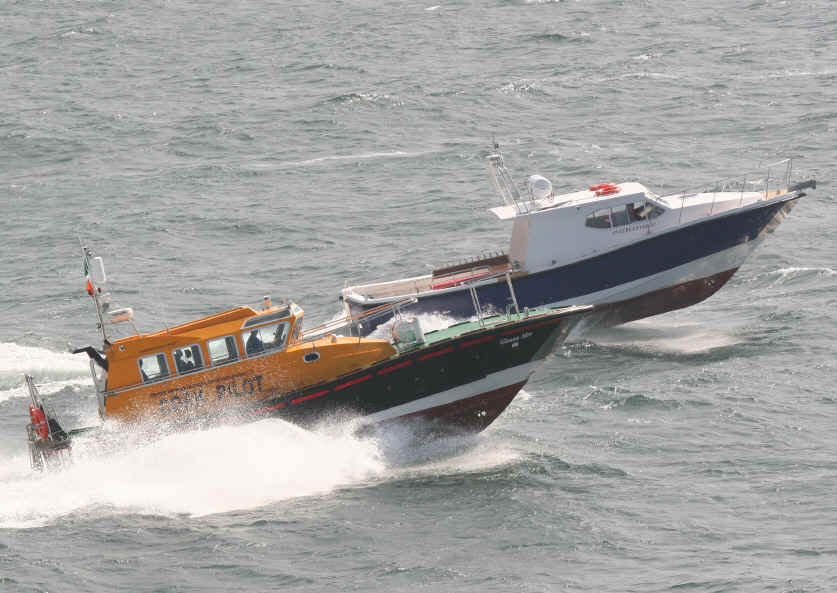 SEE A DEMONSTRATION VIDEO OF HERE- click here