HISTORY OF SAFEHAVEN MARINE PILOT BOATS
NEW VESSELS & PILOT BOATS UNDER CONSTRUCTION
TESTIMONIALS & REFERENCES FORM PAST CLIENTS
See all our previous professional PILOT vessels
See our spectacular rough weather video's
See our recent newsletter
MAGAZINE ARTICLES
INDEPENDENT BOAT TEST ON THE INTERCEPTOR 55 BY DAG PIKE
MOTOR BOAT AND YACHTING ARTICLE - STORM FORCE 11
Safehaven Marine build several different versions and sizes of WINDFARM SUPPORT VESSEL with several vessels operating in the UK. All our Wildcat Catamaran range is available with Water jet propulsion or conventional stern gear, in which case the propellers are protected by full length keel allowing beaching.
The larger versions (16 & 18m) are available with two different superstructure designs, single level or Raised bridge deck versions, which has a raised helm position.
All versions have excellent seakeeping, stability and performance, high specification and high quality fit out. Low maintenance GRP hulls of high strength and durability incorporating a proven bow boarding fender design that combines protection to the hull, good grip and fast replacement time.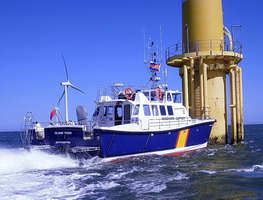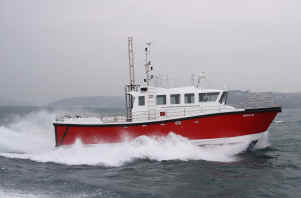 WILDCAT 53 / 16m TWIN DECK WILDCAT 53 / 16m SINGLE LEVEL WHEELHOUSE
Superiority of GRP over Aluminum
Below, Safehaven Marine have many years experience building GRP Pilot vessels, which have to endure one of the toughest operational roles, to come alongside a ship in heavy weather the hull must be very strong to withstand the impact and our Windfarm cats are built to the same high strength as our pilot vessels, typical cut outs showing how thick and correspondingly strong the GRP shell laminate is in places. 90% of the UK's pilot boat fleets is GRP, this would not be the case of GRP as a material was not capable of withstanding the tough work a pilot vessel must endure.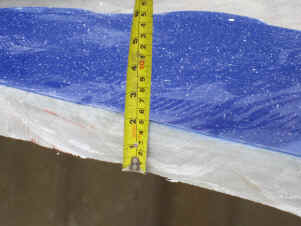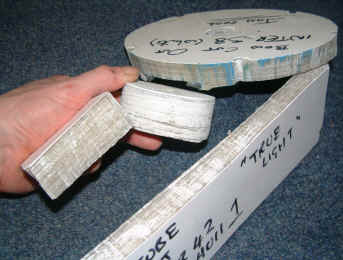 We believe, GRP being a homogeneous structure, without welds and sheet panel joins that can introducing stress areas, and without any concerns over electrolysis and dissimilar metal corrosion that it is superior to aluminium. Furthermore, maintenance and repair does not require specialized skilled personnel as is needed with aluminium (skilled aluminium welders). Good GRP repair and maintenance work can be easily affected. Furthermore GRP produces a vessel of superior acetic finish, its surface gell coat is of high gloss, and there is no 'starved dog' appearance as occurs when welded frames in time show through on an aluminium hulls construction. In addition maintenance costs are greatly reduced as there is not re-painting required over the vessels life, as is the case with painted aluminium vessels.
Other Considerations for GRP Hulls
The life of the vessels GRP structure should easily reach 15-20 years. One important consideration in GRP boat production is the tooling costs to design and manufacture the necessary moulds to build a GRP vessel. Many companies cannot afford this investment or are not prepared to invest in the appropriate tooling etc. SHM however has demonstrated that we are prepared to invest in tooling to build superior GRP vessels.
ISLAND SHIPPING who operate two of our vessels have been very happy with the vessels, see their letter below.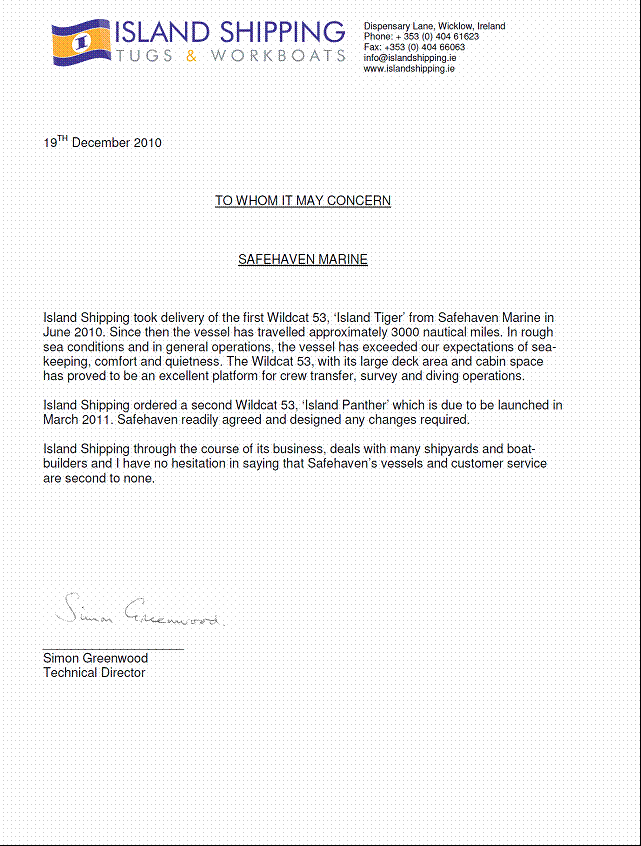 Safehaven Marine, Ashgrove, Cobh, Co Cork, Ireland
Phone 00353 86 8054582
Email- info@safehavenmarine.com safehavenmarine@eircom.net

WHEN YOU DEMAND STRENGTH & SEA KEEPING

All our vessels are build to the highest standards of strength & engineering and are renowned world wide for their exceptional sea keeping abilities.

For the best, most extreme, rough weather demonstration videos of our boats, see our amazing selection on you tube.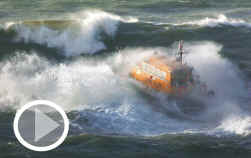 BEST ROUGH WEATHER ACTION PHOTOS
We don't just claim our boats have the best sea keeping abilities, here's the proof