HISTORY OF SAFEHAVEN MARINE PILOT BOATS
NEW VESSELS & PILOT BOATS UNDER CONSTRUCTION
TESTIMONIALS & REFERENCES FORM PAST CLIENTS
See all our previous professional PILOT vessels
See our spectacular rough weather video's
See our recent newsletter
MAGAZINE ARTICLES
INDEPENDENT BOAT TEST ON THE INTERCEPTOR 55 BY DAG PIKE
MOTOR BOAT AND YACHTING ARTICLE - STORM FORCE 11
HISTORY OF SAFEHAVEN MARINE'S PILOT BOATS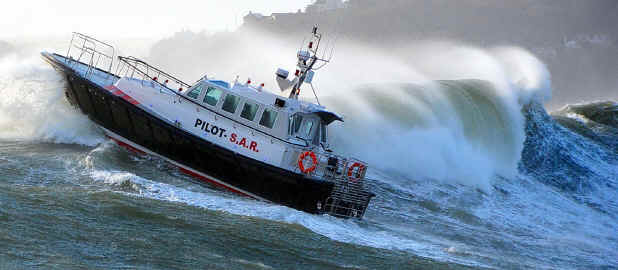 Safehaven Marine was established in 1998 by its Managing Director Frank Kowalski, who had been involved in several different aspects of the marine industry for many years previously, formally being a commercial skipper operating out of his home port of Cork harbour, Ireland . He is responsible for the design and naval architecture of all his companies vessels over the past 14 years, which include the now renowned Interceptor design of monohulls, which are produced in a range of 6 different sizes from 11m up to 18m, as well as the Wildcat Catamaran range of offshore windfarm support vessels and hydrographic survey vessels. In the years from 1997 to 2005 his company grew and expanded at a steady rate and had by 2006 build over 60 vessels, mainly in the commercial work boat and passenger vessel market, as well as a percentage of high end recreational versions of his designs. His vessels had at this stage gained a fine reputation for possessing excellent seakeeping abilities combined with a sleek and graceful design flair.
This leads us to the pertinent stage of Safehaven Marines history in respect of this article, that being its involvement in the specialized pilot boat market.
In 2004 the Port of Cork, Safehaven's local commercial harbour put out an international tender for their new pilot boat, the Ports then Harbour Master, knowing Safehaven Marine and being familiar with their design of vessels, especially their Interceptor 42, 13m mono hull design, suggested that they design a pilot boat based on this proven hull and enter the tender. Safehaven rose to the challenge and designed what has now, 7 years later become regarded as one of the most successful pilot boats available. Franks experience in operating commercial vessels offshore in heavy seas had led him to design a medium to deep 'V' semi displacement, twin chine hull that combined good head sea abilities, but also confidence inspiring safety and stability when running down wind in big waves, and especially in its abilities to take a sea on the transom quarter, often the hardest course to run in heavy weather, a course that he felt was the Achilles heel of many of the older, traditional round bilge hull designs that older pilot boats were based on. Interestingly it is at the entrance to Cork harbour where his hull designs were refined and their sea keeping abilities tested, as being exposed to the Atlantic, and having a strong tidal race at its entrance, Cork Harbour has a reputation for producing an evil sea at its entrance during storms in the winter months. Anyone who is familiar with the company and its excellent web site will be aware of the pictures and videos that Safehaven have taken over the years during the course of testing their designs, and there is some truly amazing footage of their pilot boats being tested in up to storm force 11 with 86kts of wind, and 8m breaking seas, it makes for some spectacular viewing. Safehaven's managing director and designer, and the person actually at the helm during these sea trials commented 'If your selling your vessel as capable of working in all weathers, then you should be prepared to back up your claims by actually testing the vessel in the worst conditions the vessel is likely to experience, take her out in a gale, run her down wind in 4m breaking seas on the transom quarter, put the hammer down, take your hands off the wheel and see what happens, if she can deal with that, she's a safe boat. Only by testing a boat like this can you be 100% sure she will behave as designed, provide a safe and secure platform that crew and pilots can depend on in rough seas, and inspire complete confidence in the vessels abilities to do the job, and bring them home safely'
In 2005 the Cork pilot vessel was delivered and proved to be a fine pilot boat. The success of this vessel led to Safehaven securing orders for two pilot vessels for Dublin, two for Portland, for St Malo, Malta, Figueria, Averio and Bayonne, Cheif pilot Bertand Moutard writing to Safehaven "Now after 12mths in operation the Interceptor 42 has proved be a very reliable, comfortable pilot boat with a level of sea keeping that is excellent, and especially important in the big seas and rough weather we must work in at Bayonne, being exposed to the Bay of Biscay" The most recent 42 pilot was delivered to Roenne in Denmark, Hans Kummner the Harbour master from Roenne Port commenting "Ursula, our Interceptor 42 pilot was chosen because of its strength and sea keeping abilities, she was build on time and to our complete satisfaction, and we have been extremely pleased with the vessels outstanding performance. We wish to add that that it was a pleasure to work with Frank and his staff, and were most impressed by their professionalism and hospitality".
In 2007 Safehaven expanded their range with a new 16.5m version of their Interceptor pilot boat hull, necessitating further expansion with a new state of the art factory being built. In 2008 the Port of Sines , Portugal took delivery of the first 16.5m pilot vessel, and have been delighted with the vessel commenting "Our crew have been able to operate and undertake boarding in very rough conditions and they have been surprised by speed and excellent seakeeping. Now after two years and 3000 hours of operation without major problems Atalantida Azul has proved to be a very reliable, safe and comfortable pilot boat in rough weather"
This vessel was soon followed by an order for two Interceptor 55 pilot / patrol boats for the Port of Southampton in the UK . The vessels 'Spitfire & 'Pathfinder' have proved very successful in operating in the Solent , one of the UK 's most busy waterways.
In 2009 their range was further expended with a new 14.5m design to bridge the gap between their 13 and 16m designs. This has proved to be another very successful design with the first vessel being delivered in 2010 to the Port of Bordeaux . Here its abilities were truly tested as being exposed to large swells from the Biscay, the pilots in Bordeaux have to navigate a bar during their 20nm transit which results in them having to negotiate up to 6m breaking surf over the bar, a real test for any design. Olivier Barru, the Bordeaux pilot who was involved in her commissioning in a letter to Safehaven after taking delivery commented "Quinoa was completed to our compete satisfaction. Since taking delivery she has lived up to expectations and we would recommend Safehaven Marine, Frank and his team to all professionals seeking a strong, seaworthy and reliable boat as in the Interceptor 48 pilot" A further vessel 'Skua' was delivered to the Port of Liverpool in 2011 and another to Malta, this being a fine testimony as to the intimate and friendly relationship Safehaven establish with their customers, as three years after the Malta pilots took delivery of their first Safehaven Pilot boat, they chose Safehaven Marine again to build their latest vessel, and in January of this year, the Port of Liverpool awarded Safehaven Marine a repeat contract to replace their fleet of pilot boats, ordering further Interceptor 48 pilots for delivery in 2012, 2014 & 2015. Having had 'Skua' in successful operational evaluation over the past year, the Ports pilots praised their new Interceptor for its abilities to increase the Ports operational envelope, previously when conditions over the 'bar' reached 2m+ they were forced to close the port to shipping as it was not safe to transit pilots, however since operating 'Skua' they have been able to operate pilotage even when seas exceeded 3m+ and winds of 38kts yet another example of repeat business derived from a happy customer.
Most recently in 2011 a smaller 11.5m pilot boat design was added to Safehaven's extensive portfolio, this has again proved very successful with an order for four being secured from the Islands of the Azores, the first two of which have been delivered and are operating successfully there.
Currently 50% of Safehaven's production is for pilot boats, and it is this specialization that has allowed them to become highly experienced in producing the strongest of vessels in what is one of the most demanding, and often dangerous operational duties that a commercial vessels undertake. Over the years they have been able, through experience, to engineer and equip their vessels so that down time through service or equipment failure is reduced to the minimum, with Frank commenting on this "Pilot vessels in particular have to be very well engineered, you always have to think to yourself, how will that component survive when punching through waves or impacting on a ships side, day in, day out for years, with often the minimum of preventative maintenance".
Safehaven have a comparatively small (by ship yard standards) workforce but comprising very skilled, experienced craftsmen who encompass the full spectrum of boatbuilding skills. Safehaven undertake all work in house and stay at the forefront of new technology developments, and continuously refine and develop their pilot vessels to maintain their position as leaders in this field.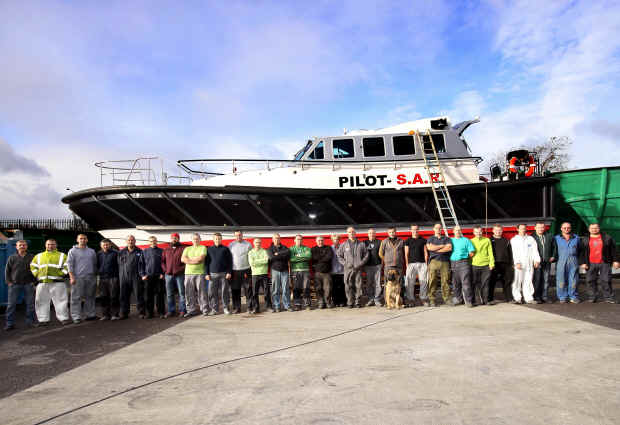 The company regularly exhibits their vessels at the Seawork commercial work boat show in Southampton in the UK , but are international in their geographical portfolio of vessels, supplying craft as far away as La Reunion, in the Indian Ocean and to the Middle East . They have dealers in the Algerian Peninsula and also most recently in Brazil . In Ireland their home country they have understandably have a 100% market share in new pilot boats ordered, but have also a very strong presence in the UK having secured a 30% market share in new pilot vessels ordered over the last 4 years. In Portugal they have had tremendous success having supplied over 50% of new pilot vessels to the country since 2007.

Currently Safehaven have pilot boats for the Port of Aden, Yemen and Algecerias , Spain in build, as well as a lifeboat for the Faroe Islands rescue service based on their Interceptor 48 pilot, and this year will see their 100th vessel being launched.

However a fitting and poignant conclusion to this article is that Safehaven's delivered in 2012 a new pilot boat for their local harbour, the Port of Cork, 6 years after taking delivery of Safehaven's first pilot boat, they took delivery of Safehaven's 24th pilot boat from their local company that are now considered world leaders in pilot boat design and production. What better testimony as to the success of Safehaven Marines pilot boats.

To date Safehaven Marine have delivered 27 pilot vessels to Ports Worldwide.

END
Safehaven Marine, Ashgrove, Cobh, Co Cork, Ireland
Phone 00353 86 8054582
Email- info@safehavenmarine.com safehavenmarine@eircom.net

WHEN YOU DEMAND STRENGTH & SEA KEEPING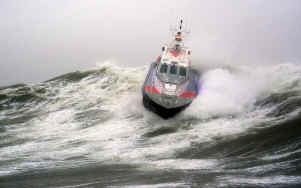 All our vessels are build to the highest standards of strength & engineering and are renowned world wide for their exceptional sea keeping abilities.

For the best, most extreme, rough weather demonstration videos of our boats, see our amazing selection on you tube.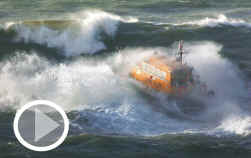 BEST ROUGH WEATHER ACTION PHOTOS
We don't just claim our boats have the best sea keeping abilities, here's the proof