SPECIFICATION
L.O.A.
Length Moulded
BEAM
Beam moulded
Draft
Displacment
Lightship
Seating capacity
Fuel capacity
Engines
Power output
Gearboxes
Waterjets
Generator
Speed
Operational
Maximum
Certification
WLDCAT 40, Ocean Ranger in force 8 and breaking seas
Rough weather video of La Reunion Wildcat in big waves
WLDCAT 40, Seaflower Rough weather trials, force 7-8 off Cork, Ireland
WLDCAT 40, MISBEHAVIN. Rough weather video, twin boat, force 7-8
WLDCAT 40, BLACK cat. Rough weather trials, force 7-8 off Cork, Ireland
40ft / 12m
11.8m
4.9m
4.8m
1.3m
12,000-14,000kg
12 pass / 3 crew
1000 litres
Volvo /Cat/Yanmar
250 - 500hp
Twin Disc 5126
Ulta Dynamics
9kw
16-25kts
30kts+
MCA Bureau Veritas
WILDCAT 40 'WIND FARM / CREW TRANSFER' VERSION
The Wildcat 40 Wind Farm version is an adaptation based on our proven and respected Wildcat 40 Cameraman hull. The bow of the vessel is modified dispensing with the cosmetically pleasing 'pickle fork' bow for a more practical square bow. This allows for the incorporation of the essential bow boarding area with an especially strengthened and fendered bow. The overall design is for a 10-12 passenger crew transfer design, featuring an island wheelhouse allowing crew to walk safely around the vessel and up to the bow behind secure bulkheads. An alternative configuration features a fixed main cabin with a removable aft passenger seating module. This allows the vessel to configured for a multitude of roles from Cargo carrying to passenger transfer. The aft passenger module can be quickly removed with a mobile crane and taken into storage on a flat bed trailer.
On the standard fixed cabin version the vessel has a large, clear aft deck area for carrying light cargo, which can be loaded via a 2 ton HIAB crane. The vessel can be fitted with water jets for speeds of 30kts+ or conventional stern gear for a 25kts operational speed.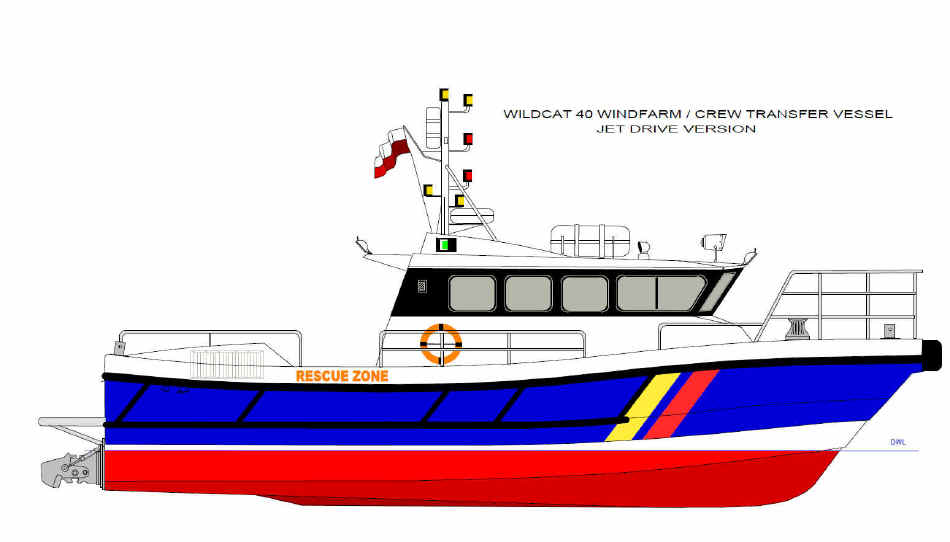 Standard fixed cabin version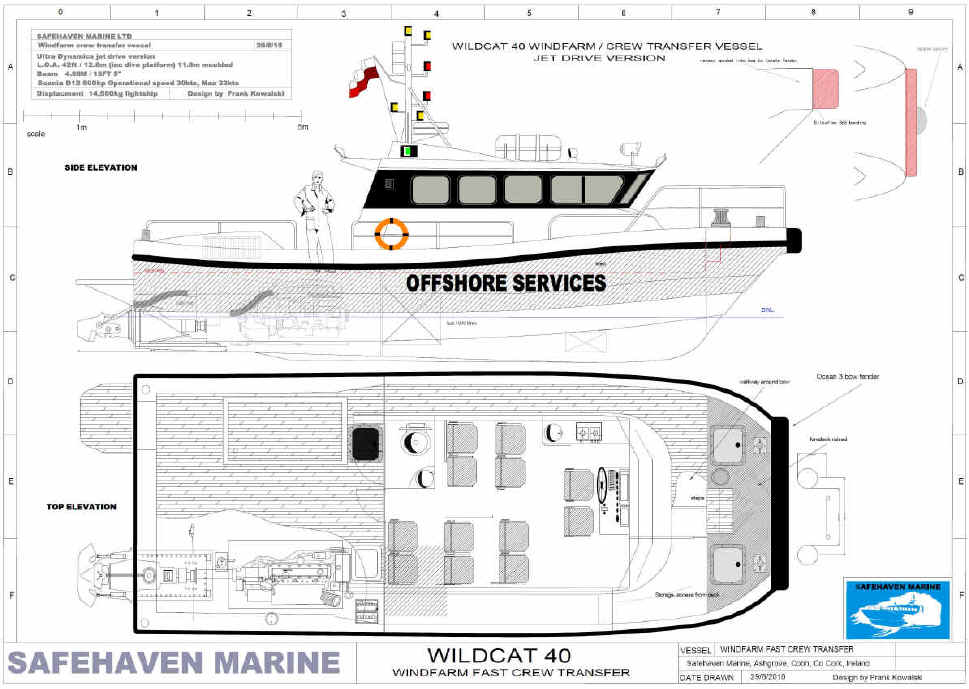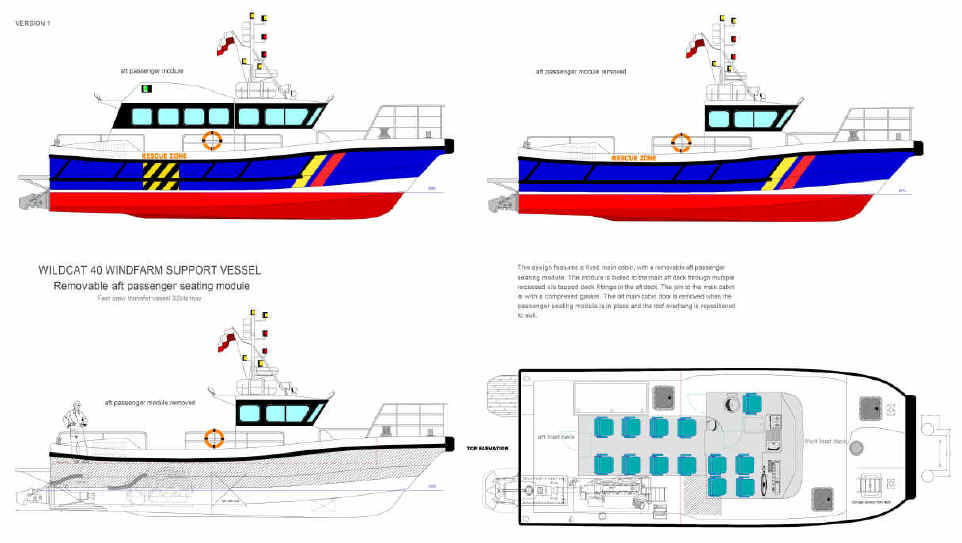 Design features.
The benefits of the catamaran hull form are:
Transverse static stability, less rolling and motion
Directional stability in following sea conditions
Lower vertical accelerations smother motion in choppy head seas
Lower power requirements
Greater economical operational range
Deck area
Cabin space
Head sea abilities
Due to the slender nature of the hulls, in choppy conditions vertical accelerations are much reduced in comparison with mono hulls giving a gentle ride and motion. However previously the biggest disadvantage of the older type of catamaran hull which featured very fine sections fwd with little reserve buoyancy, giving a very smooth ride in short sea states but suffering badly in ocean swell conditions due to slamming on the bridge deck. This shortcoming has been solved with much fuller fwd sections and much greater buoyancy, giving the hull the necessary lift to prevent slamming on the bridge deck, allowing higher speeds to be maintained into larger ocean swells.
Performance
Due to the low resistance of the slender catamaran hulls, performance is excellent, especially at moderate speeds up to 20kts. Typically, horse power requirements are lower than in a similar sized mono hull. Furthermore the flat running angles of the catamaran hulls, with no hump to overcome means that there is a wide range of economical speeds, incurring no penalty in fuel consumption at transition speeds often dictated by weather conditions.
Stability
Probably the greatest benefit of the catamaran hull form over the monohull is its transverse static and dynamic stability. With GM figures typically 3-4 times greater than a similar sized mono hull the operational envelope in rough weather is extended. The Catamaran is able to provide a much more stable work platform at rest than a monohull with greatly reduced rolling and motion. In extreme conditions they are often the safest due to their great transverse stability.
Safehaven Marine, Ashgrove, Cobh, Co Cork, Ireland
Phone 00353 86 8054582
Email- info@safehavenmarine.com safehavenmarine@eircom.net