SPECIFICATION
L.O.A.
Length Moulded
BEAM
Beam moulded
Draft
Displacment
Lightship
Seating capacity
Fuel capacity
Engines
Power output
Gearboxes
Generator
Speed
Operational
Maximum
Certification
Orca III Sea trials, Alongside the two Azores pilot boats
Island Tiger, Rough weather trials, force 7-8 off Cork, Ireland
Island Tiger, Sea keeping & handling trials
Island Tiger, Coastguard helicopter training
55ft, / 17m
15.9m
6.4m
6.1m
1.3m
26,500kg
12 pass / 3 crew
3,000 litres
Volvo / Scania D16
750hp
Twin Disc 5135
9kw
22-23kts
25kts
MCA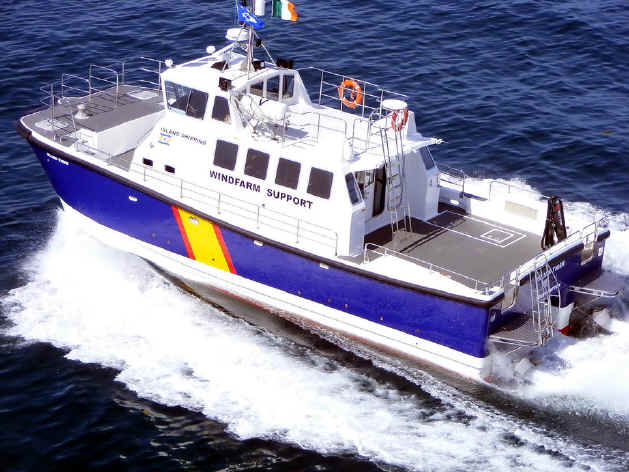 The Wildcat 53 / 16m catamaran is a completely new design, and 'ISLAND TIGER' featured here is the first of two vessels being built for Island Shipping, the hull design is a larger version of our highly respected Wildcat 36/40 design, incorporating the same high buoyancy bow, twin chine catamaran hull form that has proved so successful in providing exceptional levels of sea keeping and performance. The Wiildcat 53 Catamaran is 16m moulded (17m LOA) with a 6.1m / 20ft beam and has been designed from the outset specifically as a wind farm support vessel. To this end the bow area has been designed to accommodate a specially developed fender system from Ocean 3. The fender design is of high density foam core 400m x 500mm with a heavy 50mm thick rubber wall to cushion impacts and stresses in the bow. No stranger to building exceptionally strong GRP hulls, the Wildcat 53 has the same heavy duty scantlings as their renowned pilot boats which are often subject to severe impacts in rough weather, this produces a vessel that can withstand tough use in the harsh windfarm support vessel environment. GRP provides many benefits, being a homogeneous structure it is very strong, it gives a high standard of external finish with the advantage of zero maintenance, it is easily repaired and perfectly compliments Safehaven's graceful design, resulting in a very striking vessel.
' Island Tiger' is powered by twin Scania D16 650hp engines driving Ultra Dynamics 451 waterjets, achieving a maximum speed of 25kts, combined with a very soft and comfortable ride, with exceptionally low noise levels of only 67db being recorded in the cabin at maximum speed.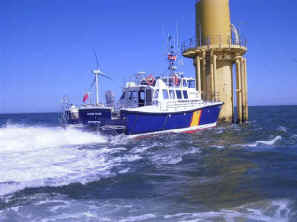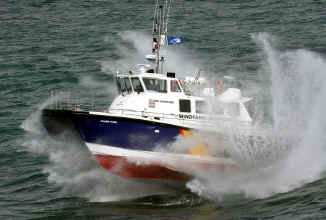 The superstructure is a raised bridge deck design with the helm and navigators position elevated to provide excellent visibility. The cabin is centrally positioned in an 'island configuration' with a clear 750mm walkway each side and around the bow where there is a cargo lifting space. This provides a safe passageway and spacious work and boarding area at the bow.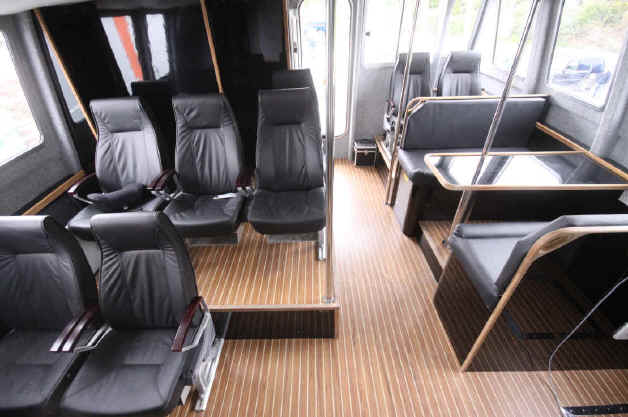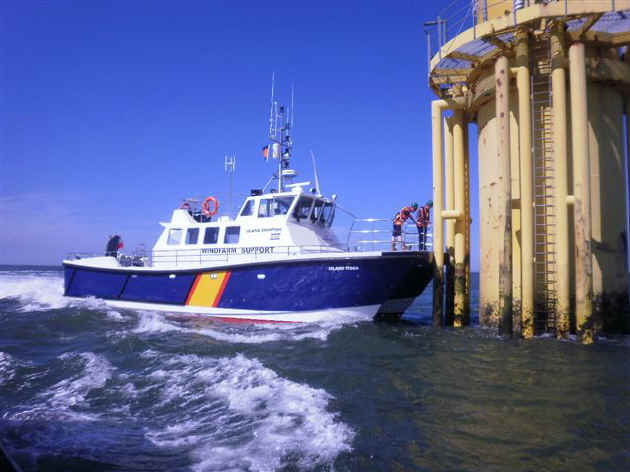 Safehaven Marine, Ashgrove, Cobh, Co Cork, Ireland
Phone 00353 86 8054582
Email- info@safehavenmarine.com safehavenmarine@eircom.net

WHEN YOU DEMAND STRENGTH & SEA KEEPING

All our vessels are build to the highest standards of strength & engineering and are renowned world wide for their exceptional sea keeping abilities.

For the best, most extreme, rough weather demonstration videos of our boats, see our amazing selection on you tube.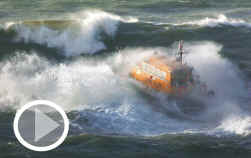 BEST ROUGH WEATHER ACTION PHOTOS
We don't just claim our boats have the best sea keeping abilities, here's the proof