SPECIFICATION
L.O.A.
Length Moulded
BEAM
Beam moulded
Draft
Displacment
Lightship
Pilot seating capacity
Fuel capacity
Engines
Power output
Gearboxes
Generator
Speed
Operational
Maximum
Certification
Bordeaux Pilot vessel in rough weather trials.
Sea keeping & handling trials of Liverpool pilot boat Skua
48ft / 14.7m
14.2m
4.4m
4.1m
1.35m
17,500kg
6-8 pilots, 1 crew
2000 litres
Volvo D13
500-550hp
Twin Disc 5114
24-25kts
24-25kts
Bureau VerItas
The Interceptor 48 is typically powered by twin Volvo D12 / 13 500/550hp engines and twin Disc 5114 or SC Quick shift gearboxes providing the vessel with an operational speed of 24-26kts. The vessel is 14.7m LOA, with a 4.3m beam and 17,500kg Displacement. The pilots are well catered for with the vessel featuring air conditioning with high level outlets throughout the main cabin providing a comfortable environment. Double glazing on all windows ensures good visibility is maintained at all times without the usual problems of misting in poor conditions. A very high level of fit out has been undertaken, with teak and holy cabin soles, walnut Formica laminates and trimming ensure the 48 provides a luxurious working environment, augmented by very low noise levels of just 75db. The Interceptor 48' is very heavily fendered with 150x150mm D section rubber main gunwale fendering augmented with Safehaven's unique sacrificial shoulder fender system, ensuring pilot boarding's in rough conditions are soft, with impacts well cushioned and the main fender and hull structure fully protected. Multiple diagonals and a lower run further protect the vessel, Additional fendering at the rounded bow allow the vessel to be used for occasional 'pushing' duties ,to assist pilots in small ship manoeuvres. A full electronic package with displays positioned flush in a GRP 'wrap around' helm console giving the helmsman excellent command of the vessel, with all displays clearly visible, Safehaven's usual special attention was applied to providing the utmost comfort and visibility for the helmsman.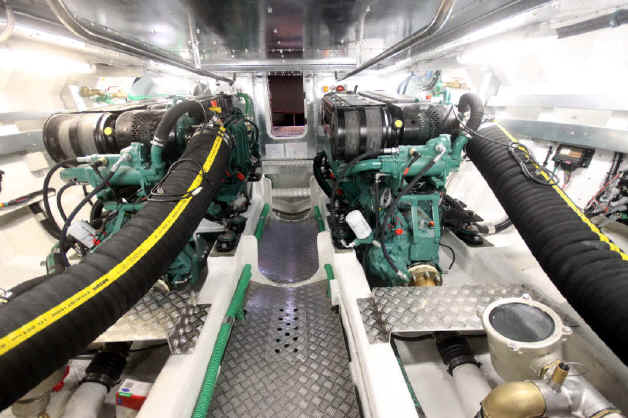 The engine room is very spacious with all service components easily accessible.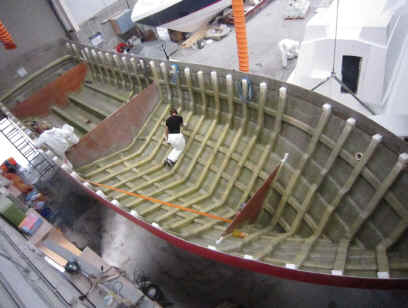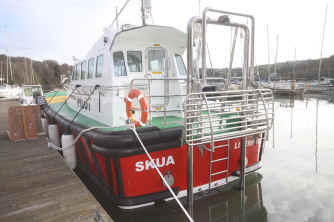 Below- a refinement on our proven sacrificial fender system greatly lessens impacts during boarding, and successfully protects the vessels main fenders.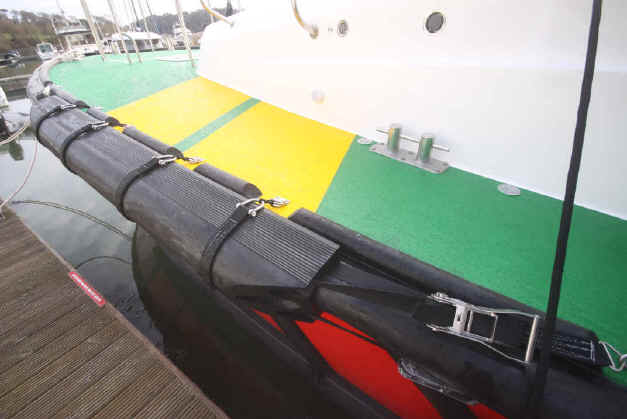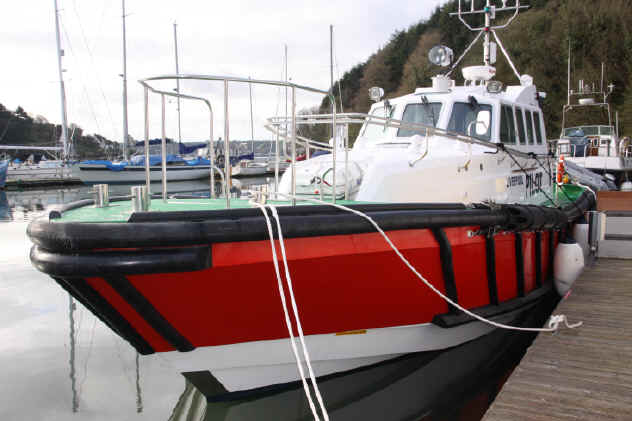 Other features are a 240v 3.5kw generator allowing onboard 240v supplies when underway. MOB recovery is carried out by a further refinement of Safehaven's tried and tested transom operated recovery platform, allowing an injured pilot to be safely recovered from the sea unconscious. Special stainless rear view mirrors were developed by Safehaven at the ports request and prove very useful during boarding maneuvers. Electro hydraulic trim flaps fully protected in recess mounded under the transom provide control over running trim.
Over the years we have captured many exceptional photographs and videos of our vessels operating in extreme conditions, check them out here- GALLERY
Safehaven Marine, Ashgrove, Cobh, Co Cork, Ireland
Phone 00353 86 8054582
Email- info@safehavenmarine.com safehavenmarine@eircom.net

WHEN YOU DEMAND STRENGTH & SEA KEEPING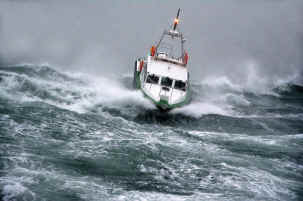 All our vessels are build to the highest standards of strength & engineering and are renowned world wide for their exceptional sea keeping abilities.

For the best, most extreme, rough weather demonstration videos of our boats, see our amazing selection on you tube.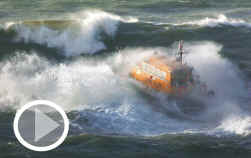 BEST ROUGH WEATHER ACTION PHOTOS
We don't just claim our boats have the best sea keeping abilities, here's the proof