SPECIFICATION
L.O.A.
Length Moulded
BEAM
Beam moulded
Draft
Displacment
Lightship
Pilot seating capacity
Fuel capacity
Engines
Power output
Gearboxes
Generator
Speed
Operational
Maximum
Certification
Bordeaux Pilot vessel in rough weather trials.
Sea keeping & handling trials of Liverpool pilot boat Skua
48ft / 14.7m
14.2m
4.4m
4.1m
1.35m
17,500kg
6-8 pilots, 1 crew
2000 litres
Volvo D13
500-550hp
Twin Disc 5114
24-25kts
24-25kts
Bureau VerItas
The pilots at Bordeaux have to deal with very challenging and at times dangerous seas at the entrance to the Harbour where big Atlantic swells from the Bay of Biscay meet the strong 3-4kt ebb tide from the Gironde River and rage with special violence causing breaking seas at the Bar that reach over 10m in height during winter months, the Pilot vessel is expected to be able to navigate the Bar safely in up to 5m wave heights. As a consequence a fundamental requirement by the Port was for a pilot vessel with very high levels of sea keeping and Safehaven Marines reputation in this respect was unsurpassed by any other builder. An important part of the design brief was for the Interceptor 48 to be fully self righting in the event of capsize by virtue of her high buoyancy superstructure and consequently the vessel has been built with numerous features such as automatically closing air vents, 15mm thick windows and watertight cockpit doors. In addition the superstructures forward windows are aft sloping to minimise pressure loadings when taking green seas over the bow, (a fairly regular occurrence due to the extreme conditions she operates in) Another advantage of the Interceptor 48 is the inclusion of a large and spacious forward cabin, this is achieved by virtue of having her engines installed further aft under the main cabin, where they are subject to less loadings and accelerations in rough seas, and are quickly removed in the unlikely event of failure through hatches incorporated in the main cabin sole and cabin roof. The forward cabin on Quinoa features bunk berths allowing the pilots to rest and relax comfortably during transits at night time, and provides increased seating capacity that can be utilised in an emergency, or when additional passenger seating is required.. Quinoa is fitted with Safehaven's unique pilot boarding ladder design improving safety for pilots when boarding but causing minimum obstruction to visibility. Quinoa was built under Bureau Veritas survey to the strict French Maritime authority requirements.
The vessel was delivered at the end of September by Olivier Barreau, the pilot specifically involved in overseeing her design and construction whom became good friends with Safehaven's owner and designer Frank Kowalski during the 12mths of her construction. The 500nm voyage from Ireland to Bordeaux was completed in challenging conditions, after completion of the voyage Olivier sent an account to Frank an extract is quoted here: "Conditions continued to be very rough especially off the Island of Oleron where we had wind against tide with very steep 3-4m waves off the bow, we had to reduce speed here and I negotiated the seas comfortably by swinging the bow off the crests so she didn't fall heavily into the troughs. We continued on towards Bordeaux , and when some 5nm offshore we slowed down to take bearing and to line up at the entrance to the harbour mouth and run NE to the river entrance. This course put us beam on to the seas at the entrance to Bordeaux which was quite stressful, as it was night time, the wind strength was Force 6 and the 3.5m offshore swell in Biscay was running straight into the entrance of the Gironde river meeting a 4kt ebb tide, and to make maters worse it was near low tide causing the waves to break strongly over the bar where they were reaching over 5m in height. But beam on to the waves Quinoa was very stable so we had no concerns as at this point we had a lot of confidence in the vessel. At the outside of the Bar we turned to the SE to give us a straight run with the seas dead astern to cross the bar. We ran in at 1700rpm, this gave us a speed of 14-15kts with Quinoa accelerating to over 28kts when surfing on the face of the larger waves. Quinoa handled very well as she crossed the bar with waves breaking around us in what were quite dangerous conditions, especially as it was during the night, yet at all times we felt safe. Certainly some corrective helm was required to stay on course when she swung away to port or st/bd a couple of times, but we always maintained control and what impressed us most was how stable she was, staying almost level with very little heeling, in fact she was as stable as our much larger 17m vessel in these conditions. We came alongside at after travelling over 500nm from Ireland almost non stop in 24hrs averaging over 20kts. Quinoa has proved to be a fantastic vessel and I am very happy with her, My conclusion is of a pilot boat with excellent sea keeping, and I must say Frank that at all times throughout the voyage we felt completely safe in her"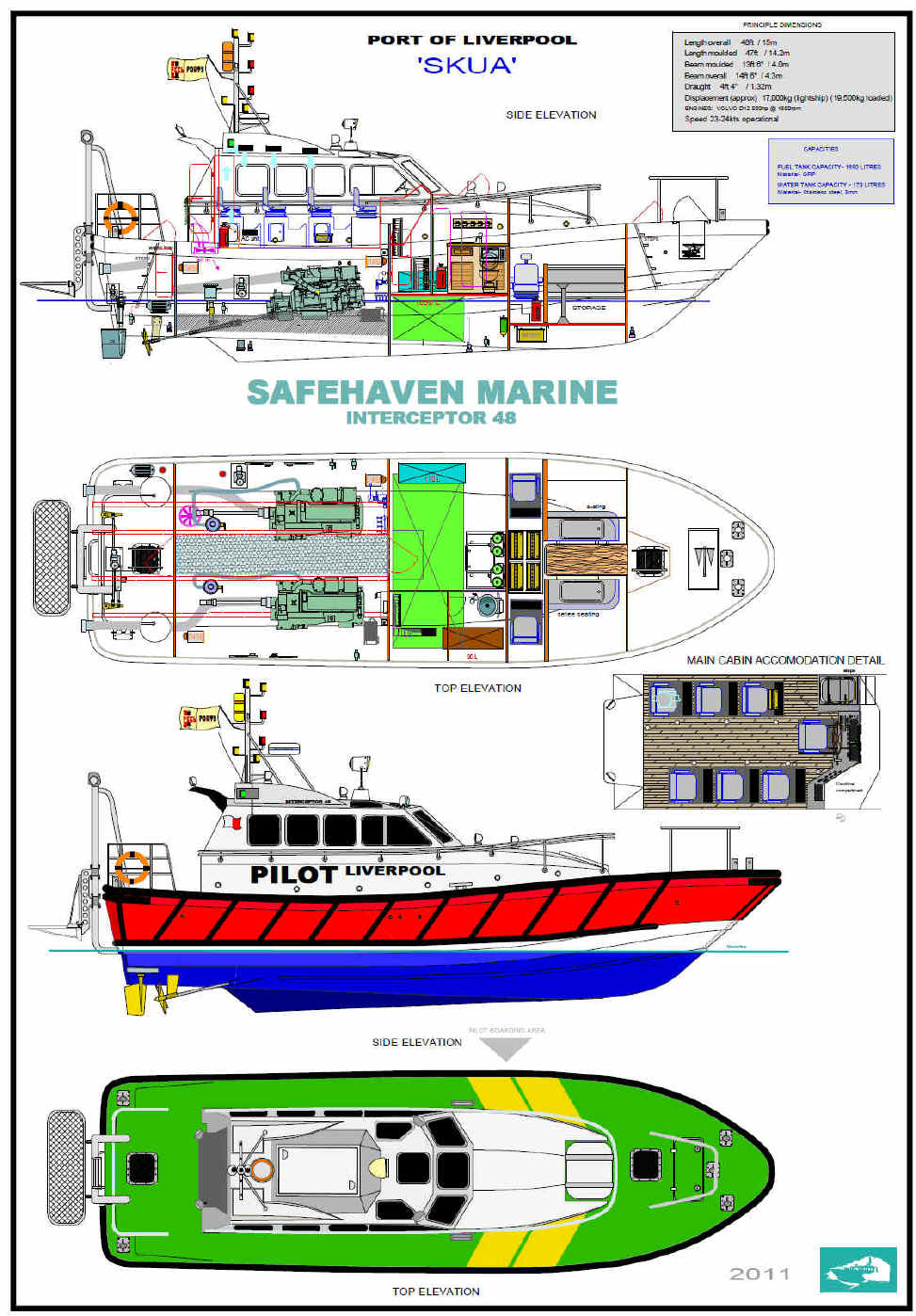 Safehaven Marine, Ashgrove, Cobh, Co Cork, Ireland
Phone 00353 86 8054582
Email- info@safehavenmarine.com safehavenmarine@eircom.net