SPECIFICATION
L.O.A.
Length Moulded
BEAM
Beam moulded
Draft
Displacment
Lightship
Seating capacity
Fuel capacity
Engines
Power output
Gearboxes
Generator
Speed
Operational
Maximum
Certification
WLDCAT 40, Ocean Ranger in force 8 and breaking seas
Rough weather video of La Reunion Wildcat in big waves
WLDCAT 40, Seaflower Rough weather trials, force 7-8 off Cork, Ireland
WLDCAT 40, MISBEHAVIN. Rough weather video, twin boat, force 7-8
WLDCAT 40, BLACK cat. Rough weather trials, force 7-8 off Cork, Ireland
40ft / 12m
11.8m
4.9m
4.8m
1.3m
12,000-14,000kg
12 pass / 3 crew
1000 litres
Volvo /Cat/Yanmar
250 - 500hp
Twin Disc 5126
9kw
16-25kts
30kts+
MCA Bureau Veritas
The main accommodation on the Wildcat 40 is fully customizable, typically on a hydrographic vessel it will incorporate a central helm position with alongside seating for the hydrographical equipment operator / navigator and provides panoramic vision all round with all the electronic navigation and hydrographic displays situated in a large console. A work bench is fitted to the port side of the cabin stretching its full length, all the computers for the hydrograpic equipment are stored in a vertical rack / cabinet fitted at the aft of the cabin. To port is a large dinette seating area with a table between. In the st/bd hull is a large heads compartment which is fully lined in white Formica fitted with an electric toilet and sink. In the port hull f/wd is a full galley with 240v hob, sink, fridge and storage lockers. Onboard electrical power is from a 10kw 240v generator supplying multiple sockets throughout the vessel. Other equipment can include a 1500W electric capstan, Electric 95kgf bow thruster, Electro hydraulic 013T HIAB crane, Dive platform, security alarm system and a full compliment of navigation equipment. The vessel can also fitted with a 24,000btu air conditioning unit with high level outlets in the cabin roof for efficient cooling, The Wildcat is very quiet, only 70db being recorded in the cabin at 15kts, reducing to just 65db at 7kts survey speeds.
Below are examples of interiors on previous vessels.
Above, the large aft cockpit which can be fitted with a HIAB crane, below different seating arrangements possible, and the high quality that can be offered.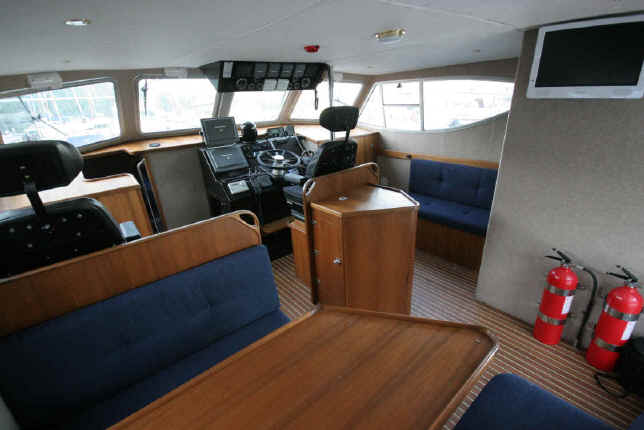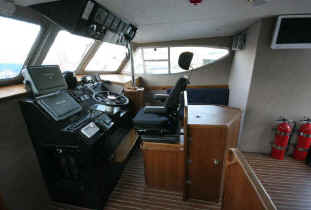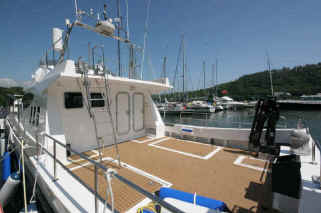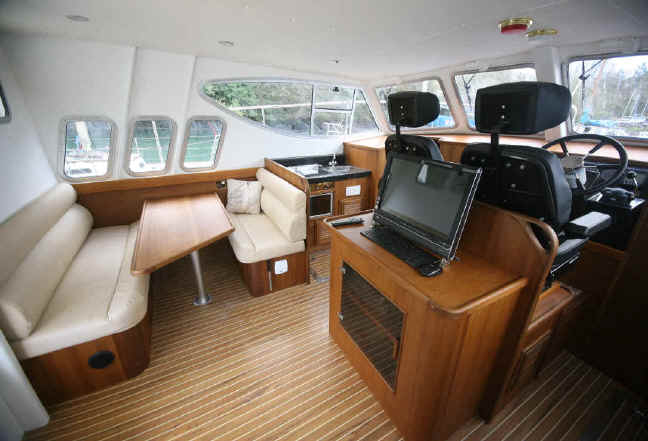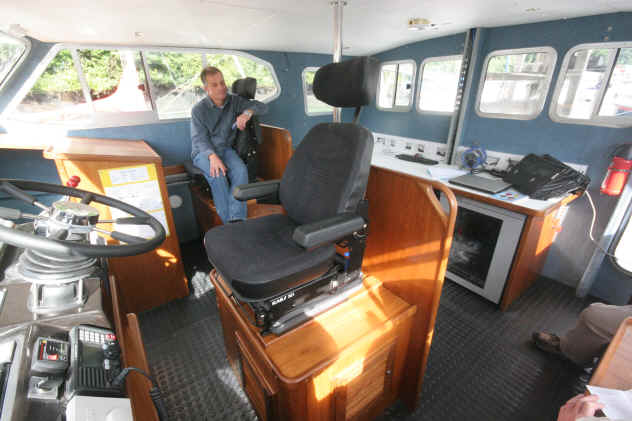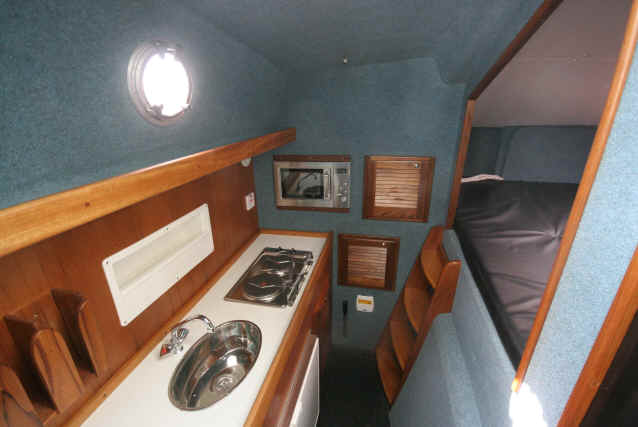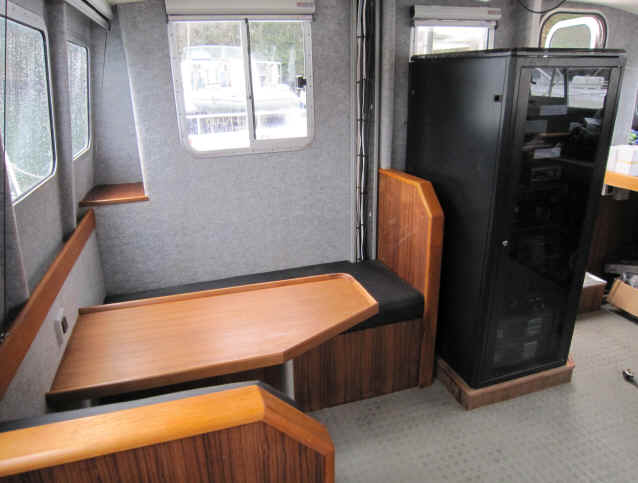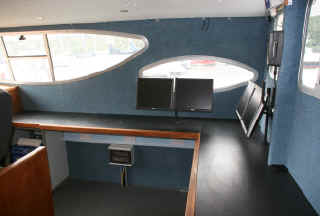 Safehaven Marine, Ashgrove, Cobh, Co Cork, Ireland
Phone 00353 86 8054582
Email- info@safehavenmarine.com safehavenmarine@eircom.net

WHEN YOU DEMAND STRENGTH & SEA KEEPING

All our vessels are build to the highest standards of strength & engineering and are renowned world wide for their exceptional sea keeping abilities.

For the best, most extreme, rough weather demonstration videos of our boats, see our amazing selection on you tube.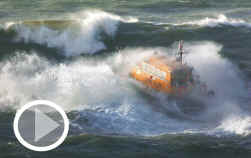 BEST ROUGH WEATHER ACTION PHOTOS
We don't just claim our boats have the best sea keeping abilities, here's the proof