SPECIFICATION
L.O.A.
Length Moulded
BEAM
Beam moulded
Draft
Displacment
Lightship
Seating capacity
Fuel capacity
Engines
Power output
Gearboxes
Generator
Speed
Operational
Maximum
Certification
WLDCAT 40, Ocean Ranger in force 8 and breaking seas
Rough weather video of La Reunion Wildcat in big waves
WLDCAT 40, Seaflower Rough weather trials, force 7-8 off Cork, Ireland
WLDCAT 40, MISBEHAVIN. Rough weather video, twin boat, force 7-8
WLDCAT 40, BLACK cat. Rough weather trials, force 7-8 off Cork, Ireland
40ft / 12m
11.8m
4.9m
4.8m
1.3m
12,000-14,000kg
12 pass / 3 crew
1000 litres
Volvo /Cat/Yanmar
250 - 500hp
Twin Disc 5126
9kw
16-25kts
30kts+
MCA Bureau Veritas
The WILDCAT 40 11.7m, high buoyancy, symmetrical hull catamaran, designed to offer a large stable work platform in an attractive, graceful design, combining style and good looks with practical functionality, a rare combination today. With a length overall of 12m / 40ft and a beam of 15ft the vessels hulls have been designed to provide high buoyancy in the fwd sections to prevent slamming on the bridge deck, which itself is raised as high as practical above the WL The hulls are designed to develop a spray cushion, softening the ride at speed. Full length keels are incorporated, and provide protection to the propellers, as well as increasing the hulls grip on the water for slow drift speeds. The vessels beam has been constrained to a wide 15ft 5" providing a good compromise between work area, stability, and minimal slamming that tends occurs on catamarans that have a very wide bridge deck. Also marina space and berthing facilities are considered, where excessive beam can be hard to facilitate.
The superstructure design is full with maximizing internal accommodation area, yet providing a large and spacious flush aft deck, with the engines accessed from large opening flush hatches, providing excellent accessibility to the engines for service. The catamaran design has of course very high levels of survivability with 8 individual watertight compartments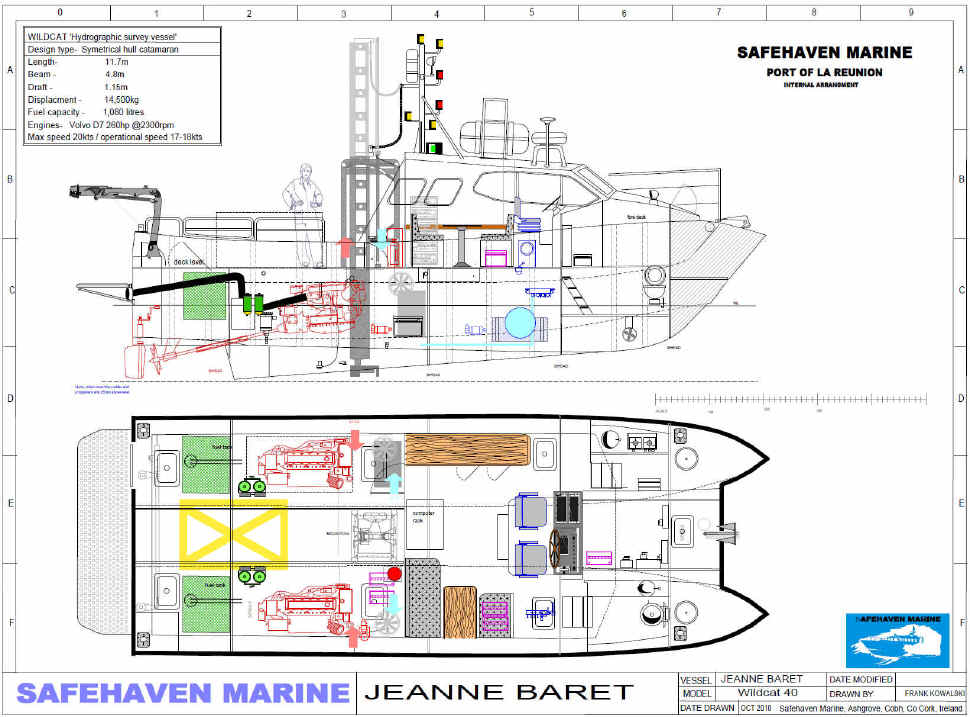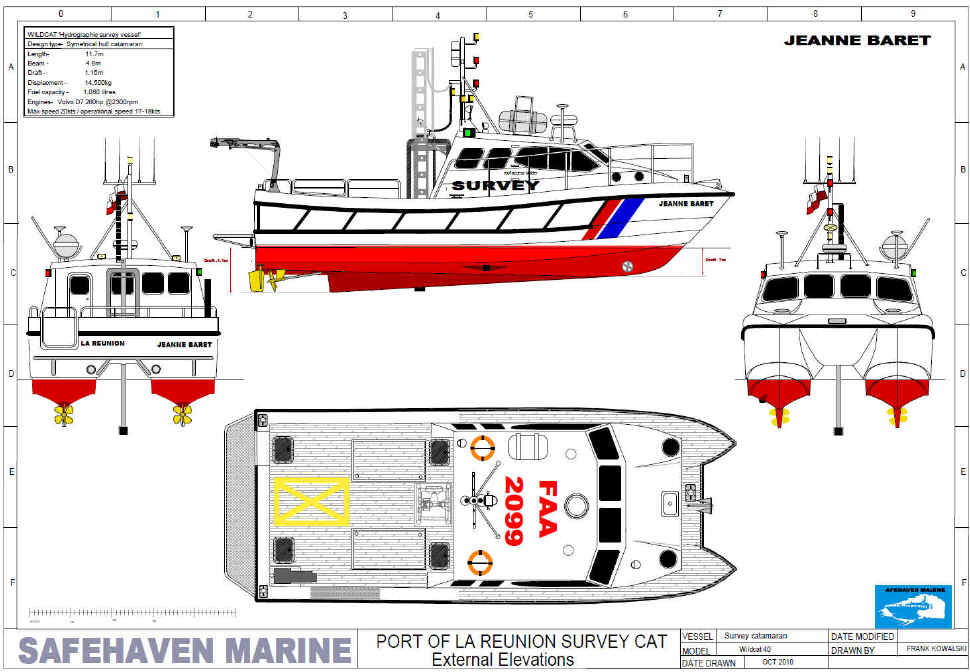 Design features.
The benefits of the catamaran hull form are:
Transverse static stability, less rolling and motion
Directional stability in following sea conditions
Lower vertical accelerations smother motion in choppy head seas
Lower power requirements
Greater economical operational range
Deck area
Cabin space
Head sea abilities
Due to the slender nature of the hulls, in choppy conditions vertical accelerations are much reduced in comparison with mono hulls giving a gentle ride and motion. However previously the biggest disadvantage of the older type of catamaran hull which featured very fine sections fwd with little reserve buoyancy, giving a very smooth ride in short sea states but suffering badly in ocean swell conditions due to slamming on the bridge deck. This shortcoming has been solved with much fuller fwd sections and much greater buoyancy, giving the hull the necessary lift to prevent slamming on the bridge deck, allowing higher speeds to be maintained into larger ocean swells.
Performance
Due to the low resistance of the slender catamaran hulls, performance is excellent, especially at moderate speeds up to 20kts. Typically, horse power requirements are lower than in a similar sized mono hull. Furthermore the flat running angles of the catamaran hulls, with no hump to overcome means that there is a wide range of economical speeds, incurring no penalty in fuel consumption at transition speeds often dictated by weather conditions.
Stability
Probably the greatest benefit of the catamaran hull form over the monohull is its transverse static and dynamic stability. With GM figures typically 3-4 times greater than a similar sized mono hull the operational envelope in rough weather is extended. The Catamaran is able to provide a much more stable work platform at rest than a monohull with greatly reduced rolling and motion. In extreme conditions they are often the safest due to their great transverse stability.
Safehaven Marine, Ashgrove, Cobh, Co Cork, Ireland
Phone 00353 86 8054582
Email- info@safehavenmarine.com safehavenmarine@eircom.net