SPECIFICATION
L.O.A.
Length Moulded
BEAM
Beam moulded
Draft
Displacment
Lightship
Seating capacity
Fuel capacity
Engines
Power output
Gearboxes
Generator
Speed
Operational
Maximum
Certification
WLDCAT 40, Ocean Ranger in force 8 and breaking seas
Rough weather video of La Reunion Wildcat in big waves
WLDCAT 40, Seaflower Rough weather trials, force 7-8 off Cork, Ireland
WLDCAT 40, MISBEHAVIN. Rough weather video, twin boat, force 7-8
WLDCAT 40, BLACK cat. Rough weather trials, force 7-8 off Cork, Ireland
40ft / 12m
11.8m
4.9m
4.8m
1.3m
12,000-14,000kg
12 pass / 3 crew
1000 litres
Volvo /Cat/Yanmar
250 - 500hp
Twin Disc 5126
9kw
16-25kts
30kts+
MCA Bureau Veritas
WILDCAT 40 PREVIOUS VESSELS BUILT
Below are just a selection of the many Wildcat Catamarans Safehaven Marine have built over the years
SAFEHAVEN MARINE LAUNCH 'MH1'. THE FIRST OF FOUR OF THEIR WILDCAT 40 CATAMARAN VESSELS BEING SUPPLIED TO THE POLISH NAVY
Safehaven Marine have just launched the first of four of their Wildcat 40 catamaran's for the Polish Navy, after successfully wining the international tender in 2013. The following 3 vessels will be supplied throughout 2014. Based on Safehaven's MKII version of their renowned and proven 12m 'high bow buoyancy' symmetrical hull catamaran design. The MKII version features 200mm deeper hulls giving increased bridge deck clearance and load carrying capacity and a new flat bow design providing a larger foredeck and allowing boarding to be carried out at the bow.
The vessels are equipped for hydrograhic survey duties in the Baltic sea , and are fitted with multi-beam sonar equipment deployed through a moon pool in the bridge, deck using Safehaven's in house developed hydraulic deployment system. The vessels are powered by Volvo D5 160hp engines and ZF gearboxes driving conventional sterngear. The vessel has a 4 day autonomy and is fitted with 1560 liters fuel capacity, water and black water waste tank with pump out facilities.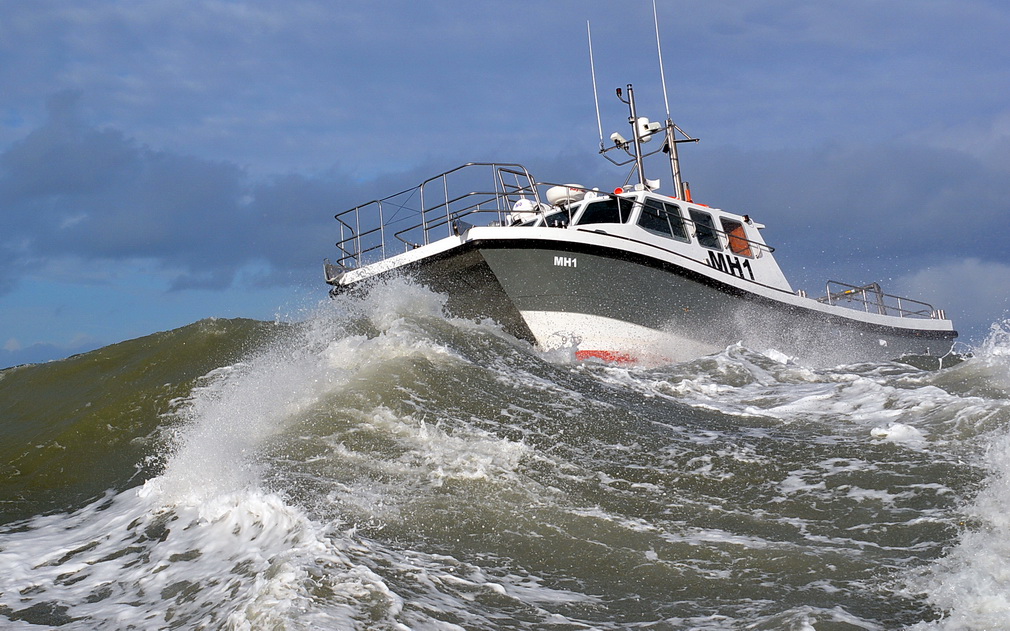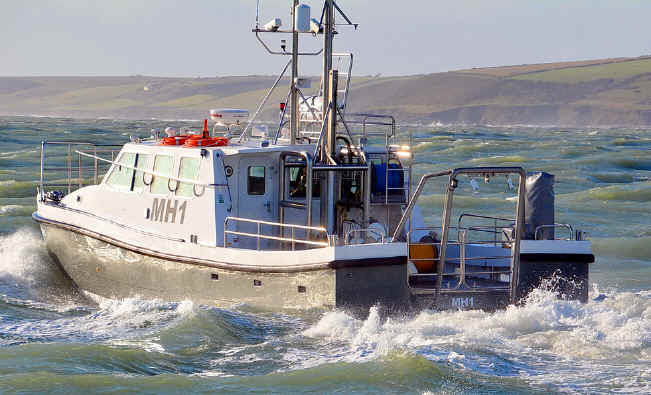 A Paguro 14kw generator provides AC power onboard and twin hydraulic bow thrusters enhance maneuverability. The internal arrangement provides live aboard facilities for a crew of four to operate the vessel on extended surveys of up to 4 days in duration, in comfortable air conditioned and heated accommodation which has the sleeping areas comprising 4 berths in three separate cabins all insulated against cold. Featuring a central helm position and st/bd navigators position both fitted with CAB 500 series suspension seats, a dinette seating area for 4-5 with a table between, Full galley with microwave, 240v hob, fridge and sink with a hot and cold pressurized water system. A separate heads compartment with integrated shower facilities, hanging lockers for crew uniforms and multiple storage lockers throughout.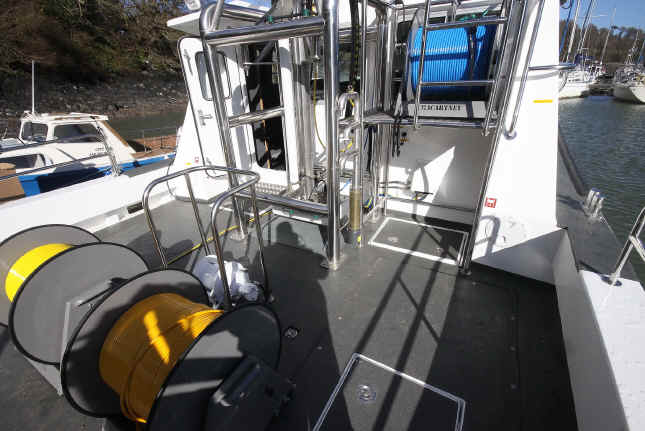 The Port of Liverpool's new Wildcat 40 'ROYAL CHARTER'
The Port of Liverpool's new Wildcat 40 'ROYAL CHARTER' is now launched. She is to be a survey vessel for the port. On initial sea trials she performed very well, she is the first of the new 40ft versions of our Wildcat which features a lengthened hull by 1m, this has improved the Wildcats already excellent performance with a lower running trim, smother ride and improved sound levels as a result of the further aft position of the engines. On a quite substantial lightship displacement of 12,300kg she achieved a very impressive 27kts, exceeding her contract speed by a large margin and with very low noise levels of 79.8db at 18-19kts. Ian Holden visited the port of Teesport , Middlesborough to trial their own recently supplied Wildcat catamaran the 'Tees Navigator'. After a demonstration, and subsequent discussions with Teesport, it was clear that they were very happy with the Wildcats performance, especially her sea keeping and course keeping abilities in rough conditions, together with our abilities as builders to adapt and find solutions. She is powered by twin Caterpillar 3126 engines rated at 385hp. She is also fitted with a HIAB crane on the aft deck.
She has a 10kva generator supplying 240v onboard through a full ring circuit, a large survey bench and a dedicated survey position forward will allow her crew to operate in an efficient and comfortable environment, enhanced by onboard air-conditioning. She has a new window arrangement for improved visibility featuring a new front and side window design.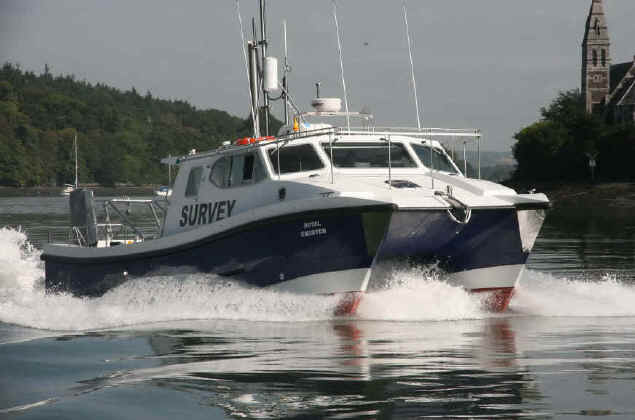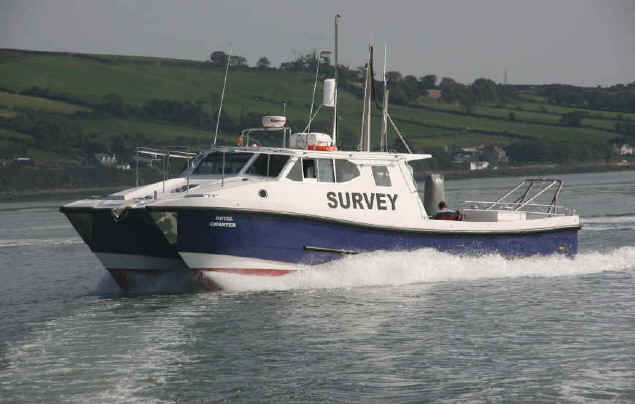 LA REUNION WILDCAT 40 HYDROGRAPHIC VESSEL 'JEANNE BARET'
The Wildcat 40 Hydrographic vessel 'Jeanne Baret' for the port of La Reunion, off the South East coast of Africa has now been launched. On initial sea trials she performed exceptionally well proving very quiet with only 70db being recorded in the cabin at 15kts, reducing to just 65db at 7kts survey speeds and achieving a 21kts maximum speed, at which speed the noise level was still below 75db, all at a 14,200kg displacment. By virtue of the heavy duty continuous rating on the Volvo D7 260hp mechanical engines, her operational speed is between 15 and 20kts. The vessel was built under Bureau Veritas to the French Maritime authorities regulations. The vessel is fitted with multi beam sonar equipment supplied by Cadden the multi beams transducer being deployed through a moon pool in the aft deck by a hydraulically operated deployment frame that was specially designed and developed by Safehaven Marine. The underwater section of the sonar head mounting is hydro dynamically efficient being of aero form shape to minimize turbulence and pressure loadings on the mountings, the sonar head can be lifted up to above deck and the moon pool closed allowing safe storage of the transducer during high speed transits. A second dual beam transducer is fitted in the St/bd hull in a removable module allowing transducer interchange afloat, this is fully faired into the hull minimizing turbulence. A central helm position with alongside seating for the hydrographic operator / navigator gives panoramic vision with all electronic navigation and hydrographic displays situated in a large console. A work bench is fitted to the port side of the cabin stretching its full length and to port is a large dinette seating area with table between. In the st/bd hull is a large heads compartment which is fully lined in white Formica fitted with an electric toilet and sink. In the port hull f/wd is a full galley with 240v hob, sink and storage lockers. Onboard electrical power is from a 10kw 240v generator supplying multiple sockets throughout. Other equipment includes a 1500W electric capstan, 95kgf bow thruster, Electro hydraulic 013T HIAB crane, security alarm system. The vessel is also fitted with a 24,000btu air conditioning unit with high level outlets in the cabin roof for efficient cooling, the cabin roof has been insulated with 50m insulation to minimize heat transmission in the hot climates the vessel will operate in. Engine room cooling and ventilation is from twin 450mm 24 fans supplying 4800m3/hr of air to the engine room which exhausts heat through separate outlets. Solar Solve blinds are fitted to all windows all of which will ensure a comfortable working environment for her crew.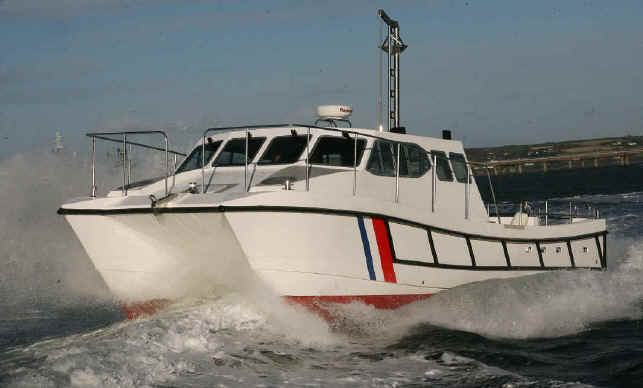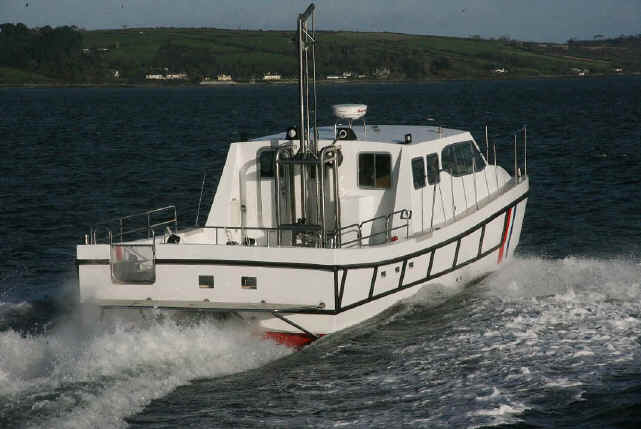 RUBY MAY, WILDCAT 40
'RUBYMAY' is a Wildcat 40 full 'motor yacht' version fitted with a flybridge and the 9th Wildcat. Built for Frank Miller and Stuart Isbister of the Shetland Islands, she is to used as a multi-purpose vessel combining roles of passenger vessel, underwater survey and light cargo delivery and general work boat duties. Powered by Caterpillar 3126 engines @ 385hp she has a 27kts max speed on a 11,300kg displacement. She has additional heavy duty fendering with a lower belt and diagonals to protect her hull when coming alongside in the often exposed quays of the Shetland Islands. A removable stainless and teak bench seat provides passenger seating in the aft cockpit and can be removed for cargo carrying, which is facilitated by a HIAB crane with a 500kg lift. In addition a hauler / capstain is fitted at the transom. A stainless steel dive platform and dive ladder allows her to work with divers and features further fendering to protect the platform. Twin 75kgf bow thrusters, one in each hull gives her excellent maneuverability.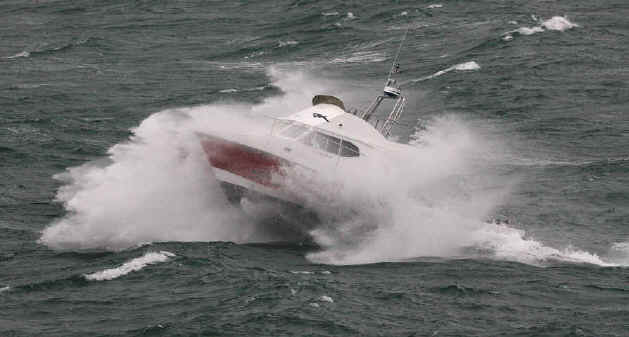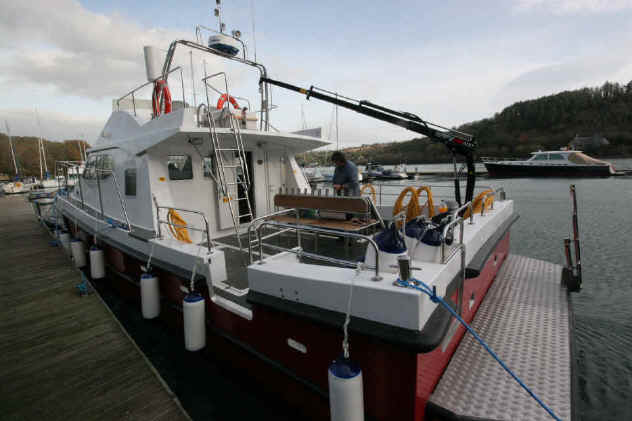 Wildcat 36/40's built since first of class in 2003:
Celtic Wildcat

MCA / MECAL UK Commercial vessel

Jo Dan IV

MCA / MECAL UK Commercial vessel

High Velocity

MCA / MECAL UK Commercial vessel

Wreck Hunter

IRL Department of Marine Commercial vessel

Tees Navigator

MCA / MECAL UK Commercial vessel

Sussex

MCA / MECAL UK Commercial vessel

Port

of

Liverpool

MCA / MECAL UK Commercial vessel

Black Cat

MCA / MECAL UK Commercial vessel

Ruby May

MCA / MECAL UK Commercial vessel

Dark Star

MCA / MECAL UK Commercial vessel

Mischeif

MCA / MECAL UK Commercial vessel

Ocean Ranger

IRL Department of Marine Commercial vessel

Sea Flower

MCA / MECAL UK Commercial vessel

Jeanne Barret

Bureau Veritas. Commercial vessel

MH1 Polish Register of Shipping
DARK STAR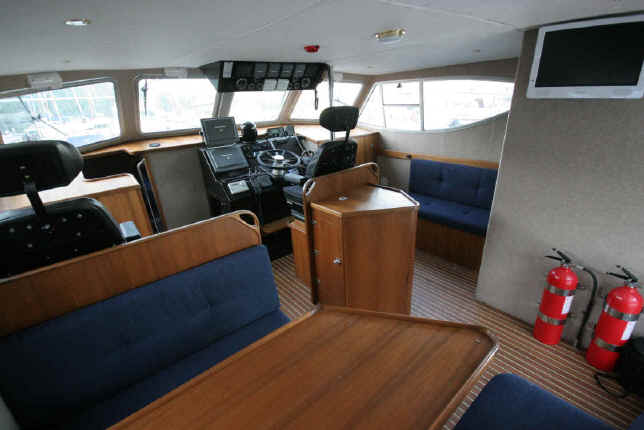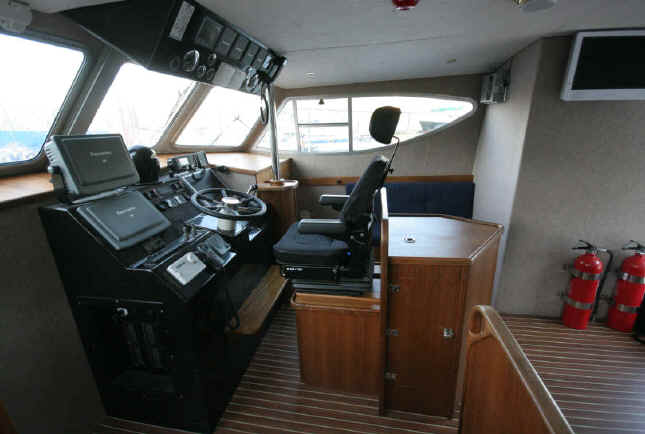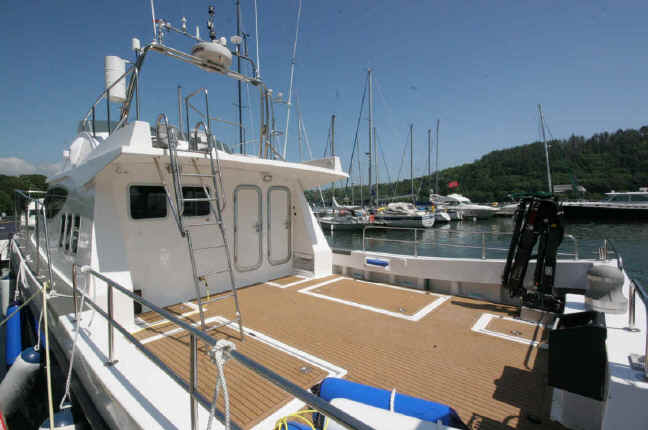 Below, Mark Dixon's new WILDCAT 40 'DARK STAR' being tested offshore in gale force 7.
We made a video of the trials which you can see from this link- - SEE THE VIDEO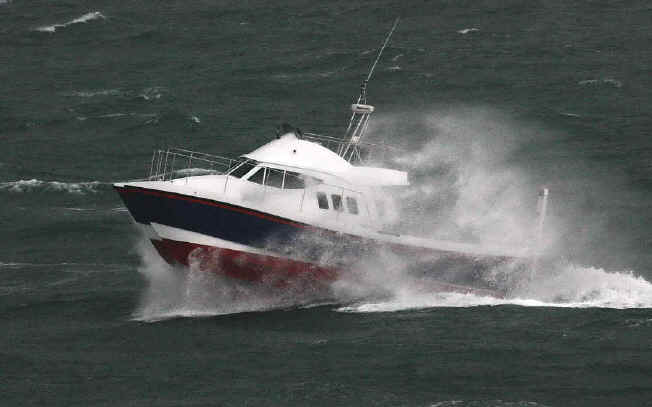 '
'Black Cat', Wildcat 36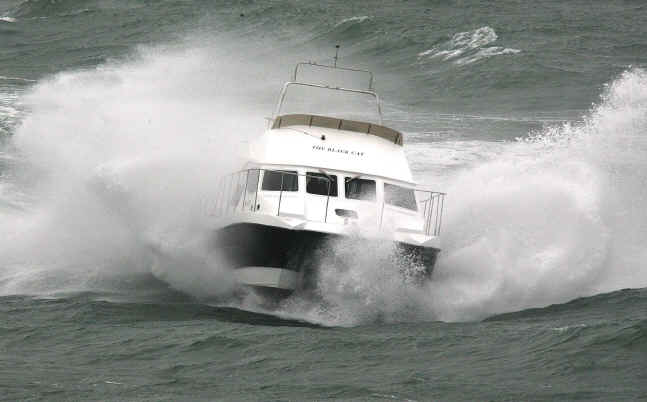 A good sea trial and video opportunity presented itself having two boats afloat at one time, a S/W gale blowing combined with a spring ebb tide, conspired to create some really dirty seas at the Harbour mouth, the seas up to 3m were exceptionally steep, making for some really spectacular photos and videos captured by Paul & Kazek, as well as onboard footage.
See the video footage from this Link- CLICK HERE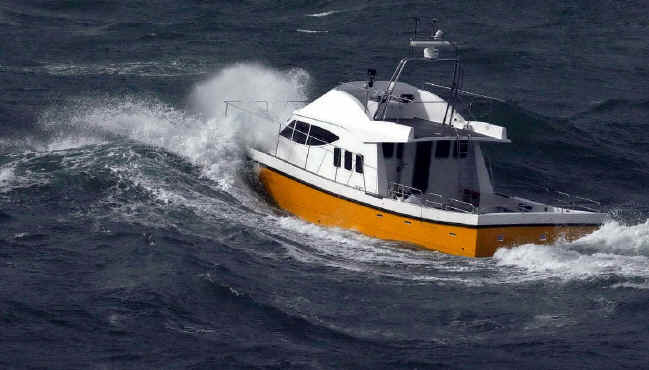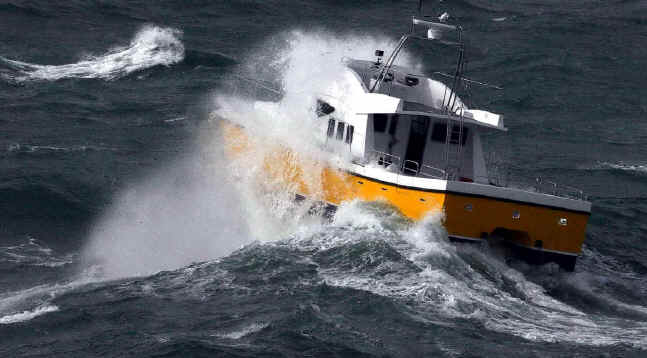 The WILDCAT 40 has been operated in up to force 8-9 sea conditions with numerous documented testimonial's from owner that can be supplied, and it would be considered capable of operation easily in conditions up to force 6.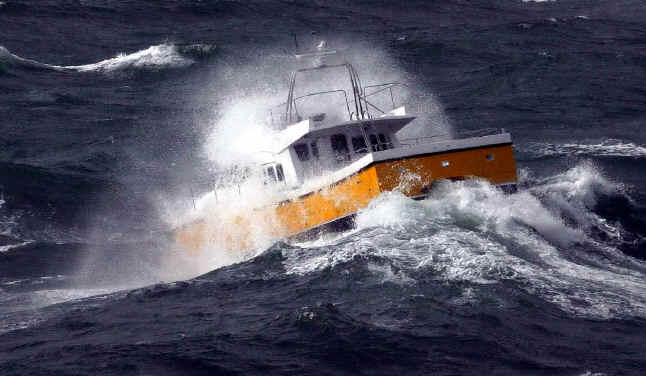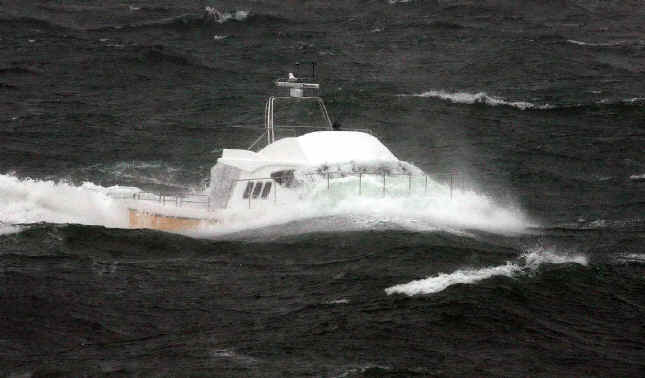 Thoroughly tested on this day, Mischeif will soon be ready for Garry to take delivery, he will have confidence in knowing what his Wildcat can take when caught offshore in a storm one day, which is why he chose a Wildcat. Below, some action pics of the Dublin pilot boat 'Liffey', she was just fabulous, shrugged it all off, we had a comfortable ride, even in these conditions.
'OCEAN RANGER' Atlantic Charters Wildcat 40
Michael Walsh's new Wildcat 40 'OCEAN RANGER' has been launched. Mike previously owned an Interceptor 42 Motor Yacht which he sold last year and ordered a Wildcat from us. She is easily our highest spec Wildcat to date, she features numerous refinements such as full white vinyl paneling throughout in the main cabin replacing the standard sidelining carpet, teak and holy cabin sole, unique, stylish and very comfortable cushions specked by Mike and supplied by Marshal Marine fabrics, a full teak fit out throughout the vessel combined with high quality materials raises her fit out levels to a real high class standard. Designed for coastal cruising and long range offshore wreck fishing , Mike routinely travels up to 50nm out into the Atlantic, indeed I know of no one traveling further offshore, his mission, to fish the furthest and most remote wrecks where the fishing is best. She is fitted with a 4kw generator, full AC systems throughout with a 240v cooker, microwave and ring circuit. She has Ebspachier oil fired heating to keep her warm during winter trips. Her central helm position is fully equipped with electronics, this position has twin hydraulic sprung CAB 300 series seats for helmsman and navigator along side. It provides a comfortable and focused helming position. Below in the port cabin is a separate heads compartment, lined in corian and featuring an electric toilet, sink and shower as well as storage lockers. This cabin gives access to her main cabin which is positioned centrally over the bridge deck and provides a wide double berth. The st/bd cabin features twin bunk berths.
She is fitted with a flybridge providing a very comfortable second helm position which has full repeat instrumentation and gives a panoramic view all round. Her aft cockpit is spacious providing enough room for a full compliment of anglers to fish comfortably. she has a live bait well, fish hold on the aft deck by the transom doubling as seating. Twin side access doors provide easy access from alongside marinas, inward opening the are a real benefit yet maintain safety.
Ocean Ranger is powered by twin Volvo D9 engines rated at 575hp and is the fastest Wildcat built to date, with a 32kts max speed and a 27kts cruise speed on a tough 13,000kg displacment , and well able to deal with heavy weather.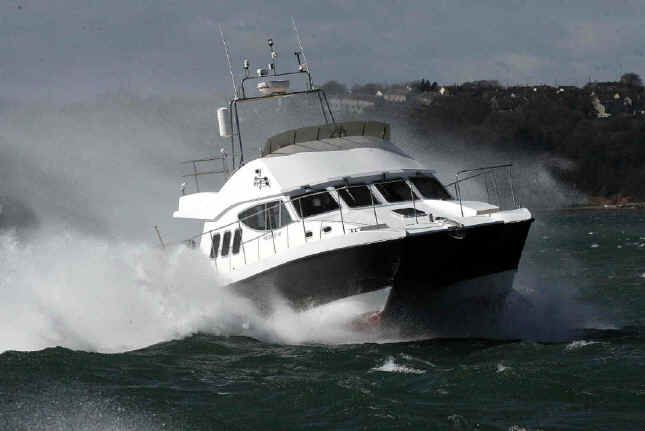 She looks stunning with her black hull highlighting her graceful lines, certainly one of the best looking catamaran designs around.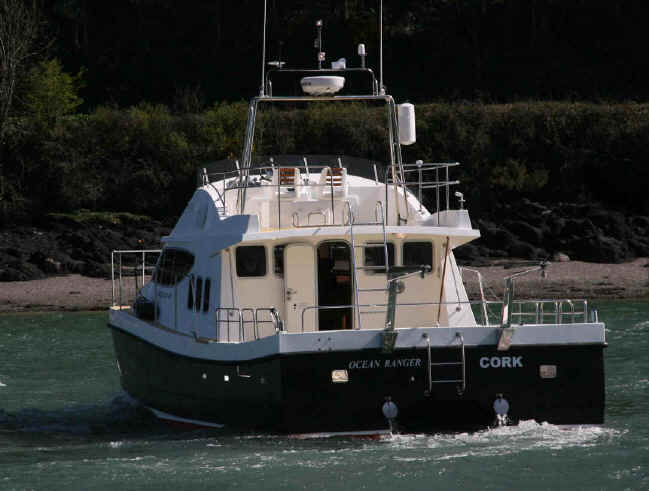 Without doubt one of the finest, most luxurious interiors we have built.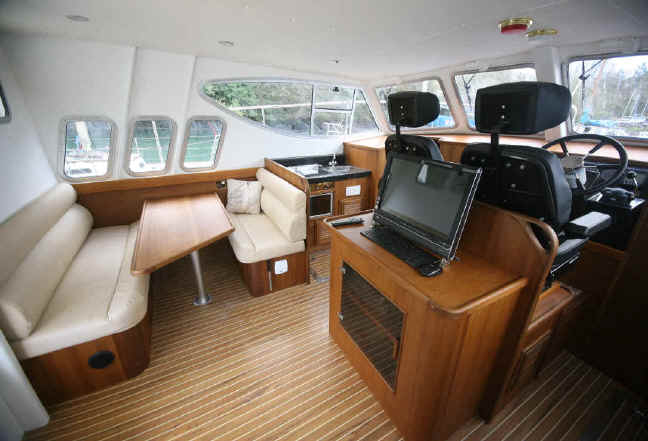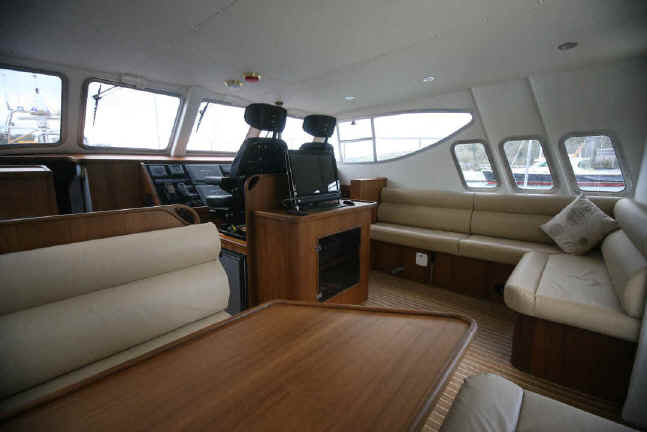 Safehaven Marine, Ashgrove, Cobh, Co Cork, Ireland
Phone 00353 86 8054582
Email- info@safehavenmarine.com safehavenmarine@eircom.net

WHEN YOU DEMAND STRENGTH & SEA KEEPING

All our vessels are build to the highest standards of strength & engineering and are renowned world wide for their exceptional sea keeping abilities.

For the best, most extreme, rough weather demonstration videos of our boats, see our amazing selection on you tube.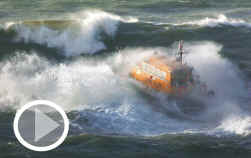 BEST ROUGH WEATHER ACTION PHOTOS
We don't just claim our boats have the best sea keeping abilities, here's the proof