Our GRP hulls are tremendously strong, GRP is an excellent construction medium. All our vessels hull have full plan approval from either Lloyds or BV, and scantling determination is carried out using Lloyds SSC software. We only use single skin composite laminates, as for a pilot vessel the risk of delaminating over the long lifespan of the vessel with cored structures is to high, not to mention the difficulty in effecting a repair years latter. We use high strength composite laminates in a heavy duty lay up, typically our pilot vessels will have a bottom laminate of 9,000gm2+ with keel laminates over 11,000gm2. In addition to comply with Lloyds Part 8 3.6.5, the side shell laminate is increased locally from the bow to just aft of amidships where maximum beam occurs by 50% of the side shell laminate down to the first longditudal stringer (500mm below the sheerline). And the transom boundary is increased by 50% of the shell laminate 1m f/wd and across the transom from the quarters down to the chine.

This reinforcement consist of a laminate which comprises 60% woven.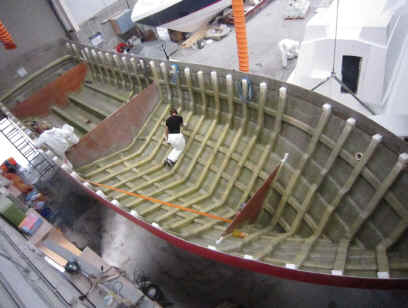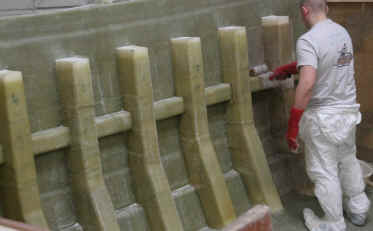 Scantlings are equally heavy duty, with 150mm x 150mm transverse framing at 500mm centers and multiple longditudal stringers reduce panel dimensions to 400mm. The result is a hull structure that is immensely strong testimony to this is that not one of our pilot vessels has suffered and structural failure of the years as a result of boarding impacts.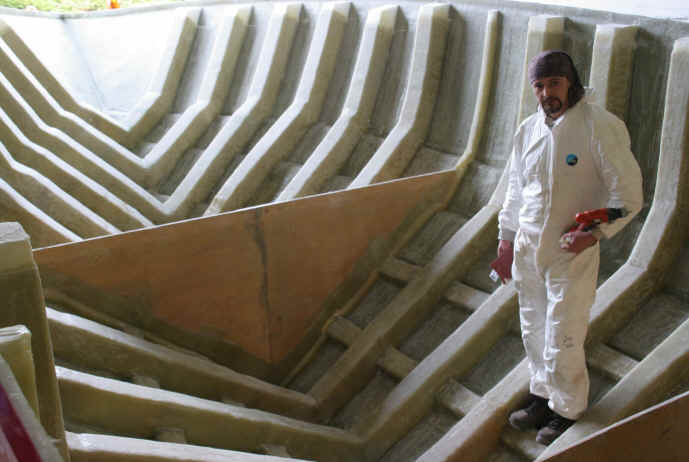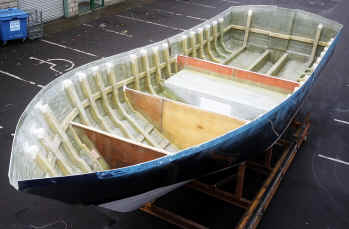 Below, typical cut outs showing how thick and correspondingly strong the GRP shell laminate is in paces.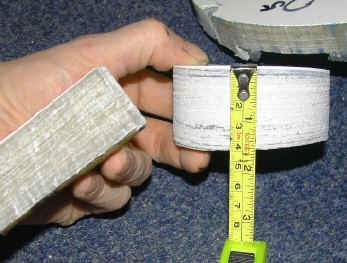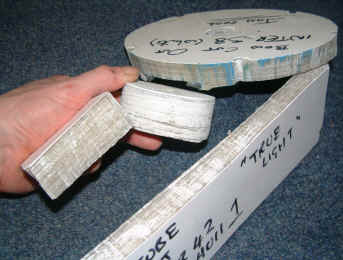 Superiority of GRP over Aluminium & Steel Hulls
Strength- comparing steel to GRP, weight for weight a modern GRP composite structure is stronger than steel, therefore a well designed composite GRP hull structure utilizing combination composites (multi axial and uni-directional fibres) will be close to steel in strength yet be much lighter than a comparable steel vessel, however one of the great advantages of GRP is that thickness and strengthening can be concentrated exactly where it is required by locally increasing thickness at specific areas, something that can not easily be done with steel. In pilot boarding impacts it is the vessels fenders that absorb the impact cushioning loadings on the hull structure, therefore that so long as the vessel is adequately fendered, which the interceptor is, then the advantage of steel in strength is effectively neutralized.
Although steel hull's attribute to a lower cost of construction, it has some distinct disadvantages:
Weight
The steel vessel will weigh considerably more than an aluminium or GRP vessel, this results in larger engines being need to power the vessel with a very significant increase in fuel consumption and running costs (especially so in today's environmentally conscious environment). Therefore there is a distinct disadvantage attributed to the weight penalty when dealing with a high speed craft.
Maintenance
As steel is very prone to corrosion, yearly re-painting will be required adding to service and maintenance costs.
Superiority over Aluminium Hulls
Aluminium has advantages over steel in weight; however these advantages do not apply when compared to GRP.
We believe, GRP being a homogeneous structure, without welds and sheet panel joins that can introducing stress areas, and without any concerns over electrolysis and dissimilar metal corrosion that it is superior to aluminium. Furthermore, maintenance and repair does not require specialised skilled personnel as is needed with aluminium (skilled aluminium welders). Good GRP repair and maintenance work can be easily affected. Furthermore GRP produces a vessel of superior acetic finish, its surface gell coat is of high gloss, and there is no 'starved dog' appearance as occurs when welded frames in time show through on an aluminium hulls construction. In addition maintenance costs are greatly reduced as there is not re-painting required over the vessels life, as is the case with painted aluminium vessels.
Other Considerations for GRP Hulls
The life of the vessels GRP structure should easily reach 15-20 years. One important consideration in GRP boat production is the tooling costs to design and manufacture the necessary moulds to build a GRP vessel. Many companies cannot afford this investment or are not prepared to invest in the appropriate tooling etc. SHM however has demonstrated that we are prepared to invest in tooling to build superior GRP vessels.
Safehaven Marine, Ashgrove, Cobh, Co Cork, Ireland
Phone 00353 86 8054582
Email- info@safehavenmarine.com safehavenmarine@eircom.net

WHEN YOU DEMAND STRENGTH & SEA KEEPING

All our vessels are build to the highest standards of strength & engineering and are renowned world wide for their exceptional sea keeping abilities.

For the best, most extreme, rough weather demonstration videos of our boats, see our amazing selection on you tube.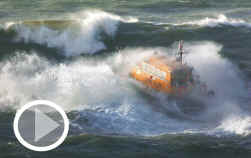 BEST ROUGH WEATHER ACTION PHOTOS
We don't just claim our boats have the best sea keeping abilities, here's the proof