SINGLE PLATFORM, MULTI-CONFIGURABLE TACTICAL CONCEPT.

Safehaven Marine's BARRACUDA is a fast, light, stealthy, lethal and survivable combat craft.
Based on a single platform (the Barracuda concept), variable in hull length between 11m and 13m, with standard or extended cabin lengths allowing increased accommodation or aft deck area determined by its mission parameters, but sharing a high degree of commonality (engines, systems, weapons etc, simplifying field service / maintenance). Multiple configurations are possible; creating a task force based around four mission specific versions: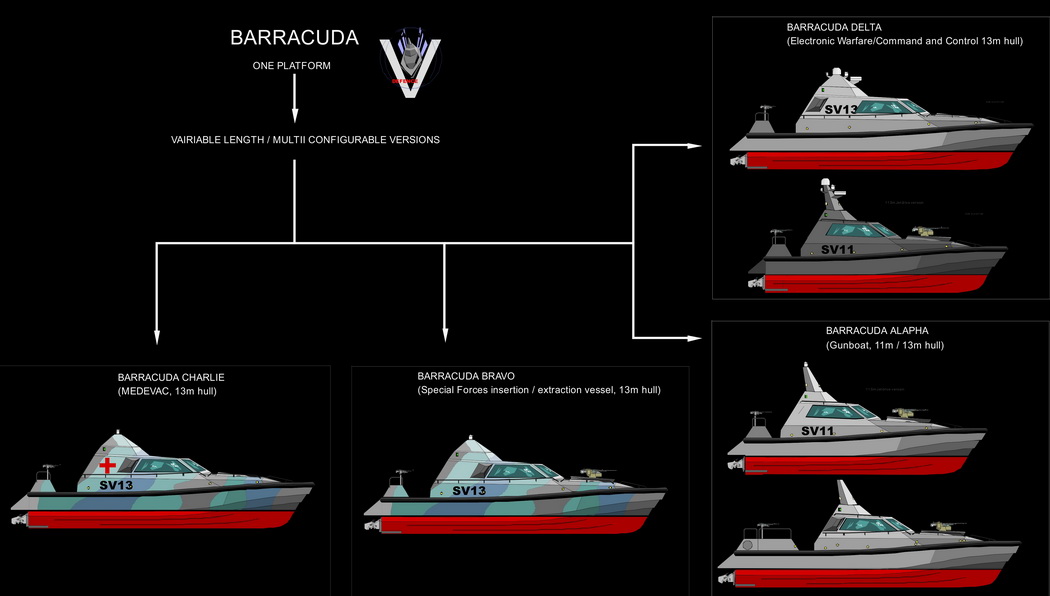 The BARRACUDA features the following features:
Low RCS, especially when bow-on to radar, making detection highly difficult until BARRACUDA is well within weapons range of her target
Composite hull and superstructure (either 11 or 13m length), low magnetic signature
High-speed (40+kts) Range 200 NM+
. Twin-engine. Conventional prop or water jet propulsion
Littoral/Riverine operations capable - draft 85cm (waterjet propulsion)
All-weather and open ocean capable, even in extreme conditions - BARRACUDA cruises at operational speed in sea-state 5, operates at lower speed in sea-state 7-8 (depending on specification self-righting from total capsize)
Fully enclosed watertight climate-controlled cockpit, shock mitigating seating (hydraulic), dramatically reducing crew fatigue and impact injuries
Crew cockpit is capable of Nuclear, Biological and Chemical filtration/positive cabin pressurization
Highly agile - multi-role/mission configurable
Survivable both in combat as well as hostile sea and weather conditions
Road, air (cargo and helicopter sling-load) and mother-ship deployable/recoverable
Concealed forward weapons bay, two aft pedestal mounts. Operator-defined weapons fit. 360-degree weapons coverage, including interlocking fields of fire forward, off the beam and aft.
Crew-served and personal weapons are stored inside cabin until required
Barracuda can accept a wide array of electronic warfare packages and systems, allowing a strike/intercept/insertion group of boats to accept and share real-time battle-space EW data from a remote station (surface or airborne), allowing the strike package to remain electronically silent and undetectable
BARRACUDA ALAPHA (Gunboat, 11m hull)
Primary missions are force protection, escort, intercept, interdiction, point defense, fire support and flare-ship
Crew – 4 (Pilot, nav/forward gunner, 2 x rear gunners/loaders)
Examples of forward weapons systems options include GAU 17, GAU 19, MK19, Sea Griffin missile, M2 .50 cal. Any system that fits the weapons bay may be mounted
The forward weapons station is concealed under watertight hatches and is deployed and retracted from the cockpit. The system may be remotely-operated from the gunner's station in the cockpit using a gyro-stabilized mount, or may be operated as a manned station. The gunner accesses the turret from inside the cockpit via a watertight hatch. This also means that the forward system is accessible from inside the cockpit for re-loading, stoppage clearance and control override
The two aft pedestal-mounts can accept systems up to and including the GAU 19/B
The pedestal-mounted weapons and ammo may be stored within the crew compartment until required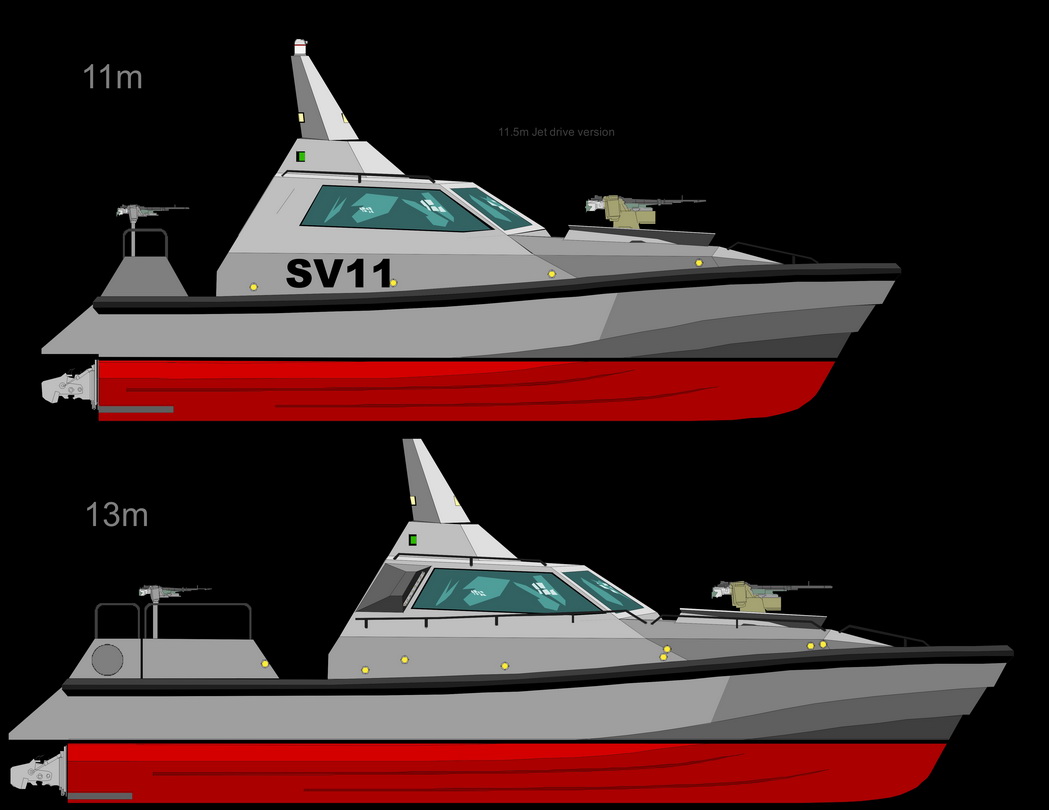 BARRACUDA BRAVO (Special Forces insertion/extraction vessel, 13m hull)
· Capable of carrying the same weapons fit as version A, with less space for ammo storage as the cabin is optimized for personnel/cargo transport
· Crew – 2 (pilot, nav/forward gunner, 2 rear gunners/loaders)
· Accepts 8-10 personnel, depending on mission and cabin outfit
· Can operate as a dive platform (6-8 divers plus equipment)
· UAV/ROV capable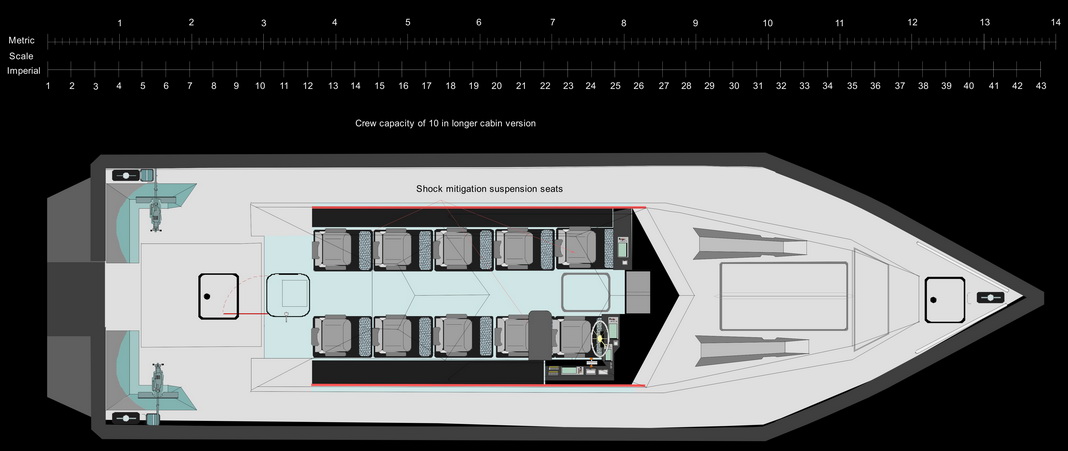 BARRACUDA CHARLIE (MEDEVAC, 13m hull)
Assume weapons systems are removed
Crew – 4 (pilot, nav, 2 x medics)
2 beds or 4 stretchers in the main cabin, 2 beds in the forward compartment, plus necessary equipment
Additional specialist equipment can be fitted
Can act as support-boat for dive operations
Capable of Lifeboat operations as required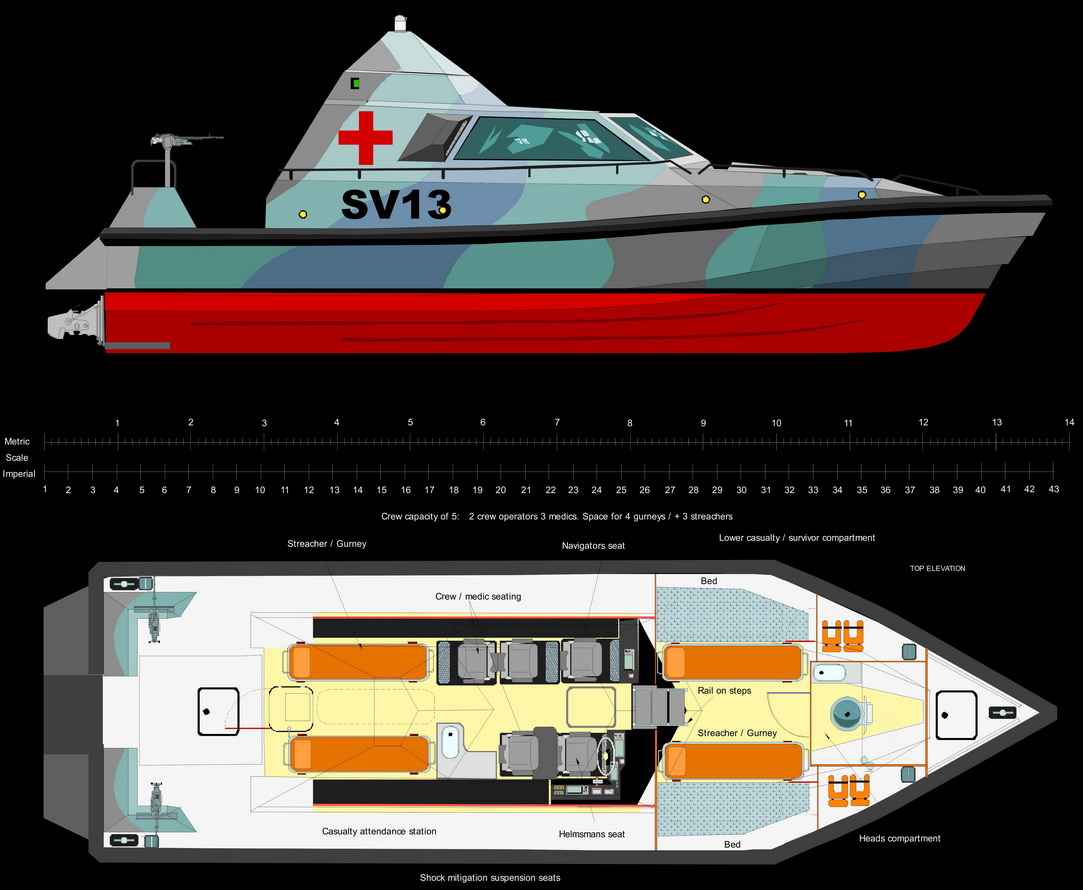 BARRACUDA DELTA (Electronic Warfare/Command and Control 13m hull)
Operator-defined multiple-role Electronic Warfare platform
Crew – 6-8 (pilot, nav/fwd gunner, 2 -4 electronic warfare specialists, mission commander, additional PAX as required)
Retains the ability to able to self-defend and deliver additional fire support as needed
Comfortable, secure, highly agile command vessel
Acts as the downlink node for battle-space intelligence and can share this information in real-time with the rest of the BARRACUDA force and other assets
Capable of deploying, operating and recovering UAV/ROVs