Gallery
VIDEO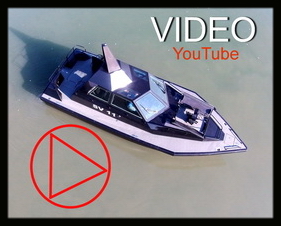 Video demonstrating Barracuda's design and weapons system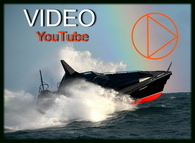 Video demonstrating Barracudas seakeeping and handling
PHOTOS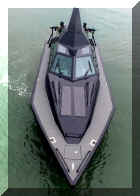 SUMMARY DESCRIPTION

'Barracuda' is a 11-13m high speed low RCS Interceptor / pursuit vessel for military and law enforcement applications. Typical operational roles are patrol and surveillance duties around port and harbour infrastructure as well as coastal, offshore installations and anchorages, Barracuda is also imminently capable of high speed pursuit and apprehend when required. From a naval and military perspective its possible deployment scenarios are far reaching, launched from an 'over the horizon' mothership, covert surveillance can be undertaken for far longer durations, and in much rougher weather than would be possible with conventional RIB's. Covert 'insertion' can be undertaken with a greatly reduced risk of detection, thereby maximizing the missions chances of success. Operator and crew safety is enhanced with reduced levels of risk to combatants.

Propulsion can be by conventional stern gear for its weight carrying capabilities and durability or waterjets for higher speeds and low draft. Capable of maximum speeds of 35 – 40kts+ depending on the propulsion system and equipment installed. A crew of 4-6 can be comfortably seated on high tech shock mitigation seats with space for additional passengers in her f/wd cabin. An array of both lethal and non lethal weapons can be carried concealed below deck in a separate compartment in the forward section of her superstructure, and raised when required. The vessel can be deployed by helicopter utilizing its in-built lifting points or transported by ship or road.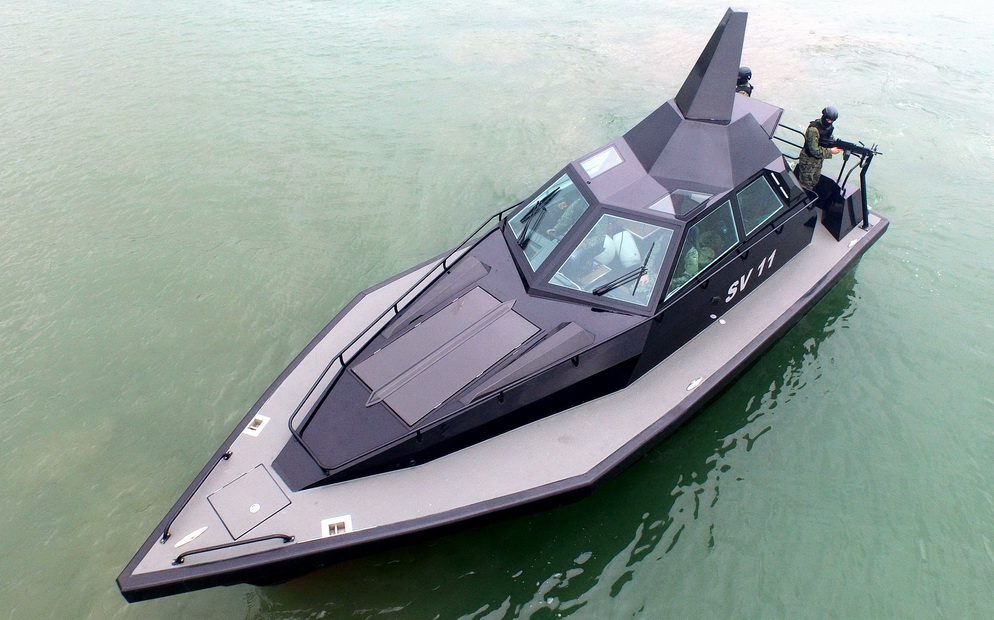 Above, Barracuda's main weapons are concealed below decks, and raised (below) for deployment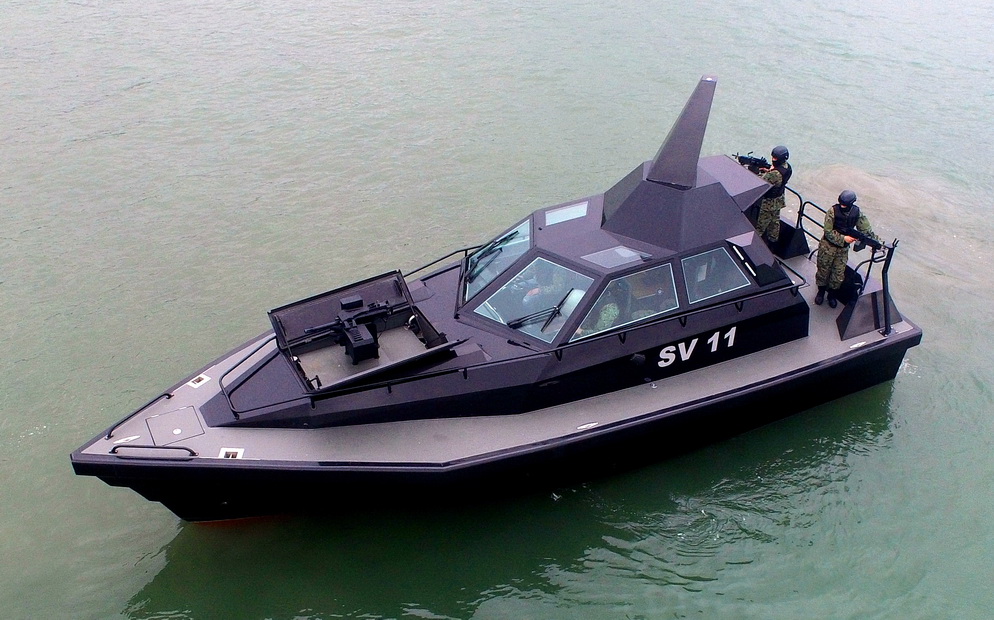 STEALTH CAPABILITIES & WEAPONS INTEGRATION
The innovative design of the vessel utilizes various stealth technology's to produce a lower RCS (radar cross section), allowing it to operate with a high degree of invisibility to an adversary's radar. Stealth technologies are employed in the superstructure and hull design utilizing flat plane principles to its surfaces in the f/wd and to a lesser extent side projections to deflect radar beams away from source, which together with RAM and specialized outfitting, including minimal metallic fittings exposed above decks, or where necessary fully recessed. All of which combine to produce a vessel with a very significantly lower than normal RCS.
The design uses an innovative solution to weapon deployment. Various different types of both lethal and non-lethal weapons, including a remote control gyroscopically stabilized 7.62 / 12.7mm machine gun / 40mm grenade launcher can be fitted to Barracuda. In Barracuda the weapons are cleverly concealed below decks in the f/wd section of the superstructure, and are raised up to above deck level for deployment through large watertight carbon fibre hatches built into the f/wd cabins roof section. In this way when the vessel is in engaged in surveillance or patrol, the main weapons are concealed and the vessels RCS signature is reduced. When the vessel is engaged in pursuit or apprehend modes, the weapons are raised for deployment. Another advantage being that the weapons are hidden when not in use for security, durability and covert reasons, as well as greatly reducing the vessels VCG when beneficial, such as in heavy weather.
Additional fire power can be mounted on the aft deck via removable universal gun mount pedestals capable of accepting everything from the M249, to the M134 minigun, up to the M2 .50 caliber heavy machine gun. Non lethal weapons can include sonic disrupters and water cannon.
The design however does not compromise on practicality or usability and provides for a high level of crew safety (wide side decks) for offshore boarding capabilities.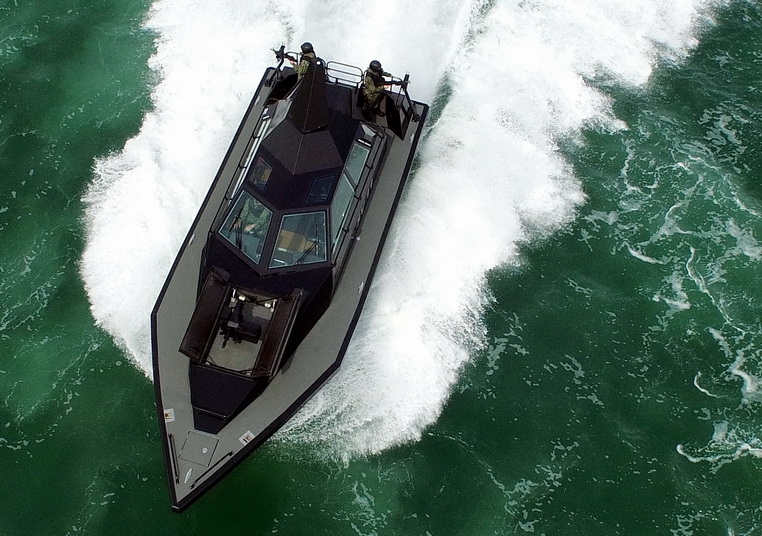 CONSTRUCTION & HULL DESIGN
To ensure the lowest magnetic signature Barracuda is constructed from advanced lightweight FRP cored composites, with extensive use of carbon fibre in its outfitting. Substantial in size yet lightweight Manuplas foam cored fenders with a polyurethane skin are used to minimize weight and offer maximum protection to the hull. The vessel can be moulded at lengths between 11m and 13m, and has a 4m beam, longer length versions benefit from a longer aft cockpit providing an increased working / crew area. The hull design below the waterline is an all new constant deadrise, twin chine deep V hull form capable of high speeds. A 22 degree deadrise at the transom and a wave piercing bow form, with a very fine wave cutting waterline entry at the bow of 70 degrees, which very effectively minimizes vertical accelerations at speed in waves, thereby maximizing crew endurance. The hull provides exceptionally high levels of seakeeping abilities on all course, very much as one would expect from a builder renowned for its highly seaworthy pilot and S.A.R. vessels, and in fact, depending on specification, in its more basic patrol vessel guises can be self-righting, increasing its operational envelope to S.A.R. and enabling operation in extreme conditions. Four watertight compartments ensure Barracuda is survivable both in combat as well as hostile sea and weather conditions. The hull's special spray rail and twin chine arrangements provides for excellent spray suppression and on deck dryness, and her wide beam provides high levels of dynamic and static stability. The design is capable of operating in up to sea state 7-8, and maintain operational speed in sea state 5.
ACCOMMODATION
Barracuda features a fully enclosed, climate controlled cabin and can accommodate a crew of 5-6 (or up to 10 in 13m versions) in her main cabin, all on high tech shock mitigation seating dramatically reducing crew fatigue and the risk of impact injury. Additional occasional / survivor seating is provided in the forward cabin. A highly focused helm position allows the helmsman efficient control of the vessel even in demanding conditions, dedicated tactical positions with their own consoles are provided for weapons and navigators positions. Excellent all round visibility is provided by the cabins large glass area.
Below, 'Barracuda' being tested to her limits in 6m breaking seas. Her sea keeping abilities are exemplary.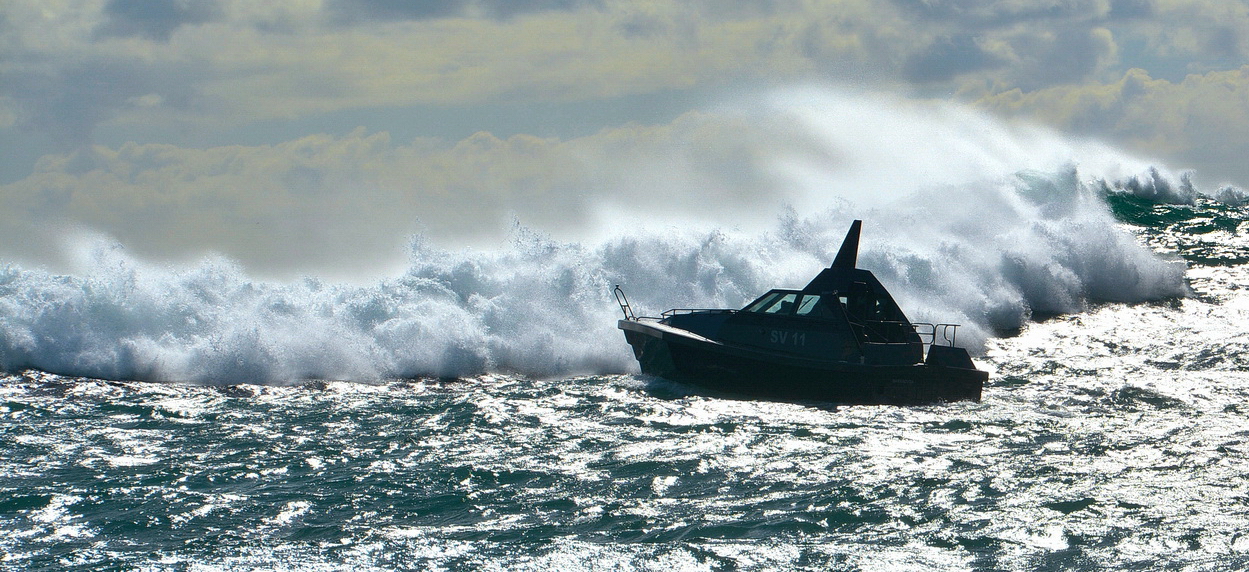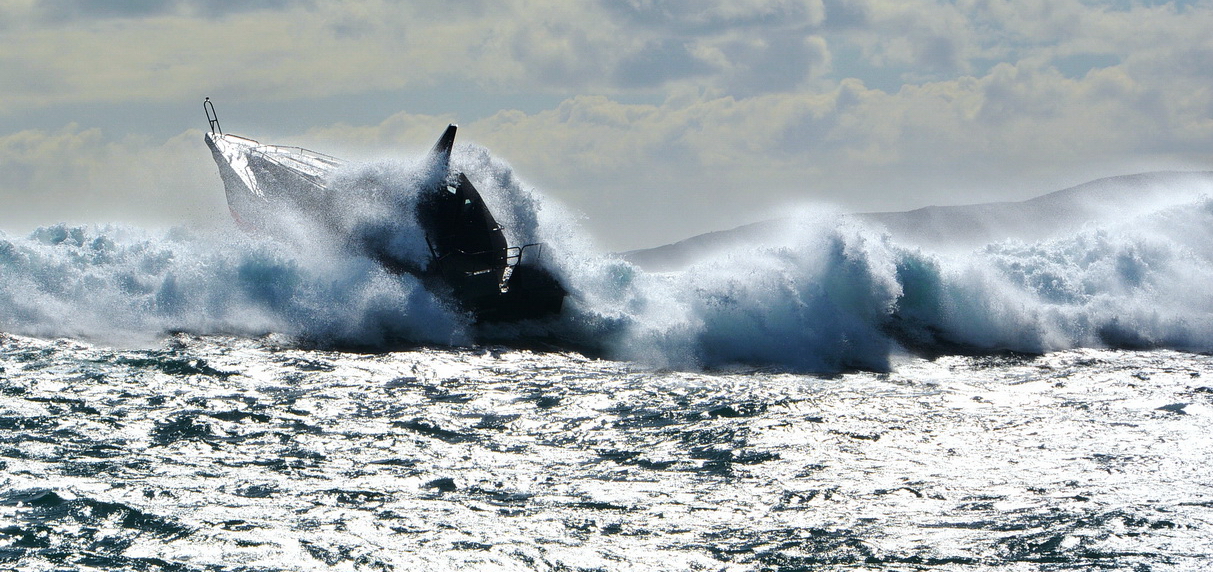 Below, Barracuda undergoing a self-righting, capsize recovery test during which she was inverted to 180 degrees.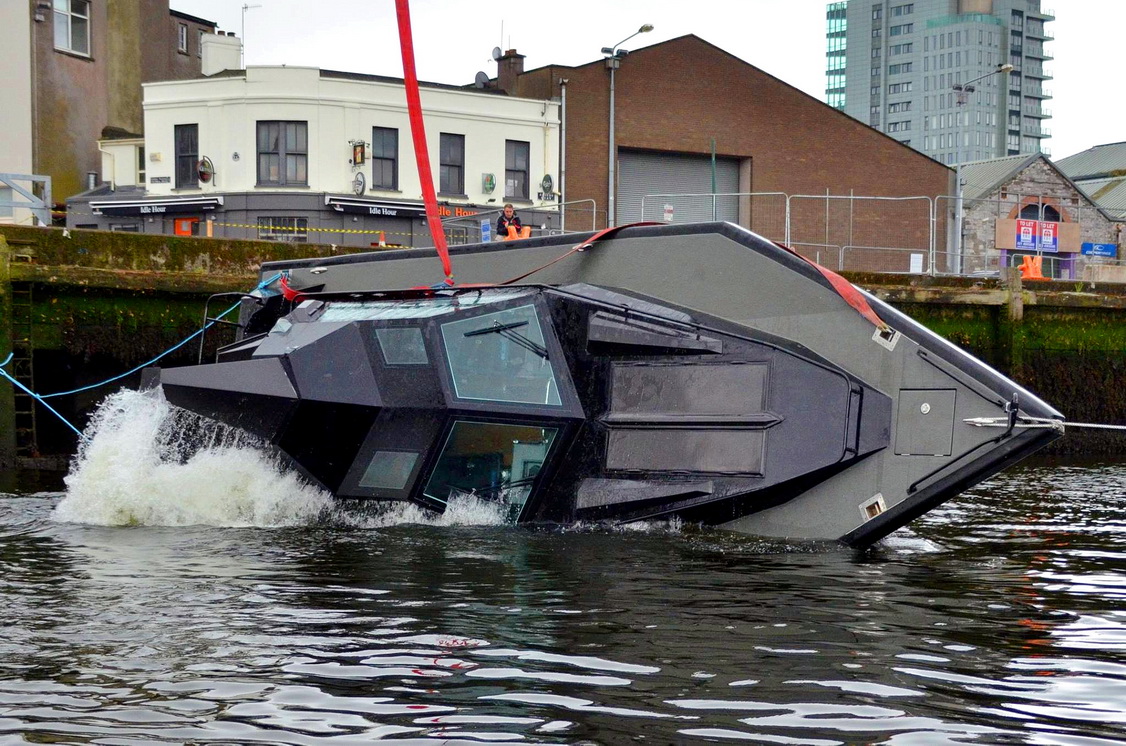 SYSTEMS
As well as a full array of navigation equipment, a range of sonar equipment can be installed to monitor the underwater situation. FLIR Thermal and night vision infrared cameras are integrated for surveillance. A full digital Can Buss electrical system has been integrated with all onboard systems controlled by touch screen computers at the helm and navigators positions, and expandable to potentially allow all crew members the ability to monitor and control the vessels navigation and onboard systems.
BALLISTIC PROTECTION
Optionally ballistic protection can be incorporated to provide protection to the crew compartment utilizing lightweight composite ballistic panels. The front and side glass is ballistic and is directly bonded into moulded recesses without metallic frames.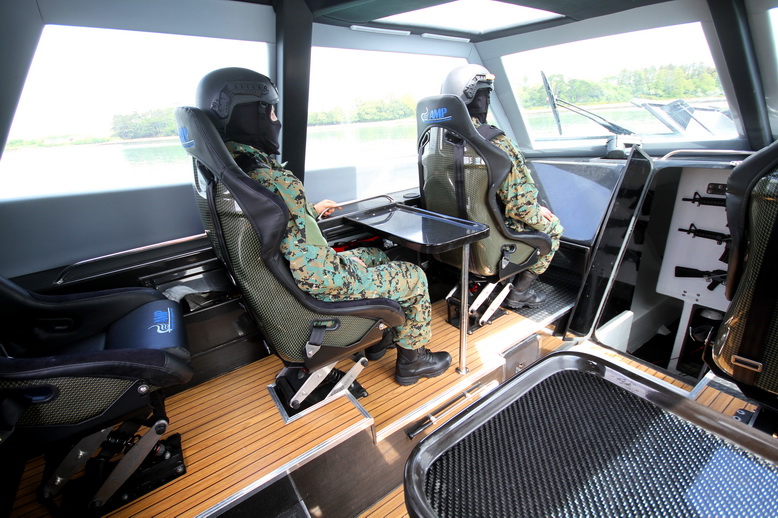 Above & below. Barracudas main crew compartment offers seating for up to 6 crew, ergonomically designed the cabin is spacious and offers excellent visibility.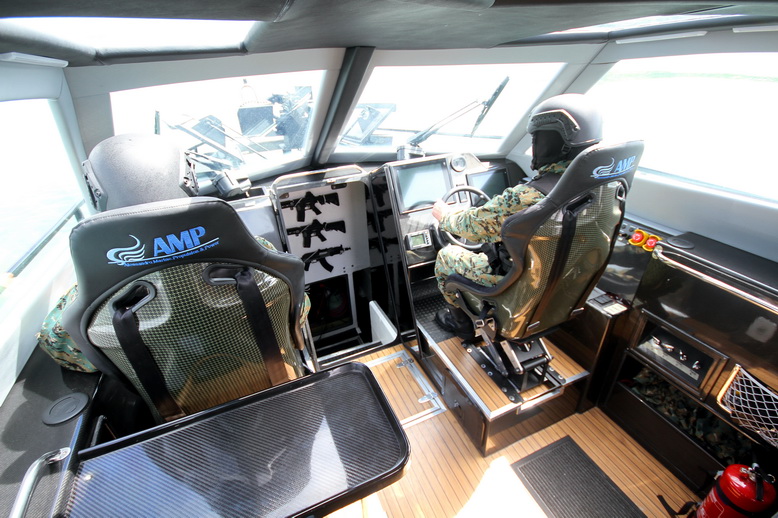 TRANSPORTATION
AIR- Barracuda can be transported by air carried underneath a helicopter by 4 point recessed lifting eyes integrated on her deck structure
SEA- Capable of being recovered by stern ramp or transom recovery system when fitted with waterjet propulsion option.
In 11m lengths easily deployed to conflict area by 40ft flat rack container.
LAND - Transportable by land via commercial low loader.