SPECIFICATION
L.O.A.
Length Moulded
BEAM
Beam moulded
Draft
Displacment
Lightship
Fully loaded
Pilot seating capacity
Fuel capacity
Engines
Power output
Gearboxes
Generator
Air-conditioning
Speed
Operational
Maximum
Certification
55ft / 16.7m
16.1m
5m
4.6m
1.4m
23,500kg
27,000kg
6 pilots, 1-2 crew
2200 litres
Volvo D16
750hp
Twin Disc 5135
2X 7kw
3x 24,000btu
25-26kts
28kts
Lloyds
NEW INTERCEPTOR 55 PILOT VESSEL FOR THE PORT OF ADEN, YEMEN NOW LAUNCHED.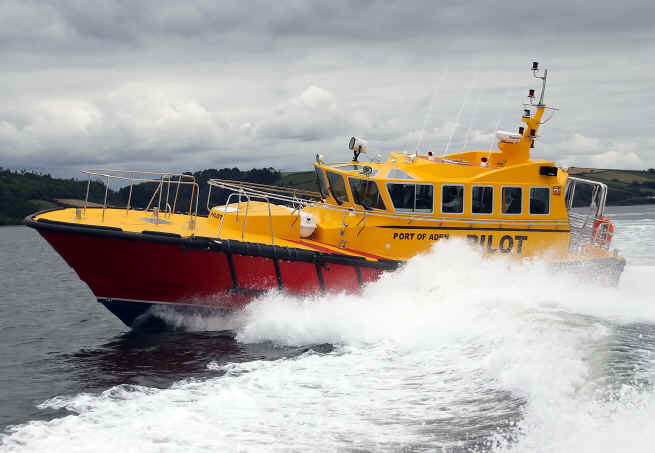 The Port of Aden in Yemen's new pilot vessel has now been launched. She is powered by twin Volvo D16 750hp engines through TwinDisc 5135 gearboxes giving her a maximum speed of 28kts comfortably exceeding her contract requirement by a large margin. On her delivery voyage from Youghal to Cobh her performance proved excellent, with light responsive steering, perfect trim and very low noise levels, providing a comfortable environment for her pilots and crew. She is built for very hot climate operation with a high degree of redundancy, she features twin 7kw generators powering 3x 24,000btu air conditioning units and high power engine room ventilation fans. This will ensure she will be able to operate in the high temperatures experienced in Yemen efficiently and comfortably. Her fit out features seating capacity for 6 pilots with full live aboard facilities incorporated into her spacious air conditioned forward cabin.
Below, see a great video of her, includes Ariel footage taken from a helicopter SEE THE VIDEO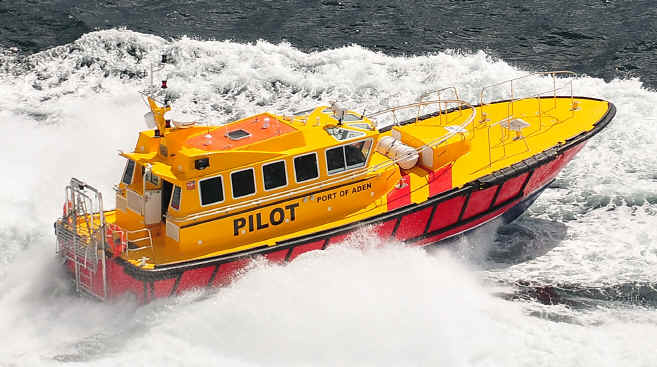 Heavy duty rubber fendering protects the hull with substantial 150x150mm fendering along her gunwale with an addition run at her transom quarters, numerous diagonals and a lower run along her 2nd chine just above the waterline, In addition she is fitted with our own proven 'Sacraficial shoulder fender' system. The Interceptor 55's deep V, twin chine hull provides exceptional seakeeping abilities, high levels of stability and a very soft ride in to head seas.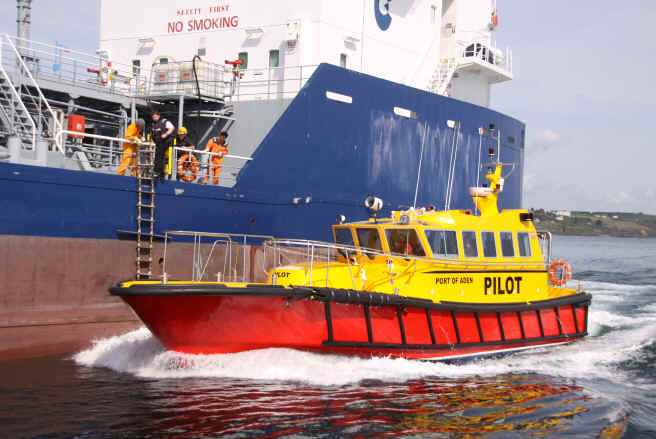 Below, See a video of her undergoing pilot boarding trials SEE THE VIDEO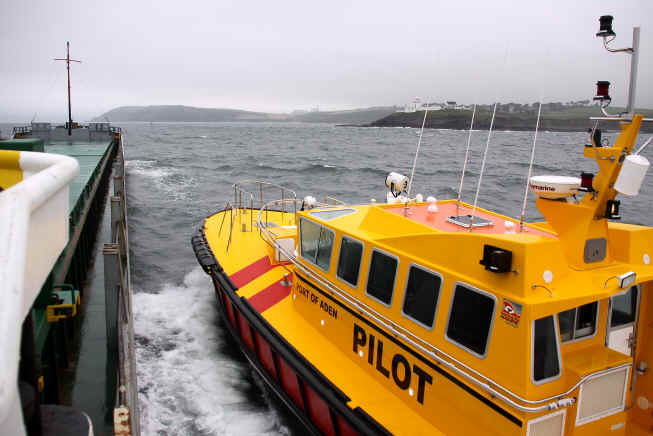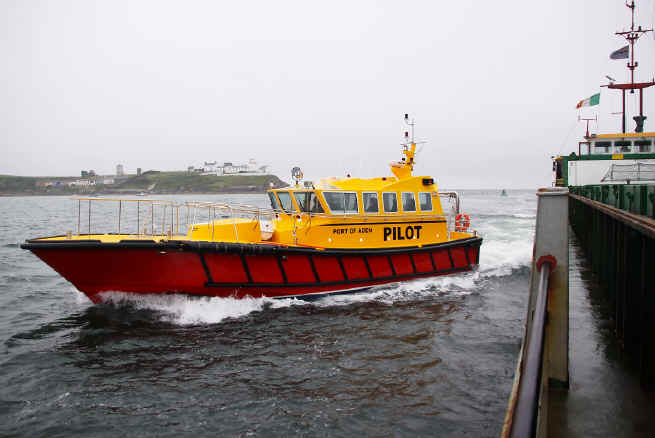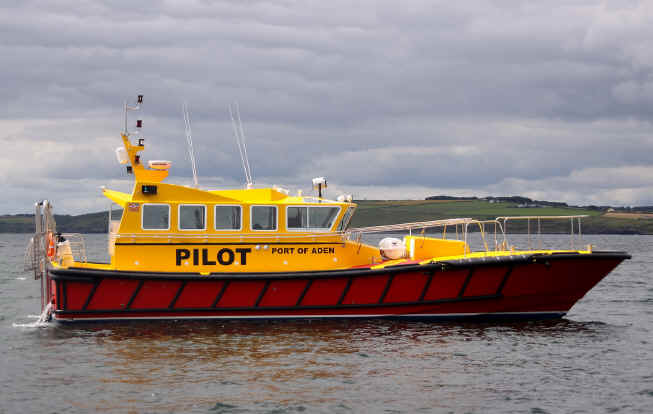 Her pilot boarding area is wide, spacious and fitted with strategically positioned safety rails providing a safe working area for pilot and crew, who benefit from her raised sheerline and flared bow, keeping decks dry and safe.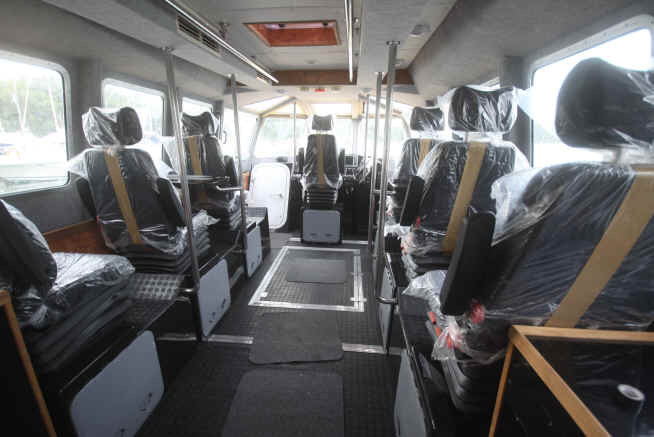 From an operational perspective, a centrally positioned helm console provides her coxswain with clear uninterrupted vision equally to port and st/bd, large side and overhead windows assist visibility when alongside ships. Her helm position has been especially designed to provide a focused and ergonomically efficient operators environment, which allows the coxswain to take full advantage of the Interceptors fine responsive handling. Twin 24,000btu air conditioning units are fitted at the aft of the cabin and with cold air ducted up to over head outlets running the length of the cabin ensuring efficient cooling of the cabin. Her large main cabin features 6 pilot seats, two of which have tables in front of them, numerous overhead and vertical grab rails provide safe passage in rough weather.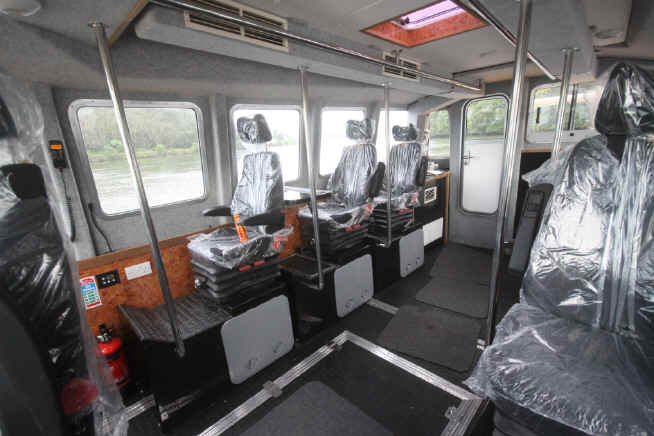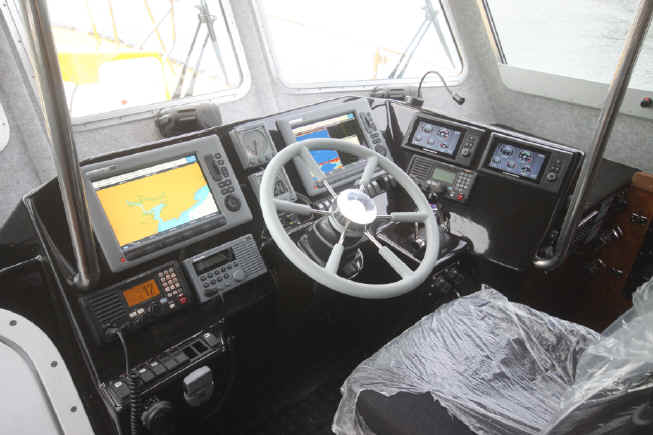 Her design features a large, spacious forward accommodation area ,allowed for by placing the engines centrally under the wheelhouse. Forward there is sleeping accommodation with two large bunk berths. A comfortable seating area along side the large galley area, The cabin contains a full size heads compartment with sink and shower. Large wet locker and under deck storage enhance her functionality and provides a very comfortable, fully air conditioned crew environment.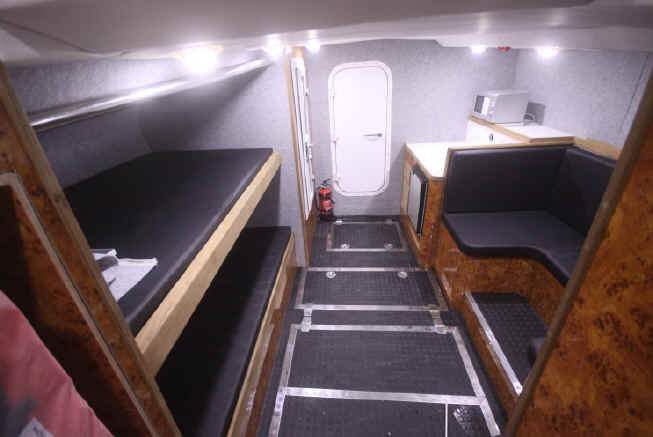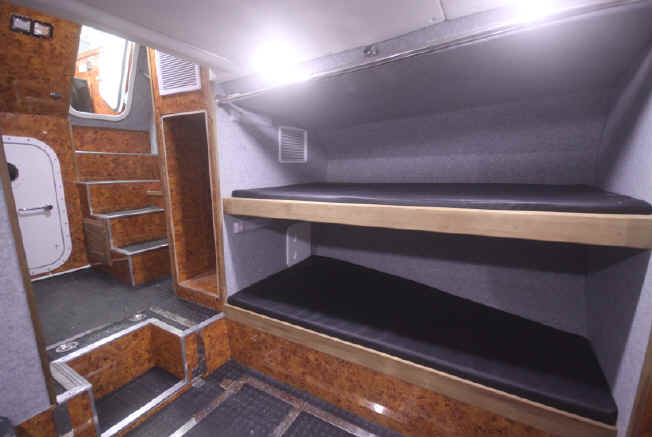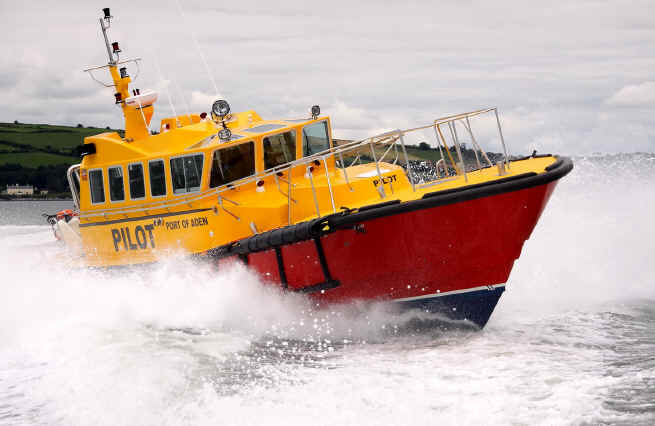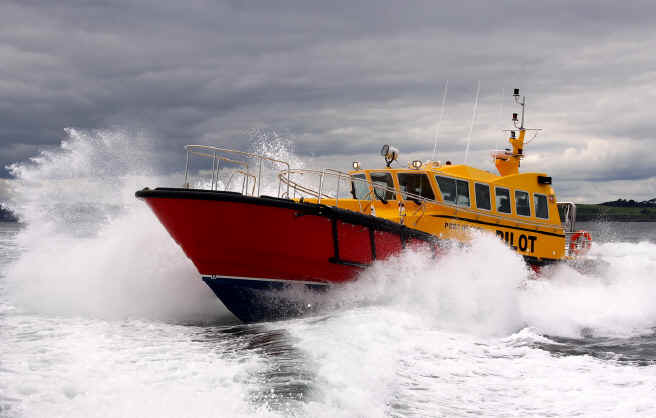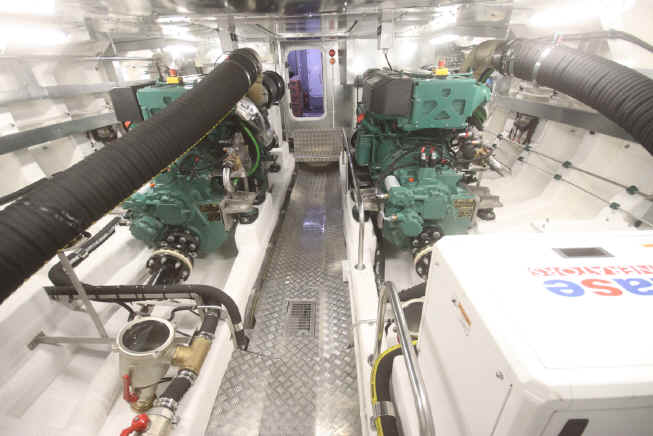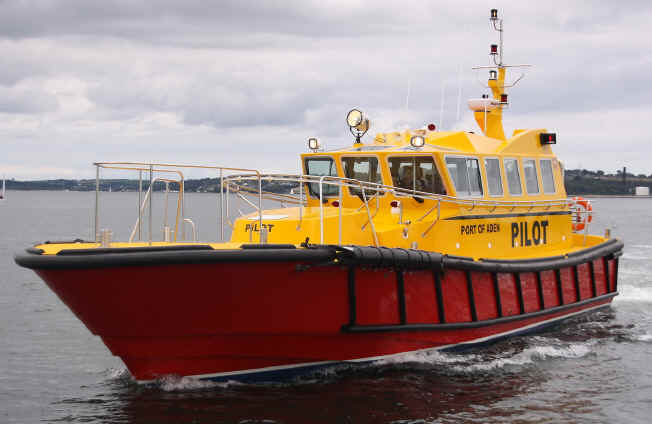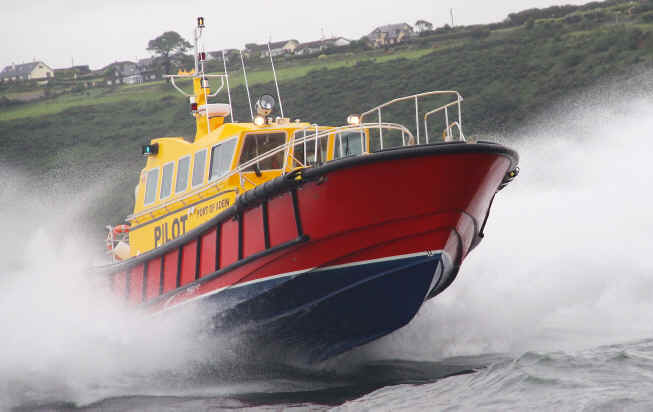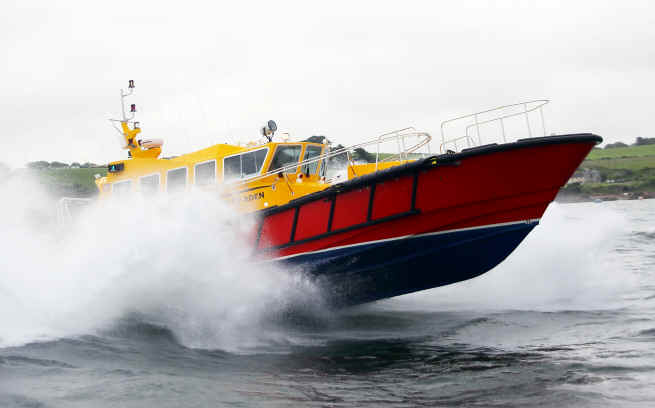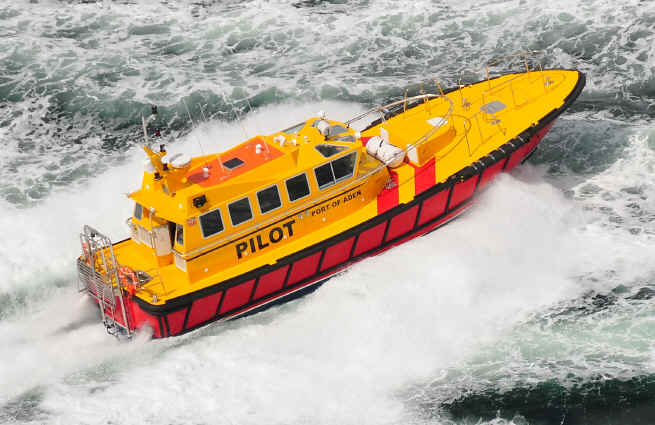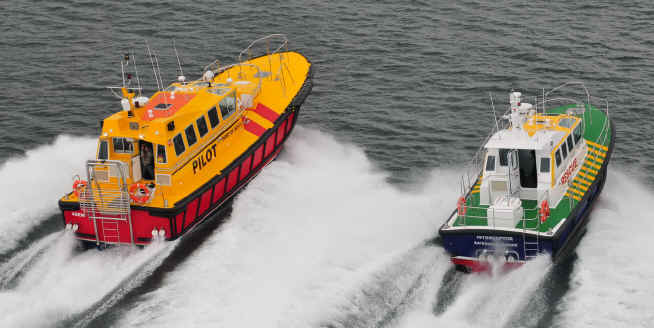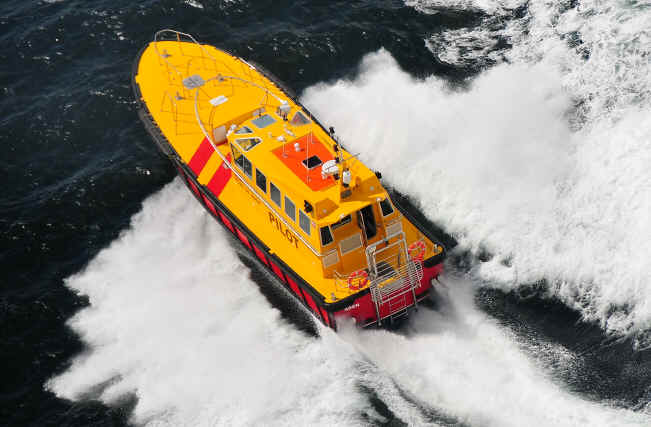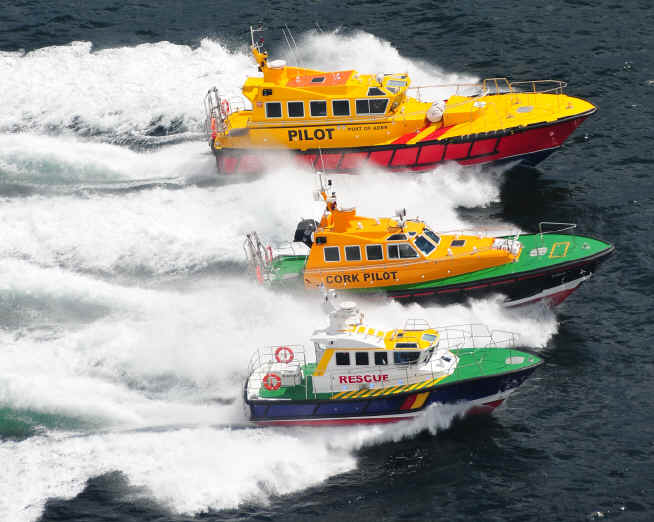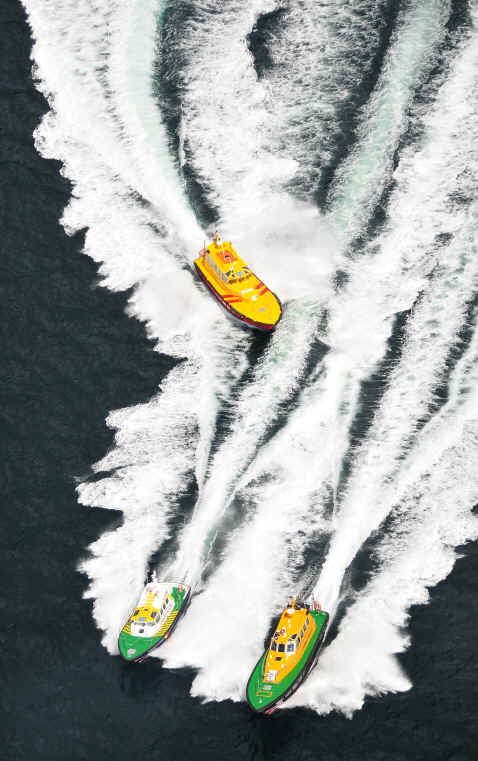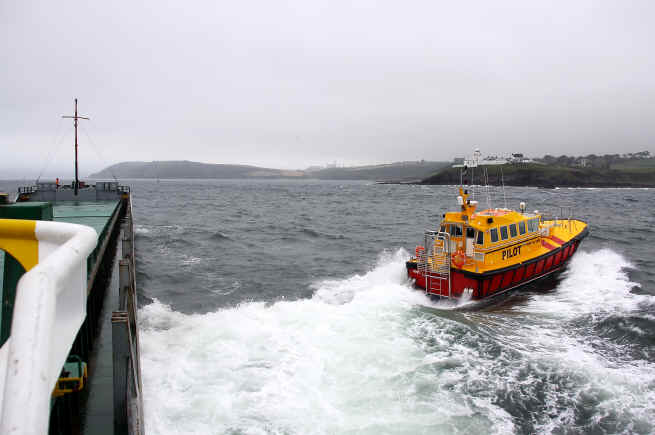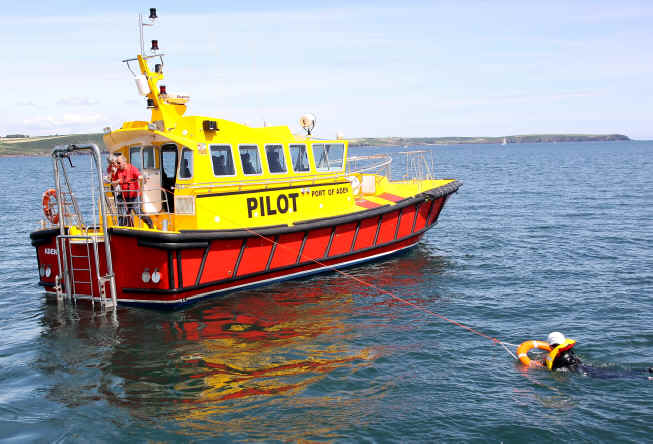 Above & below, testing our MOB recovery platform.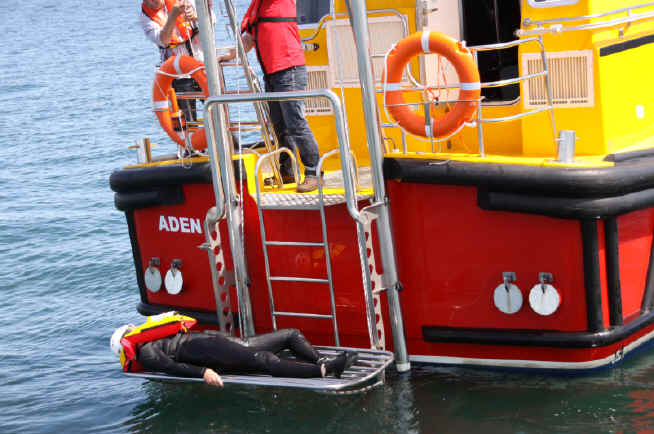 Over the years we have captured many exceptional photographs and videos of our vessels operating in extreme conditions, check them out here- GALLERY
Safehaven Marine, Ashgrove, Cobh, Co Cork, Ireland
Phone 00353 86 8054582
Email- info@safehavenmarine.com safehavenmarine@eircom.net

WHEN YOU DEMAND STRENGTH & SEA KEEPING

All our vessels are build to the highest standards of strength & engineering and are renowned world wide for their exceptional sea keeping abilities.

For the best, most extreme, rough weather demonstration videos of our boats, see our amazing selection on you tube.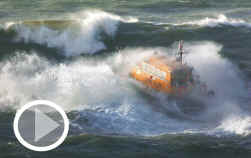 BEST ROUGH WEATHER ACTION PHOTOS
We don't just claim our boats have the best sea keeping abilities, here's the proof