SPECIFICATION
L.O.A.
Length Moulded
BEAM
Beam moulded
Draft
Displacment
Lightship
Seating capacity
Fuel capacity
Engines
Power output
Gearboxes
Generator
Speed
Operational
Maximum
Certification
Rough weather trials, force 7-8 off Cork, Ireland
Sea keeping & handling trials
Coastguard helicopter training
55ft, / 17m
15.9m
6.4m
6.1m
1.3m
26,500kg
12 pass / 3 crew
3,000 litres
Volvo / Scania D16
750hp
Twin Disc 5135
9kw
22-23kts
25kts
MCA
In all respects the Wildcat is engineered to the highest standards, the electrical installation is fully marinised and carried out by experienced marine electricians, the vessel is typically very highly specified, featuring a 9kw generator providing 240v throughout the vessel. A very comprehensive navigation suite from Furuno, with twin scanner high definition radar, GPS, all displayed on multiple 17" screens, Talk back deck communication, autopilot and onboard Wi Fi. High definition CCTV records boarding and aft cockpit operations. Aft, twin dive platforms at the transom of each hull give waterline access through transom gates, and the well decked aft cockpit features a Palfinger crane and a large clear cargo area.
Typical machinery installation is Scania D16 750hp engines, although any manufacturer can be accommodated, Caterpillar C18, Volvo D16 or larger MAN & MTU engines. Ultra Dynamics 451 Jet drive with full Joystic control or Conventional stern gear which is fully protected by a deep moulded keel.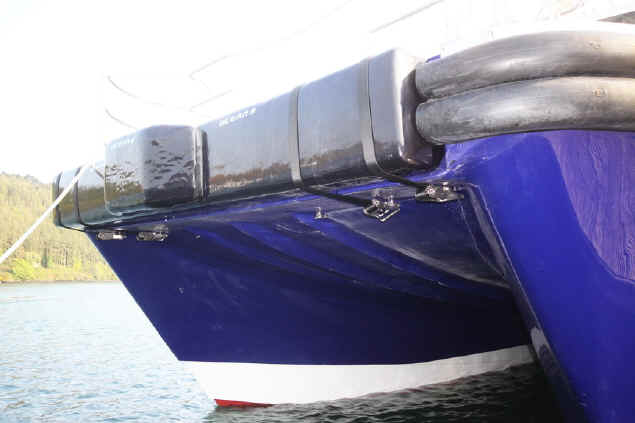 The bow area has been designed to accommodate a specially developed fender system from Ocean 3. The fender design is of high density foam core 500m x 400mm to cushion impacts and stresses in the bow. The fender is retained by straps in a grove moulded into the bow, thereby capable of being quickly changed in the event of damage and is interchangeable to feature either a flat bow or a fender with a nipple incorporated. No stranger to building exceptionally strong GRP hulls, the Wildcat 53 has the same heavy duty scantlings as their renowned pilot boats which are often subject to severe impacts in rough weather, this produces a vessel that can withstand tough use in the harsh windfarm support vessel environment. GRP provides many benefits, being a homogeneous structure it is very strong, it gives a high standard of external finish with the advantage of zero maintenance, it is easily repaired and perfectly compliments Safehaven's graceful design, resulting in a very striking vessel.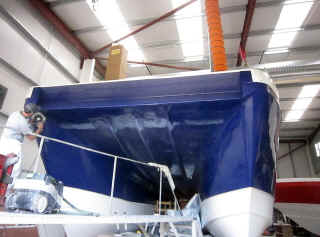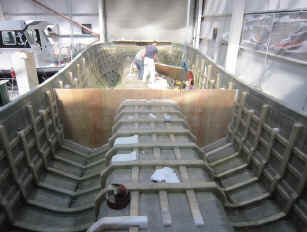 Above, the mouded recess which receives the Ocean 3 fender and the hull under construction showing the very substantial scantlings. Below, the bridge deck and a cut out showing just how thick the GRP at the bow area is. This is heavy duty GRP construction for durability.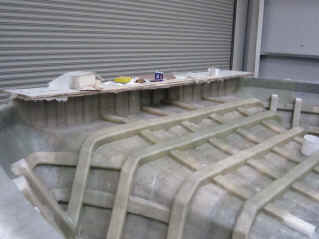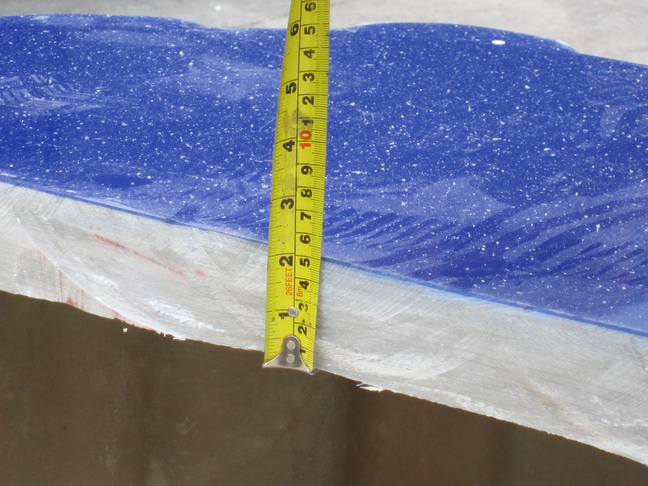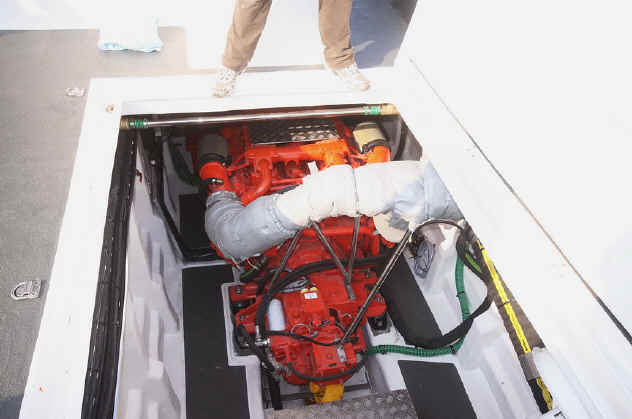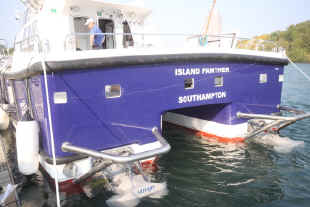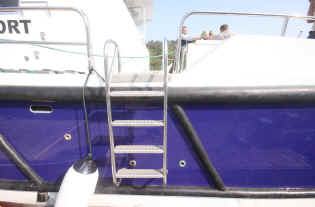 Below, the large spacious engine room.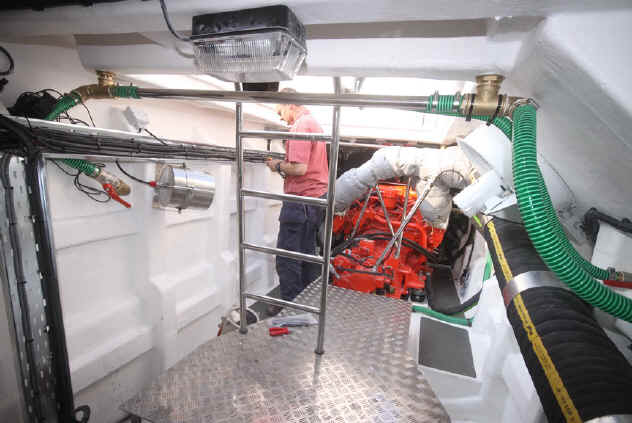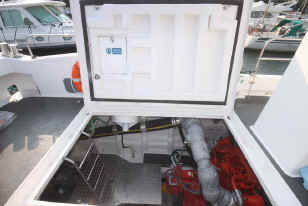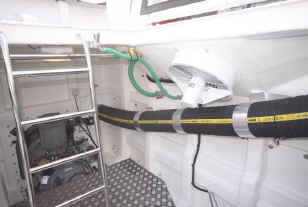 Island Panther, Island shipping's 2nd vessel incorporated a number of upgrades to her specification over the first vessel to enhance her functionality in her windfarm support role, most notable being the incorporation of a dedicated fuel and water transfer system with additional fuel capacity totaling 5,000 litres of fuel and 1,000 litres of water. The fuel transfer system features separate reels with 50m of hose stored in the fore peak, these pump fuel / water under 5 bar from high capacity 240v pumps, allowing the vessel to refuel generators / water tanks on the windfarm platforms up to 40-50m above water.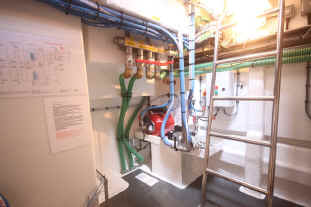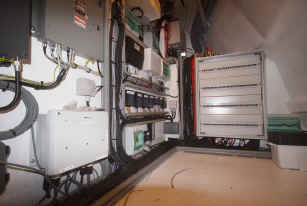 Palfinger crane fitted in the aft deck allows lifting of stores and cargo during crew transfers.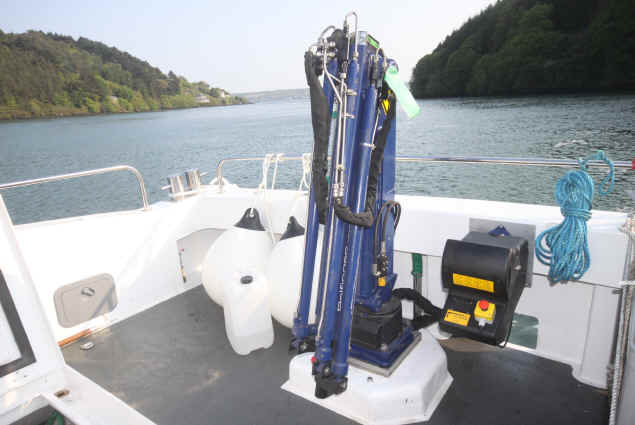 Below, for conventional stern gear propeller vessels the hull is moulded with a full deep keel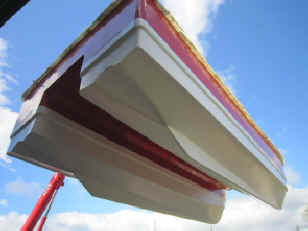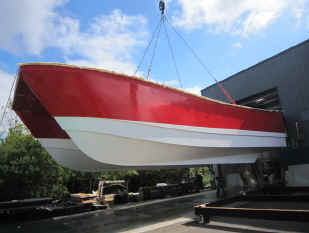 Safehaven Marine, Ashgrove, Cobh, Co Cork, Ireland
Phone 00353 86 8054582
Email- info@safehavenmarine.com safehavenmarine@eircom.net

WHEN YOU DEMAND STRENGTH & SEA KEEPING

All our vessels are build to the highest standards of strength & engineering and are renowned world wide for their exceptional sea keeping abilities.

For the best, most extreme, rough weather demonstration videos of our boats, see our amazing selection on you tube.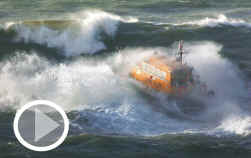 BEST ROUGH WEATHER ACTION PHOTOS
We don't just claim our boats have the best sea keeping abilities, here's the proof