SPECIFICATION
L.O.A.
Length Moulded
BEAM
Beam moulded
Draft
Displacment
Lightship
Seating capacity
Fuel capacity
Engines
Power output
Gearboxes
Generator
Speed
Operational
Maximum
Certification
Orca III Sea trials, Alongside the two Azores pilot boats
55ft, / 17m
15.7m
6.4m
6.1m
1.3m
27,500kg
12 pass / 3 crew
3,000 litres
Volvo / Scania D16 750hp
9kw
Twin Disc 5135
21-22kts
24-25kts
MCA
ORCA III, Angus Campbell's new Wildcat 53 is launched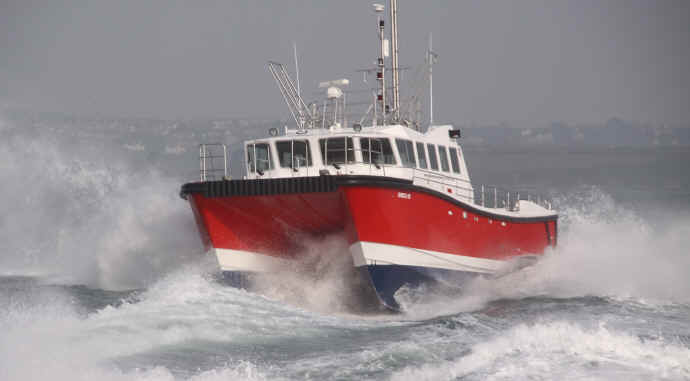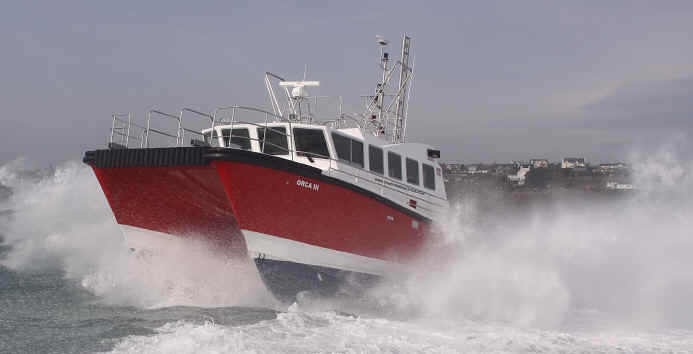 See the video of Orca III being sea trialed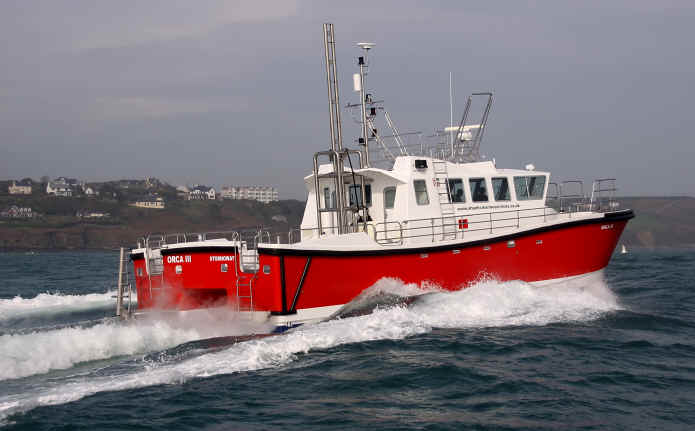 Safehaven Marine, have now launched 'ORCA III' the third of their GRP Wildcat 53 / 16m catamaran's. She has been built for Angus Campbell, based on the Isles of Harris in the Outer Hebrides , Scotland . This is the third vessel Angus has commissioned from Safehaven Marine, the first being an Interceptor 42 in 2004, in 2007 he commissioned an Interceptor 55 which he has operated as a passenger vessel on the St Kilda run, a 100nm voyage from The Isles of Harris out into the North Atlantic, and must surly represent the most challenging of operational roles a commercial vessel must endure, often facing 6m seas on the voyage and regularly caught in heavy weather on the return trip, the Interceptor 55 proved a safe, seaworthy vessel. Angus will use ORCA III on this run, but will also use her for a multitude of other operational roles, these being windfarm support, hydrograpic survey and long range passenger and dive support, and for each role she has been specifically adapted. For windfarm support she features a heavily reinforced and fendered bow allowing crew transfers to windfarm structures and incorporates 12 reclining 'air craft' style passenger seats, each with a table in front providing a comfortable environment for passengers. For hydrographic survey work she is equipped with a moon pool and multi-beam sonar head deployment frame which can be removed when not required, this has been developed and refined by Safehaven over several previous survey vessels they have built. She features a dedicated survey bench for hydrographic equipment. For her St Kilda run, and for the long-range offshore work she will do the vessel has been built to comply with MCA Catagory 0, un-restricted service range, incorporating 5,000 litre fuel capacity, high survivability with 8 watertight compartments and complying with Cat 0 damaged stability requirements. Her hulls scantlings have been designed for Lloyds SSC area G1 and are 'substantial' with transverse framing at 500mm centres providing her with the strength needed working this far offshore. She is equipped with an Icom M800 SSB radio and live aboard facility with 8 bunk berths, full galley with a 240v cooker & hob as well as a large freezer, all powered by a 12kw generator providing onboard AC power. The vessel features a hydraulic power supply powering twin 95kgf bow thrusters, and a HIAB crane mounted on the aft deck. She is fitted with her own 5m RIB carried on her spacious (28m2) aft deck on a cradle, and is launched by crane, allowing passenger transfers ashore from remote destinations. In addition she has a dive platform and divers ladder on the transom, and to assist dive operations she is fitted with twin bow capstains / windlasses and an aft capstain on her transom.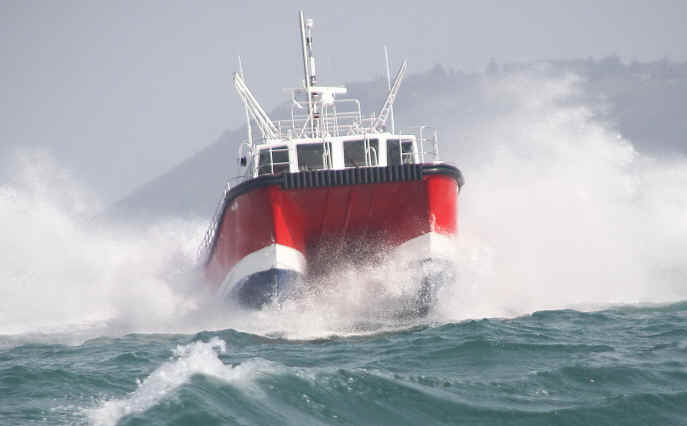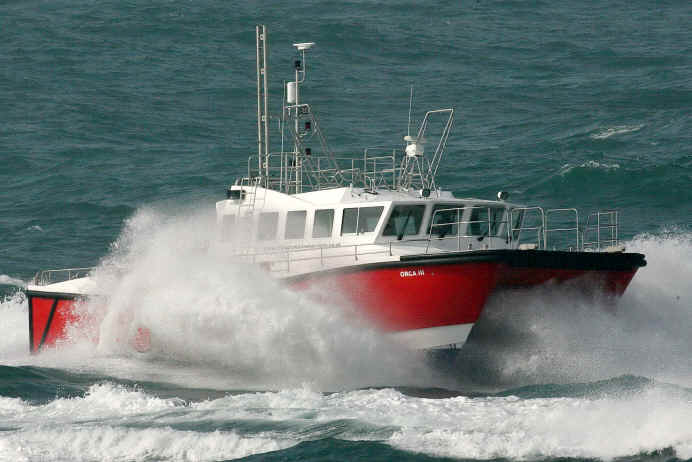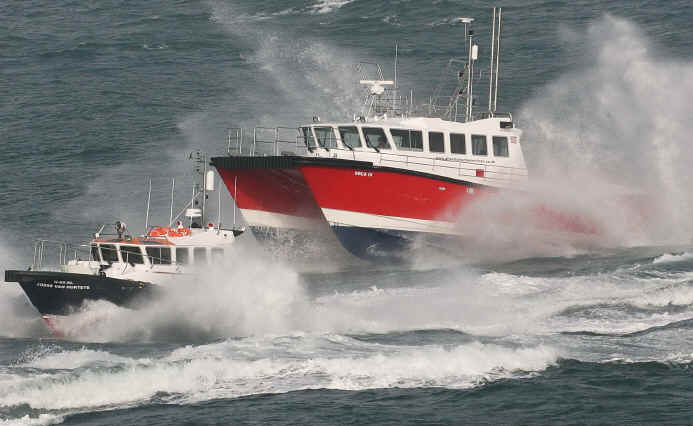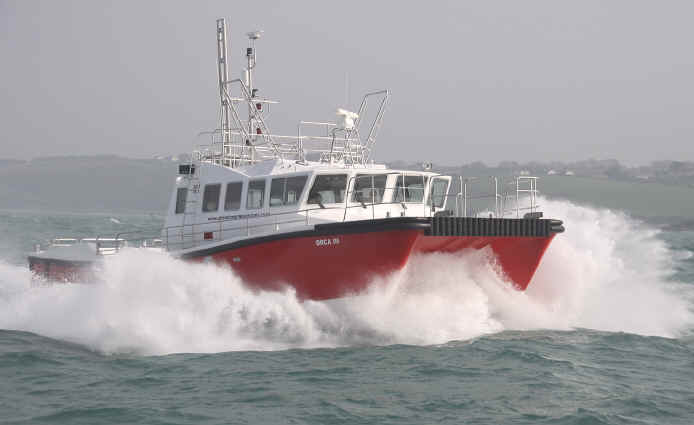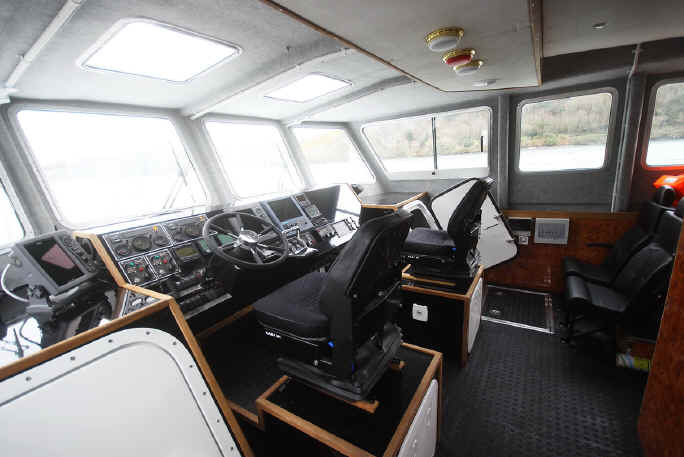 Safehaven's Wildcat 53 is a high buoyancy bow, twin chine symmetrical hull catamaran form, that has proved very successful in Safenaven's 'Wildcats', providing exceptional levels of sea keeping and performance. The design is 16m moulded (17m LOA) with a 6.1m / 20ft beam and differs from the last two Wildcat 53 windfarm support vessels, supplied by Safehaven to Island Shipping in 2010 and 2011, both of which have been working successfully on UK windfarms for the past 18 mths, in having a single level superstructure design, as opposed to a raised bridge deck design, this gives the advantage of allowing f/wd visibility for all passengers which Angus felt was important for passengers on the long transit durations his passengers undertake in Cat 0 service.
Angus chose GRP again as he knew that Safehaven were no stranger to building exceptionally strong GRP hulls, the Wildcat 53 has the same heavy duty scantlings as their renowned pilot boats which are often subject to severe impacts in rough weather, this produces a vessel that can withstand tough use in harsh weather far offshore. GRP provides many benefits, being a homogeneous structure it is very strong, it gives a high standard of external finish with the advantage of zero maintenance and perfectly compliments Safehaven's graceful designs, resulting in a very striking looking vessel.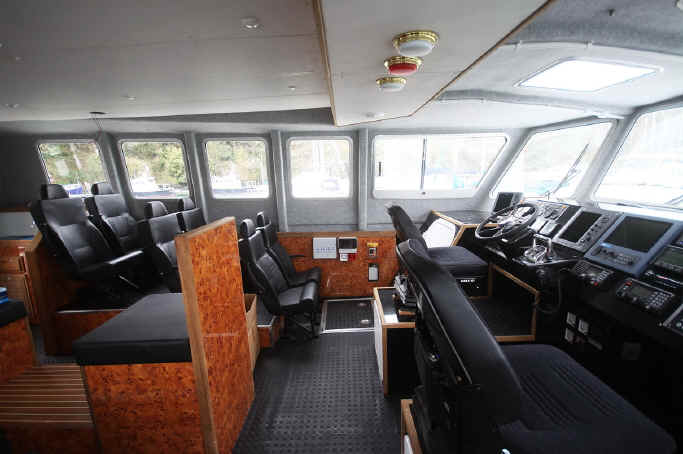 Below, for hydrographic work she is fitted with a moon pool and multi-beam sonar head deployment frame.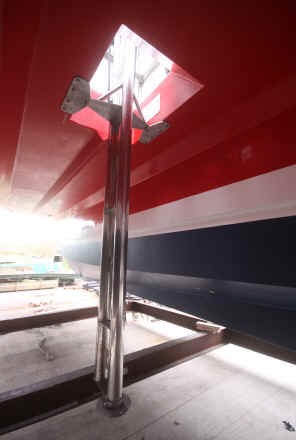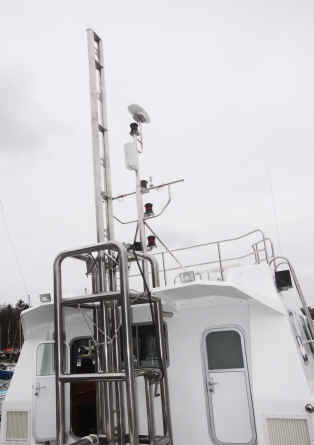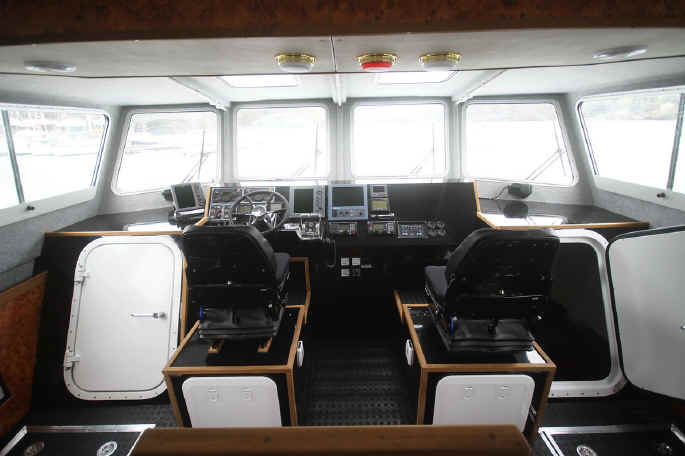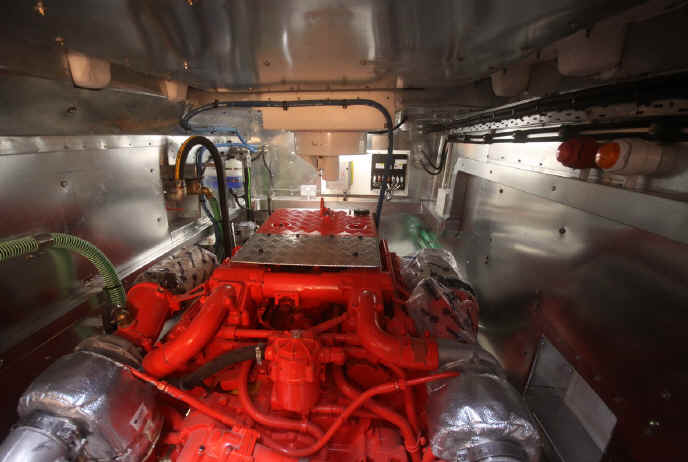 'Orca III is powered by twin Scania D16 700hp engines and Twin Disc MG 5135 quick shift gearboxes driving conventional sterngear:

762mm" props on 90mm shaft

and large balanced stainless steel rudders. Angus required her to be able to run at 18-20kts on her 200n/m round trip to St Kilda in the heavy weather he experiences and she easily surpasses this, with a 24kts maximum speed on her 30,000kg displacement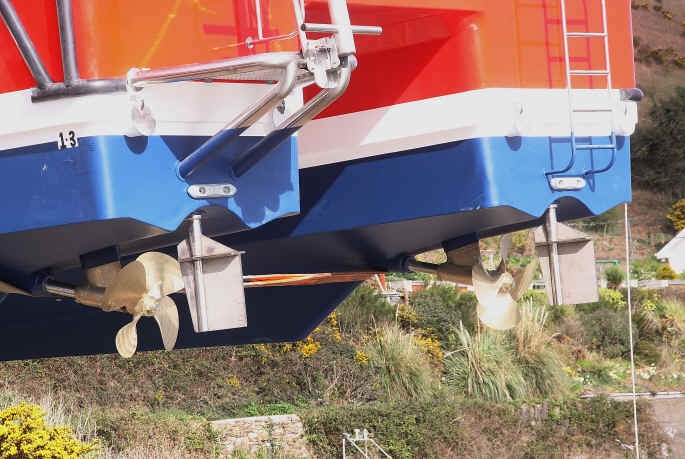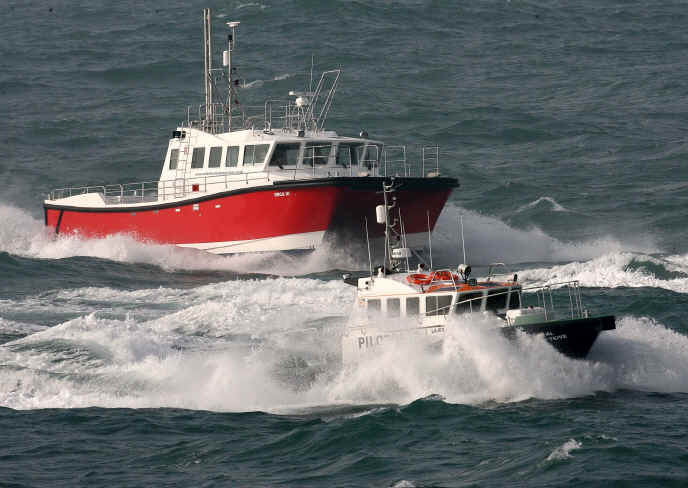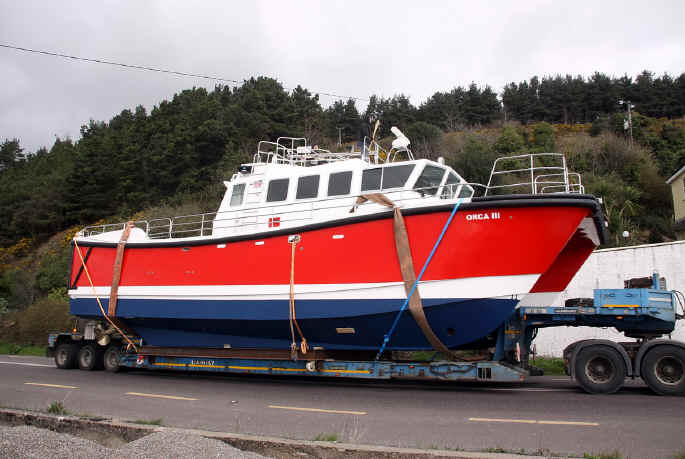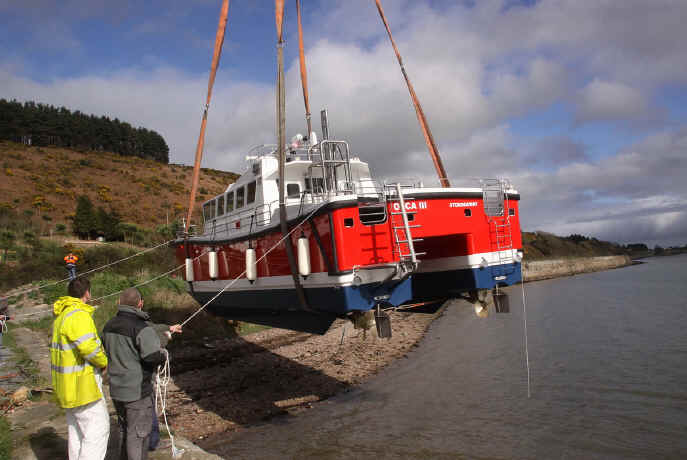 SPECIFICATION
Vessel- Wildcat 53
Builder- Safehaven Marine
Date of launch April 2012
L.O.A. 16.5m
L.W.L. 13.8m
Beam- 6.1m
Displacement- 28,000kg lightship / 31,000kg loaded
Construction material GRP Composite
Draft- 1.3m
Engines Scania D16 750hp
Gearboxes Twin Disc MG5135SC Quick Shift
Hydraulics Twin 95kgf bow thrusters, auxiliary supply.
Generator Fisher Panda 12kw
Shafts 90mm dia
Propellers 4 blade, 30" dia.
Crane- HIAB, Model 026T Max lift @ 1m- 1850kg / 5.5m - 430kg
Max deck load- 5,000kg
Fuel capacity Main tanks 3,000litres / reserve tanks 2,000litres (5,000litres total cap')
Max speed 24kts
Operational speed 20-21kts
Water capacity 170litres
Calorifier capacity 55 litres
Passenger capacity 12 passengers / 2 crew
Seating capacity 14 persons in main cabin
Aft deck seating 12 persons in removable seating modules
Berths 8 berths in 2 separate cabins
Deck area for cargo Aft- 28m2, Fwd 8.4m2
Freeboard 1.5m
Winches 2 x 2000w on fore deck
Capstains 1 x 2000w at transom
Moon pool 700x700mm
Multi beam sonar Transducer deployment system through moon pool
Dive platform 100mm s/s tube. / 30mm GRP grating,
Dive ladder 100mm s/s tune, 38mm steps, 1.7m length
Certification CAT 0, 14 persons
Liferafts 2 x 16 man Viking on launching cradles
Sounder CVS-128
Plotter Koden GDT-110
Radar JRC MDC-2040T
Transducer TD-501T-3
Compass Furuno SC-30 Satellite
Autopilot Simrad AP28
VHF Icom IC M603
SSB Radio telephone Icom IC M801E
GPS Furuno GP-33 / RD33 Display
PC Navigation Seamax
Navtex Nasa Marine
AIS Comar CBS200 Class B
CD / radio
Safehaven Marine, Ashgrove, Cobh, Co Cork, Ireland
Phone 00353 86 8054582
Email- info@safehavenmarine.com safehavenmarine@eircom.net

WHEN YOU DEMAND STRENGTH & SEA KEEPING

All our vessels are build to the highest standards of strength & engineering and are renowned world wide for their exceptional sea keeping abilities.

For the best, most extreme, rough weather demonstration videos of our boats, see our amazing selection on you tube.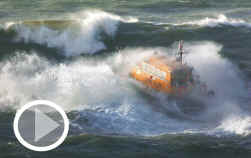 BEST ROUGH WEATHER ACTION PHOTOS
We don't just claim our boats have the best sea keeping abilities, here's the proof