SPECIFICATION
L.O.A.
Length Moulded
BEAM
Beam moulded
Draft
Displacment
Lightship
Pilot seating capacity
Fuel capacity
Engines
Power output
Gearboxes
Generator
Speed
Operational
Maximum
Certification
Best of Venice Offshore force 7, inc off boat footage
43ft / 13.4m
12.8m
4m
4.3m
1.3m
16,500kg
4 -5 pilots, 1-2 crew
1800 litres
Volvo D12
500hp
Twin Disc 5114
22-23kts
22-23kts
Bureau VerItas
42 'CREW TRANSFER & ROPE HANDLING' VERSION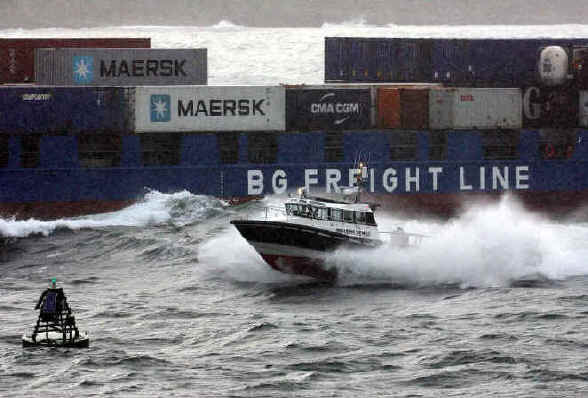 This Interceptor 42 Crew Trabsfer version is designed for mooring, crew transfer and pilotage duties the vessel has a cab f/wd superstructure providing a clear aft working deck for handling ropes and light cargo transportation, as well as crew transfer and patrol duties. Ideal for Ports who deal with the handling of ships ropes during mooring operations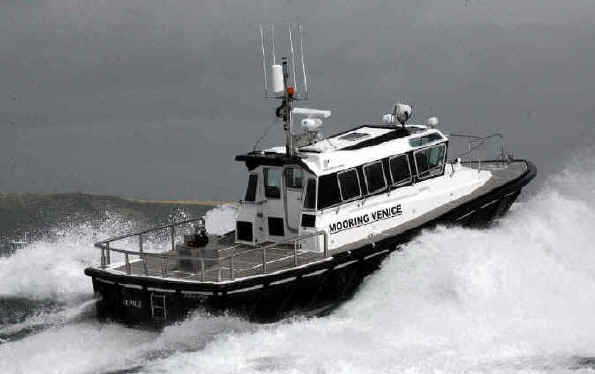 For the vessels operational role the superstructure has been moved forward 2,5 meters over the standard pilot boat version to create a large, flush working deck which is fitted with a 3 ton slip hook and a hydraulic capstan for the handling of mooring of ropes. In all other respects she is built as a normal pilot boat in construction and fit out and was built under survey by Bureau Veritas. Typical heavy duty D section fendering all round gives her hull protection. Her wheelhouse has a central helm position to provide a commanding, clear view all round, there are 4 crew seats and all seating is by CAB 300 hydraulic sprung seats. The vessel is typically powered by twin 12 litre engines 400-600hp, with close quarters maneuvering assisted by a hydraulic bow thruster. Engine removal and service is easily and quickly facilitated via a large deck hatch on the aft cockpit. She has a maximum speed of 25kts and a 23-24kts operational service speed on a lightship displacement of 15,300kg (17,000kg loaded) when poered by 500hp engines. The vessel can be very comprehensively fitted out featuring a 4kw generator providing 240v onboard, powering a 24,000btu air conditioning unit to provide a comfortable crew environment in hot climates. Her mast is capable of being lowered forward by an electric actuator operated remotely from the cabin to allow safe passing of ropes onboard, without the risk of snagging the aerials. Her deck is lined with tread master non slip to absorb shocks from steel ropes impacting the deck during rope handling operations, and her aft deck is protected with substantial 60mm dia railings capable of withstanding tough treatment when dealing with heavy ship lines. The vessel features a new aft cabin window design incorporating additional windows of a larger size to aid viewing the aft cockpit when working, which is assisted by a rear view camera with action displayed on her Furuno plotter screen. Her electronics comprise a complete Furuno system of plotter screen, 24nm radar with open array scanner, talk back / hailer system, and 2x Icom VHF radios. The vessel featured here was extensively sea trialed in Cork by Safehaven Marine and her owners were very happy with the vessels handling, sea keeping and crew environment. The vessel was delivered by road and has now entered service in the Port of Venice .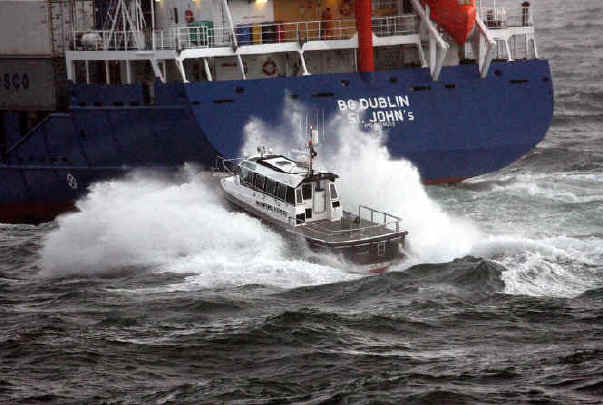 A video of sea trials were undertaken in a force 7-8 gale with 3.5m seas, it was particularly dirty crossing the harbour rock, but we managed to get some good video and photos, below are some taken by Paul before he succumbed to sea sickness. here is a link to the video- See the video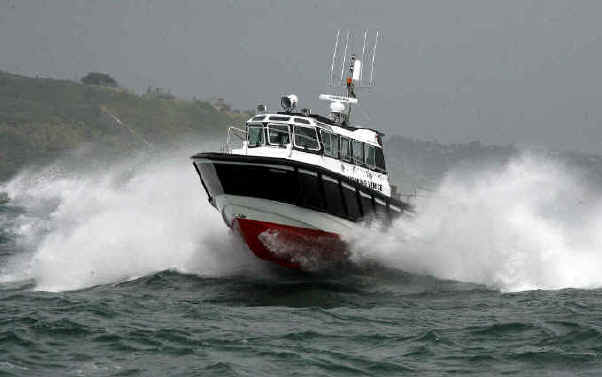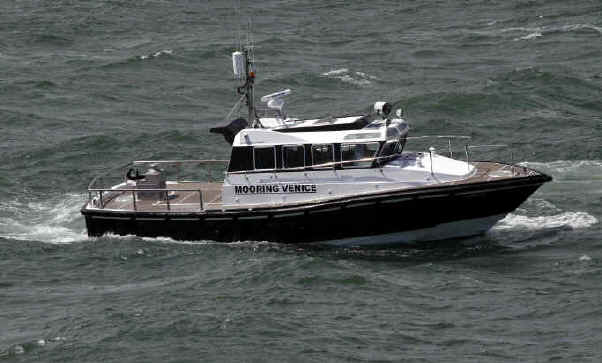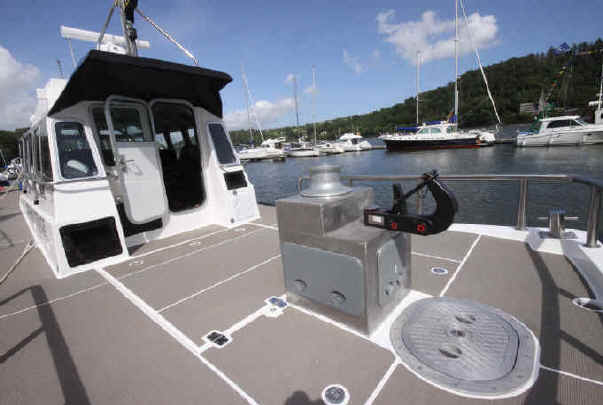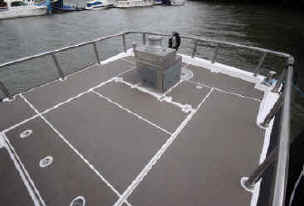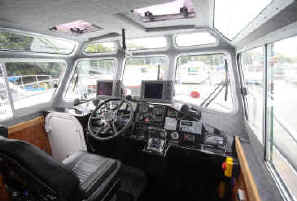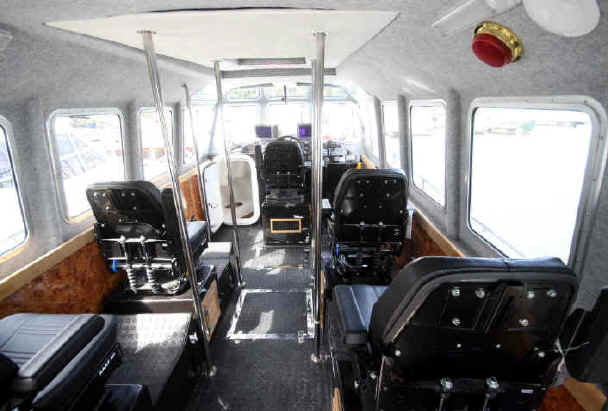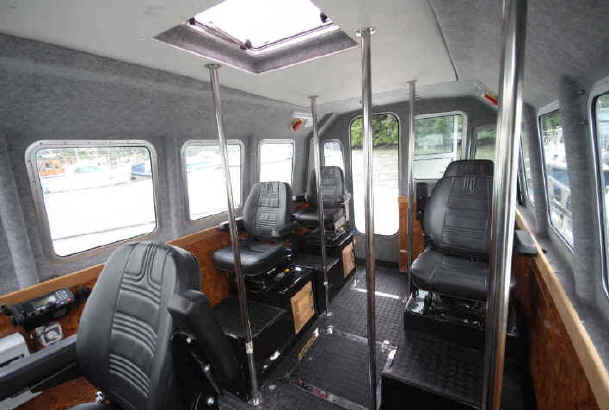 Over the years we have captured many exceptional photographs and videos of our vessels operating in extreme conditions, check them out here- GALLERY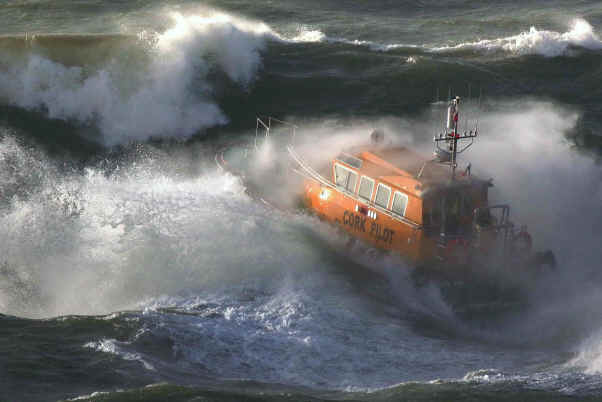 Safehaven Marine, Ashgrove, Cobh, Co Cork, Ireland
Phone 00353 86 8054582
Email- info@safehavenmarine.com safehavenmarine@eircom.net

WHEN YOU DEMAND STRENGTH & SEA KEEPING

All our vessels are build to the highest standards of strength & engineering and are renowned world wide for their exceptional sea keeping abilities.

For the best, most extreme, rough weather demonstration videos of our boats, see our amazing selection on you tube.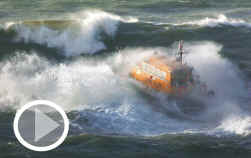 BEST ROUGH WEATHER ACTION PHOTOS
We don't just claim our boats have the best sea keeping abilities, here's the proof