PORT OF BORDEAUX'S NEW INTERCEPTOR 48 PILOT BOAT 'QUINOA'
Safehaven Marine have delivered 'QUINOA' an Interceptor 48, 14.5m Pilot Vessel to the Port of Bordeaux , France . The Interceptor 48 is a completely new design based closely on Safehaven's renowned Interceptor 42, deep V Pilot boat hull, and sized to bridge the gap between their 42 (13m) and 55(16.5m) hull sizes. It has been designed to provide increased levels of seakeeping due to an increase in waterline length and displacement, yet still be capable of being powered by engines of 12 litre capacity at their heavy duty rating, and in this respect the hull has proved a resounding success, surpassing the contract speed of 23kts by 2kts to give a fully loaded operational speed of 25kts and achieving 26kts when lightly loaded. QUINOA is powered by a pair of Iveco C13 engines at a continuous rating of 520hp and Twin Disc 5114 'Quick Shift' gearboxes, turning 28" dia 4 blade propellers. In fact the hull design has proved so efficient that it achieves the same speed as their smaller 42 despite an increased displacement of 1500kg to 17,200kg lightship (19,500kg fully loaded) with the same power. No doubt a benefit of the increased waterline length and planning area and this has allowed the engines to operate at only 70% of maximum power to achieve an operational speed of 22kts, providing very significant benefits to the owner in both fuel consumption and engine longevity. In other respects Quinoa also exceed contract requirements regarding noise levels, achieving exceptionally low db readings of just 73-74db at 25kts. This level of noise approaches that of designs with isolated wheelhouse but without the associated cost and complication. Special detail attention to noise elimination and suppression during construction, and the incorporation of a foam sandwiched deck paid dividends, with Quinoa being exceptionally quite and free of any vibration, providing a very comfortable environment for her pilot and crew who have a quite long, (22nm each way) transits to the boarding area off the port.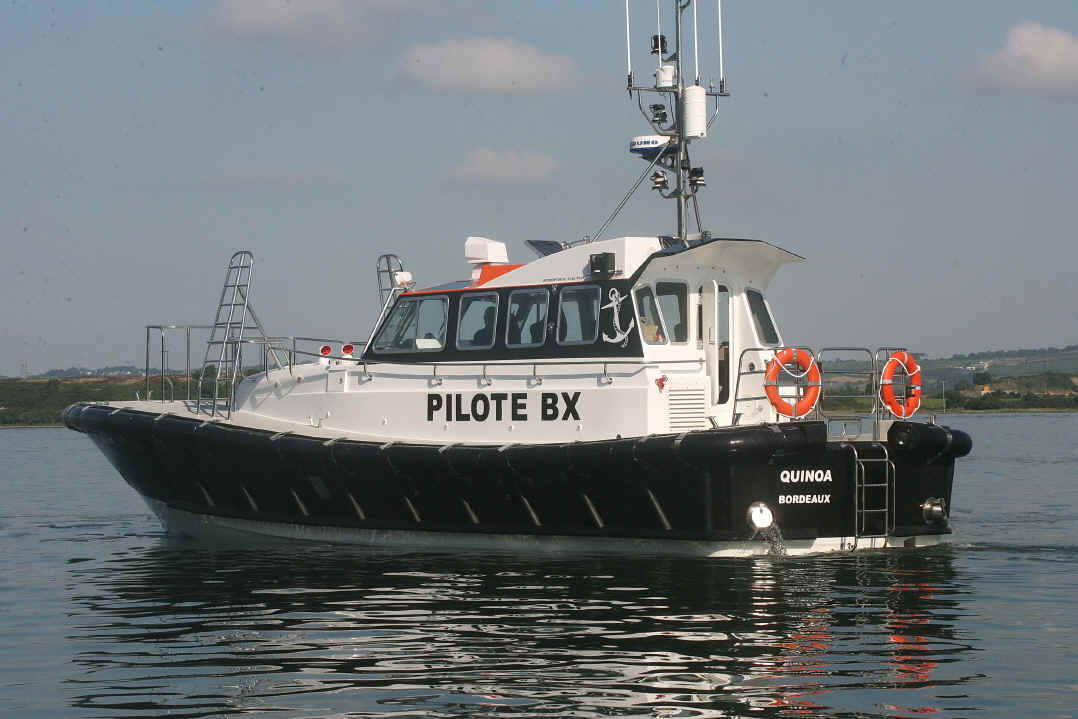 Quinoa, our first Interceptor 48 / 14.5m pilot vessel has been delivered by sea to Bordeaux, here is an account of the voyage by Olivier Barreau, the pilot chiefly involved in overseeing her construction and who undertook the delivery voyage.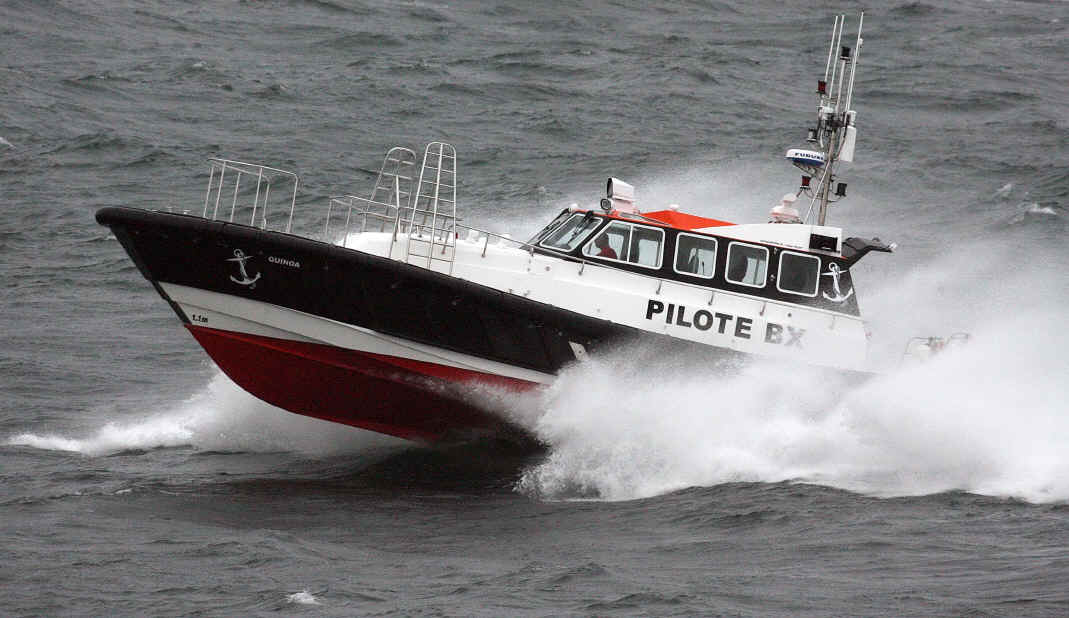 THE VOYAGE OF 'QUINOA' FROM IRELAND TO BORDEAUX , FRANCE , DOWN THROUGH THE BAY OF BISCAY by Olivier Barreau
Quinoa left Ireland at 11am on Saturday, conditions were NW force 5 with a 2m swell offshore, conditions being worst off Ireland where there was a cross sea of the main Westerly swell, and wind waves at 90 degrees to this, but she handled conditions perfectly and was able to average 22kts comfortably in a following sea. We made the140nm run to Lands End in 6 hrs. After refueling at Newlyn and a short break, we cast off at heading to France at night. The wind intensified overnight to a good Force 6, again from the NW and on this course we ran with the seas beam on, or off the stern quarter. Approaching Brest, North West France the wind was blowing quite hard and we had pretty large waves under the influence of current reaching 4m in height, and very steep. At one point I switched the searchlight on to gauge the conditions just in time to see a wall of water over 4m in height bearing down on us, allowing me just enough time to slow down before falling into the hole, but even in these conditions the vessel was very stable and we were not worried as by now we had a lot of confidence in her abilities, and were still able to manage over 20kts. We encountered another area of particularly bad weather off Ouessant Island with quite confused seas of 3 mtrs high necessitating concentration to maintain control. Her handling was very predictable and I was able to sense the waves passing under her and react on the helm to hold course by feel, and compass bearing. To do so in these conditions, during nighttime, said a lot about Quinoa's sea keeping abilities.
We continued down through Biscay stopping off at Concarneau in the morning where we refueled and drank a toast of Champagne with the Local Pilots who greatly admired Quinoa. We then departed Concarneau heading down the Bay of Biscay . On this run we had a following sea of 3-3.5m in height, Quinoa was very comfortable in these conditions, we were able to run at 22kts, surfing at speeds of up to 26kts during which she was very good, being easily controllable when surfing and not burying her bow in the troughs, one thing I noticed was that the engines would lose rpm and speed would drop to 18-19kts on the back of bigger waves, but I guess this is the electronic engines sensing overload and cutting power preventing excessive emissions and smoke, as she tried to run, in effect uphill, I suppose it also protects the engines from overloading, but she would accelerate nicely as the waves passed under us. We stopped off at La Rochelle to allow the pilots there the chance to view and sea trial Quinoa, and again they were very impressed with her, especially by the quality of her finish and engineering, they will be looking for a new pilot vessel in 2-3yrs time and I am certain they will visit you soon after seeing our pilot boat.
We departed quite late and headed to Bordeaux at night time. Conditions continued to be very rough especially off the Island of Oleron where we had wind against tide with very steep 3-4m head seas off the bow, we had to reduce speed here to 12kts and I negotiated the seas comfortably by swinging the bow off the crests so she didn't fall heavily into the troughs. My engineer was not so used to the rough conditions and quite worried at times I think, so he busied himself with keeping an eye on the engines and maintenance, we had only a few small problems and he highlighted the tightening of one search light mounting and leaking from 3 delta fenders, the engines used no oil but on one occasion the cooling water alarm in an engine sounded when we fell heavily into the trough of a wave, other than these small things we had no problems.
We continued on towards Bordeaux , and when some 5nm offshore we slowed down to take bearing and to line up at the entrance to the harbour mouth and run NE to the river entrance. This course put us beam on to the seas at the entrance to Bordeaux which was quite stressful, as it was night time, the wind strength was Force 6 and the 3.5m offshore swell in Biscay was running straight into the entrance of the Gironde river meeting a 4kt ebb tide, and to make maters worse it was near low tide causing the waves to break strongly over the bar where they were reaching over 5m in height. But beam on to the waves Quinoa was very stable so we had no concerns as at this point we had a lot of confidence in the vessel. At the outside of the Bar we turned to the SE to give us a straight run with the seas dead astern to cross the bar. We ran in at 1700rpm, this gave us a speed of 14-15kts with Quinoa accelerating to over 28kts when surfing on the face of the larger waves. Quinoa handled very well as she crossed the bar with waves breaking around us in what were quite dangerous conditions, especially as it was during the night, yet at all times we felt safe. Certainly some corrective helm was required to stay on course when she swung away to port or st/bd a couple of times, but we always maintained control and what impressed us most was how stable she was, staying almost level with very little heeling, my co helmsman who operates our pilot vessels commented on the fact that she was more stable (how much she heeled over or rolled) than our much larger 17m pilot vessel in these conditions. We came alongside at after traveling over 500nm from Ireland almost non stop in 24hrs averaging over 20kts. Quinoa has proved to be a fantastic vessel and I am very happy with her, My conclusion is of a pilot boat with excellent sea keeping, and I must say Frank that at all times throughout the voyage we felt completely safe in her"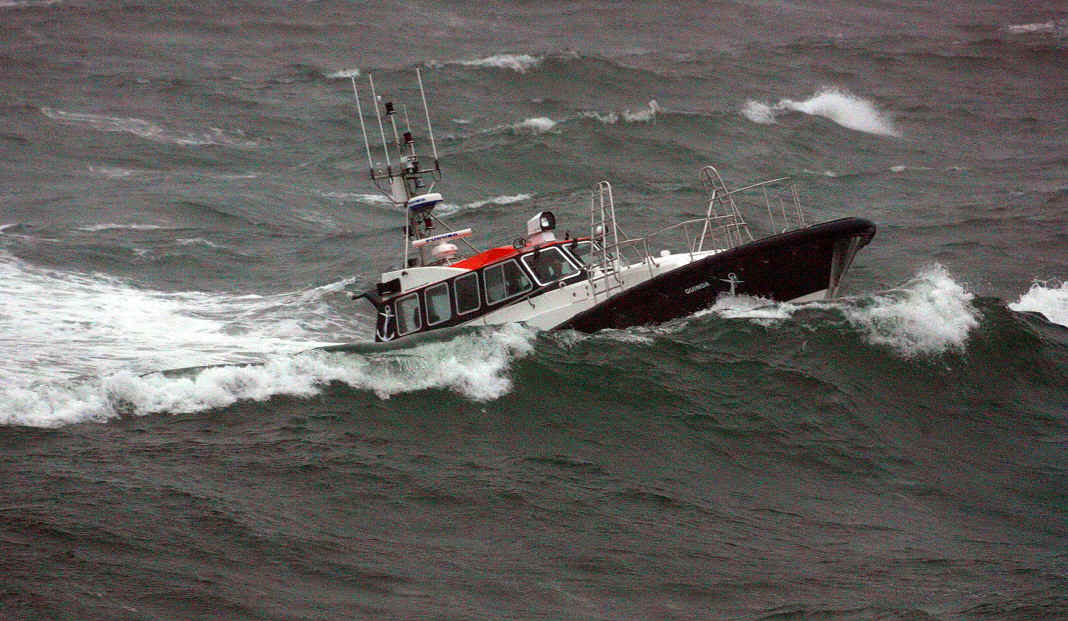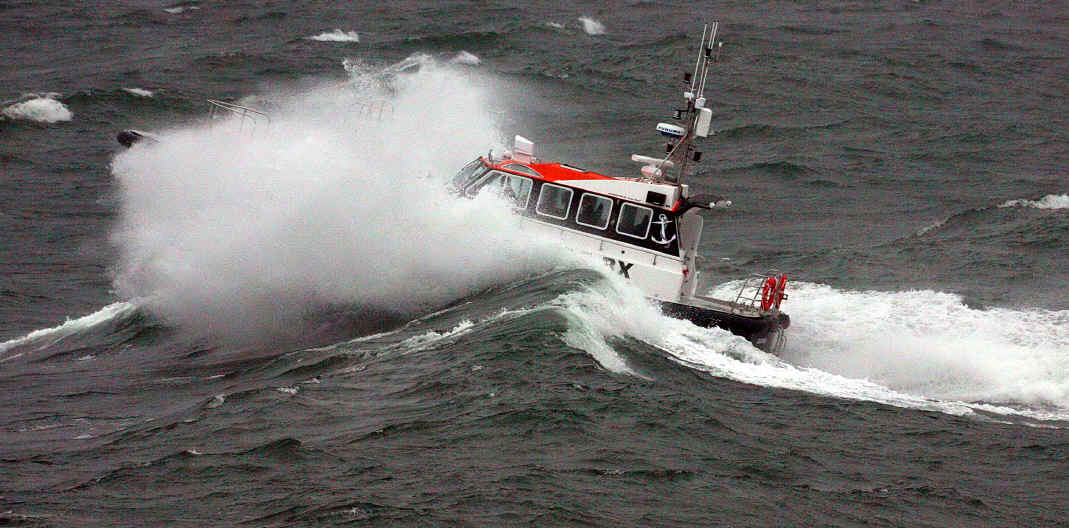 Above and below, some photos of Quinoa undergoing rough weather seekeeping trials during which she provd excellent with a soft ride running into head seas and being very stable running down wind with a following sea, you can see a video of the trials from this link- SEE THE VIDEO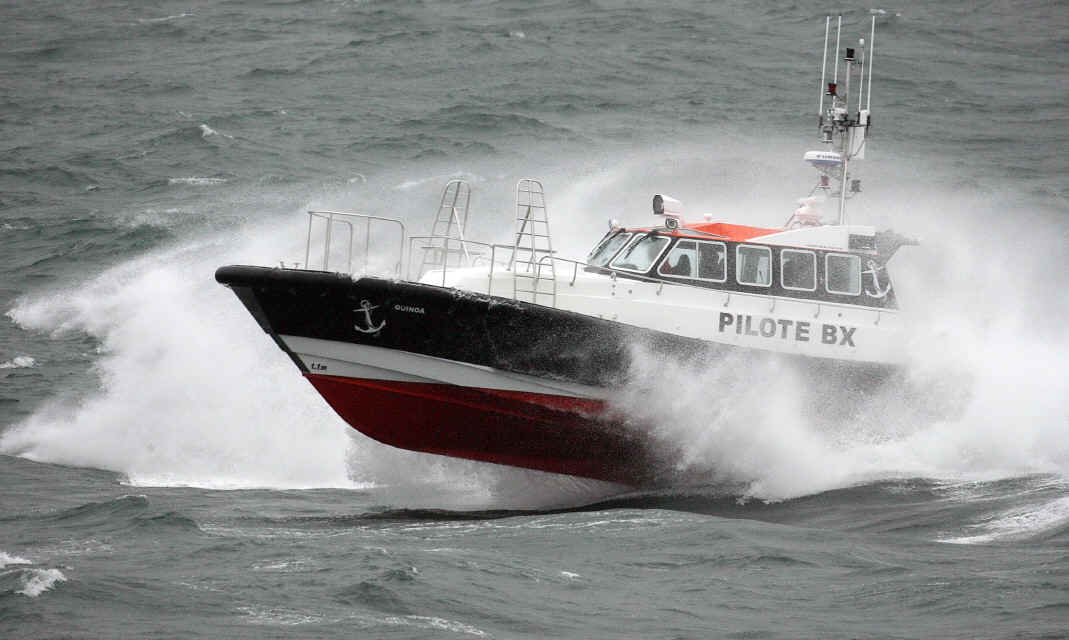 The Interceptor 48 also features fendering by Ocean 3, which is to the industry standard in France , this fendering design is of a high density 300mm dia rubber coated foam, retained in a grove formed in the hulls gunwale and retained by tensioned straps, it provides excellent protection to the vessel and allows very soft boarding's in rough weather. Further protection to the vessel is provided by numerous diagonals and a lower run of Delta section fendering. The bow of the Interceptor 48 is rounded and allows the pilot vessel to be used for occasional pushing of vessels in assistance of tugs during berthing.
The Interior of Qunoa was especially designed from the outset to combine the highest level of 'yacht' standard fit out, with the most comfortable and efficient crew and pilot environments. To this end the cabin is fully lined in off white headlining and black gloss laminates and features a teak and holy cabin sole. The helm position comprises a wrap around GRP console incorporating all the navigation and engine instruments within easy view of the helmsman and providing an ergonomically comfortable car like driving position giving the helmsman the utmost comfort and control of the vessel. Pilots and crew likewise benefit from five reclining Recaro air suspension seats on black gloss GRP pedestals (although seating can be increased to 6 pilot seats if required)
The pilots at Bordeaux have to deal with very challenging and at times dangerous seas at the entrance to the Harbour where big Atlantic swells from the Bay of Biscay meet the strong 3-4kt ebb tide from the Gironde River and rage with special violence causing breaking seas at the Bar that reach over 10m in height during winter months, the Pilot vessel is expected to be able to navigate the Bar safely in up to 5m wave heights. As a consequence a fundamental requirement by the Port was for a pilot vessel with very high levels of sea keeping and Safehaven Marines reputation in this respect was unsurpassed by any other builder. An important part of the design brief was for the Interceptor 48 to be fully self righting in the event of capsize by virtue of her high buoyancy superstructure and consequently the vessel has been built with numerous features such as automatically closing air vents, 15mm thick windows and watertight cockpit doors. In addition the superstructures forward windows are aft sloping to minimise pressure loadings when taking green seas over the bow, (a fairly regular occurrence due to the extreme conditions she operates in) Another advantage of the Interceptor 48 is the inclusion of a large and spacious forward cabin, this is achieved by virtue of having her engines installed further aft under the main cabin, where they are subject to less loadings and accelerations in rough seas, and are quickly removed in the unlikely event of failure through hatches incorporated in the main cabin sole and cabin roof. The forward cabin on Quinoa features bunk berths allowing the pilots to rest and relax comfortably during transits at night time, and provides increased seating capacity that can be utilised in an emergency, or when additional passenger seating is required.. Quinoa is fitted with Safehaven's unique pilot boarding ladder design improving safety for pilots when boarding but causing minimum obstruction to visibility. Quinoa was built under Bureau Veritas survey to the strict French Maritime authority requirements.
The vessel was delivered at the end of September by Olivier Barreau, the pilot specifically involved in overseeing her design and construction whom became good friends with Safehaven's owner and designer Frank Kowalski during the 12mths of her construction. The 500nm voyage from Ireland to Bordeaux was completed in challenging conditions.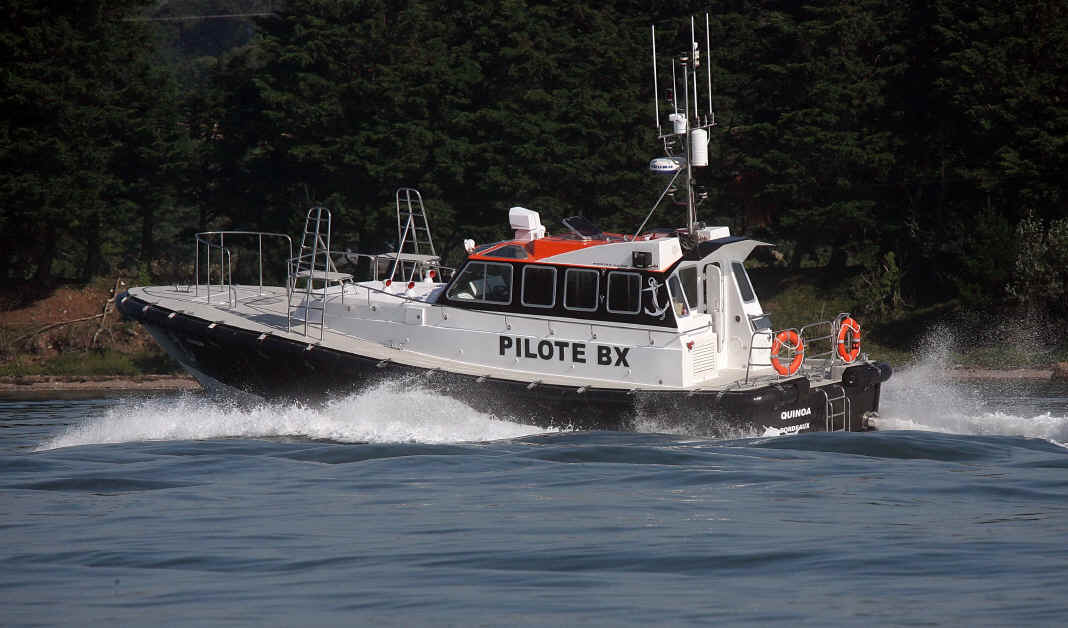 The Interceptor 48 has proved to be a very fast and efficient hull design. Fitted with Iveco C13 engines at a continuous rating of 520hp Quinoa achieved a maximum speed with 1/4 fuel load of 26kts, and 25kts fully loaded with 1850 litres fuel and three crew at a displacement of 19,200kg.
RPM Speed

Speed

One way

Kts

Speed

Opposite Way (Kts)

Average speed

(Kts)

Running Trim range

adjustable with trim tabs

Noise

db

1500

13.1

14

13.5

2.5 - 4.5

1600

15.1

16

15.5

2.6 - 4.8

1700

17

18.3

17.65

2.5 - 5

1800

19.3

20.5

19.9

2.5 - 5

73

1850

20.1

21.3

20.7

2.5 - 5.2

73

1900

21.6

23.3

22.5

2.5 - 5.2

74

1920

22.2

23.8

23

2.5 - 5.5

73

2040

25.3

26

25.65

2.5 - 5.3

73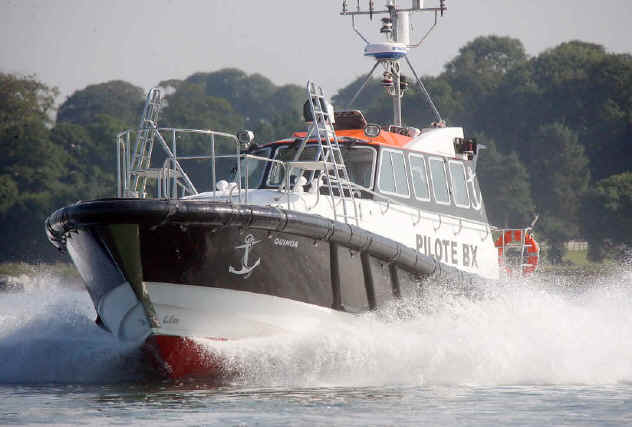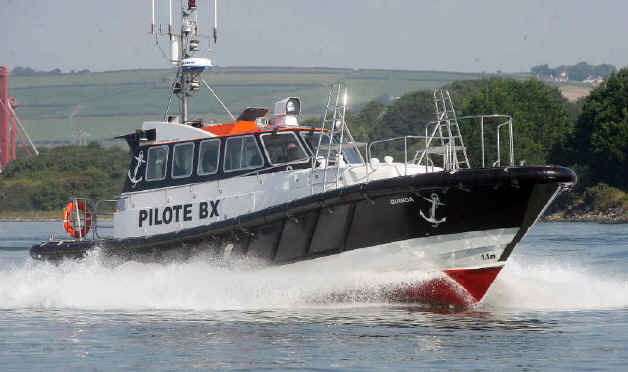 Possibly the prettiest Pilot vessel we have built, the Interceptor 48 has sleek and graceful lines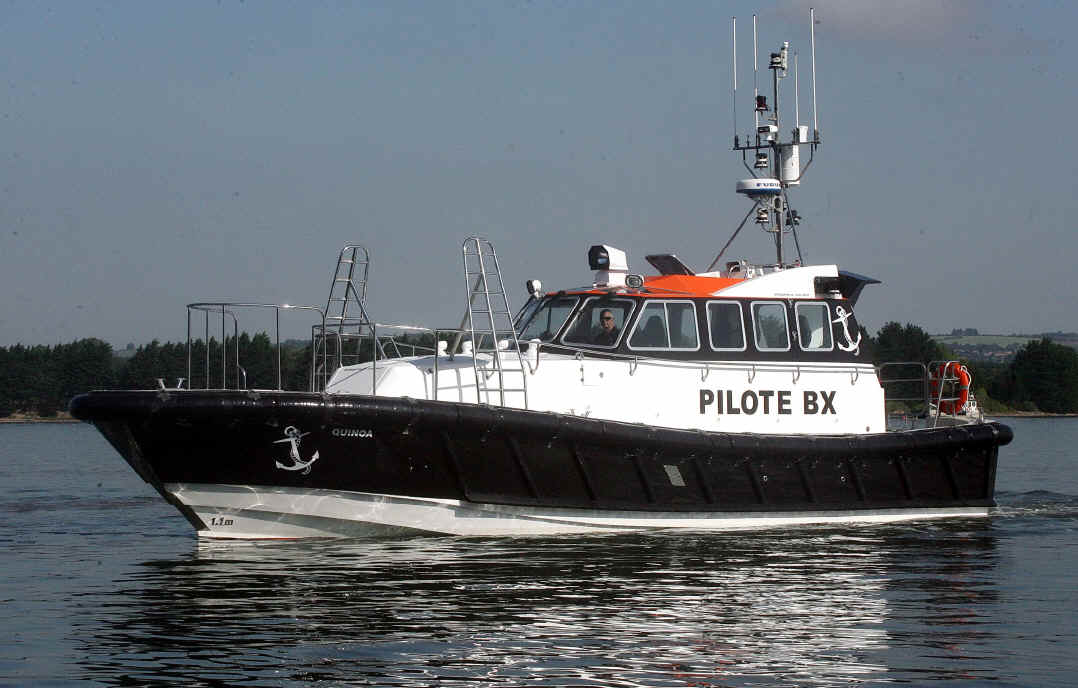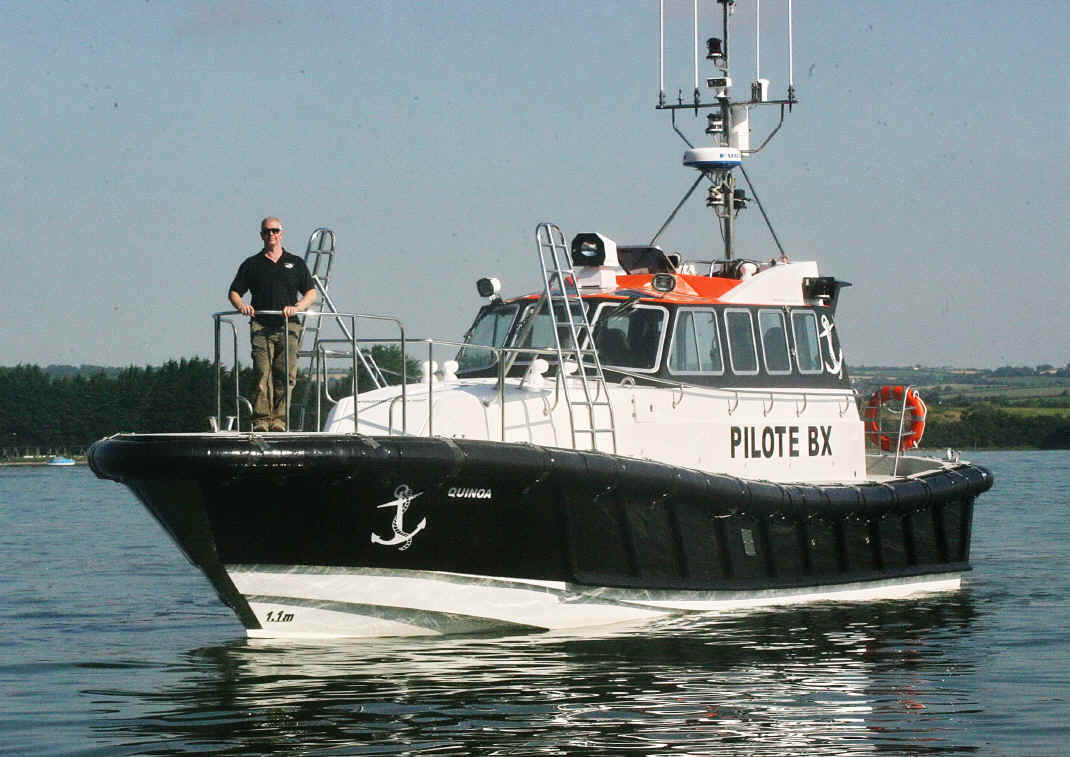 Her interior is finished to a very high standard, fully lined throughout in vinyl with black gloss laminates, teak and holy cabin sole sandwiched with 40mm of soundproofing and wood trimming produce an exceptionally luxurious environment for her pilots and crew. Four reclining Recardo air suspension pilot seats with side bolsters will give a comfortable ride in rough weather.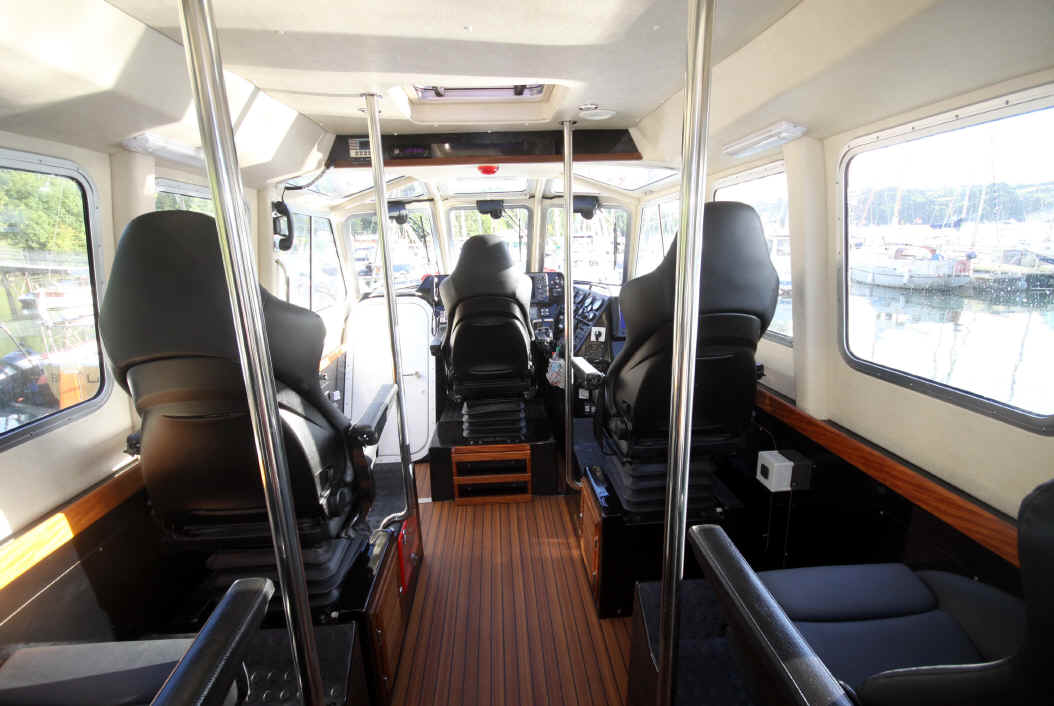 The helm position has been especially designed to provide the ultimate comfort and control for the helmsman, the design wraps around with all instrumentation clearly visible and all the vessel controls have been ergonomically designed for comfort and visibility. 'Quinoa' is fitted with a sophisticated navigation package centered around the Furuno Nav Net 3D electronic system with twin radar scanners.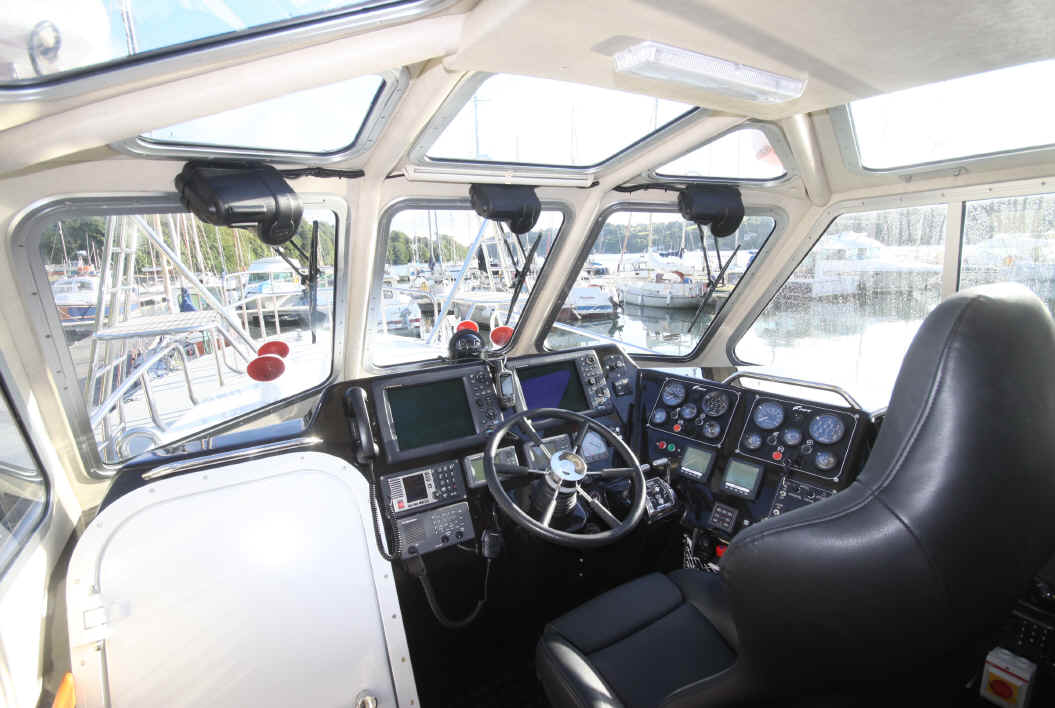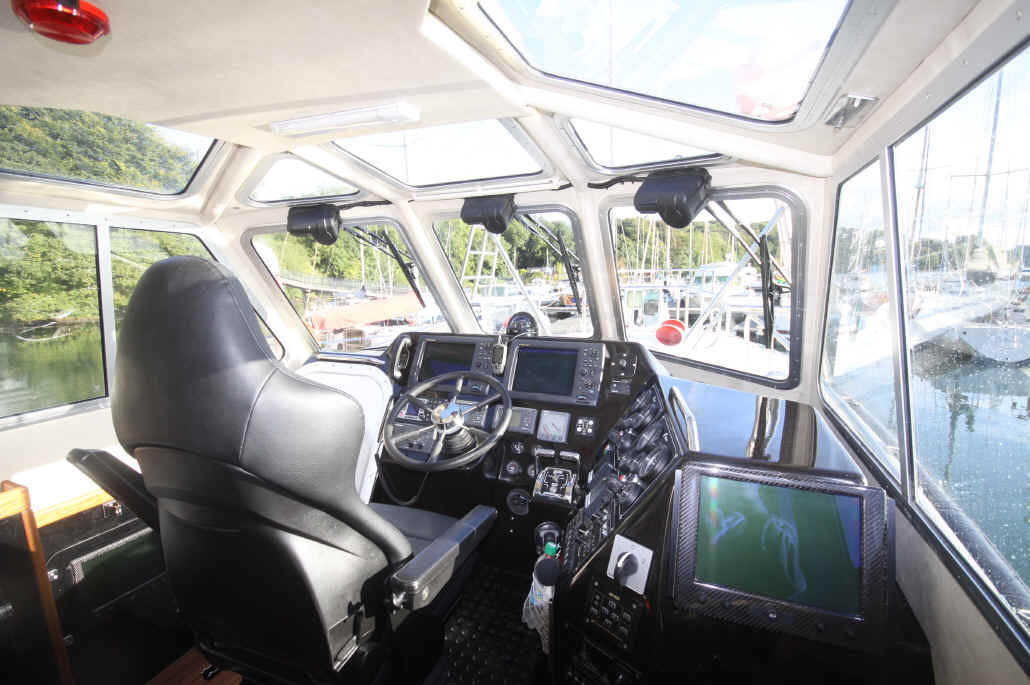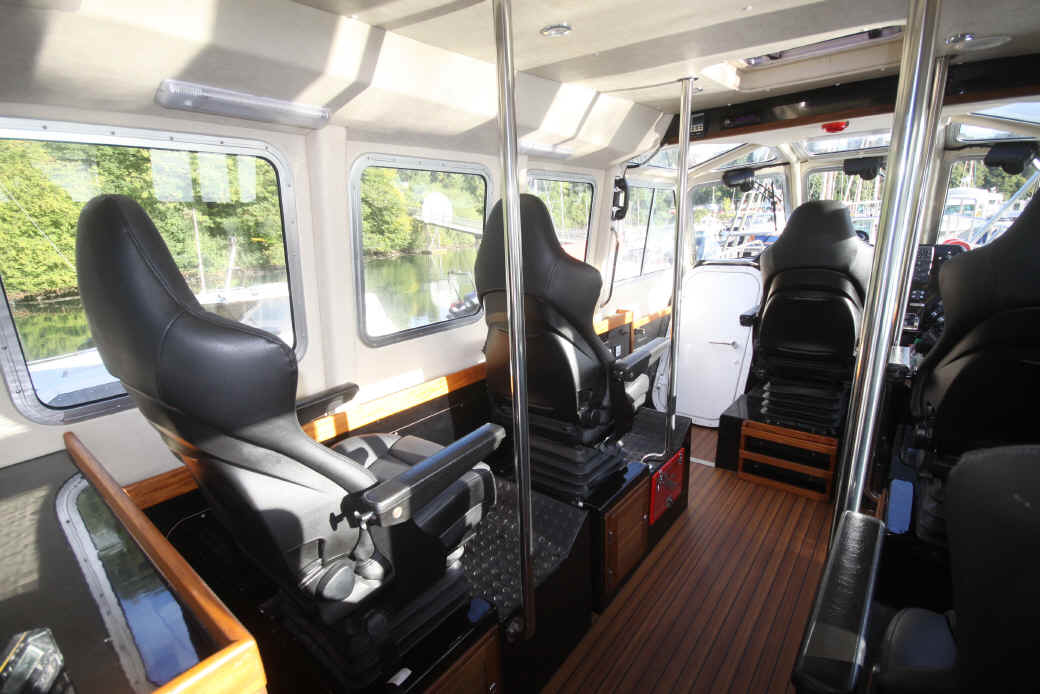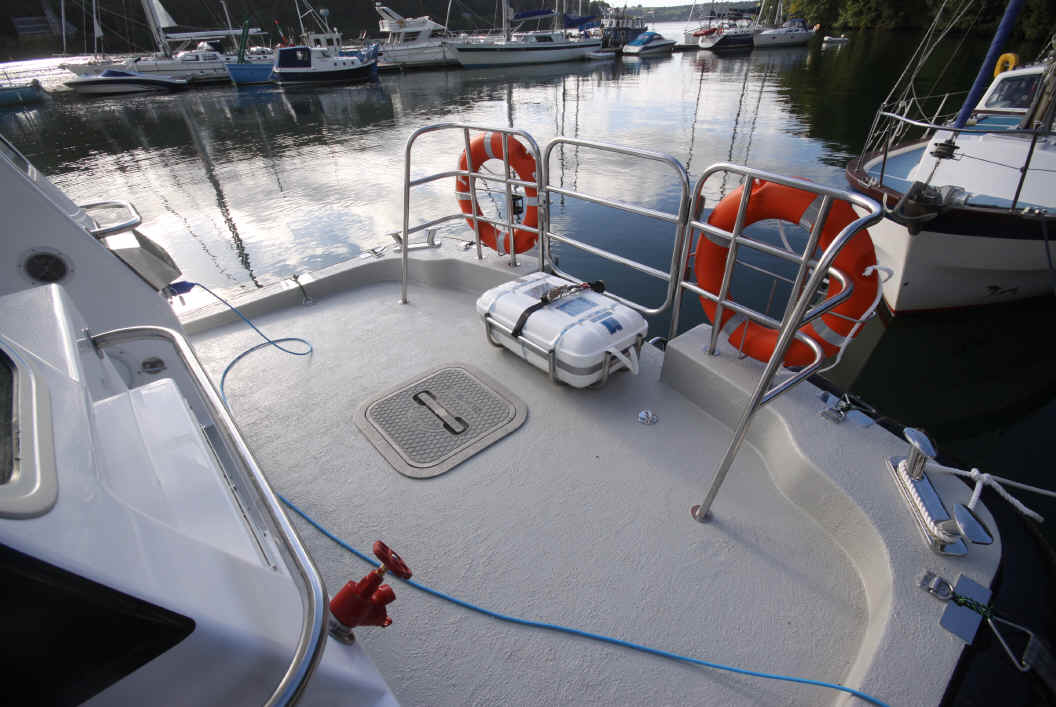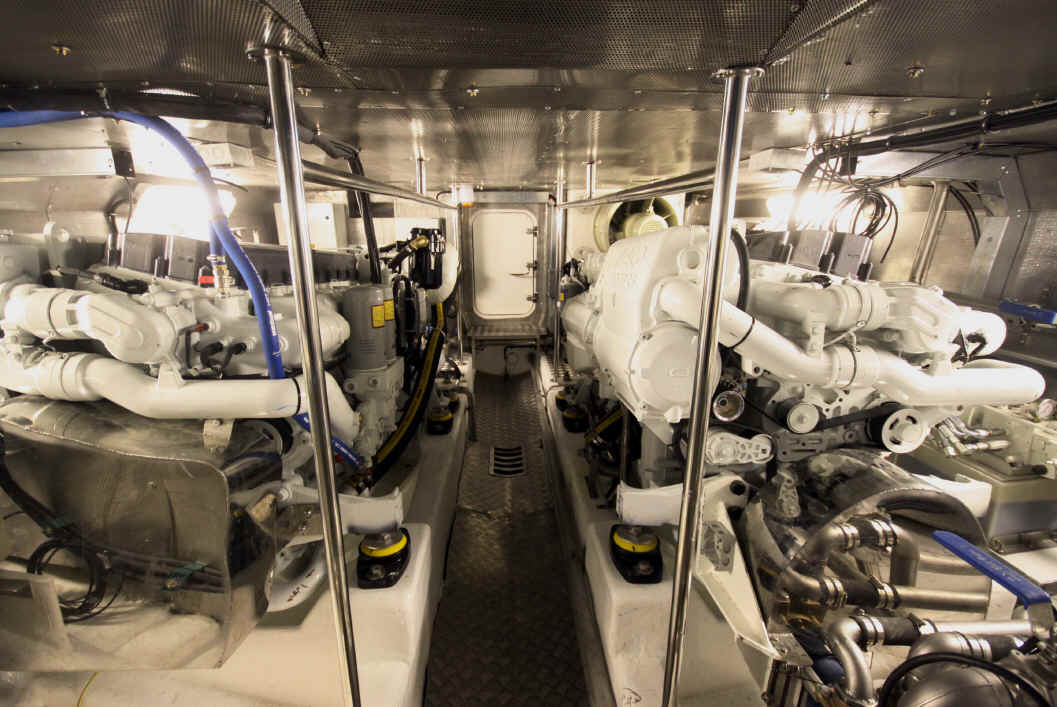 Twin Iveco C13 520hp engines and Twin Disc 5114 Quick Shift gearboxes. Engineering and electrical installations are the the highest international standards.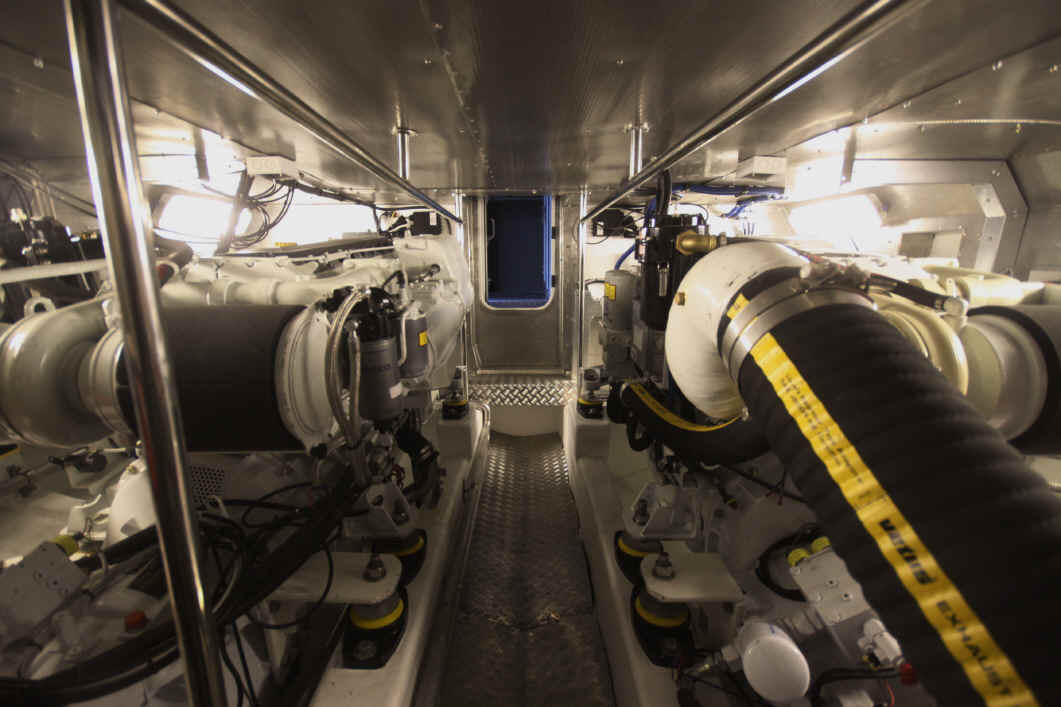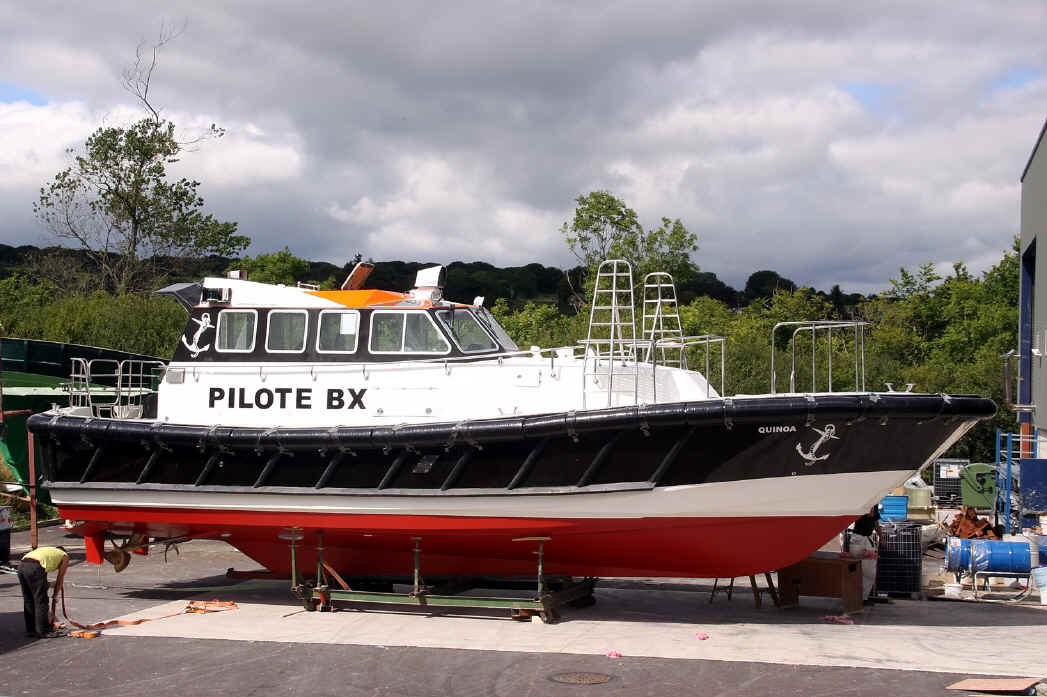 Pilot boarding ladders at the bow provide safe boarding of ships, especially in heavy seas, reducing the risk to pilots.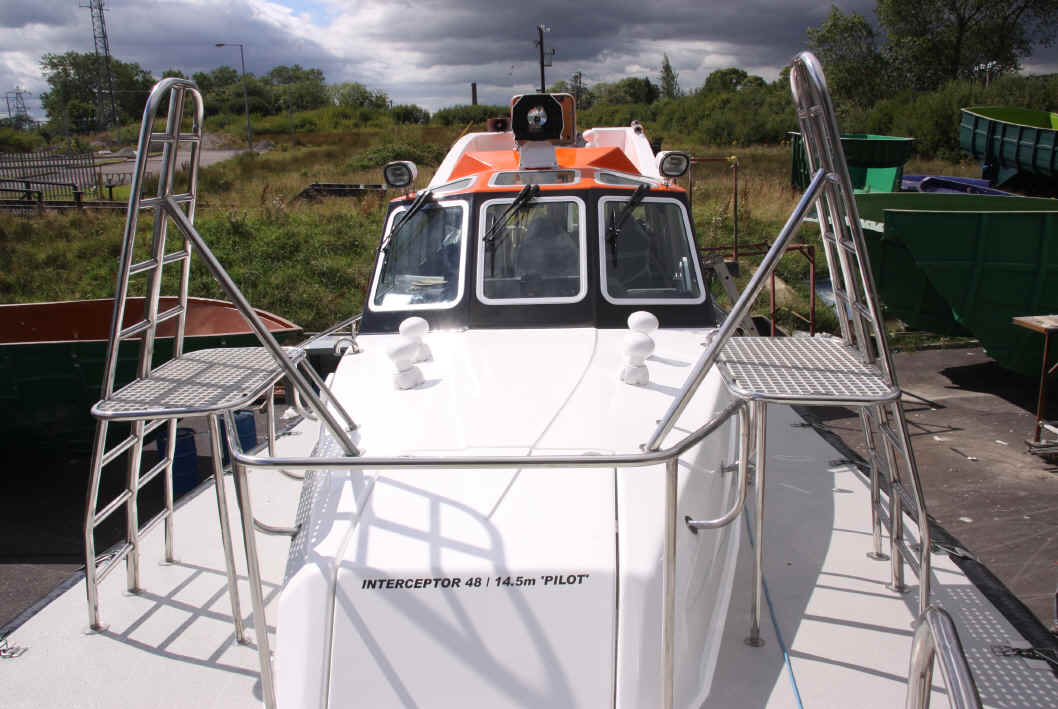 The Interceptor 48 is based closely on our very successful and renowned Interceptor 42 hull. Changes to the original 42 design have been kept to subtle improvements that will retain the Interceptor 42's excellent sea keeping, but incorporate some refinements. Rake of her stem is reduced by two degrees, visually unnoticeable but keeping LOA down. Her moulded length is 14.2m as opposed to the 42's 12.9m , and her L.O.A. will be 14.7m. Her main chine rises 150mm higher which will soften her ride and keep spray suppression constant at lower trim levels achievable with trim tabs in head seas. Her beam at deck edge has been increased from 4.2m to 4.4m at the shoulders and reduced slightly at the transom. Her height and depth is identical to the 42 which will retain a similar VCG (most important) and result in a sleeker design. Overall deadrise and hull form design are the same, but a slightly sharper forefoot (55 degrees as opposed to the 42's 52 degrees) will soften her ride in short choppy seas,. One design feature will be the incorporation of integral trim plates built into underneath of the hull at the transom. This will allow the fitting of large trim tabs that will not protrude significantly past the transom thereby providing protection for them, but will allow drastic running trim adjustments for head sea work by depressing the bow. Overall her increased length is aft at the transom, which will increase buoyancy at the stern and lower running trim. Similar speed and powering requirements to the 42 are expected.
Her bow is rounded, which allows the main fender to be wrapped around in a continuous run. The gunwale flat area is 300mm as opposed to 150mm, obviously this will allow incorporation of larger different fender solutions, but where traditional delta section is chosen, which will still be an option, it will allow for a double run at the stem and transom quarters, protecting the hull further. Also the rounded bow is ascetically very pleasing. She has a slightly increased stern overhang to allow increased protection of the rudders under the hull. Her transom quarters have been rounded off to a much greater extent allowing a continuous run to wrap around and the curve strengthens the area. A slight curve is incorporated for ascetic reasons and adds to her graceful design. This compliments the 42's 'seagull wing' sheer line which is retained, differing only at the bow, which has been raised to run straight without the reverse sheer (as on the 55) this will improve the likelihood of shipping green seas further.
The 48 hull will retain all the 42's excellent seakeeping characteristics and graceful design, but offer slight improvements everywhere.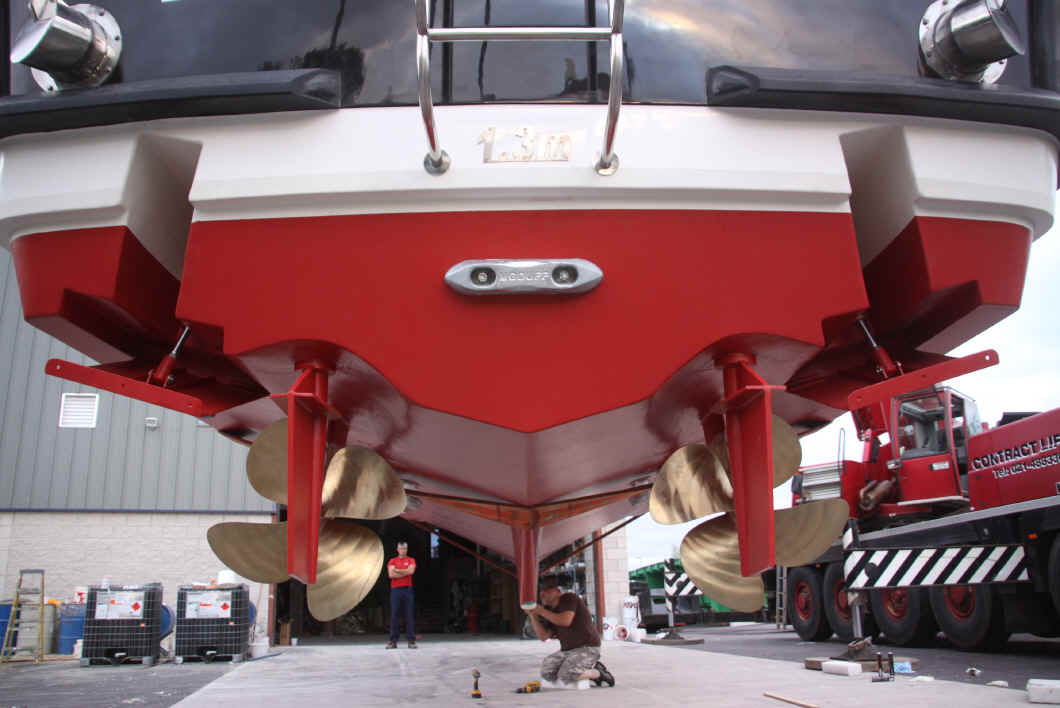 Below, her GRP fuel tank puts her full fuel load of 2,000l below the waterline, enhancing stability.
SELF RIGHTING
From the outset, an important part of the design criteria for the Bordeaux Interceptor 48 pilot, was that the vessel to be inherently self righting. This would be achieved as a result of the superstructure designs size and buoyancy, preventing the vessel from staying in an inverted position after capsize by a breaking sea. The superstructure is of a size large enough, with enough internal volume to automatically right the vessel.
Obviously there are a number of other factors affecting the self righting capabilities of a vessel, and the Interceptor 48 pilot boat incorporates a number of additional design features to achieve self righting. These are:
In addition the two front side windows are not of an opening design.
Cabin ventilation. All cabin ventilators are of a design that facilitate automatic closure in the event of operating in dangerous conditions. In addition the main cabin ventilation system is of a design similar to the engine room anti flooding design to prevent water entering the main accommodation area in the event of capsize.
Throughout the vessel special attention and modifications are incorporated to ensure that all fixtures and fittings are strong enough to survive and remain operational in a prolonged, inverted 180 degree position.
Below: The floatation line of the Interceptor 48 Pilot in its inverted position is shown below. As can be seen, the size and buoyancy of the cabin prevents the vessel from being stable inverted.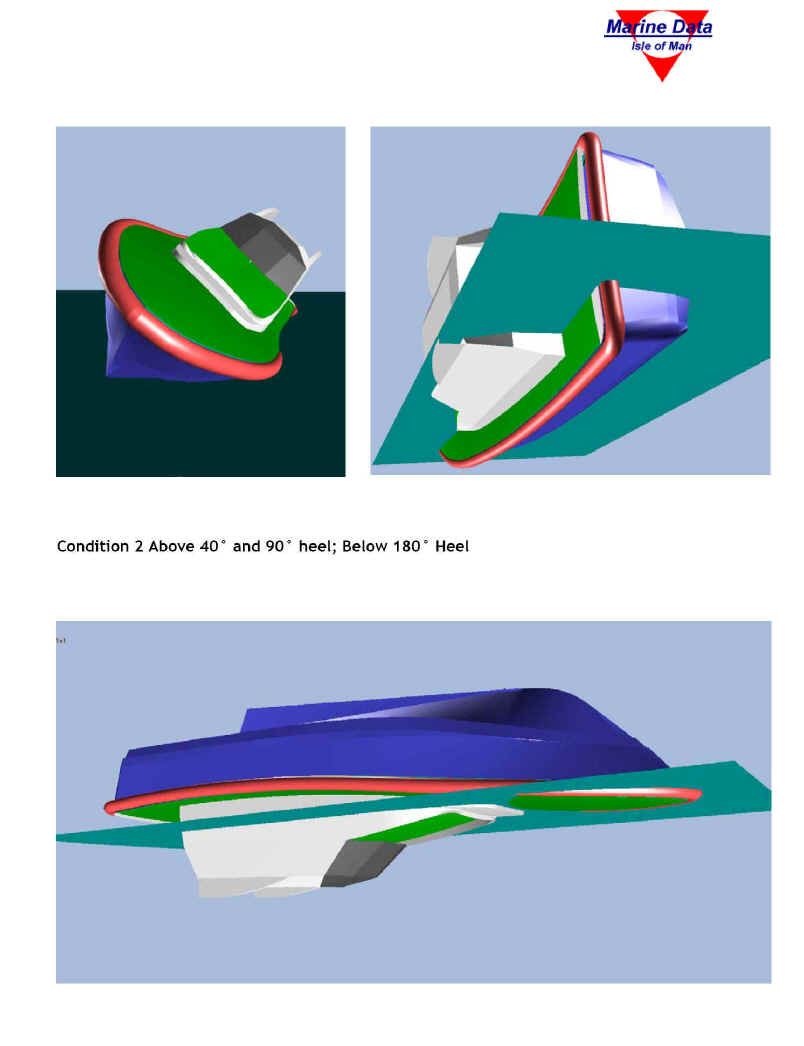 Below- The large heel angle stability graph shows that at no pint in 180 degrees of heel does the stability become negative.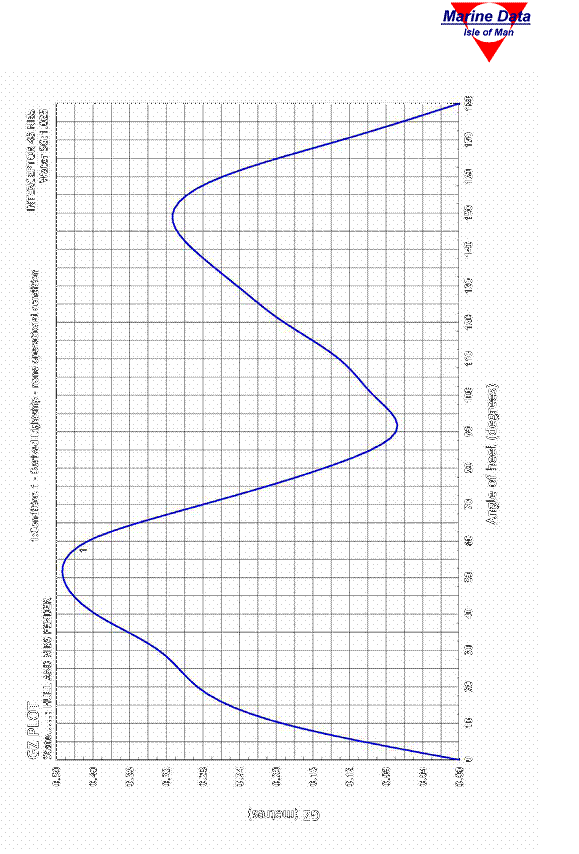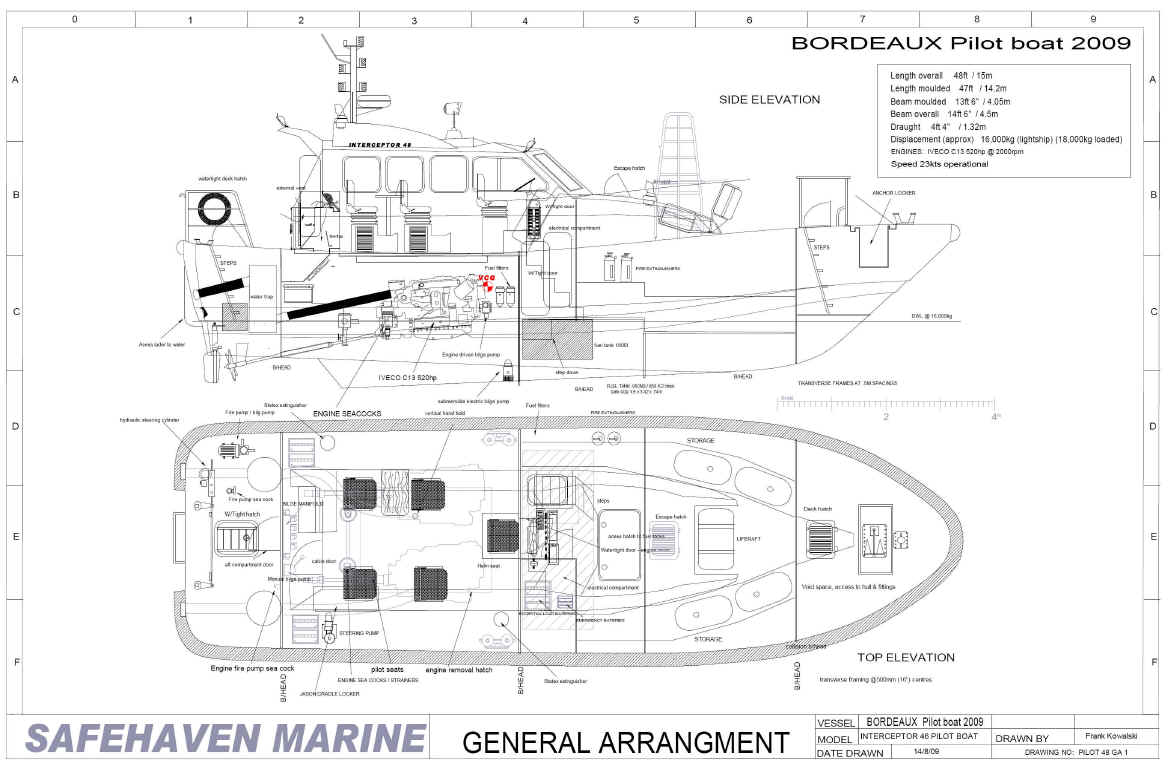 The first Interceptor 48 hull is lifted from the mould. below.