HOME MODEL RANGE CONTACT US GALLERY VIDEO DOWNLOAD PRICE LIST
SAFEHAVEN MARINE. Builders of the Interceptor & Wildcat range of offshore craft
Interceptor 42 'Pilot'
'Gleann Mor' The 'Interceptor Pilot 42' for the Port of Cork
SEE THE ROUGH WEATHER SEAKEEPING VIDEO IN STORM FORCE 9
'Gleann Mor' The first of class Interceptor 'Pilot 42' was launched on Sunday the 23rd April 2006 . Based on the very successful Interceptor 42 hull, which has seen service as class 6 passenger boats, work boats, dive boats and patrol boats, with over 20 craft now in operation throughout the UK , and Europe . The hull design is well proven and renowned for possessing excellent sea keeping abilities. Her LOA is 43ft , beam 14ft. and draft 4ft 6".
In summer 2005 the contract was awarded to Safehaven Marine to build the new pilot boat for the Port of Cork . One of the main requirements of the port of Corks specification was for exceptional strength. To achieve this, substantial 150x150mm transverse frames @ 500mm centers on a 10,000gm2 shell laminate were used. The same substantial beams were used on the deck structure and knees which provides strength at the critical deck to hull join. The Ports specification on strength of design was very specific and size for size the "Gleann Mor" is one of the strongest pilot hulls available and most people get quite a shock when the see inside her. The net result is that the likelihood of damage occurring to her hull as a result of normal pilot boarding operations is substantially reduced, meaning less down time, an important consideration for a busy port like Cork Harbour. Her main fendering was provided by Technix Rubber, consisting of 160mm heavy D section, with 140mm D section used for the lower belting and the diagonals. This combination provides good protection to the craft when alongside ships. On deck, a wide walkway, 32mm railings and Hadrian safety rail facilitate safe passage. During the consultation process with the Harbour Masters and Pilots at the design stage, the importance of a particularly wide space at the pilot boarding area was stressed. This has been created by tapering the fore cabin strongly towards the bow. The life raft is stored in an easily accessible position on the fore deck, and is protected from boarding seas by a mirror polished protection plate, incorporated into the forward railings.
Below, her graceful lines can be appreciated in this photograph.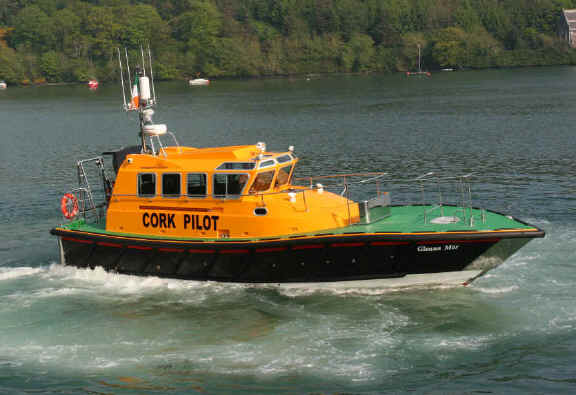 In the cabin, the arrangement chosen by the port of Cork was for a central helm position. This means boarding can take place to the side best suited to the prevailing conditions, as both port and starboard side benefit from equal visibility. In addition the helmsman's seating and steering position has been designed with car like ergonomics in mind, allowing fatigue free operation, where all controls fall easily to hand. Visibility is maximized by the use of forward slopping front windows, to easily shed water and reduce glare and reflections. Upper level skylights and roof windows give a clear view overhead. Front screens are heated and in addition a hot air heater / demister is fitted to ensure good visibility at all times. Instrumentation and electronics have been positioned to provide easily viewed navigation and vessel information. A comprehensive electronics package was provided by Dunmast and consists of three Raymarine 12" E series screens, two at the helm position providing GPS plotter navigation, sounder and radar, with a repeater positioned at a second position. In addition, an AIS readout and rudder angle position provides further information. The layout inside is quite unique. Instead of the usual six pilot seats, (which can be accommodated if required) there are four pilot seats, the aft two have a table in front, and one has a navigation console with full E120 repeater and VHF incorporated. This provides the pilot with a very comfortable seated position, his own navigation station and access to important information, particularly in adverse weather conditions while communicating with approaching vessels. Cameras positioned on the wheelhouse roof and at the transom provide the helmsman with selectable video images displayed on the E120 units, of both the pilot boarding overhead, and the transom waterline area. The latter will be invaluable to the coxswain in the event of an emergency recovery as normally the area directly below the transom is not visible from the helm. In the event of a MOB situation arising, recovery will be easily facilitated by a MOB recovery basket which is single handedly deployed down to below the WL, allowing an unconscious person to be recovered efficiently in a horizontal position and lifted up to the weather deck. When not in use the system folds back into the transom out of the way.
The main cabin is finished in a combination of durable grey laminates, black GRP moldings for helm and seat pedestals, and the cabin is lined in a grey sidelining carpet, providing insulation and a warm environment. Access to the forward accommodation is through a water tight hatch, steps leads down to a spacious area containing seating and occasional berths. There is also plenty of storage space, a galley with a 24v hot water boiler providing hot water for the crew. A separate heads compartment is situated to starboard.
The vessels electrical installation was carried out by Marine Electrical Services, Gabriel Whitston has over 25yrs in Electrical engineering in the Irish Navy and the resulting electrical installation is to an exceptionally high standard. The main electrics are contained in a dedicated, dry and sealed compartment. The Electronic installation is mainly Raymarine equipment and was supplied through Dunmast. The Engine compartment is accessed from the fore cabin through a water tight door, with a clear walkway up between engines. All service components have been positioned in an easily accessible manor and care has been taken to ensure an amount of redundancy within the engine installation, an example being the raw water supply, which uses a large stainless central filter box, feed from a total of four individual seacocks, This was a port requirement from experience with their other pilot vessels giving a redundancy factor that should up to three become blocked, there will still be an adequate water supply to the engine. Bilge pumping is by both mechanical, engine operated pumps and hand operated pumps, in addition electrical pumps also serve the engine compartment.
She is powered by a pair of Volvo D12 engines rated at 450hp @ 1800rpm continuous. This provides her with a required operational speed of 22kts on a 17,000 kg displacement, being cognizant of fuel costs and efficiency. Another part of the Port of Corks specification was to provide a means of quick engine replacement in the event of a failure. To this end a large hatch is built into the superstructure roof which can be quickly removed, the four pilot seats can then be unbolted ant the completed seating modules removed. A large hatch situated in the cabin sole is unlatched and hinged back, allowing the engines to be quickly removed. Clements engineering based in the UK have supplied all of Safehaven Marines stern gear over the years and were instrumental in the vessel achieving her performance through consultation and advice on optimum propeller size and sterngear.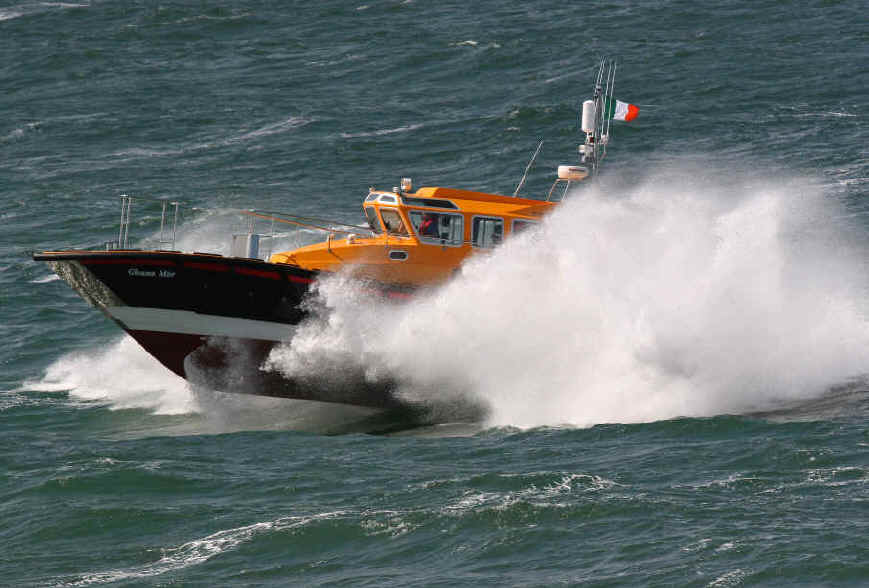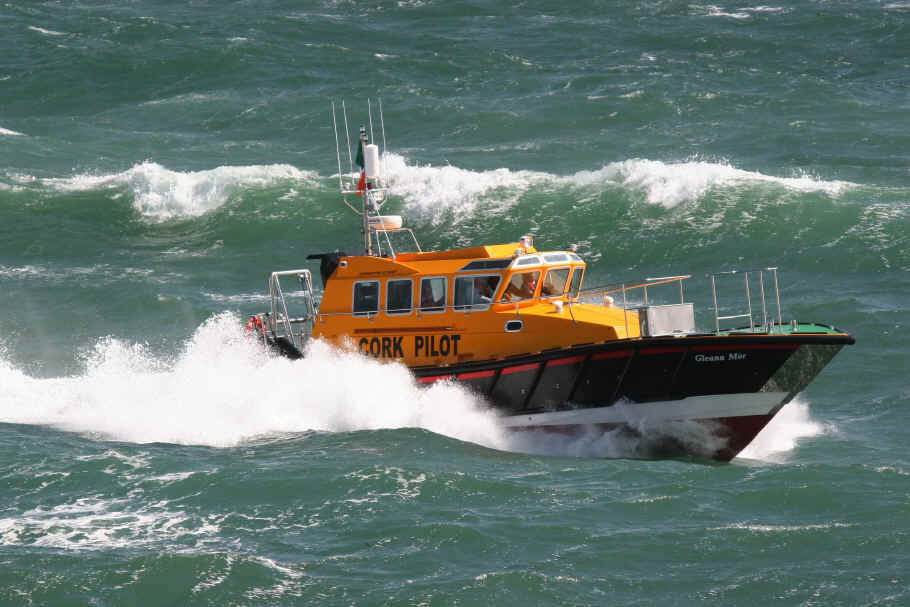 The first series of sea trials were recently completed and her sea keeping was tested in severe weather conditions, Storm Force 10, 60kts of wind and 10m seas with wind against tide at the entrance to Cork Harbour . Punching into steep head seas her behavior was as excellent. Her deep V hull, weight and strength allowed her to punch through the waves almost silently with no bangs or slams and even after being airborne her landings were very soft, after shouldering the seas aside. The aft central con position and pilot seating resulted in very low motions for the crew, providing comfort even in these conditions. She was run her at various angles in to the seas. Beam on she was excellent with very little rolling and heel and was able to withstand heavy breaking seas striking her. Its worthwhile to note also that the screens remained virtually dry throughout the test, her twin chine hull design effectively suppressing airborne spray allowing good visibility to be maintained, even in poor conditions. Turning to run before the seas she was reassuringly controllable, allowing hands off steering in following seas, running straight down wind displaying exceptional directional stability. Putting the seas on the transom quarter, always a test for a boat, she was again very steady, with little heeling on the face of waves when surfing and zero tendency to yaw. In fact her stiffness and stability on this course was very impressive.
During ship boarding trials her ability to easily come away from a ship provided great confidence to the coxswain and crew; her deep V hull design creating a large wedge of water between the two hulls, pushing her off easily by use of the wheel alone. She was also very dry and stable when alongside. The Port of Cork will be carrying out extensive sea-trials with the Glean Mor over the coming weeks and particularly in any adverse weather conditions.
The accompanying photographs clearly distinguish the Interceptor Pilot 42, outlining the sleek and graceful lines and colour scheme yet concealing the inner strength and design features so important to a working vessel required for operations 24 hours a day in all weather conditions.
The following dramatic photographs are testimony to her seakeeping abilities. These pictures were taken in a force 10 storm with 60kts of wing and 10m seas.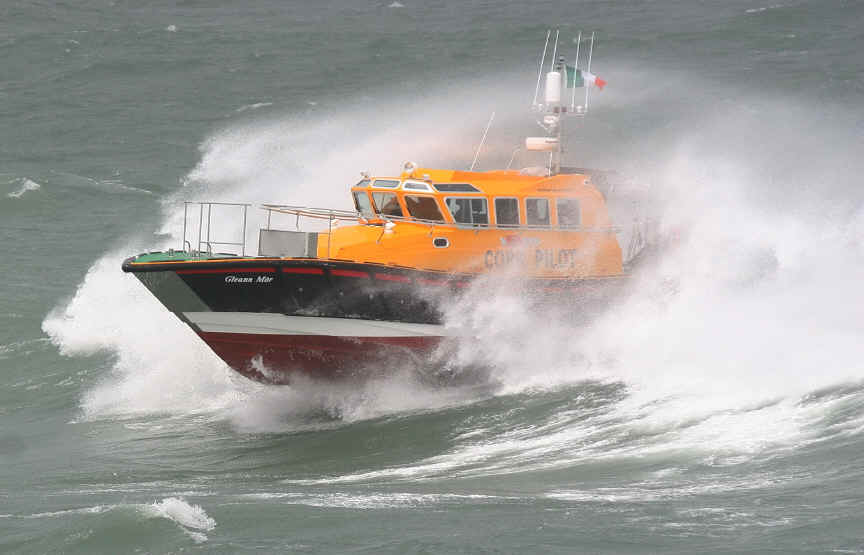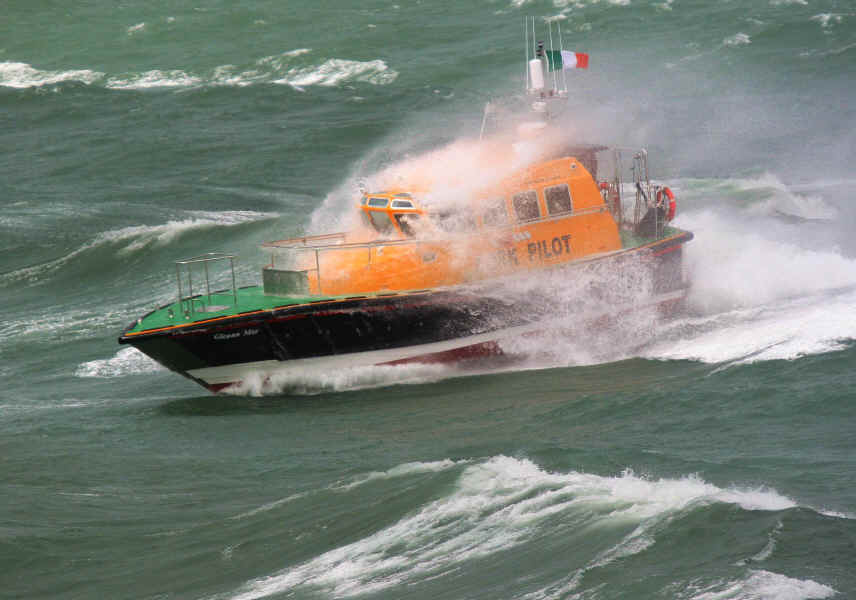 Cork Pilot boat in severe storm force 10, 70mph winds. Extreme conditions.
SEE A VIDEO OF HER UNDERTAKING PILOT BOARDING'S IN STORM FORCE 10 & 10M SEAS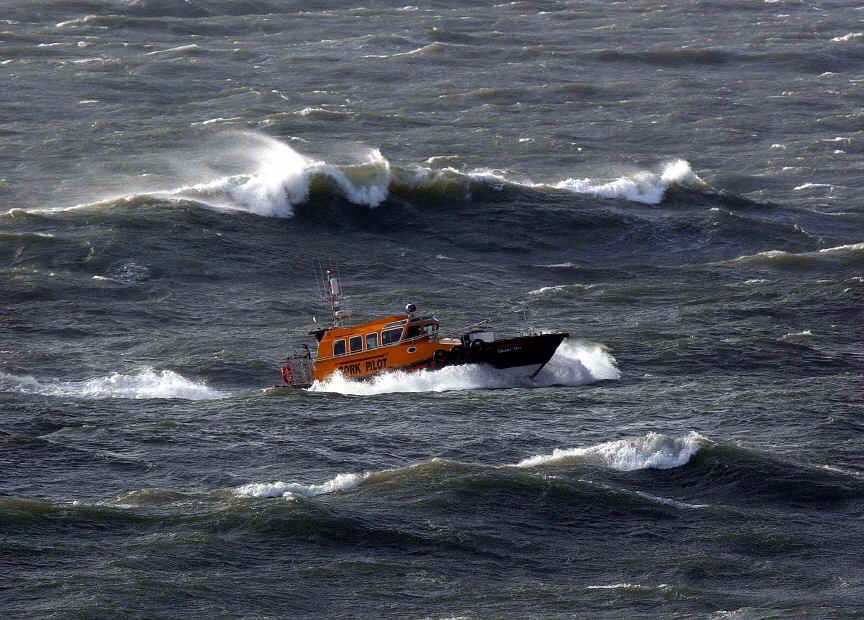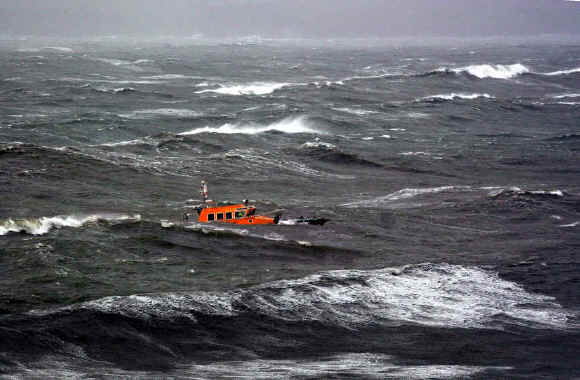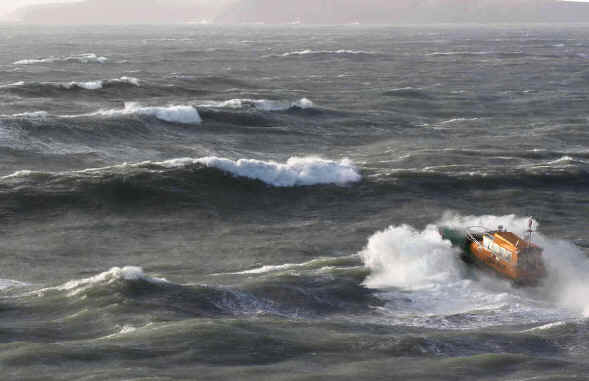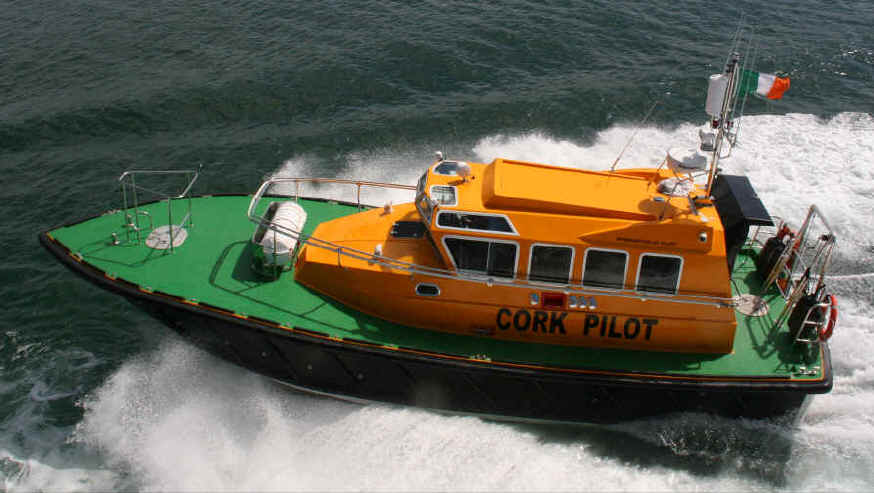 The sequence of pictures below show her coming alongside a freighter during pilot boarding operations.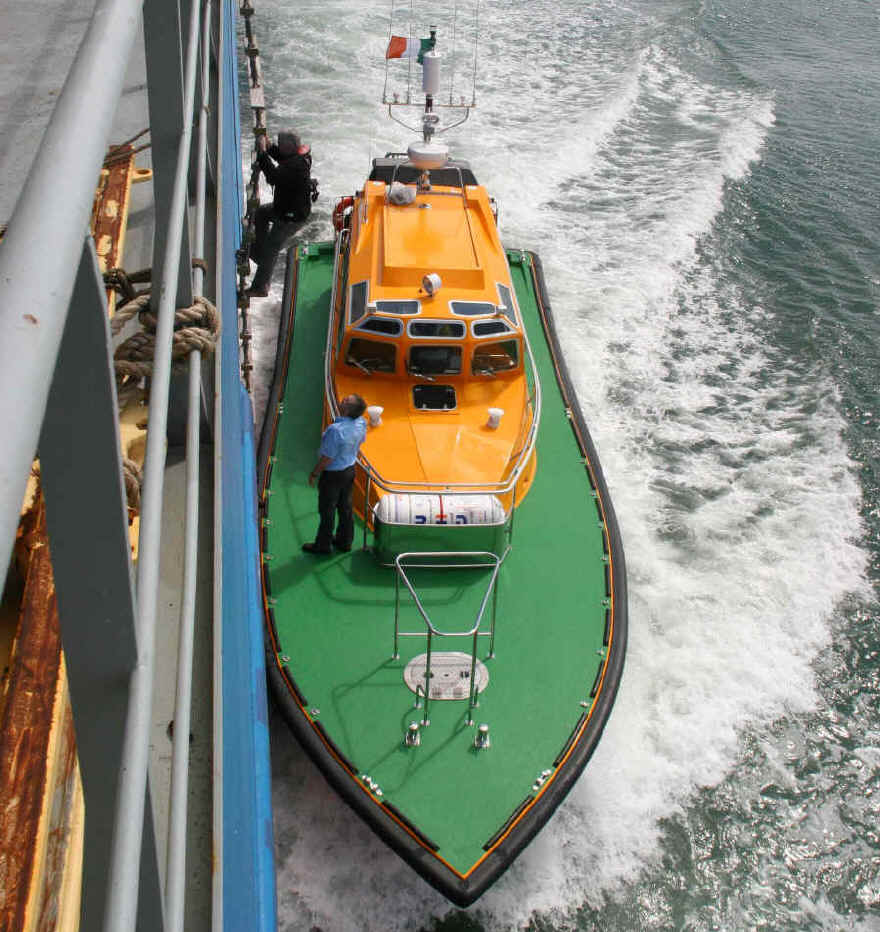 SEE A VIDEO OF HER COMING ALONGSIDE SHIPS DURING BOARDING TRIALS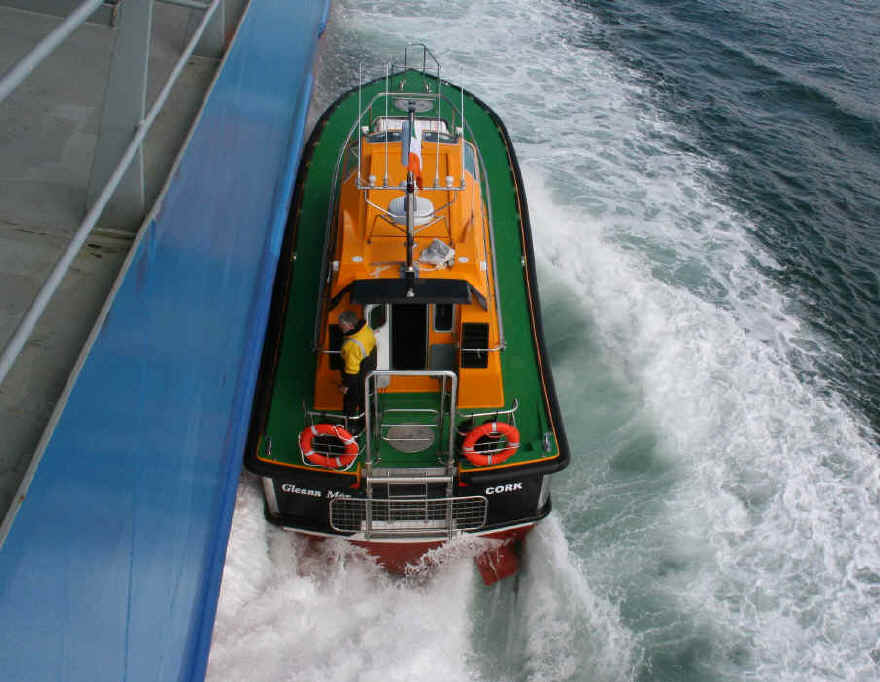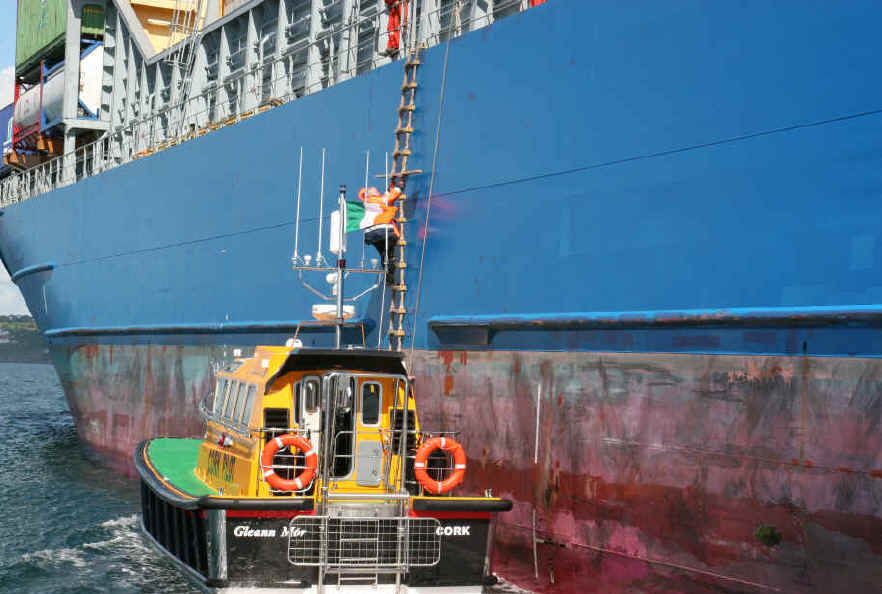 SEE A VIDEO OF HER IN SERVICE UNDERTAKING PILOT TRANSFERS
Below, her interior is bright and airy, fully lined and carpeted, she's quite luxurious. The central helm allows good all round visibility and the seat / steering interface is very comfortable. Pilot seating is also very comfortable, two of which have tables and one features a navigation console with VHF, GPS and radar repeaters. Several vertical poles allow safe passage throughout the cabin in rough conditions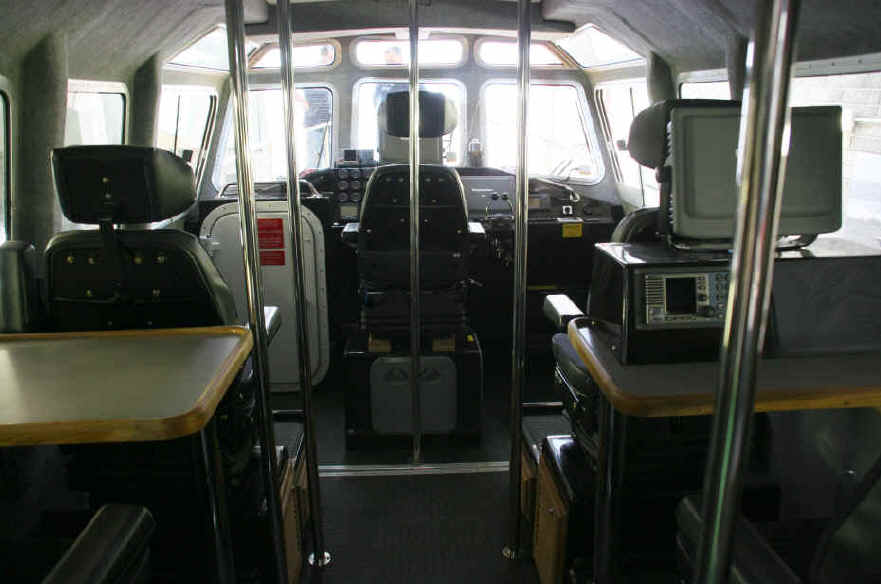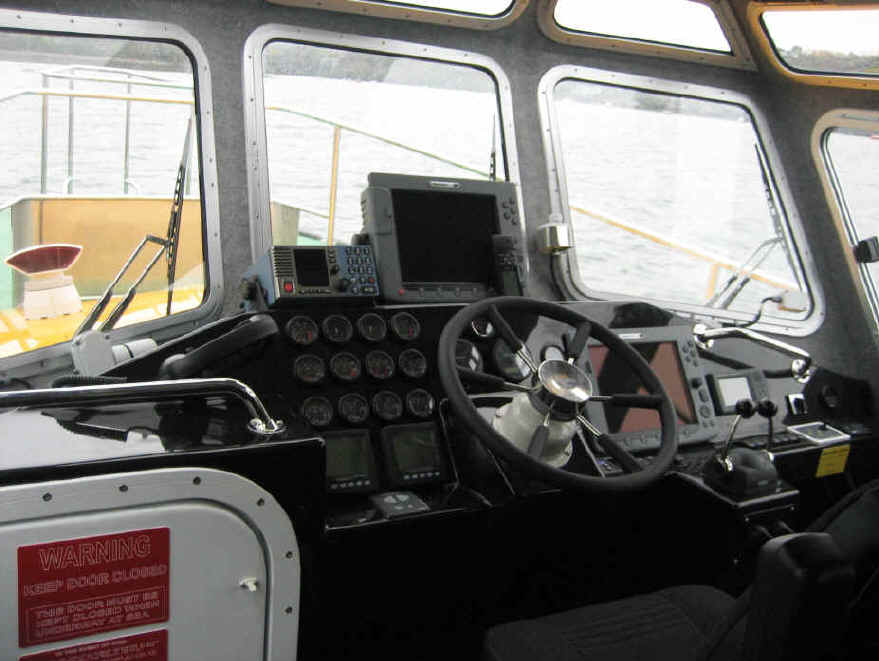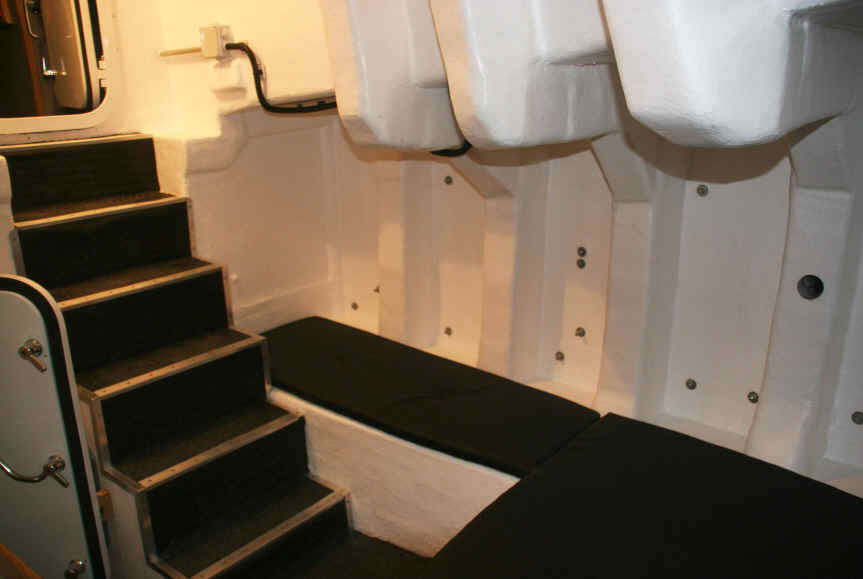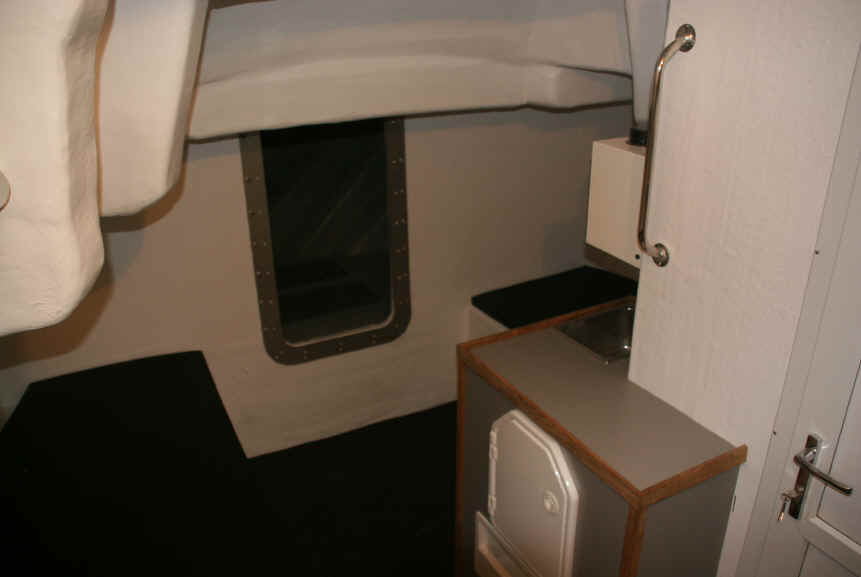 Below- Strength. The hulls scantlings are very closely spaced @ 500mm centres giving a 4300mm panel width, the frames themselves are a huge 150 x 150mm (6" x 6") resulting in a massively strong structure. Below you can see the frames laminated in the hull.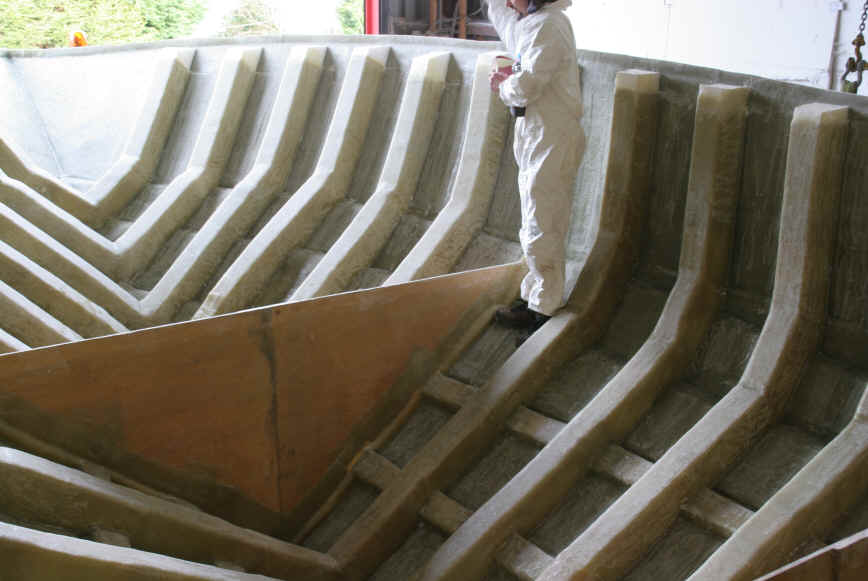 PAn essential design feature was the ability to quickly and easily remove an engine, shown below.