P&O MARITIME'S new Interceptor 48 pilot vessel for the Port of Maputo in Mozambique is launched

P&O MARITIMES new pilot vessel is the 7th of Safehaven Marines Interceptor 48 pilot vessels to enter service in Ports worldwide, and is the 27th pilot vessel built by Safehaven Marine demonstrating Safehaven's pre eminence in this specialized field.

She is to operate at the Port of Maputo in Mozambique and is powered by a pair of Volvo's new D13 500hp engines and twin Disc 5114 gearboxes and achieved 24kts on sea trials, providing her with an operational speed of 23.5 - 24.5kts, fully loaded / Light, she is fitted with 1850 litre fuel tanks providing her with a range of over 250n/m. The Interceptor 48 is 14.7m LOA, with a 4.3m beam and 17,500kg Displacement. She has a seating capacity for 5 pilots and 2 crew, CAB 500 series suspension seats are fitted in the main cabin, with additional bench seating for 6 passengers in the forward cabin, which is fitted out with a full galley and a separate heads compartment.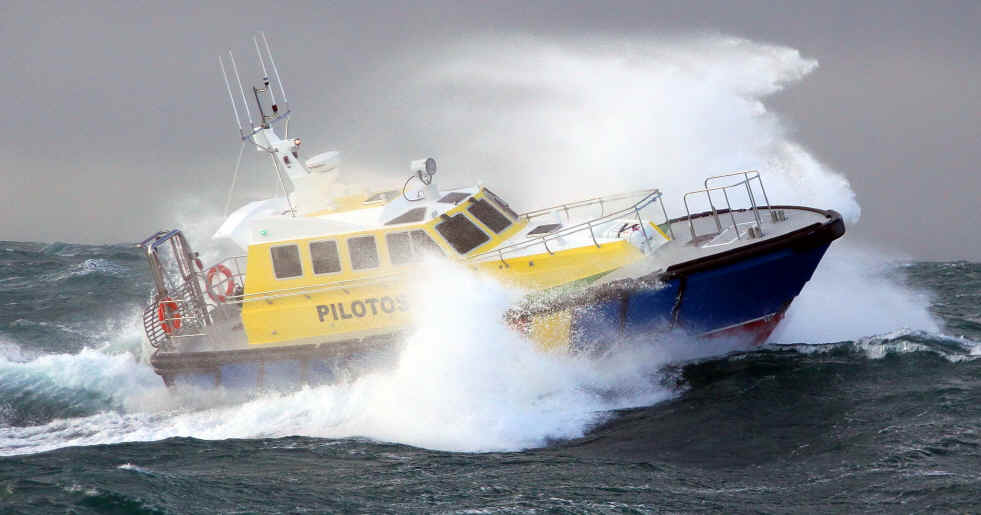 The pilot vessel is especially equipped for hot climate operations, her engine room is fitted with a powerful 500mm axial inlet fan, as well as a 250mm extract fan to keep the engine room well ventilated and cool. Her pilots & crew are equally well catered for with the vessel featuring 2x 18,000btu air conditioning units in the main cabin, the 2nd unit as a back up providing redundancy providing a comfortable environment. Tinted windows ensures visibility is maintained in the high glare conditions from sunlight the Port experiences. A very high level of fit out has been undertaken, with teak and holy cabin soles, walnut Formica laminates and trimming ensure she provides a luxurious working environment, augmented by very low noise levels of just 75db. P&O Maritime's Interceptor 48 pilot boat is very heavily fendered with 150x150mm D section rubber main gunwale fendering augmented with Safehaven's unique sacrificial shoulder fender system, ensuring pilot boarding's in rough conditions are soft, with impacts well cushioned and the main fender and hull structure fully protected. Multiple diagonals and a lower run further protect the vessel, Additionally an Ocean 3 fender fitted on her rounded bow allow the vessel to be used for occasional 'pushing' duties ,to assist pilots in small ship maneuvers. A full electronic package supplied by Raymarine based around the E 140 / 120 series displays are positioned flush in a GRP 'wrap around' helm console giving the helmsman excellent command of the vessel, with all displays clearly visible, Safehaven's usual special attention was applied in providing the utmost comfort and control for the helmsman.
Other features are a Victron 240v 3.5kw alternator, powered by a pair of auxiliary alternators fitted to the engines allowing onboard 240v supply when underway. MOB recovery is carried out by a further refinement of Safehaven's tried and tested transom operated recovery platform, allowing an injured pilot to be safely recovered from the sea unconscious. Recovery is facilitated by the incorporation of an aft, external helm position fitted with engine and joystick steering controls, this position provides the helmsman with full control and visibility in recovery operations. Pilot safety has been foremost in her design and a F.L.I.R. remote control thermal camera is fitted on her mast. A fully integrated 4 camera CCTV system provides coverage for and aft as well as her engine compartment.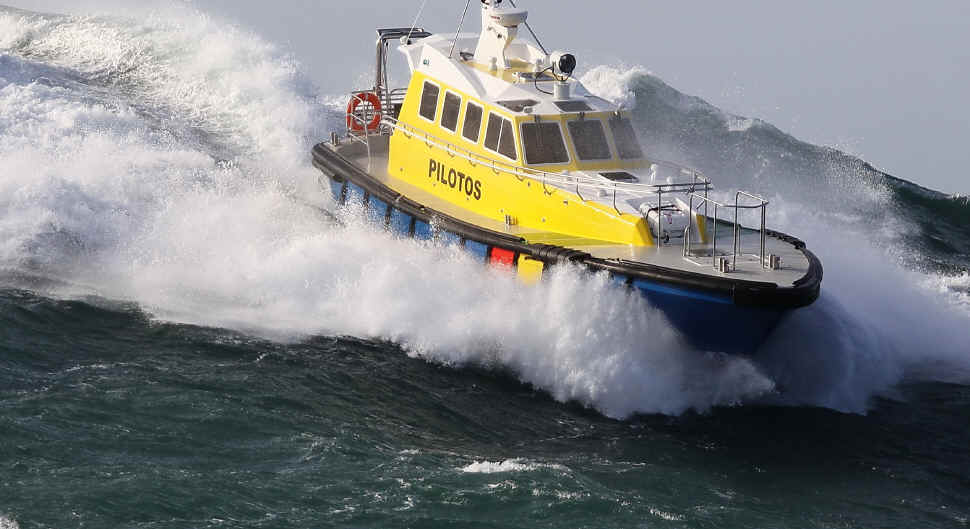 See the video of her in storm force 10 and 6m breaking seas- FORCE 10 VIDEO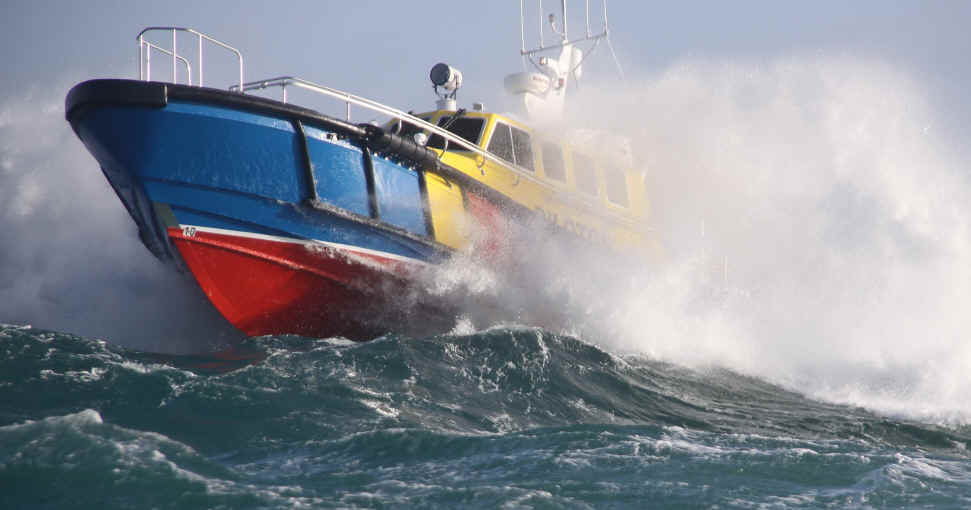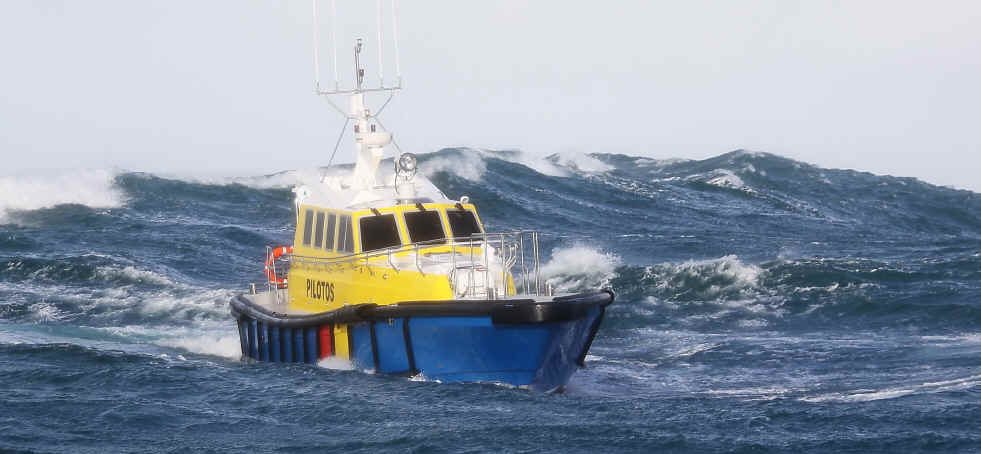 The Interceptor 48's deep V twin chine hull provides exceptional levels of seakeeping capable of punching through steep head seas, and running safely down wind in big following seas, something Safehaven's 48 is highly adapt at, indeed the reputation Safehaven have established for building pilot boats able to deal with the harshest sea conditions was contributory to winning the original contract, with the Interceptor 48 by now fully proven and capable of operating in storm conditions and 7m+ waves. She has been found to be very relaxed and comfortable in a seaway. P&O Maritimes pilot vessel was launched on schedule, fully meeting all her contract requirements.
See our full range of pilot vessels- SAFEHAVEN MARINE HOME PAGE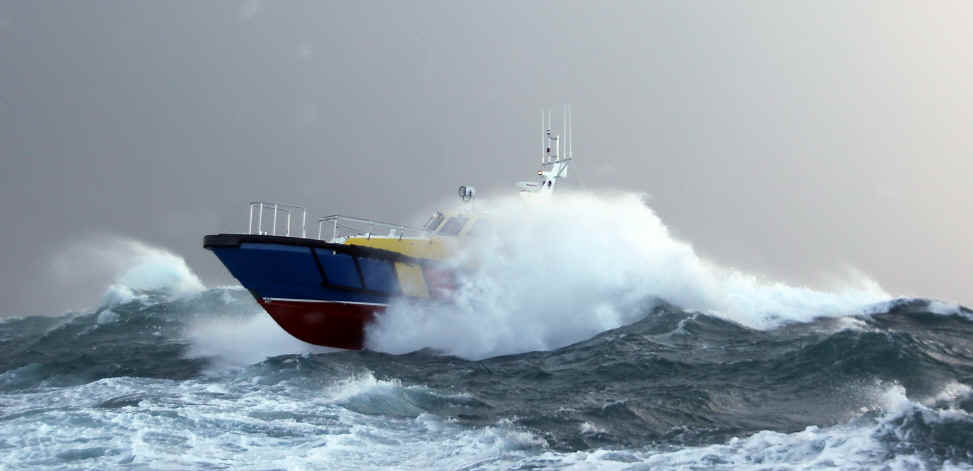 She has proved to have the expected very high levels of seakeeping abilities that all Safehaven's pilot vessel posses, amply demonstrated in these photos of her being sea trailed in gale force 9 conditions with 60kts wind speeds and over 6m seas.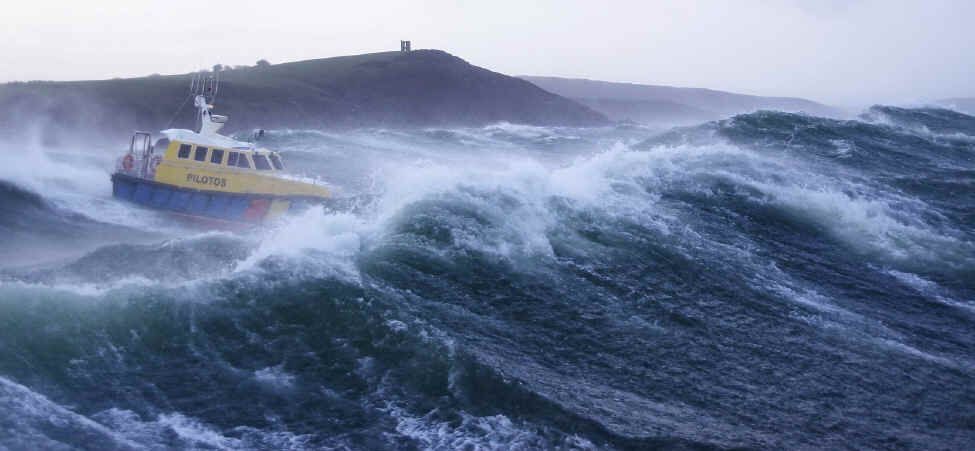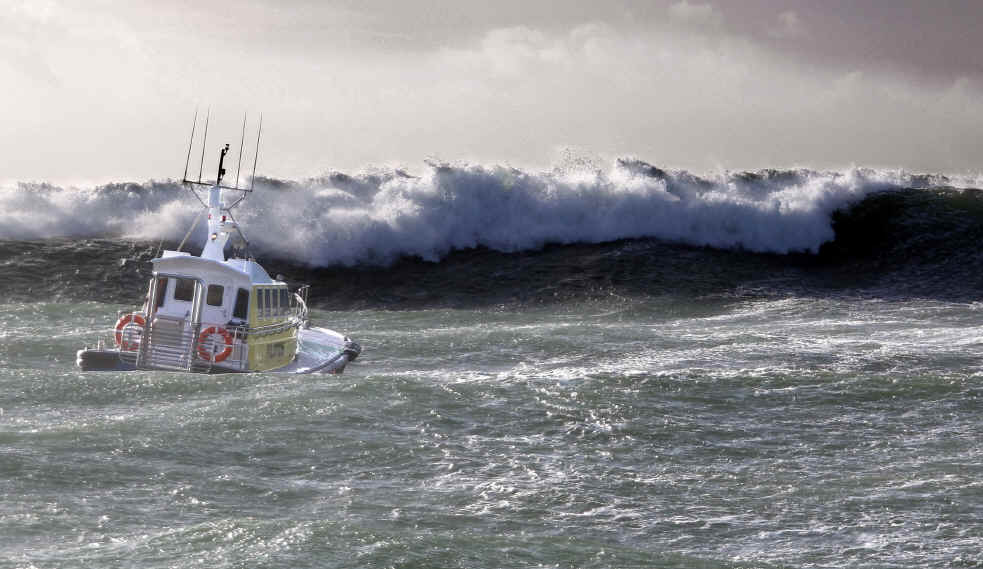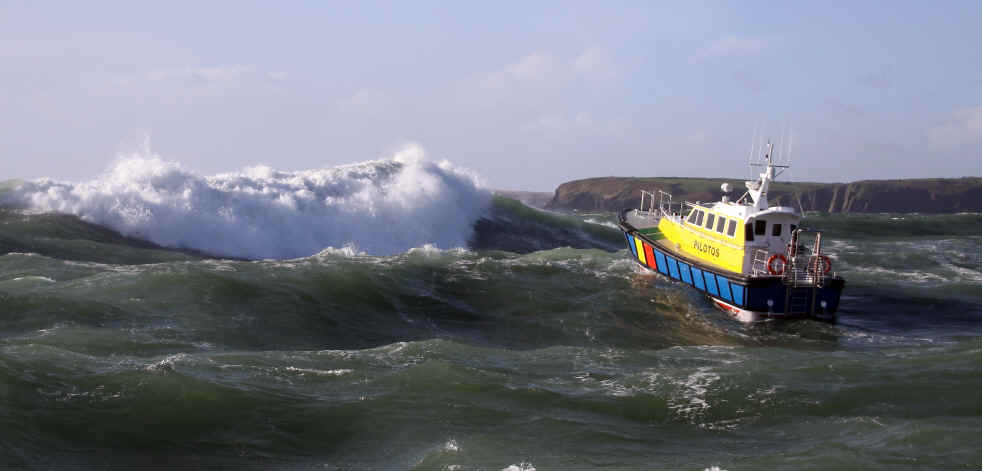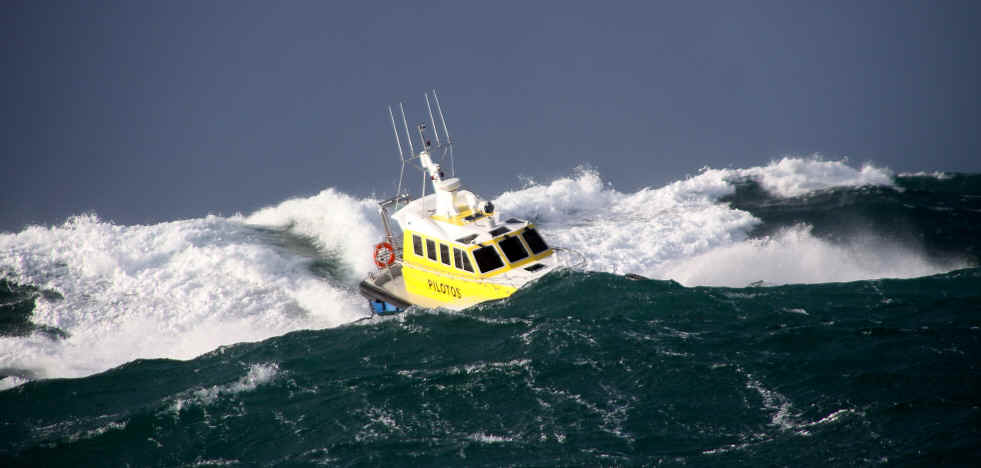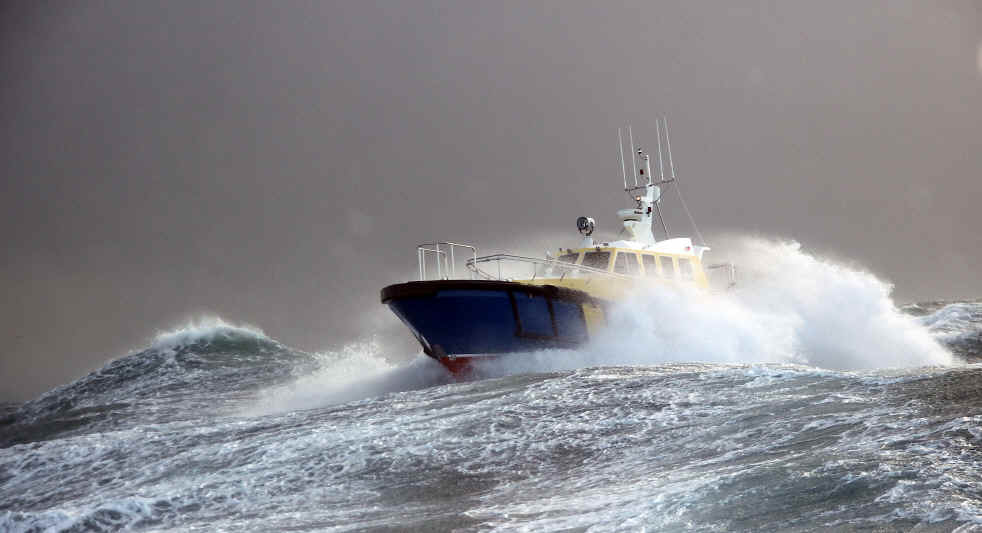 Technical specification
Type of vessel Pilot boat
Owners P&O Maritime
Builders Safehaven Marine
LOA 14.7m
Beam 4.4m
Draft 1.3m
Displacement Lightship 17,800kg
Loaded 20,100kg
Construction material GRP
Engines Volvo D13 500hp @ 1800rpm
Gearbox Twin Disc 5114
Generator 3.5kw Inverter charged by 4x
90amp alternators
Propellers 27" 4 blade
Speed Operational 23.5 - 24kts @ MCR
Range 240nm
Fuel 1,850 litres
Water 110 litres
Air-conditioning 2x Dometic 18,000btu
Navigation equipment
Radar Raymarine E165 48n/m 4kw
Plotter Raymarine E120
Repeater Raymarine C90
Sounder DSM300
Communication equipment
VHF Sailor RT6222 DSC
Sailor RT6248
Search & rescue DF Raymarine lifetag DF
Searchlight Francis 24v 300mm dia remote control
Seating capacity 2 Crew, 5 pilots
Liferaft RFD 12 persons
Certification Bureau Veritas