'ISLAND TIGER' A WILDCAT 53 / 16m 'WIND FARM SERVICE VESSEL'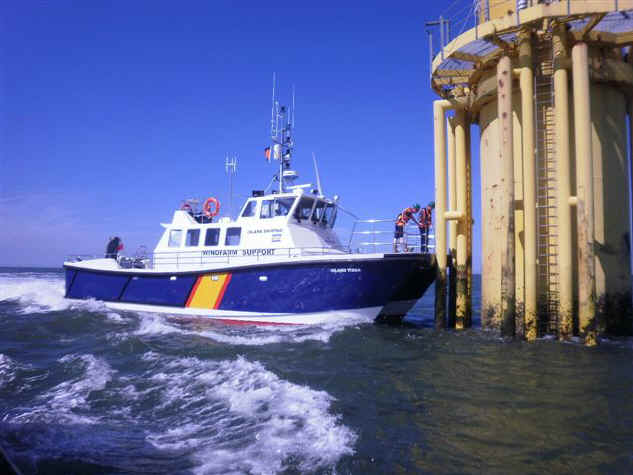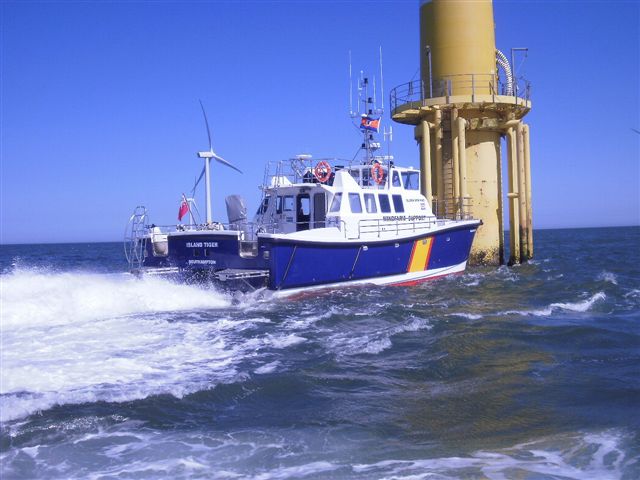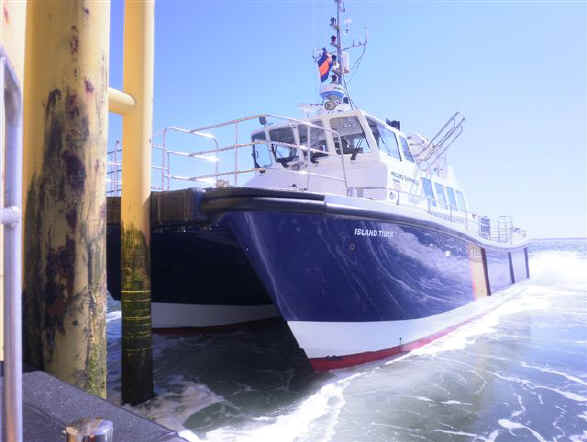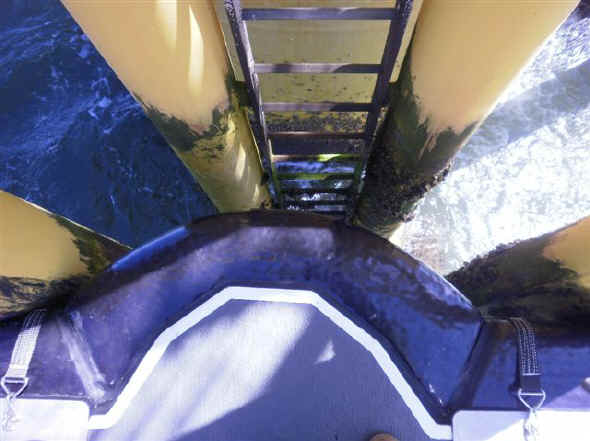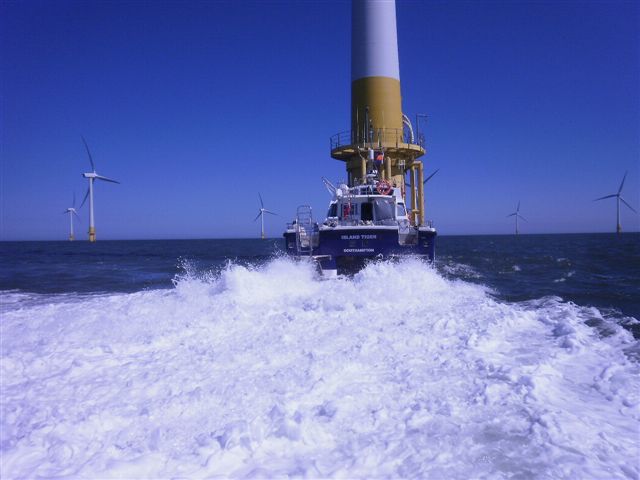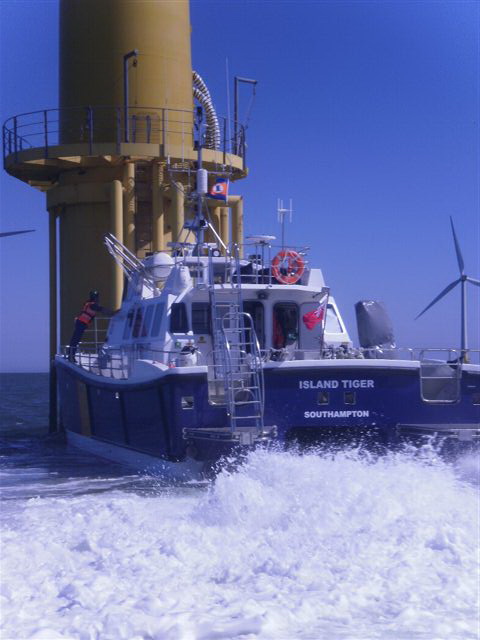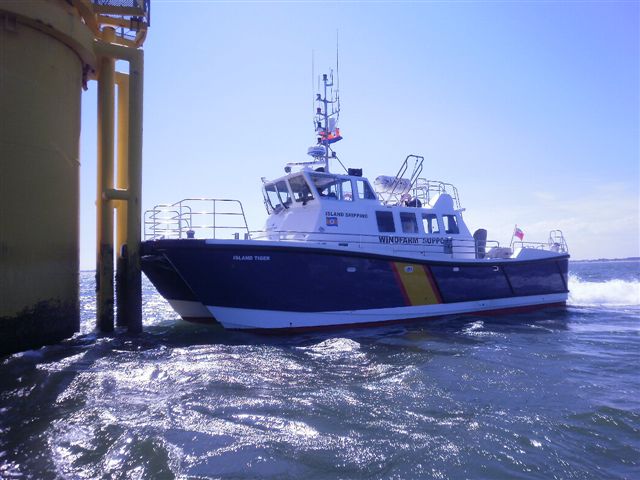 Above, Photos of Island Tiger working on windfarms off UK East Coats July 2010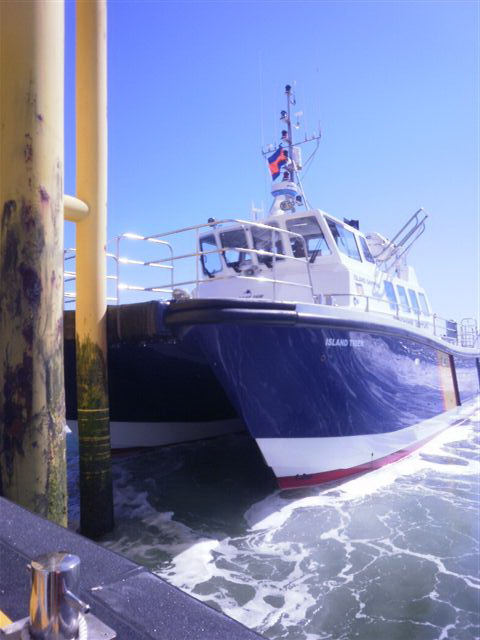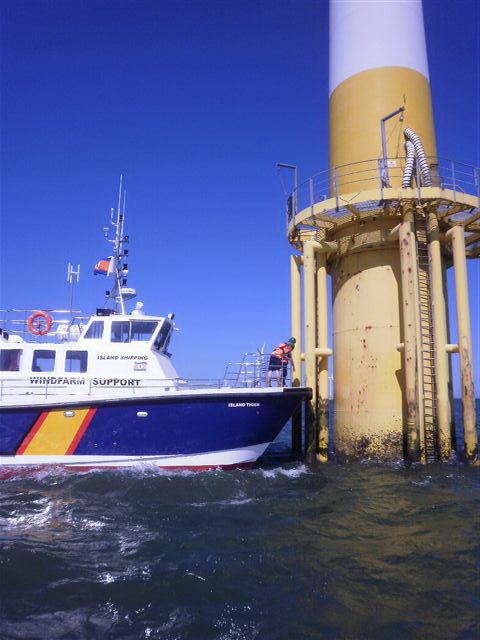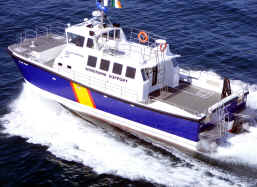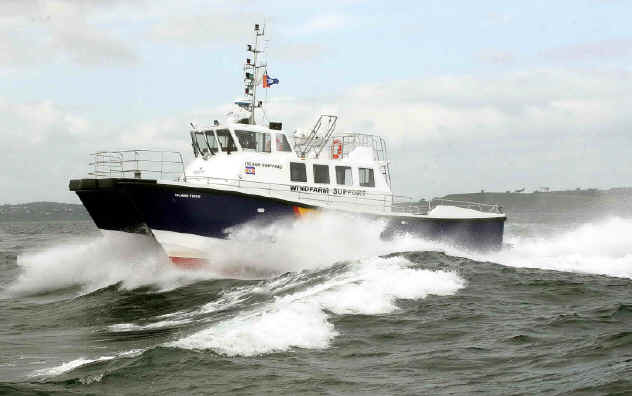 Below, Island Tiger running in lumpy seas, see a short video here- SEE THE VIDEO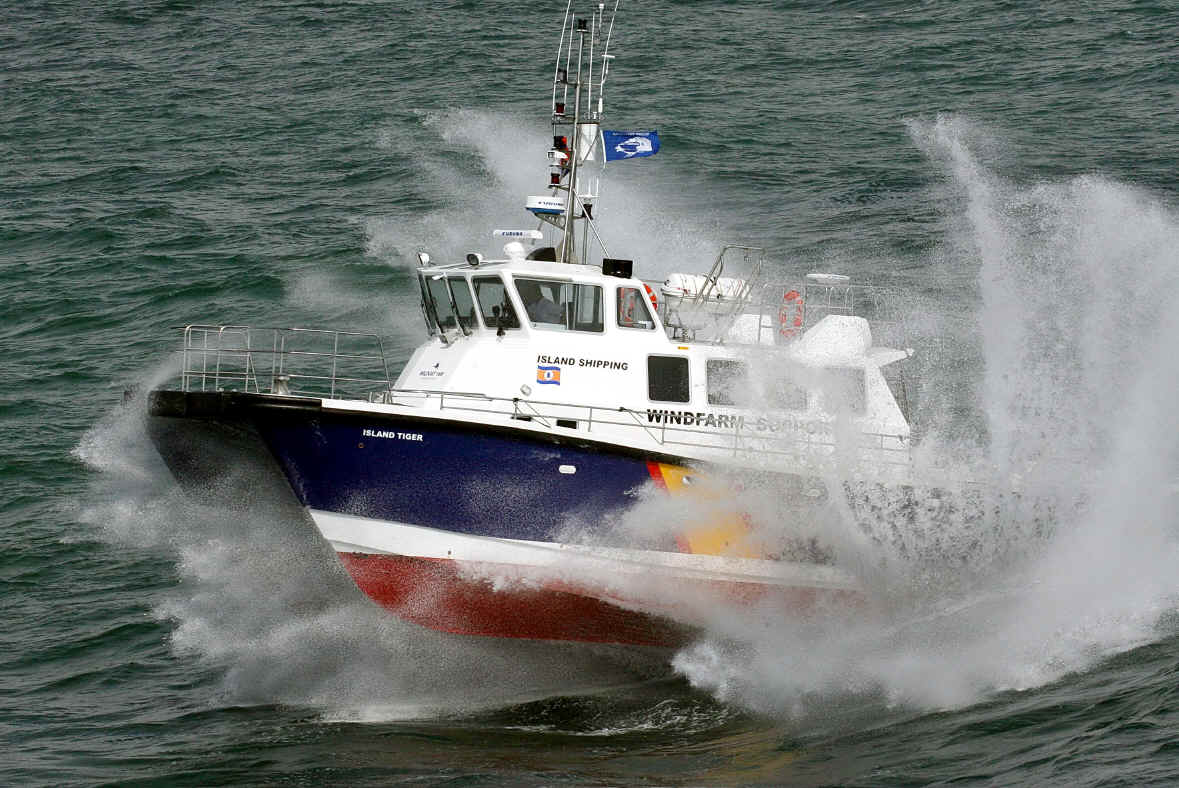 Safehaven Marine have launched 'ISLAND TIGER' the first of our new GRP Windfarm Catamarans, the Wildcat 53 / 16m. This is a completely new design based on our highly respected Wildcat 36/40 design, incorporating the same high buoyancy bow, twin chine catamaran hull form that has proved so successful in providing exceptional levels of sea keeping and performance from Safehaven's Wildcats over the past 5 years. 'ISLAND TIGER' is 16m long (17m inc dive platforms) with a 6m / 20ft beam and will provide a very stable platform that will suit a multitude of roles from passenger, crew transfer and commercial workboat, but she is specifically designed as a wind farm support vessel. To this end the bow area has been designed to accommodate a specially developed fender system from Ocean 3. The fender design is of high density foam core 300m x 400mm with a heavy 50mm thick rubber wall to cushion impacts and stresses when the bow is held against windfarm platforms in heavy weather. No stranger to building exceptionally strong GRP hulls, the Wildcat 50 will have the same heavy duty scantlings as tour renowned pilot boats, to provide a vessel that can withstand tough use in the harsh windfarm support vessel environment.
'ISLAND TIGER' is powered by twin Scania D12 650hp engines driving Ultra Dynamics waterjets and on sea trials achieved a 25kts maximum speed which gives an operational speed of 23kts at 80% of max power on a 25,000kg lightship displacment. Larger engines such as the Scania or Volvo D16 engines can alternately be fitted for higher speeds.
The superstructure is a raised bridge deck design with the helm and navigators position elevated to provide excellent visibility. The cabin is centrally positioned in an 'island configuration' with a clear 750mm walkway each side with and around the bow where there is a cargo lifting space. This provides a safe passageway and spacious work and boarding area at the bow.
Aft twin dive platforms at the transom of each hull give waterline access through transom gates, and the well decked aft cockpit features a HIAB crane and a large clear cargo area.
Letter of recommendation received from her owners Island Shipping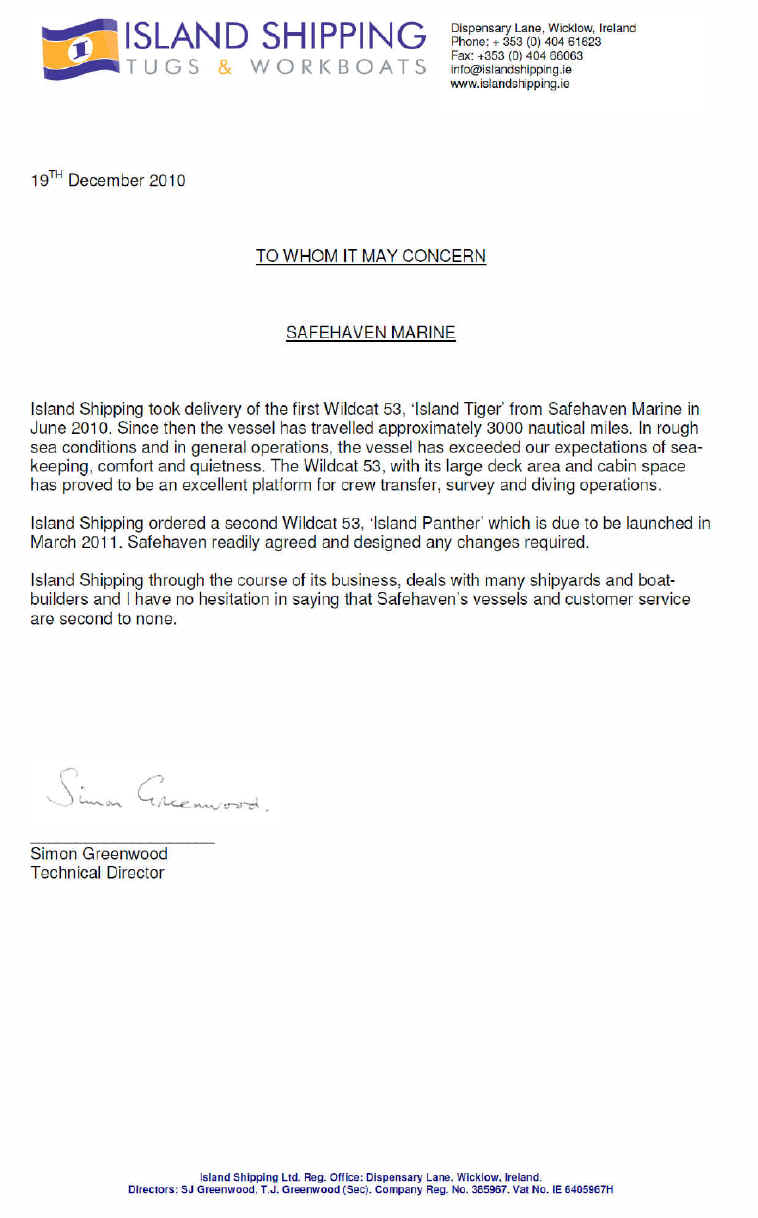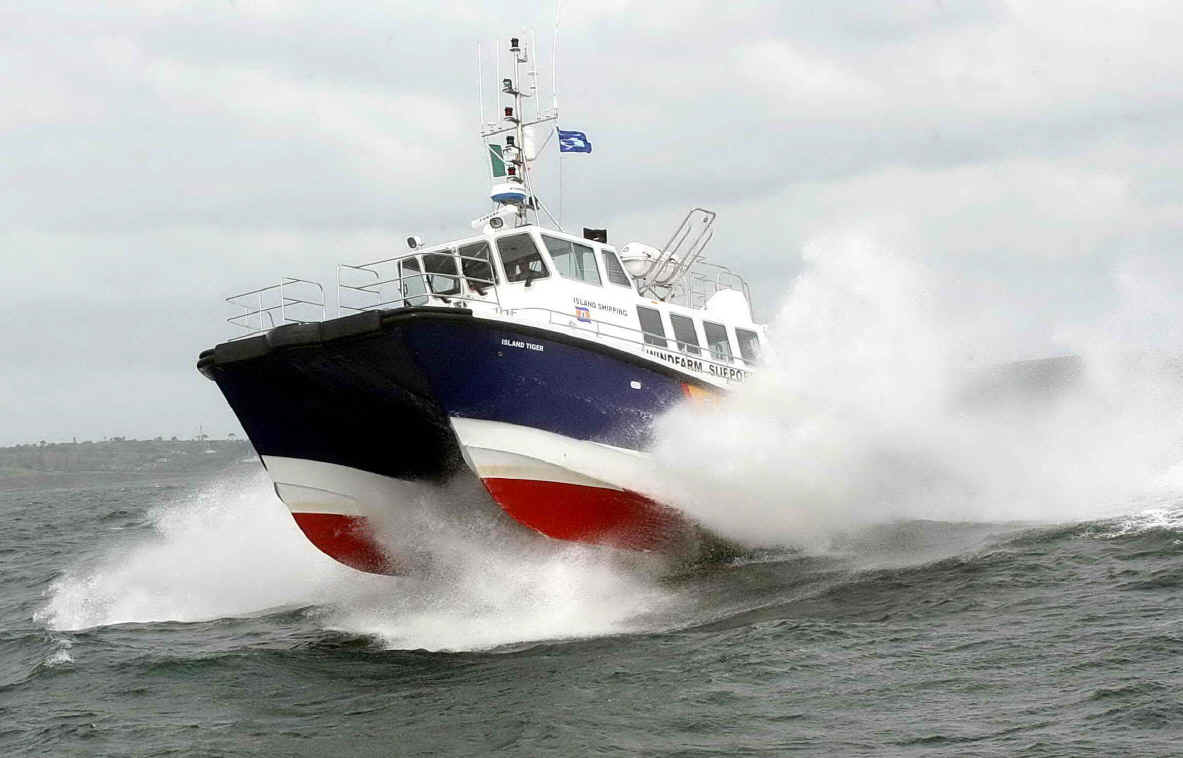 Above and below, photos taken from her rough weather sea trials, you can see a video of the trials from this link- SEE THE VIDEO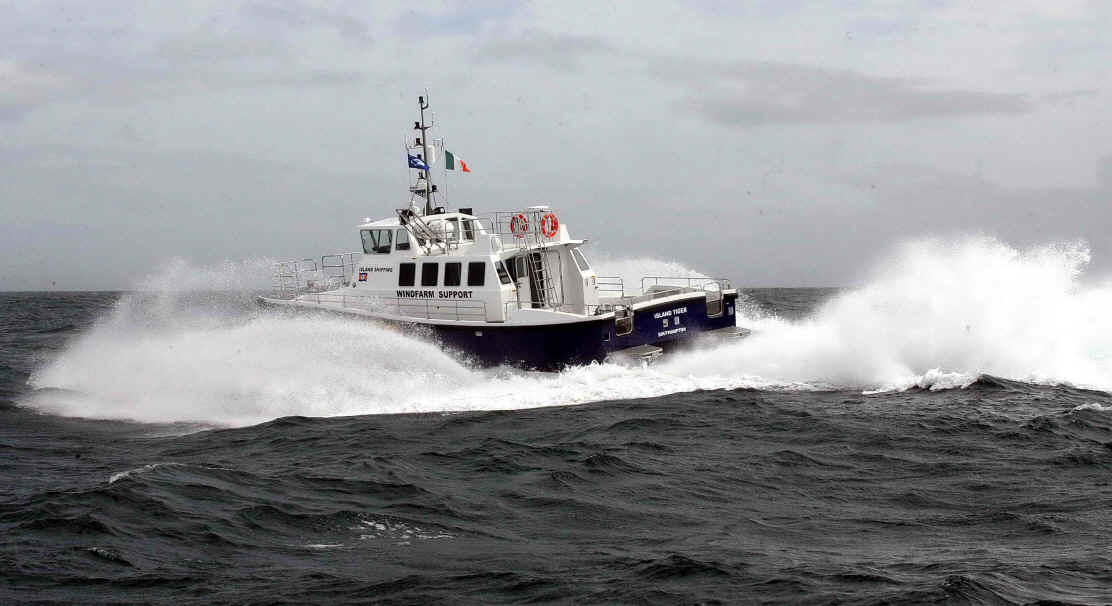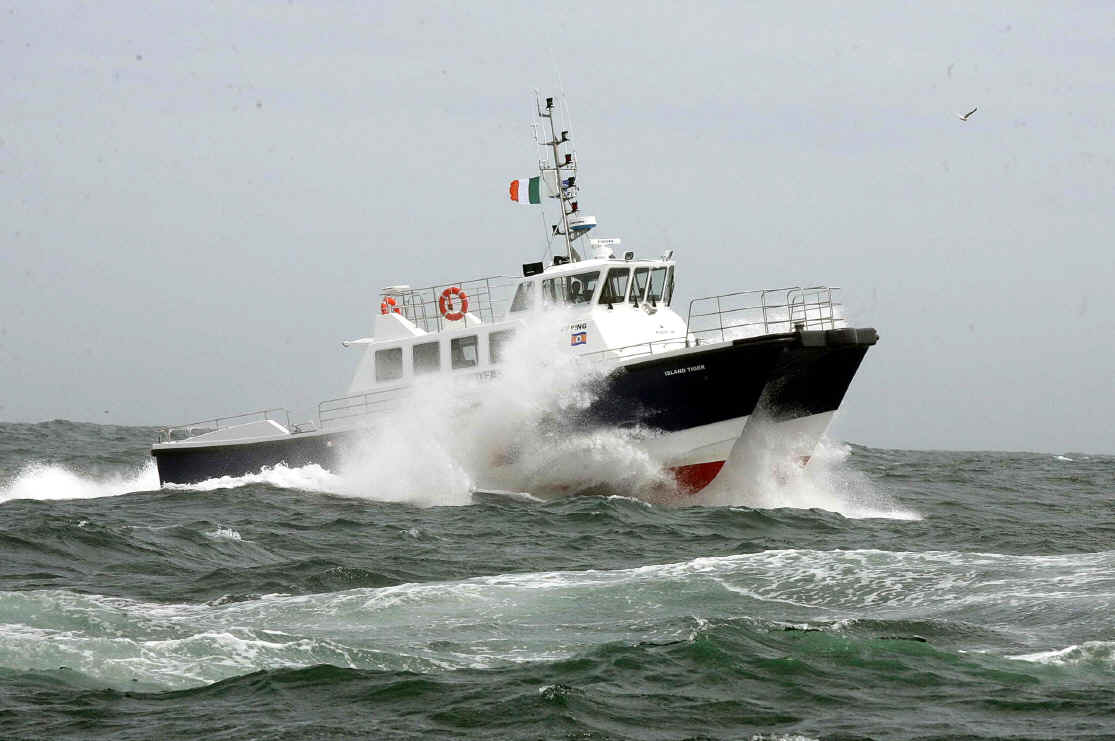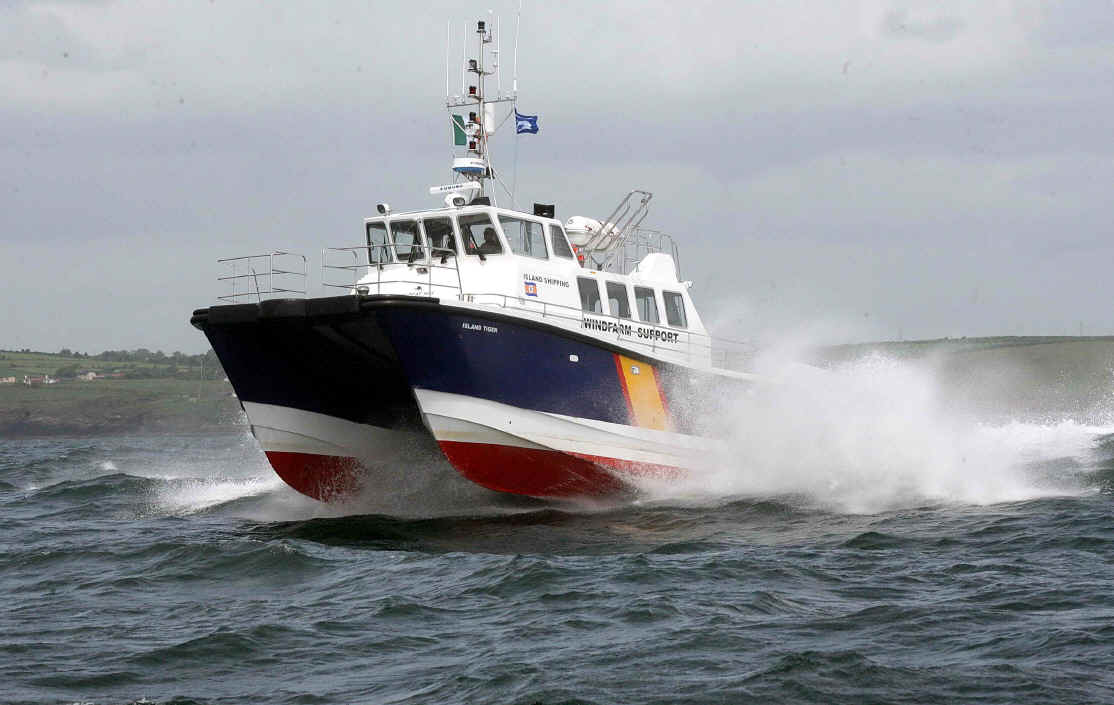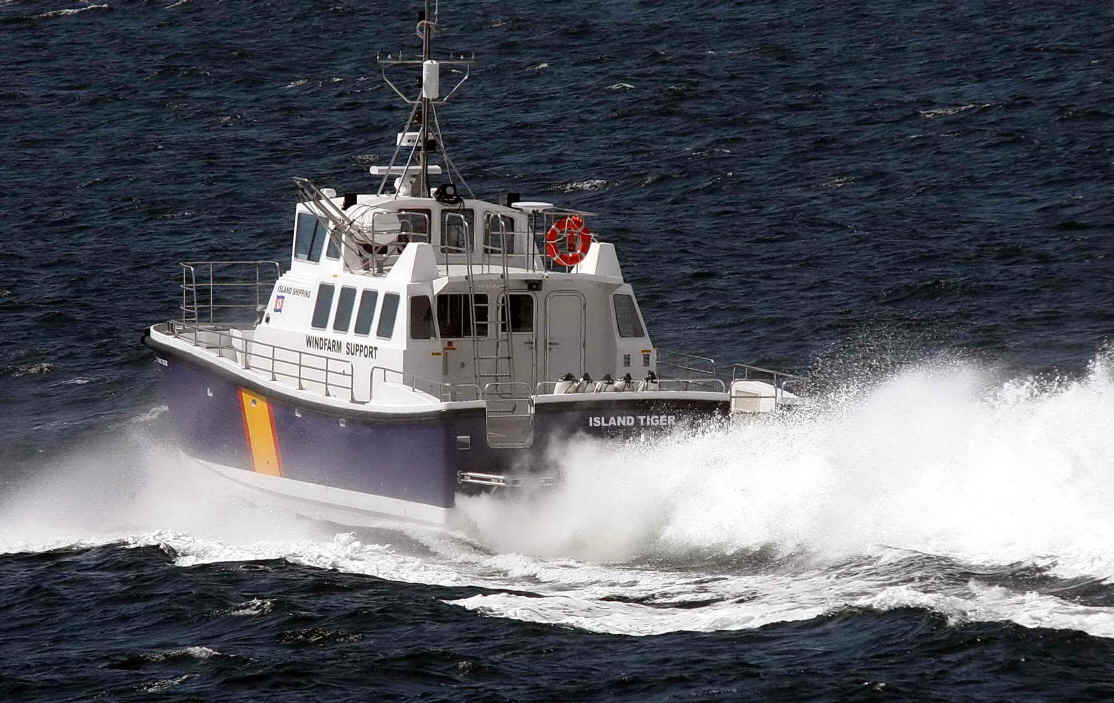 Below, We had the opportunity to help with trails with the Irish coast guard, and took some nice pics, we also had a video made, - SEE THE VIDEO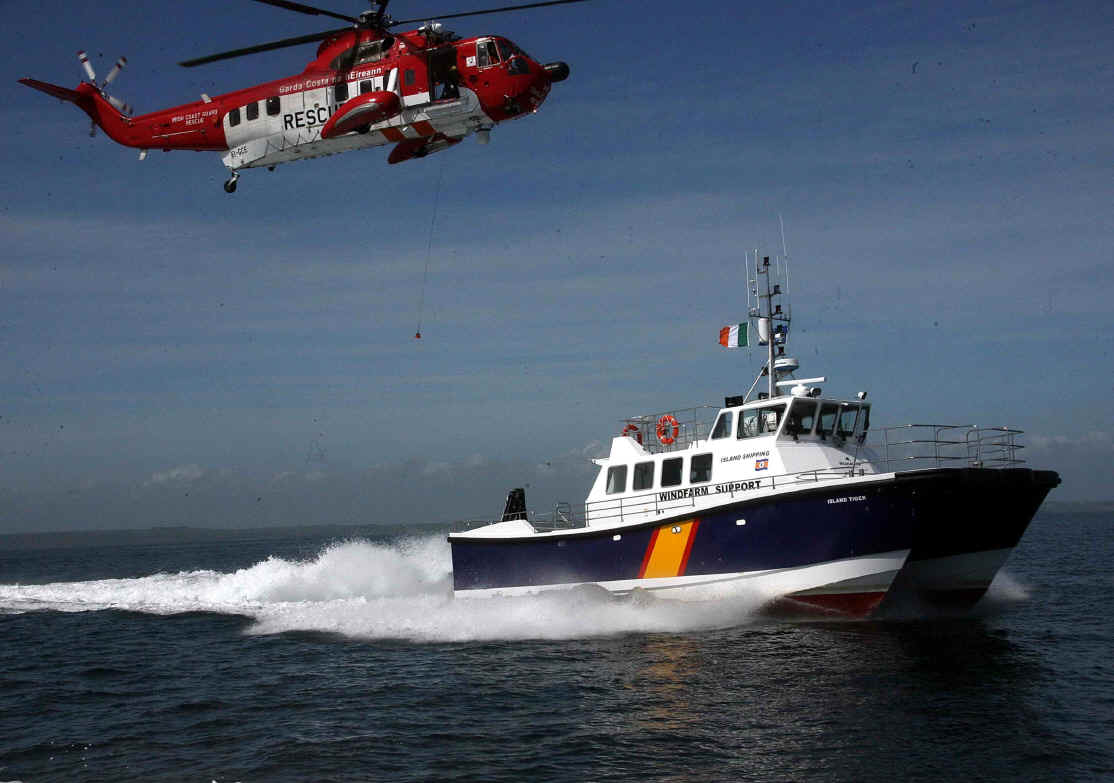 The Wildcat 53 hull design is a larger version of our very successful and thoroughly proven 36 / 40 design, featuring the same high buoyancy bow, symmetrical twin chine hull design that provides excellent sea keeping and performance, providing a soft ride into steep head seas with enough buoyancy in the f/wd sections to always lift the bow over waves, preventing slamming on the bridge deck. The hulls twin chine arrangement creates a spray air medium that allows the hull to almost ride on a cushion of air which gives the cat such a soft ride, and also makes for an exceptionally dry vessel. Down wind again the hulls provide adequate buoyancy to keep the bows up and the Wildcat hull is almost non broaching, allowing big quartering seas to be run down with little steering effort in total safety. Safehaven's hulls have gained an enviable reputation for strength and sea keeping over the years, their all weather pilot boats highly respected and it is this same design ethos that is bought into our new Wind farm Wildcat 53 / 16M.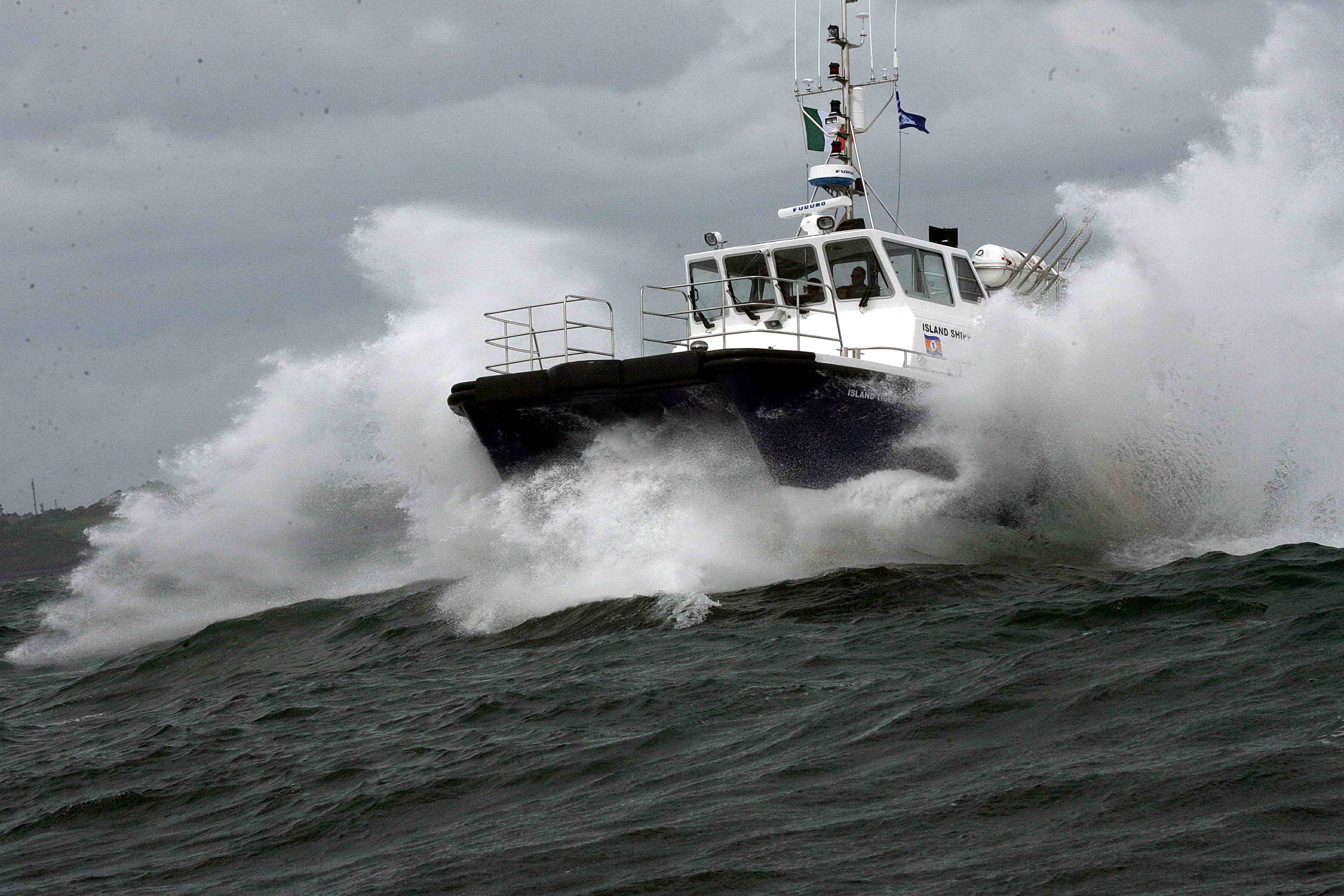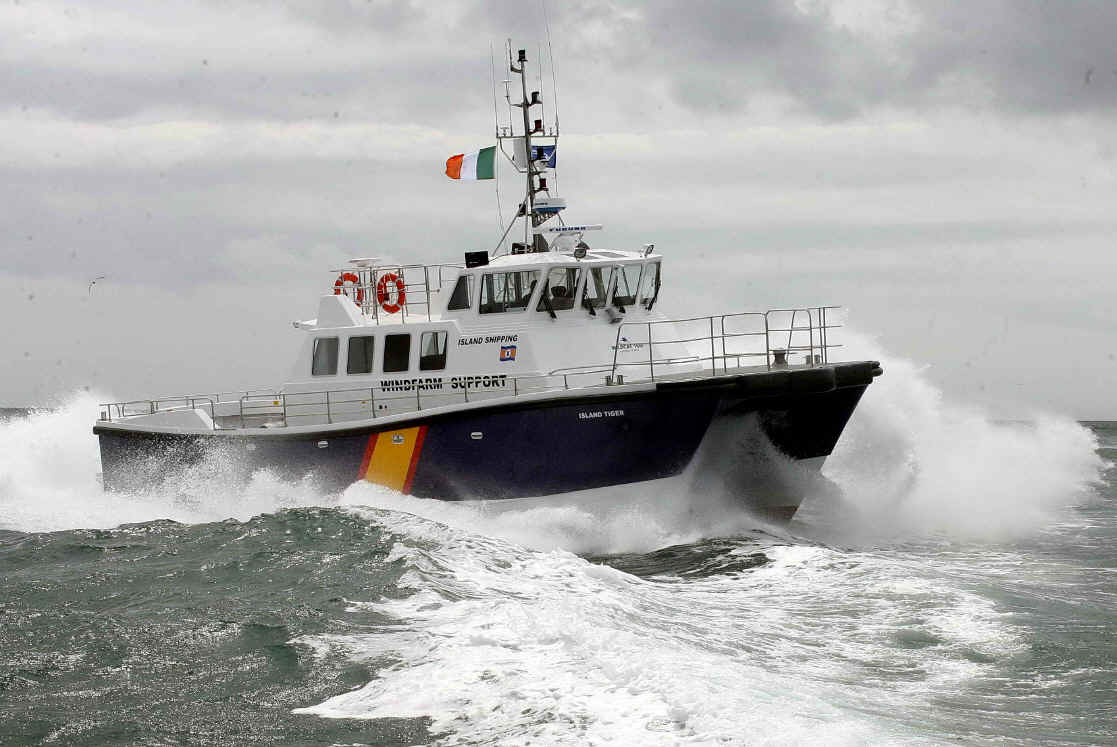 ISLAND SHIPPING'S TWO WILDCAT 16m WINDFARM VESSELS

Island Shipping is an Irish company operating vessels and providing consultancy services predominantly in the Offshore Windfarm industry. The company has been involved over the last six years, in the development of the Arklow Bank Offshore Windfarm on Ireland's east coast. Having operated vessels at Arklow the next logical step for Island Shipping was to invest further in the growing offshore windfarm sector in these islands. " Island Shipping is delighted with this latest edition to the fleet", commented Tim Greenwood , Commercial Director. He went on to say, "Initial trials have indicated that the Island Tiger will exceed our expectations in terms of performance, finish and reliability. This is a state of the art Windfarm Service Vessel and Safehaven Marine in Cork have done a super job to complete the project on time and to make it such a good looking and durable vessel. No expense has been spared to ensure that the Island Tiger is fitted with the latest equipment and conforms to relevant health and safety standards. Attention to passenger and crew comfort has been of paramount importance in the design and build." UK flagged and MCA coded, the Island Tiger will most likely go to work on a UK Windfarm and as we write Island Shipping is in discussion with a number of parties.

For enquiries contact Tim Greenwood – email: info@islandshipping.ie | web:www.islandshipping.ie | tel: 0404 61623.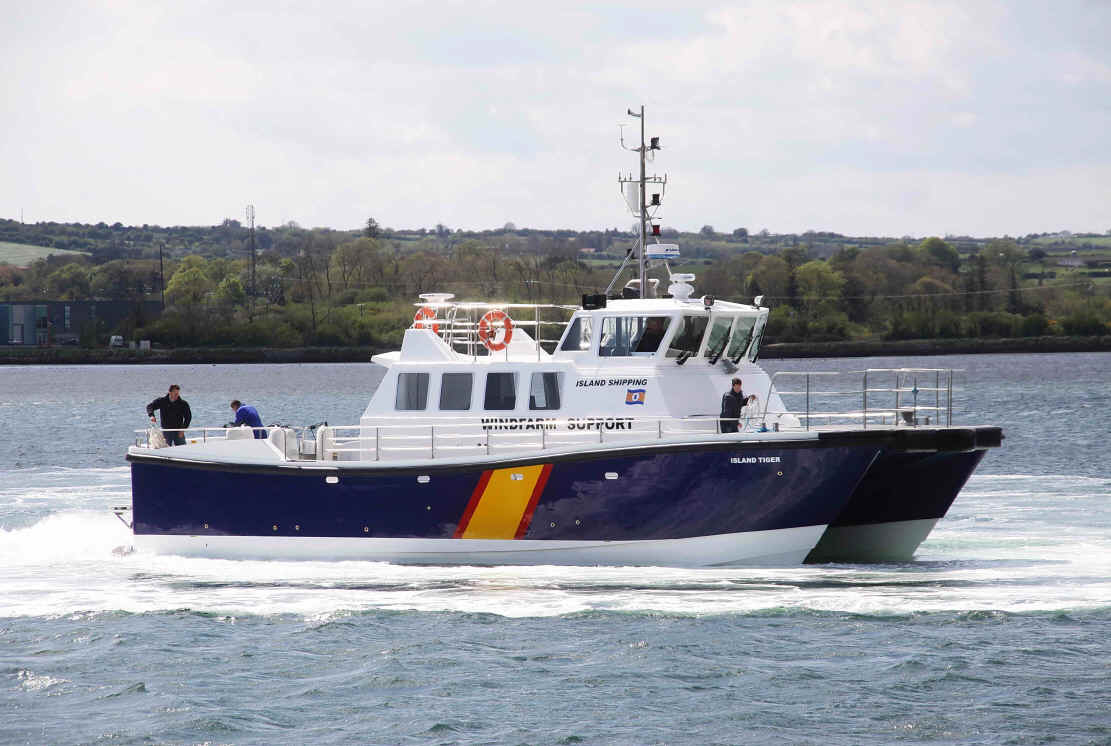 ISLAND TIGER has very clean and graceful lines incorporating Safehaven's trademark 'gull wing' sheer line. Being of GRP construction means her finish is superb, with a high gloss, low maintenance finish and she has turned out a superb looking vessel.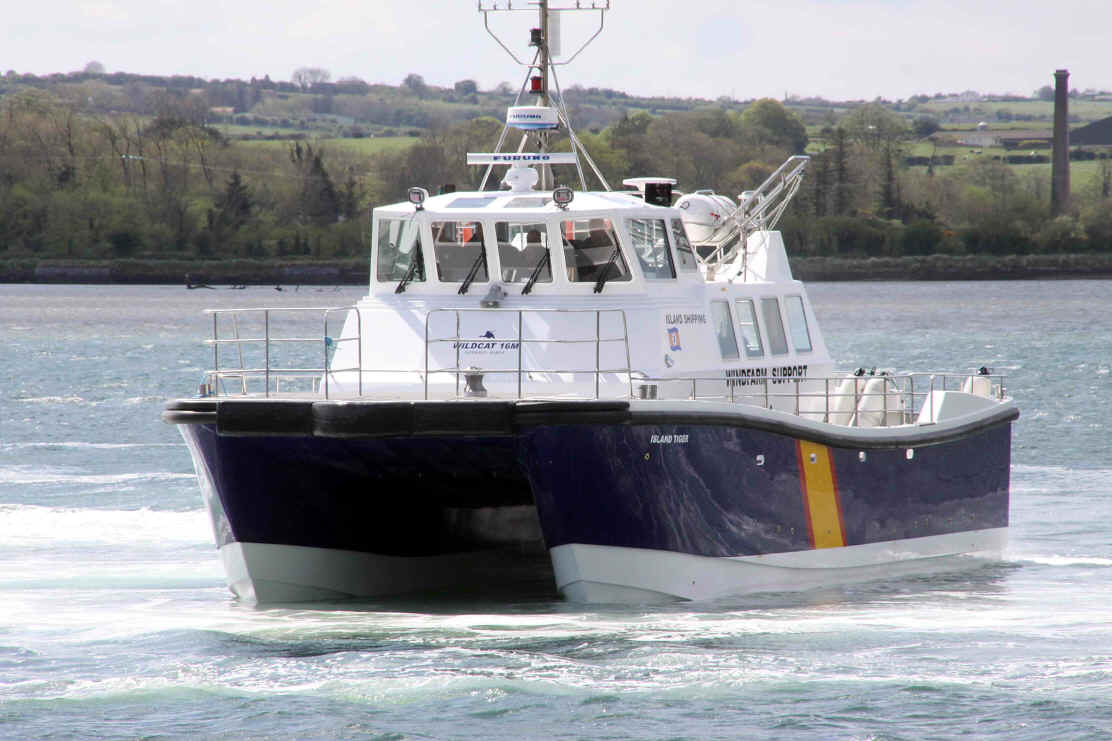 Accommodation fit out is to a very high standard, the area is very spacious and designed to provide a comfortable and luxurious environment with a combination of aircraft style transit seating and dinette and table designs for standby. The cabin design is open plan with a full galley in the port hull and bunk berths in the st/bd hull. A useful feature is the incorporation of a wet room, featuring aft cockpit access, hanging space, toilet and shower facilities with access from their direct to the main accommodation, this allows personnel the ability to disrobe from work gear and enter the living area clean and dry. 'ISLAND TIGER' is the first vessel of two ordered by Island Shipping and is due to be exhibited at Seawork 2010 in Southampton alongside 'Pathfinder', the second of their pilot / patrol boats delivered to the Port of Southampton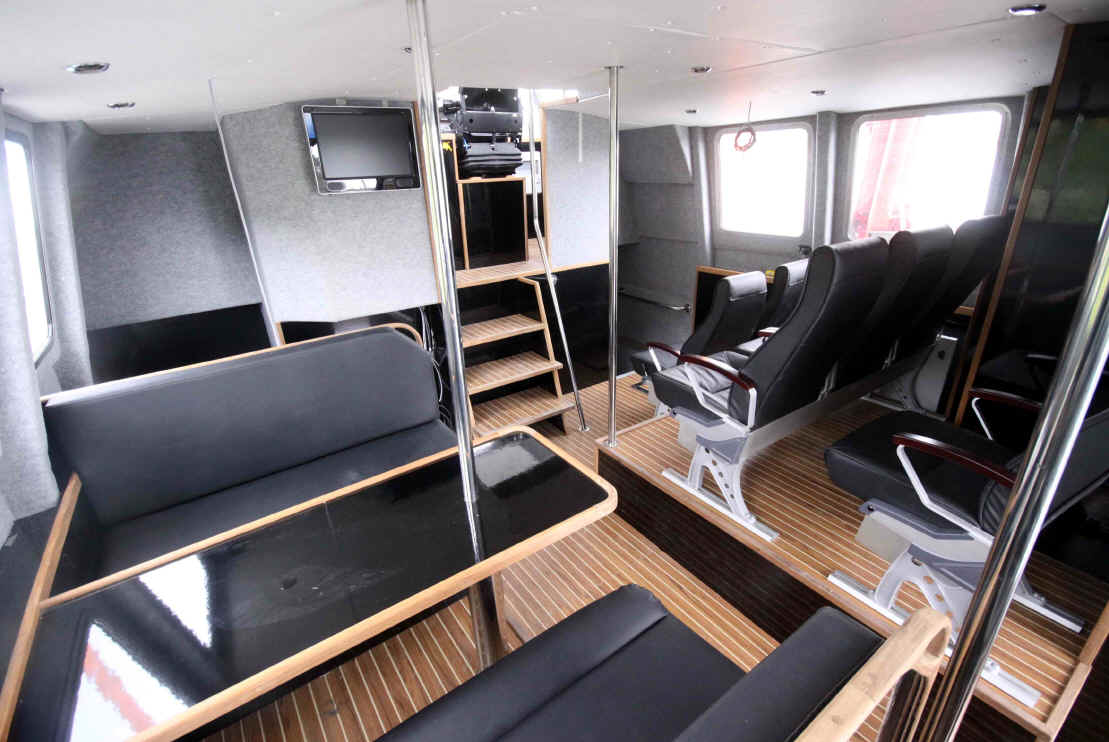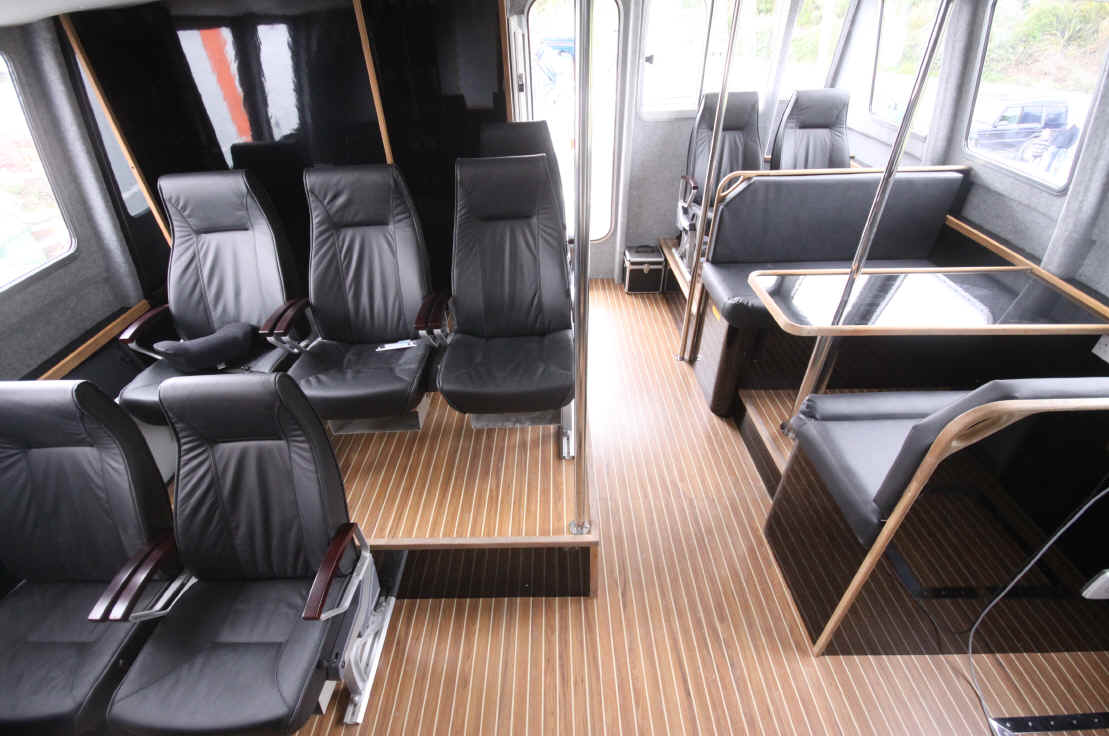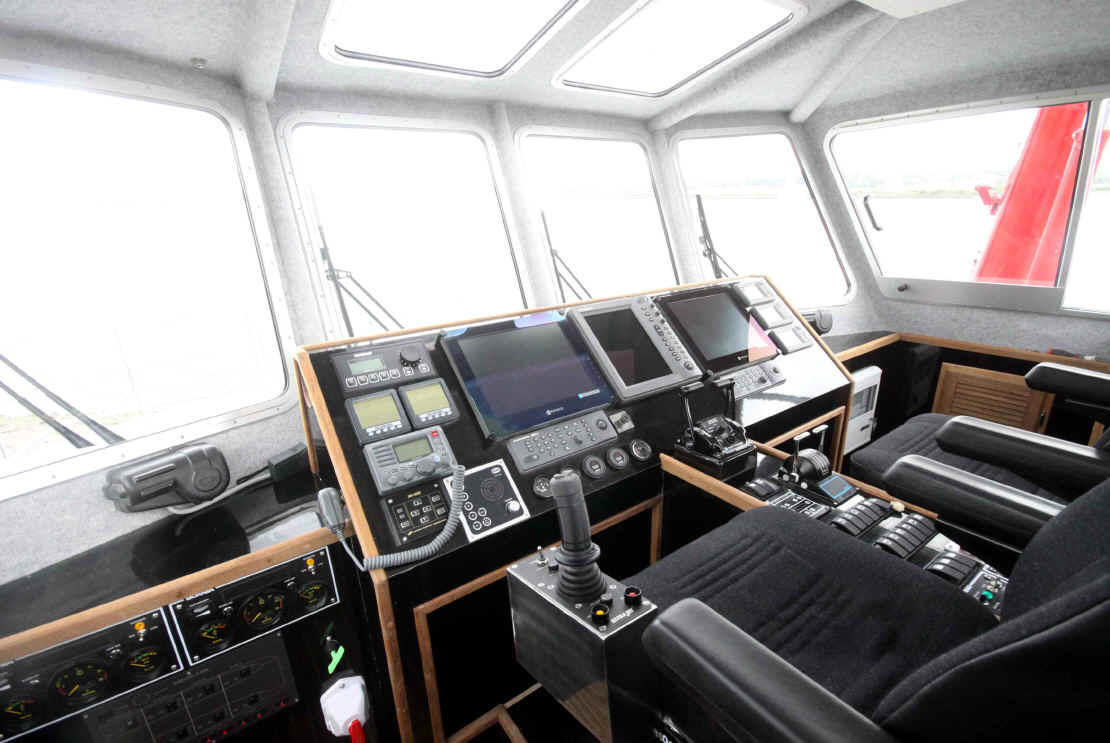 OCEAN 3 provided the bow fendering. This is a heavy duty system comprising a polyethylene high density foam core with a 50mm thick rubber skin the will prove durable in service.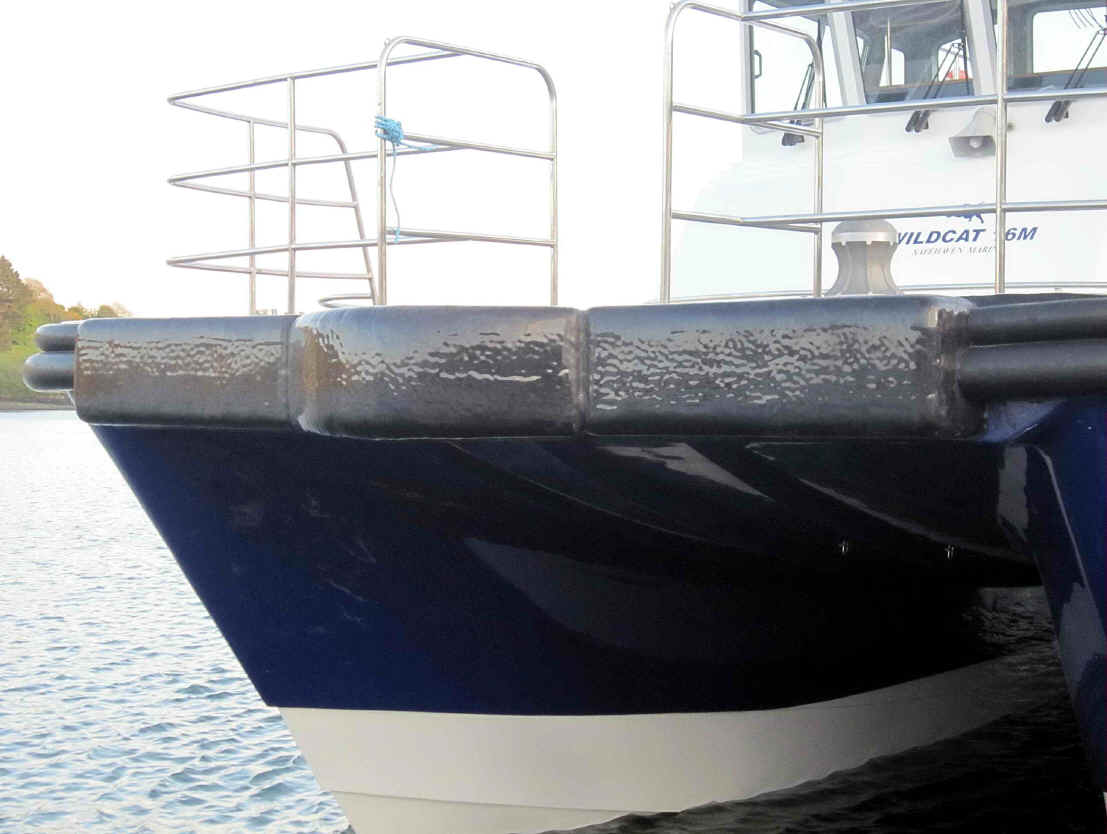 Both vessels will be powered by Ultra Dynamic 451 jet units powered by Scania D12 engines. Water jets were chosen for their ability to provide high thrust with lower mechanical stresses against the windfarm structure, combined with good maneuverability, speed and safety. The vessel will be fully equipped for windfarm operations, equipped with a HIAB crane with a 6m reach, She will be equipped for dive operations with twin dive platforms transom doors and is fitted with a 10kw generator providing 24v throughout the vessel. To offer the most proficient level of versatility to the offshore industry and is fitted out and equipped for survey and hydrographic duties. She is built under dual certification for both the UK and Ireland.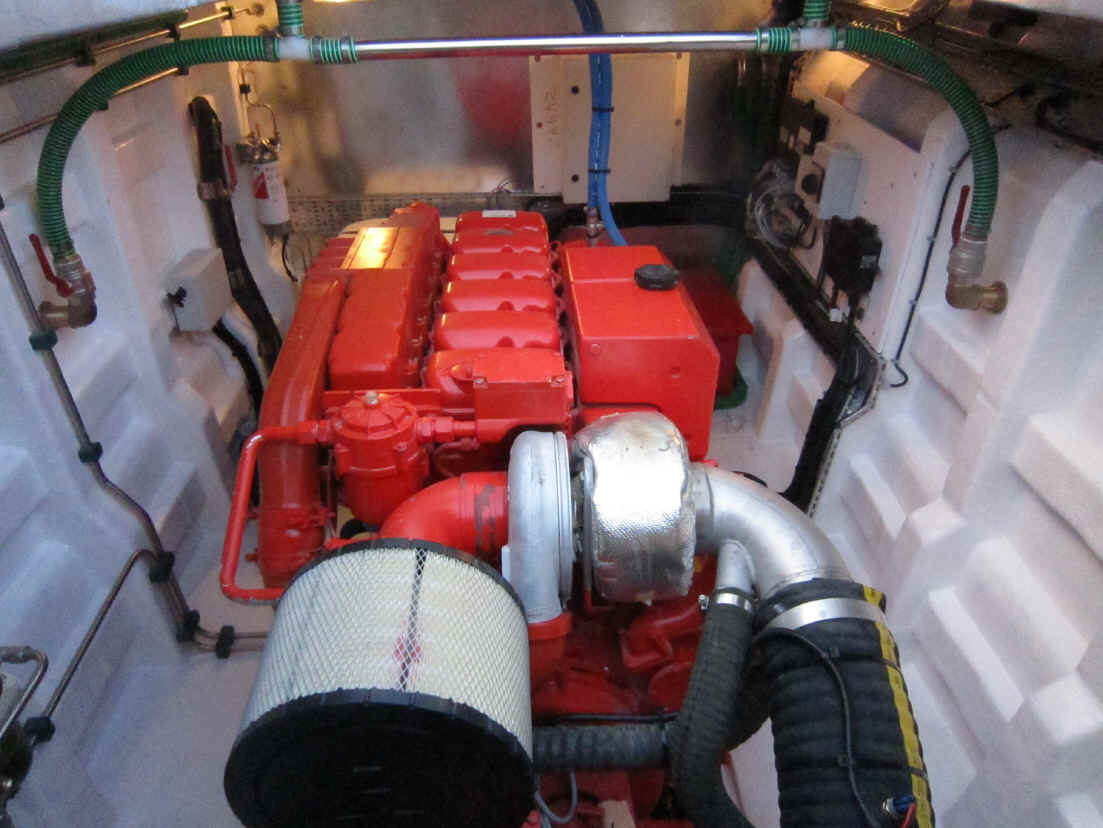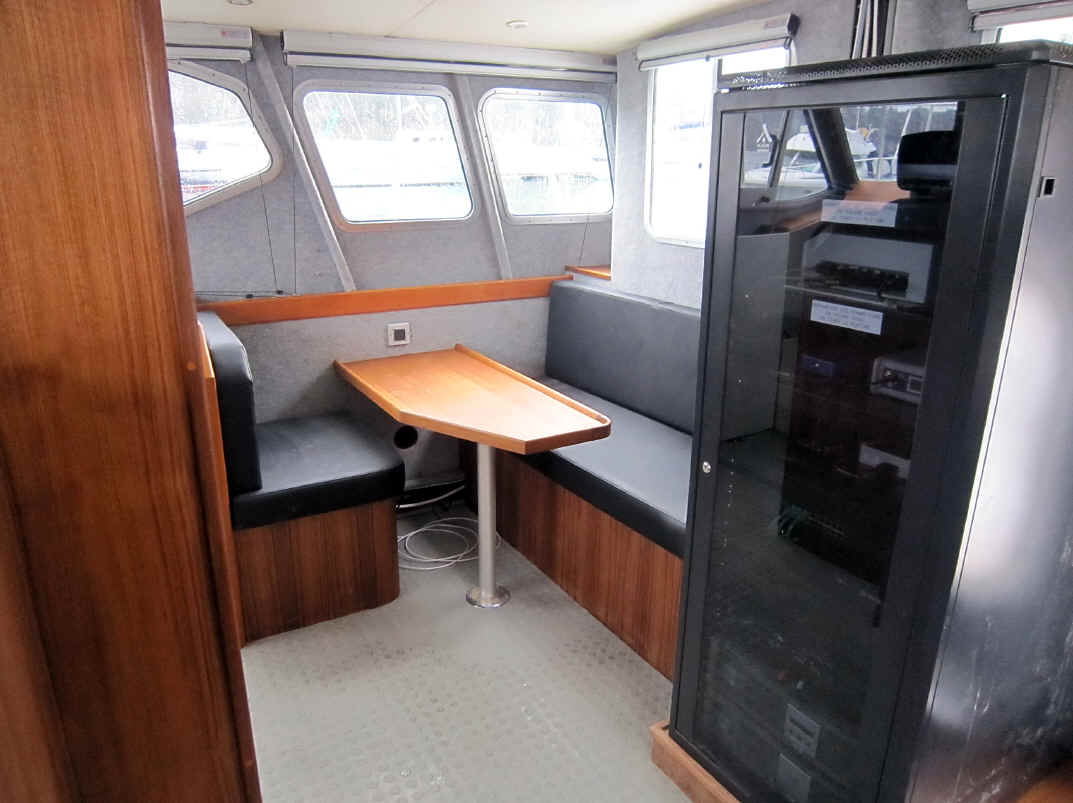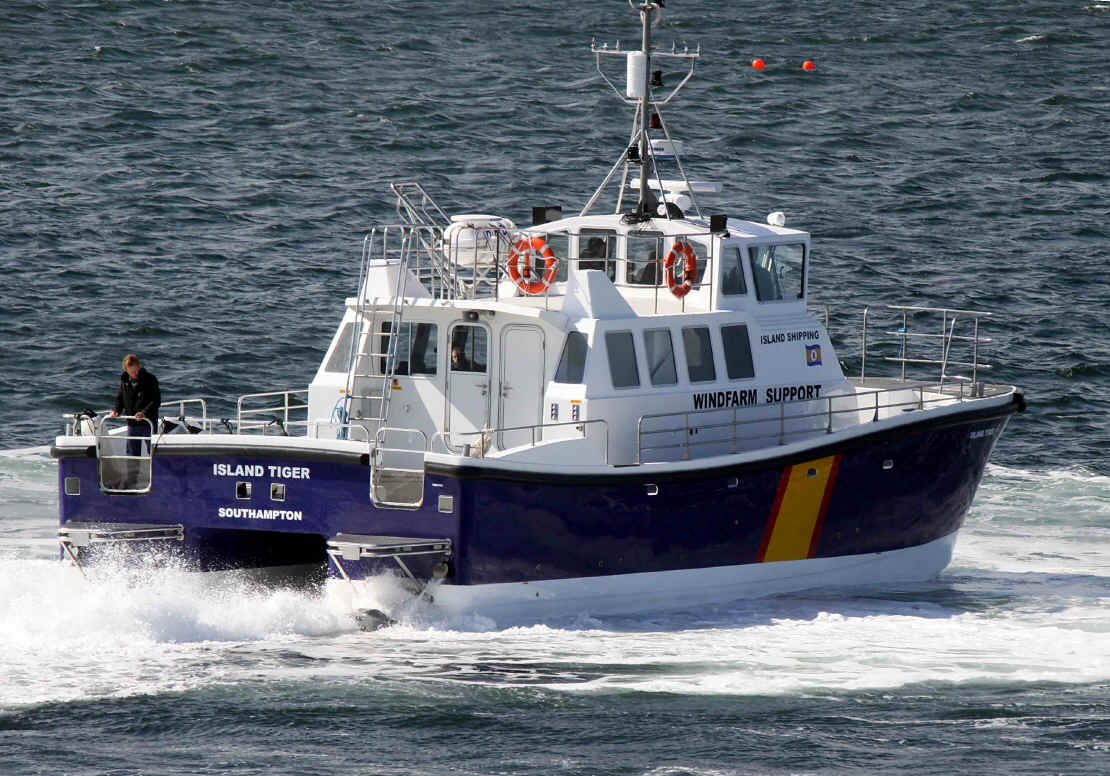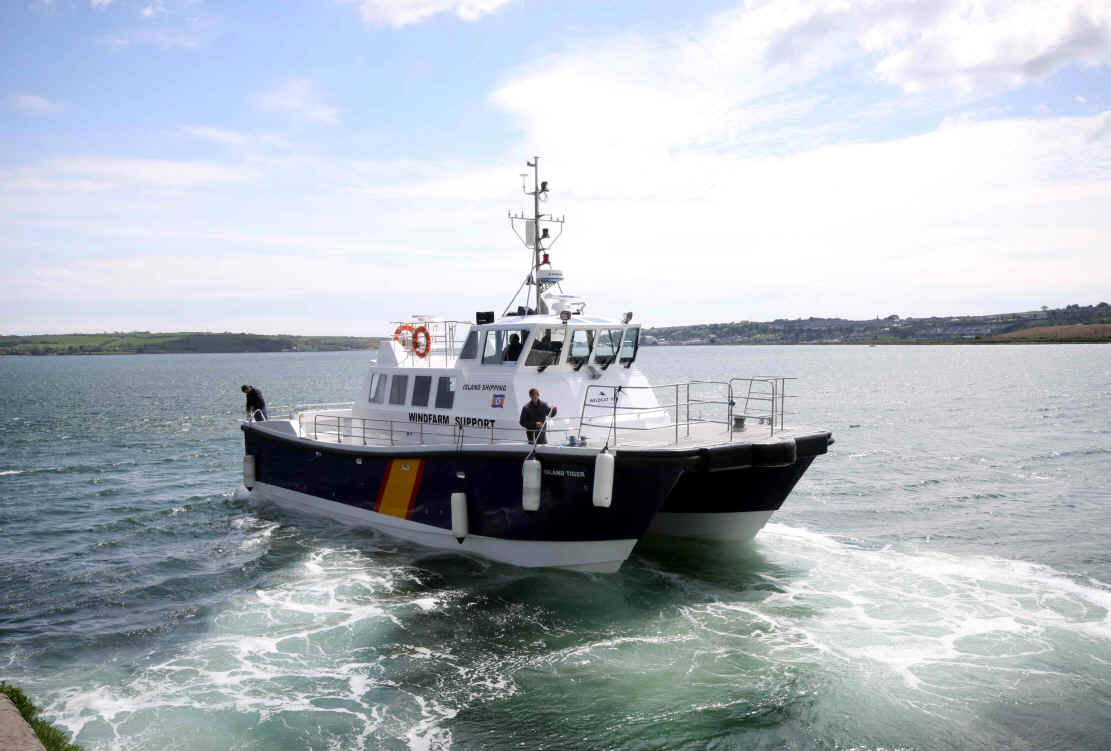 General information
Light ship displacement 25,000kg
LOA 17m
Moulded 16m
Beam 6.1m
Draft- Fully loaded - 1.0m
Fuel capacity 3600L
Water capacity 160 L
Engines Scania D12 @ 650hp / 2200rpm
Maximum speed 25 kts
Operational speed 23kts @ 80% of max power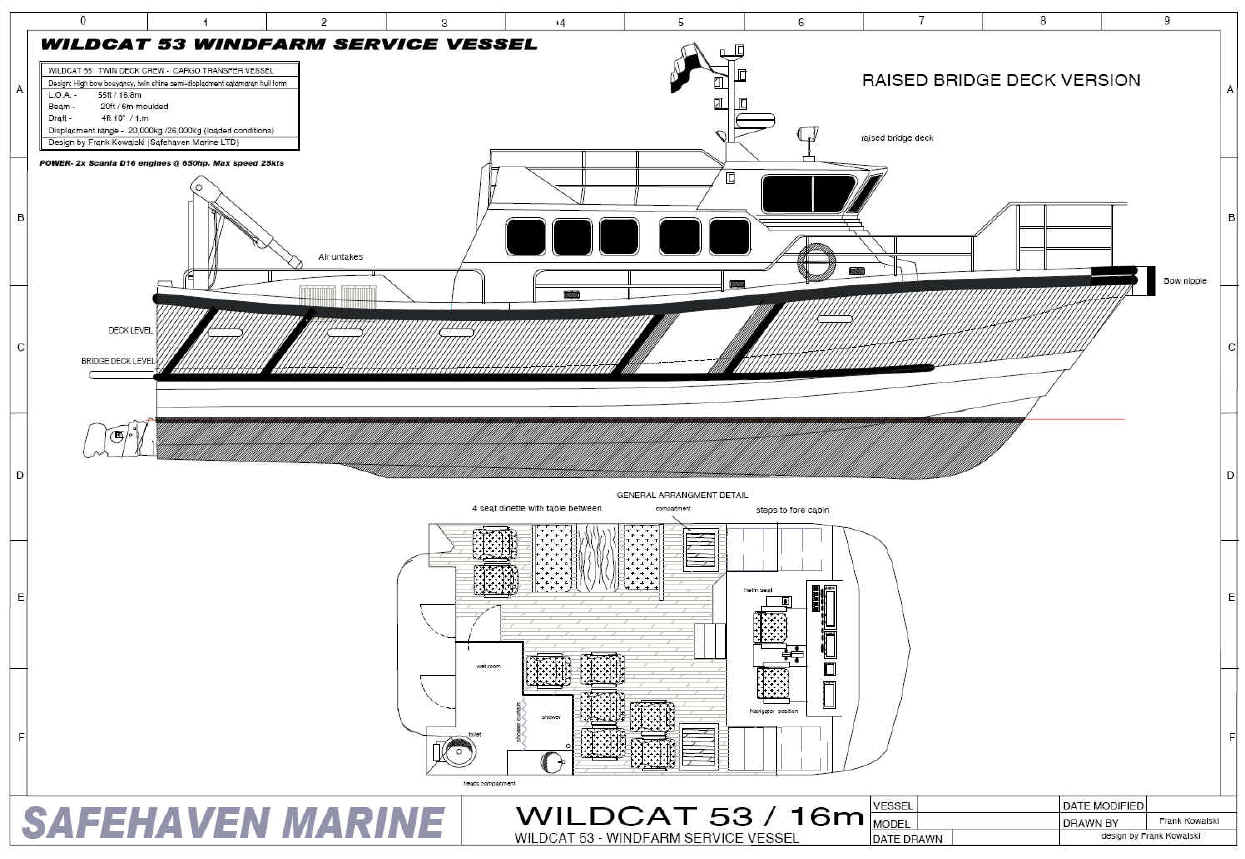 The Wildcat 53 can powered by either Scania D12 or D16 engine options, although other manufacturers are available. Available with either conventional stern drive arrangements with the propeller running in a tunnel allowing for a large diameter propeller to be swung though a 2:1 gearbox ratio. Alternatively jet drive units can be fitted if required by the operator. The hull design will allow for operational speeds around the 25kts mark (12 litre engines) and 30kts sprint speeds.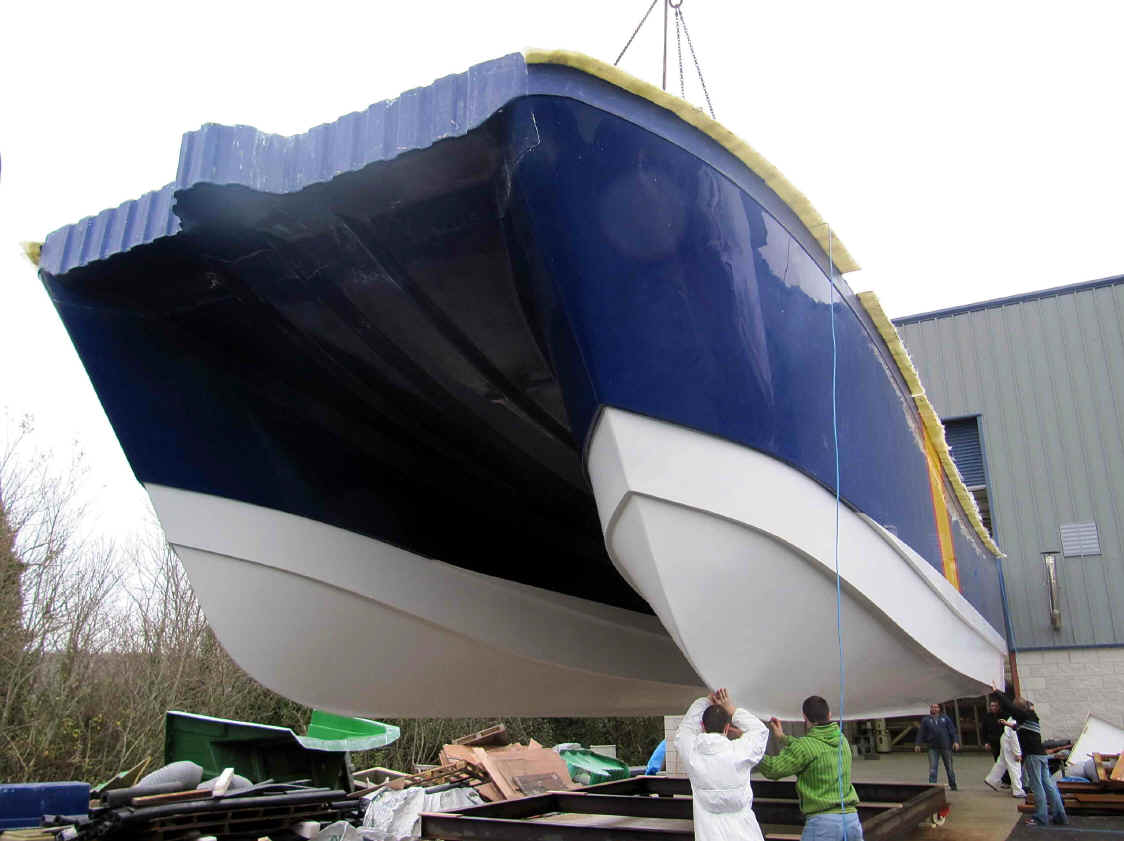 Above and below, Island Shipping's wind farm catamarans 'ISLAND TIGER' lifted from the mould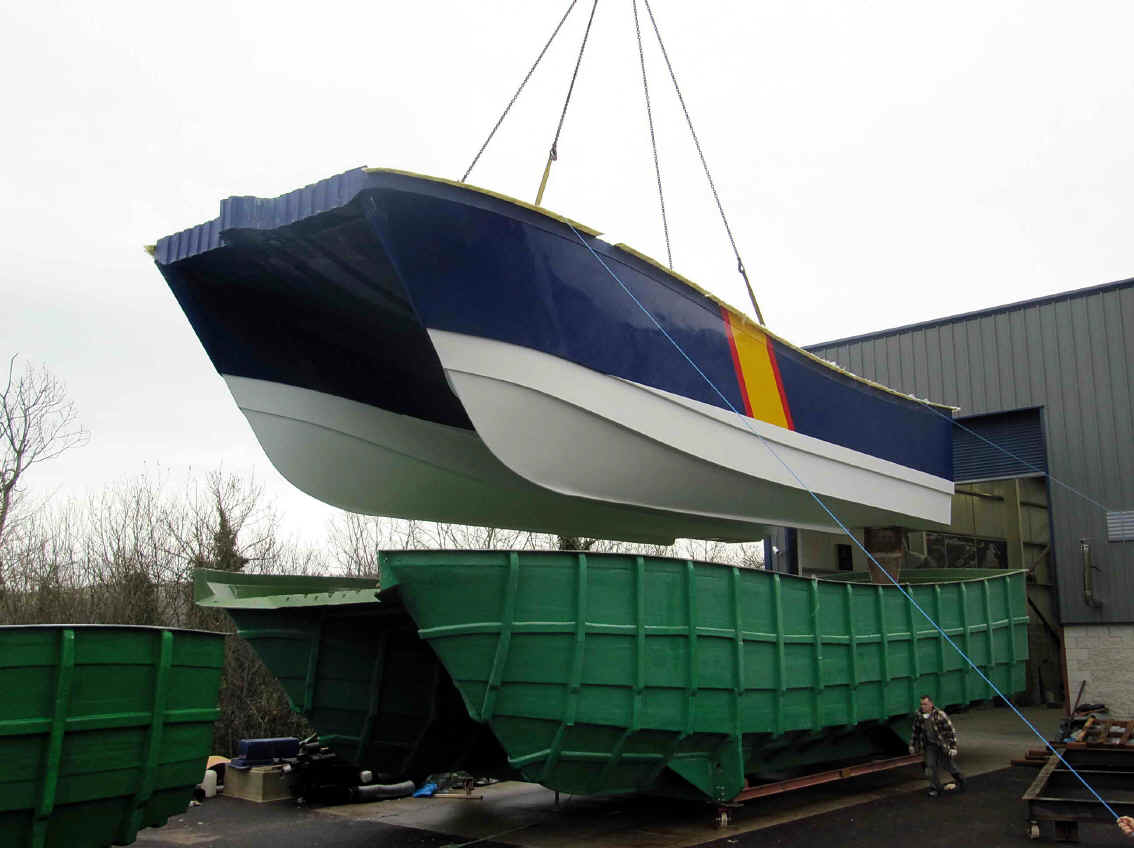 Above, Her heavy duty construction can be clearly seen here, with transverse frame spacings at 500m providing very strong structure
The Wildcat 53 is available in several other configurations, Below, single level cabin standard version of the Wildcat 16m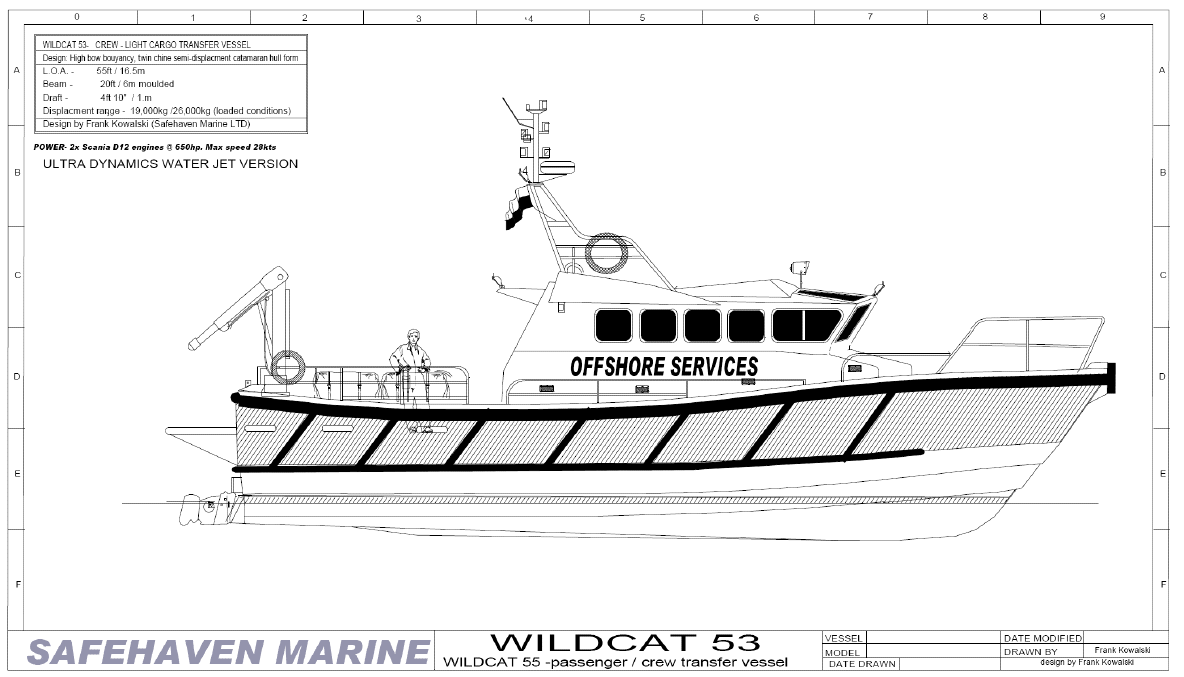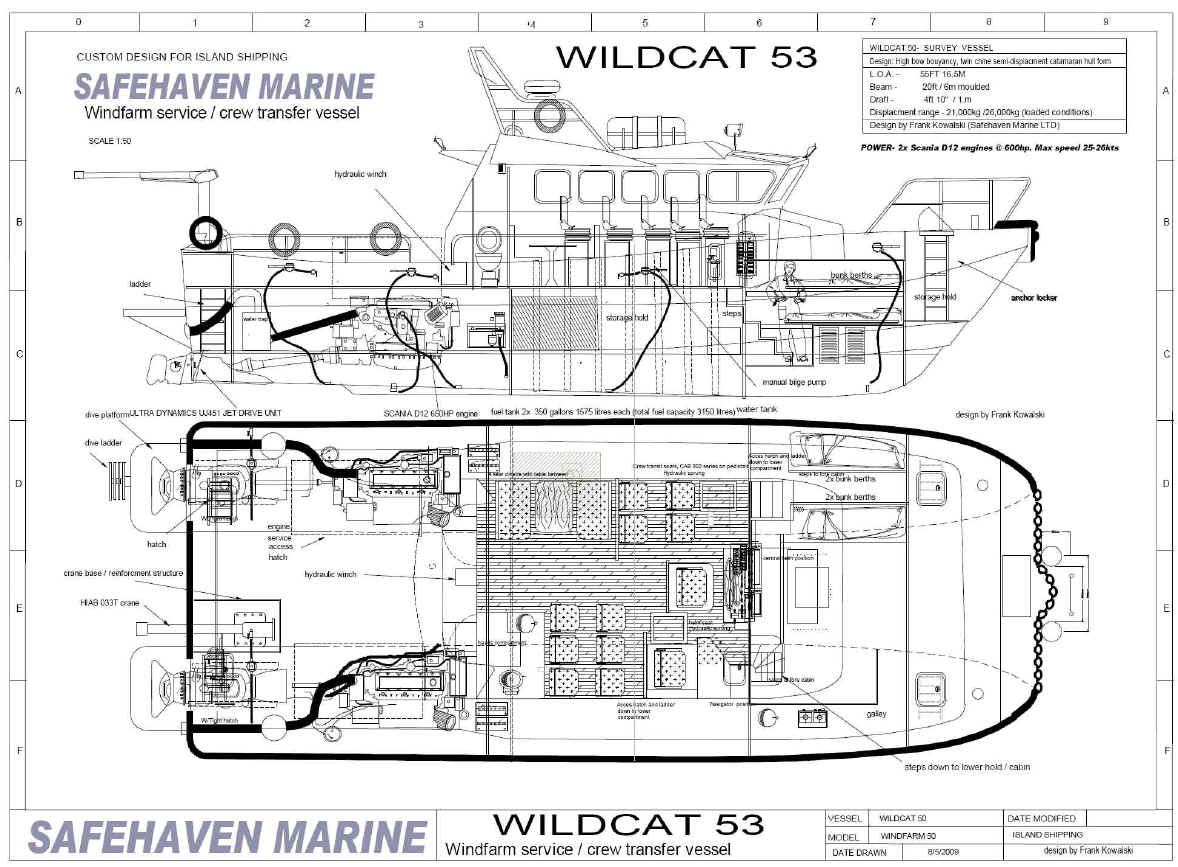 Below, twin deck main f/wd cargo area version of the Wildcat 16m.