LA CHEVALIERE, The new Interceptor 42 'pilot' for the Port of St Malo, France.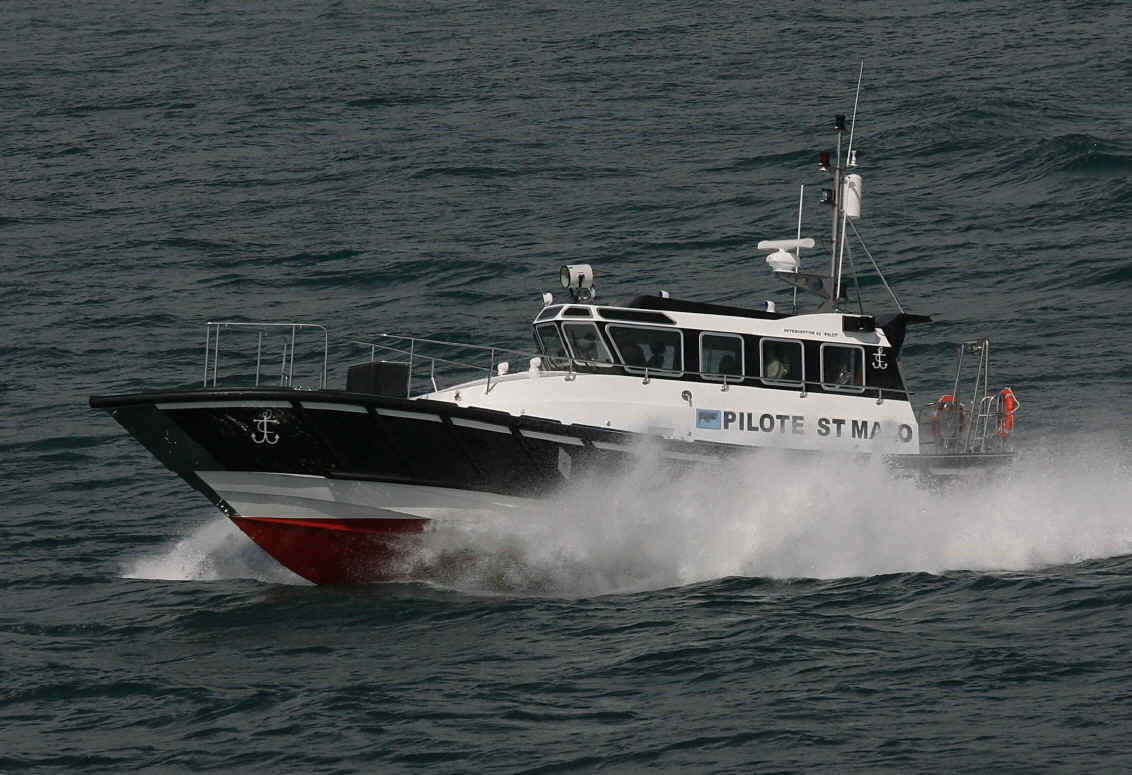 Safehaven marine have now launched a new pilot vessel for the French Port of St Malo. Negotiations for the vessel commenced 18mths ago after Eric Geille visited Safehaven's yard in Ireland, trailed the then recently launched Cork Pilot boat and being impressed with the vessel began working closely with Safehaven's designer Frank Kowalski on seeking Plan approval for the design through Bureau Veritas and working on a engineering specification that would conform to the stringent and tough French Marine Marchande rules divisions 222+236 for pilot boats. To this end the vessel has a very high specification. A bilge and fire pump system with multiple redundancy systems built in to the design, all completed in 316 grade stainless steel. Fourian pumps, continuously coupled with drip feed water lubrication, and close coupled without pulley's to the front of the engine. The system operated through two manifolds distributing water flow and regulation. A full triple zone fire detection system and Co2 extinguishing system and fireproofing to full A6 b/head protection with 100mm of Rockwool totally lining the engine compartment take care of Fire protection. The extensive fire protection also results through Rockwools sound absorbing properties to reduce noise levels to 75db at 18kts and 78db at 20kts resulting in a very relaxed crew environment. The level of internal fit out was to a very high standard. A wood effect laminate was used on all internal surfaces with teak joinery throughout, white headling replaced the standard carpet and overall created a very classy and refined crew environment. 4x Gramer compressed air suspension seats are fitted for pilots, one of which has a table in front as a work station. The vessel is powered by twin Iveco 13ltre 500hp engines with Twin Disc 5114 Quick Shift gear boxes fitted. The Quick Shift feature has proved very successful providing infinite control during close quarter maneuvering.
The vessel had a lightship displacement of 15,700kg with a fully loaded displacement of 18,000kg. Her fuel capacity was increased with larger tanks with a 2,000L capacity. Her maximum speed achieved during trials was 24kts. Additional fit out features included interlocks on the raw water sea cocks, with dual feed to either engine. The fuel system included a recalculating system running the fuel through diesel bug filters and allowing multiple fuel flow combinations. Her electrical fit out was carried out by Paul Brewer, (PB electrical) and was in full conformity with French maritime regulations, featuring a dual pole system with battery charger, AC shore power, 2000w inverter all supplied through separate dedicated panels containing comprehensive electrical instrumentation and gauges. Engine room ventilation is provided by a 550mm dia continuous rated fan drawn through Munter's 'mist eliminator' ventilation boxes. Maximum resulting engine temperatures then being a low, 29 degrees. The vessel is fitted with adjustable interceptor plates allowing trim optimization, they are highly effective whilst also being completely protected from damage. Safehaven's MOB system is fitted, the system allows easy recover of persons from the water and allows allowing floating debris to be lifted. Overall the vessel has proved a complete success and has generated a lot of interest in French pilot stations with further orders already secured with the Port of Bayonne on the South coast of France . Eric Geille commented after completion of sea trial: "After visiting Ireland to trial the CORK pilot boat in September 2006, I was very impressed by the sea keeping and the tremendous strength of the boat . Following this trial I asked Frank if he was willing to increase the level of fit out to a higher standard, and importantly if he would be prepared to incorporate the compulsory build and specification changes required to make the boat conform with the French maritime rules. He accepted the challenge. Now that our boat is launched and almost completed, I can already say that the boat has answered all our wishes regarding performances, speed and noise levels, and to the level of finish I can say it has been really successful. I wish to add also that it was a pleasure to work with Frank, who is a man passionate about the design of the boats he builds, and able to answer all the wishes of his customers."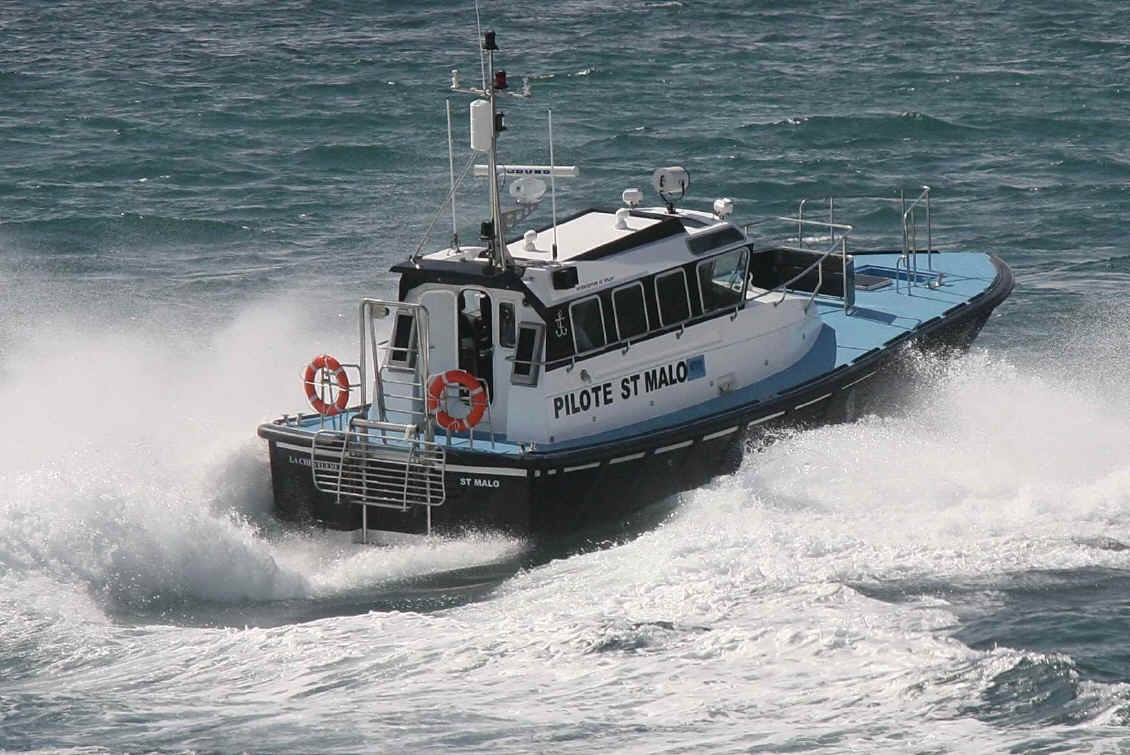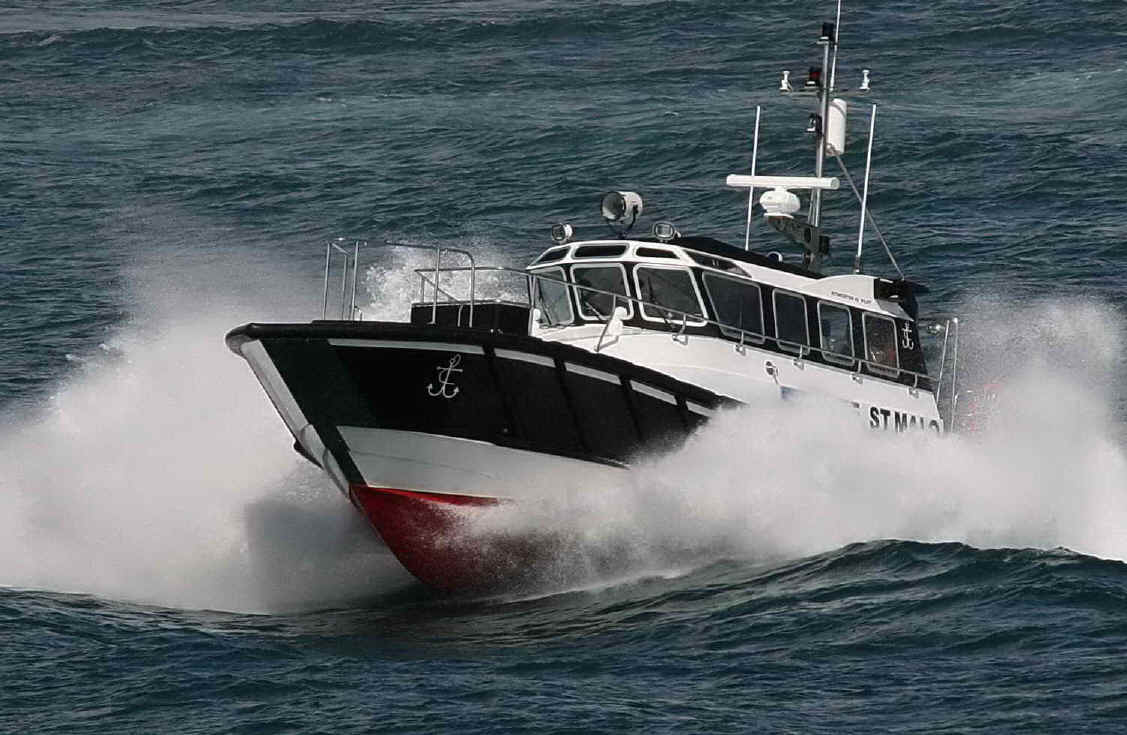 She has been sea trialed now in some dirty conditions, below are some photos, We also made a short video which can be seen from this link- SEE THE VIDEO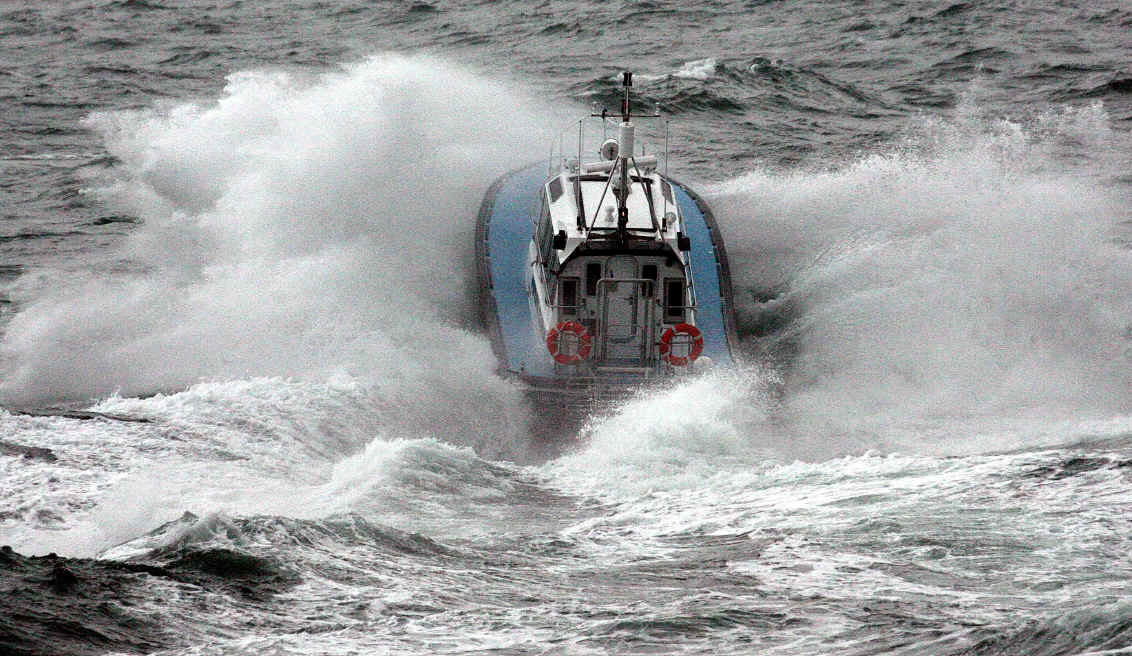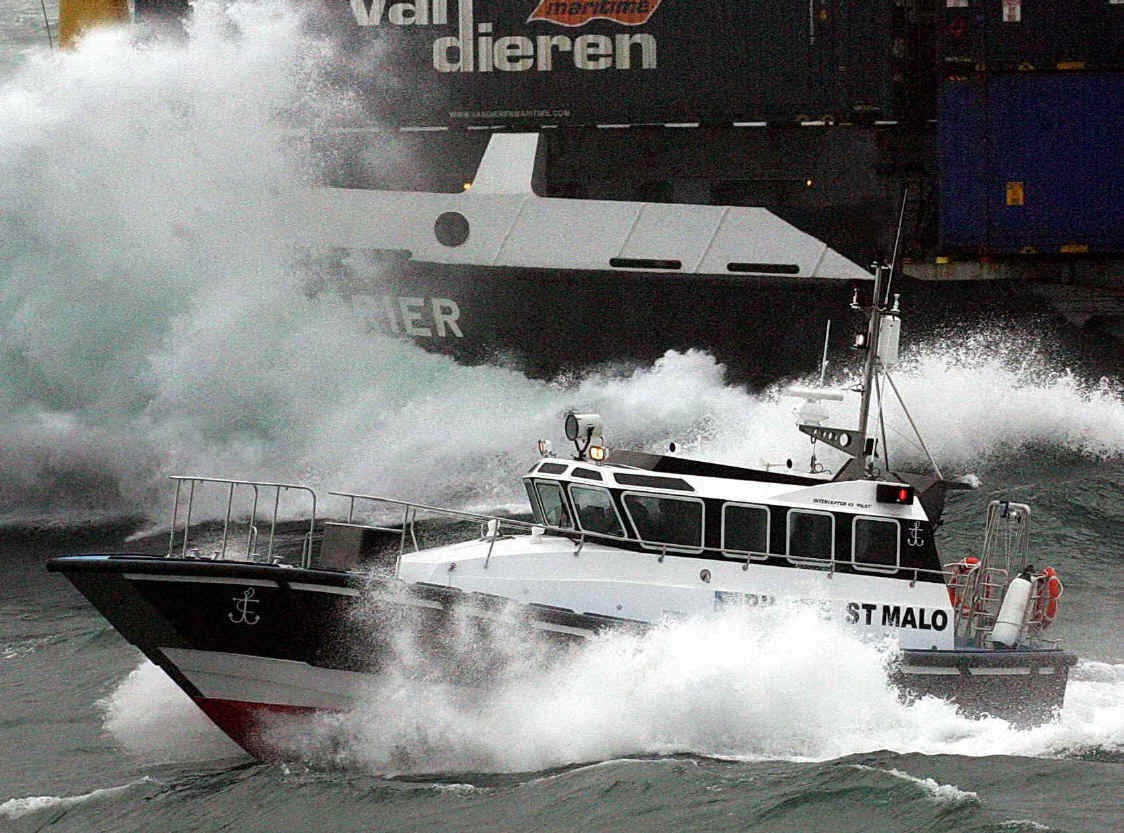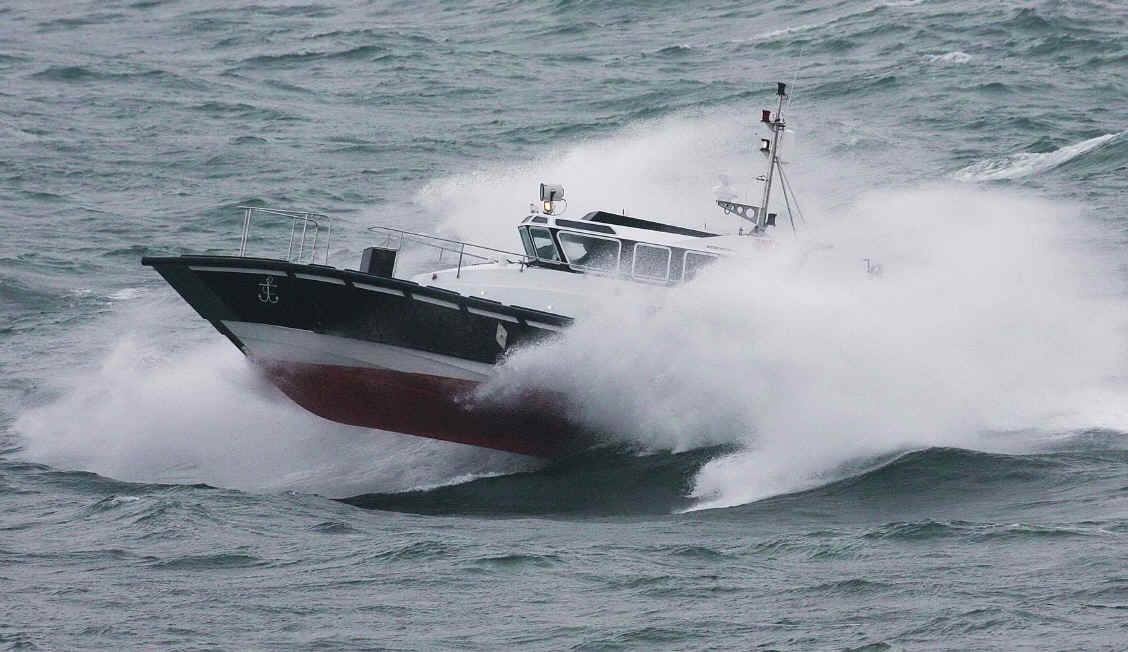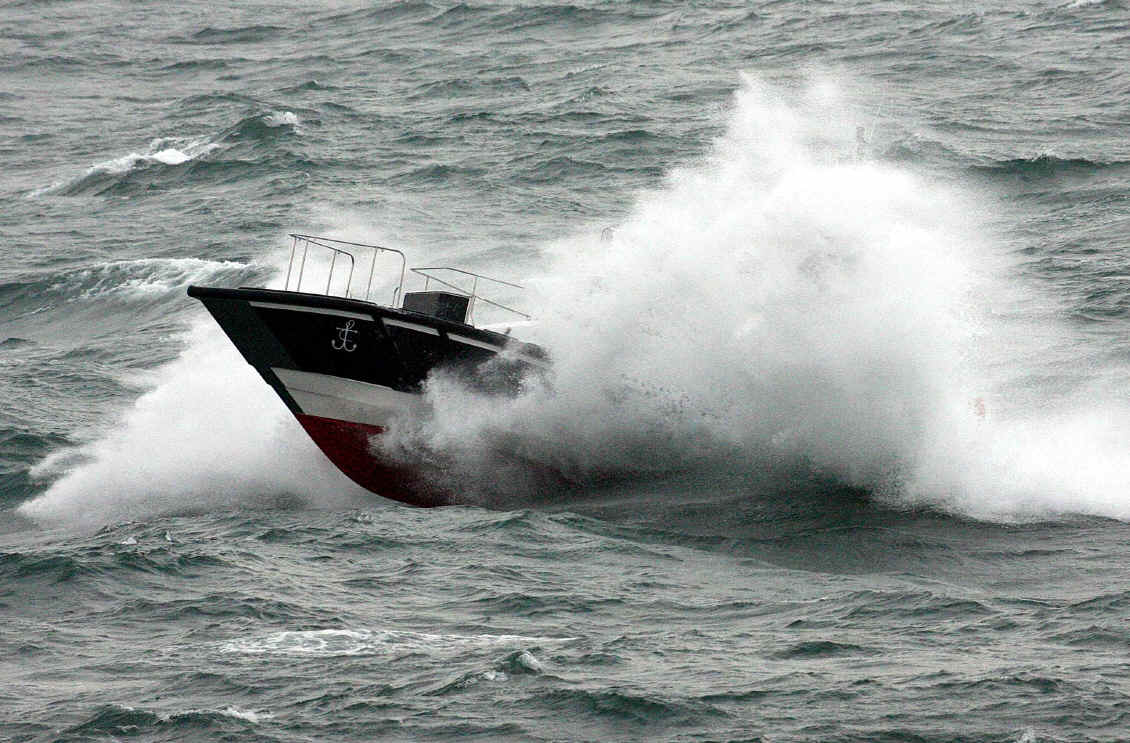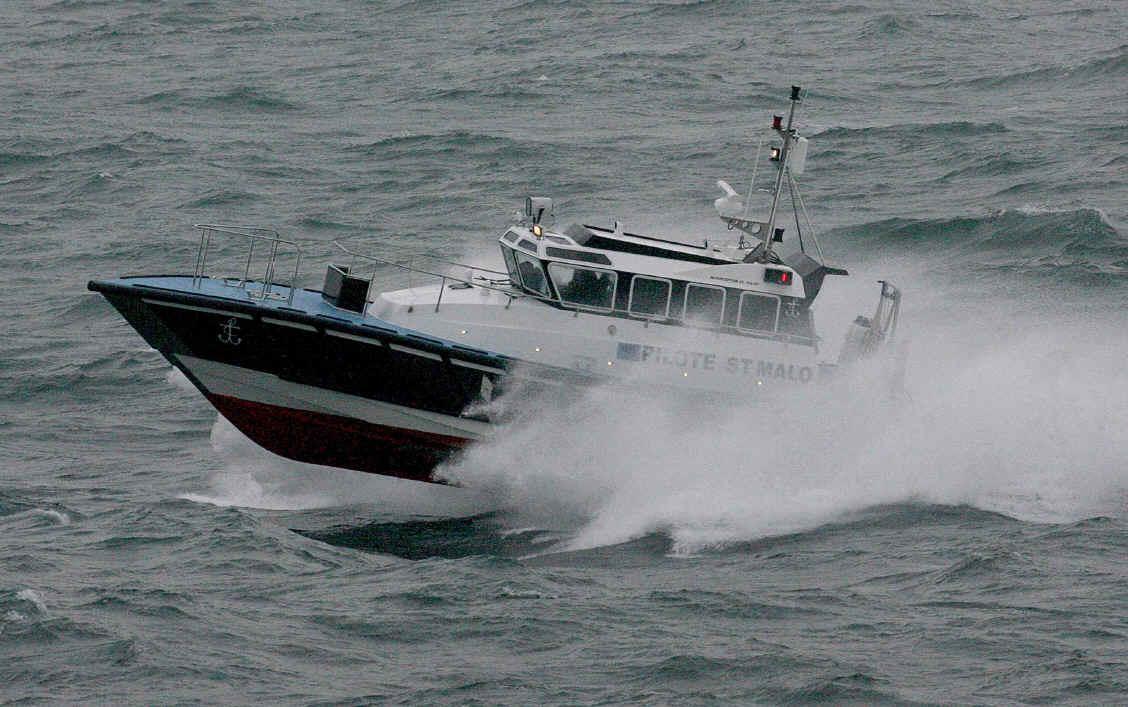 She is certainly very striking on the water, the colour scheme chosen by the Port of St Malo really enhances her lines.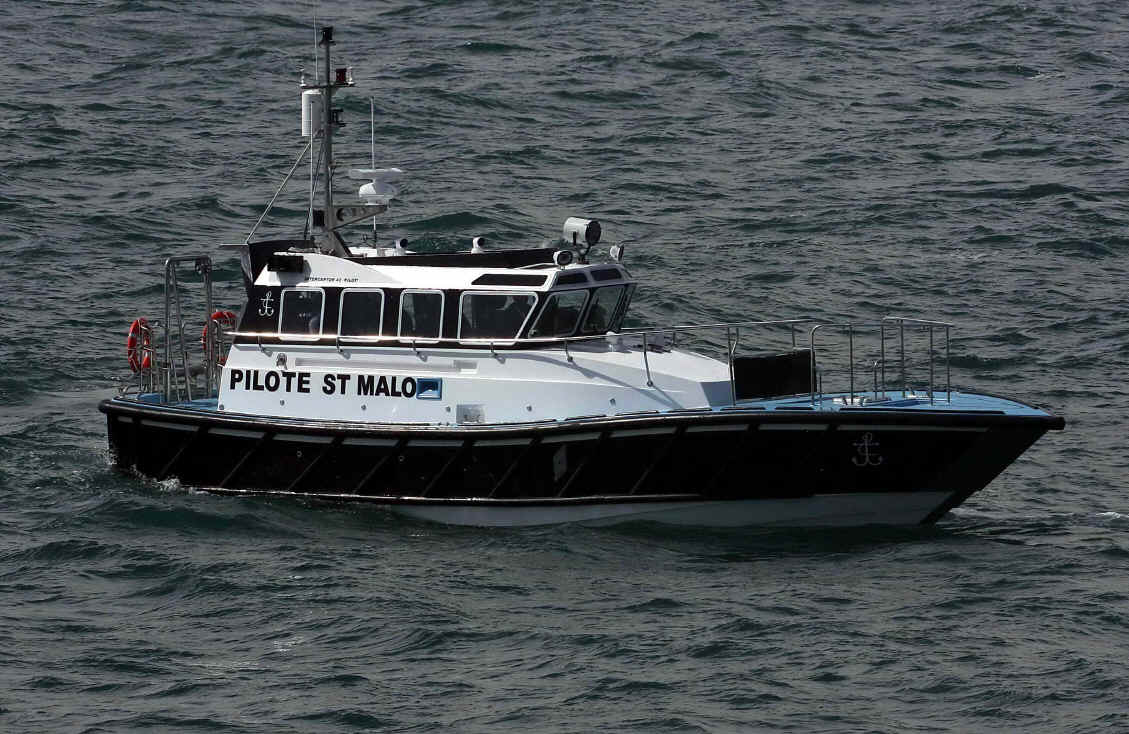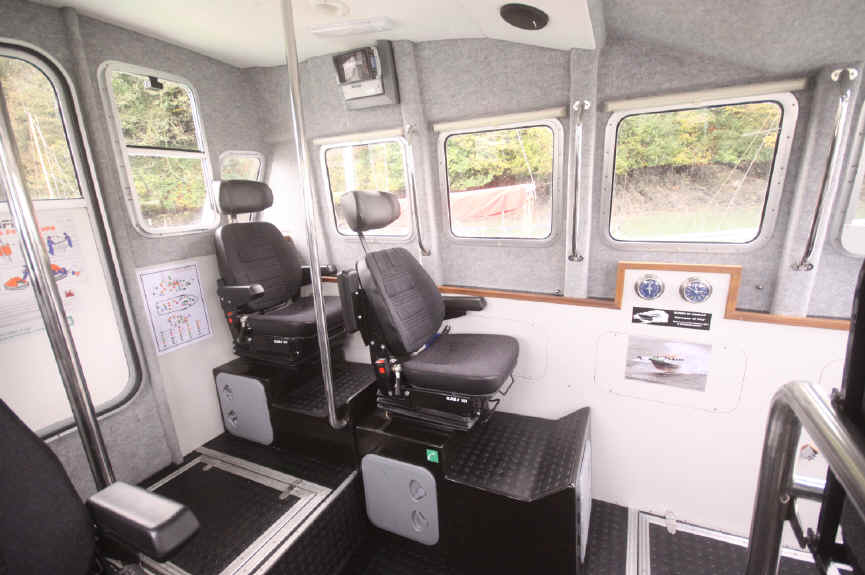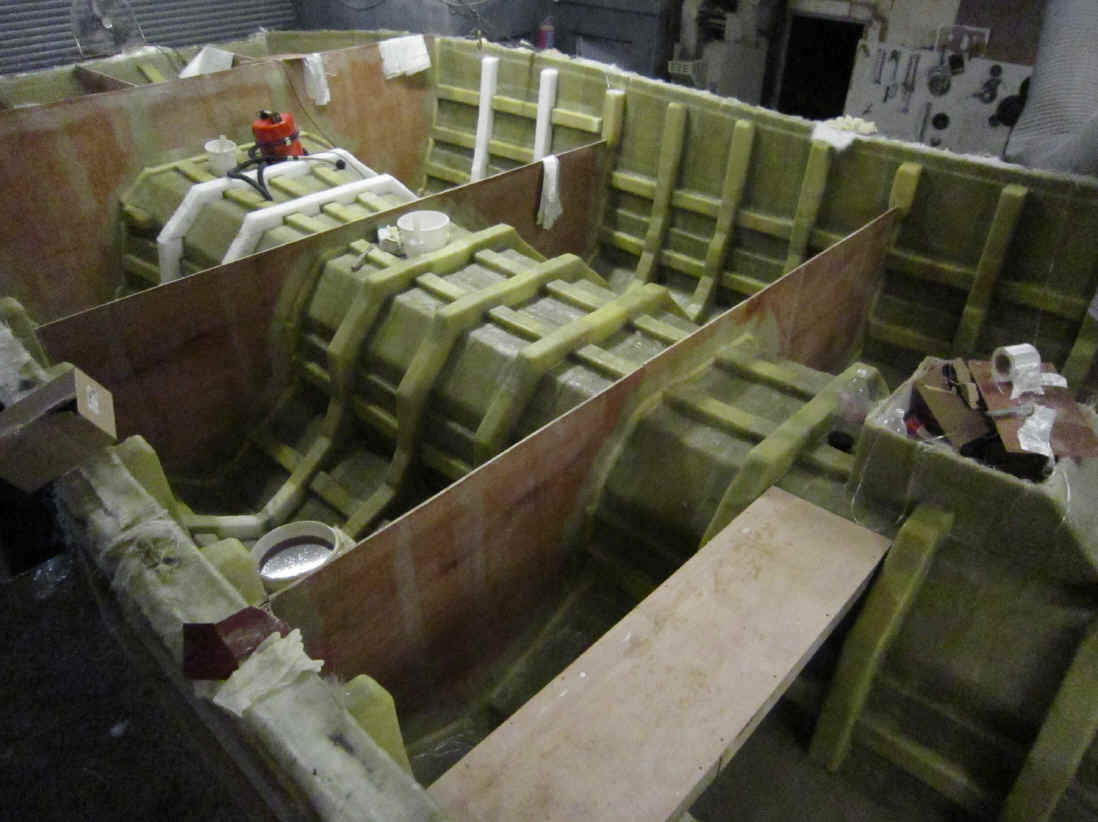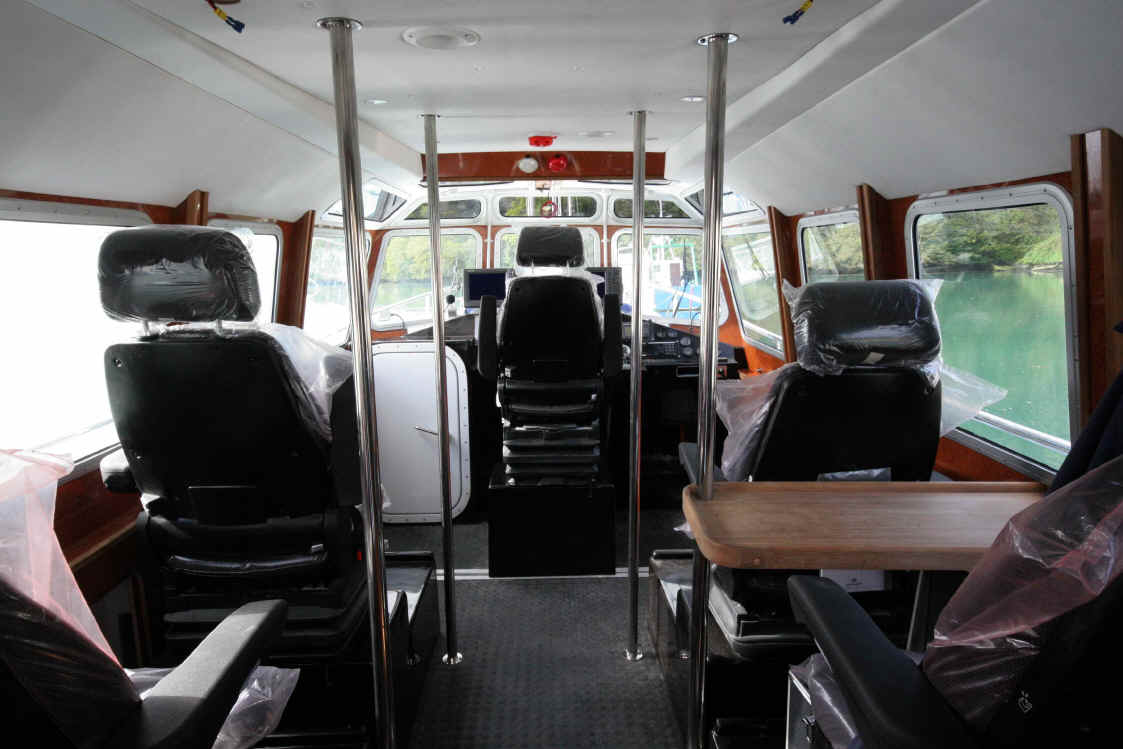 The very high specification of internal fit out can be seen here.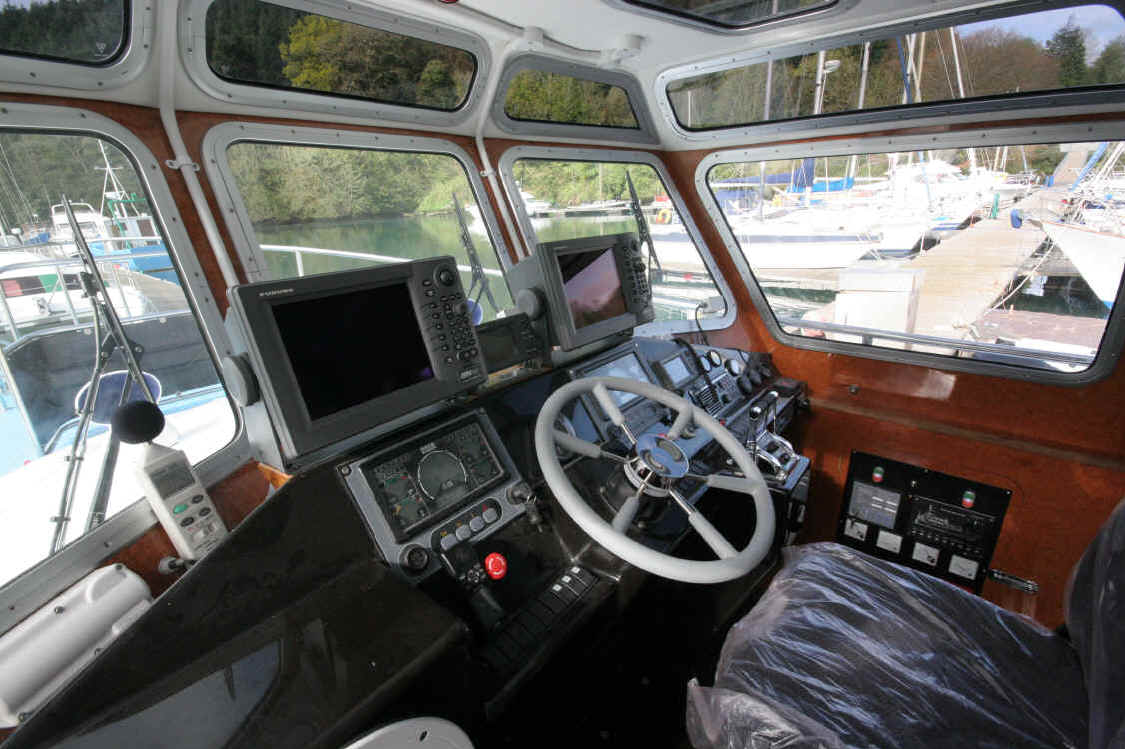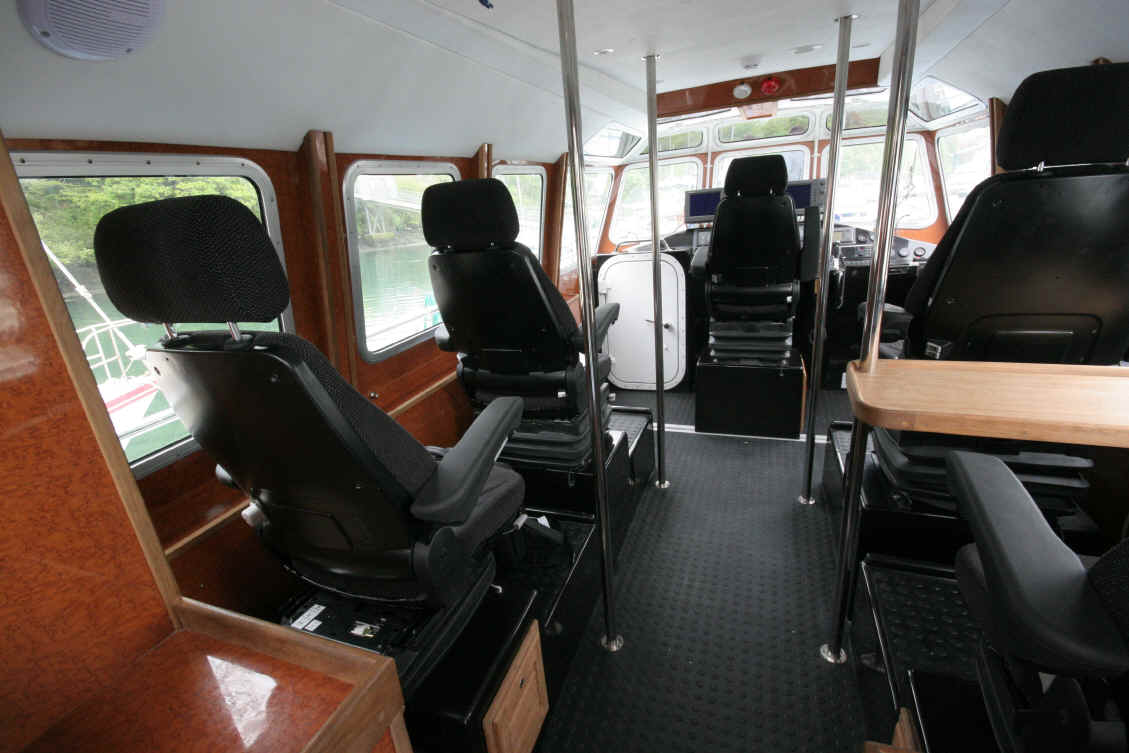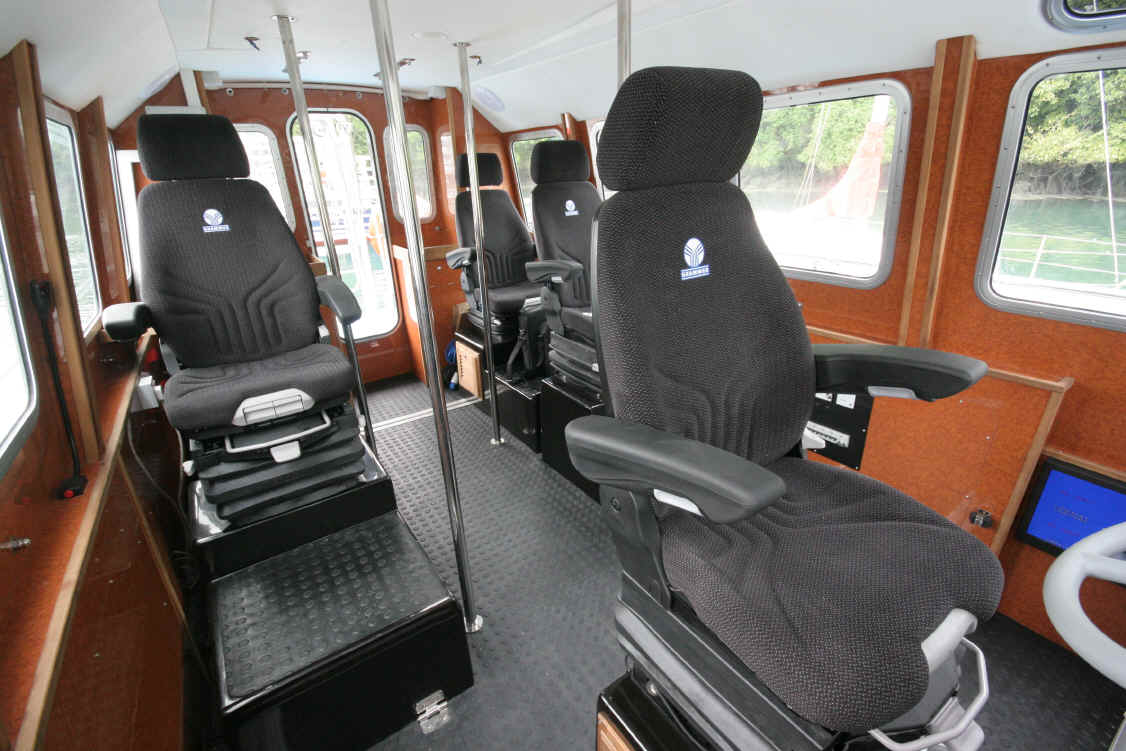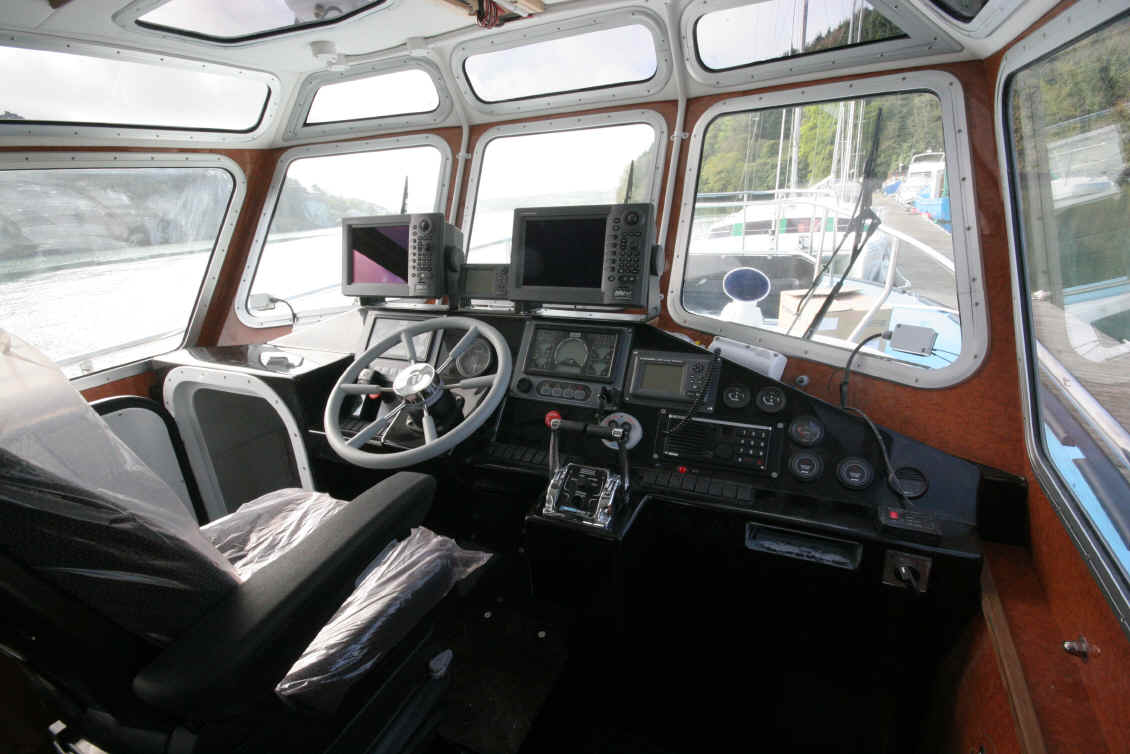 Le Chevauere is powered by twin Iveco 13 litre 500hp engines coupled to Twin Disc 5114 gearboxes fitted with quick shift controls. The quick shift feature is excellent, allowing very slow propeller speeds providing fantastic maneuverability. The ability to come in to dock in gear at only 2kts is very impresive.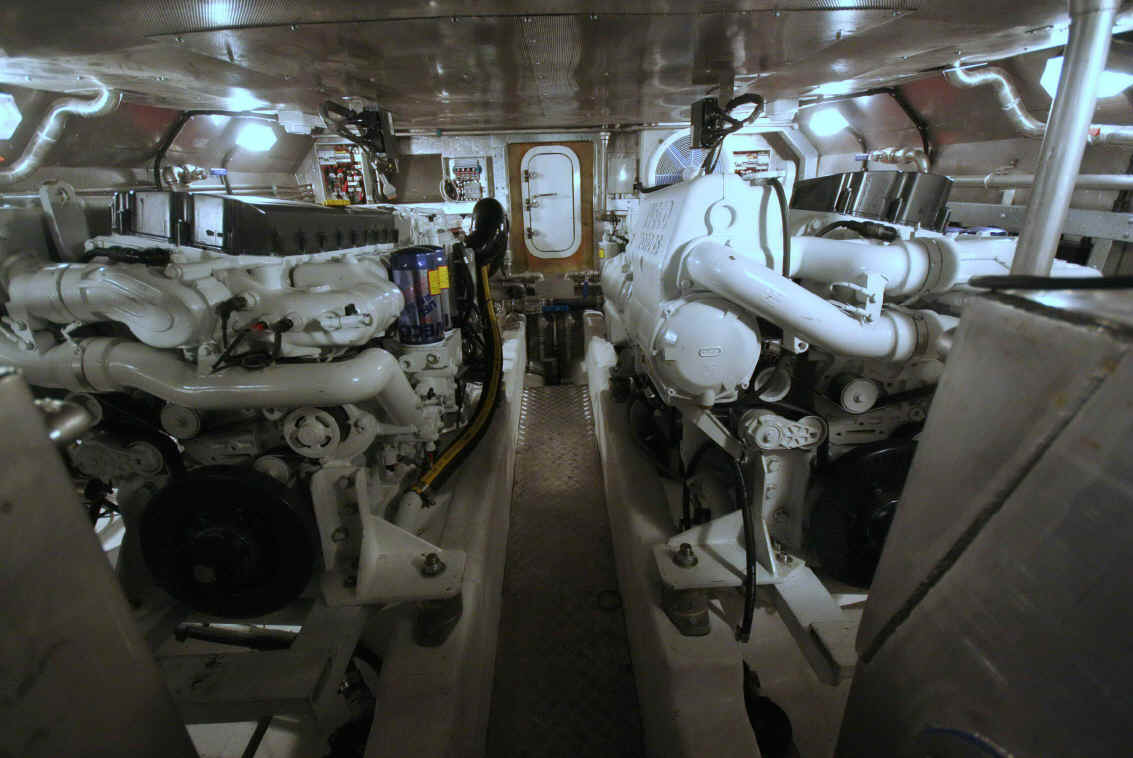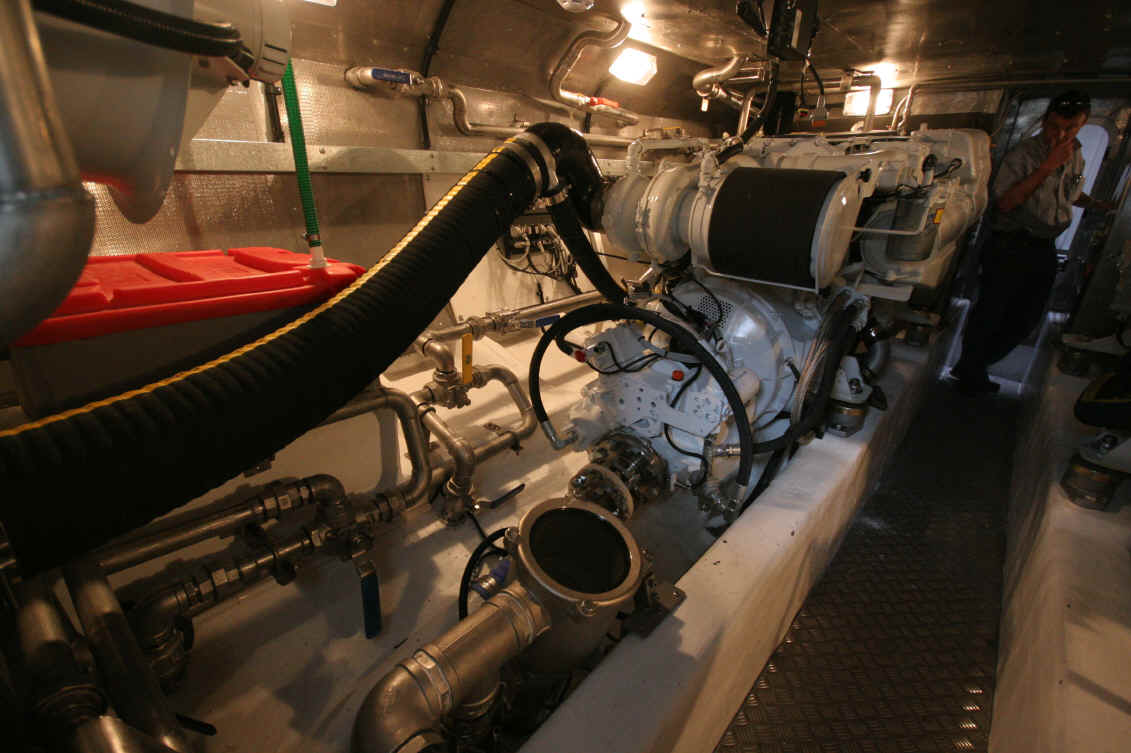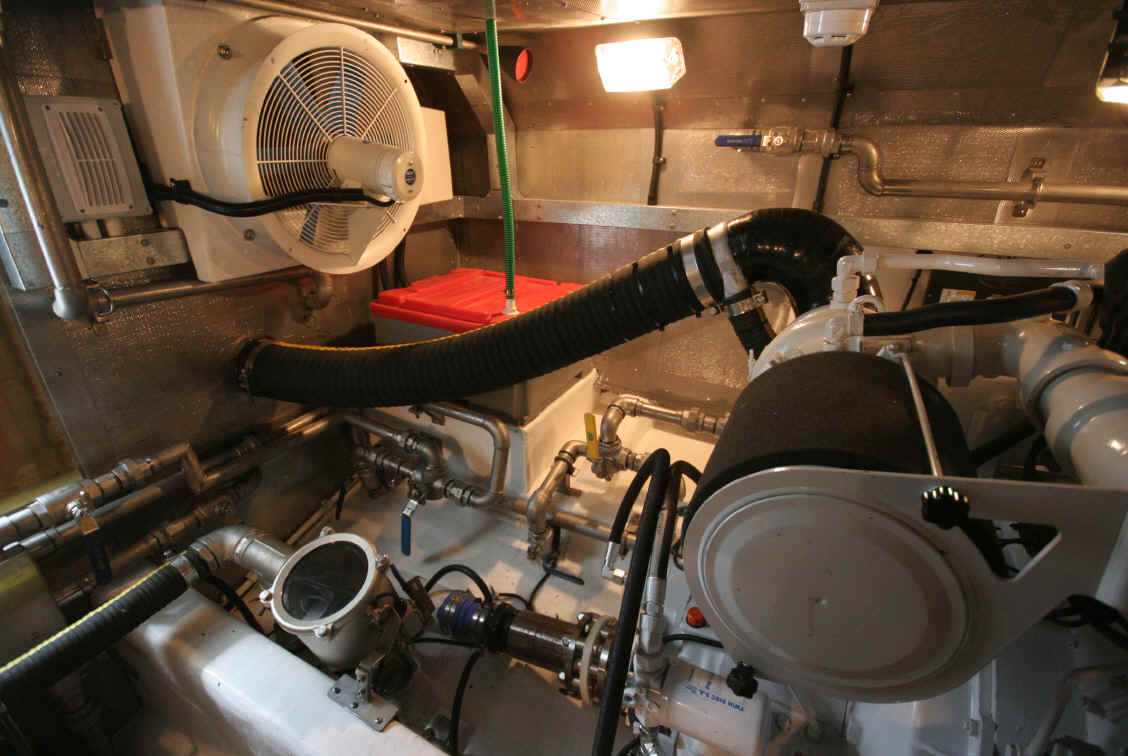 She is fitted with our own design of electric adjustable Interceptor plates.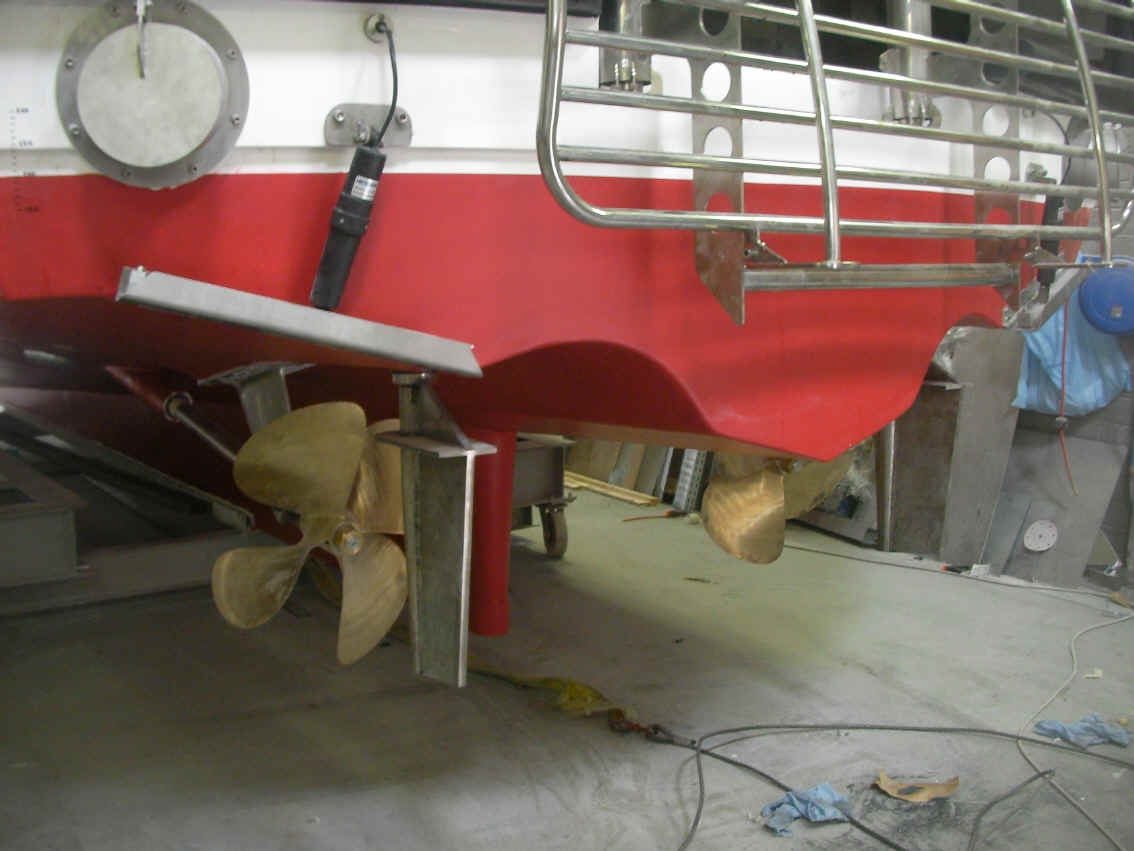 Below, along side the ports old Halmatic 35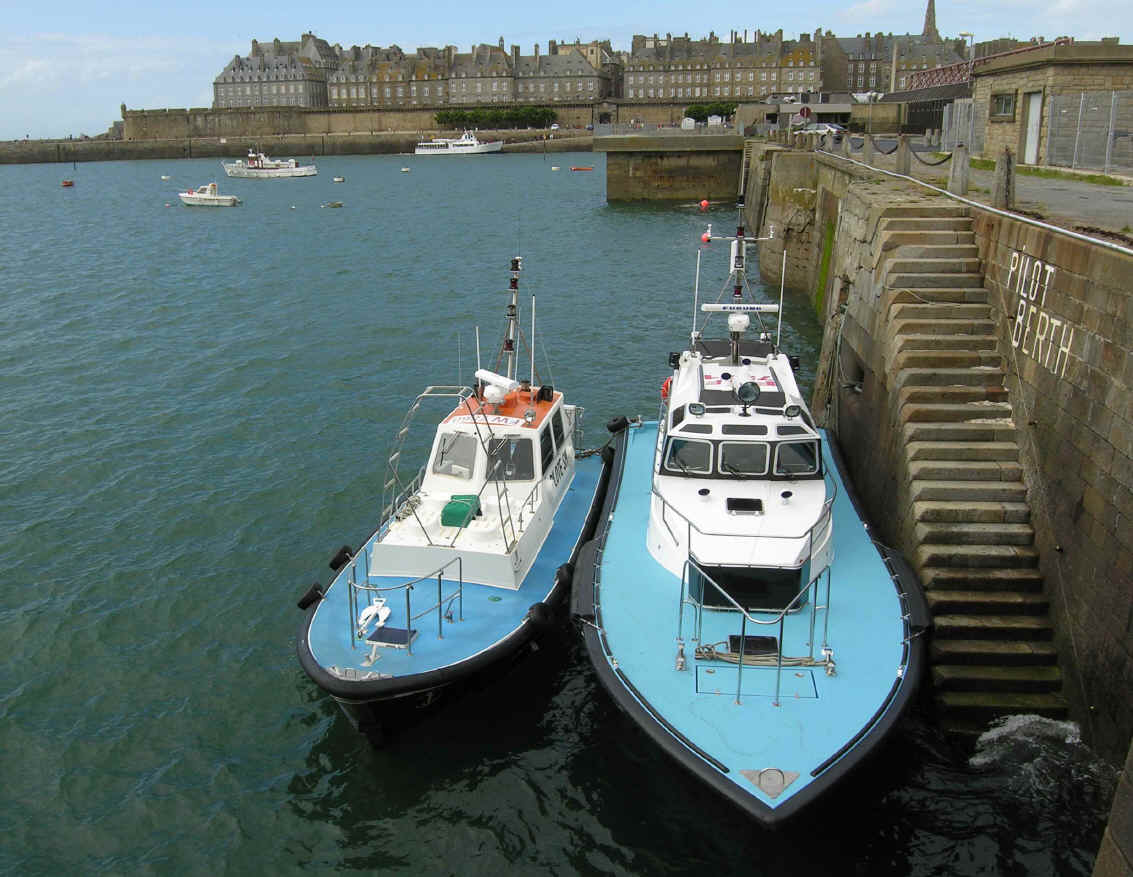 Some photos from launch day.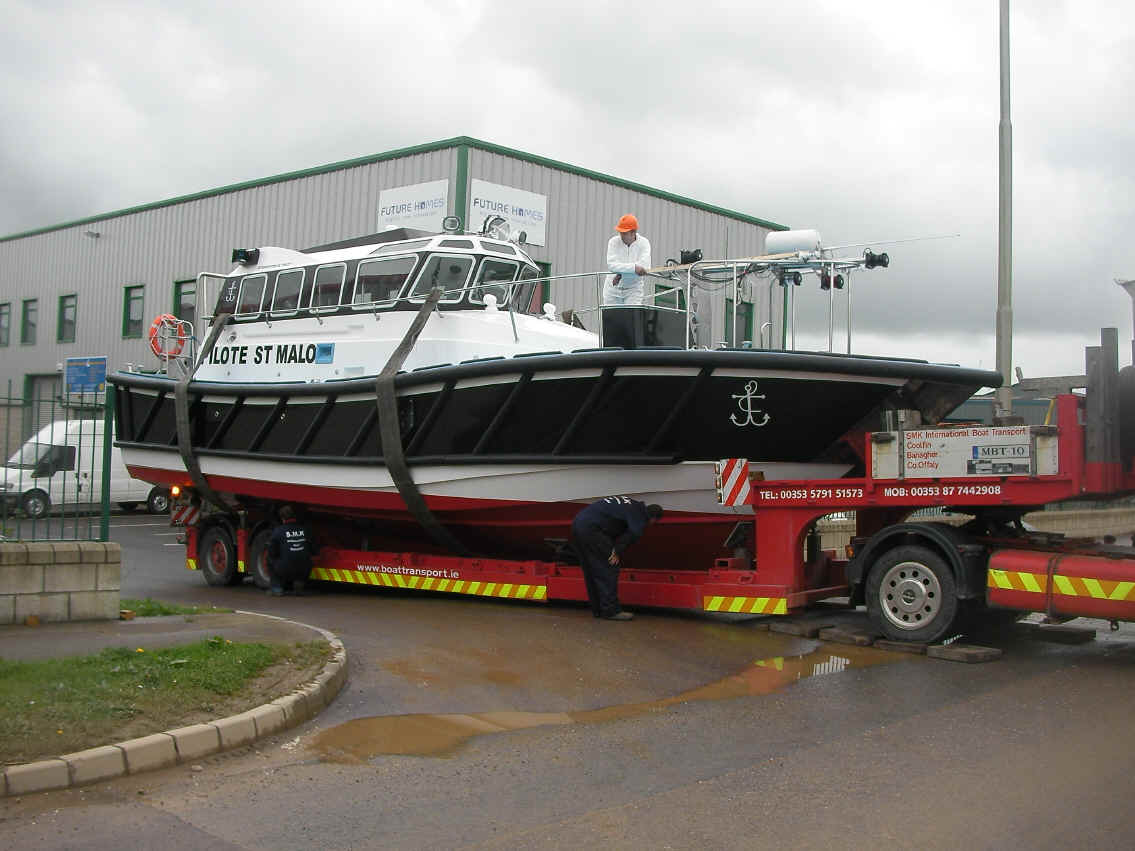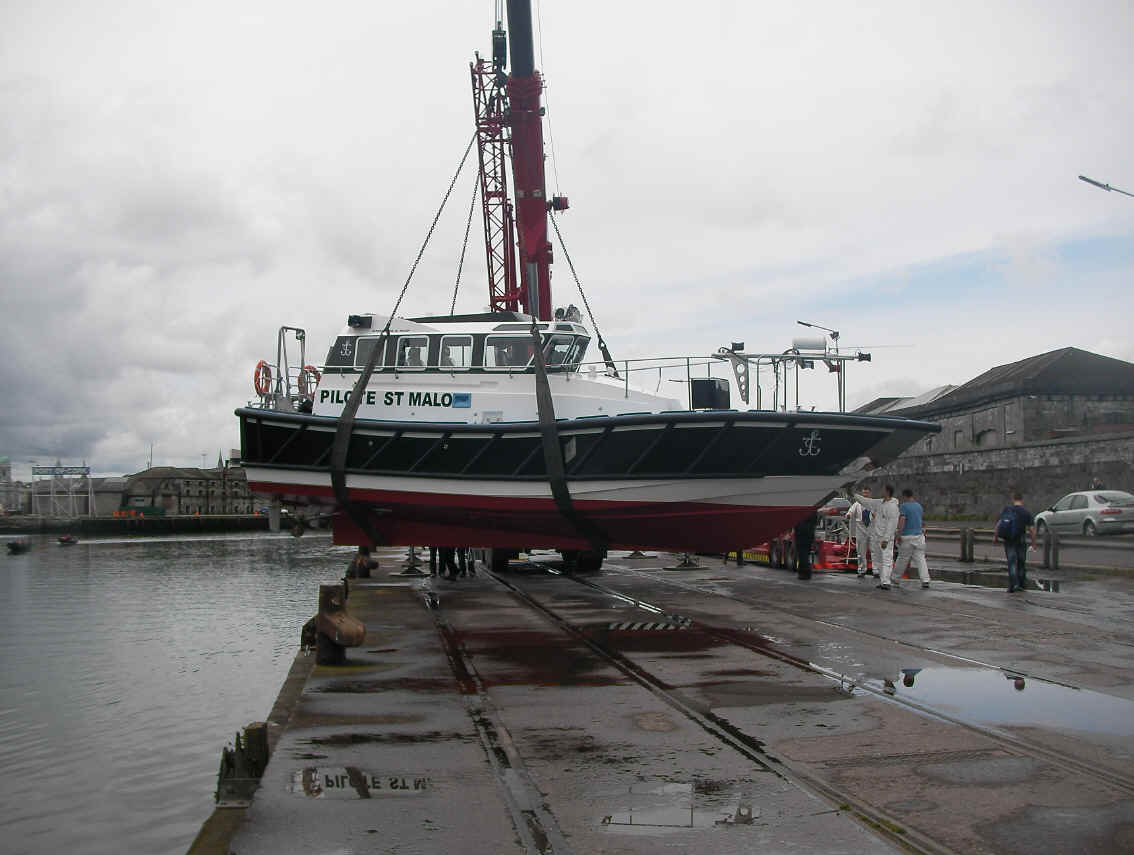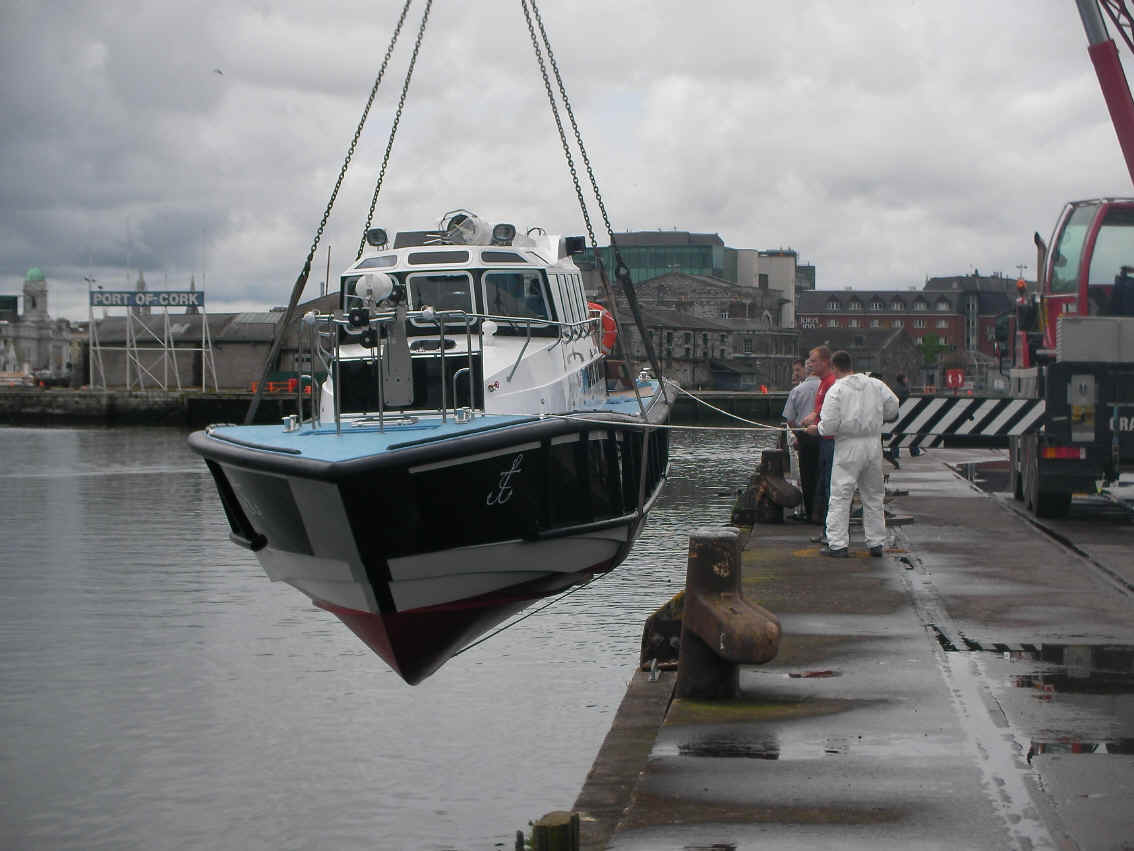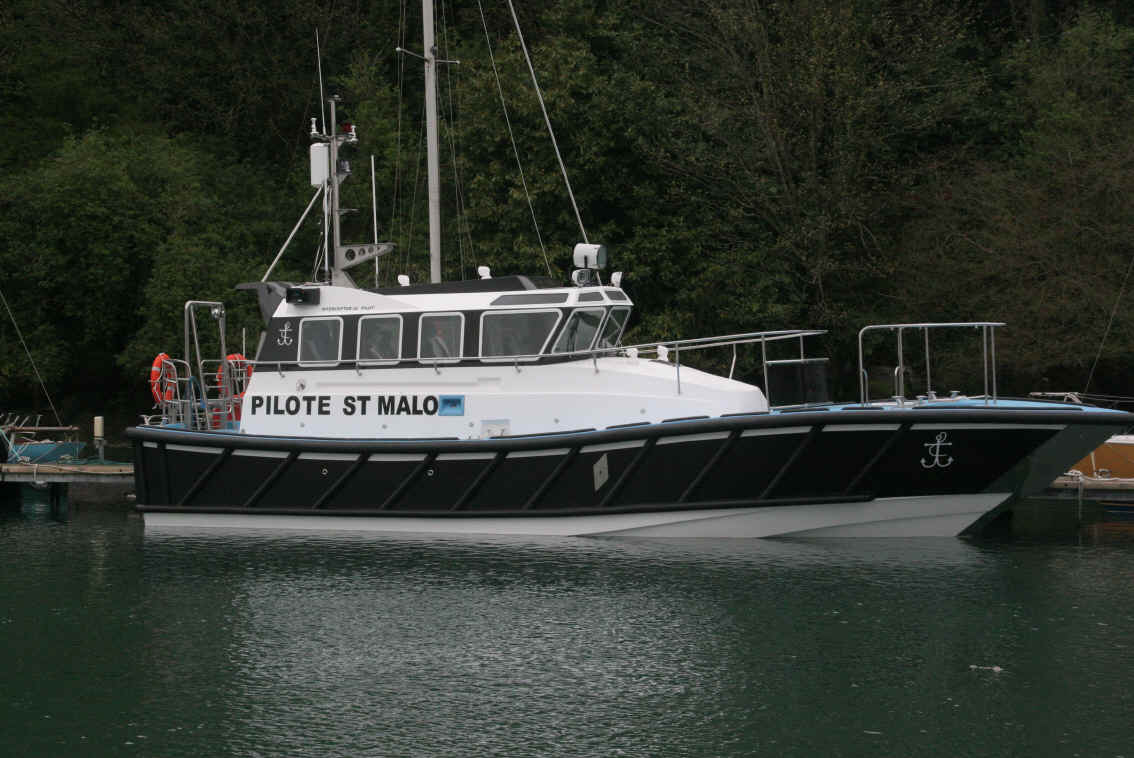 Our design of beaching legs, constructed from 100mm stainless tube.