NEWSLETTER AUGUST 2011

SAFEHAVEN MARINE SIGN CONTRACTS WITH THE PORT OF ALGECERIAS, SPAIN FOR AN INTERCEPTOR 48 PILOT

Ron Goddard, our International representative for the Iberian Peninsula signed contracts with the Spanish Port of Algecerias to build an Interceptor 48 pilot boat. This is the first vessel we will be building for a Spanish Port, and it follows on from the strong reputation we have developed in their neighboring country Portugal, with 7 pilot vessels built, and in build for Portugal and the Azores. The vessel is very similar in specification to the Cork and Liverpool pilot vessels, being powered by Volvo D13 engines and is to be built to a similarly high specification. Delivery is scheduled for August 2012.

Below, her hull under construction.

SAFEHAVEN SIGN CONTRACTS WITH PORT OF CORK

Local Cork Marine Company Wins Port of Cork Contract

The Port of Cork has today announced that local Cork Company, Safehaven Marine have been awarded the contract to build the Port of Cork's new pilot vessel. Due to be delivered in 2012, Safehaven Marine beat off strong competition from several other companies to win the contract.

Commenting on the contract Captain Paul O'Regan, Deputy Harbour Master, said: "As part of our planned renewal of equipment and vessels, the port recently advertised a contract to build a new Pilot vessel on e-tenders. We are pleased to announce that "Safehaven Marine", a Cork based boat builder has been successful."

He continued: "Safehaven Marine pilot boats are highly regarded in the industry and have developed a reputation for possessing fine sea keeping abilities, abilities that were in part, a result of design trials undertaken in the often treacherous entrance to Cork harbour, during winter storms."

Since building the last Cork pilot boat in 2006, Safehaven Marine has specialized in the 'niche' pilot boat market and continuously expanded. Currently employing 30 staff, Safehaven Marine operates out of two factories, one in Little Island and a new state of the art facility built in Youghal. They have supplied pilot boats worldwide, from Scandinavia, Europe, and the Mediterranean and as far a field as Asia and the Middle East, and in 2012 will pass a milestone by launching their 100th vessel since being established in 1996. Safehaven are now probably Europe 's leading manufacturers of GRP pilot boat.

Safehaven Marine, Managing Director Frank Kowalski commented "This was a very special award for us as this is our local Port, and having built their last new pilot vessel six years ago, we have built up a great relationship with all the crew and pilots, and are delighted to be once again, six years later building their new pilot vessel. The Port of Cork's new pilot boat will be an example of our high level of design and engineering, and we all look forward to delivering their new pilot vessel in 2012".

NEW PORT OF CORK 2011 PILOT BOAT CONTRACT AWARDED TO SAFEHAVEN MARINE.

Safehaven Marine have been awarded the contract to build the Port of Corks new pilot vessel. This was a very special award for us as this is our local Port, and having built their last new pilot vessel, the Gleann Mor, an Interceptor 42 pilot delivered over six years ago, we have built up a great relationship with all the crew and pilots and are delighted to be, once again six years latter building their new pilot vessel. They have chosen this time our new Interceptor 48, which is very closely modeled on their previous Interceptor 42, which has worked so well, especially in the rough conditions the Port can experience. The new vessel will be powered by twin Volvo D13 550hp engines and be built to reflect the very latest refinements we have developed in our pilot boats. Their new vessel will be an example of the high level of fit out and engineering Safehaven Marine incorporate into all our vessels, as we continue to establish ourselves as leaders in pilot boat design and production.

New order for an Interceptor 55 'Pilot' boat for the Port of Aden, Yemen.

The Port of Aden, Yemen have ordered a new pilot vessel for the Port, delivery is in April 2012, the hull , superstructure and deck have now been joined together. The vessel will be powered by twin Volvo D16 750hp engines. The vessel is being built for very hot climate operation, with a high degree of redundancy: twin 6kw generators, powering 3x 24,000btu air conditioning units, and twin high power engine room ventilation fans. Fit out features seating capacity for 8 pilots, with full live aboard facilities incorporated into her spacious air conditioned forward cabin. The vessel promises to be a fine, very striking looking pilot vessel for the port. Her hull is fully completed, fendering, brightwork and internal fit out well underway and her engines are due to be delivered shortly,

SAFEHAVEN MARINE LAUNCH THE FIRST OF FOUR PILOT BOATS FOR THE AZORES 'Joăo Vaz Corte-Real'

Safehaven were awarded the contract to build four of its new Interceptor 38 / 11.5m pilot vessels for the Islands of the Azores, situated some 1000 miles out into the Atlantic between Europe and America and have launched the first vessel 'Joa Vaz Corte-Real'. The vessels use our proven Genesis Interceptor 38 hull with a new pilot boat superstructure. The vessels are to be built in accordance with the Portuguese Maritime authority regulations and the hull will be built under Bureau Veritas to plan approval by same. Powered by twin Volvo D9 425 hp engines on ZF 'V' Drive gearboxes, the design features a more central cabin position allowing an aft cockpit are which is fitted with a Mampray quick release towing slip hook. the design also incorporates a 'pusher' bow that will allow the vessel to be used for occasional 'tug duties' assisting pilots in maneuvering ships. The design features four pilot seats, and a central helm position. Other features include 1500 litres GRP fuel tanks situated in a midships tank compartment, a forward cabin with a separate heads compartment and occasional sleeping berths as well as providing storage. The vessel will be engineered for hot climate operation with twin 5000m3hr engine room fans. Stainless steel lifting points built in at the bow and transom allowing the vessel to be easily lifted from the water. Engine room access will be via a deck hatch in the cabin sole for daily inspections and two large deck hatches on the aft cockpit facilitating engine removal and service.

Below, latest launch pictures of the first vessel.

Her seakeeping was tested in 35kts of wind and she displayed the Interceptor's typically excellent levels of seakeeping, being very soft into a head sea, a result of her fine 55 degree bow deadrise and exceptionally stable down wind, being very responsive to the helm.

SEA THE VIDEO OF HER SEA TRIALS Featuring alongside ship handling and rough weather trials

The Volvo D9 engines rated at 425hp provide her with a maximum speed of 25kts and an operational speed of 21kts.

Below, Her designs unique features can be seen here, the centrally positioned cabin provides for a spacious foredeck to easily facilitate pilot transfers, whilst allowing a large aft cockpit for when the vessel is utilized in 'towing' or rope handling duties. At the bow can be seen the integral bow fendering allowing the vessel to operate in 'pushing' maneuvers to assist in maneuvering of smaller ships inside the harbor. these features make the pilot vessel truly 'multi-purpose' and allows ports to concentrate several different vessel capabilities into one vessel in a cost effective, economical manor.

Weighing a lightship12,200kg (13,500kg loaded displacement) 'Joa Vaz Corte-Real' sits with perfectly level trim and displays her graceful proportions, and has the look of a much bigger vessel.

SECOND PILOT VESSEL FOR MALTA 'FOXTROT' IS LAUNCHED.

The Malta Maritime Pilots ordered a second Interceptor pilot vessel 2 years after taking delivery of Echo 1 their Interceptor 42 pilot, a fine testimony as to how happy they are with the first vessel. The 2nd boat is a a pilot version of our Interceptor 48 with a Cab f/wd arrangement. The vessel is now launched. 'FOXTROT' is powered by twin Scania D12 engines rated at 530hp @ 1900rpm and provide her with an operational speed of 24kts. 'Foxtrot is is fitted out with a passengers seating capacity of 12 pilots / passengers in Westmeken air craft style reclining passenger seats. Her main cabin is fully air conditioned with a 24,000 btu air con system with high level outlets in the main cabin. The system is powered by a 6kw generator also providing on board 240v power. She is equipped with a small galley in the forward cabin fitted with a sink, microwave and 240v outlets. The forward cabin also houses a separate heads compartment fitted with a sea toilet and black water holding tank with pump out facilities. Her aft cockpit is very spacious, a virtue of the 'cab f/wd' design and is fitted with lashing points to allow her carry up to 4,000kg of deck cargo. A full hydraulic system powers a bow thruster providing excellent close quarter maneuvering, further assisted by a second external helm position at the aft of the cabin

'Foxtrot' has an operational speed of 24kts on a lightship displacment of 17,250kg

Below, seen here alongside the Azores 38 pilot during sea trials offshore.

'URSULA' ROENNE PILOT BOAT, DENMARK RECEIVES FINE ENDORSEMENT

After six month in operation successfully, Hans Kumler, the Port Director sent us this very complimentary letter, expressing how pleased he has been with his vessel, and is a fine endorsement for Safehaven Marines pilot vessels.

ANGUS CAMPBELL ORDERS A NEW WILDCAT 53 CLASS 0 PASSENGER / WINDFARM SUPPORT VESSEL.

Angus has had two vessel previously built by us, an Interceptor 42 in 2004 and an Interceptor 55 in 2007 'Orca 11', and now ordering his 3rd vessel from us, he is our most loyal customer, and a great recommendation for our customer relations, and demonstrates how happy he has been with both our boats and service to come back to us again. Angus has always been a pleasure to work with and we look forward to building him his Wildcat 53. Below is his Wildcat 53 design.

'SKUA' enjoys her naming ceremony at the Port of Liverpool.

After being delivered, commissioned and accepted at the Port of Liverpool Skua had her naming ceremony on a fine sunny day on the 4th April. Some nice photos were taken of the day below.

'ISLAND PANTHER' The 2nd Windfarm support vessel built for Island Shipping by Safehaven Marine is now launched

Safehaven Marine have now launched the second Wildcat 53 / 16m windfarm support vessel for Island Shipping 'Island Panther' a sister ship to the first vessel 'Island Tiger' supplied in 2010. The Wildcat 53 is high bow buoyancy bow design, symmetrical hull, twin chine catamaran of GRP composite construction, princible dimensions are 16m moulded (17.3m LOA) a 6.1m / 20ft beam and a 1.15m draft, the design offers excellent sea keeping abilities, being able to push through steep head seas without slamming occurring on the bridge deck by virtue of the fuller bow sections providing adequate buoyancy to lift over waves, this combined with the catamaran designs high levels of transverse stability results in a very stable, seaworthy craft. Island Panther incorporated a number of changes over the first vessel to enhance her functionality in her windfarm support role , most notable being the incorporation of a dedicated fuel and water transfer system with additional fuel capacity totalling 5,000 litres of fuel and 1,000 litres of water. The fuel transfer system features separate reels with 50m of hose stored in the fore peak, these pump fuel / water under 5 bar from high capacity 240v pumps, allowing the vessel to refuel generators / water tanks on the windfarm platforms up to 40-50m above water.

Island Panther is fitted with Scania D16 V8 650hp engines running Ultra Dynamics 451 Waterjets with Joystick control and has a maximum speed of 25kts with an operational speed of 22kts at a lightship displacment of 28,000kg, she has a very soft and comfortable ride, with exceptionally low noise levels of only 67db being recorded in the cabin at maximum speed.

The bow area has been designed to accommodate a specially developed fender system from Ocean 3. The fender design is of high density foam core 500m x 400mm to cushion impacts and stresses in the bow. The fender is retained by straps in a grove moulded into the bow, thereby capable of being quickly changed in the event of damage and is interchangeable to feature either a flat bow or a fender with a nipple incorporated. No stranger to building exceptionally strong GRP hulls, the Wildcat 53 has the same heavy duty scantlings as their renowned pilot boats which are often subject to severe impacts in rough weather, this produces a vessel that can withstand tough use in the harsh windfarm support vessel environment. GRP provides many benefits, being a homogeneous structure it is very strong, it gives a high standard of external finish with the advantage of zero maintenance, it is easily repaired and perfectly compliments Safehaven's graceful design, resulting in a very striking vessel.

The superstructure is a raised bridge deck design with the helm and navigators position elevated to provide excellent visibility. The cabin is centrally positioned in an 'island configuration' with a clear 750mm walkway each side and around the bow where there is a cargo lifting space. This provides a safe passageway and spacious work and boarding area at the bow.

Accommodation is spacious and designed to provide a comfortable and luxurious environment, with a combination of aircraft style transit seating, and a dinette style seating platform with a table providing a comfortable area during standby with a 20" plasma screen and DVD player. The cabin design is open plan with a full galley in the port hull and bunk berths in the st/bd hull. A useful feature is the incorporation of a wet room, featuring aft cockpit access, hanging space, toilet and shower facilities with a second 'Workshop' compartment to port allowing maintenance and equipment repair on site. In other respects the 'Island Panther' is very highly specified, featuring a 9kw generator providing 240v throughout the vessel. A very comprehensive navigation suite from Raymarine, with twin scanner high definition radar, GPS, all displayed on multiple E140 14" screens, Talk back deck communication, autopilot and onboard Wi Fi. High definition CCTV records boarding and aft cockpit operations. Aft, twin dive platforms protect the waterjets, The vessel is fitted with a Palfinger crane on the aft deck servicing a large clear cargo area. The vessel is contracted to work on windfarms alongside her sister ship Island Panther on the Norfolk coast of the UK .

'SKUA' THE PORT OF LIVERPOOL'S NEW INTERCEPTOR 48 PILOT VESSEL IS LAUNCHED

We have now launched The Port of Liverpool's new pilot boat 'Skua', an Interceptor 48 pilot. On initial sea trials she performed very well, powered by twin Volvo D12 500hp engines she has an operational speed of 24kts with 1/4 fuel and 23kts with full fuel on a lightship displacment of 17,750kg. She has very responsive handling, runs with a level trim, noise and vibration levels are very low recording just 75db at 20kts, and she provides a very quiet and relaxed environment for her crew and pilots. Alongside ship handling trials proved very successful, she was very easy to control coming alongside, held station effortlessly and broke away easily without her transom corner even touching the ships side. 'Skua' is certainly a very striking vessel combining her bright red hull with the Interceptors graceful lines.

Above and below, the first day of rough weather sea trials were completed with 'Skua' handling very well in 36kts of wind and 3-4m breaking waves. A video of the day can be seen on you tube- http://www.youtube.com/watch?v=JF5JH9enINE

Below, a poignant photograph of the 'Gleann Mor', the first pilot vessel built by Safehaven Marine six years ago in 2005, and our latest pilot boat 'Skua', built some 16 pilot boats later.

The vessel is very heavily fendered all round. Extra fendering on the bow allows her to be used for pushing duties to assist pilots in close quarter maneuver inside the harbour, and protects the bow and stem from operational damage. Additional fendering at the transom quarters protects this vulnerable area during breakaway in pilot boarding maneuvers.

Below- a refinement on our proven sacrificial fender system greatly lessens impacts during boarding, and successfully protects the vessels main fenders.

'Skua' has an increased seating capacity to allow for five pilots and two crew seated on Grammer air suspension seats in the main cabin, with an additional two Grammer pilot seats in the forecabin, giving a total capacity for 7 pilots and two crew. In addition the spacious forecabin incorporates a luxurious fit out and features a fit out incorporating a galley, dinette seating for four and a table between, bringing total seating capacity to 11. A separate heads compartment is fitted with an electric toilet and black water tank. The fit out is to a high standard featuring teak and holy cabin sole throughout, and full interior lining in bur walnut laminates, grey sidelining and white headlining, this provides the pilots and crew with a comfortable living environment when on stand by or passage.

She features a 'wrap around' helm position with all navigation instruments integrated in front of the helmsman, with engine and auxiliary controls alongside, this provides an exceptionally driver focused helm position that is ergonomically comfortable and efficient, allowing the helmsman ultimate control of the vessel. Other features to assist in the vessels operational efficiency are double glazing on all windows and a fully air conditioned cabin from a 16,000btu air conditioning unit with high level outlets.
NEW INTERCEPTOR 42 FOR JEAN-JAQUES AGERNAY
Below is the latest Interceptor 42 built for Jeanne-Jaqes Agernay. The vessel is a sports angling version for operation in the Mediterranean. She is fitted with twin Volvo D9 575 hp engines and achieved 33kts, making her the fastest Interceptor 42 built so far.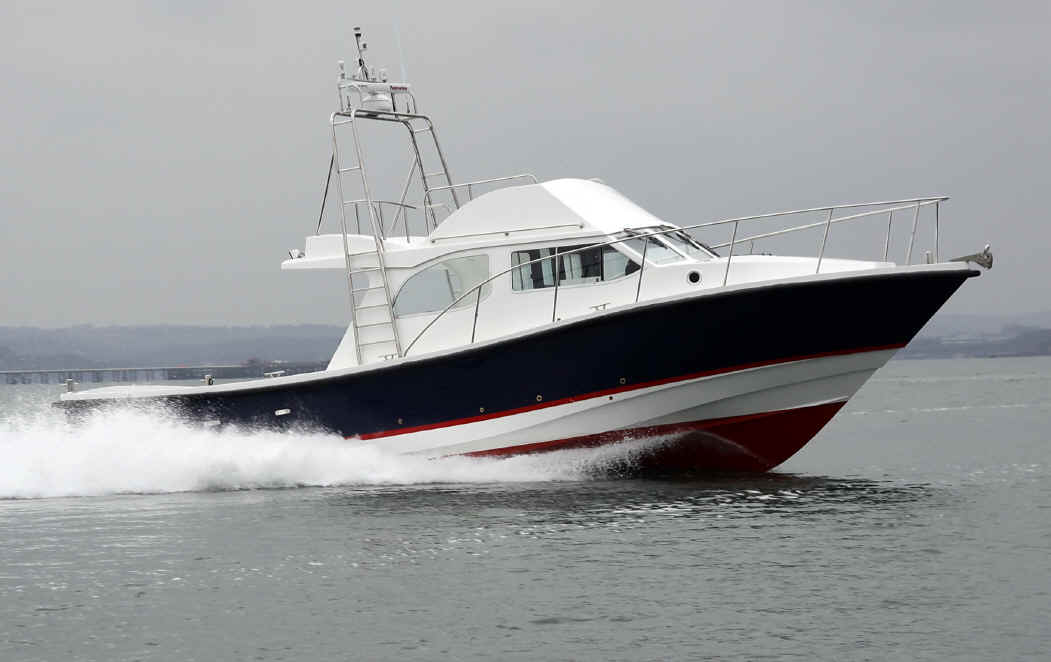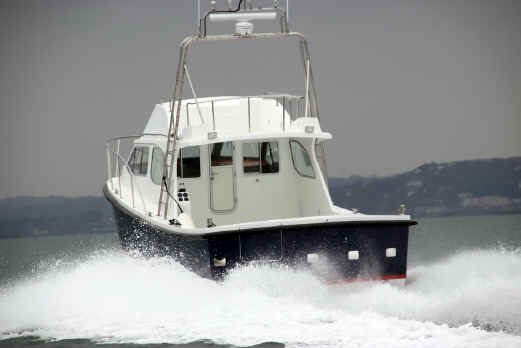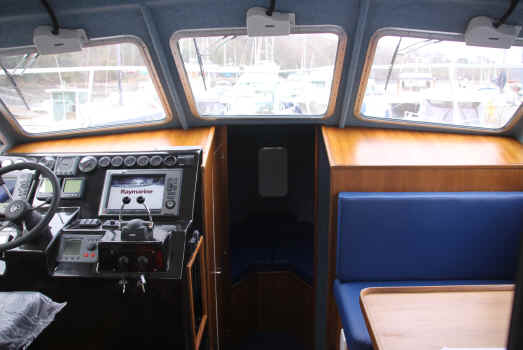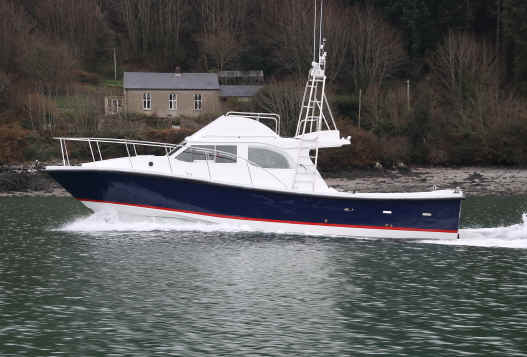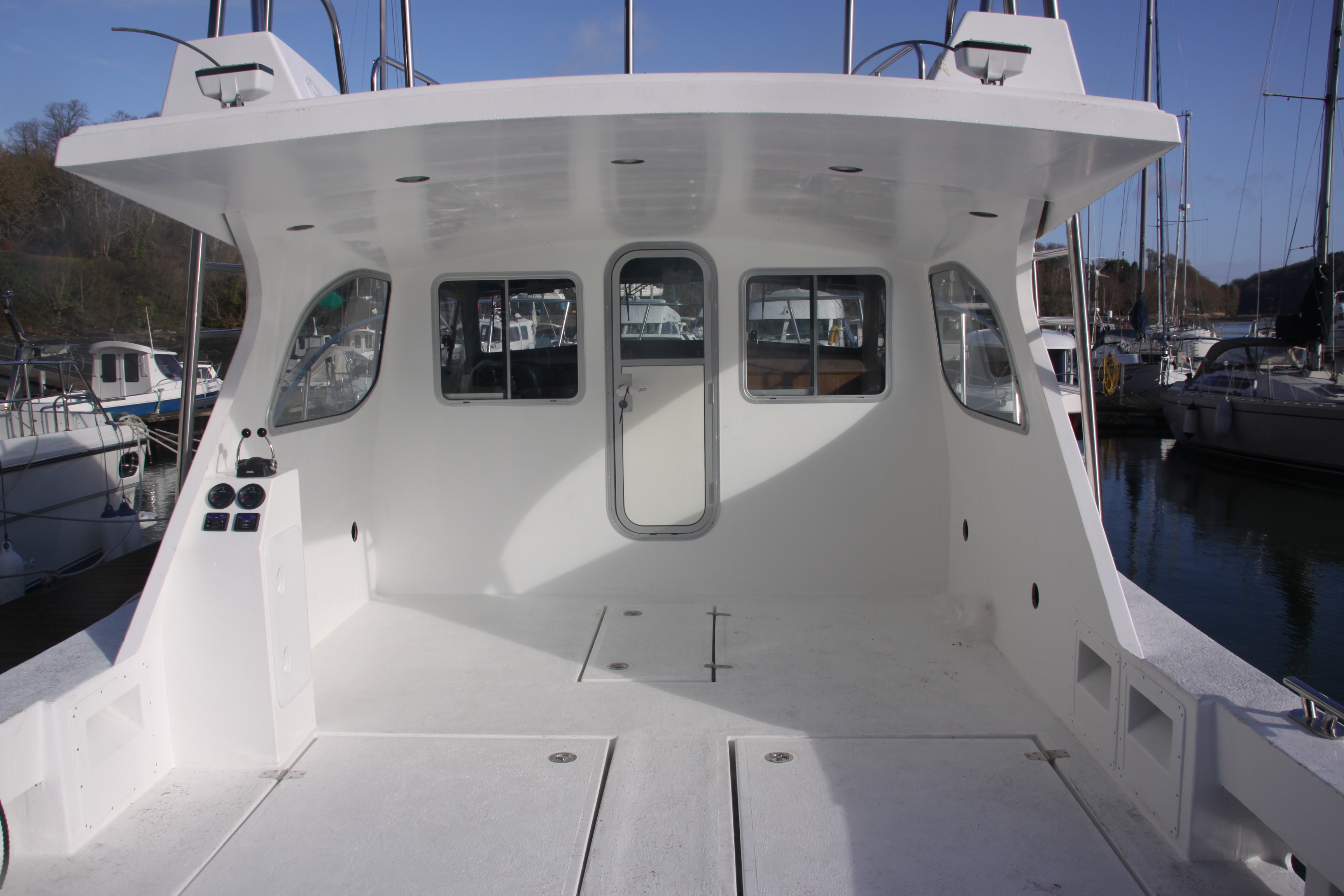 Daniel Marquinhos who lives in Averio, Portugal took these photos of 'Espinheiro' going out to undertake pilotage, and coming home in 6.5m seas at the entrance to the port, it shows the kind of conditions Espinherio must work in, Daniel has promised me some more pics and I look forward to seeing them.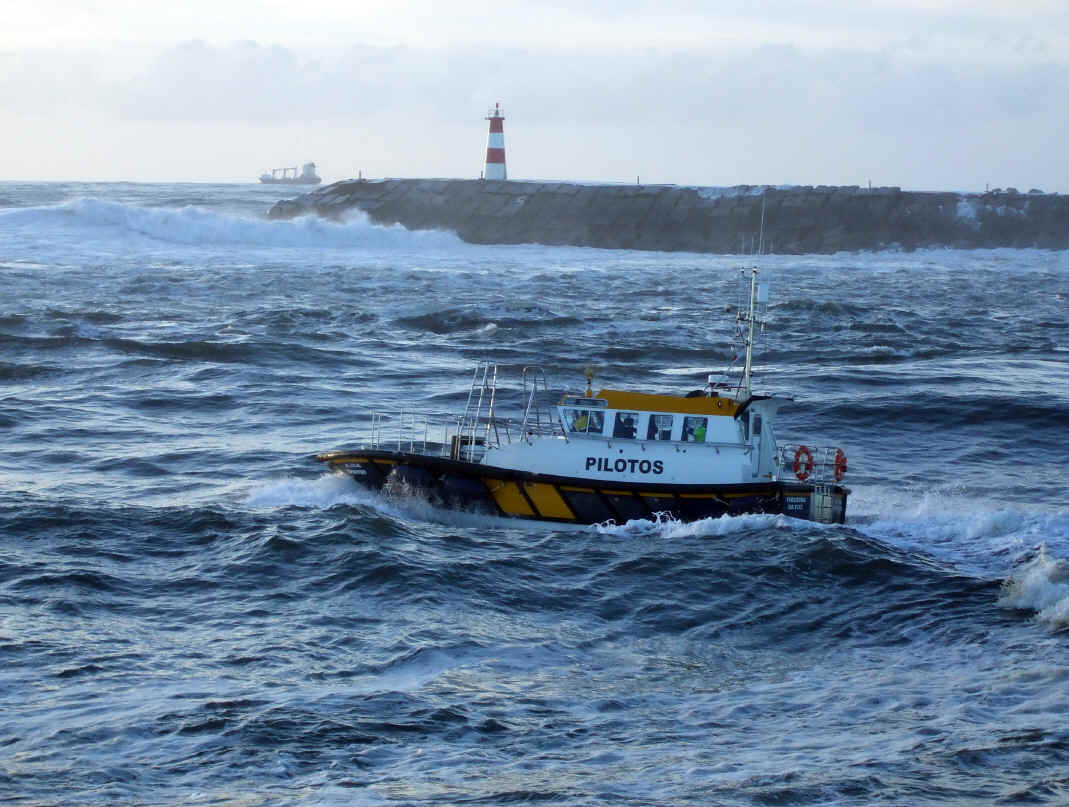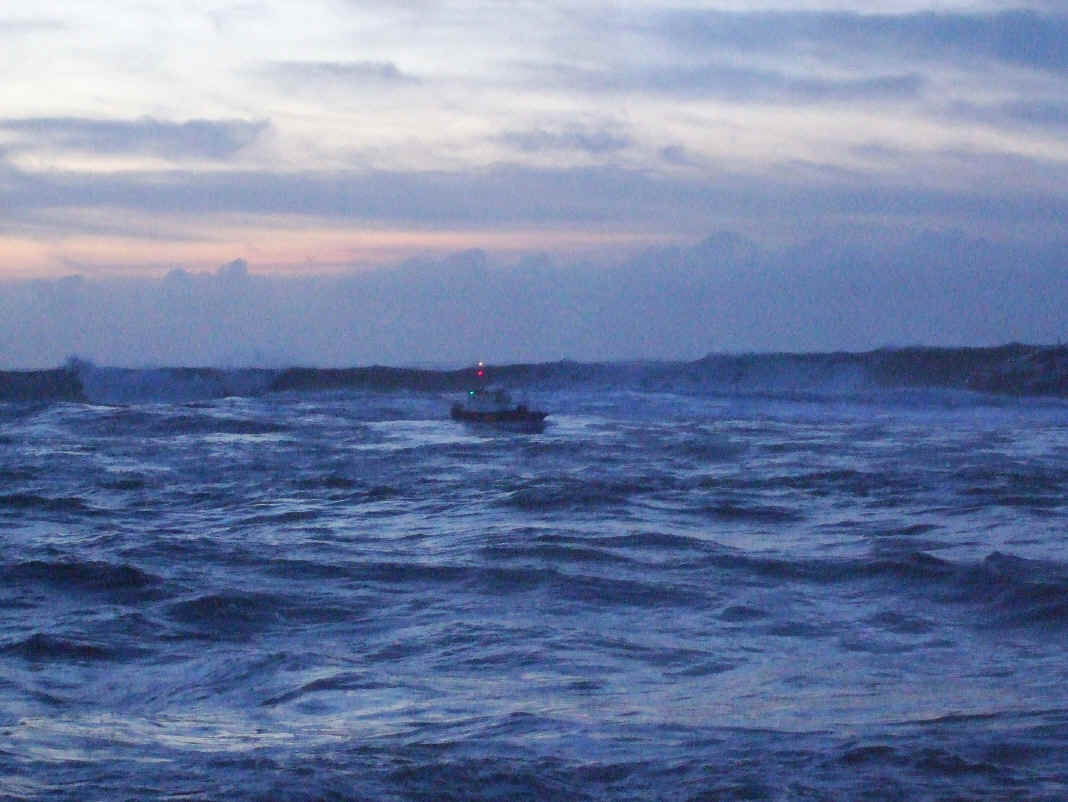 'Ocean Ranger' back with us for an engine service and her owner Mike was keen to make a video of her in some weather. We had 3 days of continuous gales and storms so there was a very big sea running at the entrance to Cork Harbour at Roaches Point, and at the time we made the video conditions over the Rock and right across the entrance were un-navigable with exceptionally steep breaking waves as we had a spring tide, and the ebb was running at full force, only one of our pilot boat could have crossed the rock in these conditions and even then it would have been a tough run. We took a particularly vicious wave which demonstrated the great stability that a catamaran offers and the importance of strong windows and cabin construction as several tons of water crashed on to the cabin and windows.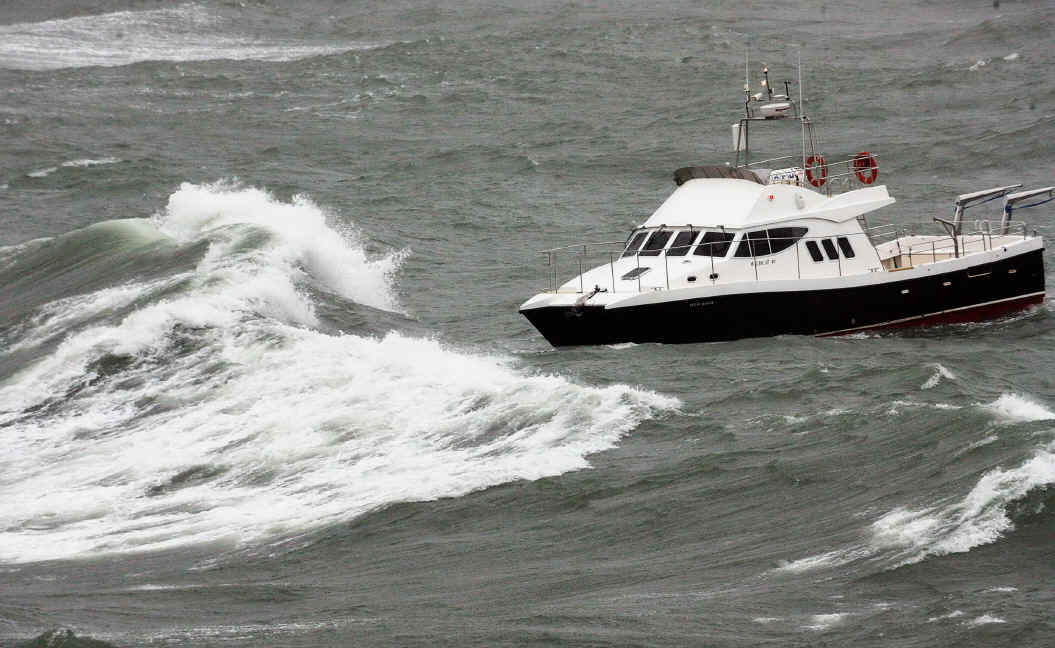 Above a 5m breaking sea bears down on Ocean Ranger and below, a selection of stills from the video.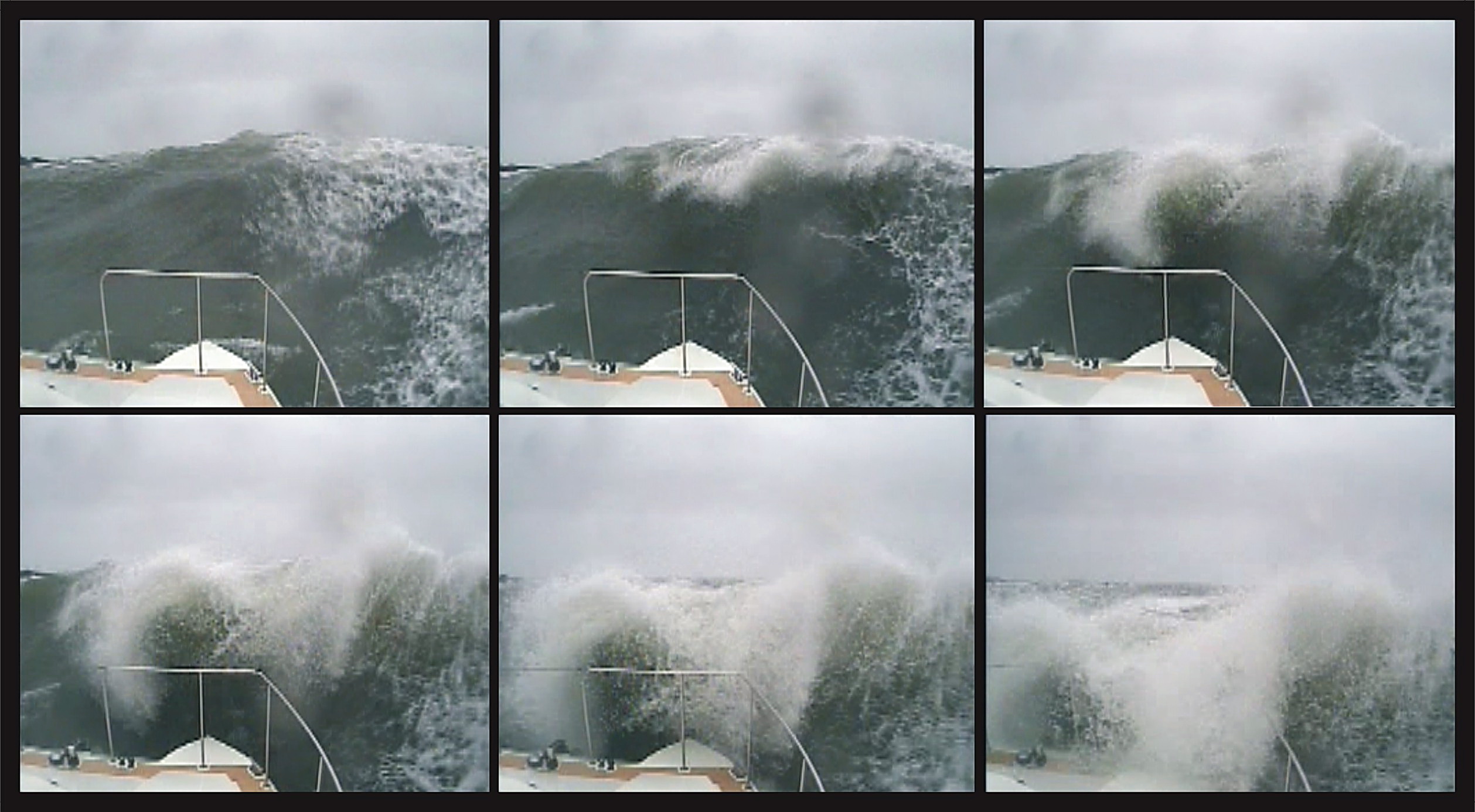 Below, a nice photo sequence of bursting through a big wave. You can see a video of the day here- SEE THE VIDEO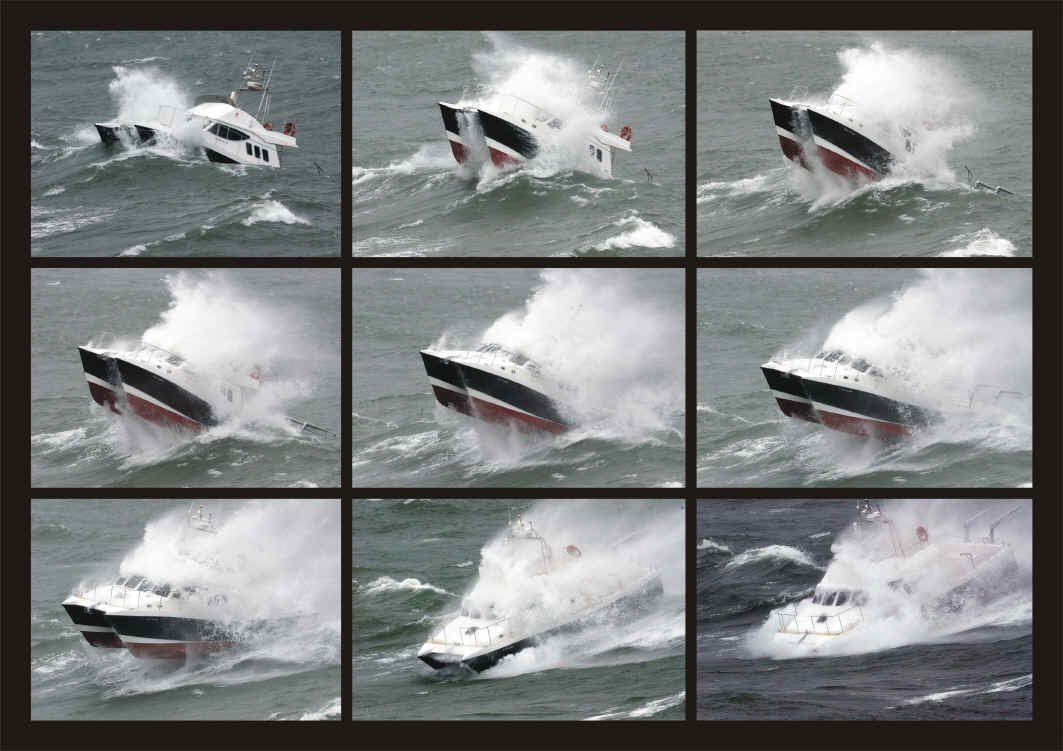 'ISLAND TIGER' was back with us and we had an opportunity to trial her with her owner Simon Greenwood in some weather. Below, reversing in to waves demonstrating the amazing maneuverability of water jets. See the video- SEE THE VIDEO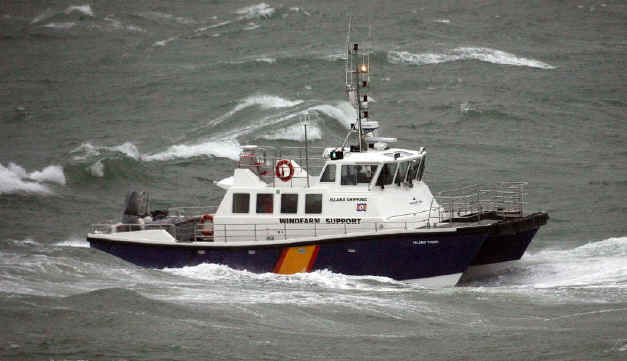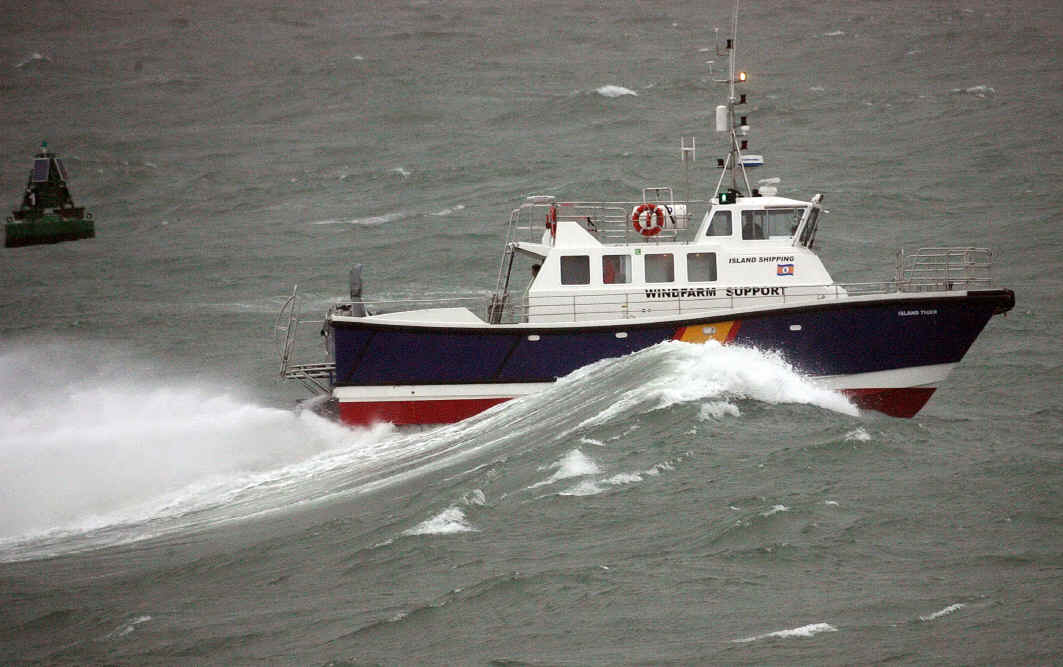 SAFEHAVEN MARINE LAUNCH NEW HYDROGRAPIC SURVEY CATAMARAN FOR LA REUNION
Safehaven Marine have launched one of their successful Wildcat 40 catamarans, the Hydrographic vessel 'Jeanne Baret' for the port of La Reunion , off the South East coast of Africa . Safehaven Marines Wildcat range of GRP symmetrical, high buoyancy hull catamarans is thoroughly proven with over 20 being built since 2003 and in commercial service throughout Europe and now extending further afield into international markets. The design is easily driven and has been proven to demonstrate excellent seakeeping abilities in rough weather conditions, as the cover shot amply demonstrates with her running through 5m breaking seas. The vessel was purchased through the French Hydrograhic equipment supply company Cadden after an international tender by La Reunion in 2009. The vessel was built under survey by Bureau Veritas to the French Maritime authorities regulations. The vessel is fitted with multi beam sonar equipment supplied by Cadden The multi beams transducer is deployed through a moon pool in the aft deck by a hydraulically operated deployment frame that was specially designed and developed by Safehaven Marine. The underwater section of the sonar head mounting is hydro-dynamically efficient being of aeroform shape to minimize turbulence and pressure loadings on the mountings, the sonar head can lowered down to below keel level and be lifted up to above deck by hydraulic rams, the moon pool can then be closed allowing safe storage of the transducer during high speed transits. A second dual beam transducer is fitted in the St/bd hull in a removable module allowing transducer interchange afloat, this is fully faired into the hull minimizing turbulence. The design features a f/wd cabin arrangement with a large, spacious aft cockpit. The main accommodation incorporates a central helm position with alongside seating for the hydrographical equipment operator / navigator and provides panoramic vision all round with all the electronic navigation and hydrographic displays situated in a large console. A work bench is fitted to the port side of the cabin stretching its full length, all the computers for the hydrograpic equipment are stored in a vertical rack / cabinet fitted at the aft of the cabin. To port is a large dinette seating area with a table between. In the st/bd hull is a large heads compartment which is fully lined in white Formica fitted with an electric toilet and sink. In the port hull f/wd is a full galley with 240v hob, sink, fridge and storage lockers. Onboard electrical power is from a 10kw 240v generator supplying multiple sockets throughout the vessel. Other equipment includes a 1500W electric capstan, Electric 95kgf bow thruster, Electro hydraulic 013T HIAB crane, Dive platform , security alarm system and a full compliment of Raymarine navigation equipment. The vessel is also fitted with a 24,000btu air conditioning unit with high level outlets in the cabin roof for efficient cooling, the cabin roof has been insulated with 50m insulation to minimize heat transmission in the hot climates the vessel will operate in. Engine room cooling and ventilation is from twin 450mm 24 fans supplying 4800m3/hr of air to the engine room which exhausts heat through separate outlets. Solar Solve blinds are fitted to all windows, all of which will ensure a comfortable working environment for her crew. On initial sea trials she performed exceptionally well proving very quiet with only 70db being recorded in the cabin at 15kts, reducing to just 65db at 7kts survey speeds and achieving a 21kts maximum speed comfortably exceeding her contract speed requirement of 18kts, and at which speed the noise level was still below 75db, all at a 14,200kg displacment. By virtue of the heavy duty continuous rating on the Volvo D7 260hp mechanical engines, her operational speed is between 20kts. The vessel is certified for 12 passengers and two crew.
Below, Wildcat 40 'Jeanne Baret' for the Port of La Reunion undergoing rough weather sea trials off Cork, during the night it had blown very hard with 40kts of wind from the South East with waves peaking at 7.5m a few hours before we went out, by then the wind had moderate but we still had 6m swells which were breaking well over the Harbour Rock, and against a strong ebb tide, to create pretty rough conditions. You can watch a video of the trials on you tube from this link- CLICK HERE TO SEE THE VIDEO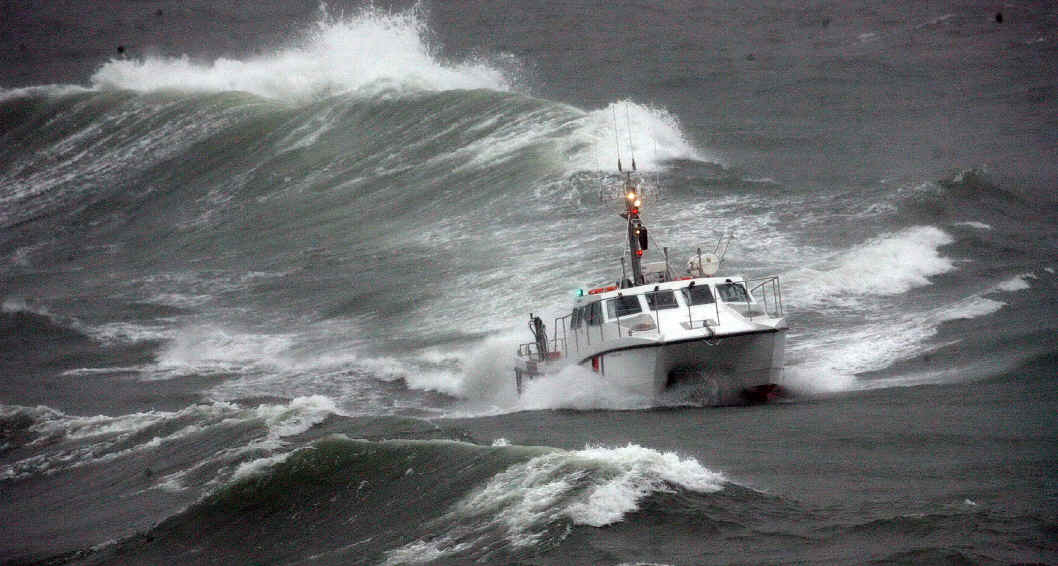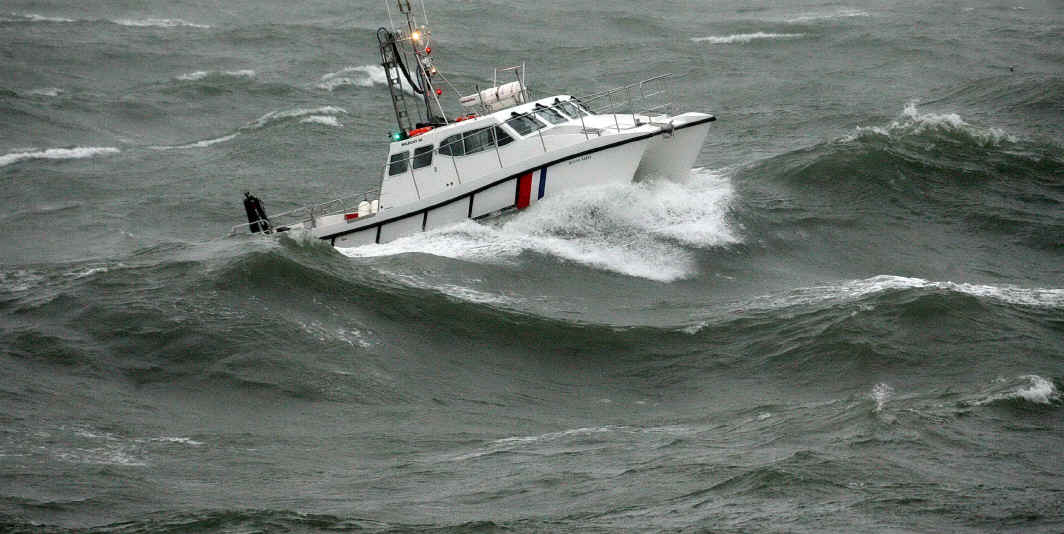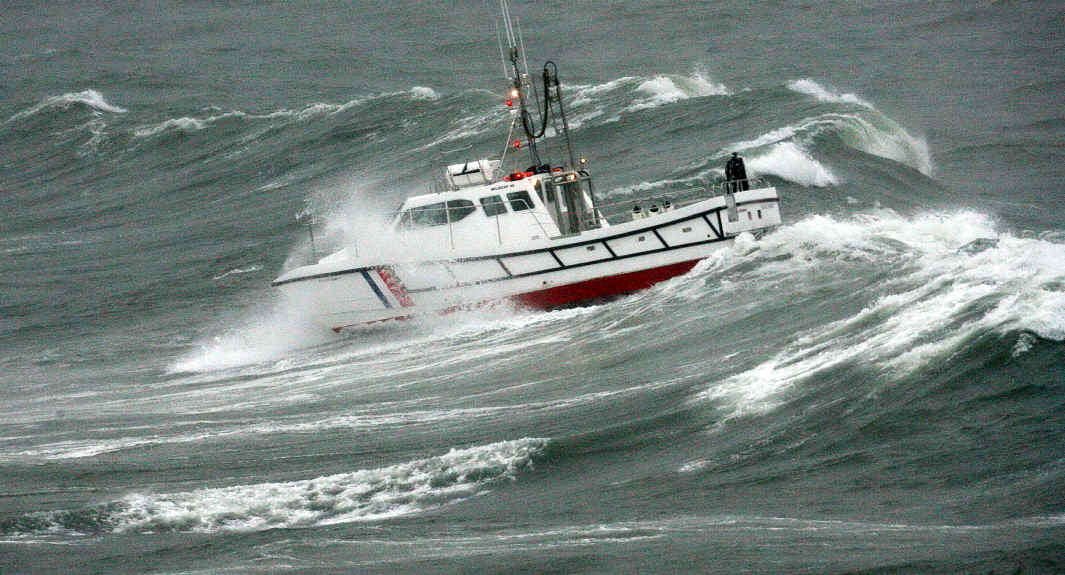 For more information on Jeanne Baret click here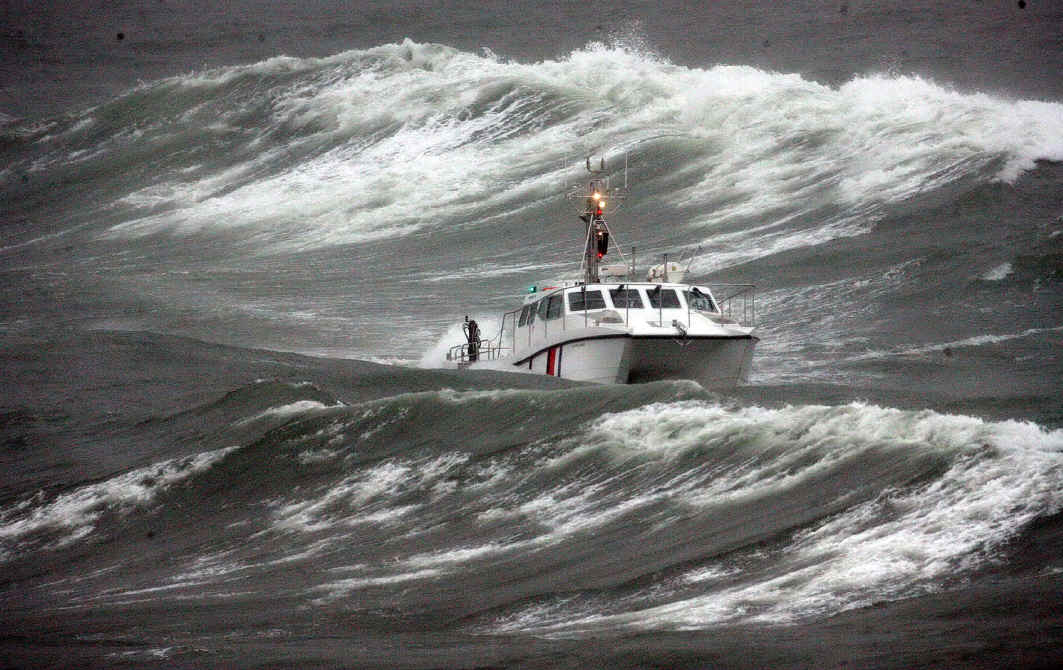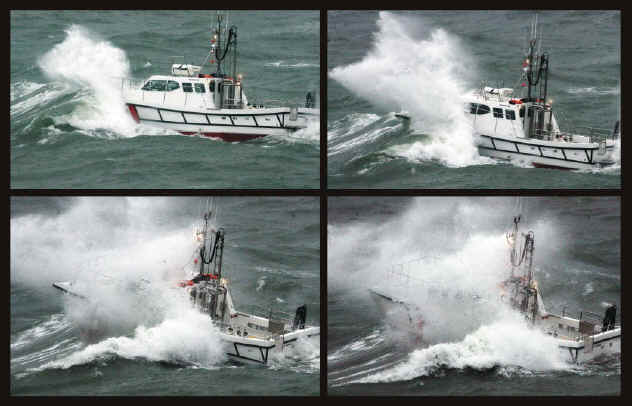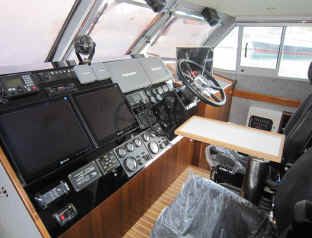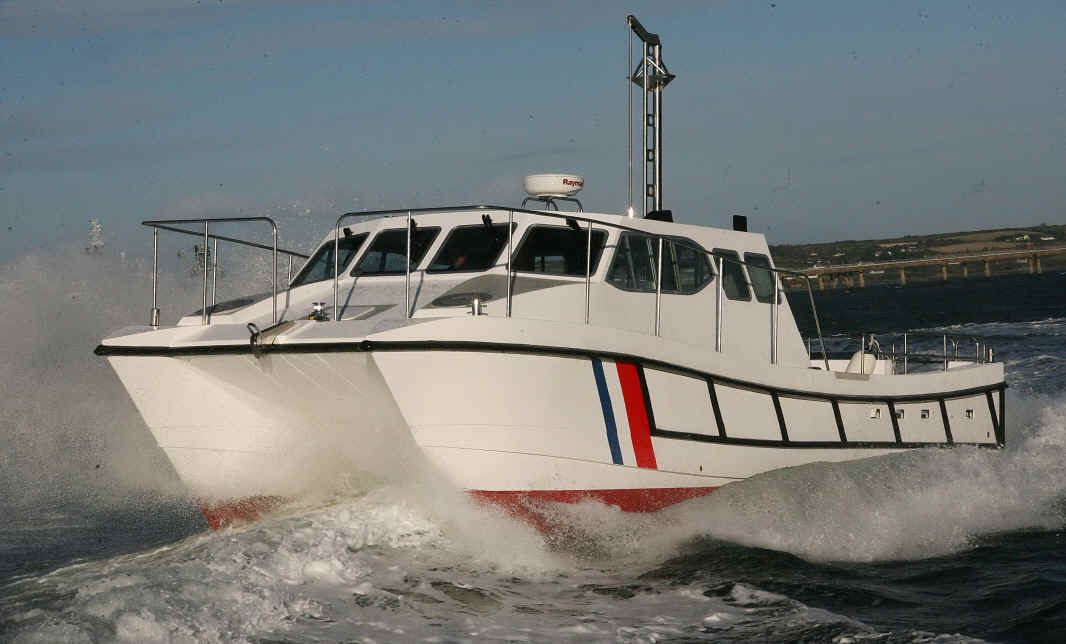 PORT OF BORDEAUX'S INTERCEPTOR 48 PILOT BOAT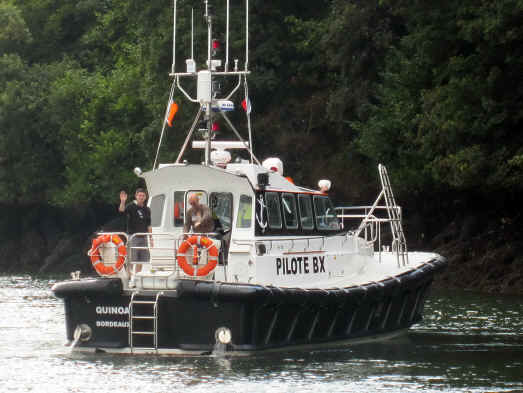 'QUINOA' operates successfully and is praised by the Gironde pilots'
Now in successful operation for 5 months Quinoa has received universal praise from the Pilots and Crew at Bordeaux, I received this nice letter of recommendation from their president.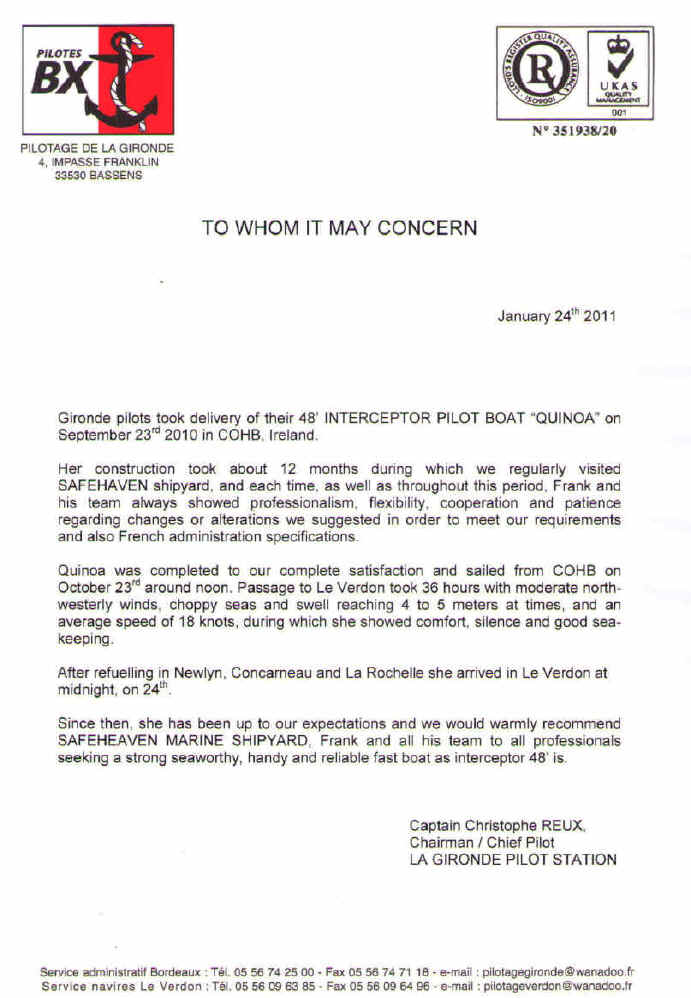 'URSULA' NEW INTERCEPTOR 42 PILOT FOR THE PORT OF ROENNE, DENMARK IS LAUNCHED
The Port of Roenne in Denmark ordered an Interceptor 42 pilot boat last year, Hans Kumner, the Port director commissioned Safehaven Marine to supply an Interceptor to be build to the ports specification complying with the Danish Maritime Authorities requirements, and his new pilot vessel 'Ursula' has now been launched. 'Ursula' is powered by twin Volvo D12 500hp engines and twin disc 5114 gearboxes through 26" 5 blade propellers and achieved 24kts at a 16,150kg (lightship) displacement on initial sea trials and proved very quiet and refined at maximum speed.
Below, a selection of photographs of Ursula undergoing rough weather sea keeping sea trails, conditions were pretty bad with up to 48kts wind speeds with swells of 5m breaking in the tidal race over the Harbour Rock at the entrance to Cork Harbour. During the trials she handled just like any Interceptor pilot, which is to say superbly.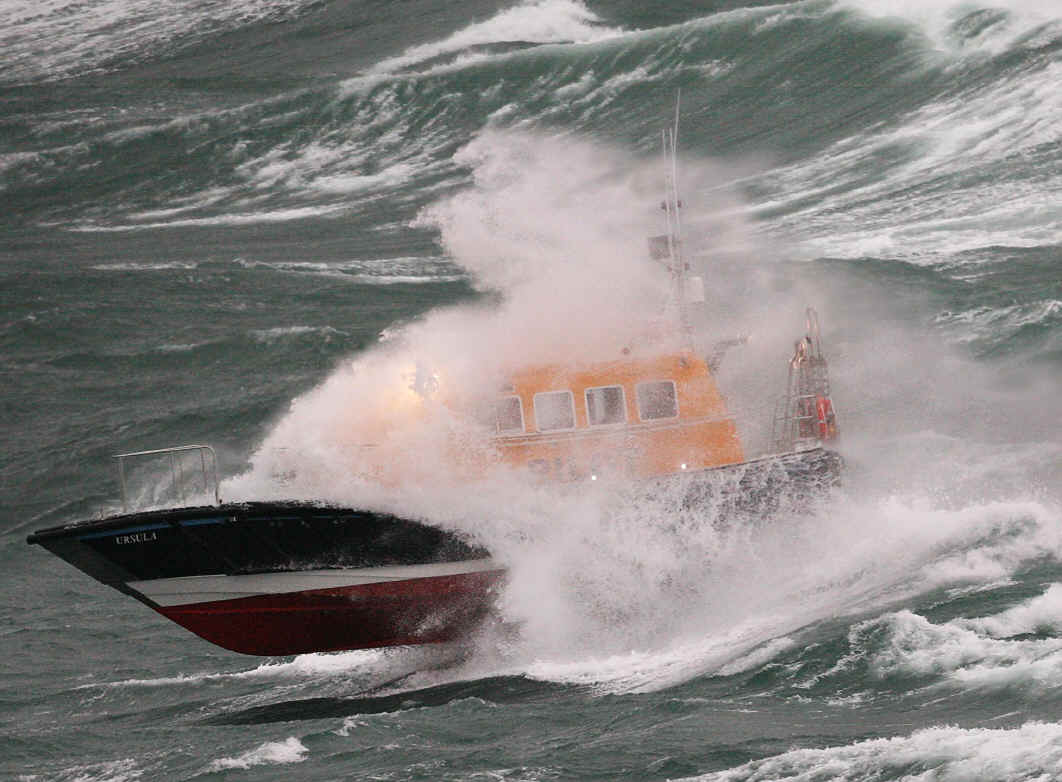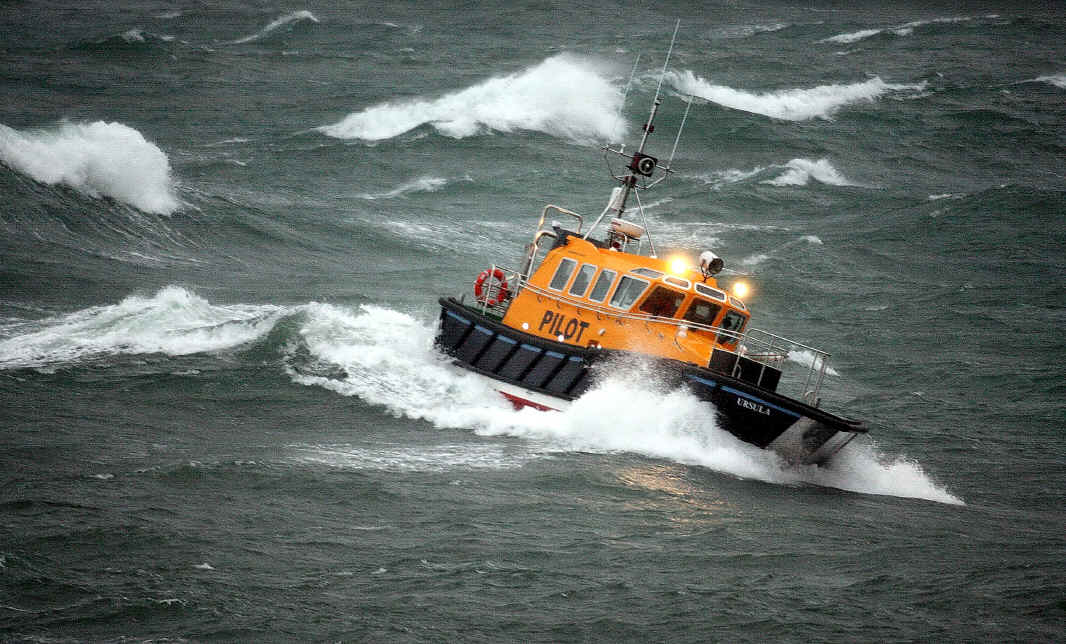 You can see a video of 'URSULA' undergoing these sea trials on you tube from this link- CLICK HERE TO SEE THE VIDEO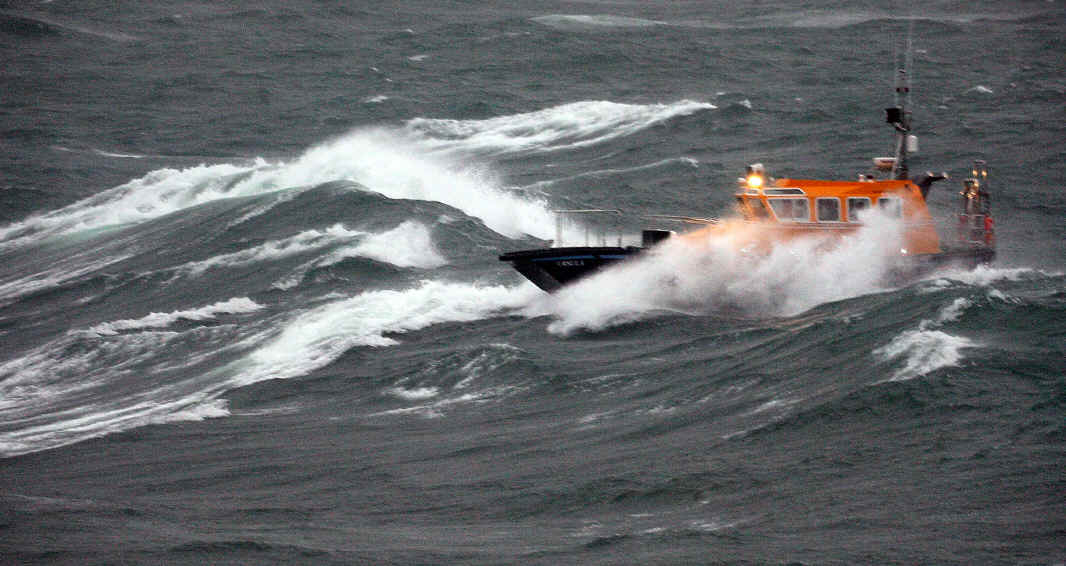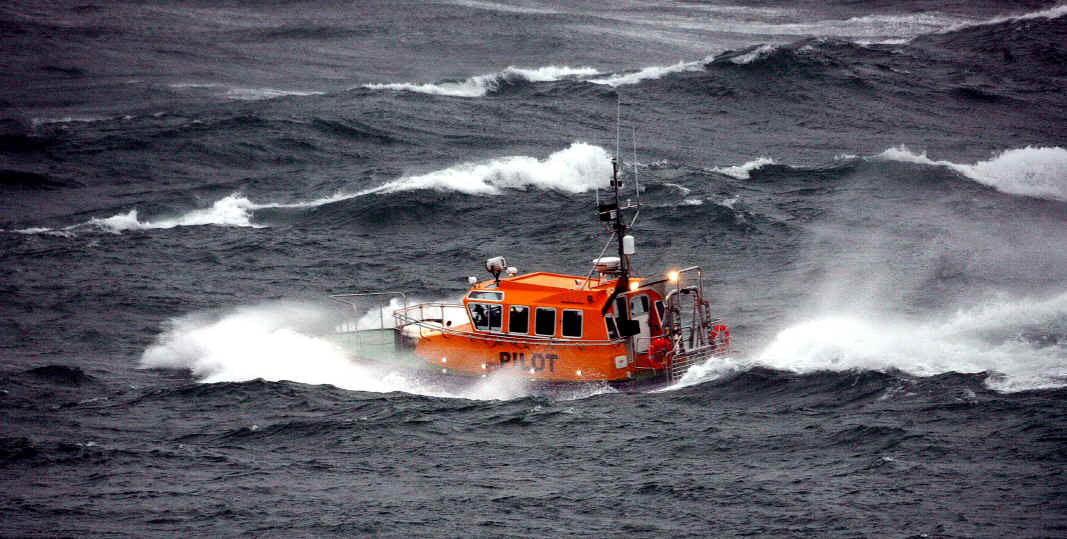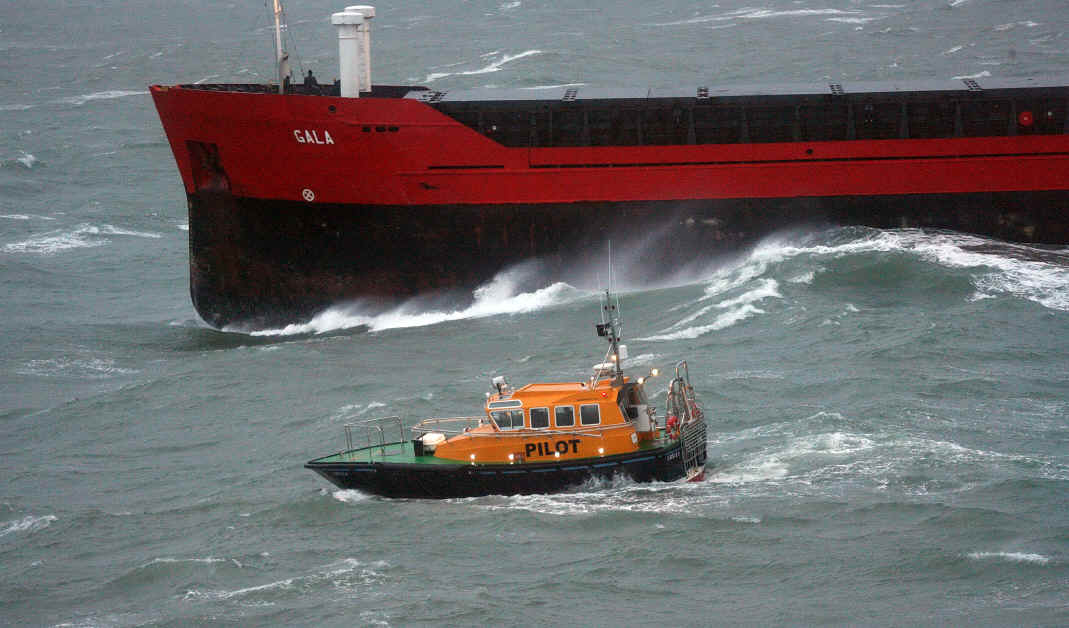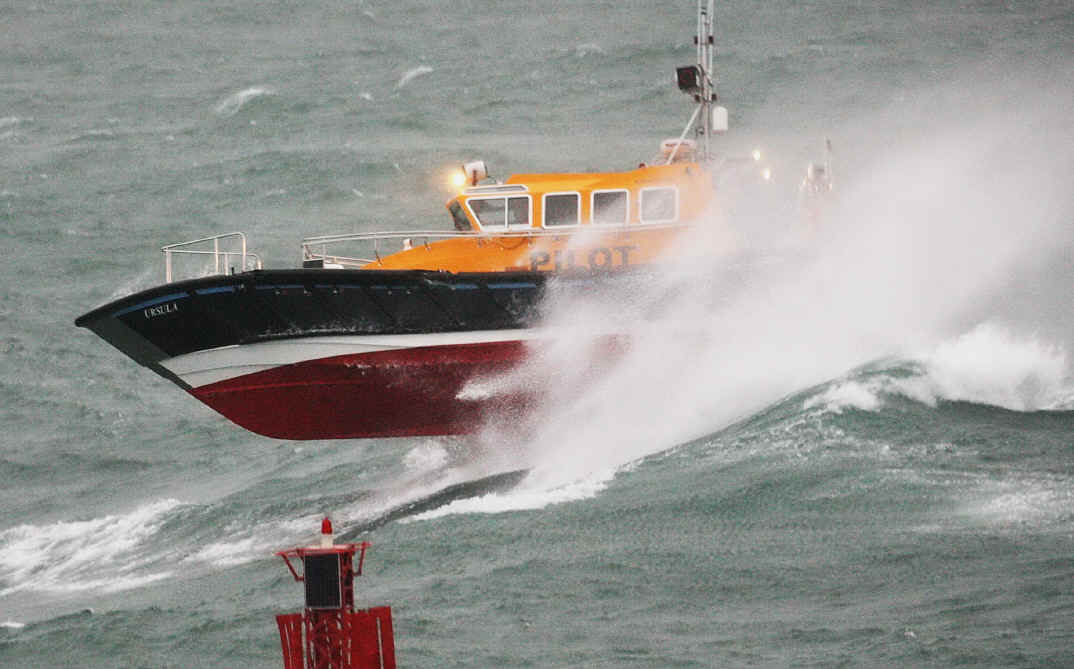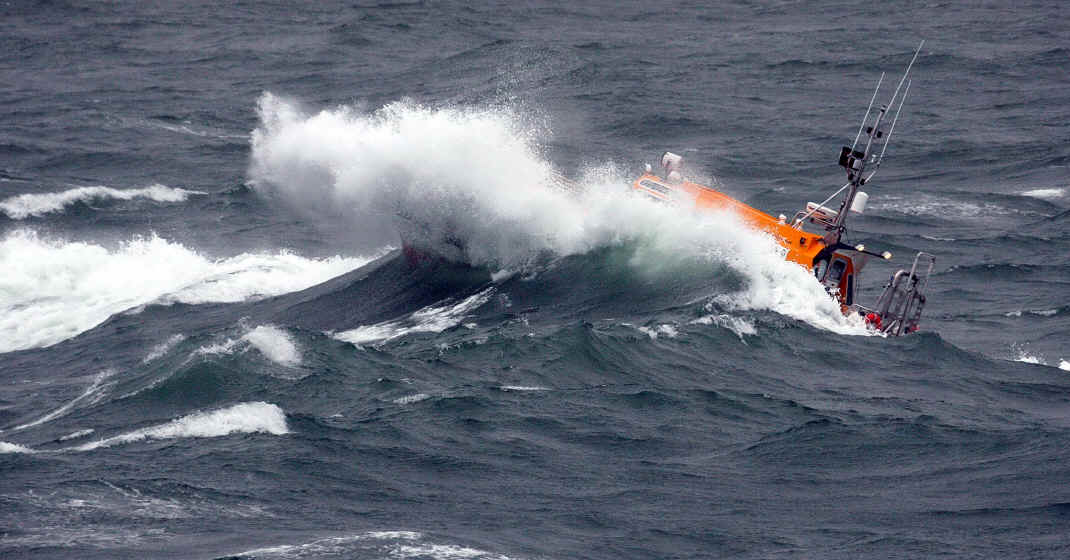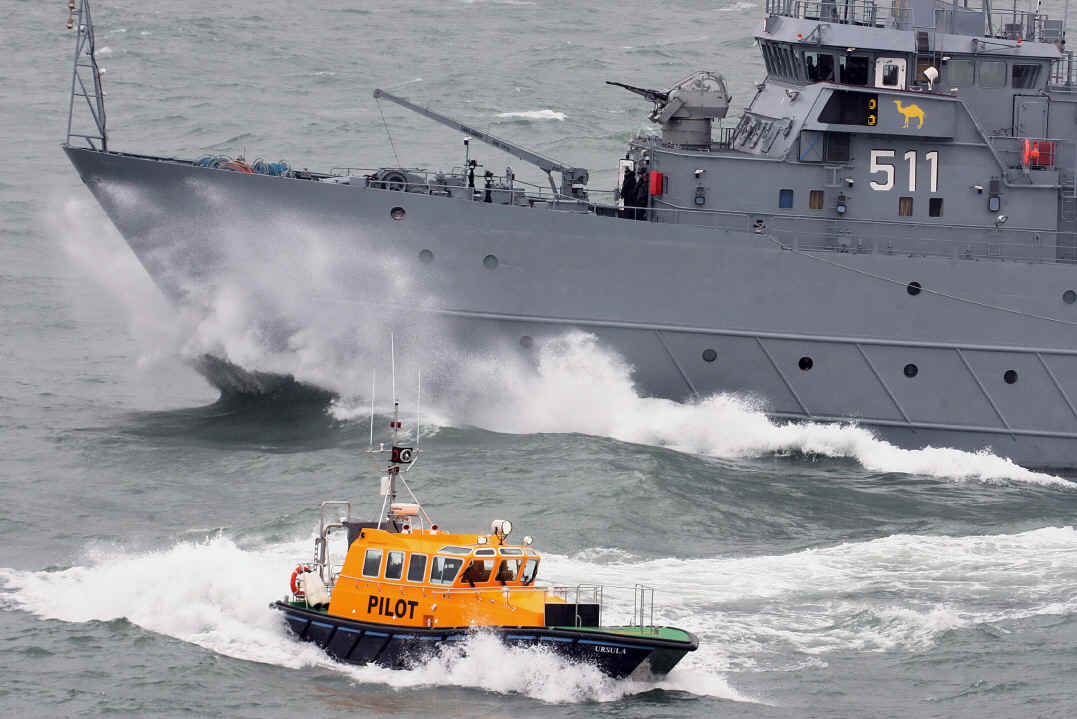 By a lucky coincidence the flotilla of several nay ships visiting Cork this week left port at the end of our sea trials, Ursulas sister ship the Cork pilot vessel Gleann Mor was carrying out pilotage duties and the captains allowed us to capture some nice pictures of Ursula running along side their ships as they left port, affording us a rare photo opportunity producing these nice pictures.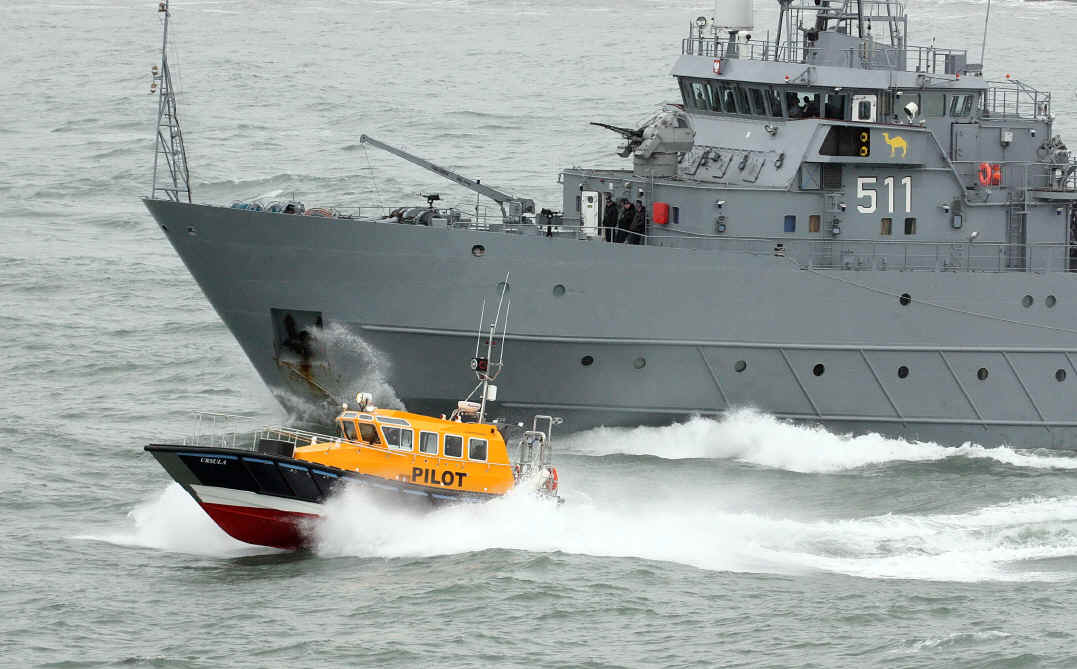 Below , 'Ursula's dark blue hull and blue stripe in the ports colours compliments her striking golden yellow superstructure to produce a fine looking pilot vessel.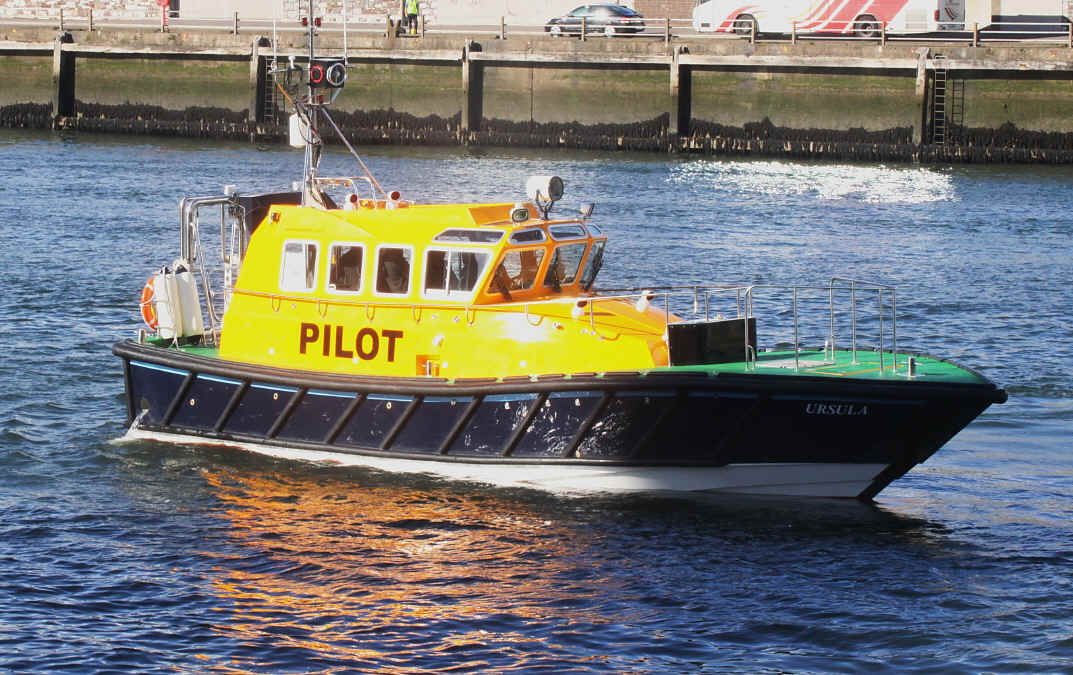 Her interior is fitted out to a high standard featuring 4 CAB 300 series pilot seats and a central helm position, which is fully adjustable for reach, height and adjustment to the angle of wheel, as in a car and providing an ergonomically comfortable steering position for the helmsman. The central orientation also gives excellent all round visibility and equal control of the vessel when boarding to port or st/bd, multiple high level windows provide the helmsman with panoramic visibility.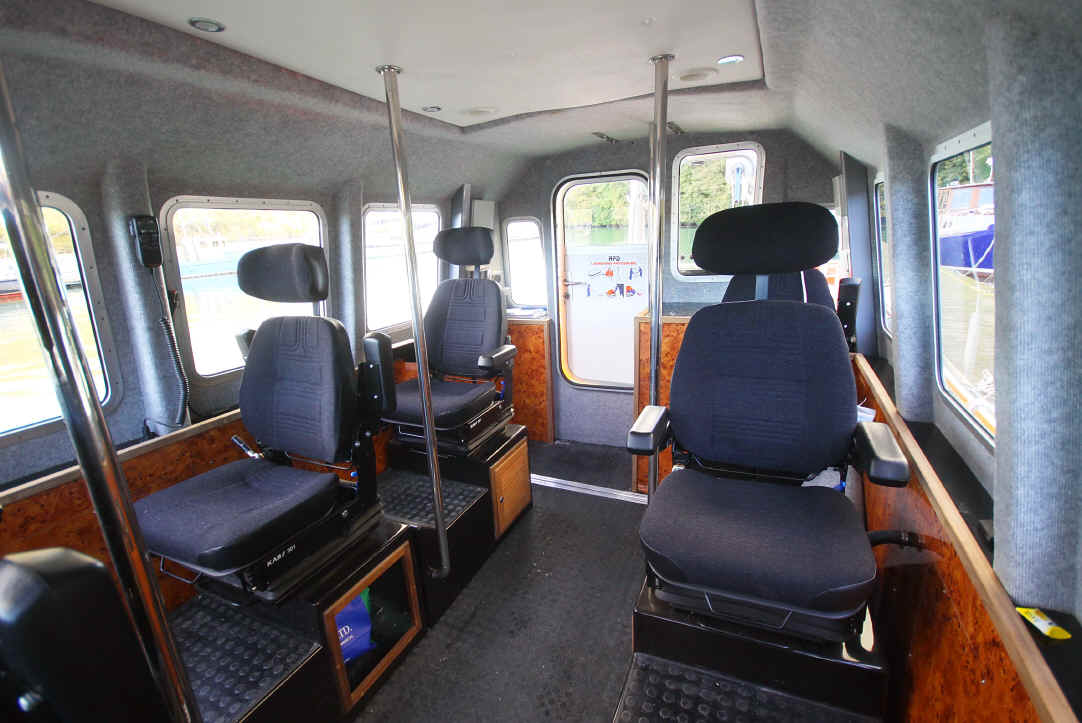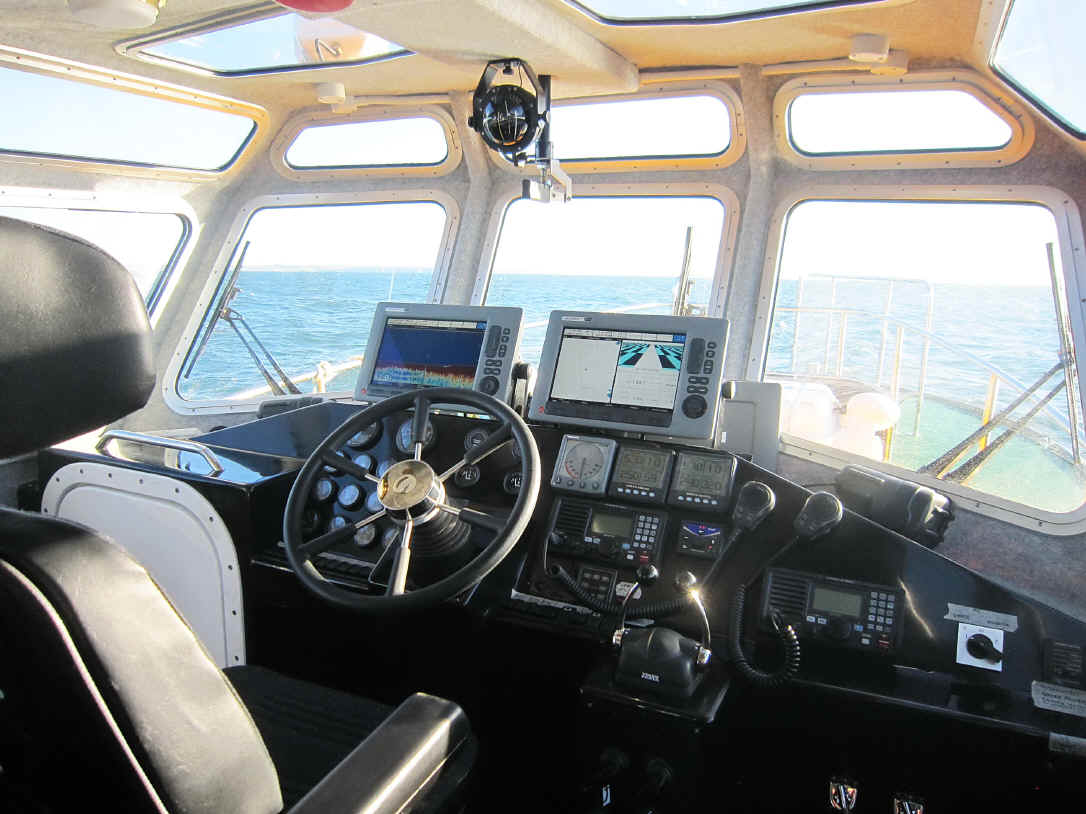 'Ursulas' interior is fully lined with grey sidelining, white headlining and walnut effect Formica laminates for ease of maintenance and durability. Each pilot seat is mounted on a removable GRP pedestal with storage lockers incorporated within. Multiple vertical hand holds provide safe passage through the cabin in rough weather. The cabin layout, companion way doors and hatches all comply with DMA regulations providing clear width of 600mm.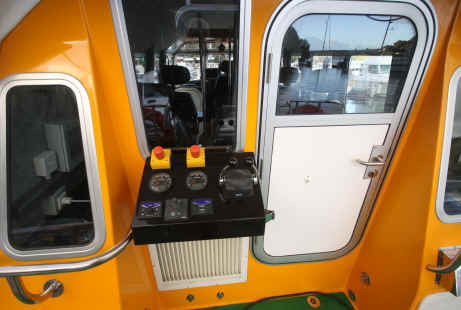 Above, 'Ursula' features a refinement and development of our Safehavens MOB recovery platform featuring a recovery basket raised to deck level and lowered 400mm below the waterline by a double pulley system and self tailing winch. The recovery basket folds back against the transom when not in use. The system has been refined by incorporating an aft helm position with full repeat engine and steering controls that can be used during MOB recovery, allowing the helmsman complete control of the vessel. The fallen casualty is further protected by incorporation of a propeller guard that extends below the waterline protecting the casualty from the propellers, in addition the exhausts exit at the transom quarters dispersing exhaust gasses into the vessels wake, see below.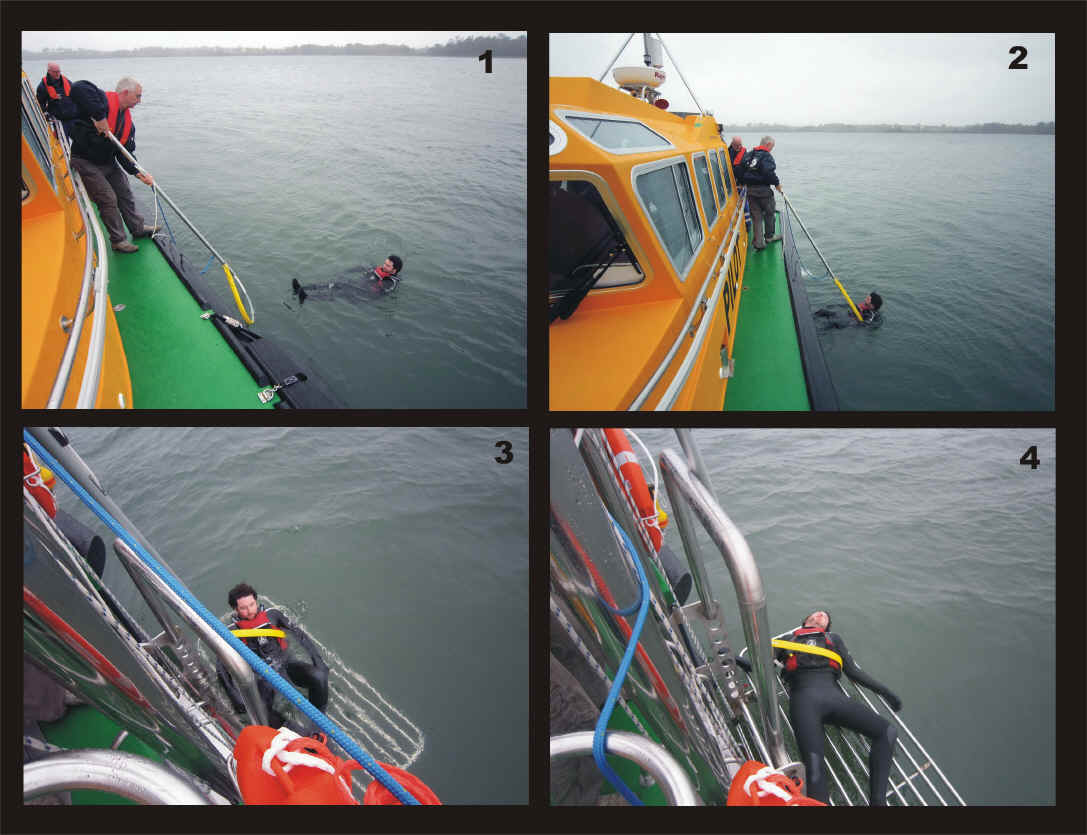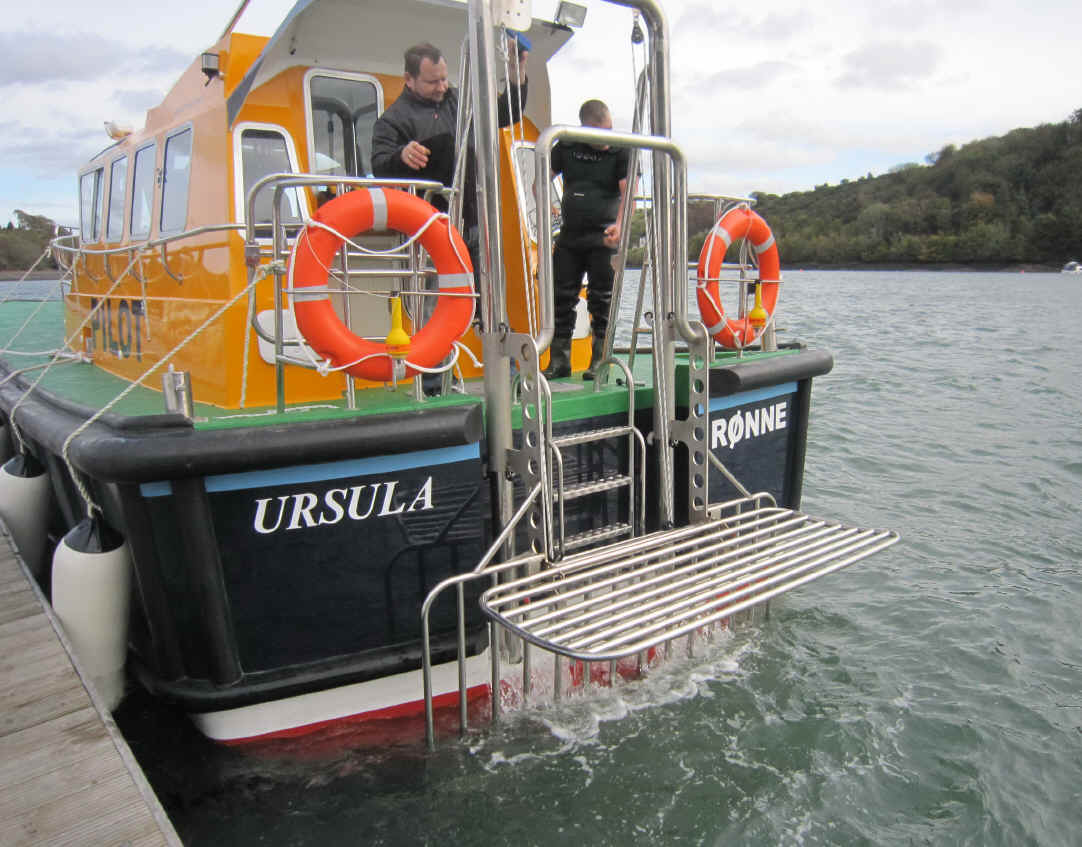 The propeller guard and its effectiveness can be seen clearly here.
'Ursulas' engineering installation is the the highest standard complying with the Danish Maritime Standards for pilot vessels, the hull was built under Bureau Veritas survey to BV approved plans. Her twin VOLVO D12 engines are easily accessed for maintenance