'SKUA' THE PORT OF LIVERPOOL'S NEW INTERCEPTOR 48 PILOT VESSEL IS LAUNCHED
Safehaven Marine have launched the new Port of Liverpool pilot vessel, an Interceptor 48 pilot 'Skua' The vessel was ordered in 2010 after a stiff international tender process, during which Safehaven Marine was awarded the tender. 'Skua' was delivered in April, on schedule to the Port of Liverpool , and has been universally praised by all involved at the port. Skua is the second of Safehaven Marines Interceptor 48 pilot vessels, the first of which was delivered to the Port of Bordeaux last year and is the seventeenth pilot vessel built by Safehaven.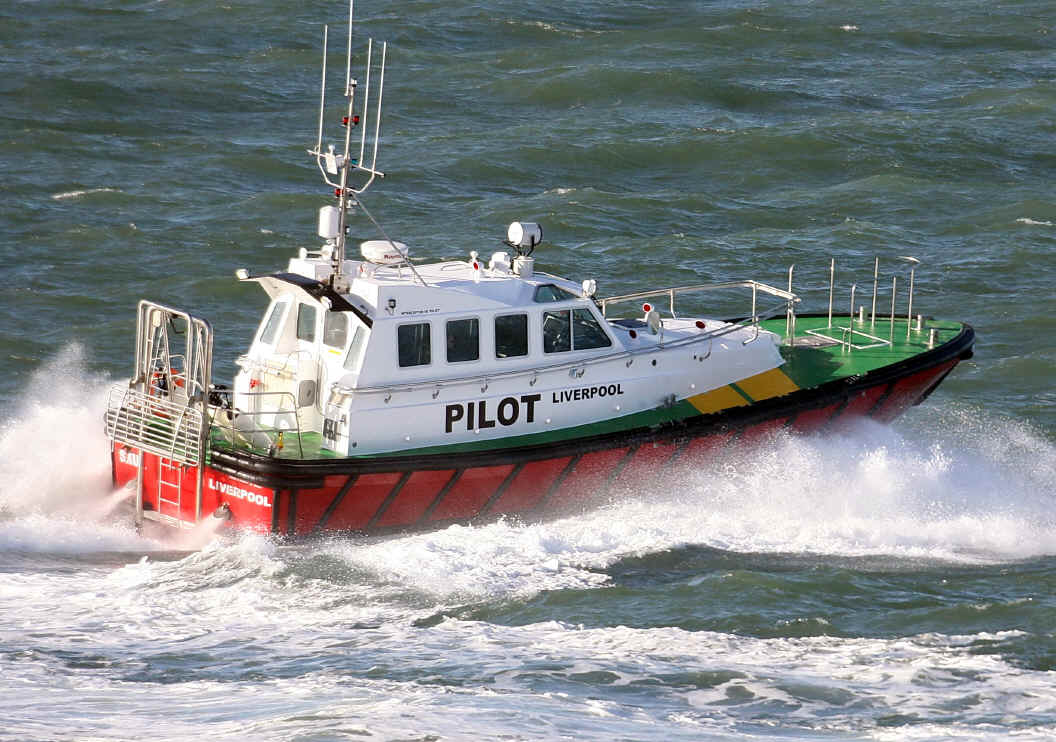 Skua' is powered by twin Volvo D12 500hp engines and twin Disc 5114 SC Quick shift gearboxes providing the vessel with an operational speed of 24kts. She has very responsive handling, runs with a level trim, noise and vibration levels are very low recording just 75db at 20kts, and she provides a very quiet and relaxed environment for her crew and pilots. Alongside ship handling trials proved very successful, she was very easy to control coming alongside, held station effortlessly and broke away easily without her transom corner even touching the ships side. 'Skua' is certainly a very striking vessel combining her bright red hull with the Interceptors graceful lines. The vessel is 14.5m LOA, with a 4.3m beam and 18,000kg Displacement. She has a seating capacity for 7 pilots and two crew, 5 air suspension Grammer pilot seats are fitted in the main cabin, with a further two in the forward cabin, which is very luxuriously fitted out with a full galley, 4 person dinette and a separate heads compartment. The pilots are well catered for with the vessel featuring air conditioning with high level outlets throughout the main cabin providing a comfortable environment. Double glazing on all windows ensures good visibility is maintained at all times without the usual problems of misting in poor conditions. A very high level of fit out has been undertaken, with teak and holy cabin soles, walnut Formica laminates and trimming ensure Skua provides a luxurious working environment, for pilots and crew. 'Skua' is very heavily fendered with 150x150mm D section rubber main gunwale fendering augmented with Safehaven's unique sacrificial shoulder fender system, ensuring pilot boarding's in rough conditions are soft, with impacts well cushioned and the main fender and hull structure fully protected. Multiple diagonals and a lower run further protect the vessel, Additional fendering at the rounded bow allow the vessel to be used for occasional 'pushing' duties ,to assist pilots in small ship manoeuvres. A full electronic package supplied by Raymarine based around the E 140 / 120 series displays are positioned flush in a GRP 'wrap around' helm console giving the helmsman excellent command of the vessel, with all displays clearly visible, Safehaven's usual special attention was applied to providing the utmost comfort and visibility for the helmsman.
Other features are a Dometic 240v 3.5kw alternator powered by one engine allowing onboard 240v supplies when underway. MOB recovery is carried out by a further refinement of Safehaven's tried and tested transom operated recovery platform, allowing an injured pilot to be safely recovered from the sea unconscious. Special stainless rear view mirrors were developed by Safehaven at the ports request and prove very useful during boarding maneuvers. Electro hydraulic trim flaps fully protected in recess mounded under the transom provide control over running trim allowing the bow to be lowered for punching through steep head seas, something Safehaven's 48 is highly adapt at, indeed the reputation Safehaven have established for building pilot boats able to deal with the harshest sea conditions was contributory to winning the contract, Skua has been well tested in 4m waves and found to be very relaxed and comfortable in a seaway, as can be seen in accompanying photographs. Safehaven are currently building a second 14.5m pilot vessel for Malta, four 11.5m pilot boats for the Azores and a 16m pilot vessel for Yemen, and continue to prove themselves one of Europe's most successful pilot boat builders.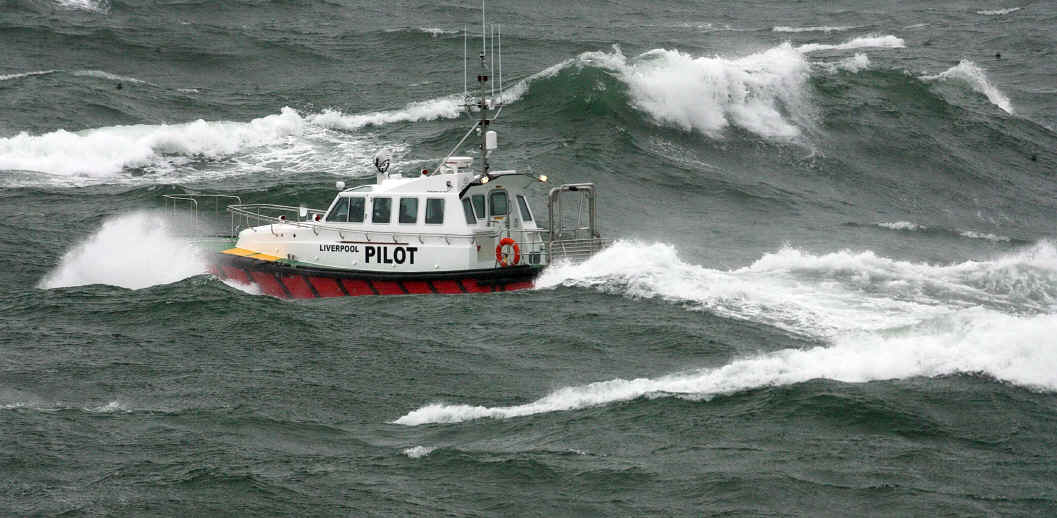 Above and below, the first day of rough weather sea trials were completed with 'Skua' handling very well in 36kts of wind and 3-4m breaking waves. A video of the day can be seen on you tube- http://www.youtube.com/watch?v=JF5JH9enINE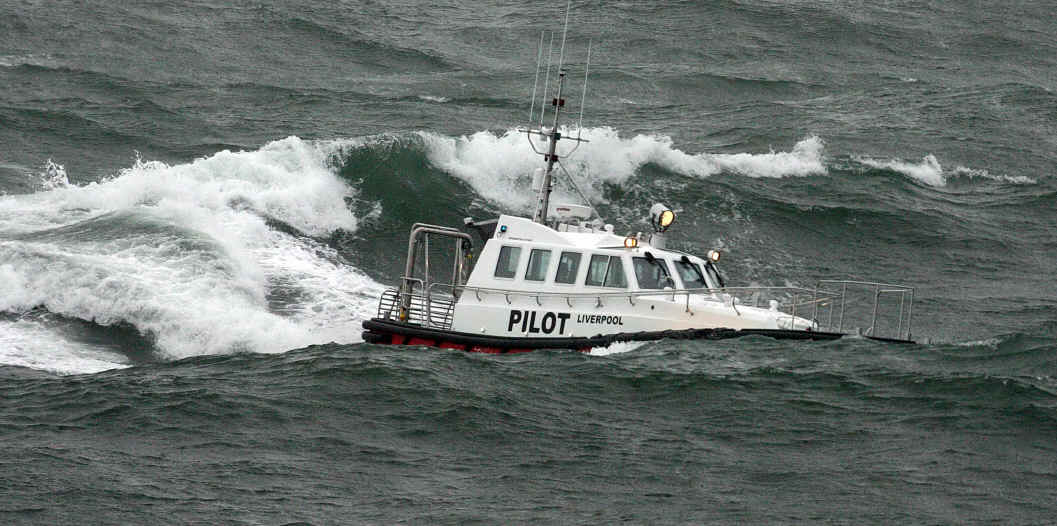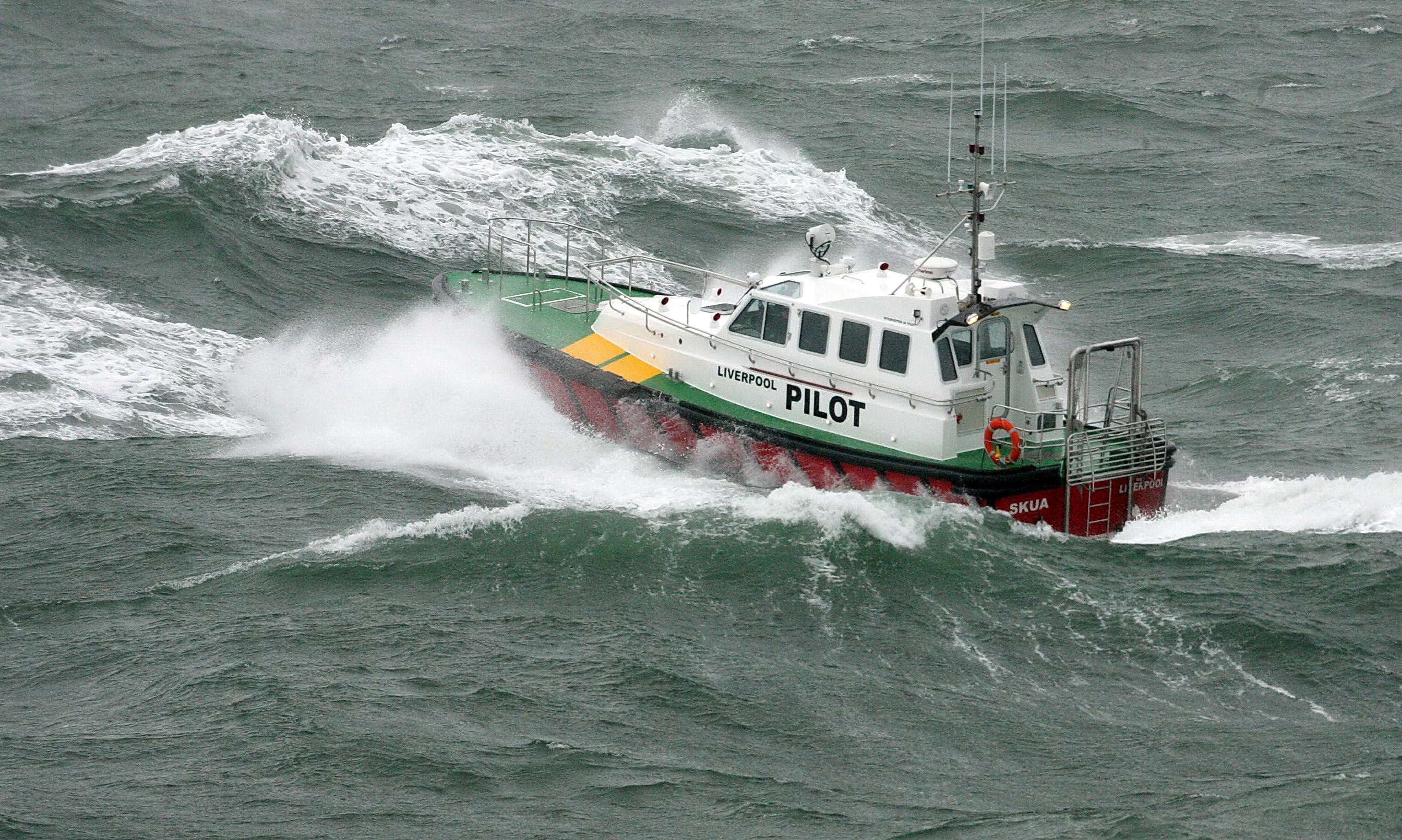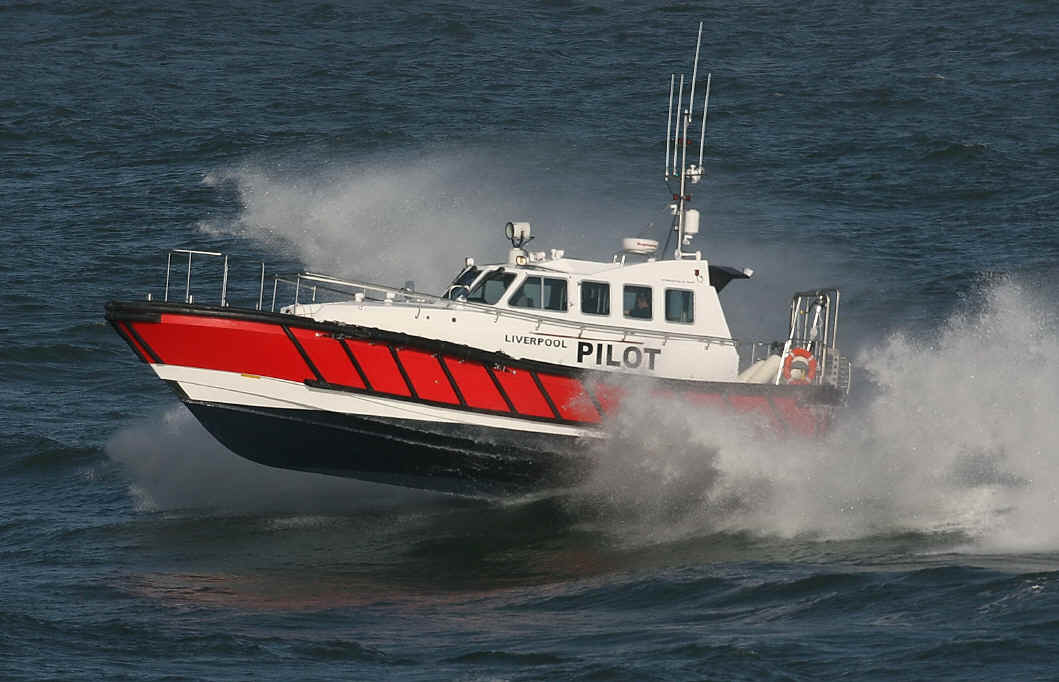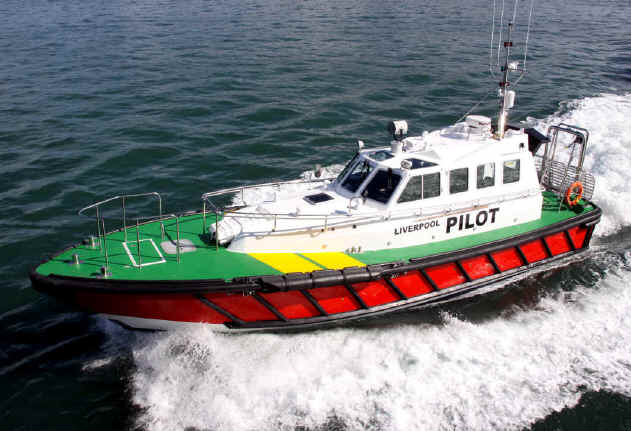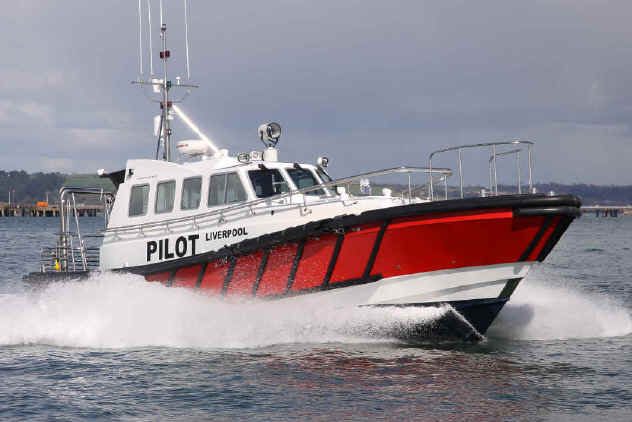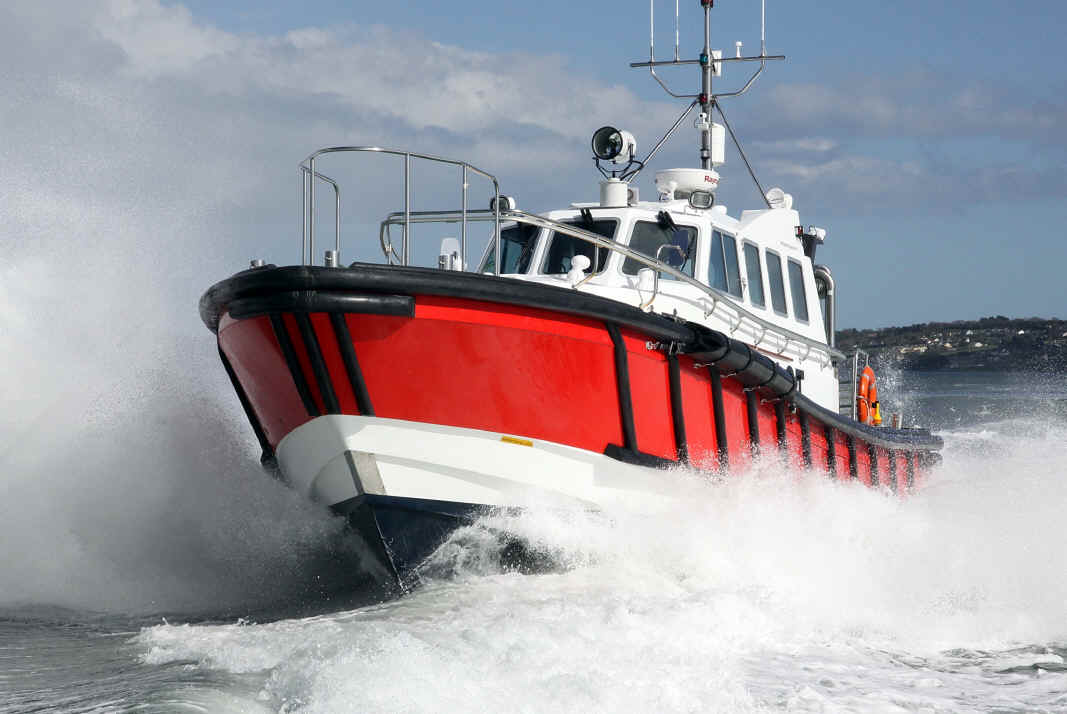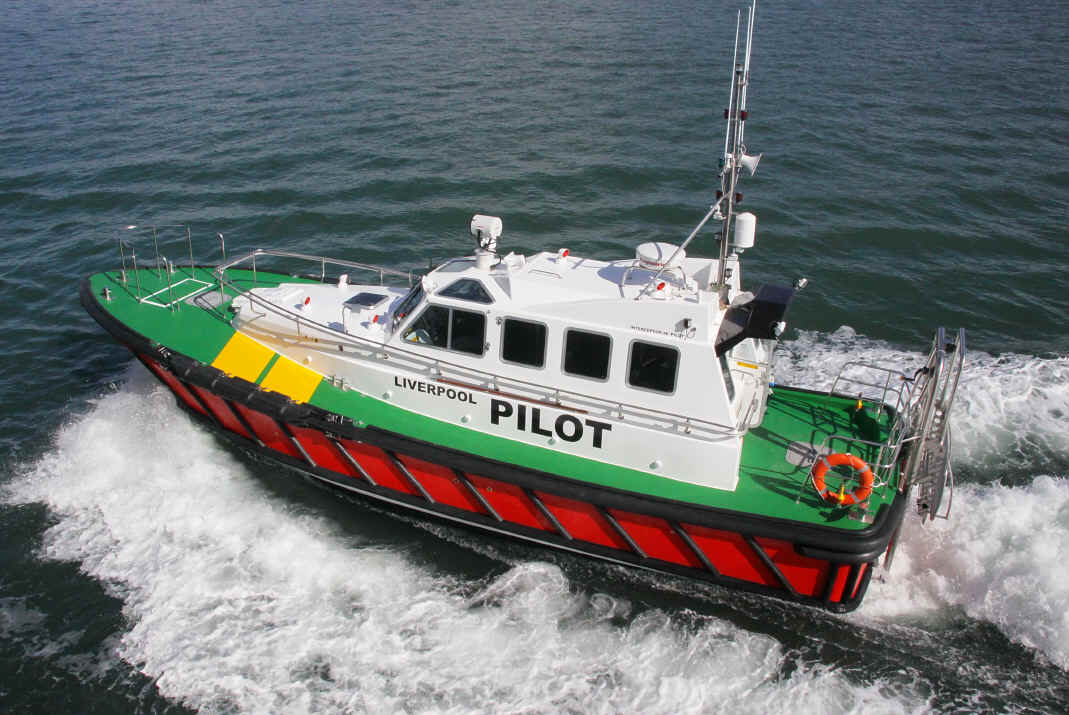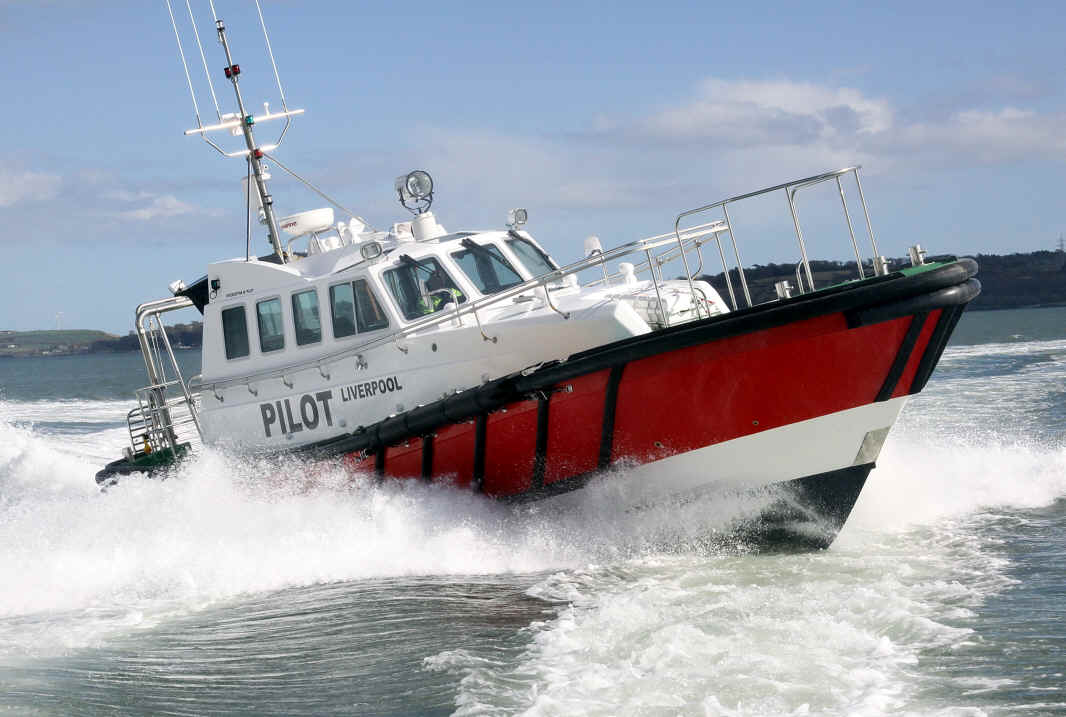 Below, a poignant photograph of the 'Gleann Mor', the first pilot vessel built by Safehaven Marine six years ago in 2005, and our latest pilot boat 'Skua', built some 17 pilot boats later.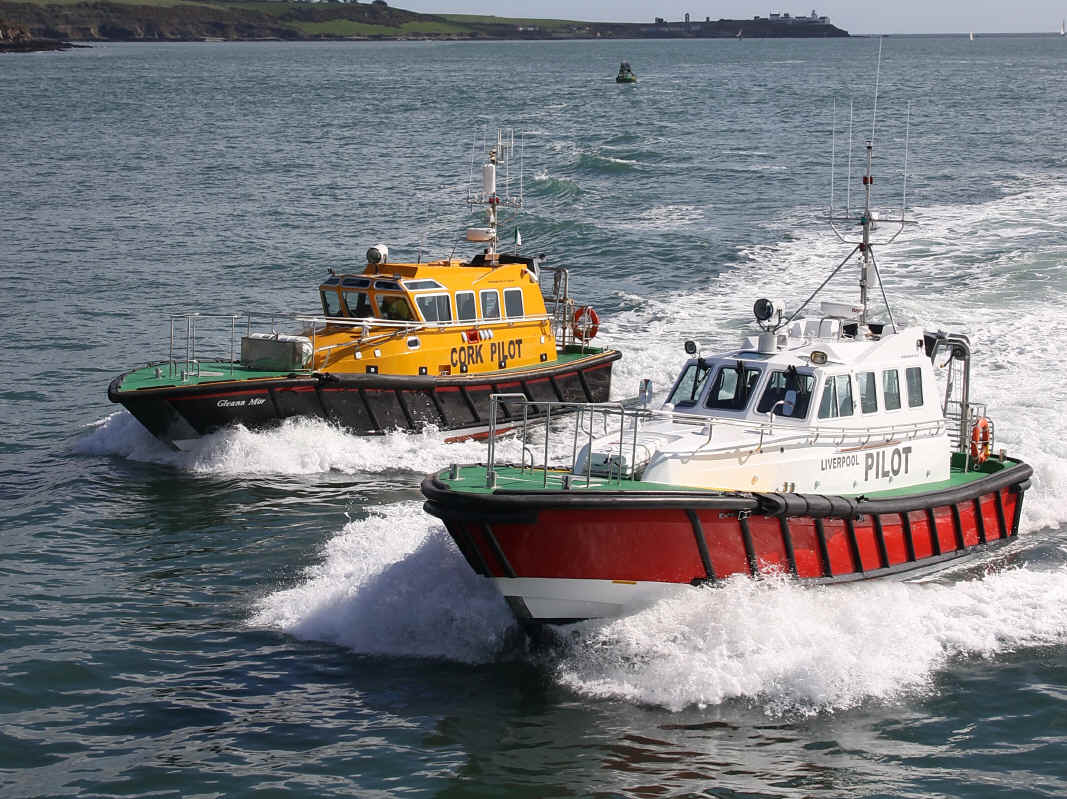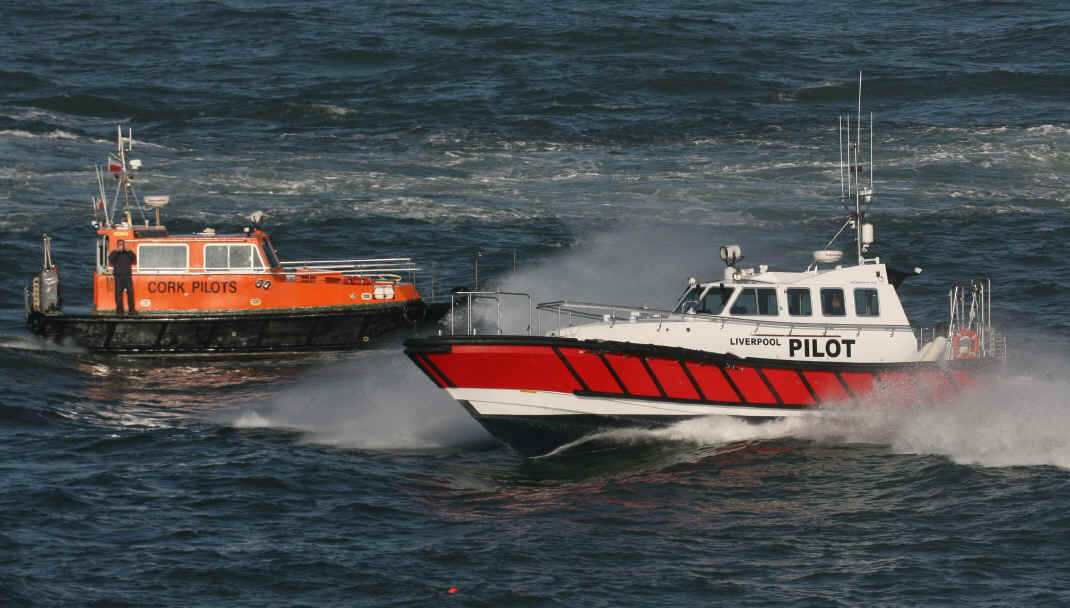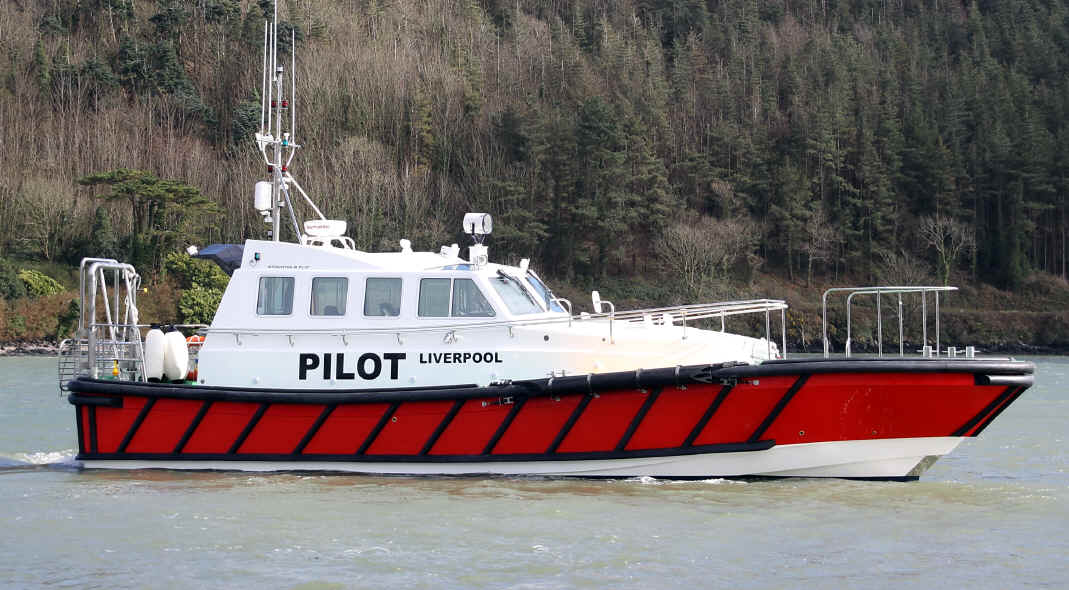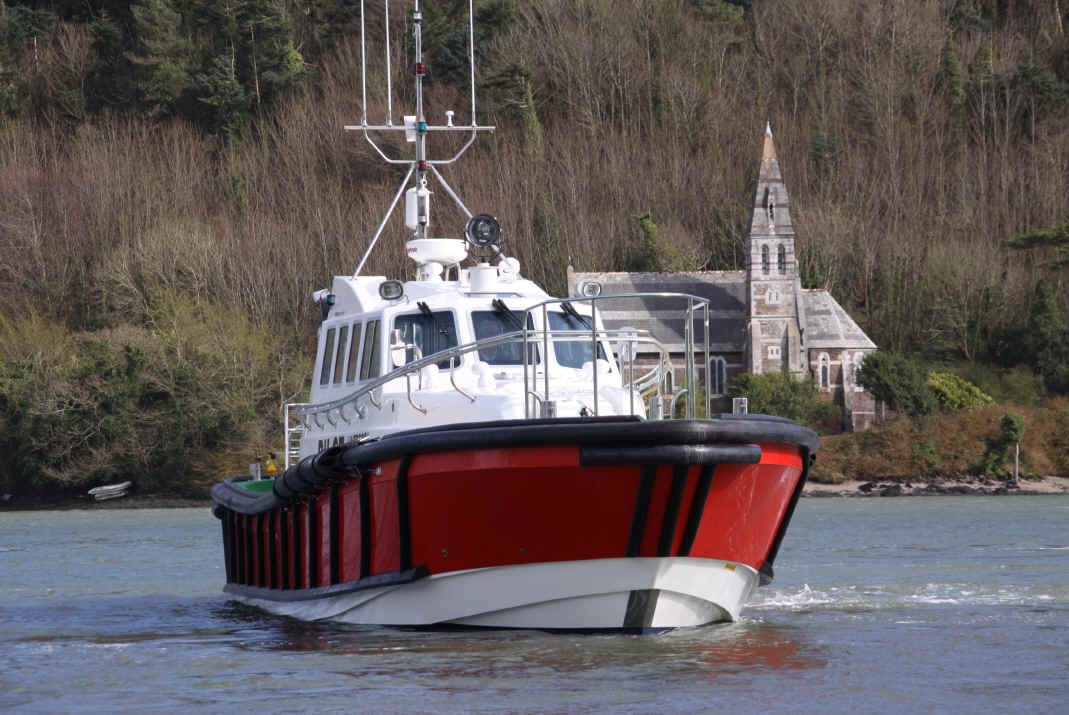 The vessel is very heavily fendered all round. Extra fendering on the bow allows her to be used for pushing duties to assist pilots in close quarter maneuver inside the harbour, and protects the bow and stem from operational damage. Additional fendering at the transom quarters protects this vulnerable area during breakaway in pilot boarding maneuvers.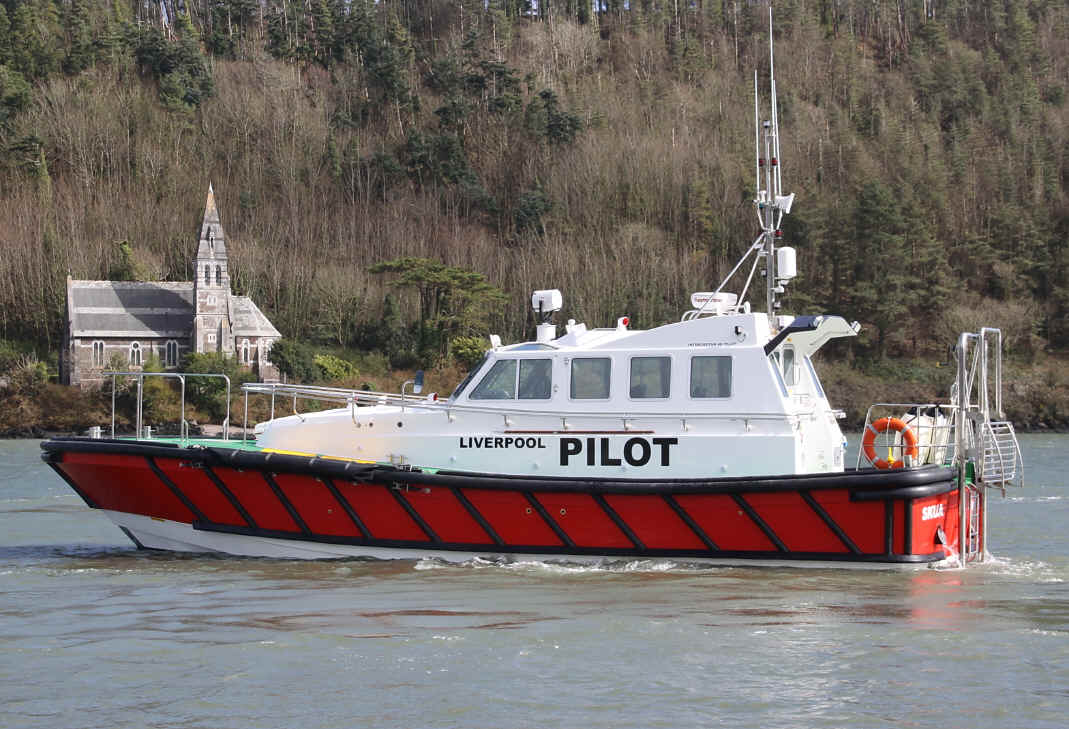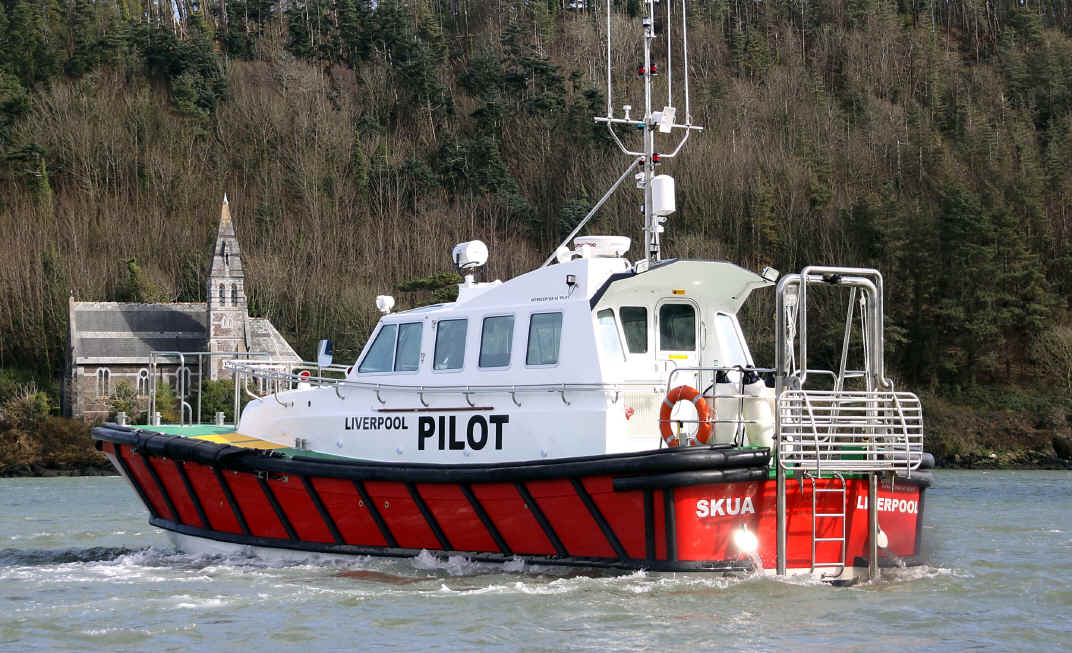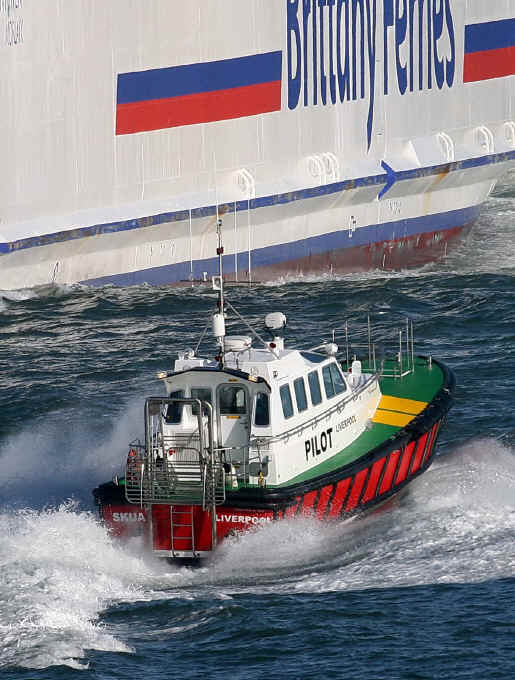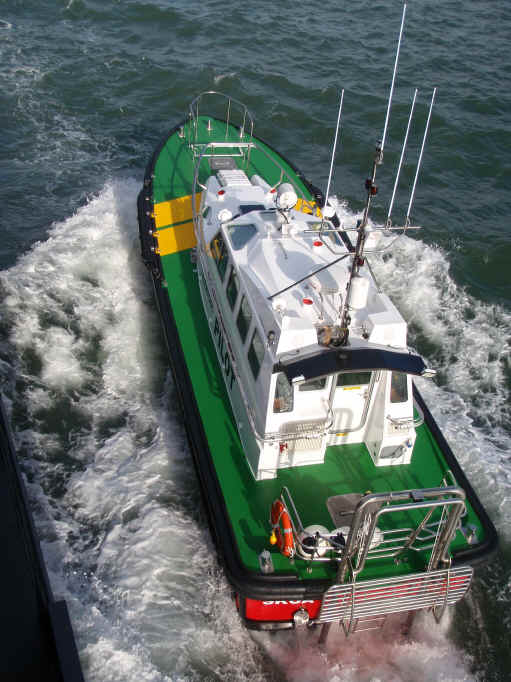 Below- a refinement on our proven sacrificial fender system greatly lessens impacts during boarding, and successfully protects the vessels main fenders.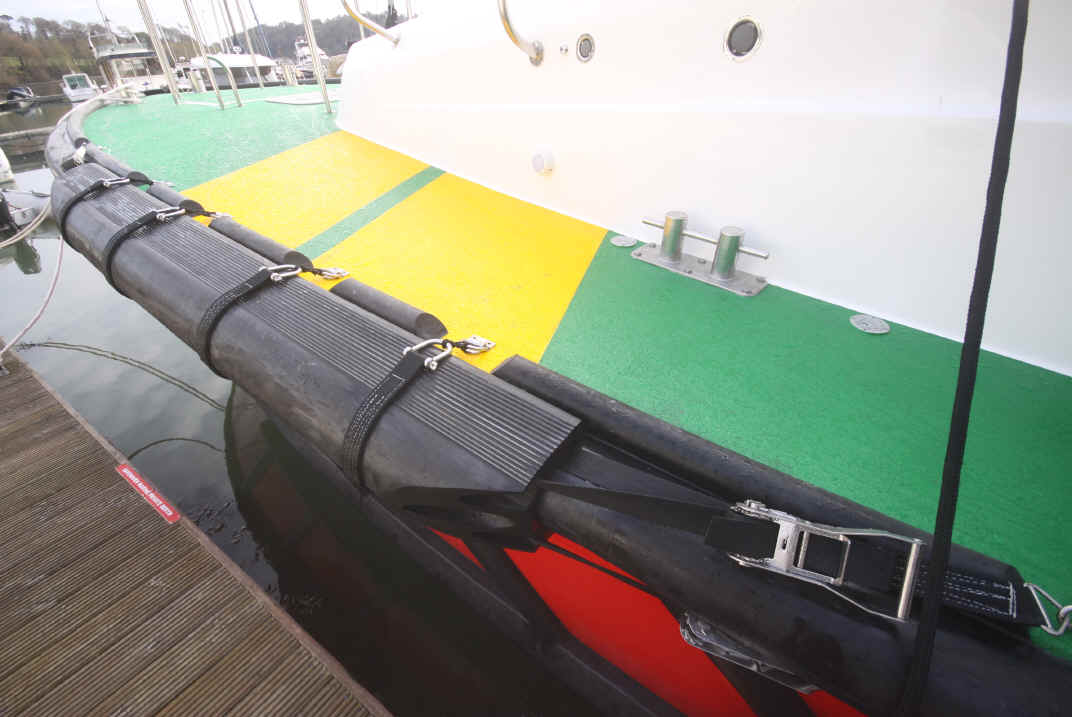 'Skua' has an increased seating capacity to allow for five pilots and two crew seated on Grammer air suspension seats in the main cabin, with an additional two Grammer pilot seats in the forecabin, giving a total capacity for 7 pilots and two crew. In addition the spacious forecabin incorporates a luxurious fit out and features a fit out incorporating a galley, dinette seating for four and a table between, bringing total seating capacity to 11. A separate heads compartment is fitted with an electric toilet and black water tank. The fit out is to a high standard featuring teak and holy cabin sole throughout, and full interior lining in bur walnut laminates, grey sidelining and white headlining, this provides the pilots and crew with a comfortable living environment when on stand by or passage.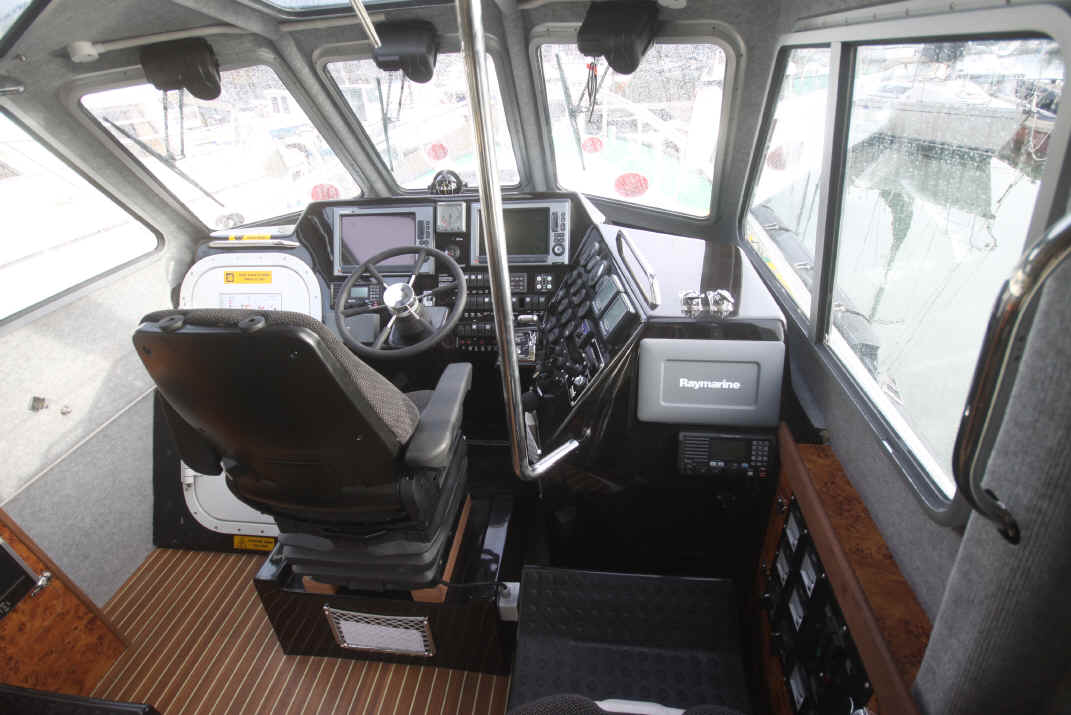 She features a 'wrap around' helm position with all navigation instruments integrated in front of the helmsman, with engine and auxiliary controls alongside, this provides an exceptionally driver focused helm position that is ergonomically comfortable and efficient, allowing the helmsman ultimate control of the vessel. Other features to assist in the vessels operational efficiency are double glazing on all windows and a fully air conditioned cabin from a 16,000btu air conditioning unit with high level outlets.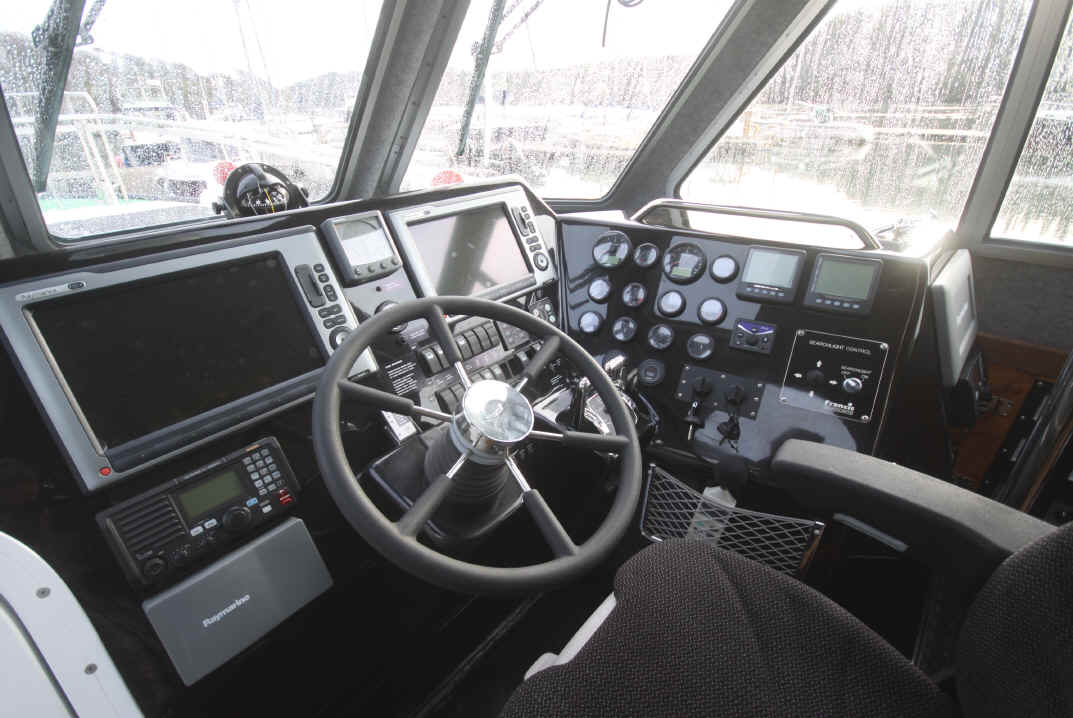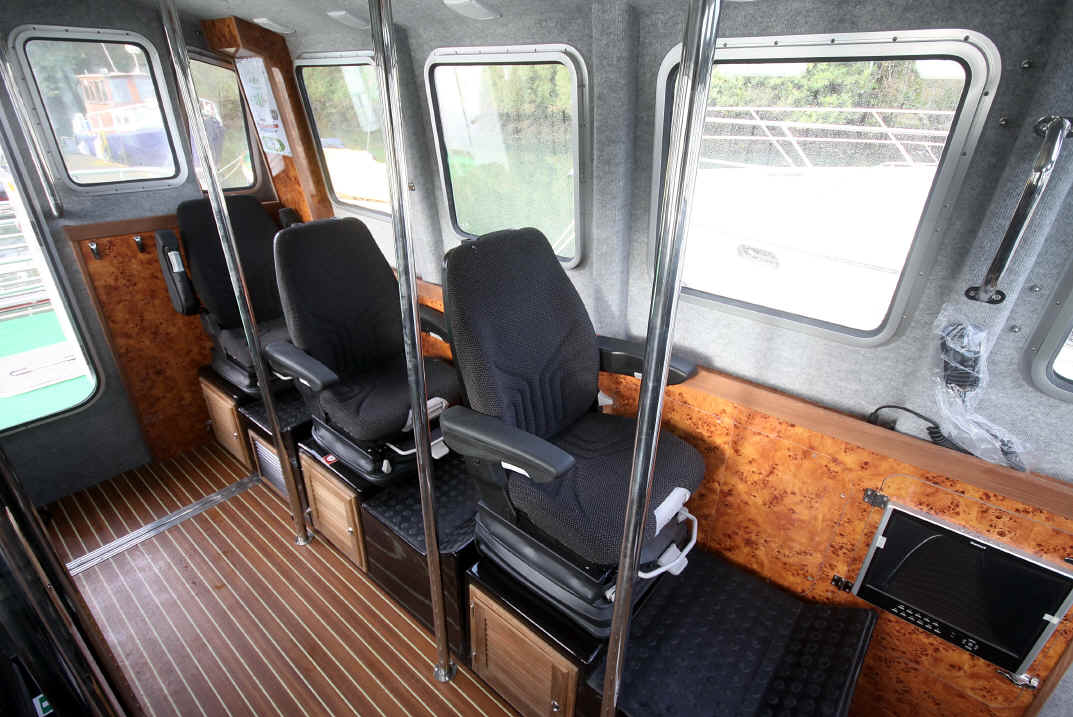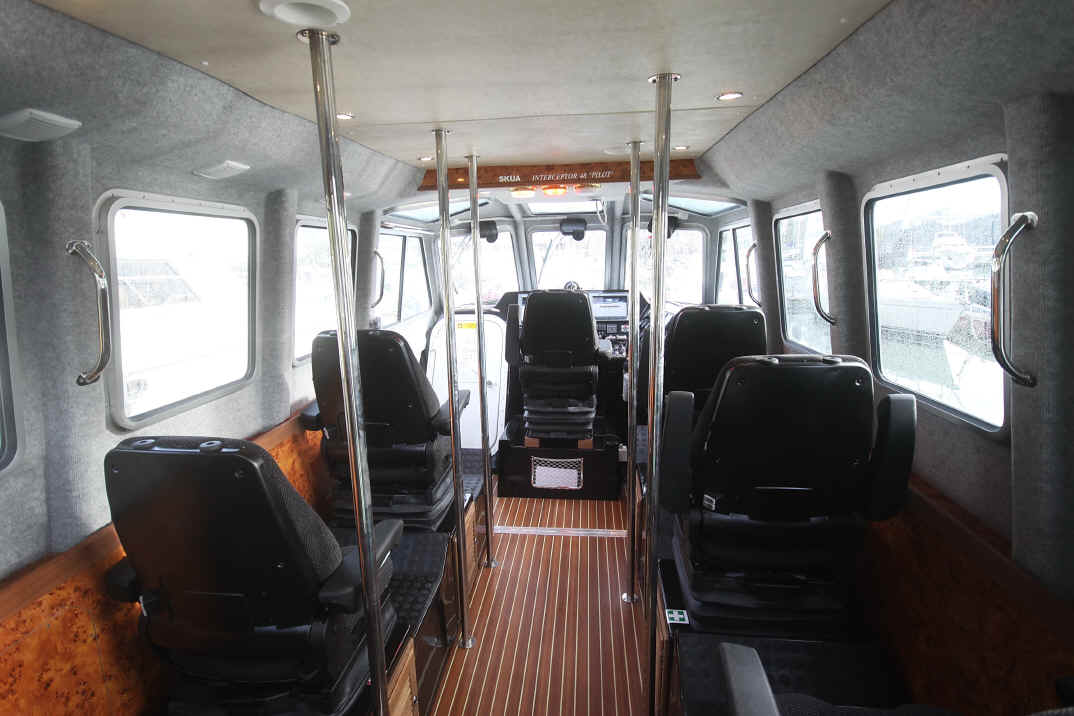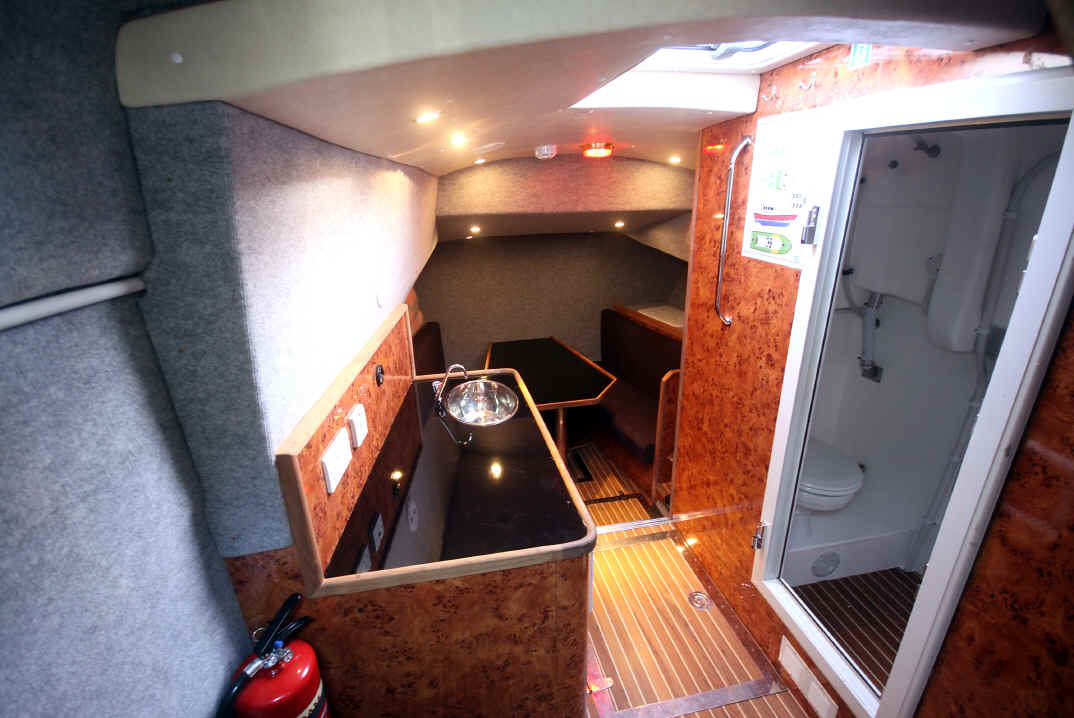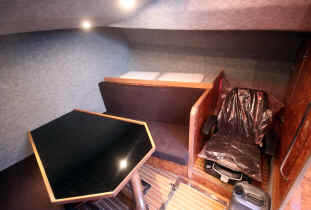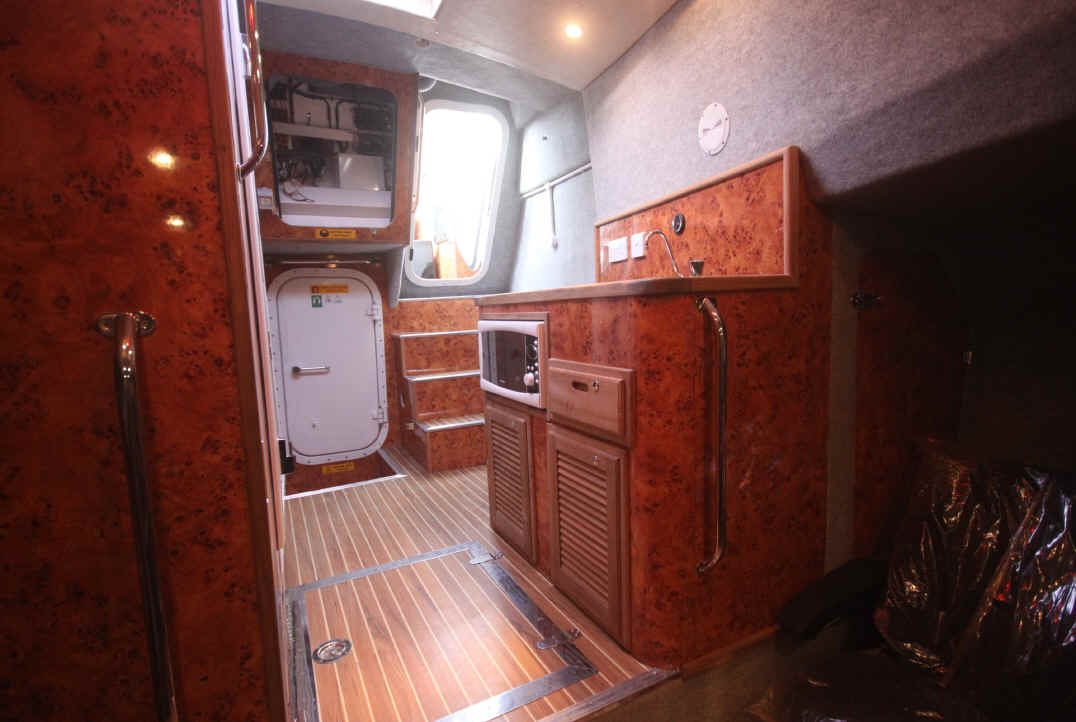 The vessel is powered by two Volvo D12 500hp engines giving a 24kts- 23kts operational speed. She is fitted with an Electrolux 240v alternator and power pack supplying power from one engine providing the vessel with a 240v on board supply which will in addition power a 24,000btu air conditioning unit. The engine compartment is very spacious with easy access to all service components and equipment.