SAFEHAVEN MARINE WIN THE INTERNATIONAL TENDER TO SUPPLY FOUR PILOT BOATS TO THE AZORES, AND LAUNCH THE FIRST VESSEL 'Joćo Vaz Corte-Real'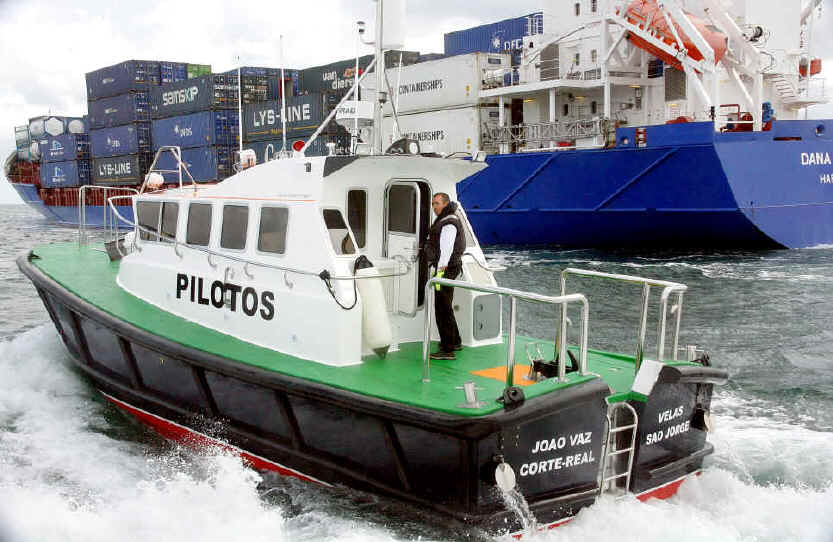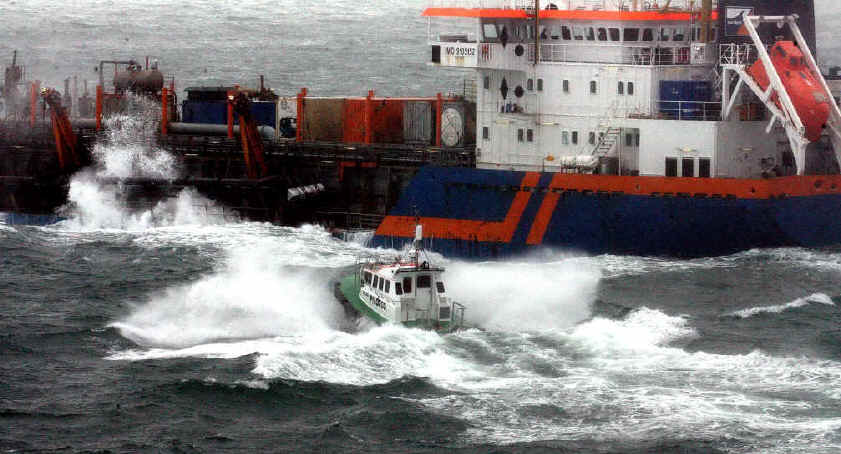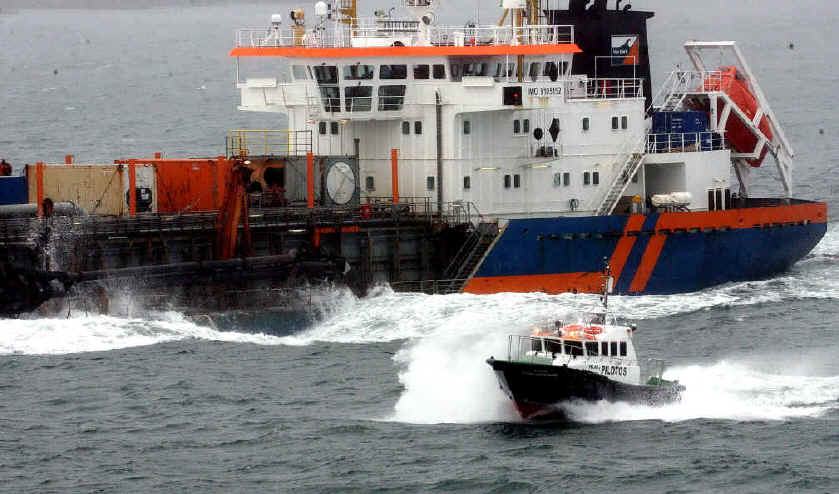 See a video of Joa Vaz Corte-Real during seakeeping / handling trials video 2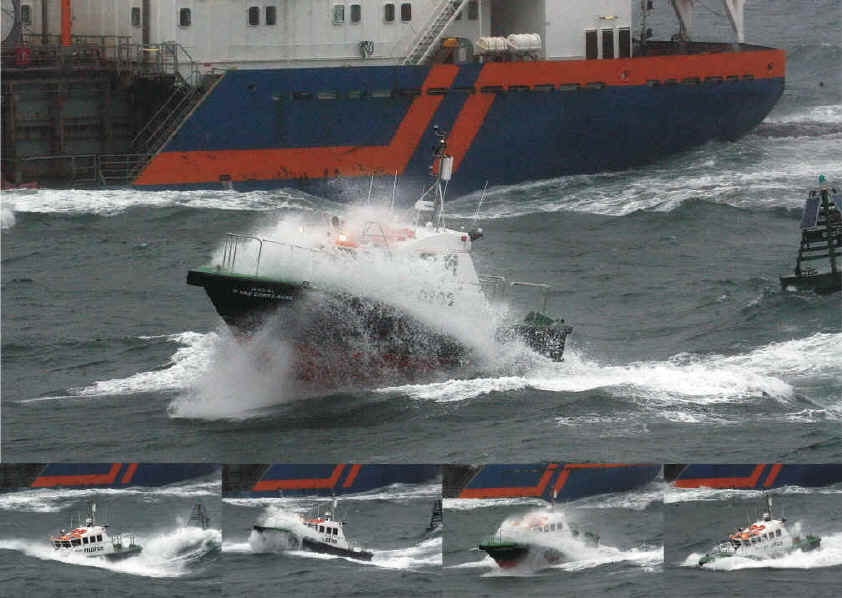 Safehaven were awarded the contract to build four of its new Interceptor 38 / 11.5m pilot vessels for the Islands of the Azores, situated some 1000 miles out into the Atlantic between Europe and America and have launched the first vessel 'Joa Vaz Corte-Real'. The vessels use our proven Genesis Interceptor 38 hull with a new pilot boat superstructure. The vessels are to be built in accordance with the Portuguese Maritime authority regulations and the hull will be built under Bureau Veritas to plan approval by same. Powered by twin Volvo D9 425 hp engines on ZF 'V' Drive gearboxes, the design features a more central cabin position allowing an aft cockpit are which is fitted with a Mampray quick release towing slip hook. the design also incorporates a 'pusher' bow that will allow the vessel to be used for occasional 'tug duties' assisting pilots in maneuvering ships. The design features four pilot seats, and a central helm position. Other features include 1500 litres GRP fuel tanks situated in a midships tank compartment, a forward cabin with a separate heads compartment and occasional sleeping berths as well as providing storage. The vessel will be engineered for hot climate operation with twin 5000m3hr engine room fans. Stainless steel lifting points built in at the bow and transom allowing the vessel to be easily lifted from the water. Engine room access will be via a deck hatch in the cabin sole for daily inspections and two large deck hatches on the aft cockpit facilitating engine removal and service.
Below, latest launch pictures of the first vessel.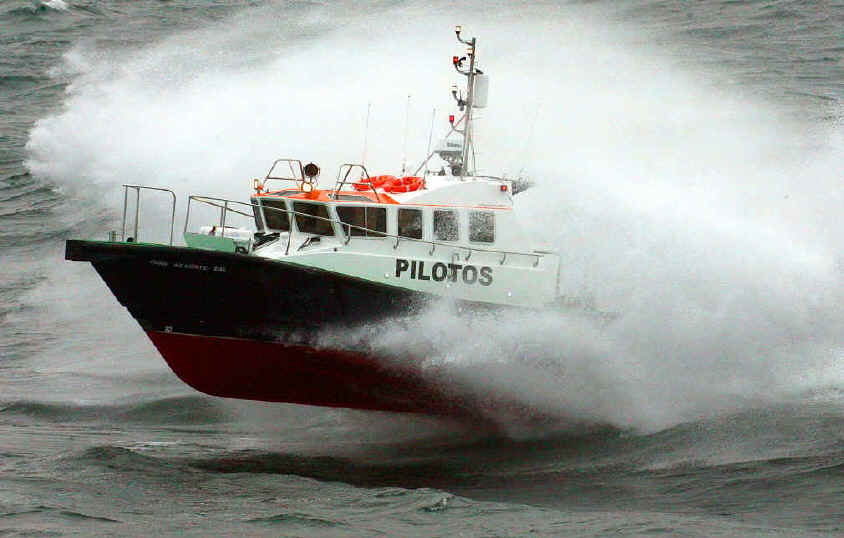 Her seakeeping was tested in 35kts of wind and she displayed the Interceptor's typically excellent levels of seakeeping, being very soft into a head sea, a result of her fine 55 degree bow deadrise and exceptionally stable down wind, being very responsive to the helm.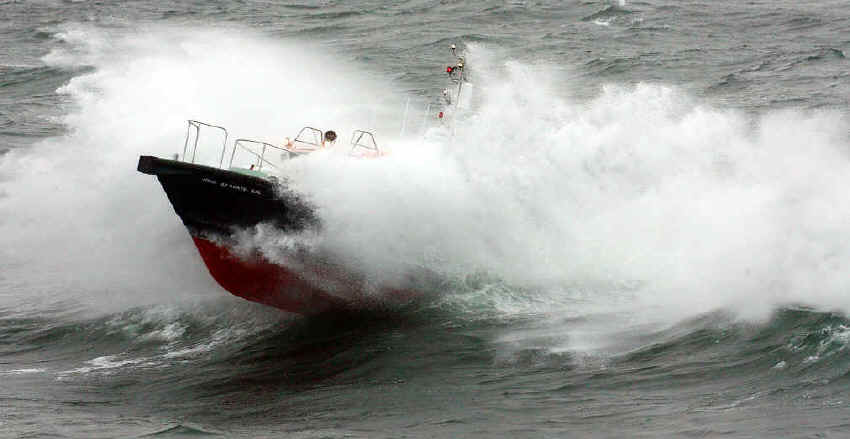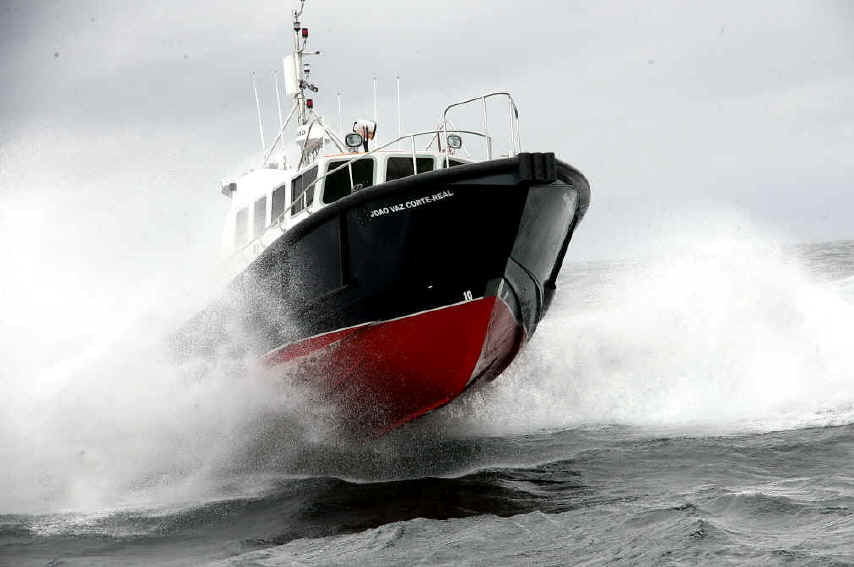 SEA THE VIDEO OF HER SEA TRIALS Featuring alongside ship handling and rough weather trials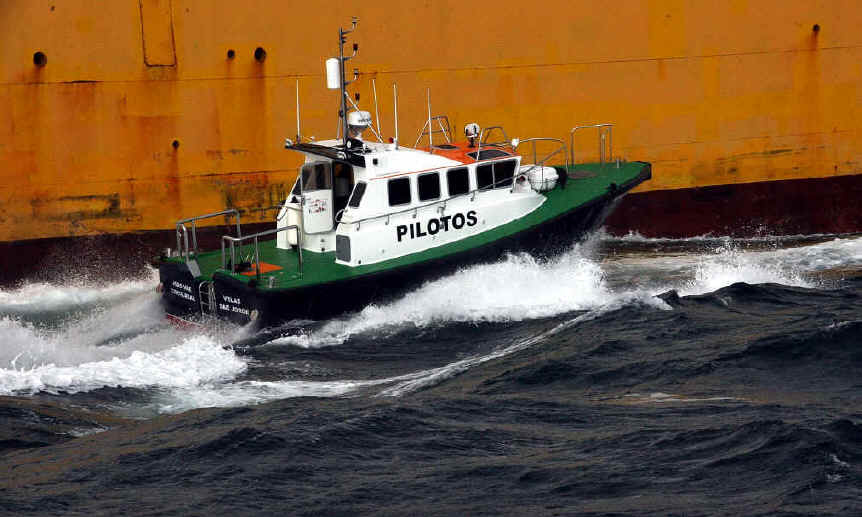 Her interior is spacious and bright and fitted out to a very high standard.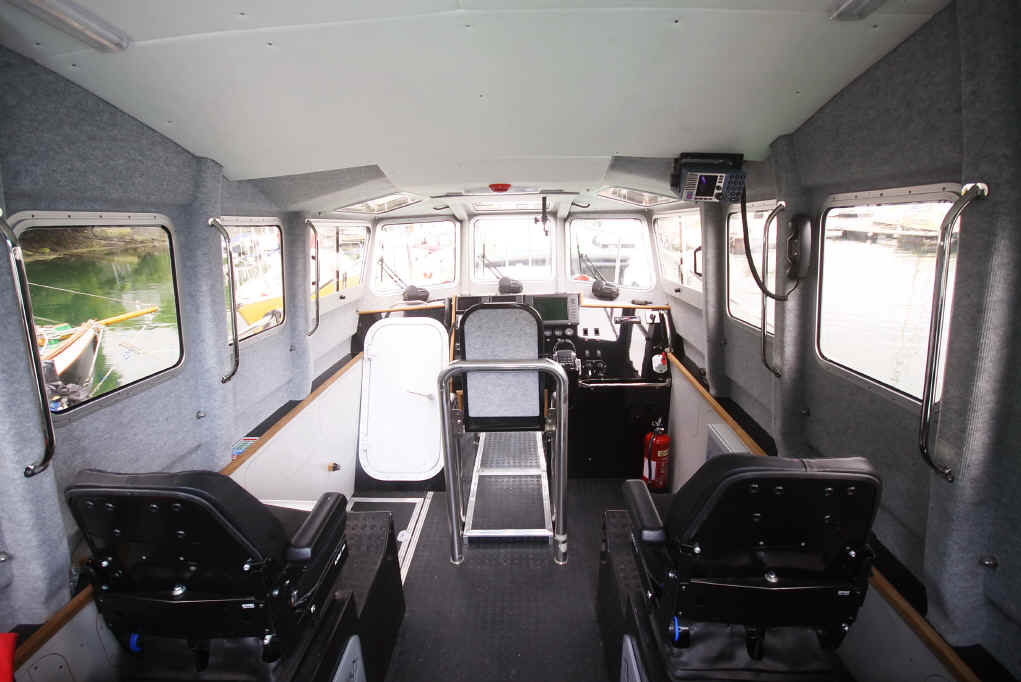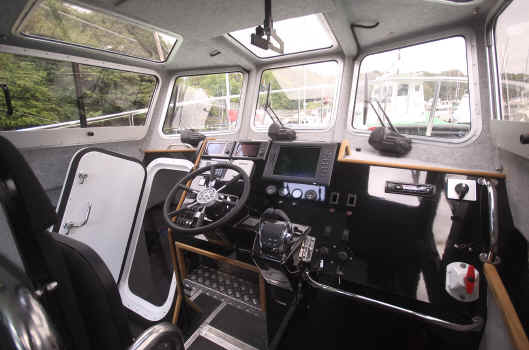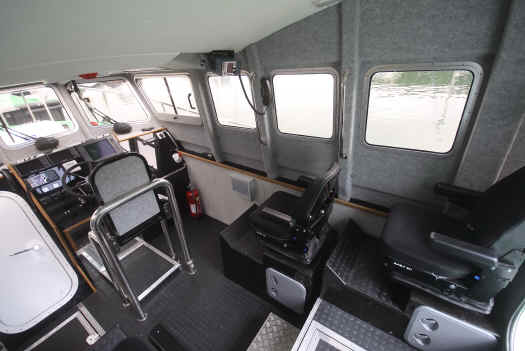 The Volvo D9 engines rated at 425hp provide her with a maximum speed of 25kts and an operational speed of 21kts.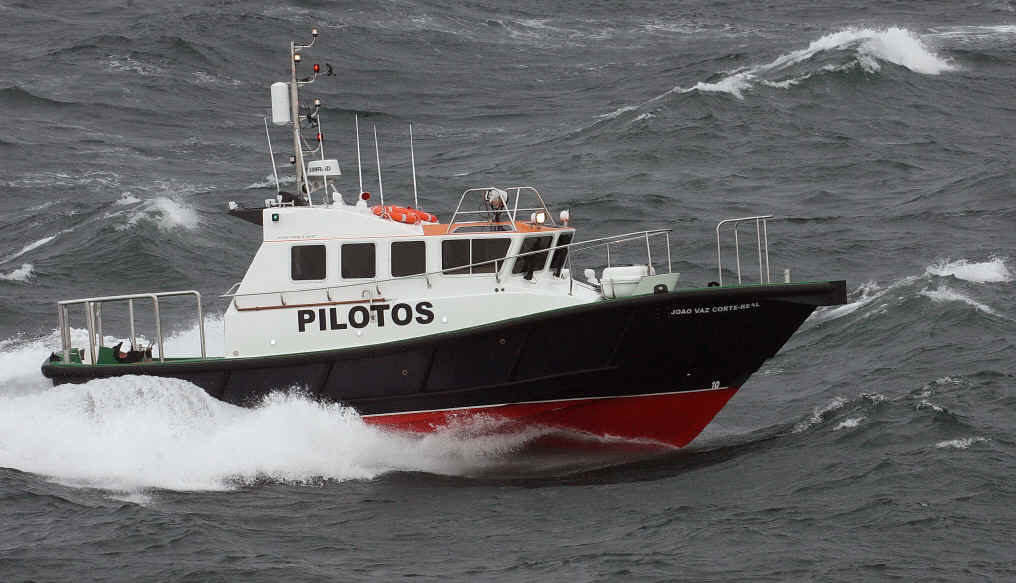 Below, Her designs unique features can be seen here, the centrally positioned cabin provides for a spacious foredeck to easily facilitate pilot transfers, whilst allowing a large aft cockpit for when the vessel is utilized in 'towing' or rope handling duties. At the bow can be seen the integral bow fendering allowing the vessel to operate in 'pushing' maneuvers to assist in maneuvering of smaller ships inside the harbor. these features make the pilot vessel truly 'multi-purpose' and allows ports to concentrate several different vessel capabilities into one vessel in a cost effective, economical manor.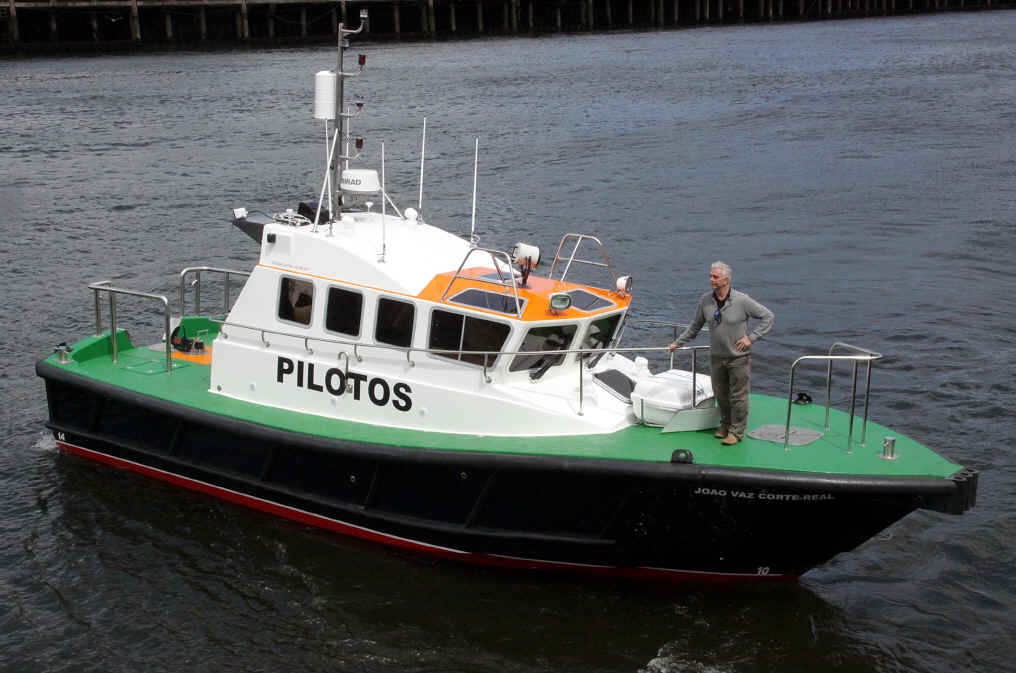 Weighing a lightship12,200kg (13,500kg loaded displacement) 'Joa Vaz Corte-Real' sits with perfectly level trim and displays her graceful proportions, and has the look of a much bigger vessel.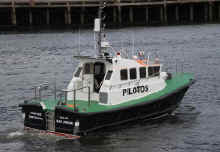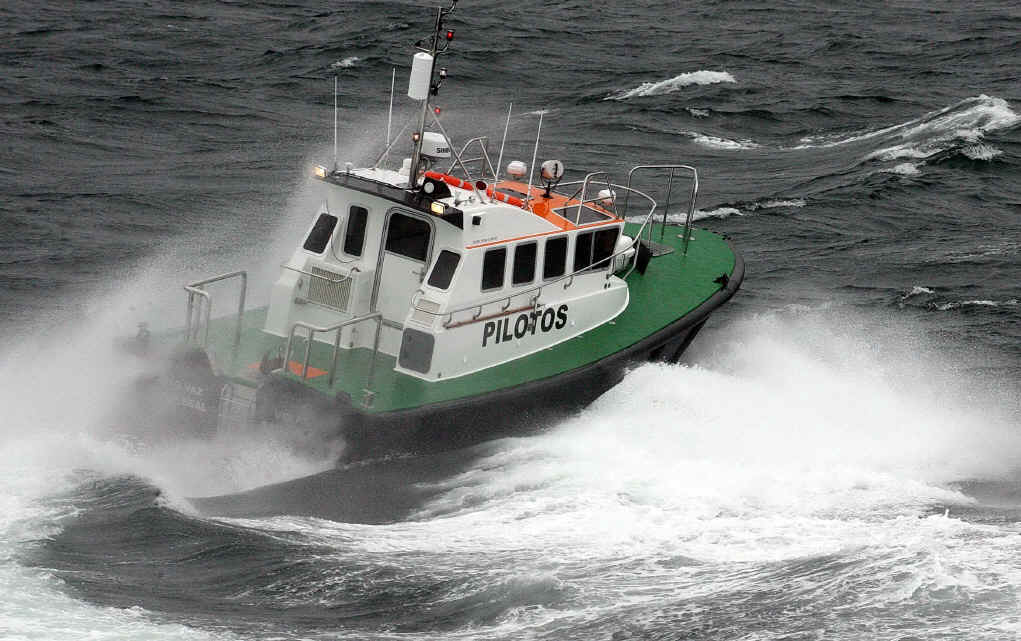 Below, her integral lifting points being tested..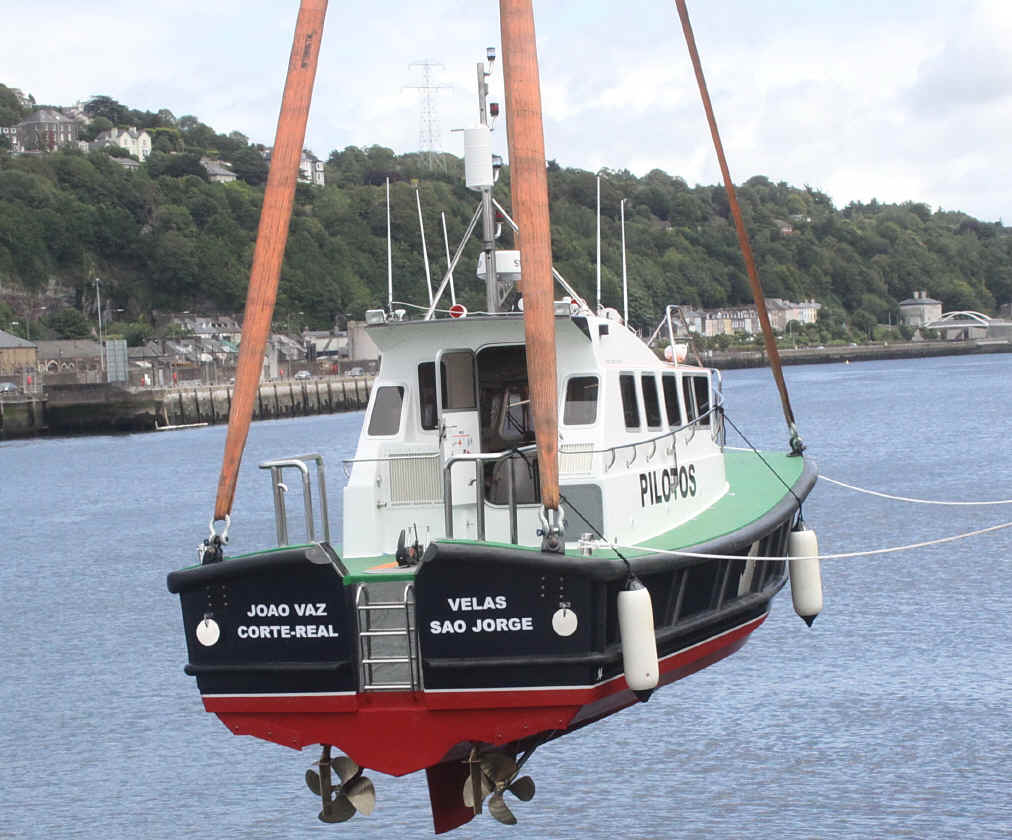 Special consideration has been made for pilots with the incorporation of a wide side deck, spacious bow and new design upper grab rails to assist landing on the pilot boat in rough conditions. Her aft working deck area is protected with large 60mm dia railings, enclosing the tow / working area.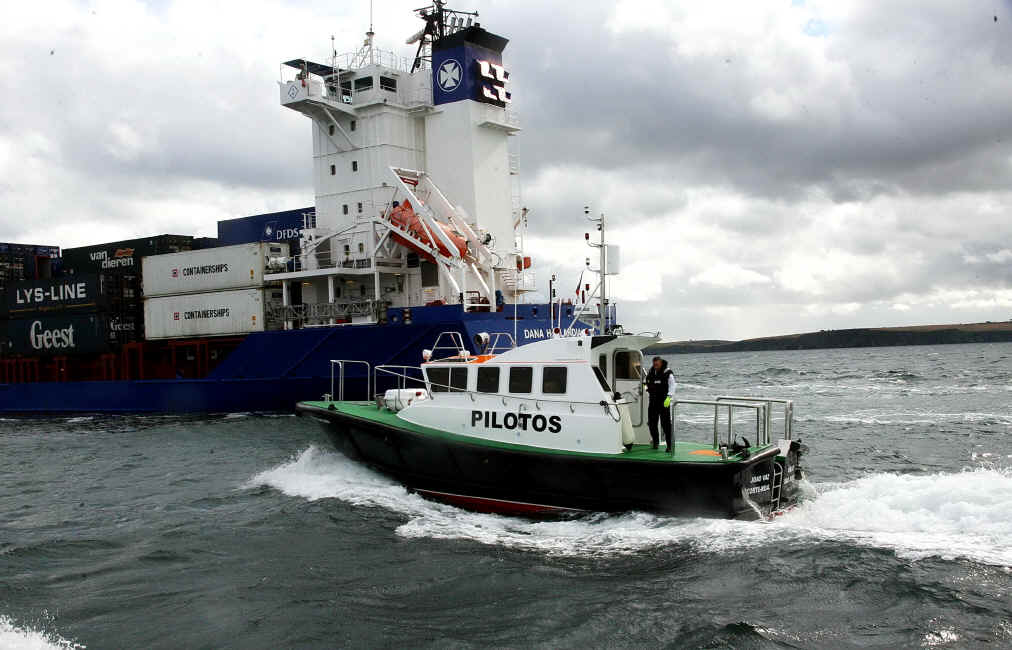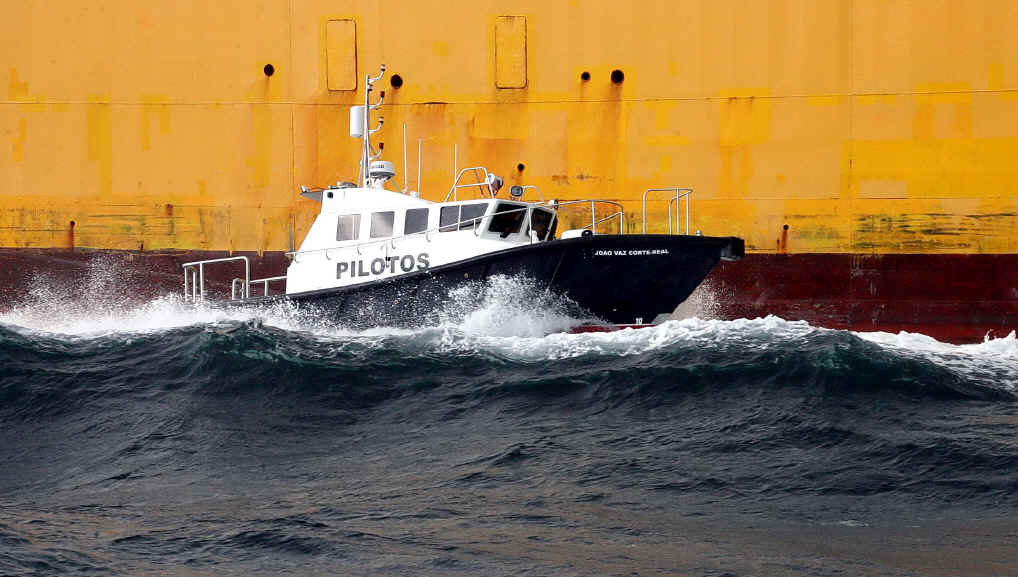 Principle dimensions
L.O.A.- 11.7m
Beam- 3.8m (4.1m overall)
Draft- 1.35m
Displacement- 12,250kg lightship
Fuel capacity- 1,500 litres
Speed- 25kts max @ 2300rpm, operational @ 85% of MCR (2100 rpm) 21-22kts
Bollard pull- 4,300kg