SAFEHAVEN MARINE 'GETARES UNO' A NEW INTERCEPTOR 48 PILOT FOR THE PORT OF ALGECIRAS, SPAIN
'Geteras' is a new Interceptor 48 pilot built for the Port of Algeciras in Spain. She is the 5th Interceptor 48 pilot vessel and our 25th Pilot vessel supplied since 1996. She is powered by twin Volvo D13 500hp engines and has an operational speed of 24kts. Differing from previous recent 48's in having a Jason's Cradle MOB recovery system stored amidships in a recessed locker in the superstructure side, instead of the usual aft recovery platform, this gives her a clear transom area and aft deck which is fitted with a strong towing point which can be used in emergency situations at sea. Another refinement is the inclusion of an additional pilot safety rail f/wd at the shoulders, which are fitted with a new shorter section of our sacrificial fender, this allows the ships pilot boarding ladder to hang clear behind it without it getting caught by the pilot boats fender. Seating is for 5 pilots, 3 along the port side and two to st/bd, the central seat having a table in front. All seating is CAB Extreme suspension seats with 125mm of travel and provide a comfortable ride in rough weather transits. The helmsman has a central position in a focused, ergonomically designed position with all instrumentation clearly visible recessed into the helm console. For hot climate operations she has tinted windows, and all windows are fitted with pull down blinds. Engine room ventilation is dealt with by a large 24v 500mm ventilation fan maintain acceptable engine room temperatures in hot climates. She has a very inviting pilot and crew environment, with teak & holy cabin sole and dark grey sidelining throughout and incorporates a large comfortable f/wd accommodation area.
On sea trials she has proved very quiet, no doubt assisted by the positioning of semi submersed exhaust outlets on the transom quarters providing very low noise levels of just 74db. She achieved 24.5 kts on trials comfortably exceeding her contract requirements by a large margin. Her steering very fast and responsive, large Safehaven commissioned cast rudders and a powerful Hypo Marine power steering system allows her to turn 180 degrees at maximum speed in just 11 seconds.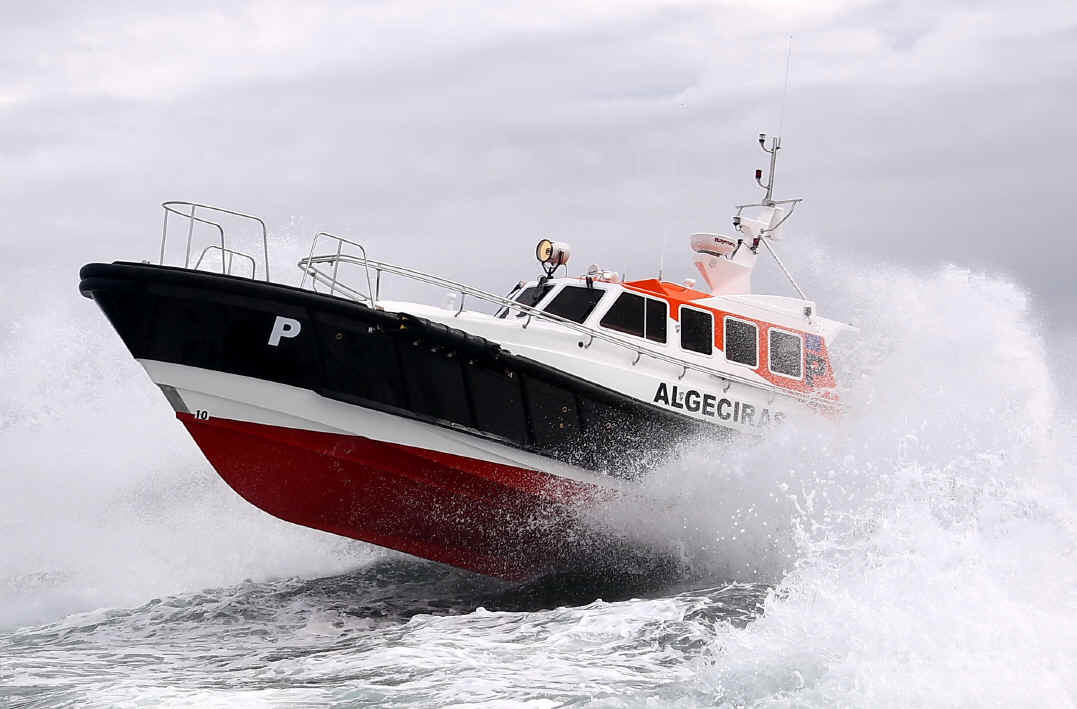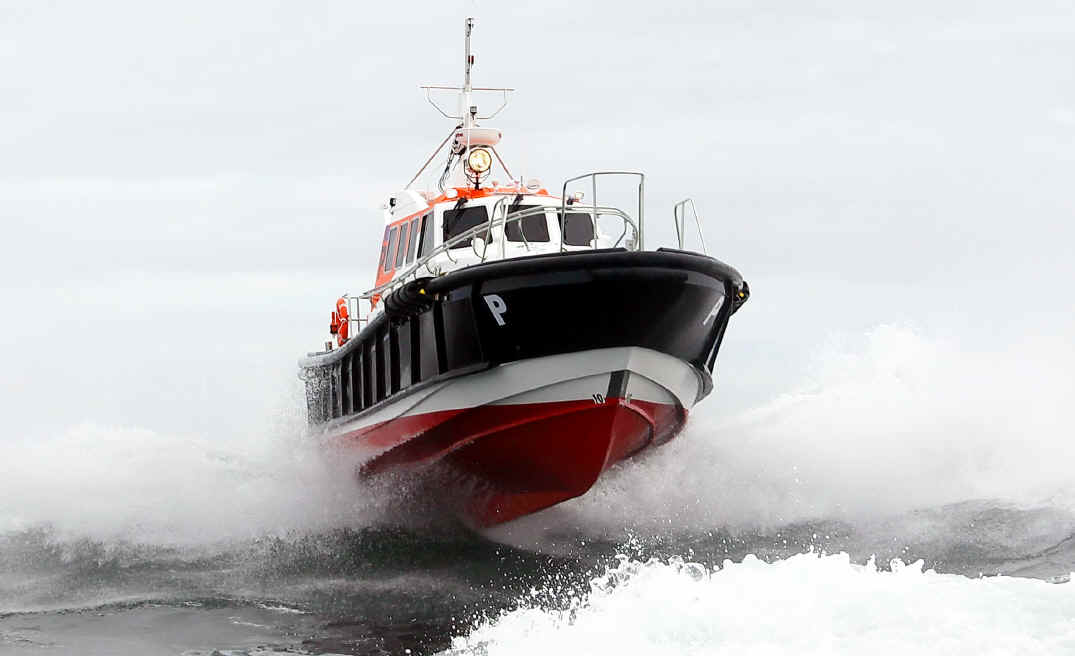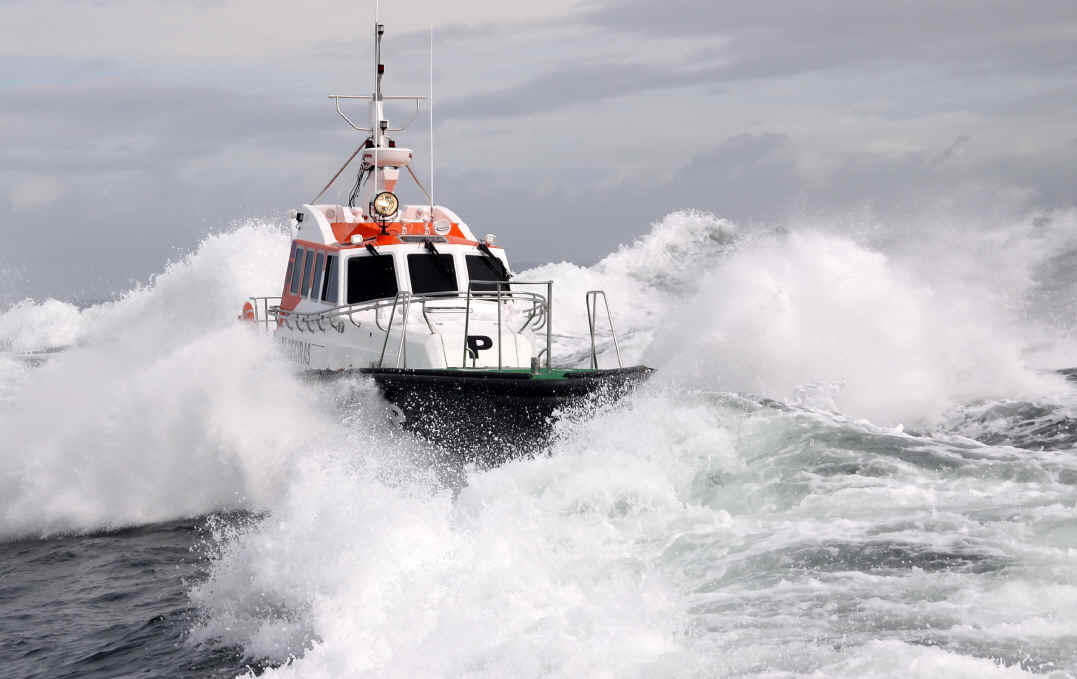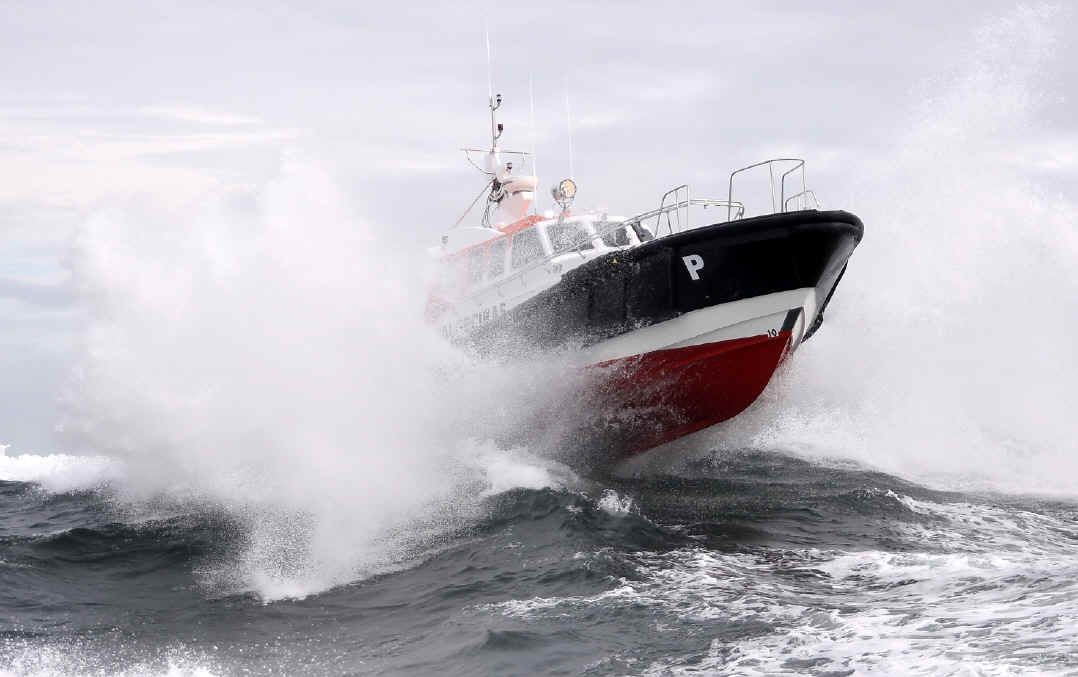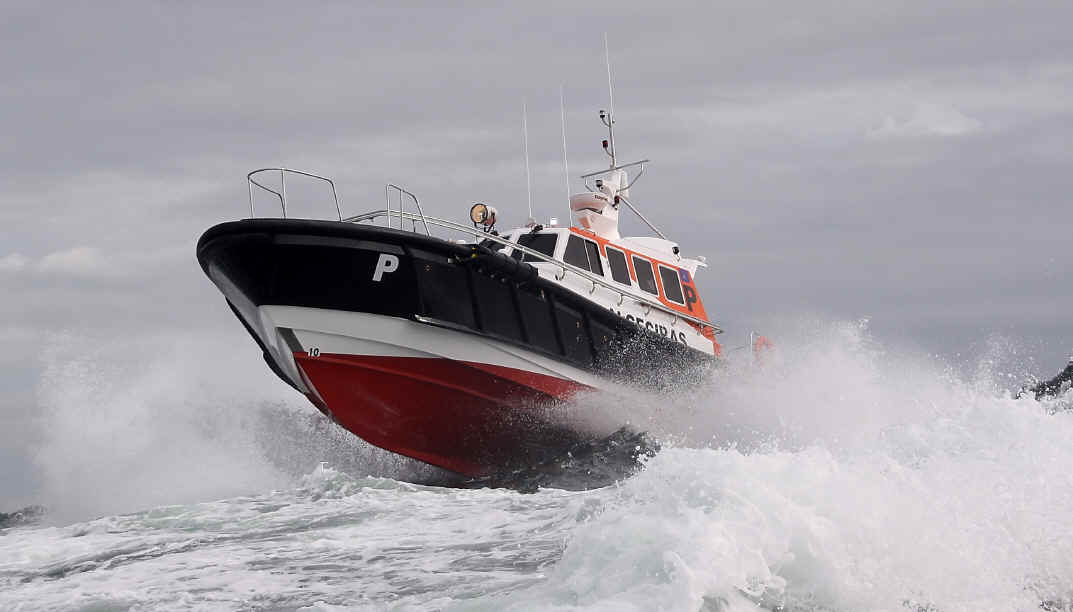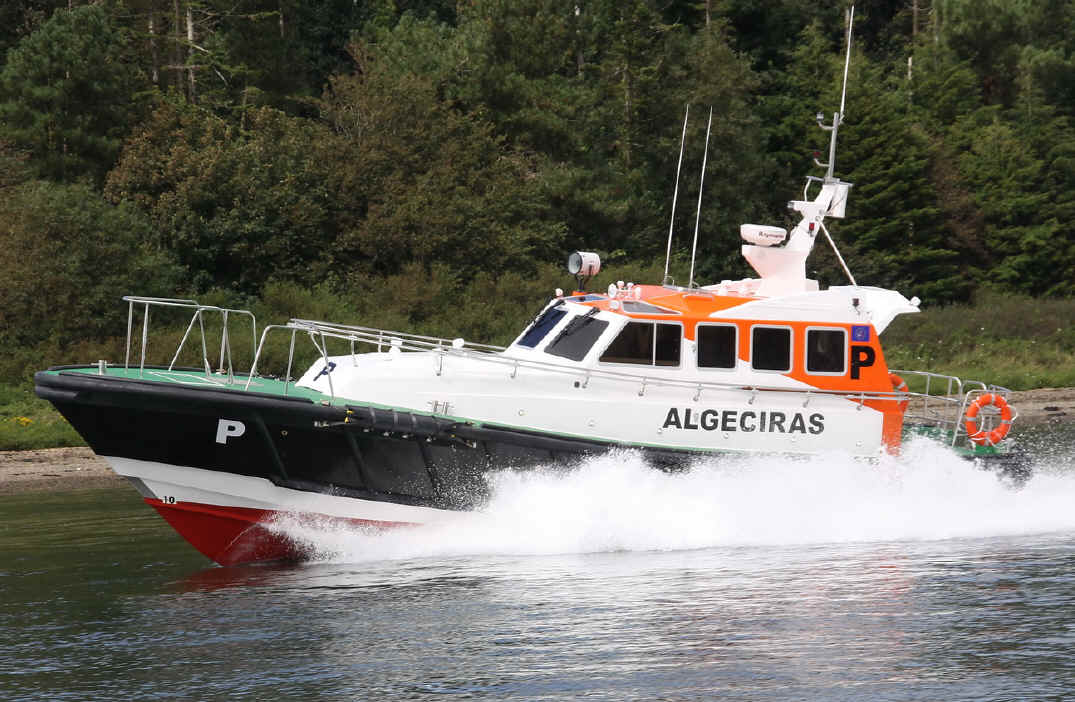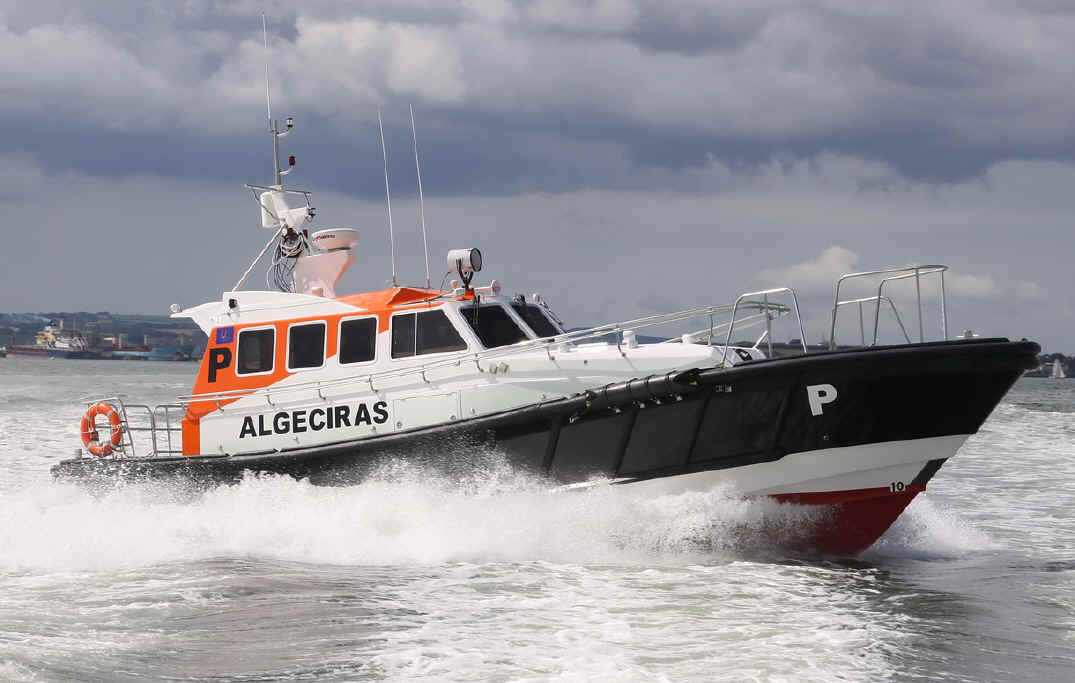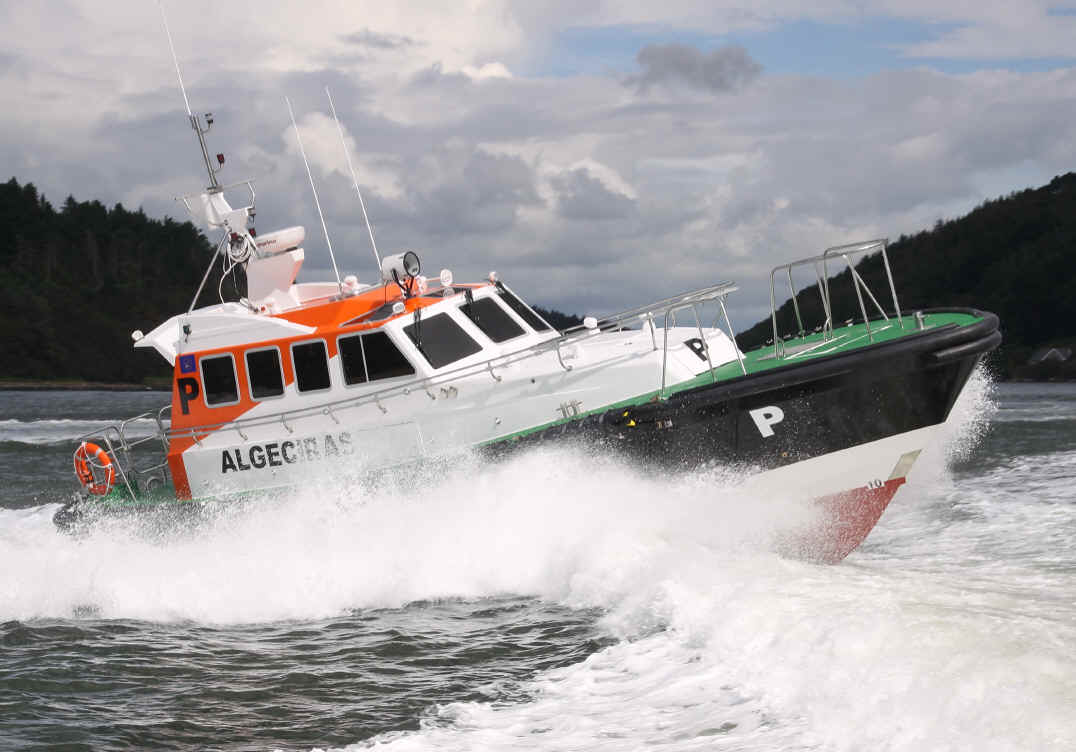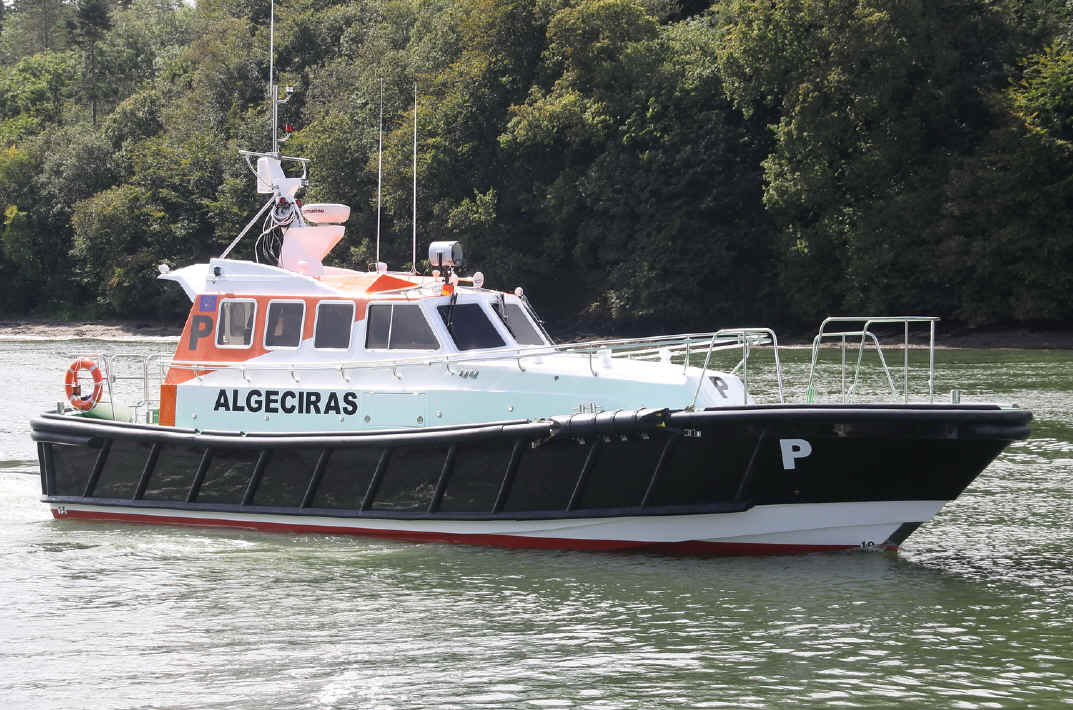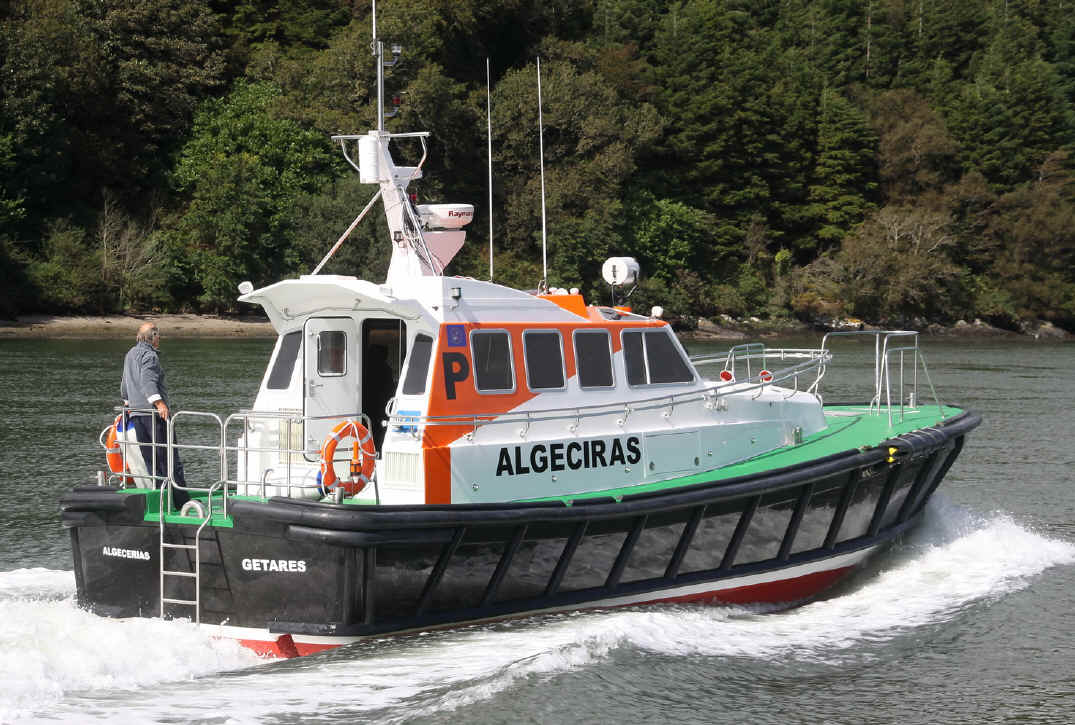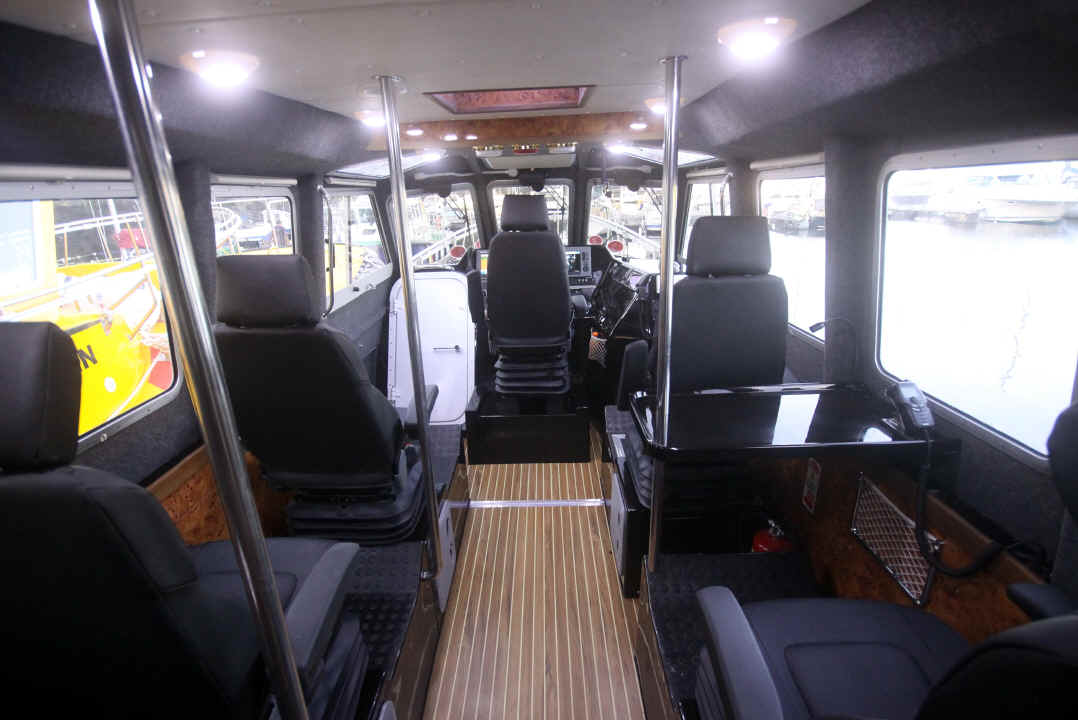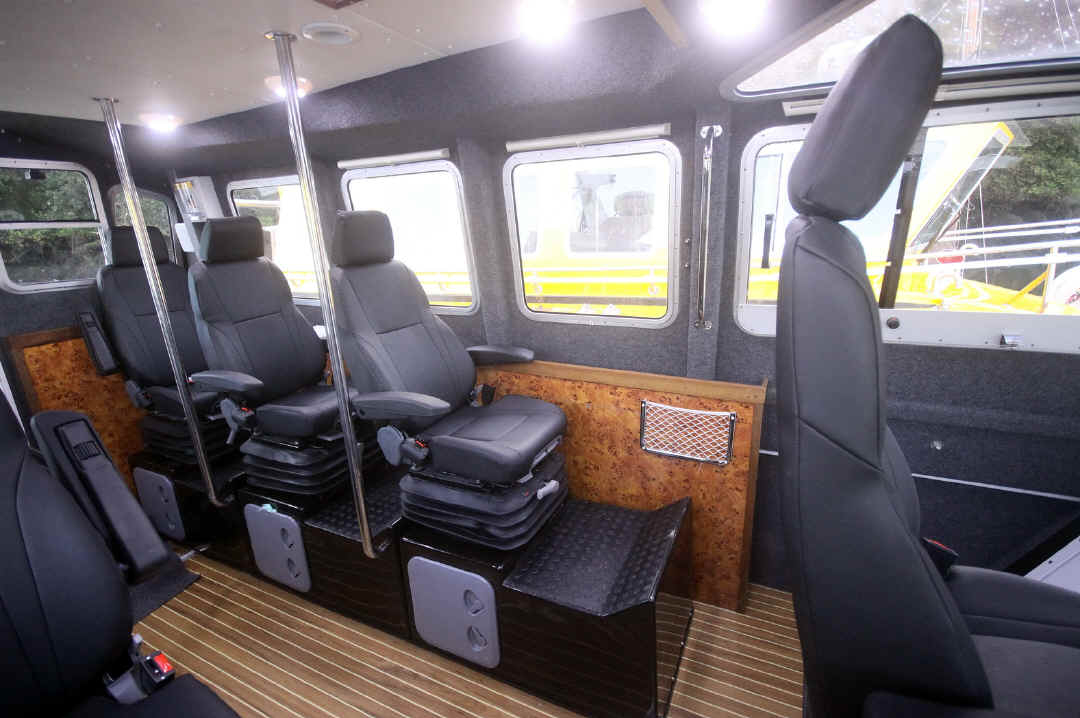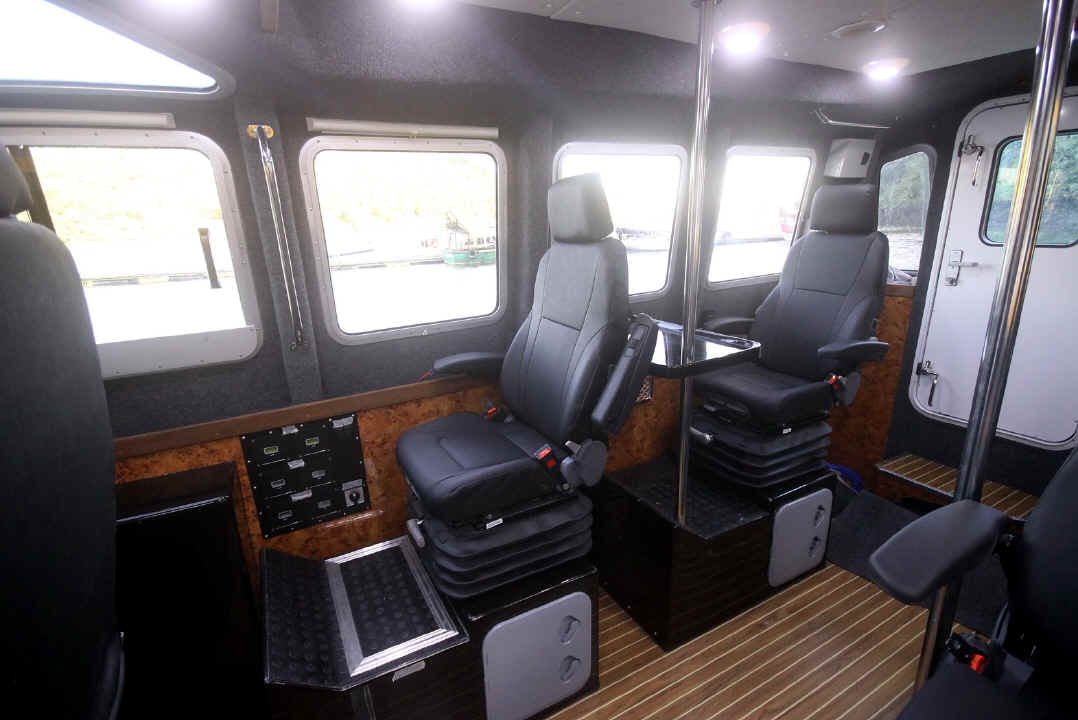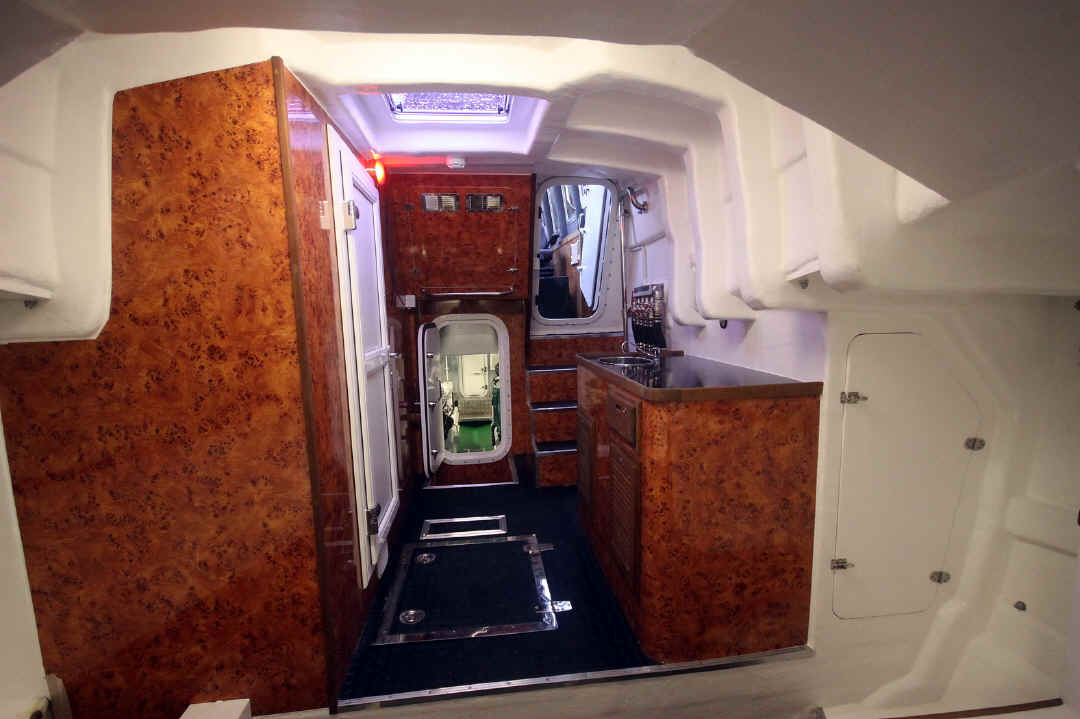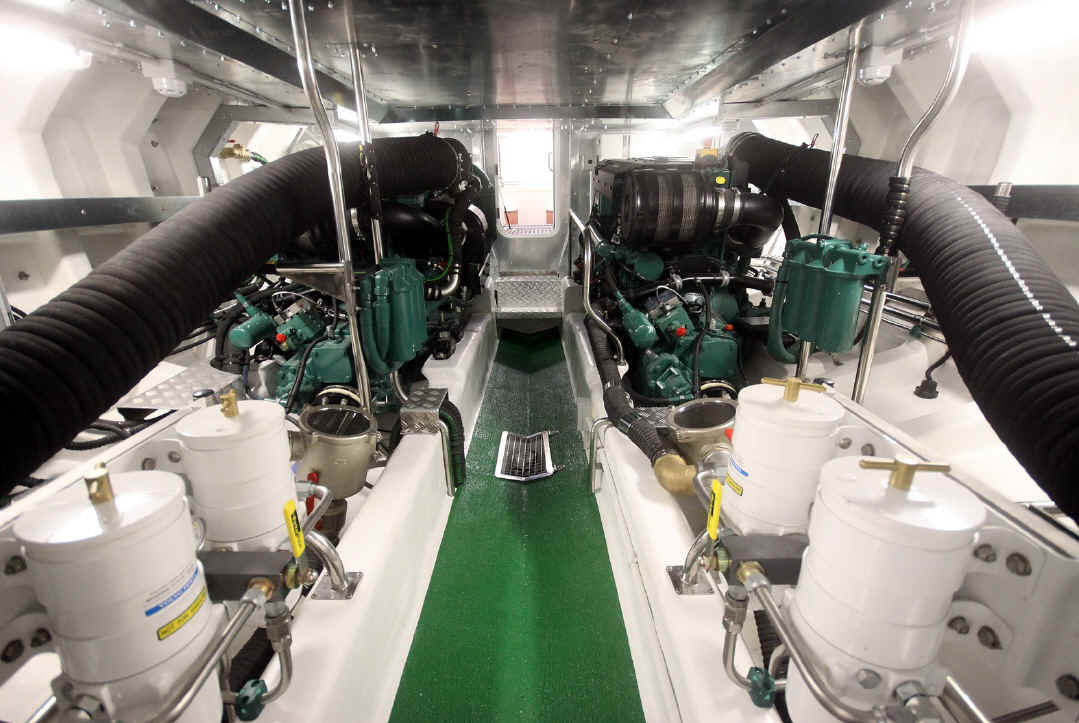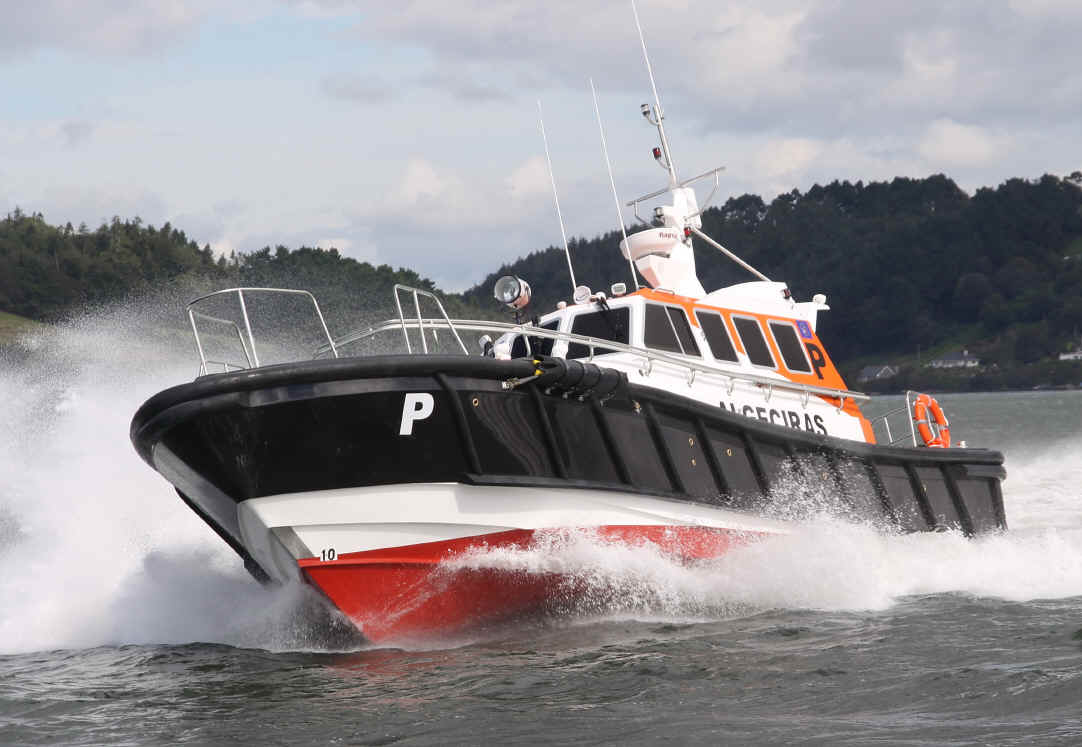 Technical specification
LOA 14.5m
Beam 4.3m
Draft 1.3m
Displacment Lightship 17,000kg
Loaded 19,200kg
Engines Volvo D13 500hp @ 1800rpm
Rating 1
Gearbox Twin Disc 5114
Propellers 27" 4 blade
Speed Operational speed 24kts at engines MCR
Range 260nm
Fuel 1,800 litres
Water 200 litres
Electronics
Radar Raymarine 24nm C120
GPS Plotter Raymarine C120
VHF Sailor x 2
Depth sounder Ray marine DSM300
Rudder indicator ST60
AIS Commar Class A
Battery charger 40amp Victron
Wipers Exalto 5 speed pantograph
Windows Double glazed front 15 / 6mm
All other windows 10mm
Door Seaglaze watertight
Fendering (main) 150x150mm D section
Sacrificial shoulder fender
Seating capacity Main Main cabin- 1 crew / 5 pilots
Main cabin
Forward cabin- 6 passengers
Certification Bureau Veritas / Local Spanish maritime authorities