WILDCAT 53 'Research vessel' for the Kuwait Institute of Scientific Research.
Safehaven Marine have launched another of their Wildcat 53 catamarans, this time destined for Kuwait to K.I.S.R. ( the Kuwait institute of scientific research) This is the 5th Wildcat 53 built by Safehaven with the design proving very successful. The hull features high buoyancy bows and a high bridge deck providing excellent seakeeping and rough weather capabilities as well as economy and load carrying capabilities. Powered by a pair of Caterpillar C18 engines rated at 873hp and Twin Disc 5145SC gearboxes , the vessel achieved 28kts on sea trials and has a 33,000kg fully loaded displacement. Conventional sterngear was chosen for its dependability and low maintenance as well as economy at medium speeds, and was supplied by Clements Engineering in the UK.
The vessel has been specifically designed and outfitted for hydrographic research and survey roles in the maritime waters off the coast of Kuwait and its region, as such the vessel features an 'Island' wheelhouse configuration with a raised helm / navigation position which is fitted with a full array of Raymarine navigation equipment centred around multiple C127 colour displays for radar, plotter and sounders. The cabin design allows for a high degree of crew safety with, safe secure bulwarks all round. A large bow working area and a spacious aft deck which features a wide transom gate fitted with a hydraulic tilting 'A' frame, allowing sonar and research equipment to be deployed safely of the transom and easily recovered. Twin dive platforms provide waterline access. The working area is fitted with twin 1,000kg slip ring hydraulic winches and a 1 ton capstan. In addition the vessel is fitted with a moon pool positioned in her aft deck, and fitted with Safehaven's own proven design of multi-beam sonar transducer deployment system, allowing transducers to be quickly interchanged and lowered hydraulically to below keel line. This means the valuable transducers can be raised up to above deck during transits and when not in use. A Palfinger PC2700 hydraulic slewing crane facilitates working on deck and cargo transfer. Her accommodation features a fully equipped galley in the port hull and 4x sleeping berths in the st/bd hull, her main cabin comprises a dinette living area and large hydrographic work benches incorporating computer racking underneath, Mc Murdo weather station and computer screens.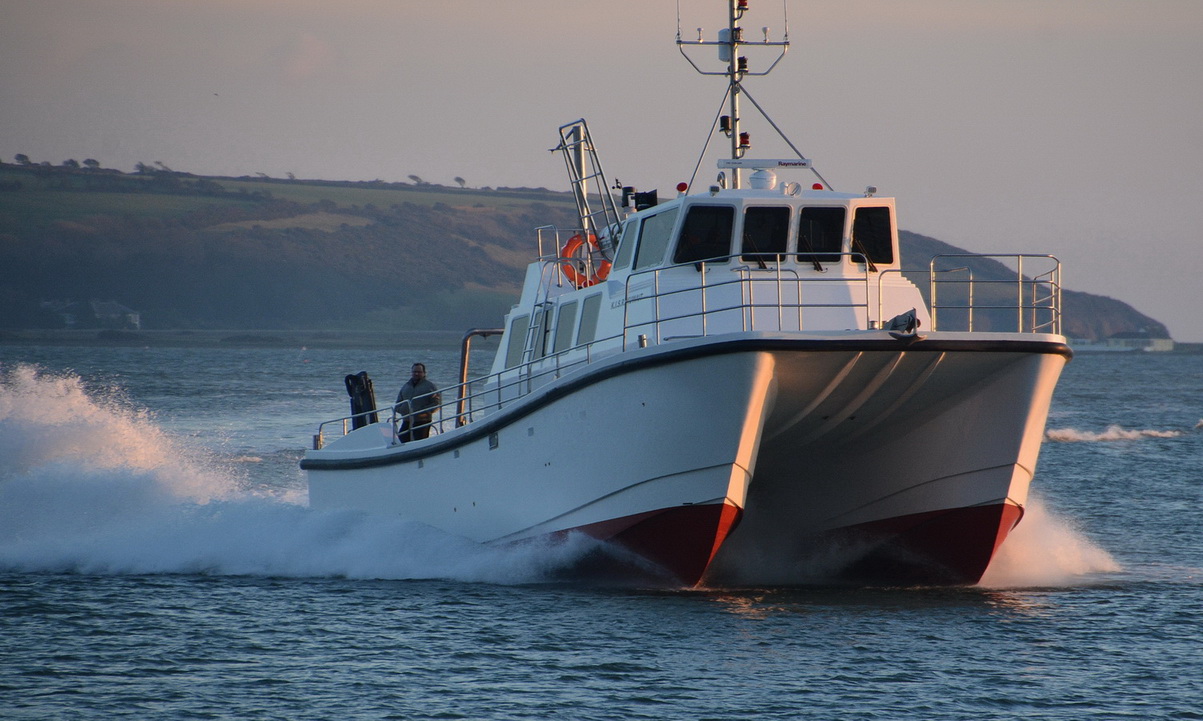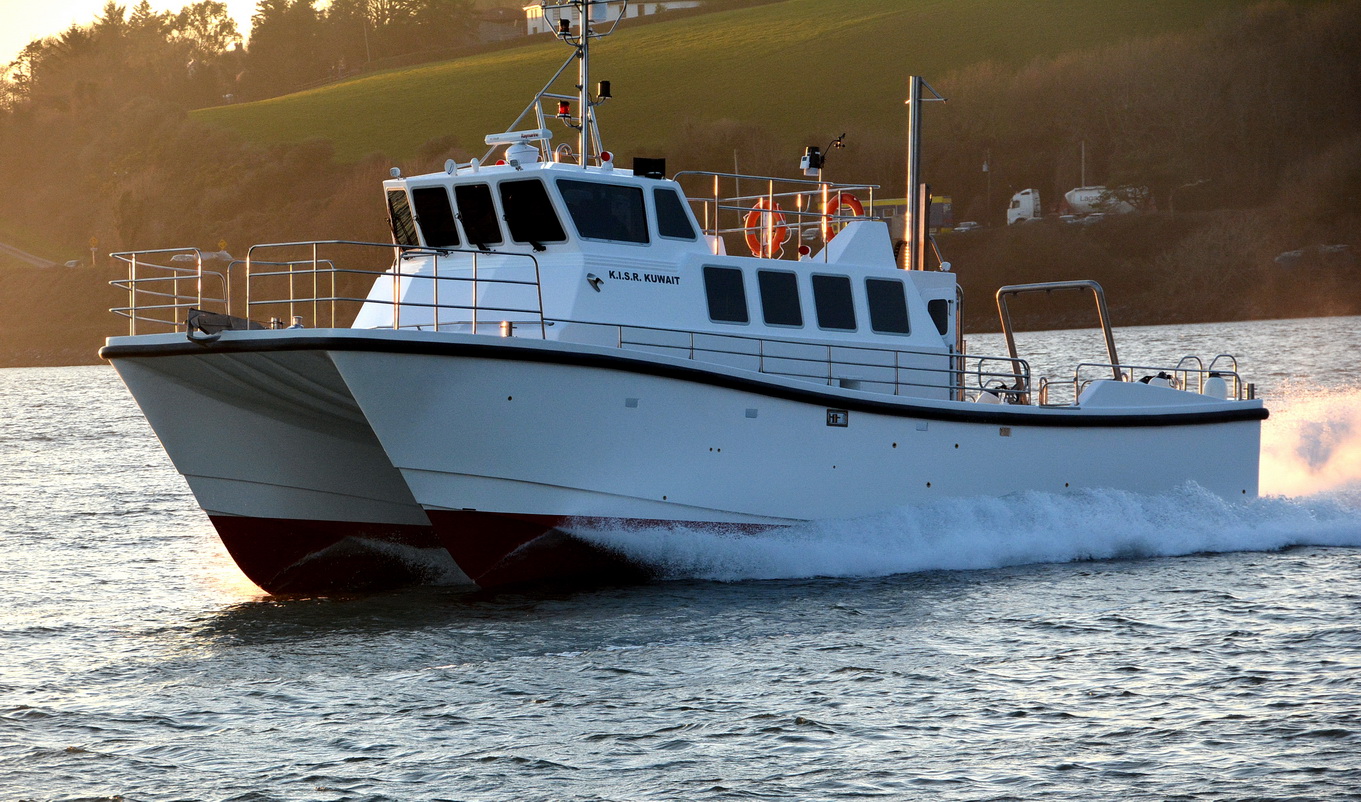 Another useful feature is the incorporation of a wet room for water sampling that houses sinks and work benches, and is to be fitted with a Ferry Box mini. The vessel has been designed for very hot climates and as such has light coloured external surfaces to reflect heat, an insulated cabin and is fitted with 4x 27,000 btu air-conditioning units , her over 100,000btu of air-conditioning is over specked but should easily ensure efficient cooling, and a comfortable living area for her crew in the often extreme temperatures encountered in this region, witch can become close to 50 degrees in summer months. A 23kw Westerbeeke AC generator supplies power to the air con units as well as AC power throughout the vessels accommodation and working areas. The delivery of K.I.S.R.' vessel follows on from a four hydrographic survey vessel contract just completed for the Polish Navy whereby four of Safehaven's Wildcat 40 cameraman's were delivered, and with another larger Wildcat 60 oceanographic research vessel under construction for MS Tech in Germany, Safehaven have amassed a great deal of expertise in this specialised field. With contracts just signed with Luanda for the supply of one of Safehaven's renowned Interceptor 48 pilot vessels, Safehaven have a very healthy order book for the future.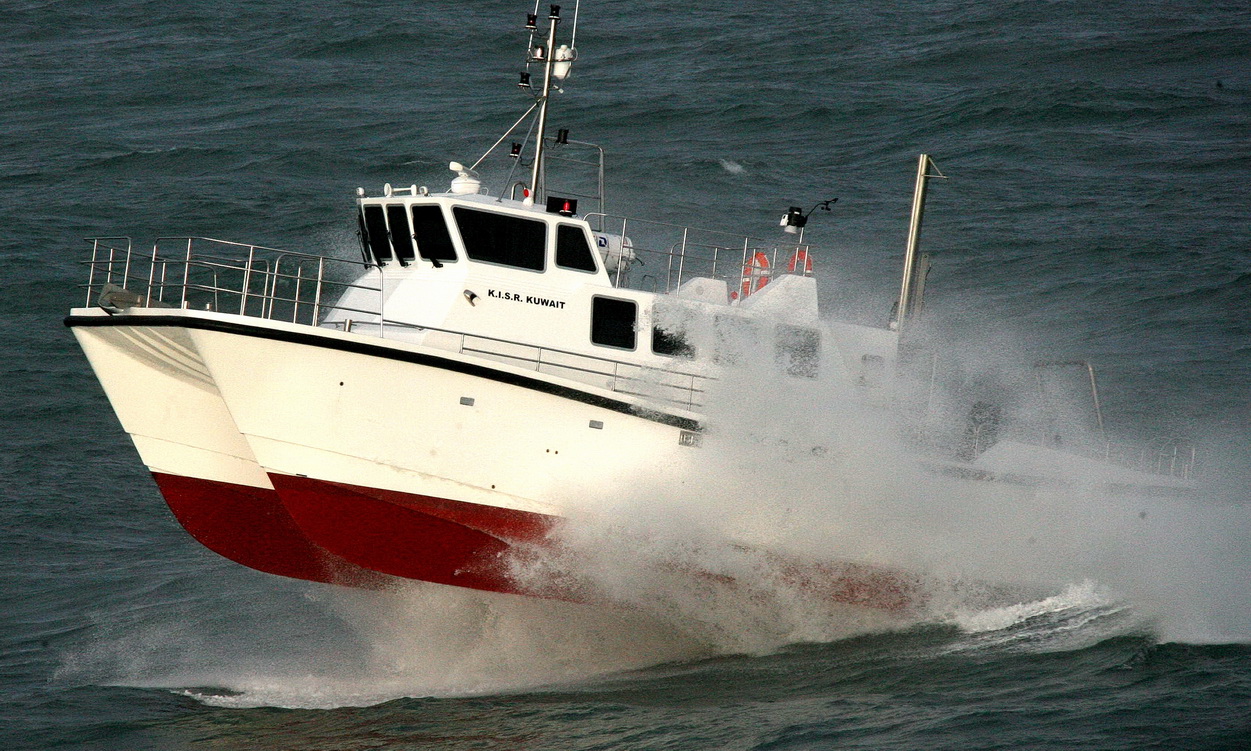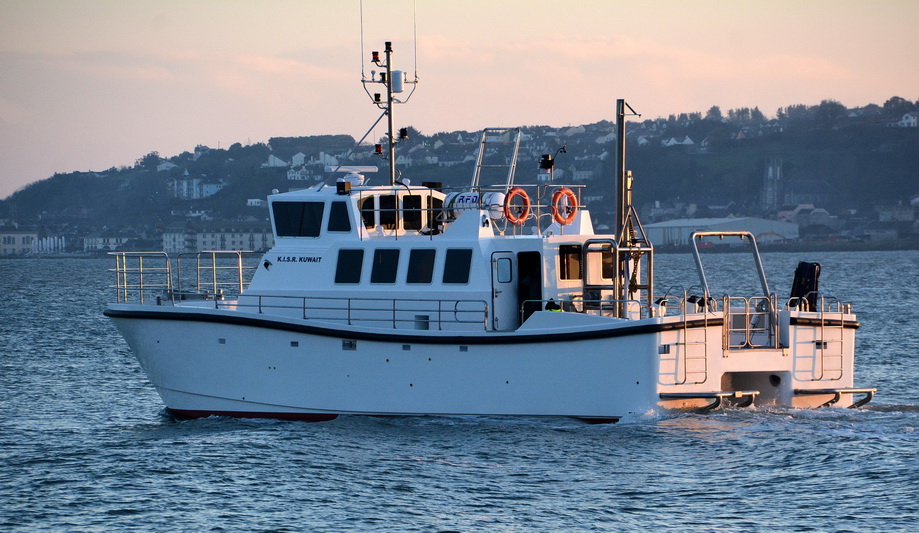 The Wildcat 53 is a particuarly gracefull catamaran design with fine lines, her white exterior colours for hot clamates looks particuarly striking.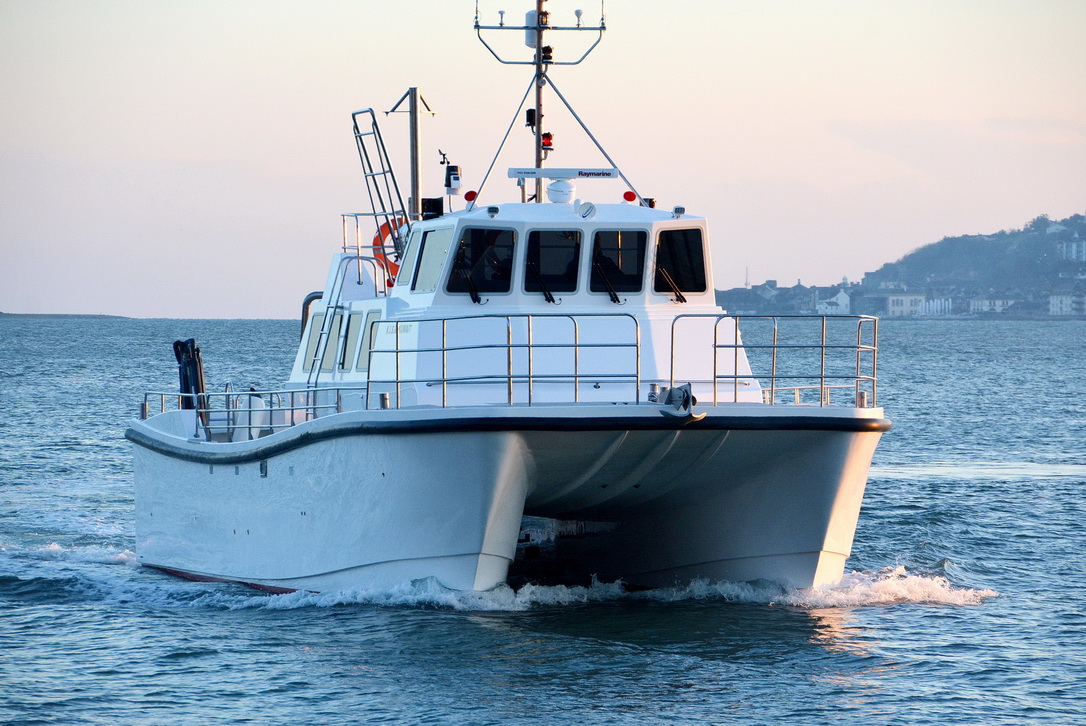 Videos of the K.I.S.R. Wildcat 53 on sea trials, click on the photo to view the videos
Principle Dimensions
Length moulded (GRP hull only)

16m

L.O.A. (Length overall)

17m

L.W.L. (Length along waterline)

14.2m

Beam Moulded (GRP only ex fender)

6.2m

Beam overall (Including fenders)

6.4m

Depth (Highest point of deck to at bow to lowest

point of hell, ex keel)

3.33

Draft (Depth of hull below waterline)

1.4m

Displacement Lightship

28,795kg

Fully loaded

33,000kg

Fuel capacity

3,000 litres

Water capacity

200 litres

Crew capacity

12 persons

Subdivision

8 x separate watertight compartments
| | |
| --- | --- |
| Speed Maximum speed | 28kts |
| Range | 300nm |
| | |
| --- | --- |
| Classification | MCA Cat II Workboat |
| Design standards | Lloyds SSC rules area G3 |
Machinery

Main engines

2x Caterpillar C18 ('D' Rating)

Maximum power output

873hp

Gearbox

Twin disc 5145 SC

Stern gear

62mm shaft, Duplex F51 S steel, Stern tube with cutlass bearing. 30" dia 4 blade propeller. Nickel aluminium bronze Glass in 'p' bracket with cutlass bearing, Nickel aluminium bronze cast rudder with GRP tube,

Generator

Westerbeek 23kw

Crane

Palfinger PC2700

Deck winches

2x 1 ton hydraulic Spencer Carter slip ring winches

'A' Frame

Hydraulic 'tilting' 1 Ton SWL

Capstan

Lofrans 2000w

Air-Conditioning

4x Dometic 2,700btu
Her interior fit out is to a very high standard, as is the engineering and design of her lifting equipment and sonar deployment system.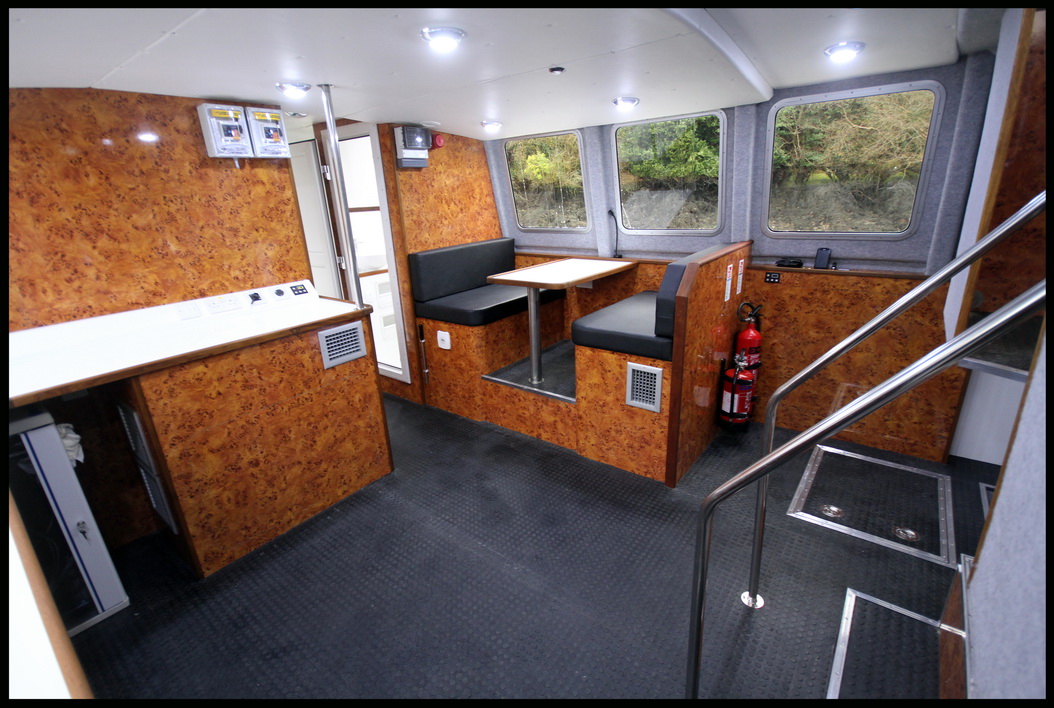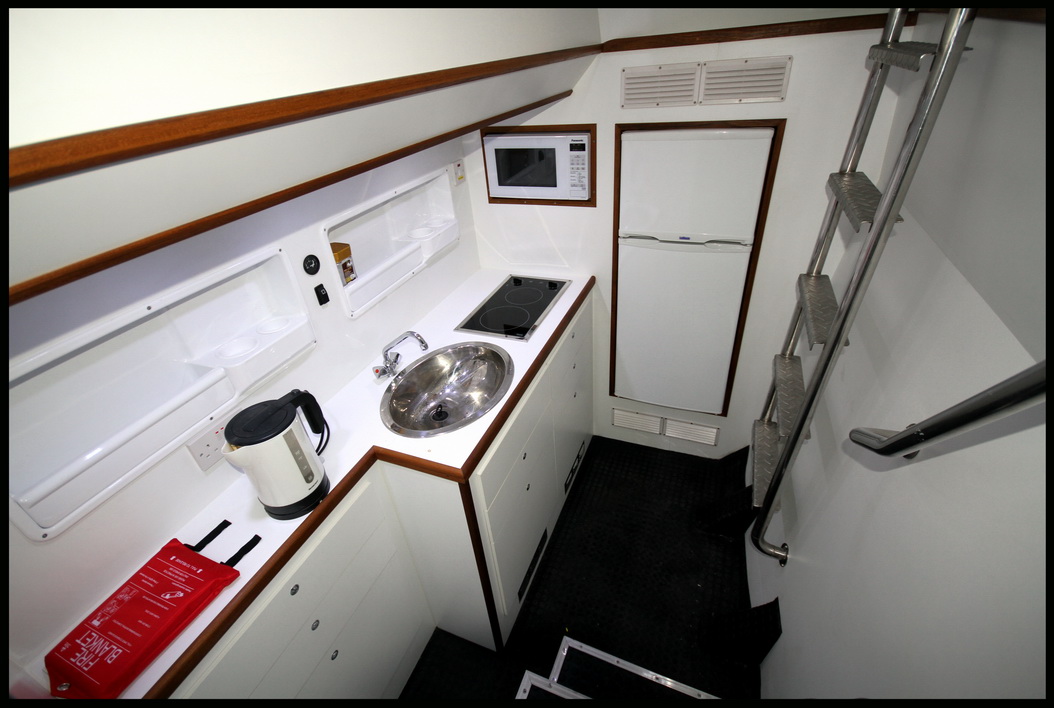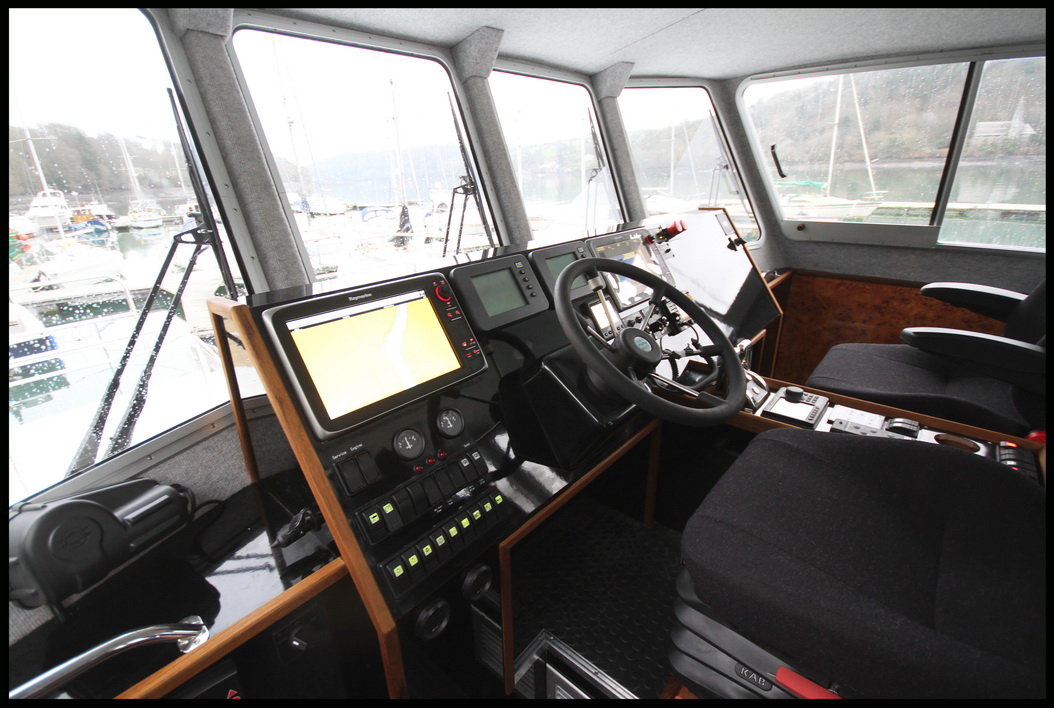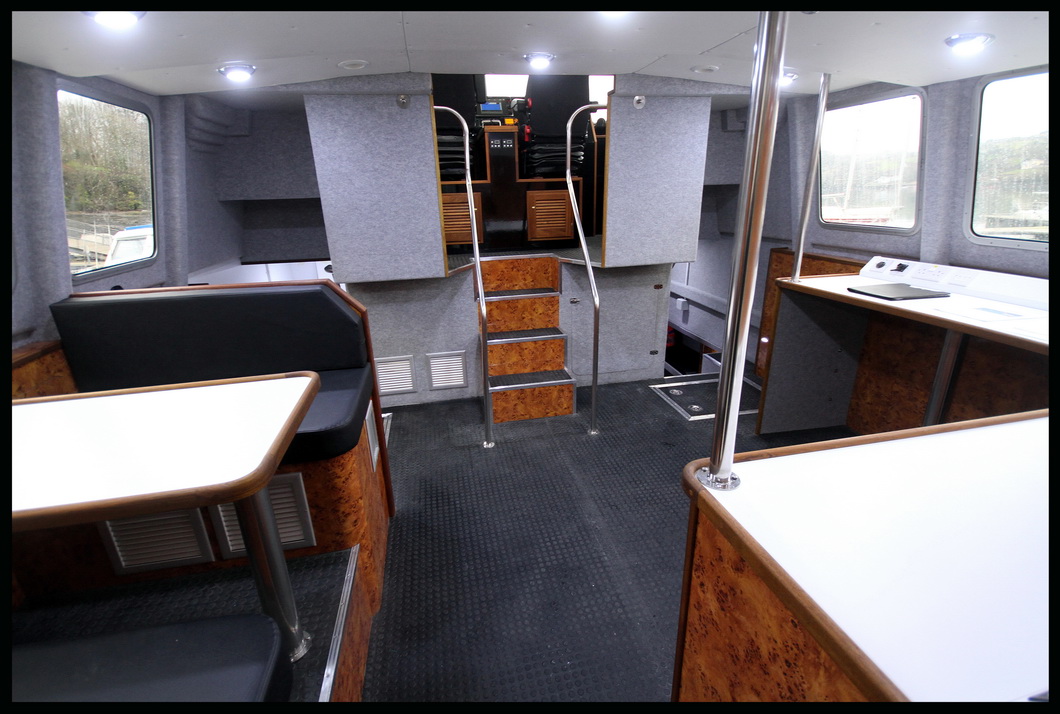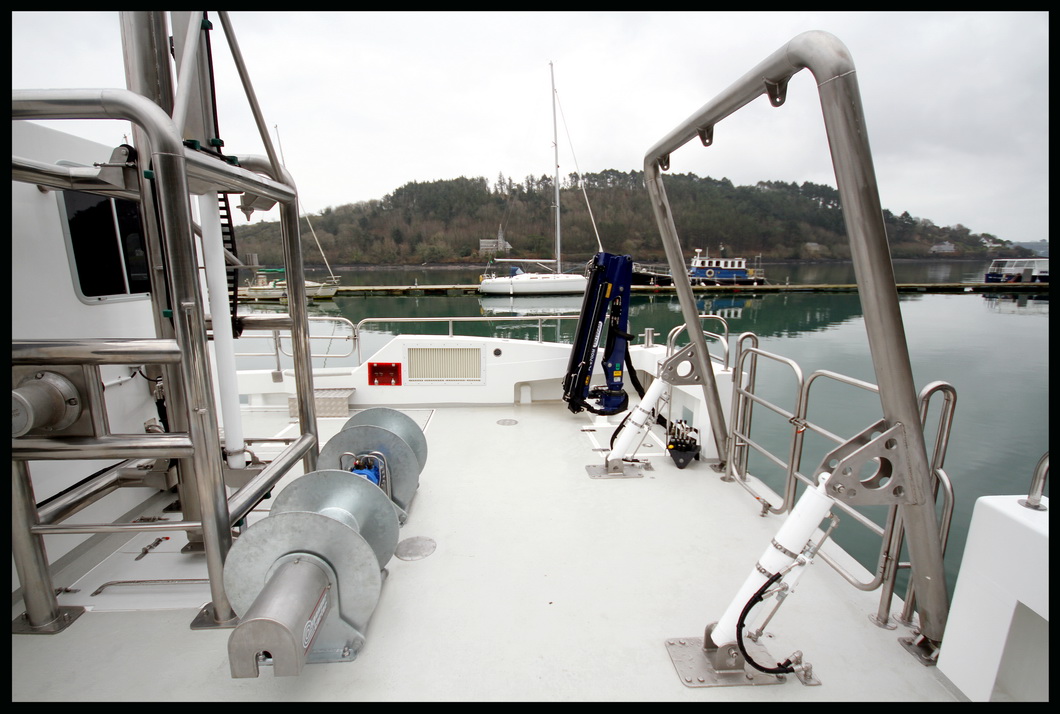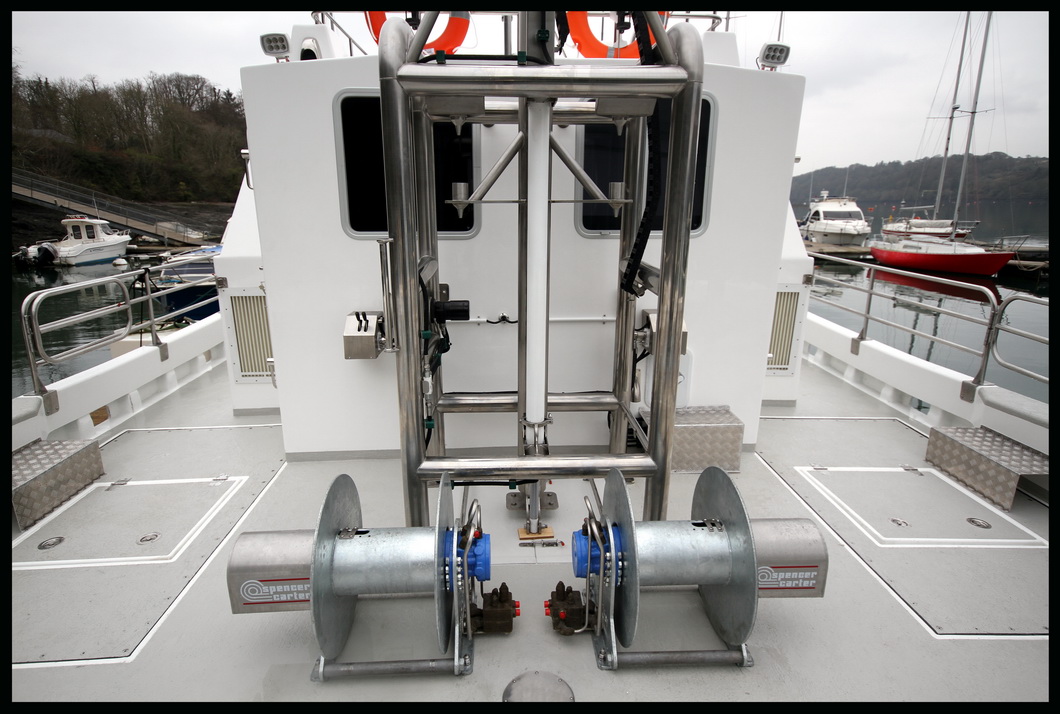 Above, her spacious aft cockpit fitted with hydraulic 'A' frame, sonar deployment system, deck winches and crane, right, her spacious engine room and C18 Caterpillar engines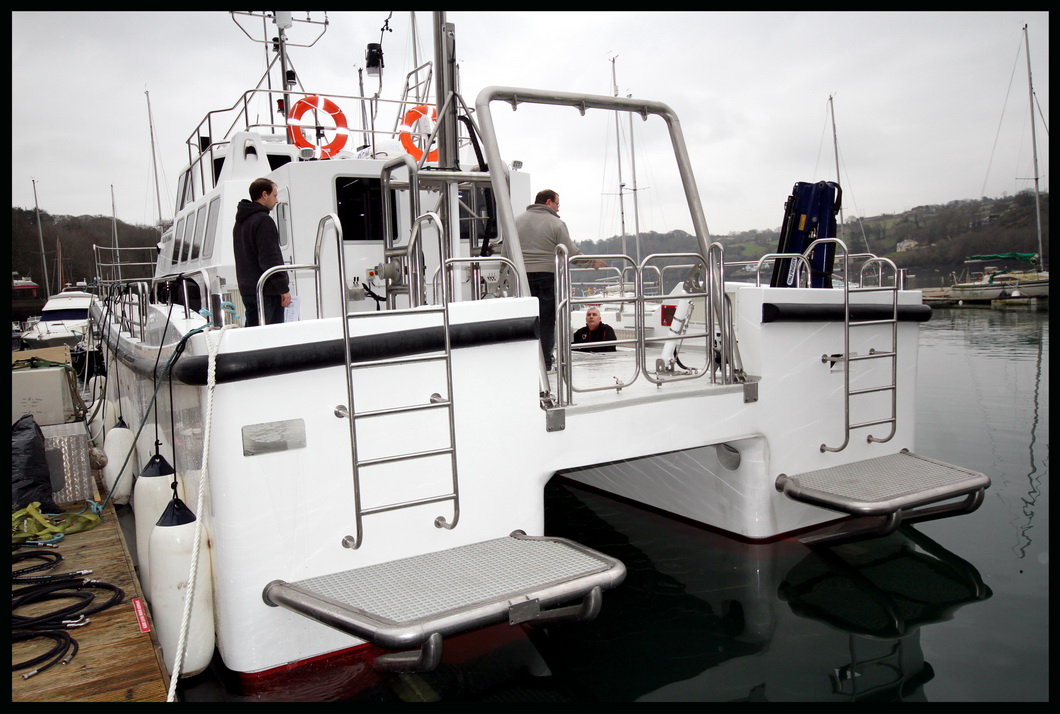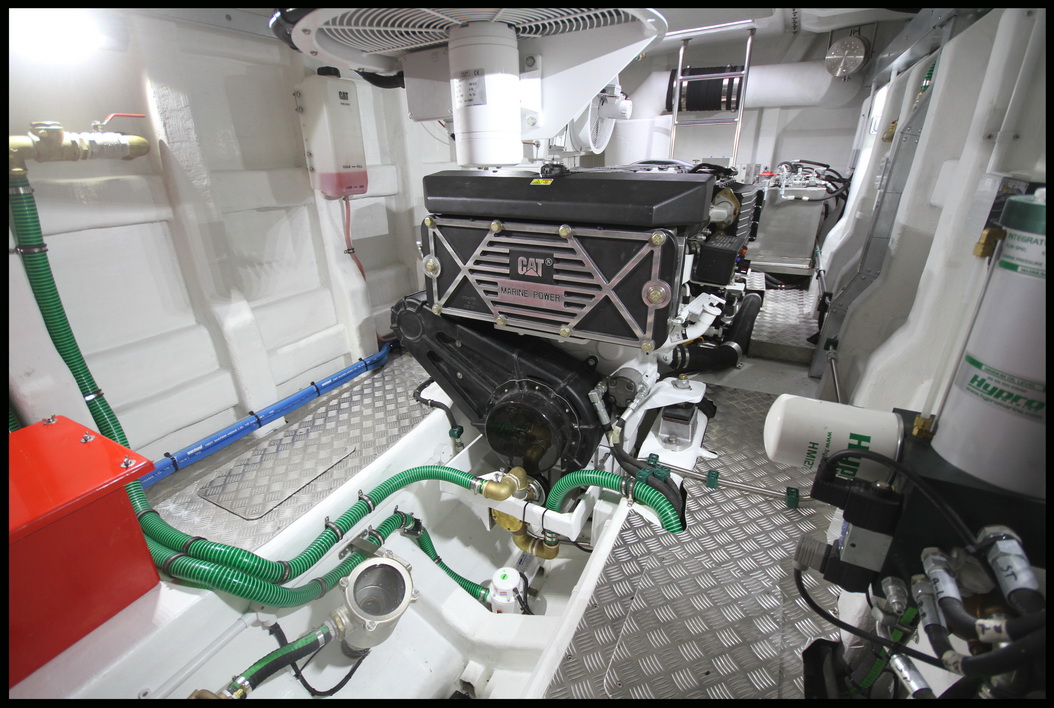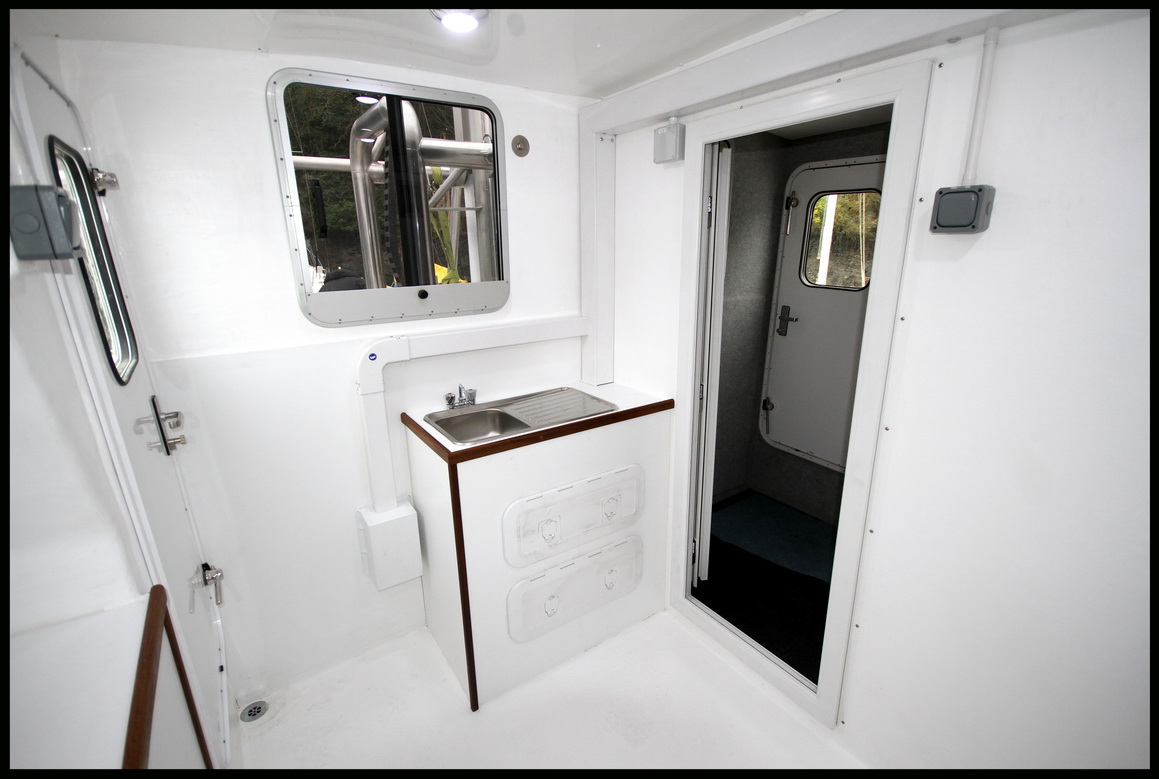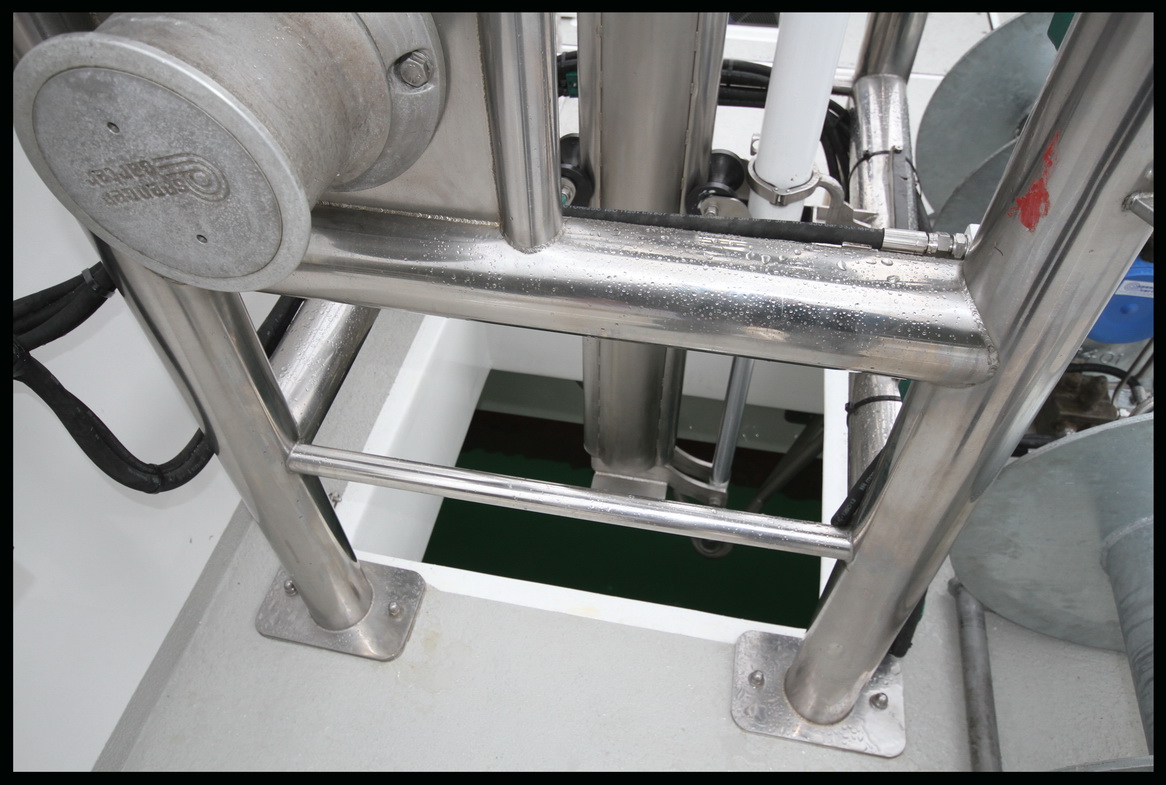 Below, a few photos of her on rough weather sea trials in Force 8 conditions demonstrating her excellent seakeeping capabilities