INTERCEPTOR 48 SEARCH & RESCUE VESSEL FOR THE FAROE ISLANDS
The Interceptor 48 self righting lifeboat for the Faroe Islands has now been successfully launched. She is fitted with Volvo IPS units and D11 600hp engines which will provide the vessel with a maximum speed of 30kts. The IPS units incorporate Volvos dynamic positioning system allowing the vessel to hold position and heading whilst stopped, this feature will be very useful when holding station during rescues. The vessel has seating for 5 crew in the main cabin, and capable of carrying up to 7 survivors / passengers between the main and forward cabins, together with the facility to deploy a stretcher for casualties. A 3.5kw 240V generator supplies AC throughout the vessel. A full galley, separate heads, berths for 2 persons, and a comfortable dinette is provided in the vessels very spacious forward cabin. Deck safety is provided by a full outboard safety rail specialy designed to hinge inwards to prevent damage to the railing when undertaking boarding's, this is augmented with an with inboard hand rail incorporating a Hadrian safety rail, MOB recovery is via a fold-out 'A' frame and Jason's cradle stored in a recessed locker in the superstructure side. Waterline access is provided by a dive platform at the transom. Fendering is as on our pilot vessels meaning 'substantial' and capable of protecting the vessel when undertaking boarding rescues offshore in bad weather. A very comprehensive navigation and radio communications package is incorporated based on Raymarine's E series 165 displays, featuring HD radar, GPS plotter, sonar, autopilot, Rhotheta direction finder, Sailor SSB radio & DCS VHF, gyroscopically stabilized FLIR thermal camera, 4 zone CCTV cameras and lap top computer controlled at a dedicated navigators position. The vessel is 'self righting' being capable of recovering from a 180 degree roll over due to the buoyancy of her cabin, multiple special features are incorporated to maintain watertight integrity and crew safety in the event of capsize in heavy seas. The vessel is built to DMA Pilot boat regulations with her hull under survey to Bureau Veritas.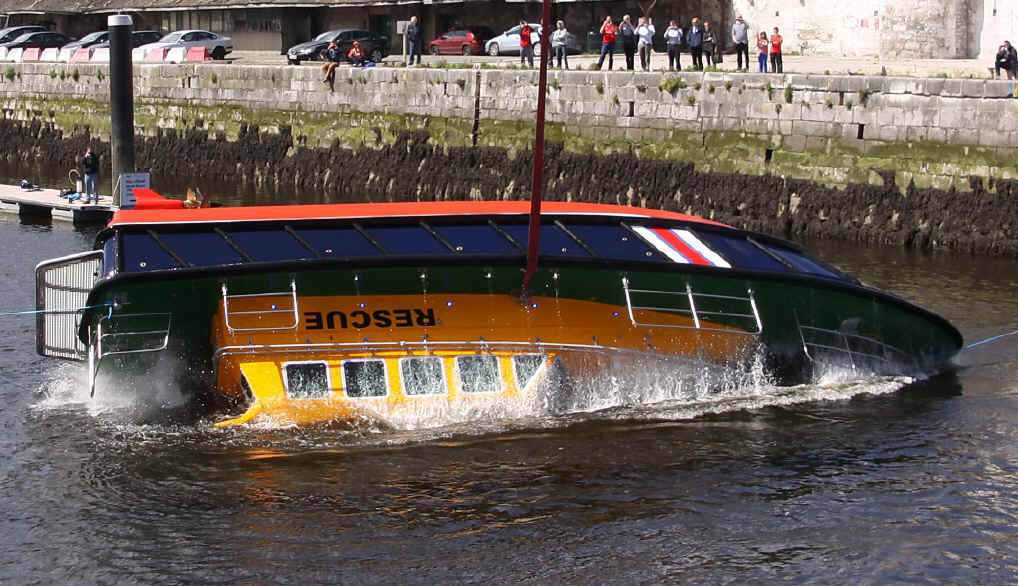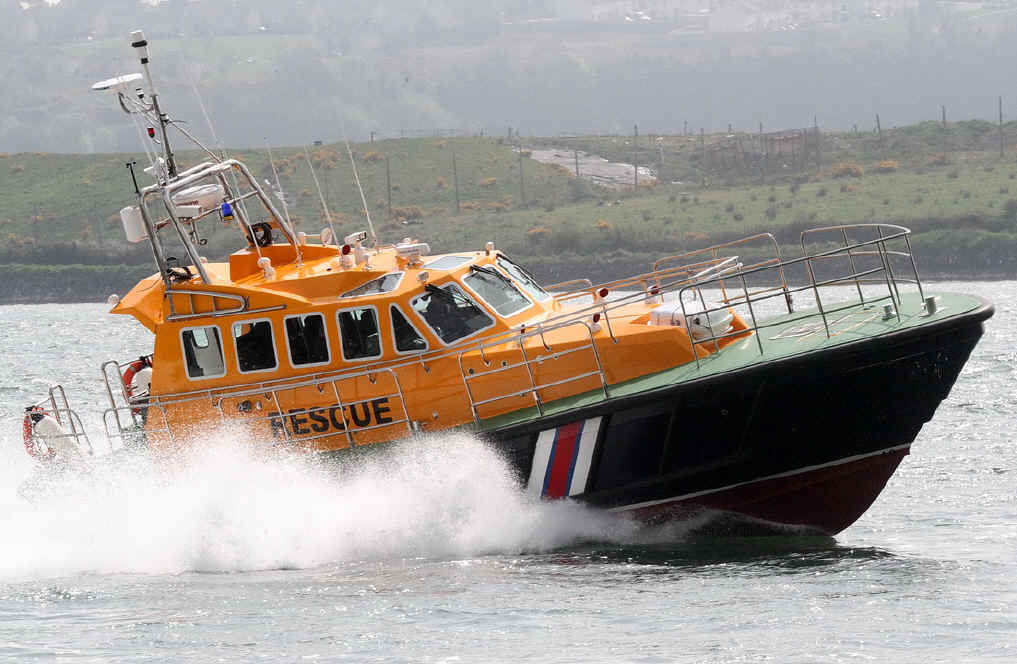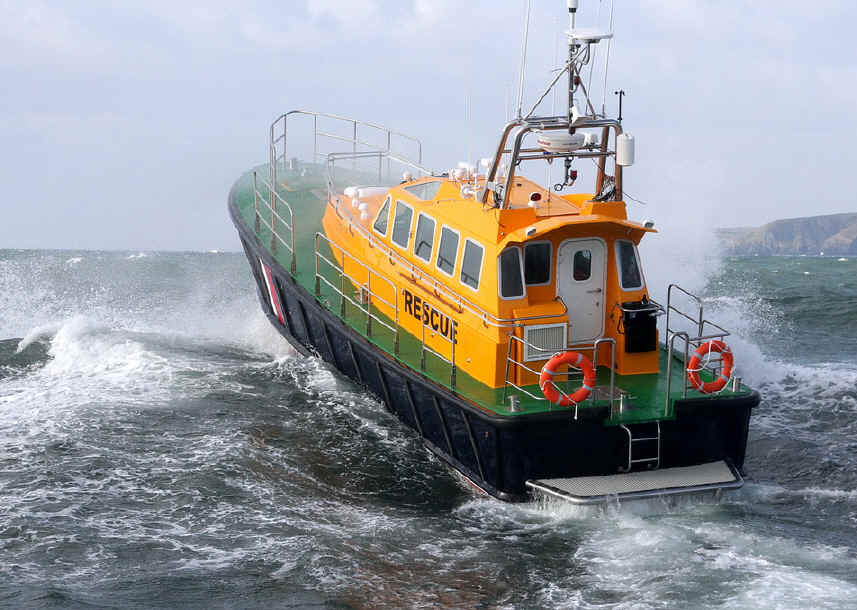 Below, photo sequence of her self-righting trial, you can view a video of the test here-

SELF-RIGHTING TEST VIDEO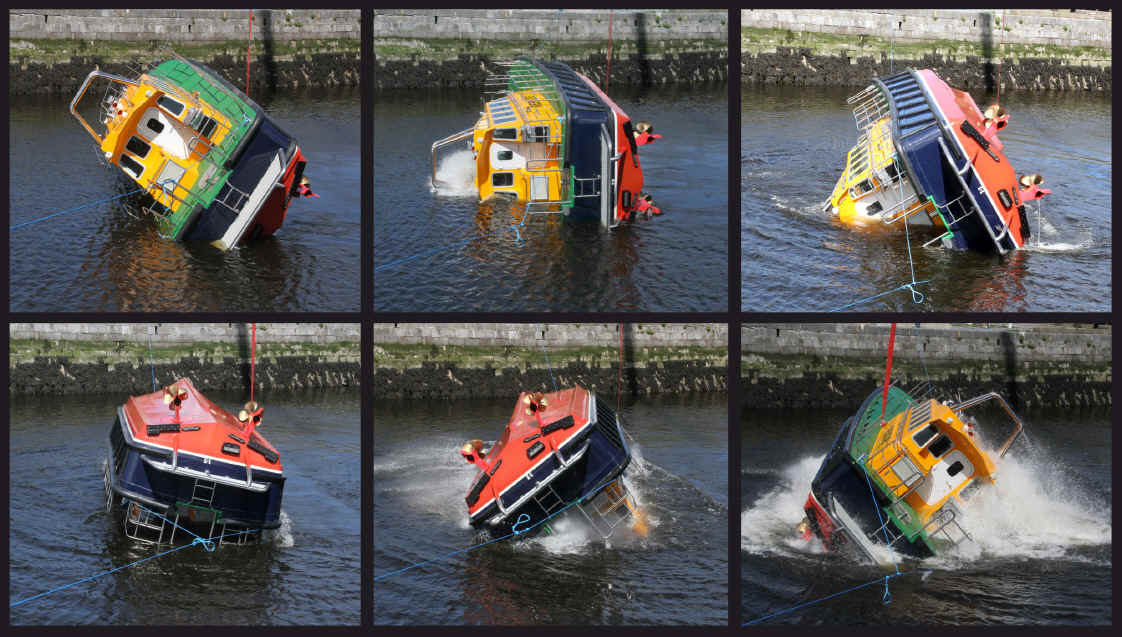 Below, her highly specified helm and navigators consoles, she is fitted out to a very high level offering a comfortable environment for her crew.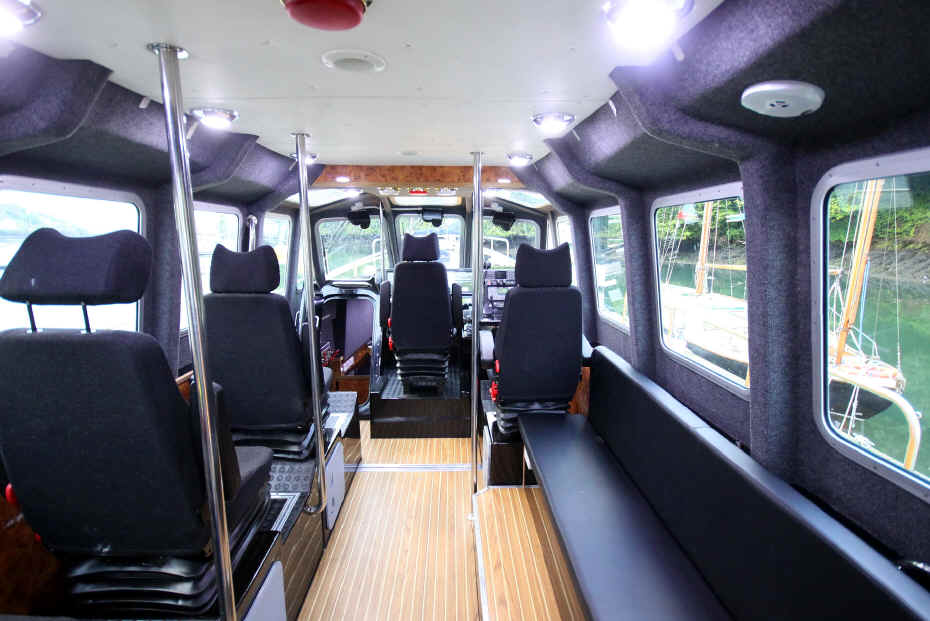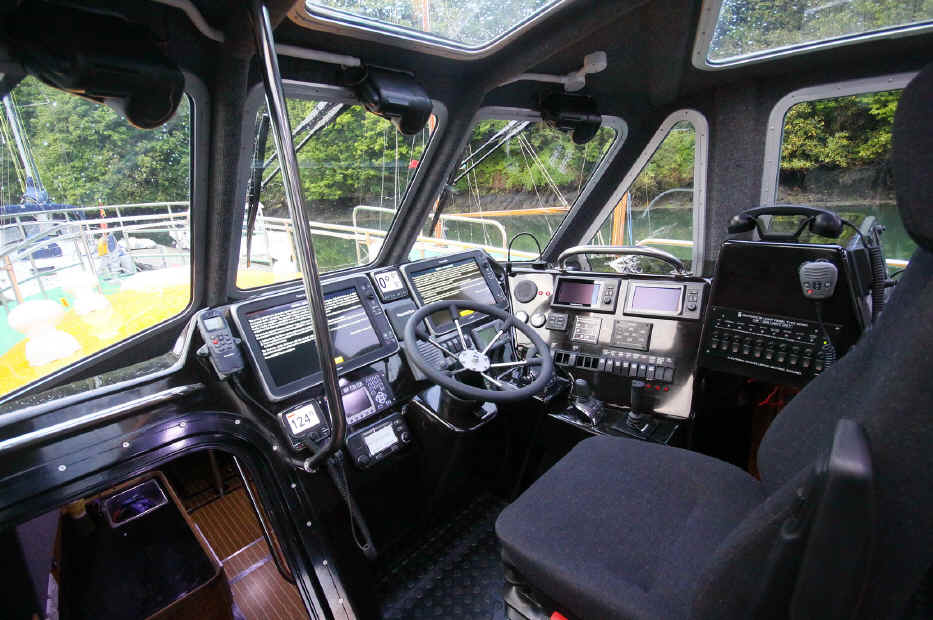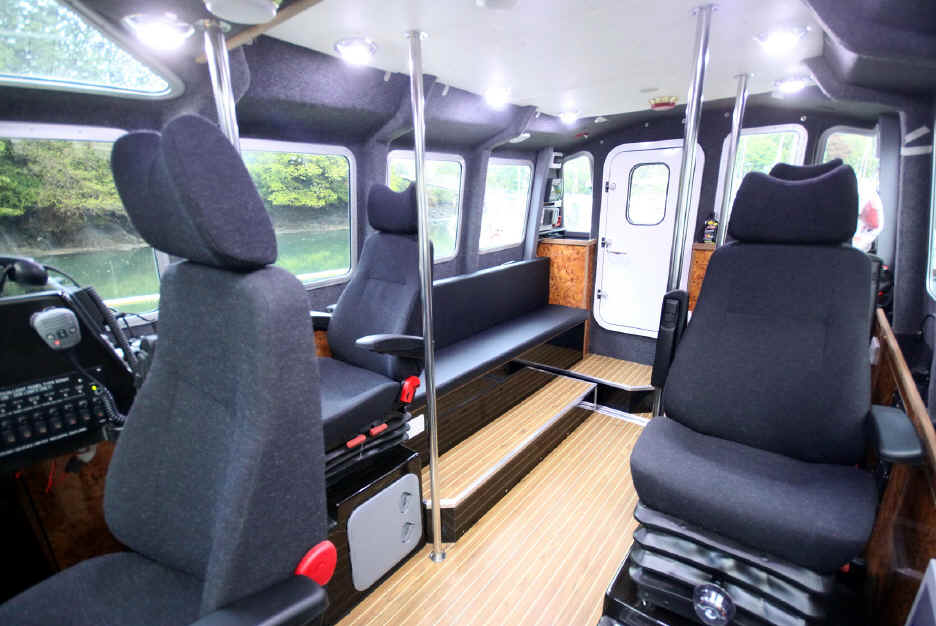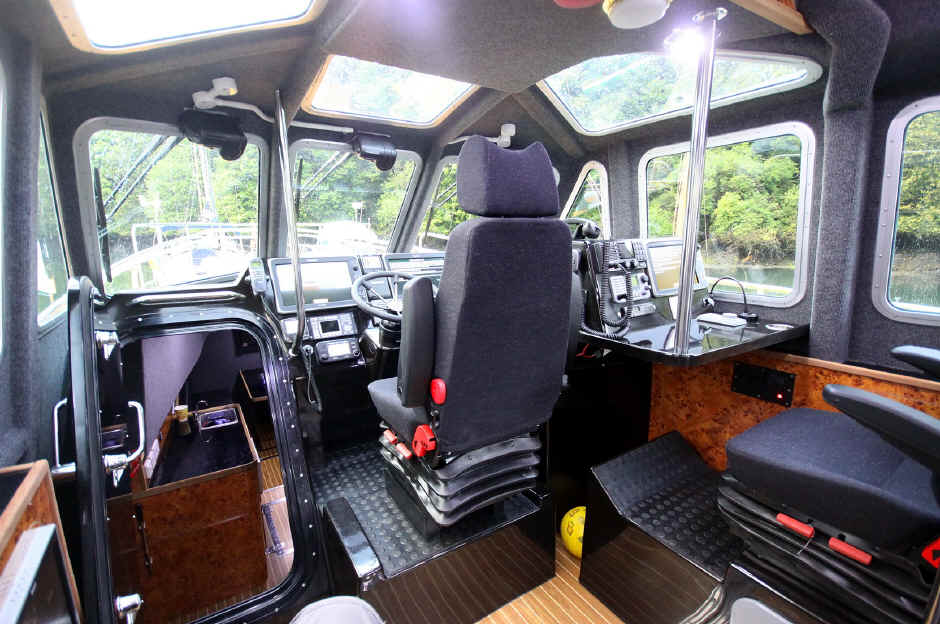 Below, some photos of her rough weather seakeeping trials in force 9 and 3-4m seas, she performed exceptionally displaying superb levels of stability, you can see a video of the trials from this link-

FORCE 9 SEAKEEPING TRIALS.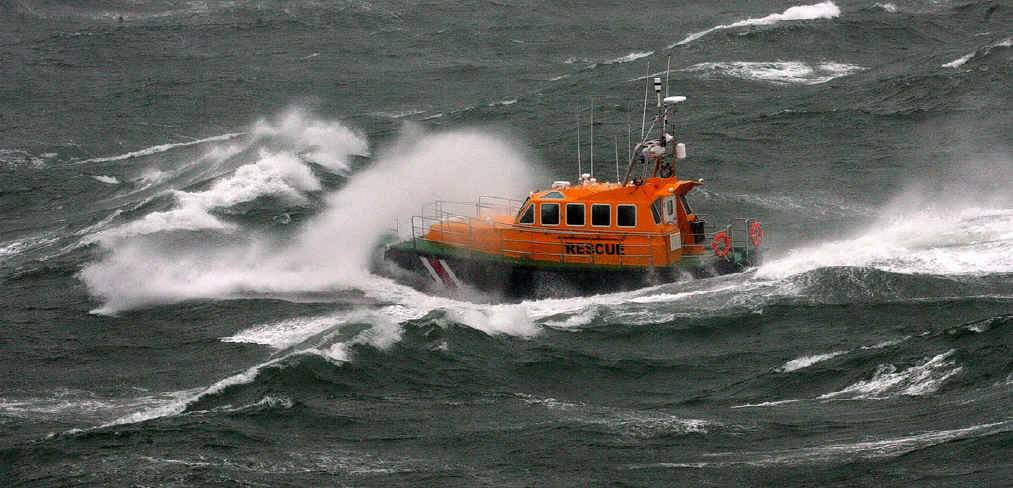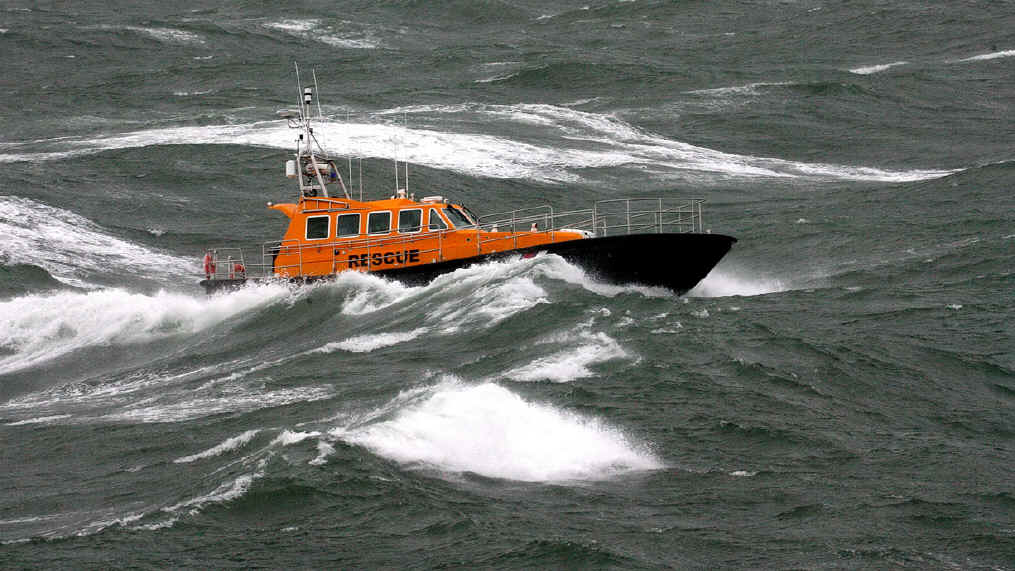 Technical specification
Type of vessel Search & Rescue boat
Owners Faroe Islands rescue service
Builders Safehaven Marine
LOA 15m
Beam 4.4m
Draft 1.4m
Displacement Lightship 18,800kg
Loaded 22,100kg
Construction material GRP
Engines Volvo D11 600hp @ 2300rpm
Gearbox IPS Drives
Generator 3.5kw Inverter charged by 4x
90amp alternators
Propellers IPS drive contra rotating
Speed 30kts
Range 270nm
@ 20kts
Fuel 2,000 litres
Water 110 litres
Heating 2x hot air blowers
Navigation equipment
Radar Raymarine E165 48n/m 4kw
Plotter Raymarine E165
Repeater Raymarine E125
Sounder DSM300
Autopilot Raymarine
Annometer Raymarine
Communication equipment
VHF Sailor RT6222 DSC
Sailor RT6248
SSB Sailor HF SSB
Search & rescue DF Rhotheta direction finder
Searchlight Sansun remote control
Thermal camera FLIR Raymarine gyroscopically stabilized RC
CCTV 4 Zone
Seating capacity 5 Crew, 7 survivors
Liferaft RFD 12 persons
x 2
Certification Bureau Veritas