NEW INTERCEPTOR 56 / 17.3m SEARCH & RESCUE / AMBULANCE VESSEL FOR THE PORT OF CHITTAGONG, BANGLADESH.

The new Interceptor 55 Search and Rescue ambulance vessel for the Port of Bangladesh has now been launched. She is a high speed search & rescue ambulance vessel based on our Interceptor 55 deep V mono hull with a LOA of 17.3m including the aft dive platform and an overall beam of 5m. She is fitted with twin Caterpillar C18 engines rated at 873hp (D rating) and provide a maximum speed of 33kts, a cruise speed of 28-30kts with an economical speed of 25kts.

The superstructure is positioned aft for maximum crew comfort where they are subjected to low accelerations in rough weather and provide the vessel with a large spacious foredeck which is fitted with a large deck locker also designed to protect her 16 person liferaft from boarding seas. Wide side decks are incorporated, protected with outboard safety railings. She also features an aft deck area, where a transom gate gives access to a large dive platform. Boarding areas at the bow, f/wd and aft side decks (via openings in the safety railings) allow a stretcher to be bought into the main hospital area via a large watertight access door at the aft of the cabin.

M.O.B. recovery is facilitated via a swing out 'A' frame fitted on the superstructures side and allows a casualty to be lifted from the water. The main cabin is divided into two areas: A hospital room and a crew / helmsman operation room, these two areas are separated with an internal partition incorporating a large glass area to maintain visibility aft and accessed via an internal door.

The main upper hospital room allows for a stretcher / gurney to be located to st/bd with two aircraft style seats behind, and a third with a worktable opposite, these allow for a nurse and doctor to attend to the casualty during transit. A medical supplies locker with laminated work top is fitted to port. Additional lockers for medical equipment are provided alongside the stretcher position opposite together with specialized emergency medical equipment (A.E.D & Oxygen ventilator) as well as a wash station. A fold away dentist chair can be positioned in the hospital room and is provided with a mouth wash sink and adjustable specialized dentist light, the chair can be stowed away below decks when not in uses maximizing space in the hospital room. A second emergency stretcher capable of allowing a casualty to be lifted off the vessel by air or vertical lift is space efficiently stored in the mains cabin ceiling, being incorporated into her upper hand hold railings. The hospital area is fully illuminated with 8 x L.E.D lights and 240v supply sockets positioned to port and st/bd supply AC where required.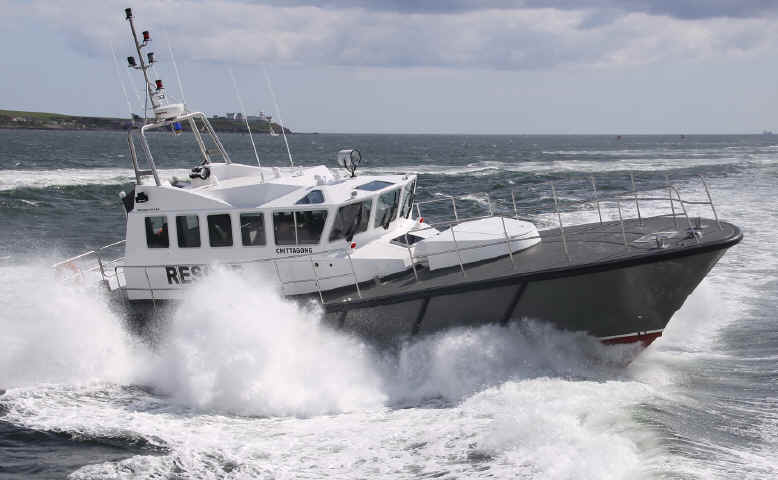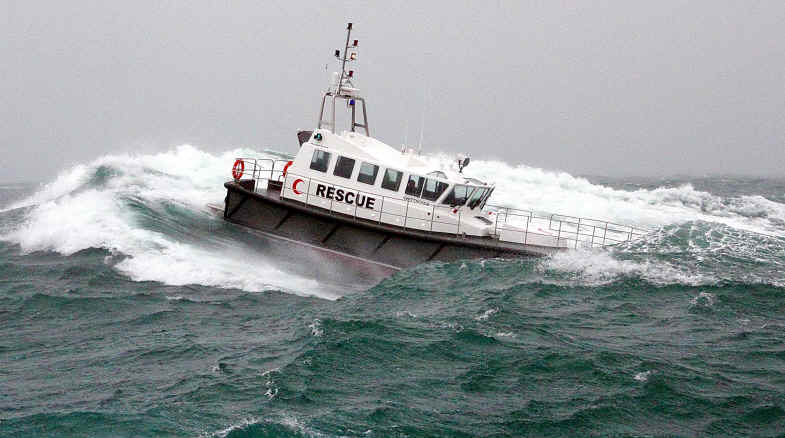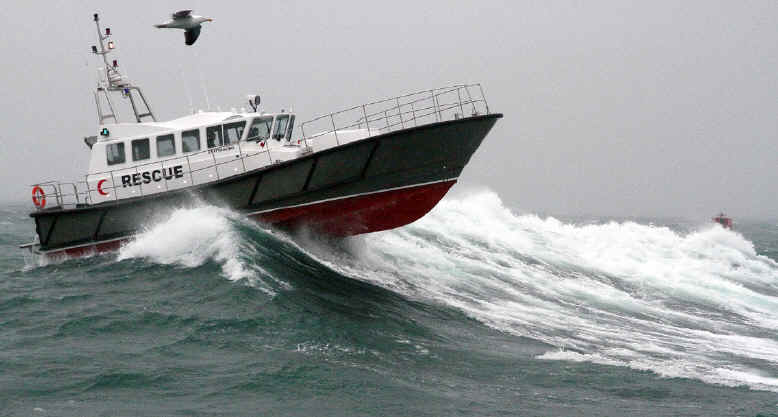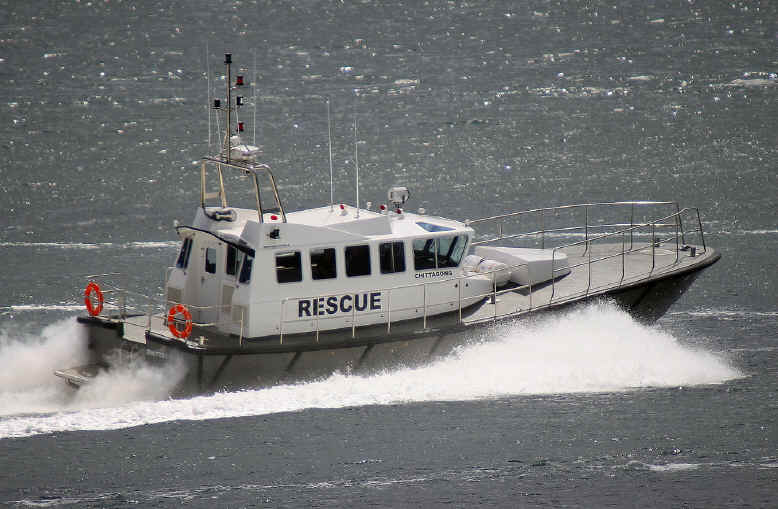 The vessels operation room comprises a helm position to port and crew / navigators seating to st/bd, both positions fitted with CAB 500 series suspension seats. She is fitted with a very comprehensive array of navigation equipment comprising 48n/m radar, GPS plotter and echo sounder displayed on large 16" and 12" LCD screens, 2x VHF / DSC & SSB long range radio communication, weather fax & navtext. Twin lhigh intensity searchlights augmented by deck L.E.D.'s and floodlights provide safe illumination at night. Access to the lower midships compartment is positioned centrally, and wide enough to allow the passage of a stretcher. Steps and safety railings give access to below decks where there is a large forward cabin comprising: to st/bd is positioned a separate storage compartment room, a double berth (which can be used as a 2nd hospital bed). To port lies a dedicated electrical room, a separate heads / shower compartment, and a 'U' shaped seating area with table for 4-5 persons. A galley area is provided adjacent and fitted with a 240v hob, microwave and fridge. A separate 'doctors room' with a berth, seating and table is positioned in a forward cabin and is accessed via a watertight door. The design has a high level of survivability, fitted with 3 watertight b/heads providing four separate compartments. She is fitted with twin 24,000btu air conditioning units, a 12kw AC generator provides 230v power to the AC units and AC power throughout the vessel. She is heavily fendered equal to our pilot vessels with large 150 x 150mm main deck fender, a lower run above the waterline and multiple diagonals. She is due for delivery at the end of June.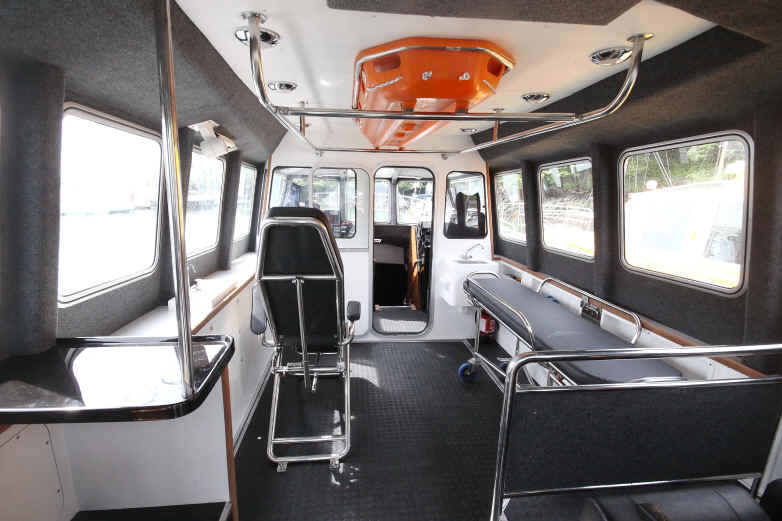 Above & below, her main deck hospital room, large and spacious allowing her crew and medical personnel to efficiently attend a casualty.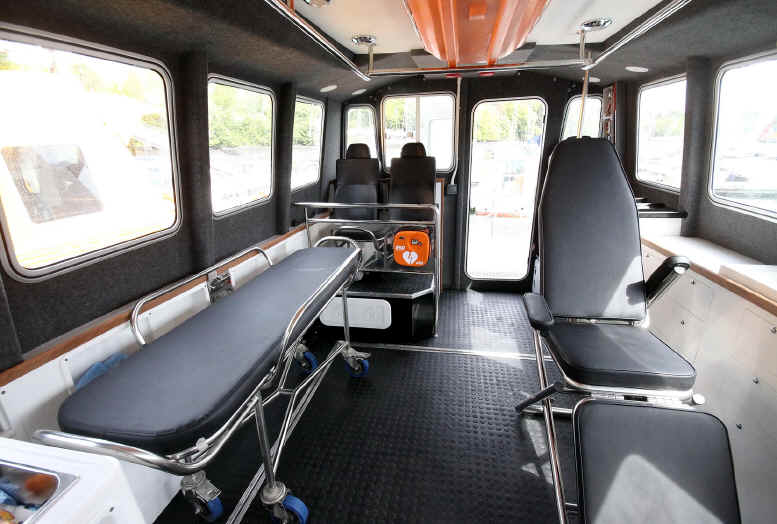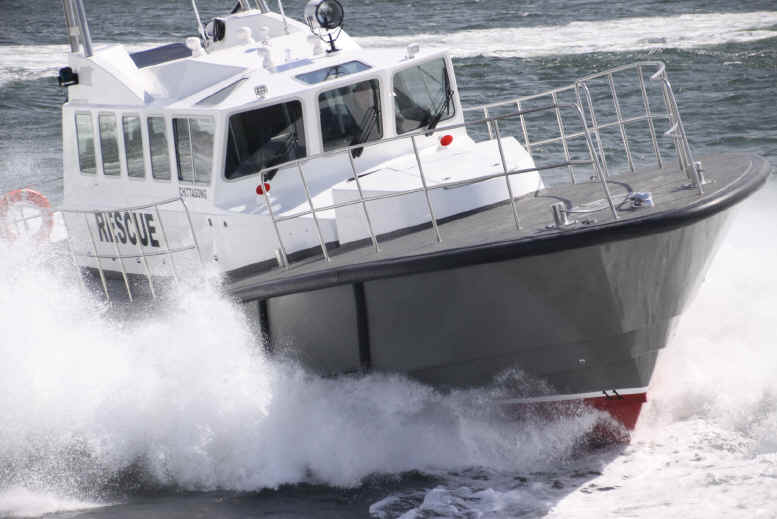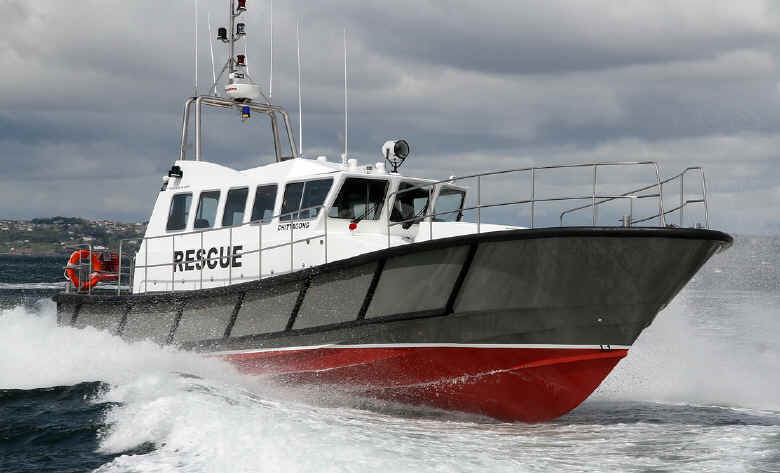 Below: Ergonomically design helm position with full electronic navigation equipment clearly positioned for ease of operation and visibility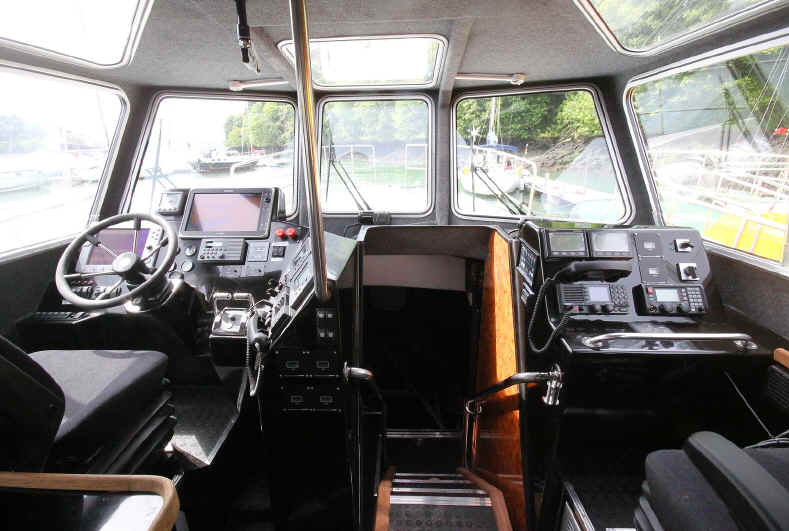 She displayed excellent seakeeping abilities during trails in Gale Force 8 & 4m breaking waves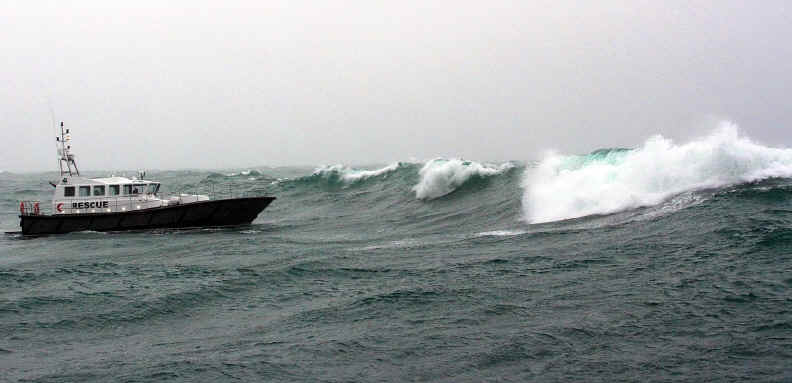 She has excellent performance and handling with fast, light & accurate steering with a 33kts maximum speed.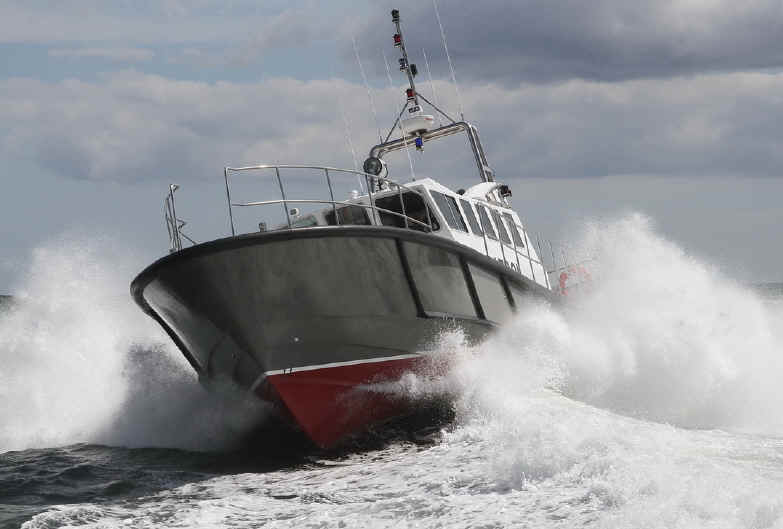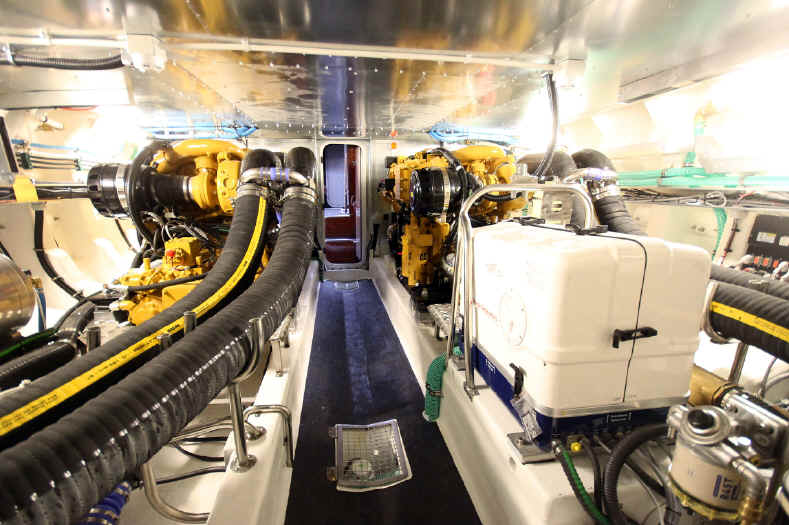 Above, Caterpillar C18 873hp engines, Below She is a very fine looking vessel with graceful lines.