'TURNSTONE' a 2nd new Interceptor 48 pilot vessel for the Port of Liverpool from Safehaven Marine
Safehaven Marine have launched a 2nd new pilot vessel for the Port of Liverpool, she is an Interceptor 48 pilot 'Turnstone' The vessel was ordered in February 2012 12mths after the delivery of the first Interceptor 48 pilot 'Skua'. During this 12mth period 'Skua' was evaluated at the Port , and found to completely satisfy the Ports requirements, receiving much praise for her ability to extend the Ports operational envelope by offering significant higher levels of seakeeping and endurance in rough weather than their previous pilot vessels, and thereby allowing pilotage services to be maintained in conditions that would have previously seen the Port close pilotage operations.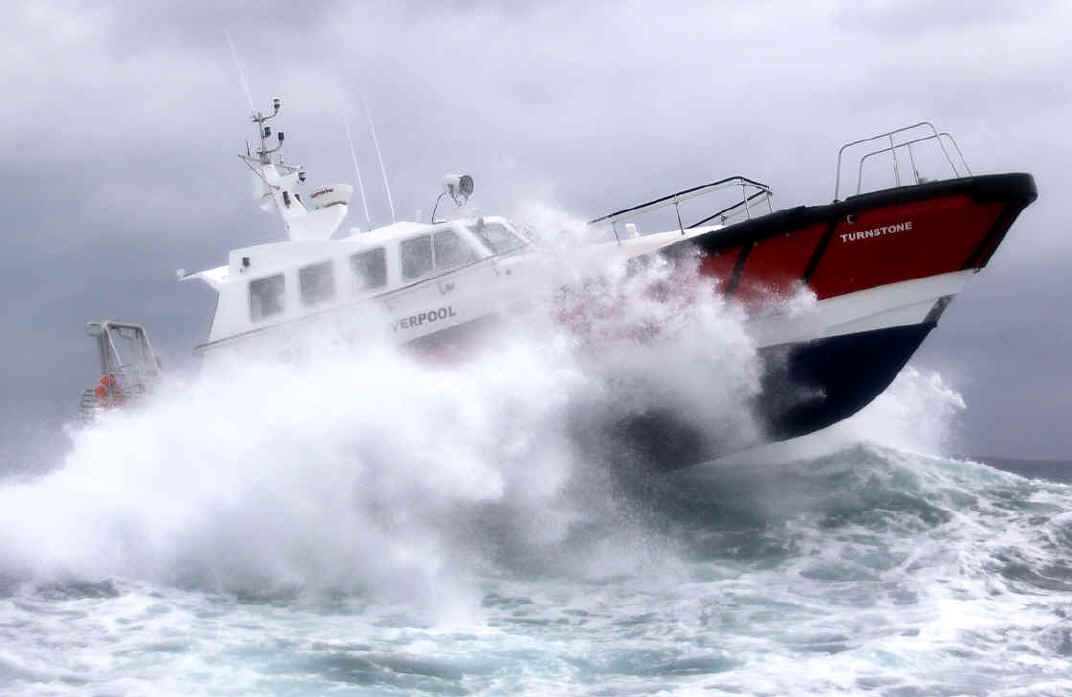 Turnstone is the 5th of Safehaven Marines Interceptor 48 pilot vessels to enter service in Ports worldwide, and is the 25th pilot vessel built by Safehaven Marine demonstrating Safehaven's pre eminence in this specialized field.
'Turnstone' is powered by a pair of Volvo's new D13 550hp engines and twin Disc 5114 gearboxes and achieved 26kts on sea trials, providing her with an operational speed of 25-26kts, light / fully loaded. The vessel is 14.7m LOA, with a 4.3m beam and 18,000kg Displacement. She has a seating capacity for 7 pilots and two crew, Grammer air suspension seats are fitted in the main cabin, with a further two in the forward cabin, which is very luxuriously fitted out with a full galley, 4 person dinette and a separate heads compartment. The pilots are well catered for with the vessel featuring air conditioning with high level outlets throughout the main cabin providing a comfortable environment. Double glazing on all windows ensures good visibility is maintained at all times without the usual problems of misting in poor conditions. A very high level of fit out has been undertaken, with teak and holy cabin soles, walnut Formica laminates and trimming ensure Turnstone provides a luxurious working environment, augmented by very low noise levels of just 75db. 'Turnstone' is very heavily fendered with 150x150mm D section rubber main gunwale fendering augmented with Safehaven's unique sacrificial shoulder fender system, ensuring pilot boarding's in rough conditions are soft, with impacts well cushioned and the main fender and hull structure fully protected. Multiple diagonals and a lower run further protect the vessel, Additionally an Ocean 3 fender fitted on her rounded bow allow the vessel to be used for occasional 'pushing' duties ,to assist pilots in small ship maneuvers. A full electronic package supplied by Raymarine based around the E 140 / 120 series displays are positioned flush in a GRP 'wrap around' helm console giving the helmsman excellent command of the vessel, with all displays clearly visible, Safehaven's usual special attention was applied in providing the utmost comfort and control for the helmsman.
Other features are a Victron 240v 3.5kw alternator, powered by a pair of auxiliary alternators fitted to the engines allowing onboard 240v supply when underway. MOB recovery is carried out by a further refinement of Safehaven's tried and tested transom operated recovery platform, allowing an injured pilot to be safely recovered from the sea unconscious. Special stainless rear view mirrors were developed by Safehaven at the ports request and prove very useful during boarding maneuvers. Electro hydraulic trim flaps fully protected in recess mounded under the transom and enclosed in stainless steel guards for protection from debris, and provide control over running trim allowing the bow to be lowered for punching through steep head seas, something Safehaven's 48 is highly adapt at, indeed the reputation Safehaven have established for building pilot boats able to deal with the harshest sea conditions was contributory to winning the original contract, with the Interceptor 48 by now fully proven and capable of operating in storm conditions and 7m+ waves. She has been found to be very relaxed and comfortable in a seaway. Safehaven are currently building an Interceptor 48 for P&O Maritime for operation in the Port of Matubo, Mozambique, a Search and rescue vessel for the Faroe Islands and a S.A.R. Ambulance vessel for the Port of Chittagon in Bangladesh and continue to prove themselves one of Europe's most successful boat builders.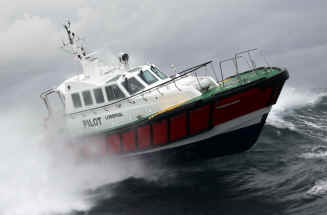 Above and below, 'Turnstone' offshore in a gale demonstrating her excellent seakeeping abilities.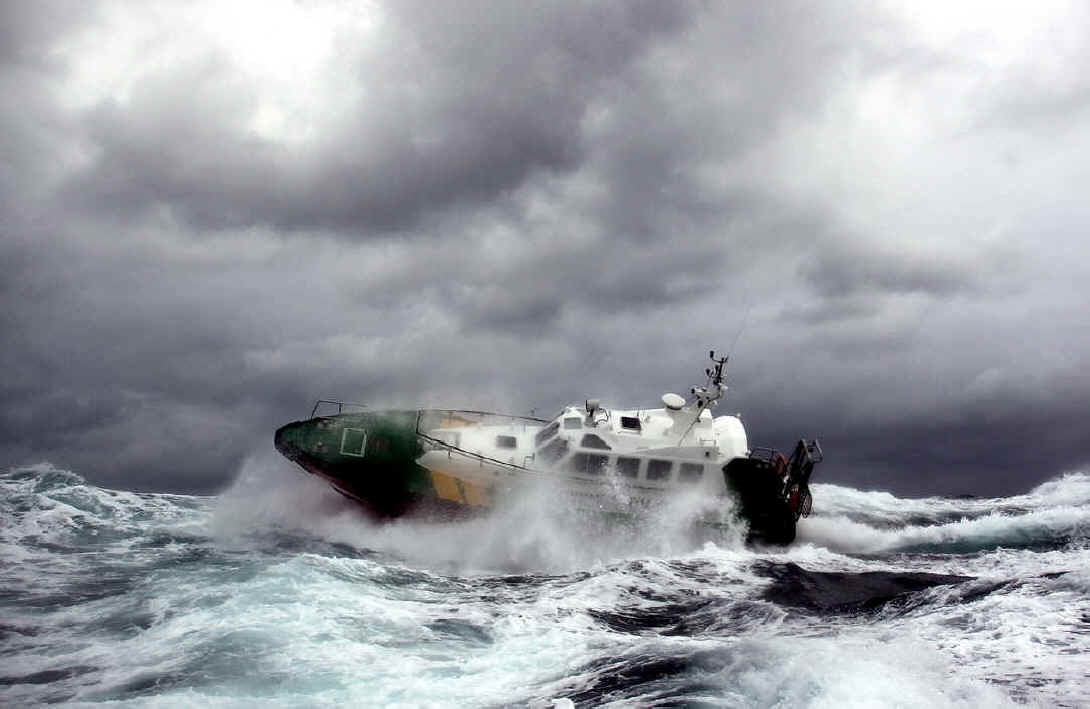 Technical specification
Type of vessel Pilot boat
Owners Peel Ports, Port of Liverpool
Builders Safehaven Marine
LOA 14.7m
Beam 4.4m
Draft 1.3m
Displacment Lightship 17,900kg
Loaded 20,500kg
Construction material GRP
Engines Volvo D13 550hp @ 1900rpm
Gearbox Twin Disc 5114
Generator 3.5kw Invertor charged by 4x
90amp alternators
Propellers 28" 4 blade
Speed Operational 25-26kts @ MCR
Range 220nm
Fuel 1,700 litres
Water 170 litres
Air-conditioning Dometic 18,000btu
Seating capacity 2 Crew, 7 pilots
Liferaft RFD 12 persons
Certification Bureau Veritas / UK MCA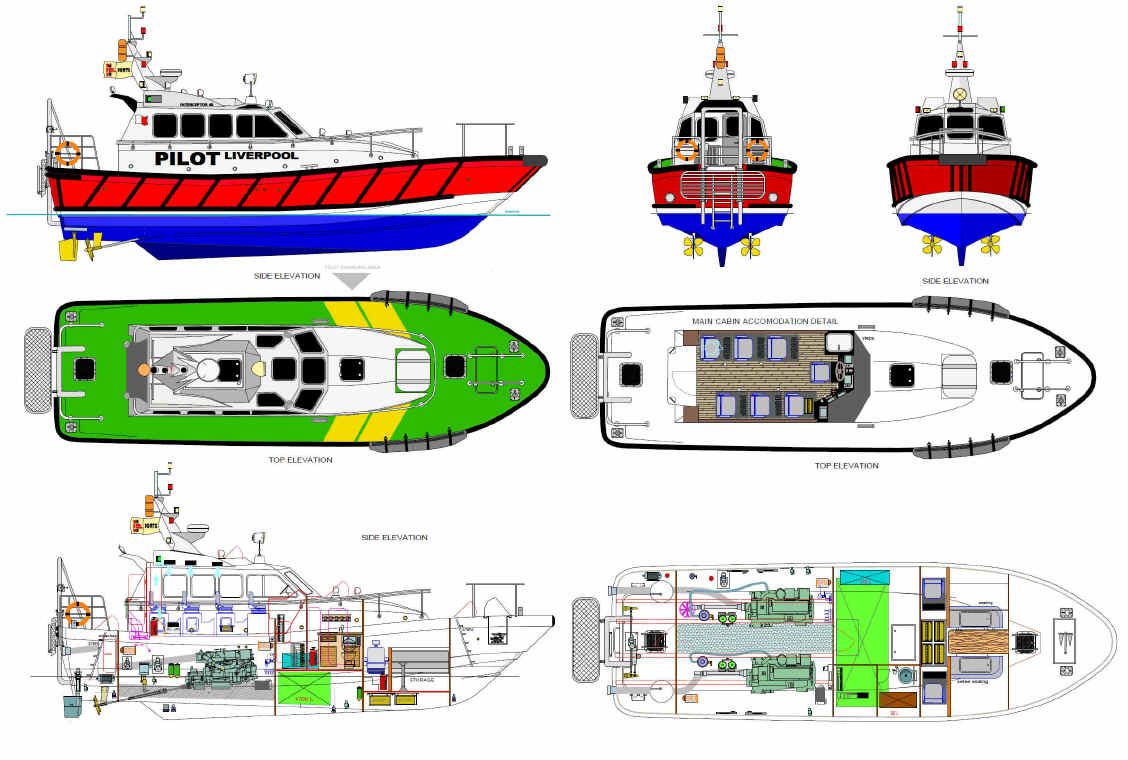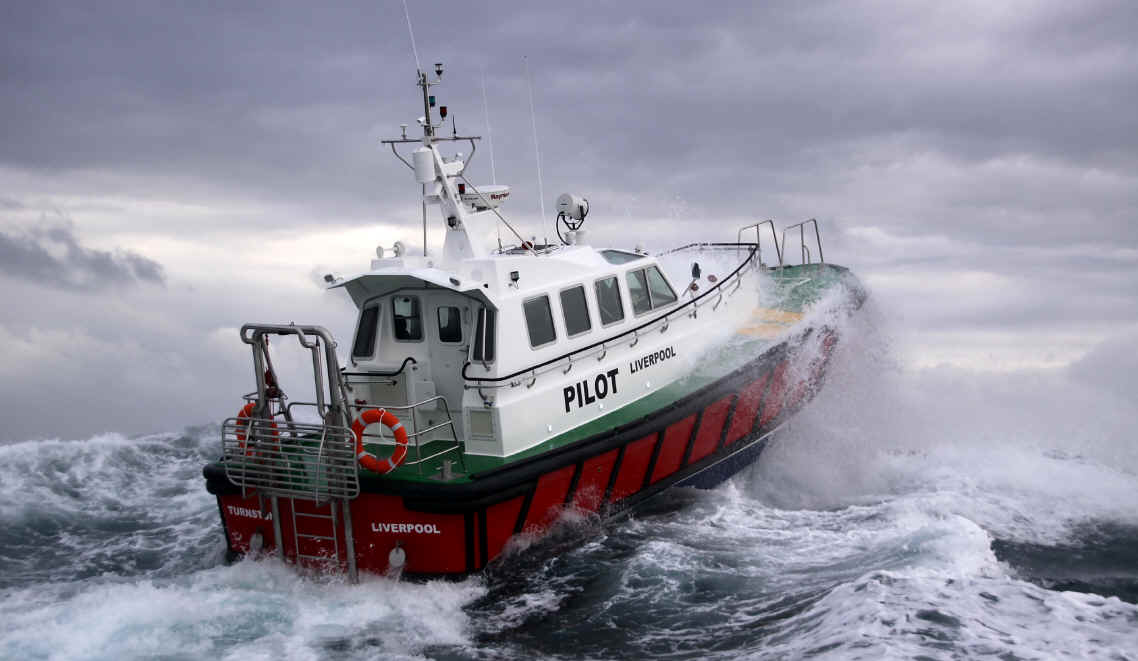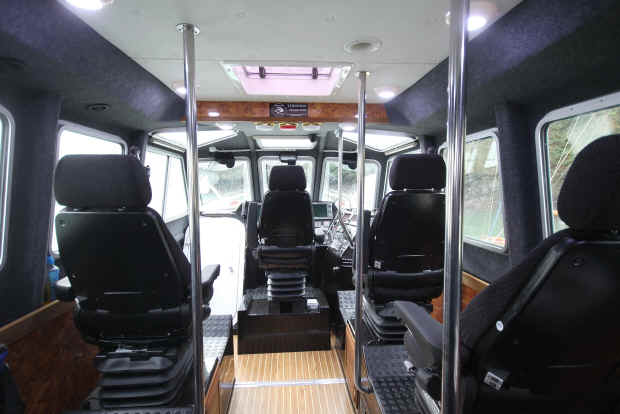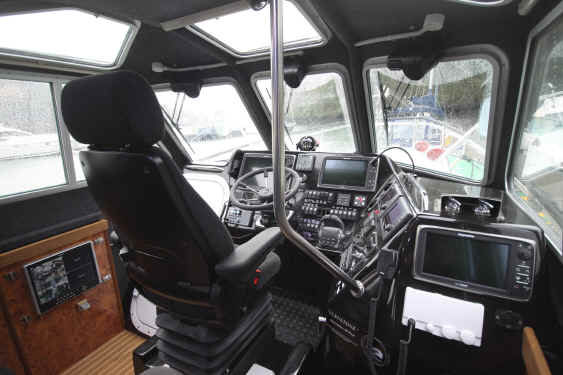 Several new features have been incorporated in Turnstone as part of our 'continuous improvement' practice incorporated on our 2012 year model pilot vessels.
Turnstones Bow boarding fender is supplied by 'Ocean 3' fender, offering greater durability, offering high compression resistance when pushing against quay walls and ships.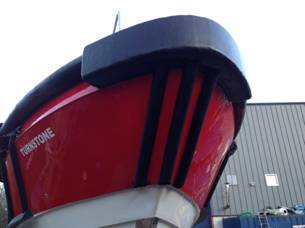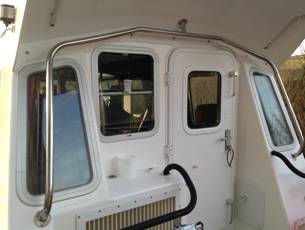 Above left, new bow fender design, right new Seaglaze cabin door design and additional pilot grab railing.

Additional safety railing fitted at rear of cabin offering additional hand holds for pilots when waiting at stern to move forward for boarding opportunity, and assisting cabin access.

She is fitted with a new design Seaglaze fully watertight cabin door.

A repositioned MOB platform recovery winch offering better leverage for operator reducing fatigue when in use.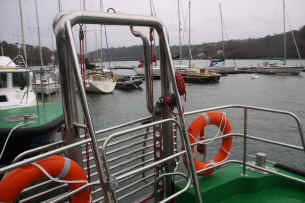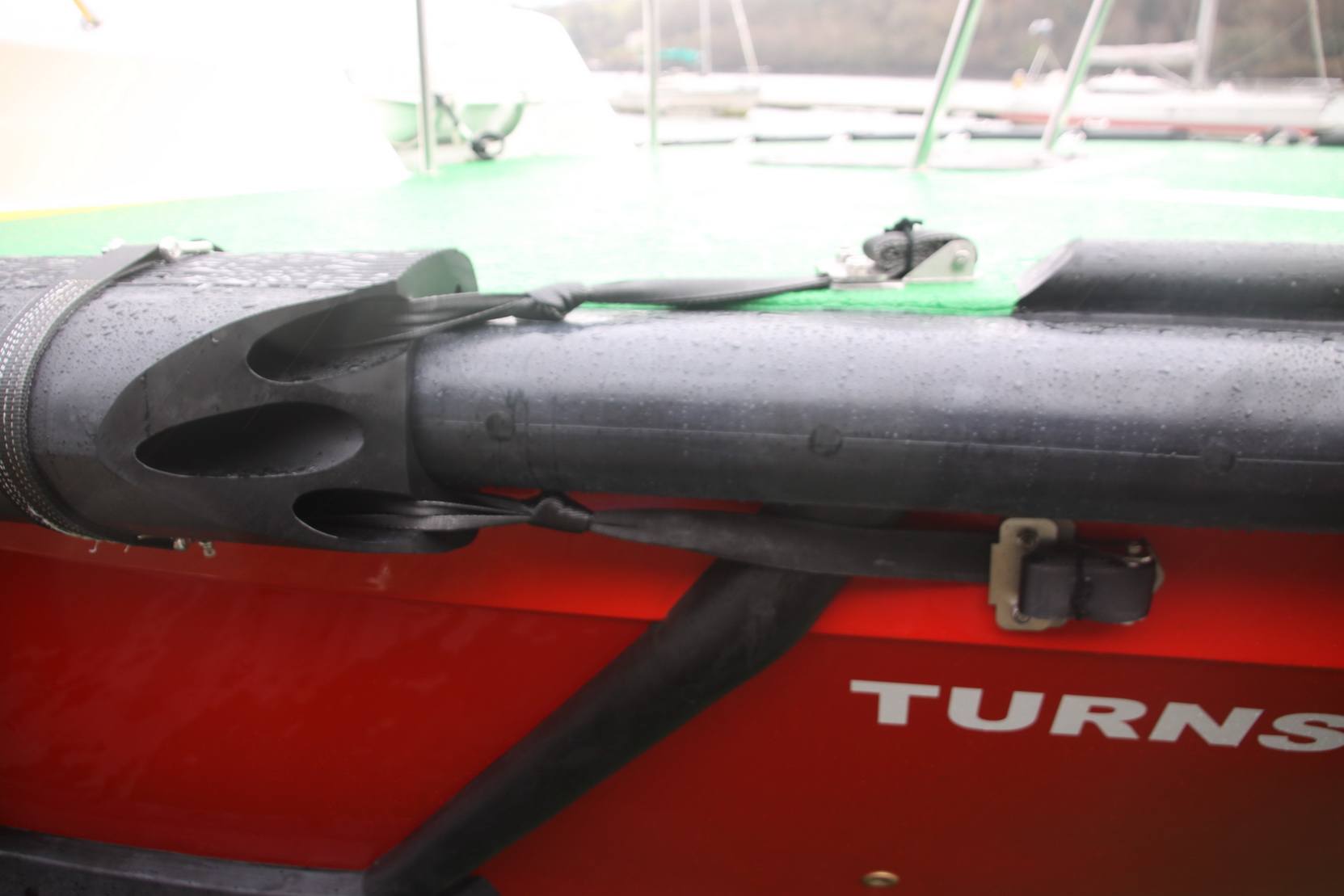 Above left. re positioned winch, right lower f/wd SF tensioner
Modified Sacrificial fender securing, replacing ratchets with our own design of tensioning mechanism, reducing trip hazard and much less prone to damage due to their lower profile, we have also been able to dispense with the aft tensioning ratchets. In addition the SF fender is positioned further forward to allow the pilot boarding ladder to lie in the gap behind it when the SF fender is touching the ship, thereby preventing the ladder getting trapped between the pilot boats fender and ships side.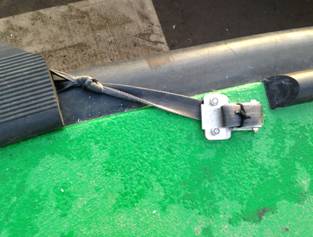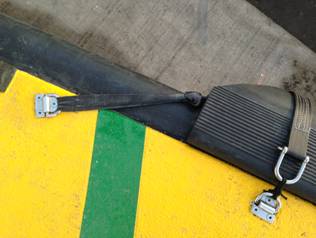 Above left, new top f/wd SF tensioner, right aft tensioner omitted, less tripping hazard for pilots when boarding.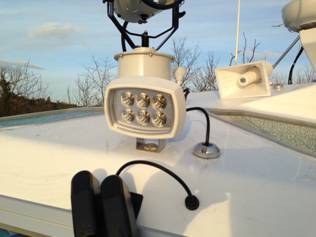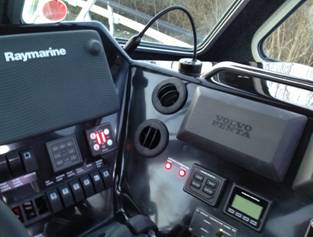 Above left, LED lights, right Circular vents in helm providing cooling helmsman

Directional vents for cabin heater / demister at the helm position allowing air to be blown directly on the helmsman. In additional at the helm is a control to regulate heat from the blower selecting hot or cold. When cold is selected low level intakes draw cold air from the cabin allowing the helmsman to have a direct flow of air conditioned air on him in summer when the air conditioning is in use.

The main cabins inboard external railing has been wrapped in black nylon twine to improve grip and reduce slipperiness of the rail for pilot safety.

The bow railing is modified to allow the pilot to pass safely through it when boarding from the bow.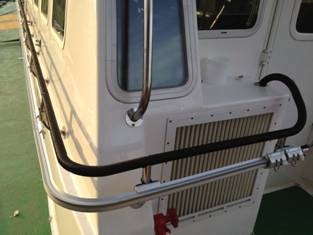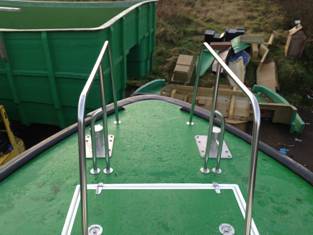 Above left, twine wrapped railing, right bow access bow railing design.

Window blinds incorporated for forward upper windows to reduce glare on the helmsman in direct sunlight and eliminate reflection from search light at night.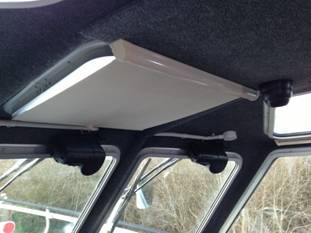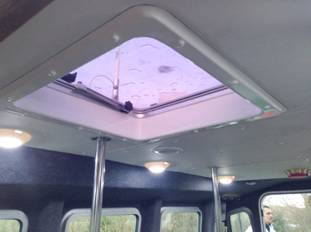 Turnstone features the incorporation of stainless steel hinged guards on the trim tabs hull recess preventing floating flotsam, which is a problem in the River Mersey, from becoming lodged in the recess jamming and damaging the trim plates / hydraulic cylinder.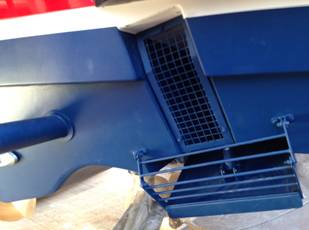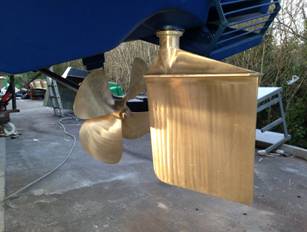 Above left trim tab guards, right new larger rudder design.
We recently commissioned our own series of custom rudder designs from Clements Engineering, these new larger rudder design cast in in N.A.B. with a more streamlined profile significantly improving handling, directional stability in rough weather and reduced turning circle. Hypro Marine supplied a powerful power steering system, now with hydraulic power provided via an engine mounted 170cc pump. This, combined with the larger rudders provides much faster steering response, with light steering effort and only 4 turns lock to lock. Also maintenance costs are much reduced as there are no bushes to wear out as in the electro hydraulic system.